20 Best Ride Sharing Apps in Thailand: Navigating Thailand in a Better Way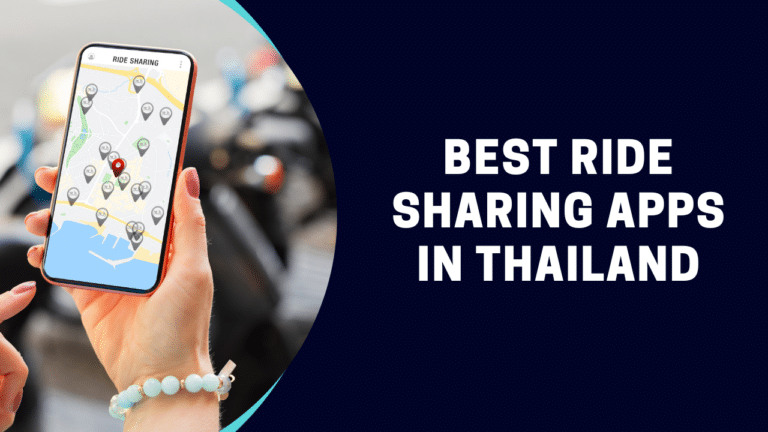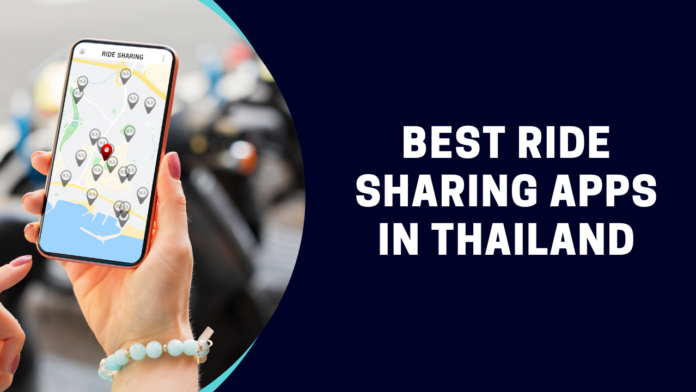 Welcome! Are you planning a trip to Thailand and want to know the best ride sharing apps in Thailand? Uber is not available in Thailand, but Grab and Bolt offer reliable options for getting around the country.
This article will provide an overview of these apps' services and availability in Thailand with helpful information on how to use them. This blog post will also compare them against traditional transportation methods like yellow taxis or tuk-tuks.
Come read on for all the details about the best ride-sharing apps in Thailand!
Grab is Thailand's most popular ride-sharing app due to its affordability, availability, and reliability.
Bolt is a ridesharing app that offers multiple transportation services like Bike, Car, and Exotic Luxury Services for travelers seeking budget-friendly options.
InDrive and Navigo are two alternative ride-sharing apps with features such as estimated trip costs, driver details before confirming pickups & real-time tracking.
Ride Sharing Apps offer several advantages, including quality, convenience, and safety, compared to traditional transport like taxis or tuk-tuks.
Grab: The Best Ride Sharing Apps In Thailand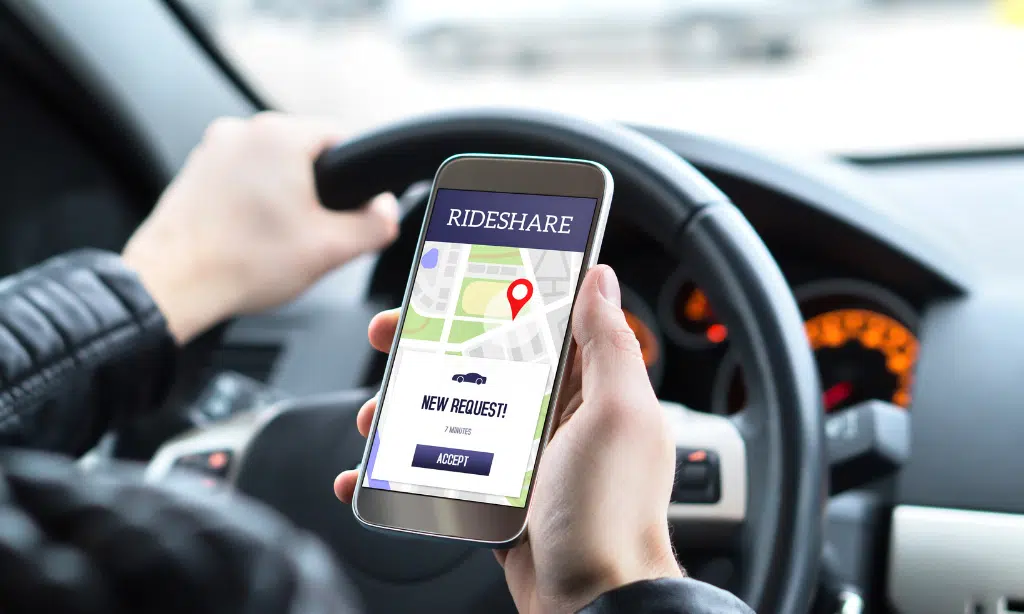 Although Uber does not have a presence in Thailand, the popular ridesharing app Grab has gained substantial market share in many cities.
The Popularity of Grab in Thailand
Grab is Thailand's most popular ride-sharing platform due to its affordability, availability, and reliability. With Grab, travelers have various transportation options available, including motorcycle rides (GrabBike), car rides (GrabCar and GrabShare), and even delivery services such as food delivery.
Moreover, Grab also makes it easy for riders to pay via credit card or wallet – making it convenient for users to pay quickly without making cash payments.
Furthermore, Grab only charges riders based on fixed rates, which are generally lower than traditional taxi fares – making it an attractive option for users who seek budget-friendly alternatives when traveling across Thai cities
Additionally, with its expansive coverage area spanning all major cities in Thailand, people can access reliable transportation at any time, regardless of their geographical location within the country.
GrabBike: An ideal way to move around in Thailand's busy cities by motorbike taxi, providing convenient yet affordable transport for passengers.
GrabCar: An on-demand private car that allows passengers to book their rides for a convenient and safe journey.
GrabShare: A social carpooling service that matches riders with similar routes so they can share the ride and cost of the journey together.
Areas Covered by Grab in Thailand
Grab is available in major cities and tourist hotspots within Thailand. The ride-sharing app operates in Bangkok, Phuket, Pattaya, Hua Hin, Chiang Mai, and other destinations across the country.
Grab's coverage extends beyond major Thai cities and remote parts of the country, such as Kanchanaburi or Khao Yai National Park. With its immense geographical reach, visitors can easily explore different areas of Thailand with access to cars and bikes via Grab. This convenience further enhances people's travel experiences without much hassle.
Other Ride-Sharing Apps in Thailand
Apart from Grab, Bolt, InDrive, Navigo, and AllThaiTaxi are popular ride-sharing apps in Thailand. Explore the pros and cons of each today!
1. Bolt (Bolt Bike, Bolt Car, etc.)
Bolt is a popular ride-sharing app in Thailand that offers a range of services for easy, fast, and affordable transportation. It was launched in July 2020 with over 2,000 drivers in Bangkok and backed by Daimler and China's Didi Chuxing. The Bolt app is available for download in Thailand and offers various transportation services such as:
Bolt Bike: A convenient way to travel short distances within the city without waiting for taxis.
Bolt Car: An affordable option for journeys within Bangkok with fares starting at only 10 Baht.
Bolt Luxury Exotic: Enjoy an exclusive luxury ride experience with drinks and snacks.
Bolt Share: Share the cost of your journey with other passengers by booking shared rides.
NaviGo is a Thai ride-sharing app that has gained popularity for its user-friendly interface and reliable service. It offers several features that cater to the needs of riders and drivers alike:
Easy Booking: NaviGo allows users to book rides with just a few taps on their smartphones. Users can specify their pick-up and drop-off locations, choose the type of vehicle they prefer, and even schedule rides in advance.
Transparent Pricing: NaviGo typically offers fixed fares, making it easy for riders to know how much they will be charged for their trips. This transparency helps users budget their transportation expenses.
Safety Features: The app prioritizes safety by providing users with details about their drivers, including their name and photo and the vehicle's make and license plate number. Users can also share their ride status with friends and family for security.
Driver Ratings and Reviews: NaviGo allows riders to rate their drivers and leave reviews, helping other users make informed decisions when selecting a driver.
Payment Options: The app supports various payment methods, including cash and digital wallets, making it convenient for users with different preferences.
InDriver (iOS)
InDriver is another ride-sharing app available in Thailand, known for its unique feature that allows riders to negotiate fares directly with drivers. Here's how InDriver stands out:
Fare Negotiation: InDriver's defining feature is its fare negotiation system. When booking a ride, users can set their own fare, and nearby drivers have the option to accept, reject, or counter the offer. This feature gives riders more control over the cost of their trips.
Real-Time Offers: Users can see multiple offers from drivers in real-time and choose the one that best suits their budget and preferences.
Driver and Vehicle Information: Similar to NaviGo, InDriver provides information about the driver and the vehicle, ensuring transparency and safety.
Cash and Digital Payments: InDriver supports both cash and digital payment options, offering flexibility to users.
Ride History: The app allows users to keep track of their ride history, making it easy to review past trips and expenses.
AllThaiTaxi
When it comes to hailing a taxi online in Thailand, AllThaiTaxi emerges as one of the prominent players in the market and serves as a strong rival to Grab, one of the most popular ride-sharing platforms in the country. AllThaiTaxi, as the name suggests, specializes exclusively in taxi services, and this focus comes with several advantages that make it a preferred choice for many users in Thailand.
Taxi Focus: AllThaiTaxi's primary focus is on connecting users with taxis. Unlike multi-service platforms like Grab, which offer various transportation options such as cars and motorbikes, AllThaiTaxi is exclusively dedicated to traditional taxi services. This specialization ensures that users have a higher chance of finding a taxi quickly and easily, especially during peak hours.
Less Competition: Because AllThaiTaxi is not as widely known as Grab, there tend to be fewer users on the platform. This can work to the advantage of riders, particularly during busy times when it can be challenging to secure a ride on a more crowded app. Using AllThaiTaxi, you are more likely to secure a taxi without having to compete with as many other riders.
Driver Integrity: AllThaiTaxi's reputation is built on a pool of honest, professional taxi drivers. Users can have confidence that the drivers registered on this platform are trustworthy and won't engage in fraudulent or deceptive practices. This trust is essential for riders seeking a safe and reliable taxi experience.
Transparent Pricing: Like other ride-hailing apps, AllThaiTaxi typically provides transparent and metered pricing. Users can expect fares to be calculated based on distance and time, with no hidden charges. This transparency helps riders budget their transportation expenses.
Convenient Booking: AllThaiTaxi offers a user-friendly interface for booking taxis. Users can easily input their pick-up and drop-off locations, track the arrival of their taxi in real-time, and even make cash or digital payments, making the entire experience convenient and hassle-free.
Pros and Cons of Grab and Bolt
Compare the advantages and disadvantages of using Grab and Bolt ride-sharing apps by looking at factors such as fares, safety, customer support, availability in various locations, etc.
Benefits and Drawbacks of Using Grab
Using Grab as a ride-sharing app in Thailand provides plenty of convenience and variety. With its wide range of services, including GrabBike, GrabCar, and GrabShare, users can choose the best option for their needs.
The app is also incredibly user-friendly and fast, with live tracking showing you which car or bike is closest. Additionally, with such options as scheduled rides ahead of time available, transportation has never been easier or more reliable in Thailand.
However, there are some drawbacks – it doesn't cover all areas of the country so users may find themselves stranded if they aren't near one of its coverage zones. Also, long wait times occur during peak hours when there are many people actively booking rides with the same driver at once.
Advantages and Disadvantages of Using Bolt
Bolt is a ridesharing app that is popular in Thailand due to its affordability and safety. The app connects riders with nearby drivers, allowing them to make easy trips around their city without having to worry about the high costs of traditional transport options like tuk-tuks or taxis.
While Bolt offers some good features, there are drawbacks compared to other ridesharing apps like Grab, which offer more services and coverage than Bolt.
One advantage of using Bolt is that it is typically cheaper than Grab because its drivers usually don't have access to an extensive vehicle fleet like Grab. This makes for a cost-friendly ride service if you're looking for affordable fares on your journey within major Thai cities such as Bangkok, Chiang Mai, Phuket, etc. Additionally, Bolt runs background checks on all its drivers so that users can be confident about trusting the app with their safety needs as they travel from one place to another.
They even provide insurance policies for assurance against accidental damages during the journey!
On the downside, though, while Grab covers pretty much all areas in Thailand now – including smaller cities and remote locations – the same isn't true for Bolt since it's still quite new in this market sector and, therefore, has limited availability compared to Grab currently.
Other Popular Ride-Sharing Options in Thailand
Here are 15 of the top ride sharing apps in Thailand for safe travel:
Gojek Thailand – Indonesian app for ordering food, massages, cleaning services, and ride-hailing.
Get – the Thai version of Uber with options for cars, bikes, and tuk-tuks.
Maxim – Ride-hailing and parcel delivery services.
Line Taxi – Book taxis via the Line chat app.
Sombat Tour – Reliable minivan and car hire with drivers. Popular for multi-city travel.
Big Taxi – Thai app offering fixed-rate airport transfers and local taxis.
Happy Taxi – Local taxi app with ride tracking and pre-booking.
Sakorn Taxi – Local taxi app based in Bangkok. Allows price negotiation.
BiGo Bike Taxi – Motorcycle taxis are ideal for beating traffic in Bangkok.
Wheels on Demand – Car rental app with tourist packages and drivers.
Taxi Radio – Responsive taxi booking app popular in Phuket and Bangkok.
TaladRide – Motorbike and tuk-tuk booking app focused outside Bangkok.
CarZ – Ride-hailing app with luxury options like Porsche transfers.
Skootar – App for booking ride-sharing motorbikes with helmets provided.
Comparison of Ride-Sharing Apps and Traditional Transportation
Analyze the different costs, convenience levels, user ratings, and other factors of ride-sharing apps with those of traditional transportation options like yellow taxis, tuk-tuks or songthaew buses.
Ride-Sharing Apps vs Yellow Taxis
Ride-sharing apps such as Grab and Bolt have become increasingly popular in Thailand, offering a convenient, cost-effective alternative to traditional yellow taxis. These apps offer a flexible payment system with various options, including credit cards, e-wallets or cash payments, making them more convenient than the conventional paying models of yellow taxis.
Furthermore, ride-sharing services cover larger areas – Grab, for instance, partially covers even rural parts of Southeast Asia like Chiang Mai – allowing people to access transportation without looking for taxi stands endlessly.
Moreover, some benefits make these apps stand out compared to conventional taxis: They provide discount rides from time to time, they let customers compare estimated fares before booking the ride, and they can also provide additional customer service through their messaging function.
Ride-Sharing Apps vs Tuk-Tuks
[Video Credits @DestinationThailandTV]
For travelers in Thailand, their transportation options usually come down to ride-sharing apps or tuk-tuks. Ride-sharing apps such as Grab offer convenience and accessibility; users can book a ride anytime from anywhere with just the tap of a button.
Compared to traditional metered taxis, they are often cheaper and more reliable due to flat fares that cannot be tampered with. On the other hand, there is something special about traveling around on a motorcycle taxi that you won't find with an app – it's generally perceived as part of an authentic Thai experience.
However, another disadvantage for tourists is that haggling prices can be hard work when attempting to negotiate them in different languages. While this practice may be commonplace among locals using tuk-tuks, apps like MuvMi make local transport much easier by providing fixed rates displayed upfront before booking rides – thus eliminating any surprises! Ultimately, both methods have pros and cons; it really comes down to the experience each traveler prefers.
Ride-Sharing Apps vs Songthaew Buses
Ride-sharing apps have become increasingly popular in Thailand, providing a viable alternative to traditional forms of transportation such as tuk-tuks and yellow taxis. Ride-sharing apps allow passengers to book rides with just a few taps on their mobile devices, making it easy for tourists and locals to get around cities within the country.
Songthaews are another transport Thai citizens, and foreigners use when traveling through the nation. Unlike conventional modes of public transport (yellow cabs, trains, etc.), songthaews are not exclusive as they can be shared simultaneously by multiple people.
The fare is usually very affordable – often less than a regular taxi ride – but unfortunately, due to its semi-informal nature, there may be discrepancies between stated fare amounts from different drivers that could cause confusion for travelers who aren't familiar with this mode of transport.
There's also no guarantee that you'll find one conveniently located near your destination because Songthaews aren't typically stationed at specific points like other vehicles are. Instead, they move around cities at random stops, waiting for passengers intermittently during certain parts of the day/night according solely to demand (which makes planning tricky).
How to Pay for Ride-Sharing Apps
Grab and Bolt accept cash and digital payments using e-wallets, credit cards, or debit cards.
Payment Methods Accepted by Grab and Bolt
Grab and Bolt are two of the most popular ride-sharing apps in Thailand. Both offer various payment options to customers to make their rides more convenient. The payment methods accepted by Grab and Bolt include cash, credit cards, as well as contactless digital wallets like Alipay, PayPal, OVO, Google Pay, WeChat Pay, and ApplePay.
Generally speaking, Cash is only available for certain services, such as taxis or tuk-tuks, while debit/credit card payment is enabled for all services provided by both companies. On top of that, Grab also offers additional features such as GrabPay – a secure way to pay without cash – and GrabFood delivery service, enabling door-to-door purchases from nearby restaurants using the same platform.
All these features combined have made it easier than ever before to move around Thai cities with peace of mind regarding payments when using either app.
Using Credit Cards, e-wallets, and Cash
Using the most popular ride-sharing apps in Thailand, like Grab and Bolt, travelers can conveniently pay for their rides with credit cards, e-wallets, or cash. These companies accept Credit card payments, allowing users to easily link their Visa or Mastercard services and settle transactions.
Mobile wallets such as AirPay, Line Pay®, TrueMoney Wallet, Rabbit Card, and Get offer a number of benefits, including cashback rewards and discounts on certain products. These mobile wallets are becoming increasingly popular due to high smartphone adoption in Thailand and allow users to top up at banks, retail stores, and ATMs, among other convenient locations.
Cash is also an accepted payment method; however, many users opt against it for safety reasons. With more than 40% of Thai digital consumers planning on using more cashless payment methods this year, Grab and Bolt have provided multiple options, making travel easier than ever! Foreigners can also use e-wallets while visiting Thailand since major companies usually accept foreign currencies for transactions.
Latest Updates and Alternatives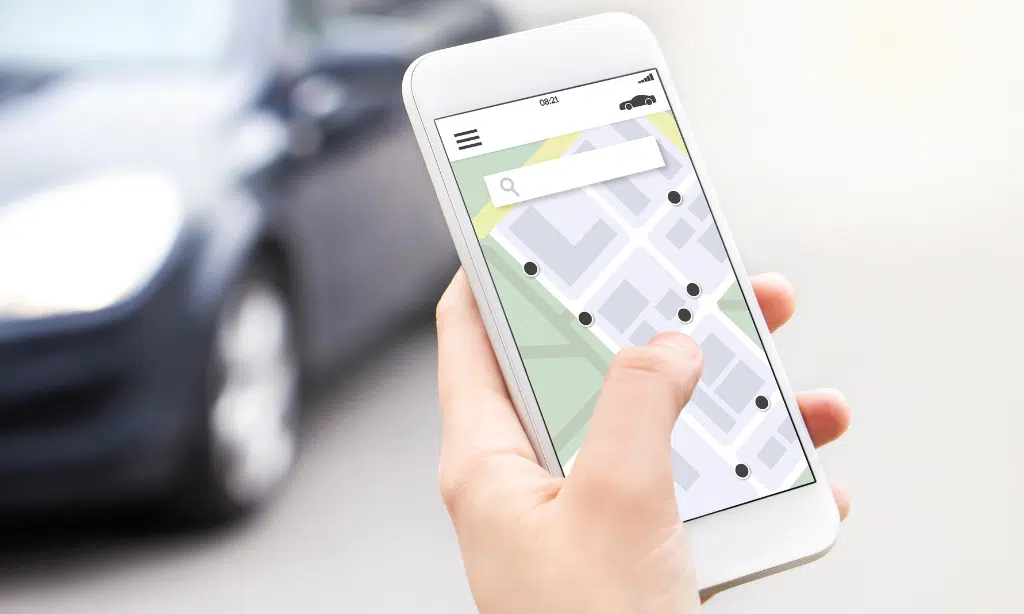 Learn why Uber left Thailand and why other alternatives, such as NaviGo and InDriver, are available.
What Happened to Uber in Thailand
Uber exited Thailand in April 2018 after the government had planned to enforce tough regulations on ride-hailing services. This included requiring that drivers have a professional driving license and higher insurance premiums.
The cost of complying with the new regulations made it difficult for Uber to keep its competitive prices in spite of rising demand for taxi apps, making long-term operations unviable.
Following Uber's departure from Thailand, rival ride-share apps such as Grab, InDrive, and Navigo saw their popularity rise as people sought an alternative option to hail a taxi or book rides with scooters and cars.
Many traditional transportation companies also began setting up online booking platforms to address the changing market conditions. At the same time, ride-sharing providers focused on persuading local drivers to seek employment opportunities apart from conventional perennial room rental business models.
NaviGo and InDrive are two local ride-sharing companies in Thailand, emerging as viable alternatives to the global ride-hailing apps Uber and Grab. They provide a similar service range across cities in Thailand but also offer travel solutions for specific regions or locations throughout the country.
NaviGo is a home-grown company that delivers reliable services like multi-transit options at lower prices compared to other providers. InDrive focuses on intercity trips between Thai cities and offers its own products, such as special daily deals, private transport, and monthly membership plans.
Both companies have established a strong presence in most cities within Thailand with reliable coverage areas, including airport pick-ups when required. Furthermore, these locally based apps accept both cash payments and credit cards – payment options that Uber or Grab may not cover outside of larger urban centers in the nation.
Intercity Travel Options in Thailand
From trains and buses to ferries and boats, travelers have various options for long-distance trips within Thailand. Read on to find out more!
Train Travel
In Thailand, train travel is a popular option for intercity journeys. The State Railway of Thailand offers comprehensive information on its official website about the times and fares available and online tickets from Bangkok to Chiang Mai and Nong Khai.
Train journeys are usually convenient, reliable, and reasonably priced compared to other transportation options. For those looking for a more comfortable experience while traveling around the country, first-class sleeper trains with air-conditioning cabins offer relative comfort at an additional cost.
With reasonable safety standards overall and generally punctual service, train travel is one of the most frequent modes of transport in Thai cities today.
Bus Travel
Bus travel is becoming increasingly popular in Thailand – especially among budget-minded travelers. Unlike trains, buses are more affordable and much quicker than train journeys.
In addition, they often offer a better quality of service with modern motorcoaches that are often air-conditioned for passengers' comfort. Buses in Thailand can take passengers between cities, often reaching their destination faster than the train and usually at much lower prices.
These services also provide regular performances compared to battling unpredictable traffic conditions on long road trips by car or taxi. The convenience factor makes this an ideal option for intercity travel in Thailand, any time of day or night!
Ferry and Boat Travel
Ferries and boats are important transportation options for intercity travel in Thailand. Ferry services connect the various Thai islands, while daily boat passages link the country's mainland locations.
Ferries come with comfortable seating and air conditioning, making them an ideal option to explore remote areas of the country. In addition, many of these vessels feature rooftop nightclubs – perfect for sightseeing around Thailand while enjoying a few beers or cocktails on board! Moreover, ferry prices are significantly cheaper than train tickets – making ferries an affordable alternative when traveling between cities and regions in Thailand.
Coverage of ferry routes is broad but not comprehensive; however, convenient local terminals make locating intermediate stops from one destination to another easy.
Domestic Flights
Domestic flights are a fast and convenient way to travel between cities in Thailand. An extensive selection of airlines flies nationwide, with daily connections from Bangkok to popular destinations like Chiang Mai, Phuket, Koh Samui, Pattaya, and more.
Airlines such as Thai Airways International provide frequent non-stop service for passengers looking to fly directly from one destination to another. Prices start at just a few hundred baht ($10 USD) depending on where you're headed and when you plan on booking your flight—so it can be much cheaper than taking alternative forms of transportation! Furthermore, airports all across Thailand are well-connected by public transport like bus or taxi services, which makes them extremely accessible locations for tourists who want to explore the country without wasting too much time on land travel!
Takeaway
Ride-sharing apps like Grab and Bolt are reliable options in Thailand for travelers to get around. These ride-sharing services have become widespread among locals who need convenient and affordable transportation.
They provide multiple transportation options such as cars, bikes, delivery, etc. Additionally, their competitive pricing schemes make them the ideal choice for travelers on a budget.
Furthermore, their safety features offer extra protection during rides within Thailand. Despite Uber's absence from the country in recent years, the availability of reliable alternative ride-share apps like Grab and Bolt ensures that users can still find hassle-free transport throughout their journey in Thailand.
Read Also: Things to do in Phuket
Frequently Asked Questions (FAQs)
Now, here are some FAQs on this topic
1. What are the best ride-sharing apps in Thailand?
Grab, Gojek, and Line Man are Thailand's most popular ride-sharing apps.
2. How do I sign up for a ride-sharing app?
Each of these ride-sharing apps requires you to download their app and sign up by providing your phone number or email address.
3. How much does a typical ride cost?
Ride costs vary on various factors such as distance traveled, type of vehicle chosen, traffic conditions, etc., but typically, they start from 50 baht per kilometer (about $1 USD). Additional charges may apply depending on the final destination or special requests made during the trip.