20 Best Ride Sharing Apps in the UK: Which One is Right for You?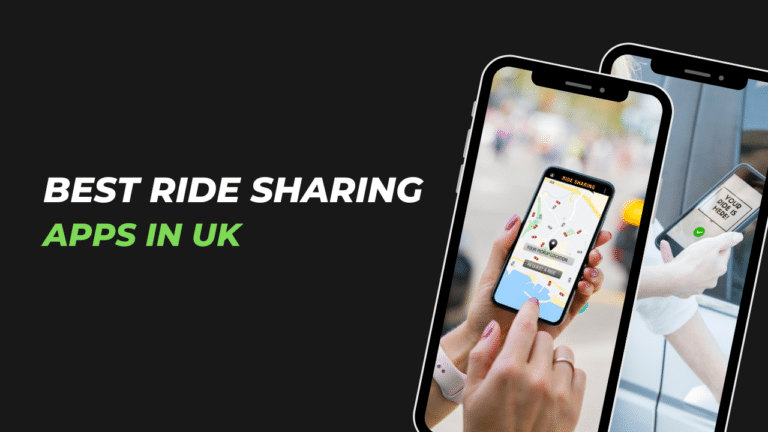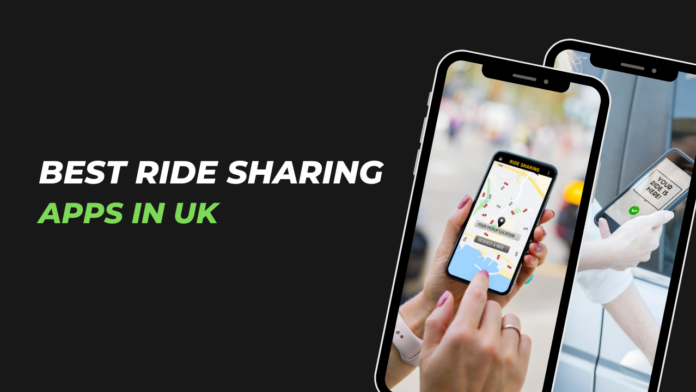 Are you looking for an affordable and convenient way to get around in the UK? Ride-sharing apps have become increasingly popular, offering an easy solution to commuting needs. Uber has become a household name in London as well as the UK. This blog post dives into all you need to know about the best ride sharing apps in the UK with the latest updates.
We take a look at some of the best ride-sharing apps (including UBER, Bolt, Ola, and Free Now), compare each app side by side, and offer helpful tips on how to make transportation more accessible and cost-effective.
Get ready to explore what's new when it comes to getting from point A to B!
Content Highlights
Best ride sharing apps in the UK, such as Uber, Bolt, Ola, and Free Now (Kapten), offer estimated fares and availability & coverage for convenience.
Safety features are a top priority across all ride-sharing services – with rigorous driver background checks that provide enhanced security.
User ratings and reviews can be used to compare different ride-sharing options before booking a trip.
Additional features like food delivery or package delivery are also provided by some ride-sharing companies offering extra value for customers.
Top 20 Best Ride Sharing Apps in the UK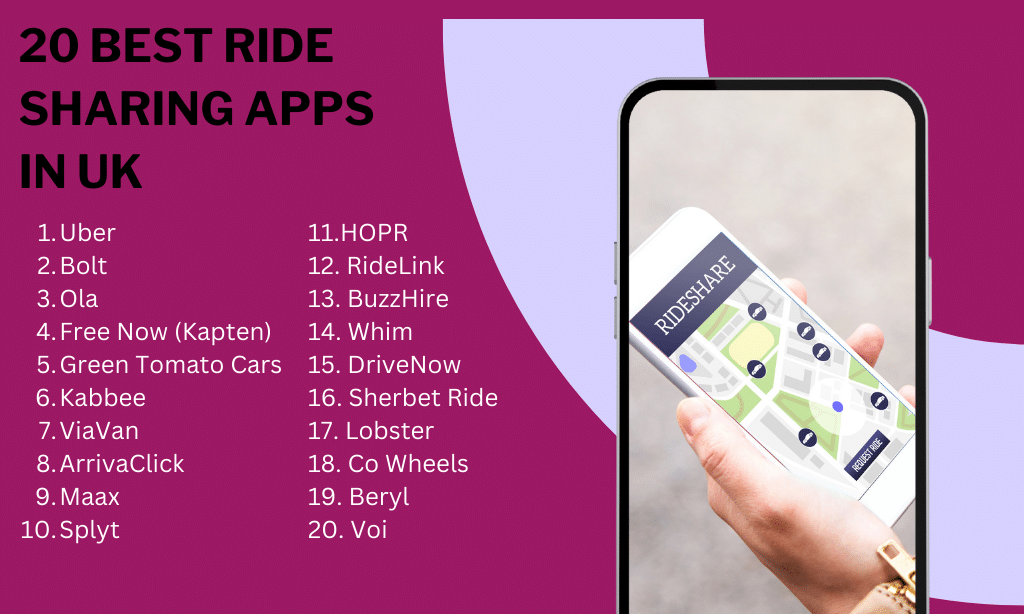 In the UK, four of the biggest ride-sharing apps are Uber, Bolt, Ola, and Free Now (Kapten).
Uber
Uber is the market leader in ride-sharing apps in London and the UK. With a specialized business model and global presence, Uber has become synonymous with ridesharing throughout much of Europe.
By taking advantage of its cutting-edge technology, data science, and network effects, it has grown exponentially over the years as demand for streamlined transportation services rises.
Uber's trustworthiness makes it a popular choice for riders looking for reliable service at an affordable price, while its driver incentives, on top of flexible working hours, provide extra perks to those willing to take up their offer.
The company's efforts are continually being improved, as seen by their recent introduction of worker entitlements such as minimum wage, holiday pay, and pension benefits which addresses issues concerning plighted labour that were previously experienced across other sectors disrupted by digital startups like Uber.
Bolt
[Video Credits @Bolt]
Bolt is one of the most popular ride-sharing apps in the UK. Launched as Taxify in 2013, Bolt has recently re-branded itself to focus on unifying its various services under a single app experience.
Currently operating in over 500 cities across 45 countries worldwide, it is considered the leading alternative to Uber for ridesharing and online delivery services. As a result of a two-year wait for official licensing by Transport For London (TfL), Bolt finally became available for rideshare services exclusively within London in 2019 and continues to gain ground being used by more passengers each day.
With easy fare estimations and round-the-clock availability and coverage, users also benefit from safety features such as enhanced driver background checks, customer ratings & reviews, and additional services like food & package deliveries.
Ola
Ola is one of the top ride-sharing apps in the UK, boasting a range of features and services that appeal to users living or visiting various cities. The app offers on-demand rides throughout England, Wales, and Scotland via private cars, licensed taxis, or its "Ola EV" vehicles which only use electric power.
Ola incorporates different categories of service to meet varied needs, from regular commute requests to luxury services and group travel. To ensure safety and build trust with riders, drivers are subject to an extensive background check before being allowed on the platform.
Ride-sharing apps like Ola use driver ratings to show how good the drivers are. They also use advanced navigation technology to help customers and drivers know where to go. Since starting service in the UK in 2018, Ola has become a good option for passengers looking for lower fares and for drivers wanting to earn more.
While Uber dominates ride-sharing, Ola follows local laws and regulations. This gives people important security, transparency, and peace of mind. Ola's flexible pricing appeals to regular commuters wanting to save money. So in many markets, Ola is becoming a popular new choice. Its growth could signal big changes to come for ride-sharing companies, drivers, and communities.
Free Now (Kapten)
Free Now is a top ride-sharing app in the UK that provides an accessible and convenient way to get around. It merged with Kapten, the second-largest ride-hailing app in the country, in 2020.
With Free Now's service, customers can book a wide selection of vehicles, including taxis, private cars, eBikes, and eScooters, all through one single application. Through its website or mobile app, customers can find reliable information on fare costs and estimated times of arrival for their chosen mode of transport.
Additionally, passengers are reassured by verified driver backgrounds before booking a journey as part of safety measures set in place by Free Now. The company has also received approval from Transport for London to begin operations within the city itself.
Green Tomato Cars
Green Tomato Cars is a London-based taxi service dedicated to providing an environmentally conscious transportation option. Their goal is to disrupt traditional ride-sharing services with their zero-emission cars while still delivering a reliable and convenient experience for their customers.
The company's app makes it easy for users to order a taxi, with estimated pickup times displayed immediately upon booking request. As well as being eco-friendly, Green Tomato Cars offers additional benefits like competitive pricing and excellent customer service ratings that make them popular among riders throughout the city.
They continue to innovate to meet customers' needs, making sustainable transportation more accessible than ever before!
Kabbee
Kabbee is a very popular ride-sharing app used in London. It gives people many choices for getting around the city. Users can open the Kabbee app on their phones and book different types of rides – black cabs, mini-cabs, and fancy executive cars. This means there are rides for different budgets. If you want to save money, take a mini-cab. If you want more comfort, book a black cab or executive car.
The Kabbee app makes booking easy. You put in where you want to go, and it shows you prices for different ride options. This lets you compare and pick what works best for your trip. After booking through the app, you see details about your driver and vehicle. This makes it easy to find them when they arrive.
With so many transportation choices in one place, Kabbee is useful for getting around London. The app offers convenience for both locals and visitors. Its simple design and price comparison features help people book rides that match their needs. Whether you want an affordable mini-cab or a higher-end black cab, Kabbee has you covered.
ViaVan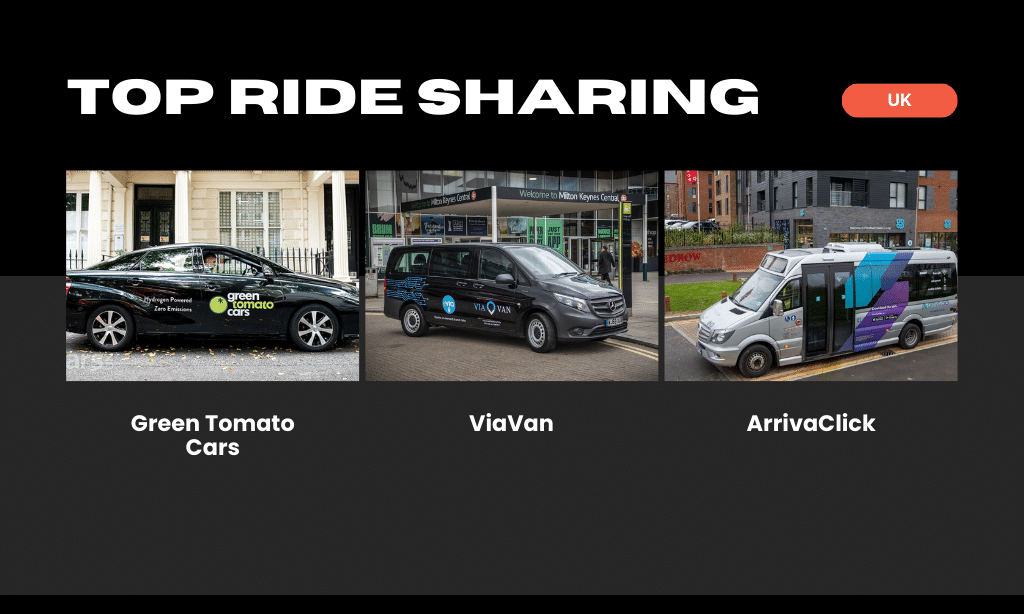 ViaVan is a popular shared ride service used in London and other cities across the UK. It lets multiple people who are going the same way share a van or minibus. This makes rides cheaper than taking a taxi by yourself. It's also better for the environment to have fewer vehicles on the road. ViaVan uses advanced technology to match up riders efficiently.
When you open the app to book a ride, it finds other people requesting trips on a similar route. It then sends a shared van to pick you up. This smart system means you don't have to make many stops – everyone is dropped off quickly. Riding with ViaVan is comfortable and affordable. The vans have room for around six passengers. There's WiFi, charging ports, and pleasant drivers. Fares are quite low, costing just a few pounds for shorter trips.
For commuters going to work or people running errands, it's an easy and eco-friendly option. With its innovative ride-sharing model, ViaVan aims to reduce traffic in cities. More people sharing rides means fewer cars on the streets. For Londoners looking for a convenient and budget-friendly way to get around, ViaVan is a top choice. Its technology offers quick shared trips that are easy for your wallet and the environment.
ArrivaClick
ArrivaClick is an on-demand bus service used in parts of the UK. It gives riders a flexible way to book seats on minibusses using an app. Unlike regular buses with fixed routes and timetables, ArrivaClick adapts to passenger needs. After downloading the ArrivaClick app, you enter your desired pickup and drop-off destinations. The app shows your fare upfront, so you know the cost. It also suggests nearby pickup points, like bus stops, to meet your minibus.
Once booked, a minibus comes directly to your stop at the requested time. This minibus will take you and other passengers heading in the same direction around the city. The service operates daily, providing an alternative to standard bus lines with less flexibility. Riding with ArrivaClick feels more personalized than public transportation. You travel at your preferred time in a minibus that comes just for you.
Fares are reasonable, especially if sharing the ride. The app makes booking easy, so you don't have to wait at bus stops hoping for the right bus. For its adaptable routing and booking options, ArrivaClick offers a modern transport solution. It's ideal for cities, where passengers want flexibility without a car. With its personalized feel and easy app, ArrivaClick provides on-demand public transit when needed.
Maaxi
Maaxi is a ride-sharing app made for group travel around London. It lets big groups of people going to the same place share rides and save money. For example, co-workers commuting to the office or friends visiting can book a Maaxi. The Maaxi app is designed to handle larger groups, which regular taxis or ride-shares might not fit.
When booking, you can enter your group size, and Maaxi will send a vehicle that fits everyone. This makes it perfect for getting bigger parties around London together. Maaxi uses smart technology to plan the best routes. It combines different passengers heading the same way so everyone gets picked up and dropped off quickly. By sharing the ride cost, a Maaxi can be much cheaper than taking multiple cabs.
For Londoners traveling in groups – whether to work, parties, or events – Maaxi offers an affordable option. With its roomy vehicles and savvy route planning focused on group travel, Maaxi lets you split costs and ride together around the city smoothly. It's an easy way to travel that fits the whole group and fits your budget.
Splyt
Splyt is an app that brings together many different transportation choices in one place. It partners with local taxi, rideshare, and scooter companies in the UK to give users options. When you open the Splyt app, you can see prices and wait times for rides, taxis, e-bikes, e-scooters, and more. The app lets you compare your choices side by side to pick whatever is best. You can choose based on cost, time, or even environmental impact.
So if rideshare is the cheapest but a scooter is the quickest, you can easily see that and book the best ride for your needs. Splyt operates in major UK cities like London, Manchester, and Birmingham. It aims to provide convenient and affordable urban transportation through one app. You don't need multiple apps for cabs, rideshares, and scooters – Splyt has them all.
With its huge range of partners and transport modes available, Splyt makes getting around cities easy. You can find and book the ideal way to get from A to B, whether it's a taxi, shared ride, e-bike, or other option. For convenient and cost-effective urban travel, Splyt brings diverse choices together in one place.
HOPR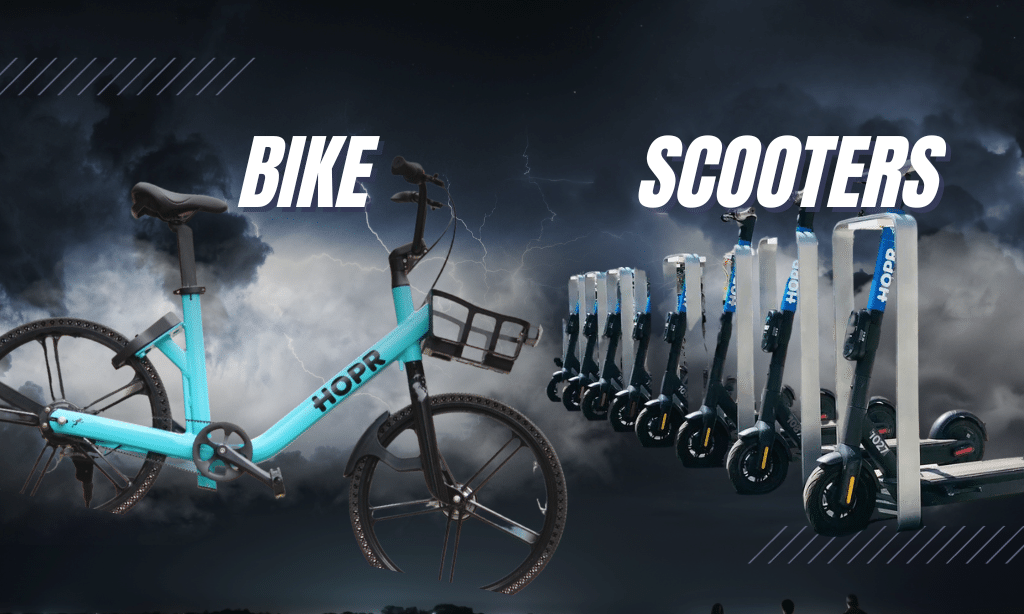 HOPR is an app that lets people in the UK access different ways to travel short distances in cities. It offers bikes, electric scooters, and electric bikes that users can find, unlock, and pay for on the app. HOPR aims to give people flexible and green choices to get around urban areas. Instead of taking a car or taxi for a short trip, you can use the HOPR app to find and unlock an e-bike or scooter parked nearby.
The app uses your location to show all the HOPR vehicles close by. You scan a QR code on the bike or scooter to unlock it. The app tracks your trip time and distance to calculate the fee, which you pay digitally through the app. With its range of eco-friendly vehicles available on demand, HOPR promotes sustainable travel. Biking or riding a scooter reduces emissions compared to driving. The app makes finding and using these options easy and convenient.
HOPR currently operates in London, Manchester, Oxford, and other major UK cities. For residents and visitors looking for flexible, green ways to travel short city distances of a few miles or less, HOPR offers simple urban mobility. Just tap the app whenever you need an e-bike, scooter, or bike to get around.
RideLink
RideLink is an app that lets regular people share their cars. It connects drivers with people looking for affordable rides around the UK. On RideLink, car owners list their vehicles to rent out to others. So instead of using a taxi or rental car, you can book someone's car for your trip. As a passenger, you can choose from many different makes and models listed in your area.
The app has features to make sure rides are safe and secure. Drivers and passengers both get verified with background checks. Every booking comes with insurance coverage too. Drivers earn extra cash by sharing their car when they aren't using it. For travelers, RideLink offers lower costs compared to taxis or rental cars. By riding in someone's car, you save money and get more options to suit your trip.
You also help regular people offset the costs of their car payments and expenses. With its peer-to-peer car-sharing model, RideLink provides an affordable and eco-friendly transportation choice. It's a unique way to access a variety of vehicles while supporting the local community. For flexible transportation across the UK, RideLink connects travelers with drivers happy to share their cars.
BuzzHire
BuzzHire provides rides with minicabs and chauffeur services around London. What makes BuzzHire unique is its focus on giving customers options to meet different travel needs. On their app or website, you can request everything from standard minicabs to luxury vehicles with professional chauffeurs. Whether you need an affordable, quick ride or a high-end car for an important occasion, BuzzHire has you covered.
You can select the exact vehicle type, from roomy minivans to sleek sedans. The app gives upfront pricing, so you know the costs before booking. There are also options to request child seats, wheelchair access, and more for accessible travel. BuzzHire aims to make every ride pleasant for customers. Their drivers are professional and courteous. Many go above and beyond to deliver excellent service. Vehicles are modern, clean, and well-maintained for comfort.
With their wide range of vehicles and customer-focused approach, BuzzHire provides tailored rides in London. Their service caters to your specific requirements. You get where you need to be with the vehicle and amenities that best suit your trip. For personalized, convenient transport, BuzzHire has the flexibility and options to meet your travel needs.
Whim
Whim is an app that brings all kinds of transportation together in one place. It offers public transit, taxis, rental cars, bikes, and more to get around the UK. Users pay a monthly fee to access all these options in the Whim app. You can choose the best mode of transport for each trip you must take. For short trips, grab a bike or e-scooter. For longer journeys, take the bus or book a rental car.
The app shows your public transit routes, rental car availability, taxi locations, and more. Everything is in one place, so planning and booking rides is easy. And with the subscription model, you don't have to pay individual fares each time if you use it frequently. Whim aims to provide flexibility and convenience for commuters.
Instead of being limited to just one way of getting around, you can access a mix of transportation through an all-in-one app. Whether going to work, running errands, or traveling out of town, you can choose the best option for each trip. With its mix of transportation choices and simple monthly pricing, Whim offers a smart mobility solution. For an easy and flexible way to travel, Whim brings public and private transport options together in one seamless app.
DriveNow
DriveNow is a car-sharing service that lets people rent cars by the minute or hour. It operates in big cities across the UK. Users can find and book nearby shared cars straight from the DriveNow app. Just locate the car you want on a map, walk up to it, and unlock it with the app. No lines or paperwork is required.
The service offers a wide variety of vehicles to choose from – hatchbacks, sedans, SUVs, and more from major brands. You can book whichever car fits your trip. Pricing is clearly shown in the app beforehand, so you know the exact cost. DriveNow makes renting a shared car quick and hassle-free.
You can use it spontaneously for short trips without long rental agreements. It's convenient for running errands, driving across town, or supplementing public transit. With its on-demand access to shared cars across the UK, DriveNow is ideal for urban residents. No car ownership is required. The app lets you find and drive cars located right in your neighborhood whenever you need easy transportation. For spontaneous and flexible urban travel, DriveNow puts shared cars at your fingertips.
Sherbet Ride
Sherbet Ride offers taxi and executive car services in London. What makes them unique is their large fleet of electric vehicles. Riding with Sherbet means getting around London in an eco-friendly way. Many of Sherbet's taxis are zero-emission electric black cabs. Their executive car options also include high-end electric sedans and SUVs.
This means every ride produces less pollution compared to standard petrol vehicles. Despite being green, Sherbet's rides don't compromise comfort. Their electric taxis have the same roomy interiors as classic London cabs. The executive cars offer luxury features and a smooth, quiet electric ride. Sherbet aims to appeal to eco-minded travelers who want a comfortable journey.
Riders can request hybrid or fully electric cars specifically when booking through the app. Sherbet also uses eco-friendly practices in its offices and operations. With its large electric fleet and commitment to sustainability, Sherbet Ride provides an appealing green transportation choice. Riders can explore London comfortably with zero emissions and less environmental impact. For an eco-conscious taxi or executive car service, Sherbet offers sustainable luxury.
Lobster
Lobster is an electric scooter-sharing service operating in many major cities across the UK. It provides e-scooters as an eco-friendly way to travel short distances around urban areas. Using the Lobster app, you can find and unlock e-scooters parked on city sidewalks. E-scooters are small electric vehicles you stand on like a skateboard. Lobster's e-scooters go up to 15mph and can go about 15 miles on a charge.
To start a ride, you scan a QR code on the e-scooter using the Lobster app. This unlocks the scooter so you can start riding right away. When done, just park and lock the e-scooter at your destination. Rides cost a few pounds for 5 or 10 minutes of travel. It's an affordable and quick option for short city trips of around 1-2 miles. Lobster aims to reduce urban congestion and emissions by providing an alternative to cars for short commutes.
With its convenient e-scooter sharing model, Lobster promotes green transportation in UK cities. Locals and visitors can zip around efficiently while enjoying the fresh air and freedom of a scooter ride. For sustainable short-distance travel, Lobster offers an eco-friendly solution.
Co Wheels
Co Wheels is a car-sharing club working in many cities across the UK. It gives members access to various shared vehicles to use by the hour or day. Co Wheels aims to provide affordable and sustainable transportation. Members can reserve any car in the Co Wheels fleet near them using the app or website. When you need a car, just walk up and unlock it with your membership card. Drive it as long as you need, then return it to its designated spot.
The fleet includes economy cars, vans, electric cars, hybrids, and more. This range of options helps reduce reliance on privately owned cars that are underutilized. Members pay based on how long they use the vehicle, with insurance and gas included. Co Wheels focuses on convenience and environmental responsibility. Cars are stationed around cities for easy access. Choosing shared electric vehicles reduces emissions.
For short outings or day trips, Co Wheels provides wheels when you want them without car ownership costs. With its diverse shared fleet and simple membership model, Co Wheels offers flexible, green urban transportation. Members can find affordable and sustainable mobility that fits their specific trip needs.
Beryl
Beryl is a bike-sharing company working in many UK cities. It provides shared bicycles that people can rent for short trips around town. Using the Beryl app, you can find and unlock bikes parked on city sidewalks. Unlike some bike shares, Beryl's bikes don't need to be returned to docking stations. You can park and lock the bike wherever your trip ends using the app. This dockless model makes bikes easily accessible from anywhere.
The app shows all the Beryl bikes available near your location. To unlock one, you scan the QR code on the bike through the app. Beryl's bikes are designed for city use, with sturdy frames and baskets. Riders can use Beryl bikes for commuting, running errands, or just enjoying a ride. Pricing is very affordable, often just £1 per 30 minutes.
As an eco-friendly and healthy transport option, Beryl aims to reduce urban congestion and emissions. With its easy-to-use dockless bikes available across UK cities, Beryl provides a sustainable mobility solution. Both locals and visitors can access the bikes on-demand through the app for short rides around town.
Voi
Voi is an electric scooter-sharing company working in many major cities across the UK. Voi provides app-based rental of e-scooters as an eco-friendly way to travel short distances. Using the Voi app, riders can locate nearby available e-scooters and instantly unlock them. Voi's e-scooters are electric models with a top speed of around 12mph. Riders stand on the scooter platform like a skateboard and control speed with the throttle.
Rides cost just a few pounds to start, then a per-minute fee while riding. E-scooters help cover the "last mile" of trips from public transit stops. Riders can take the train or bus and then scoot the rest of the way. Voi designs its e-scooters and operations to be sustainable.
The e-scooters are emission-free and have replaceable batteries to maximize lifespan. Voi also offsets all carbon emissions from their business activities. With accessible e-scooter rentals in cities across the UK, Voi provides an eco-friendly option. Riders can quickly get around while reducing their carbon footprint. For short urban trips, Voi offers a convenient and sustainable transportation solution.
Key Features and Services of Each Ride-Sharing App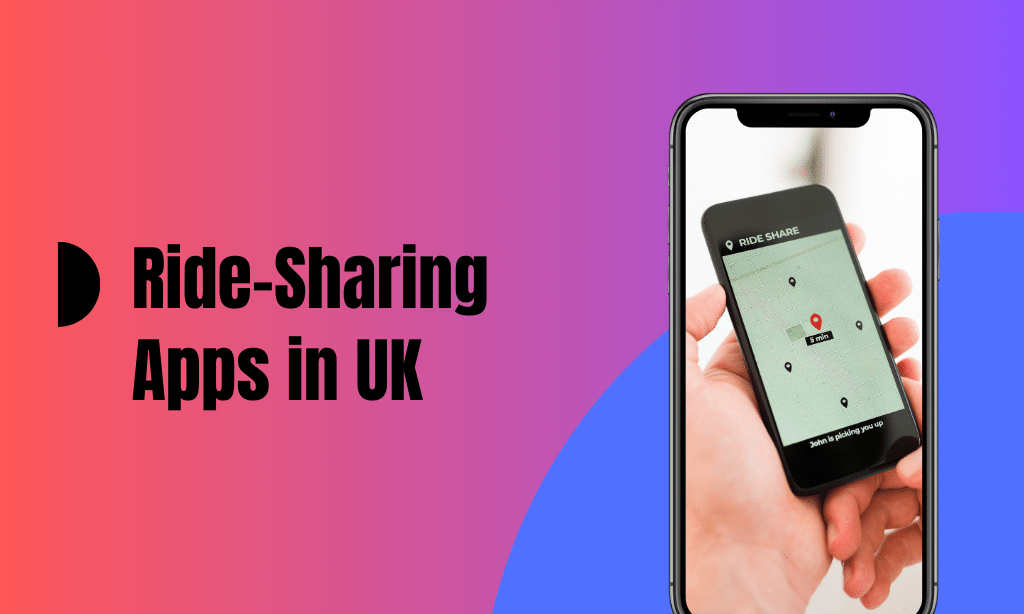 All of the ride-sharing apps offer pricing and fare estimates, availability and coverage, safety features and driver background checks, user ratings and reviews, as well as additional services such as food delivery or package delivery.
Pricing and Fare Estimates
Ride-sharing apps in the UK provide users with estimated fares before they book and pay for their rides. This feature helps passengers plan financially, allowing them to budget for their rides within their means.
Additionally, it gives an idea of the cost comparison between different service providers offering similar rides, such as Uber or Bolt driving customers toward personalized best deals every time.
These estimates are calculated based on factors such as distance traveled, time taken, and promotions applicable at that moment, helping users realistically anticipate what they will need to pay once they arrive at their destination.
Availability and Coverage
Ride-sharing apps in the UK, such as Uber, Bolt, Ola, and Free Now (Kapten), provide users with a convenient way to book trips across multiple cities. These services are available in most major cities in the country, usually 24/7.
Newer options like Green Tomato Cars also offer coverage across many parts of the UK, helping connect passengers and drivers from smaller towns and rural areas. App features such as fare estimates allow riders to compare prices between ride providers before taking a trip.
They can also check estimated wait times for pick-up and arrival at their destinations based on current driver availability. Despite being generally available throughout the country, ride-sharing services may be limited or restricted in certain areas due to local legislation or regulations.
Safety Features and Driver Background Checks
Ride-sharing apps in the UK prioritize the safety and security of both riders and drivers, which is why these companies run comprehensive background checks on all potential drivers. This vetting process may include a criminal record screening, as well as verifying details from driving records to ensure that those who pass have no disqualifying convictions or infractions on their licenses.
Ridesharing apps in the UK have extra features to keep users safe. Apps let family or friends track your trip in real-time. You can share your route so they know where you are. There are also emergency buttons to call for help if needed. Riders can rate drivers after trips so others can see if they are good drivers.
Apps provide insurance too, so you're covered if anything goes wrong. With tracking, emergency calls, driver ratings, and insurance, ridesharing apps add protections beyond normal taxis or transit. These features help riders feel more secure when using rideshares.
User Ratings and Reviews
When it comes to choosing the right ride-sharing app, user ratings and reviews are an indispensable resource. User reviews are important because they offer first-hand accounts of people's experiences with a particular service.
This helps users make unbiased decisions about which services best meet their requirements. Ratings give an overall indication of how reliable and satisfying the customer experience has been with that particular app.
Furthermore, real-time, up-to-date product reviews from verified users can tremendously help in making effective decisions when faced with multiple options for ridesharing apps in the UK.
Additional Services
Ride-sharing apps offer more than just transportation – they provide users with a range of extra services that can save time and add convenience. For instance, many ride-sharing apps such as Uber, Friedman's, and Rappi in the UK now offer on-demand food delivery in select cities.
This allows people to get meals delivered directly from local restaurants quickly and easily without having to leave home or office. Additionally, package delivery is also available through some ride-sharing platforms like Bolt, which allows customers to send both personal items and business parcels to their desired destination at an affordable cost.
These extra services make it easier for users to access different types of transportation, whether that means getting around town or ordering goods online. Such innovative features help differentiate these ride-sharing companies from traditional taxi cabs by offering added value compared to other transportation options.
Latest Updates and Innovations in Ride Sharing Apps
Ride-sharing apps have continued to advance in response to consumer demand, with new features such as integration with public transportation and real-time updates on in-app navigation.
Integration With Public Transportation
Ride-sharing apps in the UK have embraced integration with public transportation, providing an expanded range of options to users. Features allow users to plan their routes more efficiently and track trains and buses in real time.
They also supply information on train times and updated delays for increased convenience. This integration facilitates a seamless transition between ride-sharing services and public transport such as bus, tram, tube, or rail systems – which can accommodate longer trips while keeping prices low.
These platform offerings are designed to promote sustainable transport solutions all across the country by reducing car utilization, avoiding traffic congestion hot spots, and increasing vehicle efficiency whenever possible.
In-app navigation and real-time updates are two of the most crucial features for any ride-sharing app today. These provide enhanced visibility, location monitoring, and interactive mapping to both drivers and passengers during the booking process.
Through GPS tracking technology, an in-app navigational system allows users to see their driver's exact location on a map before they set off, helping them plan for maximum efficiency.
Real-time updates also keep riders informed about any changes happening with their journey, for instance, ETA or if the pick-up point is changed, so they can remain aware at all times.
Rewards and Loyalty Programs
Ride-sharing apps in the UK have introduced attractive loyalty and rewards programs to incentivize customer loyalty. Uber, for example, offers a loyalty program that allows customers to accumulate points with each ride they take.
These can then be used for discounts or free ride rides. Moreover, as part of their coalition partner-earning strategy, customers can also earn incentive cards from other affiliated companies every time they take an Uber ride.
This gives them additional savings on gas purchases or restaurant meals and helps strengthen customer relationships. In addition, uber offers riders special promotional codes on holidays or special occasions that allow them to enjoy free rides – which serves both as a retention tool and a call-to-action campaign.
Sustainability Initiatives
Ride-sharing apps in the UK are working hard to make transportation greener and more environmentally friendly. Many of these companies have committed to using electric vehicles (EVs) as part of their fleets, enabling customers to reduce their carbon emissions when traveling.
Uber has made a $800 million commitment towards making EVs accessible and pledged to be carbon-neutral globally by 2030, contributing significantly towards sustainability initiatives in the ride-sharing industry.
With the launch of new EV-focused services such as Kapten's "Go Green" package, riders can now quickly adopt more eco-friendly practices into their daily lives while taking advantage of lower fares.
Similarly, some ride-sharing services offer discounted rides for those who choose e-hailing or bike sharing instead of traditional taxi bookings – providing an incentive for people to move away from petrol cars and becoming part of the green transport revolution.
Tips for Using Ride-Sharing Apps in the UK
Taking the extra steps to ensure a safe and smooth journey when using ride-sharing apps in the UK is essential, so be sure to review these helpful tips.
Safety Precautions and Best Practices
It is important to take precautions when using ride-sharing apps in the UK. Users should request rides from indoors and avoid lingering outside alone while looking at their phones. It is also important to follow the guidelines set by the Division of Public Safety & Security for staying safe while using ride-sharing apps.
Additionally, many ridesharing companies are leveraging IoT (Internet of Things) technology to integrate safety features for both riders and drivers. These features include real-time location tracking, automated emergency calling, driver ratings and reviews, in-app navigation updates, and more.
When considering a ride-sharing app, users must look into these measures taken to protect customer safety and other benefits like cost-effectiveness or user interface ease of use, which will vary from app to app.
Planning and Scheduling Rides
Scheduling a ride in advance is one of the best features of using ride-sharing apps in the UK. This helps users plan their trips without hassle and avoid last-minute frustrations, as they can be prepared and have everything ready ahead of time.
Also by having access to past trip data with an app's "My Rides" feature, they get a more personalized experience that suits them better while booking another ride. Planning also does not cut short on safety precautions – since ride-sharing companies carry out stringent checks on drivers before assigning bookings, there isn't much to worry about when scheduling rides beforehand.
Scheduling rides makes things convenient for both passengers and drivers alike; commuters benefit from improved user satisfaction levels, industry trustworthiness, affordable transport costs, convenience with prebooked taxis, etc., added security measures (background checks), and comfortable traveling experiences whilst providing job opportunities for local drivers!
So, if you want to eliminate any stress or confusion associated with taking a car share in the UK, then planning might just be what you need!
Saving Money With Promotions and Discounts
Ride-sharing apps in the UK often offer promotions and discounts to help users save money. First-time user discounts are commonly used as a way of welcoming new app users, giving them an incentive when signing up for the service.
Other offers include referral bonuses, which reward existing customers for bringing in new business by providing them with free or discounted rides if someone they refer signs up using their unique code.
Promotional codes are also regularly available, allowing riders to add a code upon checkout that will reduce the overall price of their ride or grant them exclusive access to special features not normally included with standard fare rates.
These types of promotions can be found through both national companies like Uber and Bolt, as well as through many of the smaller regional operators such as Ola and Free Now (Kapten).
Rating and Providing Feedback on Drivers
Most ride-sharing apps have a feedback system to incentivize both drivers and passengers to behave responsibly. The rating system allows users to evaluate their entire experience, including the quality of service, cleanliness of the vehicle, and safety measures taken by the driver.
In addition to providing an avenue for expressing opinions, good ratings are also rewarded with incentives such as discounts on fares or improvements in service quality over time. This serves as a powerful motivation for all parties involved and helps keep everyone accountable when it comes to sharing rides safely and reliably.
Through this feedback loop, riders can be more assured of their safety while enjoying a better overall ride experience each time they use a ride-sharing app.
Managing and Updating Personal Information and Preferences
Ride-sharing apps in the UK allow users to quickly and conveniently manage their personal information and preferences. For example, the latest updates of ridesharing applications such as Uber offer enhanced user profiles featuring easy profile settings, payment methods, review history listings, and account management options that allow people to customize their experience according to their individual needs.
These apps also enable riders in the UK to edit or delete any outdated personal information with a few simple clicks. By keeping their data up-to-date, users can enjoy more personalized services from ride-sharing companies, such as quick seating preference recognition by drivers or intuitive recommendations tailored based on past interactions within the app. This level of customization ensures an enjoyable and self-directed travel experience for all ride-sharers in the United Kingdom.
User Reviews and Testimonials of Ride-Sharing Apps
Hear from real users and learn more about their experiences with the various ride-sharing apps in the UK to gain a comprehensive understanding of what to expect.
Positive Experiences and Recommendations
Ride-sharing apps are becoming increasingly popular in the UK, with travelers looking for convenience, cost savings, and safety. Ride-sharing is a preferred alternative to public transportation or using personal vehicles as it allows users to quickly call up a car or arrive at their destination safely.
Many people have praised ride-sharing apps for making travel easy and affordable – with some examples of ride-share companies even being cheaper than public transport. People also tend to appreciate the variety of services they provide, such as food delivery, package delivery, etc., and many drivers have earned excellent reviews from passengers due to their courteousness and punctuality.
In addition, most ride-share companies prioritize safety by doing thorough background checks on their drivers before hiring them, giving riders peace of mind when traveling alone late at night.
The user interface, too, has come a long way since the early days, garnering praise from customers for its ability to pinpoint locations accurately while ensuring effective communication between driver and rider through real-time updates.
Common Issues and Complaints
Ride-sharing apps in the UK often face criticism due to surge pricing, driver behavior, and glitches within the app itself. Surge pricing is when ride prices increase dramatically during peak times or high-demand periods such as rush hour traffic or special events like concerts.
Some users also experience poor service from drivers who may be distracted, late, or unhelpful. Furthermore, there are regular complaints about app issues that can cause delays while booking a ride or lead to incorrect fares being charged.
These types of problems can significantly detract from the overall user experience and could even result in fewer people using ride-sharing services altogether if left unresolved.
Suggestions for Improvements
Ride-sharing apps must continually fine-tune their user experiences to stay competitive in the market and meet customers' needs. This can involve streamlining the user interface, providing faster customer support, improving driver background checks for safety, and expanding the range of services on offer.
User feedback is essential for ride-sharing apps, as it allows them to identify areas that need improvement and develop solutions accordingly. For example, Uber incorporates reviews from both drivers and passengers into its rating system, which helps ensure a safe and consistent service.
Additionally, app developers must regularly update their systems with new technologies to keep up with current trends, such as real-time navigation updates or sustainability initiatives like electric vehicle options when possible.
Future Trends and Predictions for Ride-Sharing Apps in the UK
With advancements in autonomous vehicle technology, enhanced personalization and customization options, and the potential for further integration of other mobility services such as bike sharing and scooter sharing, ride-sharing apps are predicted to become even more accessible and convenient for UK users.
Expansion to More Cities and Regions
Ride-sharing apps have been rapidly expanding across the UK, bringing tremendous convenience and affordability to their users. Each app has different levels of coverage throughout the country, with some offering services in even the most remote areas.
This expansion is providing more opportunities for people to travel safely, conveniently, and affordably across regions and further boosting economic growth in multiple cities. With more reliable access to transportation options, businesses also benefit from increased consumer demand and improved employee commute times.
The ride-sharing market not only creates job opportunities but also helps reduce carbon footprint by reducing car ownership rates in urban areas. As a result of this expansion, it is estimated that global ride-sharing revenue will rise 28% year on year over 2021-2027, driven by growing demand for convenient online transportation options.
Integration With Other Mobility Services
Ride-sharing apps in the UK are increasingly integrating with other mobility services, such as bike and scooter sharing, to offer users various transportation options. This integration is made possible through the use of smartphone-based apps and GPS location services that can quickly connect riders with available bicycles, e-bikes, and e-scooters near their desired destinations.
Through this integration, users benefit from improved accessibility to sustainable forms of transportation and an overall smoother journey experience. Station-based bike sharing and dockless e-scooter sharing are being explored within the UK, making these additional shared mobility services readily available when needed.
Benefits for users include cost-effectiveness, flexibility in travel routes, convenience around urban areas, and reduced air pollution from vehicles – creating a more eco-friendly space!
Advances in Autonomous Vehicle Technology
have the potential to disrupt transportation markets, including ride-sharing apps. Self-driving cars could increase safety and reduce costs for passengers, simplify insurance compliance requirements, and reduce traffic congestion.
Companies such as Uber have announced ambitious plans to switch all of their drivers to electric vehicles by 2030, while others are pursuing partnerships with self-driving car companies such as Motional.
As technology improves and costs come down with more experience in the field of autonomous vehicle production and deployment, many countries are already exploring regulations that will allow driverless cars on public roads based on safety considerations.
Enhanced Personalization and Customization Options
Ride-sharing apps in the UK are actively innovating to offer users more control and customization over their ride-sharing experience. From selecting preferred vehicle types and setting specific pick-up and drop-off locations to customizing ride preferences for a luxury or eco-friendly experience – users can now have higher levels of autonomy when using these apps.
This is made possible with advanced features such as route plotting that allows riders to customize exact routing for their trips. Furthermore, they can tailor their ride from start to finish according to special needs or requirements, like priority boarding options for airport rides or pre-booking services 52 hours before the trip.
These enhanced personalization and customization options contribute towards a convenient, flexible, and user-oriented experience which aids in increasing user satisfaction overall.
Regulatory and Legal Considerations for Ride-Sharing Apps in the UK
Before booking a ride, it is important to know various legal requirements, which vary by region and app provider. Find out more about them in this blog post!
Licensing and Permits
The UK requires ride-sharing services to obtain local authority permits in order to operate. All private hire vehicles, including ride-hailing apps, must comply with the rules and regulations set down by their respective authorities.
Companies like Uber are required to submit paperwork such as driver background checks and vehicle compliance information before being granted an operating license. Furthermore, licenses can be revoked if companies do not abide by safety standards or operational guidelines outlined by their local jurisdiction.
Although there have been several high-profile cases of companies appealing revoked licenses, cities are generally stringent when it comes to regulating the service that they provide through these forms of transport.
Insurance Requirements
Ride-sharing apps in the UK are required to carry insurance specific to each jurisdiction. This is due to safety regulations and liability laws mandated by local authorities. Depending on the area, coverage may include medical expenses, vehicle damage/theft, personal injury protection, liability protection for drivers or third parties involved in an accident, and uninsured motorist coverage.
At a minimum ride-sharing companies must provide Employer's Liability Insurance and Public Liability Insurance which are legal requirements to offer services as they cover potential liabilities from damages caused while riders are using their service.
In 2019 Uber also classified all its drivers operating in Great Britain as "workers," meaning it will be responsible for the employer's national insurance contributions and guaranteeing paid time off based on hours worked, among other benefits which could have broader implications regarding driver insurance.
Driver and Vehicle Compliance
Ride-sharing services in the UK ensure that their drivers and vehicles meet local licensing, permit, and safety requirements before they are allowed to operate on apps. Drivers must obtain a private hire license from a licensed council to be able to drive for companies such as Uber.
In addition, all vehicles used by drivers must undergo stringent inspections and maintain up-to-date registration papers and maintenance checkups. Compliance with these regulations helps keep vehicle roadworthiness at its best while ensuring the safe operation of ride-sharing services nationwide.
With strict driver certification standards also in place, it is ensured that only experienced professionals are behind the wheel when using ride-sharing platforms. All these measures help contribute to rider peace of mind while increasing public safety overall – thus making ride-sharing an even more attractive option for users across the UK.
Data Privacy and Security
Ride sharing apps must protect their users' data and personal information to maintain consumer trust. This includes any type of data collected when using the app, such as contact information, payment details, GPS tracking, or usage history.
The companies must take all necessary security measures to ensure that this sensitive information is protected from any malicious activities or hacking attempts. As a result of these initiatives and advances in encryption technology, ride-sharing apps offer users almost complete control over their privacy settings and can provide an extra layer of protection against data breaches.
For example, Uber allows its customers to delete their trips upon completion for added peace of mind about their privacy.
Moreover, ride-sharing services are legally obligated to report any security breach that could potentially put user's private data at risk within a 72-hour timespan, a practice known as mandatory reporting laws, which have been implemented across Europe since 2018 following major incidents like the 2016 Uber hack where 2.7 million UK accounts were affected without notification until months later.
Frequently Asked Questions (FAQs)
Let's now explore frequently asked questions about the best ride sharing apps in the UK.
1. What are the best ride-sharing apps in the UK?
The most popular ride-sharing apps used in the UK are Uber, Lyft, Gett, Kapten and Ola Cabs.
2. How can I get started with a ride-sharing app?
To start with a ride-sharing app, download it from your device's app store and create an account by providing details such as email address and payment method information. Once you're set-up, you will be able to start using it right away!
3. Are ride-sharing apps safe to use in the UK?
Yes, most major ride-sharing apps like Uber and Bolt have safety features and driver screening processes in place. You can share trip details with friends/family, rate drivers, and contact support if needed.
4. What payment methods can I use for ride-sharing services?
You can pay via the ride-sharing app using a credit/debit card, PayPal, or Apple/Google Pay. Some also accept cash payments. Check each app for payment options.
Takeaway
Ride sharing apps in the UK have revolutionized how we get around, providing a convenient and cost-effective alternative to traditional taxi services. These apps offer several advantages for their users – from discounts and rewards on fares to availability and coverage of extensive areas – ensuring an easy and stress-free journey.
Additionally, by allowing users to book rides on-demand, ride-sharing apps eliminate the need for car ownership. For these reasons, they are becoming increasingly popular among city travelers nationwide.
However, it is also important for users of ride-sharing apps to stay updated with the latest features and updates provided by their preferred providers. This helps ensure a secure experience while using these services and additional savings over regular bike or cab rentals.
Therefore, when traveling within or outside of the UK, consider taking advantage of one of the high-quality ride-sharing apps available today!