Best Gaming Monitors 2024: Top 10 Results to Elevate Your Gaming Experience!
Are you in search of the best gaming monitors of 2024? With technology advancing at an exponential rate, it's crucial to keep up with these evolving trends. One domain that has witnessed remarkable progress in recent years is gaming monitors, with ultra-high refresh rates, OLEDs, and 4K displays becoming increasingly common. 
In this guide, we will go through the ten best gaming monitors released in 2024 and their newest features such as G-Sync or FreeSync compatibility, HDR display options, and 165Hz Ultrawide screens.
Ready to experience crystal clear graphics like never before? Let's dive right into it!
Content Highlights
Ultra-high refresh rate gaming monitors like the Dell Alienware AW2524H, Asus ROG Swift PG27AQDM, and Samsung Odyssey Neo G8 provide smoother and more fluid gameplay of up to 240Hz.
OLED technology in newer gaming monitors offers improved visuals with deeper blacks, vibrant colors, and faster response times.
Gaming setups have advanced from 144Hz baseline refresh rates to higher 166hz or even 240Hz display specs providing unrivaled responsiveness during intense game sequences.
Active features such as HDR support, NVIDIA Gsync compatibility, rapid IPS technology, and Variable Refresh Rate (VRR) technologies are available for further improved user experience when playing games or watching movies.
Top 10 Best Gaming Monitors for 2024
This list outlines some of the best gaming monitors currently available, such as Dell S3222DGM, Alienware AW2524H, Asus ROG Swift PG27AQDM, and more.
| Monitor Model | Display Size | Resolution | Refresh Rate |
| --- | --- | --- | --- |
| Dell S3222DGM | 32 inches | 2560 x 1440 (QHD) | 165Hz (DP), 144Hz (HDMI) |
| Alienware AW2524H | 24.5 inches | 1920 x 1080 (Full HD) | Up to 500Hz |
| Asus ROG Swift PG27AQDM | 27-inch (26.5-inch viewable) | 3440 x 1440 (Ultra-Wide) | 240Hz |
| Alienware AW3423DWF | 34 inches | 3440 x 1440 (2K) | 165Hz |
| Samsung Odyssey Neo G8 | 32 inches | 3840 x 2160 (4K UHD) | 240Hz |
| HyperX Armada 27 | 27 inches | 2560 x 1440 (QHD) | 240Hz |
| MSI Optix MAG274QRF-QD | 27 inches | 2560 x 1440 (WQHD) | 165Hz |
| Corsair Xeneon 27QHD240 | 27 inches | 2560 x 1440 (QHD) | 240Hz |
| Dell S2422HG | 24 inches | 1920 x 1080 (Full HD) | 165Hz |
| Samsung 49-Inch Odyssey G9 | 49 inches | 5120 x 1440 (Dual QHD) | 240Hz |
Dell S3222DGM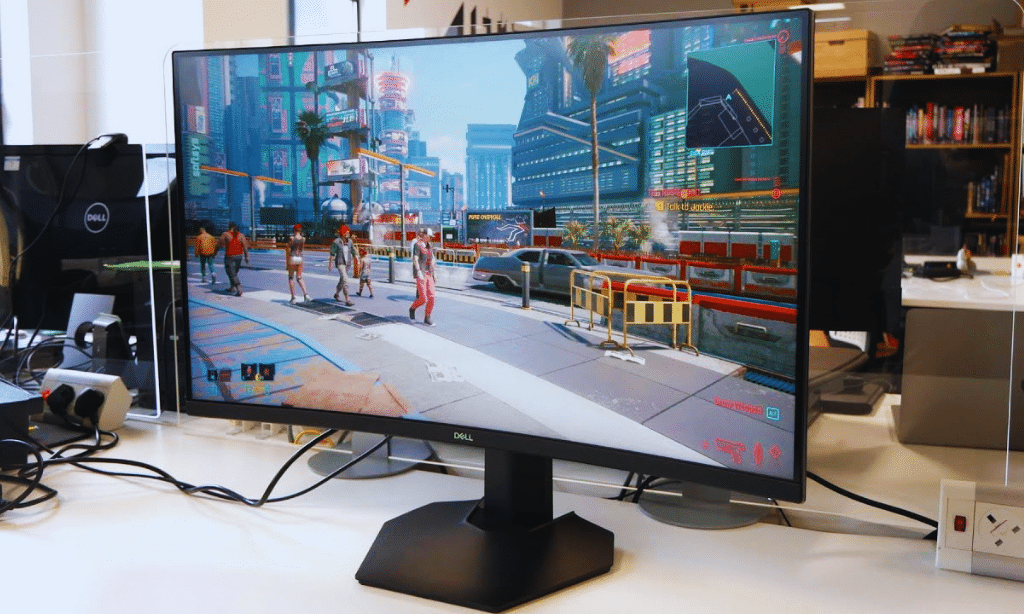 The Dell S3222DGM is one of the top gaming monitors for 2024 as it hits all the marks. It offers a 32-inch curved LCD display with wide viewing angles, QHD 2560 x 1440 resolution, and a fast 165 Hz refresh rate (DisplayPort) or 144 Hz (HDMI).
The monitor also has an incredibly low input lag and response time so that gamers can enjoy uninterrupted gaming sessions. With its VA panel, it offers a superb contrast ratio to bring out the details in various scenes while maintaining affordability compared to other options offering similar features.
Thanks to its 2K/QHD resolution and high refresh rates, this monitor will be able to keep up with modern games on any platform–PC, Xbox One X Series X|S consoles, or PlayStation 5 without breaking your wallet.
Alienware AW2524H
The Alienware AW2524H is a 24.5-inch IPS LCD monitor with exceptional gaming performance and features. It has an impressive up to 500Hz refresh rate (the fastest in the world) that allows for smooth gameplay even at rolls, movements, and games with lots of action.
With its 1080p resolution, this monitor offers crystal clear visuals to fully enjoy the game experience. It also comes equipped with AUO's sharp IPS panel which packs a peak brightness of 400 nits plus HDR support over both HDMI 2 ports and DisplayPort 1 connectors as well as Gsync compatibility ensuring remarkable picture quality regardless of what content is on display or in-game.
Its build quality is top notch with a solid aluminum stand which is able to adjust tilt up to 50 degrees backward and 10 degrees forward adding more comfort while gaming or watching a movie during those all-night sessions.
Asus ROG Swift PG27AQDM
The Asus ROG Swift PG27AQDM tops the ranks as one of the best gaming monitors in 2024. It's a top-tier monitor with a 10-star rating and features like an ultra-fast refresh rate, advanced OLED panel, extensive resolution, and unparalleled picture quality.
The impeccable 27-inch (26.5-inch viewable) display delivers an outstandingly vivid experience with 3440 x 1440 resolution – 4x sharper than HD – combined with its 240Hz refresh rate for incredibly quick response times up to 0.03ms for smooth gameplay when it comes to real life performance analysis.
On top of that, the monitor also supports G-Sync or Freesync-compatible technology for virtually tear-free gaming while reducing screen stuttering and input lag providing gamers with smoother visuals during fast-paced action sequences.
Alienware AW3423DWF
The Alienware AW3423DWF gaming monitor is designed to provide gamers with an immersive and smooth experience. Featuring a 34-inch ultrawide display, it offers panoramic visuals that give greater depth and detail for lifelike graphics while also enabling maximum use of your screen space.
This gaming monitor boasts a sharp 3440 x 1440 (2K) resolution and offers a rapid maximum refresh rate of 165Hz. Its response time is nearly instantaneous, clocking in at just 0.1ms gray-to-gray, outperforming even the most advanced TN, VA, and IPS panels currently on the market.
This makes the viewing experience lag-free when playing games or watching movies at true 4K resolution or high refresh rate Ultra HD resolutions on this dazzling beastly monitor! The Dell Alienware AW3423DNF has seen favorable reviews among gamers who praise it for its stunning image accuracy, color vibrancy plus excellent frame rates even during intense GPU moments making it stand out from other top gaming monitors.
Samsung Odyssey Neo G8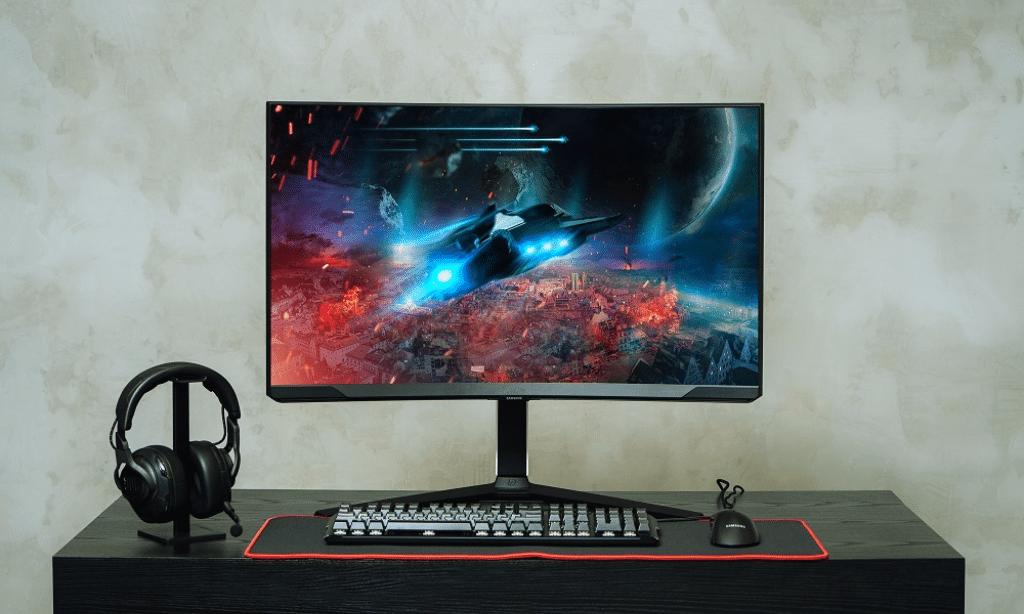 The Samsung Odyssey Neo G8 is one of the best gaming monitors for 2024, featuring a 32-inch display and 4K UHD resolution. With the fastest refresh rate of 240Hz among 4K gaming monitors, it ensures that you experience smooth and responsive gameplay.
Its response time of 1 ms adds to its incredible performance capabilities. Moreover, this monitor has a curved design which provides an immersive gaming experience unlike any other.
Not only does the curved design increase your viewing angle making it easier to spot enemies in PVP battles but also creates an incredibly realistic visual as if you are playing within the game itself!
HyperX Armada 27
The HyperX Armada 27 offers PC gamers an impressive display with a range of features to elevate their gaming experience. It comes with both a monitor head and an ergonomic arm, giving users the option to adjust it as needed for maximum comfort.
The panel has a 27-inch diagonal QHD display paired with a 2560×1440 pixels specification that makes it an ideal choice for the average gamer who wants to enjoy Ultra HD Quality visuals at higher refresh rates.
Digital Foundry has chosen this monitor as one of its best gaming monitors tested with 240Hz capabilities; making it well suited for FPS and racing titles seeking Ultrasmooth gameplay.
MSI Optix MAG274QRF-QD
Envision your triumph through the MSI Optix MAG274QRF-QD eSports gaming monitor. With a swift 165Hz refresh rate and a remarkable 1ms GTG response time panel, the Optix MAG274QRF-QD provides you with the competitive advantage required to conquer your adversaries. Its high WQHD (2560×1440) resolution and Quantum Dot technology deliver captivating visual experiences.
Its HDR10 support provides enhanced image contrast that gives you spectacular visuals when playing your favorite games. The low input lag of only 4ms ensures minimal motion blur during intense gameplay ensuring smooth and responsive performance.
Additionally, this monitor is both G-Sync compatible as well as FreeSync compatible reducing stutter issues while improving visual comfort over long hours spent at the computer screen.
Corsair Xeneon 27QHD240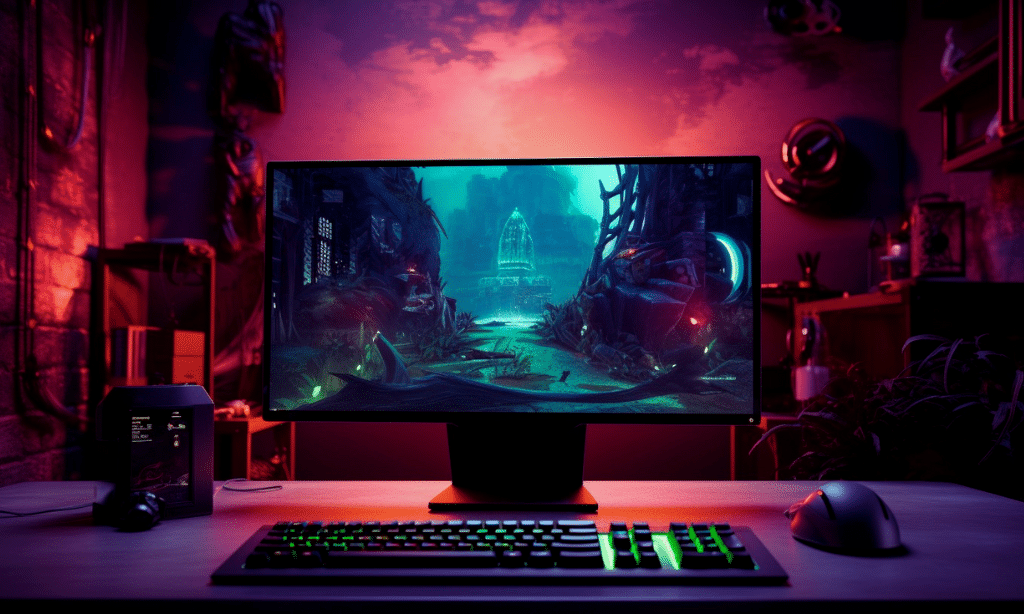 Corsair Xeneon 27QHD240 is a recommended gaming monitor for the year 2024. It features a 27-inch OLED display with an outstanding pixel resolution of 2560 x 1440 and support for HDR, allowing you to experience realistic visuals while playing your favorite games.
The Xeneon model also provides gamers with an impressive refresh rate of 240Hz that allows them to enjoy smooth gameplay without motion blur or image ghosting effects. Additionally, its Variable Refresh Rate (VRR) enhances the user's gaming experience by eliminating irritating screen tearing and stuttering even in high-motion sequences.
With its quick response time of 0.03ms GtG, users can fully immerse themselves into their games without missing out on any minute details due to lag or lagging frames per second rates as well! Furthermore, its peak brightness level produced outstandingly vibrant colors on-screen providing excellent contrast ratio levels too — leading to lifelike images no other gaming monitor can match!
Dell S2422HG
The Dell S2422HG gaming monitor offers a 24-inch and 1920 x 1080 Full HD curved display that allows gamers to immerse themselves in their favorite titles. With its dynamic 165Hz refresh rate and 1ms (MPRT) response time, the S2422HG helps provide fast and smooth gameplay with minimal input lag.
The monitor's 240nit peak brightness along with its VESA Display HDR 400 standards provide an enhanced experience in terms of clarity and vividness; allowing for more vibrant visuals.
Additionally, most gamers will take advantage of its wide array of Connectivity options like HDMI 2.0, USB Type C 3 Gen 1, and DisplayPort1.2 through which you can play at maximum performance on your PC or console setup alike! As it stands with these impressive specifications, it is no surprise why the Dell S2422HG is considered one of the top 10 best gaming monitors for 2024 by many enthusiasts across all platforms!
Samsung 49-Inch Odyssey G9
The Samsung 49-inch Odyssey G9 is one of the best gaming monitors around, providing immersive visuals and incredible performance. Equipped with a large VA panel, this monitor boasts an impressive resolution of 5120 x 1440 for crystal clear visuals with outstanding detail.
It also features a 240Hz refresh rate that ensures smooth and fluid gameplay without stuttering or tearing even during intense action scenes. Additionally, it supports G-Sync as well as FreeSync Premium Pro technologies which provide unrivaled responsiveness and stability in demanding games, ensuring you always stay on top of your game!
With its 1000R curvature display, it creates an almost wrap-around gaming experience making this monitor perfect for serious gamers looking to take their gameplay to the next level. Additionally, you can also read on 144Hz vs 240Hz.
Latest Updates and Innovations in Gaming Monitors
Get into the know of the newest gaming technologies and advancements, including ultra-high refresh rates and more to upgrade your gaming setup.
Ultra-High Refresh Rate
Gaming monitors supporting ultra-high refresh rate technology are significantly popular with gamers since they can drastically improve the gaming experience. Refresh rates as high as 240Hz provide smoother and more fluid gameplay by greatly reducing motion blur, allowing for better responsiveness when playing video games.
Additionally, 144Hz is currently considered to be the baseline for a good gaming monitor but with emerging technologies like OLED, HDR, and NVIDIA G-SYNC Compatible Monitors in 2023, PC Gamers could now find increasingly higher refresh rates displays used in professional-level competition gamers or even from major manufacturers such as Alienware and ASUS.
Not only does this give gamers access to improved visuals but also highly responsive gameplay whether it's upscaled 4K 120hz on consoles or at insanely quick crossover rates on PCs.
OLED Technology
OLED technology is widely regarded as one of the most superior technologies available for gaming monitors. OLED stands for organic light emitting diode and it typically offers a wide range of advantages, such as deeper blacks and more vibrant colors than other panel types like LCD or LED.
Furthermore, OLED monitors usually offer faster response times and low input lags. This makes them ideal for fast-paced gaming genres where minimal processing delays are needed. Additionally, quality OLED panels can also provide excellent contrast with near absolute darkness in terms of picture quality thus providing an enhanced immersive experience to gamers.
The gaming monitor industry has seen many advancements in this technology over recent years with manufacturers striving to achieve better image clarity through QD-OLED screens that combine quantum dot technology and organic LEDs.
WideScreen, 4K, and 165Hz Options
Widescreen gaming monitors provide incredible detail and visuals, allowing gamers to immerse themselves in their virtual space. Monitors with 4K resolution boast 8.3 million pixels for deep color accuracy and sharper images, perfect for playing detailed games or watching movies in ultra-high quality HD format.
The 165Hz refresh rate allows frames to be updated on the screen more quickly than an average monitor – resulting in a smooth action-packed experience without visible blurs or lags.
With smoother motion for fast-paced scenes, top response time performance, wider viewing angles, and higher contrast ratio – these options are ideal for enjoying the latest games at maximum graphics settings as well as competitive multiplayer titles.
Improved Color Accuracy
Improved color accuracy is one of the most important features to look for when shopping for a gaming monitor in 2023 and beyond. A high-quality display with accurate colors will be necessary to enjoy the best visuals from modern games.
Accurate colors provide more vibrant and realistic visuals, allowing gamers to fully immerse themselves in the game world. For example, a gaming monitor with poor color accuracy may render an environment's complex shades flat or muddled.
However, An accurately-calibrated monitor will help pick up subtle details such as shadows or highlights that are easily missed on lesser displays. Further good quality image clarity assists gamers by giving them an improved sense of depth perception— something that can significantly impact your advantage during competitive play.
Budget-Friendly Options
Gamers looking for high performance without breaking the bank are in luck. The article showcases budget-friendly gaming monitors such as the ViewSonic VX2418-p-mhd, BenQ Mobiuz EX2510S, MSI Optix MAG274QRF-QD, and Dell 32 4K UHD Gaming monitors that offer sharp resolution, great color accuracy, and refresh rates at a fraction of the price of some more premium models.
With these options, gamers don't have to skimp on features like ultra-high refresh rate, OLED technology, or G-Sync/FreeSync compatibility to stay within their budget either. Additional sources like online sales and discounts for bundles can also be explored if readers are looking for even more savings.
Portable Gaming Monitors
Portable gaming monitors are portable, high-performance displays that offer gamers a great viewing experience on the go. Featuring a thin and lightweight design, these devices can be used as a standalone display for stationary or mobile gaming setups at home, or complete laptop-style full HD (1080p) computer displays enhanced by up to 240Hz refresh rate.
With their ultrafast video response rate and color accuracy technology such as 8-bit dithering, portable gaming monitors provide vibrant and immersive visuals with flicker-free frame rates.
There are also 2K 1440P resolution models available in this range offering higher resolutions than 1080P but no compromise in image quality. The NexiGo 300Hz Portable Monitor is one of the top choices for gamers due to its standout feature – its 300Hz refresh rate; it balances out input lag while delivering smooth visuals even during fast trials.
A popular choice among professional esports players due to portability convenience features like quick response time to set up anywhere anytime without detaching your console connection from your PC. 
Also Read: Micro-OLED.
Shopping Tips for Choosing a Gaming Monitor
It is important to consider aspects such as budget, preferred resolution and refresh rate, panel type, G-Sync or FreeSync compatibility as well as other features like HDR and ultrawide screens before making an investment in a gaming monitor.
Determine Your Budget
When shopping for a gaming monitor, it is important to set out an appropriate budget. Set realistic expectations on what you can expect when shopping within your price range; consider individual gaming needs and desired features such as ultra-high refresh rate or OLED technology options.
Start by calculating the amount of money available with consideration for possible discounts and savings opportunities like bundled packages or certified refurbished options. Costly monitors may offer benefits such as greater resolution, faster response rate, wider screen size, etc., however, be mindful that cheaper/budget models still represent very good options depending upon your usage requirements.
Furthermore, prioritize features that will improve experience and performance over those that are cool but add no appreciable value – make sure to look into reviews before making any purchase decisions!
Consider Your Preferred Resolution and Refresh Rate
When selecting a gaming monitor, your preferred resolution and refresh rate should be high on the list of factors to consider. Resolution refers to how many pixels are visible on the screen at any given time, while refresh rate is measured in hertz (Hz) and indicates how many times per second the image refreshes.
Higher resolutions can offer clearer gameplay visuals, however, this will come with a drop in performance as more demanding tasks require aid from powerful hardware. The most common options for gaming are 1080p with 144hz or 1440p with 60hz.
Depending on your budget and level of play some monitors even offer popular 4K resolutions although their frame rates are limited compared to lower resolution models; about 30 FPS rather than 120-144 FPS found in 2K screens.
A good rule of thumb here is if you're playing fast-paced games like first-person shooters then opt for a higher Hz instead of a higher pixel count as higher frames make up for smoother smoothness which is critical when aiming and tracking targets quickly.
Decide on Panel Type
Choosing a gaming monitor should include consideration of the panel type, as this can have a big impact on performance. IPS (In-Plane Switching) panels offer excellent color accuracy and wide viewing angles but typically have slower response times than other types for competitive play.
TN (Twisted Nematic) panels are lightweight and inexpensive, with an incredibly low response time that serves them well in fast-paced games but lack the accurate color reproduction found with their more expensive counterparts.
VA or vertical alignment monitors provide a good compromise between panels — they boast impressive contrast ratios while being cheaper than IPS panels with colors that aren't too far off from their higher-cost cousins.
Check for G-Sync or FreeSync Compatibility
When choosing a gaming monitor, one of the most important features to consider is whether it supports G-Sync or FreeSync. Both of these technologies are designed to help eliminate screen tearing and stuttering during intensive graphic tasks, leading to smoother frame rates and superior visuals for an improved gaming experience.
This especially holds true when you're playing games with HDR support as smooth motion can be highly beneficial in making sure your game looks great without any hiccups in performance.
G-Sync represents Nvidia's technology while AMD offers its own counterpart with FreeSync. While both offer essentially the same performance benefits, users should pay attention to which technology their device supports before committing to buy so that they get the optimal graphics performance from their games.
Consider Additional Features Like HDR and Ultra-Wide Screens
HDR technology on gaming monitors is designed to improve color accuracy and contrast ratio for more vibrant and realistic images. Ultrawide screens are another great option, providing a wider field of view with an aspect ratio of 21:9 compared to traditional 16:9 displays.
This offers users a much more immersive experience during gameplay. Plus, people who prefer larger screens can find ultrawide 4K gaming monitors up to 49-inch in size that also supports up to 165Hz refresh rates for buttery smooth visuals whether they're playing demanding titles or navigating menus.
Best Deals and Savings on Gaming Monitors
Shopping around can get you great deals on gaming monitors, such as online sales and discounts, bundled packages, or certified refurbished options.
Online Sales and Discounts
Online Sales and Discounts are a cost-effective and convenient way to purchase gaming monitors. During events such as Amazon's Prime Big Deal Days and Black Friday, gamers can take advantage of significant discounts on various models – from budget-friendly options to 4K workstation monitors. There is a variety of different gaming monitor deals available during these sales that will suit any gamer's needs on any budget.
Deals could include discounts on new displays or cost savings off slightly older models for those who don't need the latest technology but still want an excellent gaming experience. With online shopping, gamers have access to compare prices across stores before making their purchases and will be able to find the best deal according to their budget and preferences quickly and conveniently.
Bundled Packages
Purchasing gaming monitors in bundled packages is an excellent way for consumers to save money and get more value out of their purchases. Many retailers often offer bundled deals with additional accessories like a gaming mouse or keyboard, speakers/headset, display mounts, free game downloads, upgraded cables, etc. Bundled packages typically include everything you need to start your gaming setup right away at a much lower price than if you were to buy each item separately.
Aside from the cost savings associated with bundle packages, it can be extremely convenient as all the components are already taken care of so there's no fussing over what kind of cable works best or how many input ports are needed for your monitor.
Furthermore, bundles usually provide an extra incentive since companies make sure that they incorporate different activations and special coupons that give lucky consumers discounts on future purchases from those specific retail outlets.
Certified Refurbished Options
Certified refurbished options for gaming monitors provide an excellent cost-saving alternative to purchasing new models. Refurbished monitors are ones that have previously been returned to the manufacturer or retailer for a variety of reasons, such as minor cosmetic defects, user damage, or order cancellations from customers not wanting the monitor anymore.
Refurbished units go through stringent inspections and thorough tests by qualified technicians who ensure all components are working properly before certifying a unit and putting it back on sale with limited warranties.
This means buyers can enjoy discounts while enjoying the same features available in newer models at much higher prices, without compromising any quality features like resolution, refresh rate, and response time essential for gaming experiences.
How PC Gamer Tests and Reviews Gaming Monitors
PC Gamer uses a stringent review process to professionally evaluate gaming monitors based on factors such as color accuracy, response time, resolution, and refresh rate.
Testing Methodology
PC Gamer takes a rigorous approach when testing gaming monitors to ensure readers are informed about the best options available on the market. During this process, editors carefully consider factors such as response time and refresh rate for smoother gameplay, resolution, and aspect ratio for improved clarity, panel types for color accuracy, and G-sync or FreeSync compatibility for better anti-tearing visuals.
Additionally, real-life performance analysis is also included in the review to examine how each monitor performs over extended periods of time. Some additional features may include HDR technology or ultrawide screens offering gamers an immersive experience that chat rooms lack.
As part of their routine tests with brightly lit environments & ambient light sources among other scenarios enable the editor's accurate reporting in regards to rating overall screen display performances ensuring top-notch suggestions are available at all times..
Factors Considered
Resolution: The number of pixels in the display affects picture clarity and sharpness, with higher resolutions providing more detail
Refresh rate: Refers to how frequently a screen can update its image per second; higher refresh rates generally result in smoother gameplay
Response time: Measures how quickly each pixel changes color; lower response times are preferable for gaming without blurriness or ghosting
Color accuracy/gamut: Ensures true-to-life colors on the monitor; good monitors should cover 100% sRGB Gamut or better
Viewing angles: Most important when multiple players are using one screen, as images on larger screens are usually best viewed directly front-on
Features: Features such as G-Sync/FreeSync connection ports, HDR compatibility, Low Blue Light Filter features and build quality
Real-Life Performance Analysis
PC Gamer puts a strong emphasis on evaluating gaming monitors in practical gaming scenarios. To do this, they consider multiple factors before testing the performance of each monitor.
These include color accuracy and brightness, response time and refresh rate, compatibility with G-Sync or FreeSync, HDR capabilities, and more. In order to analyze the performance of a given monitor in real-life settings PC Gamer simulates various gaming tasks such as navigating menus fast enough for high-intensity battle royale games or loading heavy graphics quickly without hardware stuttering.
They also run short-term simulations involving minutes-long intensive game sessions that help evaluate fatigue levels caused by poor-quality displays — something which can only be measured by analyzing real gameplay experiences.
Where to Buy the Best Gaming Monitors
Find the most reliable and trusted retailers, online marketplaces, and manufacturers of high-performance gaming monitors. Read on to learn more about the best deals and savings!
Trusted Retailers
When it comes to purchasing a gaming monitor, researching reliable retailers is just as important as choosing the ideal specifications for your needs. Shopping with trusted retailers allows you to take advantage of quality customer service and warranty coverage while also ensuring genuine products.
Reputable online stores such as Amazon or Best Buy can offer great deals on some of the best gaming monitors available, offering professional-approved models that are within budget.
Additionally, many manufacturers have their own e-commerce store where buyers can purchase their newest lineup at competitive prices. For further assurance when buying from third-party sites like these, customers might look for official certifications such as UL Listed to secure their investments in premium technology solutions like gaming monitors.
Online Market Places
Shopping for gaming monitors online provides a wide selection of options, convenience, and often great prices. Purchasing from these platforms opens up access to deals from hundreds of sellers around the world.
Just make sure to read reviews and check seller ratings before buying as there is always the potential risk of receiving counterfeit or damaged goods when purchasing through an online marketplace.
It's also important to be aware that some items may not be returnable and shipping times can vary widely based on your location. Make sure you take these considerations into account when shopping for your gaming monitor so you can enjoy an easy and positive experience finding the perfect match for your setup.
Directly From Manufacturers
Purchasing gaming monitors directly from the manufacturer can offer added peace of mind, knowing you are getting a reliable product with an authentic warranty. Most manufacturers provide comprehensive support including after-sales care and customer service for their monitor sales.
Benefits like these may not be available when buying second-hand or through some third-party sites. Furthermore, there may often be exclusive deals only available when purchased directly – such as discount bundles with other gaming peripherals or access to limited edition designs not found elsewhere.
However, it is important to remember that due to more involved production processes many times these items will have longer delivery and shipping lead times compared with products that have been sitting on store shelves for some time now.
Frequently Asked Questions (FAQs)
Now, let's find out the answers to some questions that people often ask about the best gaming monitors in 2024.
1. What are the best gaming monitors in 2024?
In 2024, the best gaming monitors will offer high resolution and refresh rate capabilities such as 5.6K resolutions and up to 240Hz refresh rates for a better gaming experience.
2. Why is a high refresh rate important for a gaming monitor?
A high refresh rate, like 165Hz or 240Hz, results in smoother and more responsive gameplay, reducing motion blur and screen tearing.
3. What is the significance of panel technology in gaming monitors?
Panel technology, such as IPS, OLED, VA, or TN, impacts factors like color accuracy, contrast, and viewing angles. Choose the one that best suits your gaming needs.
4. What are G-Sync and FreeSync compatibility, and how do they improve gaming performance?
G-Sync and FreeSync technologies help reduce screen tearing and input lag, providing a smoother gaming experience when using compatible graphics cards.
Takeaway
In conclusion, while there are a lot of great gaming monitors available in 2024, it is important to understand your needs and budget before making the purchase decision. Carefully research each option, so that you make an informed choice for the best gaming experience.