20 Best Food Delivery Apps in Thailand: Pick the Right Food With Right App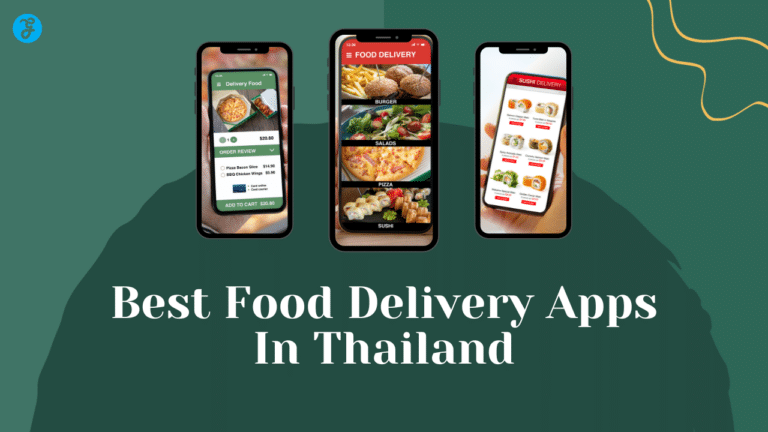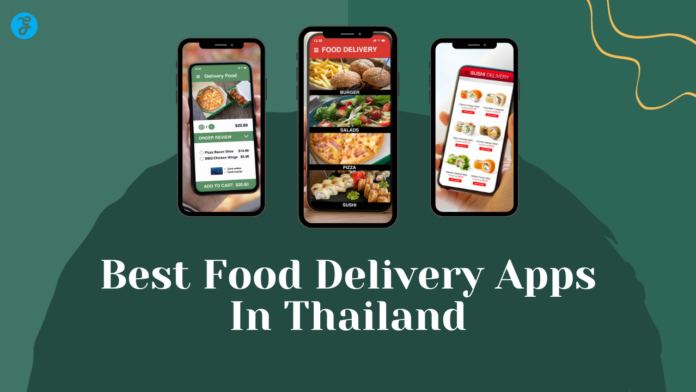 Whether you are looking for a convenient way to order your favorite meals or just want to explore the local food scene, food delivery apps have become an essential part of life in Thailand. But what are the best food delivery apps in Thailand?
Grab Food, Line Man and FoodPanda are some of the most popular options across the country. In this blog post, we will look at how these three top apps compare and what each has to offer.
We will also share the latest updates on their features and user experiences as well as tips for making the most out of your delivery experience. With valuable insight into safety measures taken by these delivery services during COVID-19 times too! So let's get started!
Content Highlights
There are three top food delivery apps in Thailand: Grab Food, Line Man, and Robinhood.

All these apps offer a wide variety of restaurant options, convenient payment methods, contactless deliveries during COVID-19 times, and discount offers to get better value for money.

In addition, many international fast food brands such as McDonald's, and KFC are also available on these platforms with advanced features like customizing orders according to personal preferences or ordering products from independent stores through Happy Fresh & Wongnai.

Local startups such as Line Man Wongnai and FoodStory alongside The Pizza Company 1112 have achieved an excellent reputation with their unique campaigns & initiatives even including electric motorcycles for same-day deliveries in the Bangkok area!
Top 20 Best Food Delivery Apps in Thailand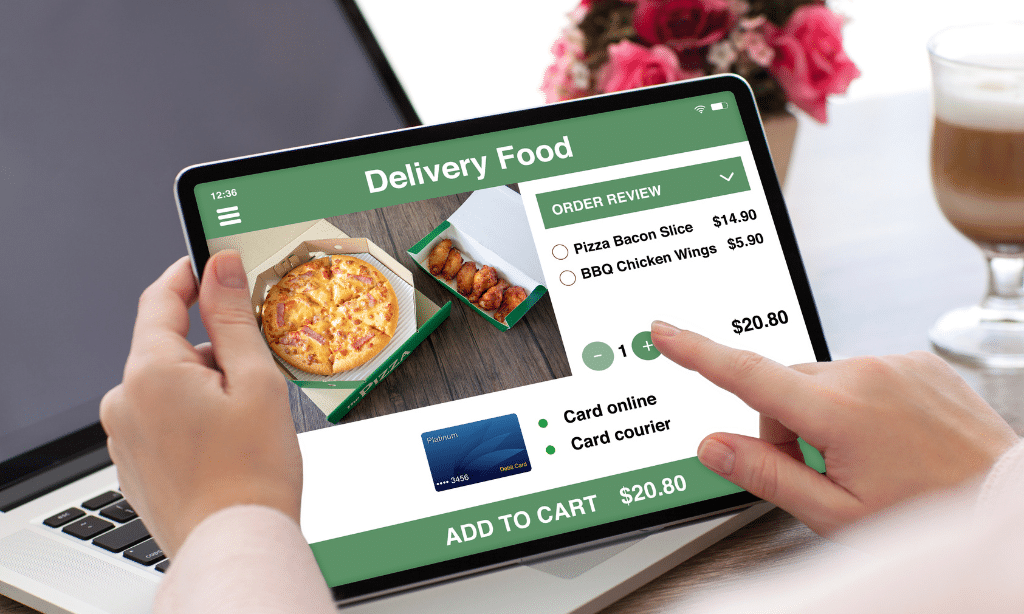 Here we look at the most popular food delivery apps in Thailand, such as Grab Food, LINE MAN, Robinhood, FoodPanda, McDonald's Thailand, KFC Thailand, and more.
Grab Food
Grab Food is one of the top food delivery apps in Thailand, widely known for its user-friendly interface, wide range of restaurant options, and convenient payment methods. It's considered the most popular food delivery app in Thailand for 2022 due to its efficient services and frequent updates.
Grab is a super app that offers a variety of services, including on-demand transportation and food delivery. The app is available in select regions such as Thailand, Singapore, and Indonesia with plans to expand further.
GrabFood allows users to pre-purchase dine-in vouchers at select restaurants which makes it ideal for both dine-in eaters and takeout aficionados alike. Additionally, the platform's impressive array of features helps create an easy browsing and ordering experience from start to finish when delighting every palate preference conceivable.
LINE MAN
Ensuring that Thai customers always get their food on time and with minimum hassle, LINE MAN is a well-known name in Thailand's fast-growing food delivery industry. This popular app offers five distinct services: pickup and delivery of goods such as groceries, documents, clothes, and many other objects; courier service for urgent items; express shipping services both within or outside the country; laundry service through Errand Mall at Bangkok's SCB Park; and finally, its famous food orders.
With such a versatile range of options available to its users, LINE MAN is steadily becoming one of the top choices among Thai consumers for ordering in meals or anything else they need delivered directly to their doorsteps.
Aiming to be the best on-demand delivery service provider for all needs in Thailand from general commodities to daily necessities like groceries and take-out goods; it's no surprise why more people are turning to LINE Man every day as their favorite way of getting things done quickly!
Robinhood
is a food delivery app launched in October 2020 by Siam Commercial Bank (SCB). With its association with the leading Thai lender, Robinhood has become one of Greater Bangkok's most popular food delivery services.
It provides customers with grocery and supermarket deliveries alongside restaurant takeouts as well. This allows customers to enjoy all types of cuisine at their fingertips, while also benefiting from special promotions on SCB products.
Aside from its core services, the app's contactless feature further encourages safety and hygiene amidst the ongoing pandemic. In 2021, it also received Nikkei's award for being among the top food delivery service platforms in Thailand.
FoodPanda
FoodPanda is a food delivery platform that was launched in 2012 and is one of the earliest online-to-offline (O2O) platforms in Thailand. With operations spanning all 77 provinces, FoodPanda has successfully established itself as an essential part of everyday life for Thai people.
The company works with thousands of restaurants to offer its users a wide selection of local dishes ranging from Chinese, Western, and Japanese cuisine. In addition to this extensive menu variety, the company also provides customers with hyperlocalized service built on a profound understanding of the country's market's needs and preferences.
Driven by customer feedback, FoodPanda continues to improve its services by offering new features such as contactless delivery options in response to COVID-19 along with discounts or rewards programs tailored for each individual province based on regional trends.
McDonald's Thailand
McDonald's Thailand is one of the top food delivery apps in the country, offering customers a convenient and enjoyable way to enjoy their favorite meals anywhere. The popular brand's app offers all the features that its competitors do and more — from ordering classic McDonald's favorites like Big Macs and McNuggets to tracking deliveries, and receiving updates about promotions and discounts.
In addition, McDonald's has over 250 branches nationwide in countless cities including Bangkok, Chiang Mai, and Phuket. As described by many users as "straightforward yet powerful" tool to enjoy fast food without waiting too long for it or even leaving your house.
Furthermore, customers can select whatever they desire with a few simple taps – customizing made orders according to their personal preferences such as extra cheese on a sandwich with a double beef patty burger meal, etc, convenience doesn't get any better than that! All these attributes make McDonald´s truly stand out among other popular food delivery apps in Thailand while providing an unparalleled user experience when it comes to order handling.
KFC Thailand
KFC Thailand is the most popular fast food restaurant in the country, associated with many of the top food delivery apps such as Grab Food, Line Man, and Robinhood. Through these apps, customers can conveniently order food from KFC to be delivered straight to their homes or other designated destinations.
In addition to customer convenience, this partnership has had an impact on local employment opportunities as well; according to a campaign from KFC in Thailand in 2021, delivery jobs are now considered one of the largest economy platforms within the country.
Popular menu items such as fried chicken and burgers can easily be ordered through various apps giving customers access to almost exactly what they want whenever they need it. The fact that customers often search for "KFC Menu 2023" – despite being only 2022 – suggests there is already an interest among diners for its available offerings.
GrabMerchants
is a fast-growing food delivery app in Thailand. It stands out amongst other apps with its exceptional user ratings and reviews, offering users an enjoyable experience each time they use the platform.
Customers praise the variety of choices offered by GrabMerchants when it comes to selecting from restaurants and menus, all available for lightning-fast delivery thanks to their sophisticated speed options integrated into the app itself.
GrabMerchants also frequently awards customers promotions and discounts on orders which is always welcomed by those wishing to cut down their food expenses. With its unique features, Grabmerchants offers consumers one of the best mediums through which they can order delicious meals quickly and seamlessly.
Happy Fresh
is a grocery personal shopping and delivery app founded in Malaysia and Indonesia—before launching in Thailand. The service delivers groceries directly from 'on-the-ground' shoppers at over 20 stores nationwide, including independent shops and some of the major supermarkets.
Customers can start their orders via the HappyFresh website or app, specifying the products from any of their preferred store chains online. When completed, experienced local shoppers pick up items according to customer preferences before delivering them directly back to customers' homes often within 1 hour–making it one of Thailand's fastest food delivery services.
Along with its selection of 2,000+ local and international brands, users have access to extra savings through special promotions exclusive only on HappyFresh as well as personalized recommendations based on past purchases putting convenience at your fingertips!
The Pizza Company 1112
is a top food delivery app in Thailand that is part of the Minor Food company. They offer a Best Price Guarantee campaign to try and increase ordering frequency, as well as their innovative "Green Delivery" initiative using electric motorcycles in Bangkok.
It has achieved a reputation on the IOS App Store for being one of the best food and drink apps in Thailand. By partnering up with other local businesses, The Pizza Company 1112 aims to make delivery services more accessible and expand its areas of service over time.
The app also encourages customers to provide feedback so they can improve their features even further while maintaining proper safety protocols such as contactless delivery options or regular sanitization practices during this COVID-19 pandemic era.
Wongnai
is an online platform offering a comprehensive view of restaurant life in Thailand. With user reviews and detailed menus, the app allows users to make informed decisions about where they would like to eat out or have food delivered.
The app also offers exclusive promotions and discounts on popular restaurants throughout the country, making it easier for people in Bangkok, Chiang Mai, and other cities to access great food.
Wongnai competes with the likes of Grab, Foodpanda, and Siam Commercial Bank's food delivery business, as well as other local startups such as Line Man Wongnai and FoodStory – a startup specializing in point-of-sale systems for restaurants.
Ginza Delivery
Ginza Delivery is synonymous with luxury dining brought right to your doorstep. It's designed for those who have a taste for upscale dining experiences. This app is renowned for its meticulously curated selection of high-end restaurants and gourmet cuisine. It's a haven for discerning food enthusiasts who seek to enjoy the pinnacle of fine dining within the comfort of their own homes.
Ginza Delivery takes pride in offering an extensive menu, featuring a diverse array of international and Thai delicacies, ensuring that every customer can indulge in culinary delights that elevate their dining experience to new heights.
Uber Eats
Uber Eats, an extension of the globally recognized ride-sharing service Uber, has firmly entrenched itself in the Thai food delivery landscape. It serves as a convenient and reliable platform for ordering food from a wide spectrum of local eateries and international fast-food chains.
What truly sets Uber Eats apart is its swift and efficient delivery options, making it the preferred choice for those in search of a hassle-free and rapid dining experience. With Uber Eats, you can count on timely and satisfying meals delivered to your doorstep.
Gojek
Originating from Indonesia and now available in Thailand, Gojek is a versatile app offering an extensive range of on-demand services, including food delivery through its GoFood platform. This app stands out for its adaptability, granting users access to an expansive selection of restaurants.
Whether your palate craves local favorites or international cuisine, Gojek has you covered, making it a popular choice among Thai consumers seeking convenience and variety. With Gojek, culinary exploration knows no bounds.
Food by AI
Food by AI is an emerging player in the Thai food delivery landscape, introducing an innovative twist to the dining experience. It harnesses the power of artificial intelligence to craft a personalized culinary journey for users, tailoring food recommendations based on their individual preferences.
As time progresses, the app refines these suggestions, ensuring that customers receive unique and user-friendly recommendations from local restaurants. Food by AI is a platform that seamlessly blends innovation with the joy of discovering new flavors, ensuring each meal is a delightful adventure.
ThaiTable
ThaiTable is a dedicated food delivery app that reveres the essence of Thai cuisine. It exclusively partners with traditional Thai restaurants, meticulously curating a menu that pays homage to classic dishes.
This allows customers to savor the rich and diverse flavors of Thailand, all within the confines of their homes. It's a delightful choice for those seeking an authentic Thai dining experience that captures the heart and soul of the country's culinary heritage. ThaiTable brings the magic of Thai cuisine to your doorstep, ensuring each meal is a flavorful journey.
Deliveroo
Deliveroo, a globally renowned food delivery platform, has rapidly become a household name in Thailand. It distinguishes itself through its collaborations with a wide spectrum of restaurants, ranging from cherished local gems to high-end establishments.
This expansive partnership ensures that customers have access to an extensive array of culinary options, catering to diverse tastes and preferences.
Moreover, with its prompt and efficient delivery services, Deliveroo guarantees that customers can savor their favorite meals without delay, transforming each dining occasion into a memorable experience.
Hungry Hub
Hungry Hub is a specialist in offering exclusive dining deals and discounts at some of Thailand's top restaurants. Through this app, users can revel in substantial savings while ordering delectable meals for delivery or takeout.
It's an exceptional choice for food enthusiasts who aspire to explore upscale dining experiences without straining their budgets, providing an affordable taste of luxury. Hungry Hub ensures that savoring top-tier cuisine is an accessible delight for all.
EasiEats
EasiEats is a testament to efficiency and speed in food delivery services. The app seamlessly collaborates with a diverse range of local restaurants, street vendors, and cafes. This extensive network guarantees a broad menu selection that caters to customers in search of convenience and culinary variety.
EasiEats has become the go-to choice for those looking to indulge in a wide range of culinary delights without the hassles of dining out. It ensures that every meal is a convenient and satisfying experience.
EasyMeat
EasyMeat serves a niche market in Thailand, specializing exclusively in delivering fresh meat, seafood, and poultry products directly to customers' doorsteps.
It's the perfect choice for home cooks who prioritize the quality and freshness of their ingredients. EasyMeat offers a convenient way to source top-notch products, ensuring that culinary creations at home are nothing short of exceptional. With EasyMeat, every dish is elevated to gourmet standards with premium, hand-picked ingredients.
SpoonRocket
SpoonRocket places a resolute emphasis on health-conscious dining, catering to the discerning tastes of health-conscious consumers in Thailand. The app exclusively partners with restaurants and chefs who prioritize healthy ingredients and cooking techniques.
This unwavering commitment to well-being makes it an ideal choice for individuals who aim to maintain a balanced diet while enjoying the convenience of food delivery.
SpoonRocket encourages healthy eating without compromising on flavor or quality, ensuring that every meal is both nutritious and delicious. It's a culinary journey that nourishes the body and delights the palate. If you are interested you can also read on The Signification Clone Apps for On-Demand Food Delivery in 2023.
Latest Updates and Features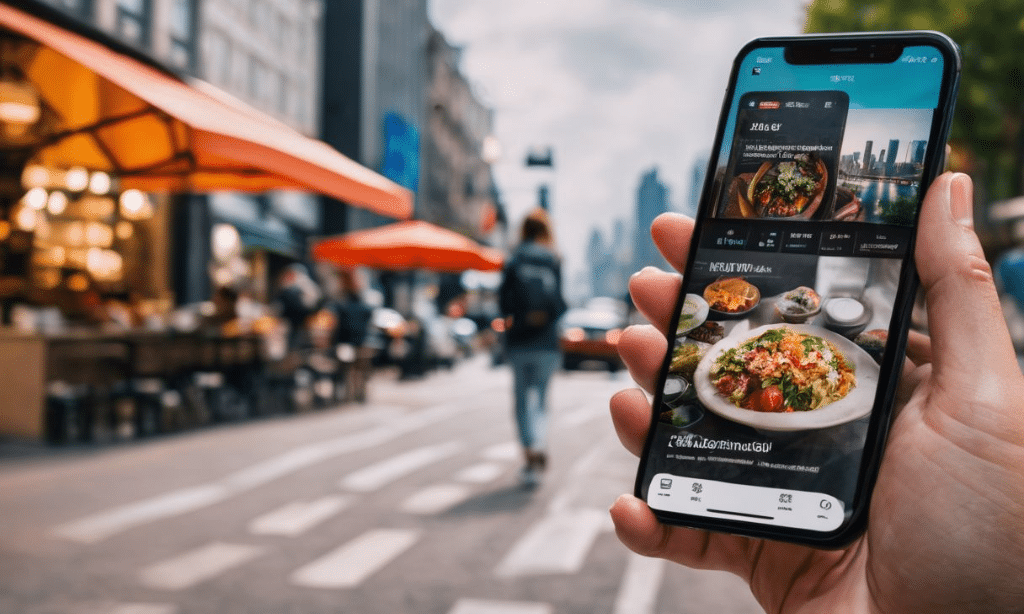 Check out this blog to explore the latest updates of popular food delivery apps in Thailand, such as user ratings and reviews, delivery options, or payment options!
User Ratings and Reviews
User ratings and reviews are important indicators to assess the quality and reliability of food delivery apps in Thailand. Ratings and reviews from existing customers provide valuable insights into how trustworthy and dependable an app is as well as user satisfaction on aspects such as menu variety, restaurant selection, delivery speed, customer service support, etc. Additionally, they give users a better understanding of what to expect from certain restaurants or apps based on other people's experiences with them.
This helps users make educated decisions when choosing which food delivery app or restaurant best meets their individual needs. Furthermore, user ratings play a significant role in determining the popularity and success of these food delivery apps; the higher number of positive Reviews helps boost patron confidence towards any given online ordering platform thus leading to increased engagement overall.
Thus it can be seen that for those looking to get the best meals delivered right at their doorsteps quickly and safely without compromising on quality standards, researching user reviews carefully before opting for any particular food ordering application might prove immensely helpful.
Delivery Options and Speed
The delivery options and speed of food delivery apps in Thailand play a major role in their success. Speed is one of the top factors for customers when it comes to satisfaction with food delivery services, as nobody likes waiting too long for their meals.
Popular apps like GrabFood, FoodPanda, and LINE MAN enable users to track the progress of orders via GPS, allowing them to see exactly where their meal is at any time. Additionally, these three platforms offer multiple delivery options including express delivery, personal pickup, and shared couriers among others; thus offering customers more convenience while selecting the most suitable option.
For instance "Happy Fresh" lets users order items from a supermarket and have them delivered within 1 hour while McDonald's Thailand allows customers to place a pre-order 2 hours before they plan on picking up their meal at any outlet across the nation.
Menu Variety and Restaurant Selection
The top food delivery apps in Thailand, such as Grab Food, FoodPanda, and Line Man offer an extensive array of menu options from a range of restaurants. Users benefit from being able to choose between local and international cuisines featured on these apps, catering to different dietary needs for their convenience.
Furthermore, there is something unique for everyone with the variety of upscale places alongside classic chain restaurants like McDonald's and KFC Thailand or street food spots like Som Tum Thani available through these apps.
This diverse selection enables users to easily explore new establishments within the comfort of their own homes while still appreciating traditional favorites.
Promotions and Discounts
Paying for food delivery can make dining expensive, especially if you order from the same restaurants regularly. Luckily food delivery apps in Thailand understand this and offer various promotions and discounts that users can take advantage of to save money on their orders.
Popular services such as Grab Food, Line Man, Robinhood, and Foodpanda often provide special deals like free delivery or discounts on select meals when ordering through their app. These promotions help to further reduce the cost of a takeaway meal while encouraging customers to keep using these services.
When looking for specials users should check for promotional emails from individual apps or look out for notifications within the app itself. With regular use savvy diners are sure to find numerous opportunities.
Comparison of Key Features
An in-depth analysis of pricing and fees, order tracking accuracy, customer service delivery, and payment options should be conducted to determine which app offers the best overall value.
Pricing and Fees
The pricing and fees associated with the top food delivery apps in Thailand can vary depending on their user policies. For instance, Grab Food and FoodPanda are two popular food delivery apps that charge restaurants high commissions for using their platforms – rates that can reach up to 38%.
As a result, restaurants using these services may need to factor such expenses into their overhead costs, which could lead to them raising prices for customers or reducing profits.
Moreover, it's important to note these fees aren't always transparent or known prior of using the service until after they have been charged. Therefore, it is essential that you take time to research all of the pricing details before signing an agreement with any particular provider.
Order Tracking
Order tracking is an important feature of food delivery apps in Thailand, providing a valuable service to customers. It offers convenience and peace of mind by allowing them to monitor the status of their orders in real time.
This ensures that they can track their orders from the moment it has been placed until it is delivered. By keeping customers informed on the exact location of their meals, order tracking eliminates any anxiety or confusion over potential delays or issues with delivery staff.
This increased transparency also sets customer expectations more accurately so that they won't be surprised if there are delays due to traffic or other factors outside the control of restaurants and delivery services.
Customer Support
Customer support is an essential component of food delivery apps in Thailand, as it contributes to a seamless user experience. Good customer service plays a key role in building trust and loyalty with customers, especially when they face any issue using the app.
Customers expect customer support agents to provide quick response times and understanding solutions for their queries. Being able to access professional help when needed ensures that users have confident experiences while using food delivery apps.
Moreover, efficient assistance shows customers that their voices are heard and respected by the company providing the service. Service providers have an incentive to ensure good customer service – it increases satisfaction among users, which leads directly to improved ratings on app stores and more recommendations from word-of-mouth advertising from happy customers.
Payment Options
Food delivery apps in Thailand offer customers several secure payment solutions to choose from. Popular e-wallets like GrabPay, Rabbit Line Pay, and PandaPay have an adoption rate of nearly 90%.
Additionally, the TrueMoney wallet has a 16.8% adoption rate with transactions having a low acceptance fee of only 1%. Thus, offering customers various options greatly enhances their experience and satisfaction when using food delivery apps.
Moreover, successful on-demand food delivery applications need to provide multiple possibilities for customer payment including cash on delivery methods for added convenience. Customers should be willing to pay reasonable amounts as per their preferred method while expecting prompt services at all times without any hassle or inconvenience due to inadequate payment methods.
User Experience and Interface
App usability, navigation, and search functions, customization of orders, as well as user feedback and ratings, are essential components to consider when evaluating the overall quality of a food delivery app.
App Usability
In Thailand, food delivery apps are becoming increasingly popular for their ease of navigation and flexible customization options. App usability is essential to ensure that customers can easily access the app and place orders quickly without any hassle or confusing web pages.
An app must have a user-friendly interface with clear menus and icons that make finding desired items straightforward; its navigation should be intuitive to help users quickly go through available options.
For instance, GrabFood in Bangkok offers advanced filter functions like dietary preferences, ingredients, item type (drinks/desserts), etc., which lets customers narrow down choices swiftly.
To improve the overall user experience, some apps also offer voice search technology and various payment methods such as cash on delivery or e-billing services. Additionally, ordering customization features like ingredient mixing are useful in creating personalized dishes with less effort from the customers' end.
Navigation and search are two of the most important features in food delivery apps and websites. Users rely on these to quickly locate their desired restaurants, browse menus, and customize orders according to their preferences.
In Thailand for instance, popular delivery apps such as Grab Food provide a host of navigation tools including a multi-level menu structure for easy browsing. Apps also feature interactive maps with ETA indicators (estimated time of arrival) so that customers can easily track their order status.
Additionally, users can use powerful search filters like cuisine type or proximity to pinpoint ideal options without wasting time sifting through numerous results – this ensures an efficient ordering experience! Moreover, certain apps even incorporate AI technology into their navigation services which helps curate personalized recommendations based on past data from other users.
Order Customization
Order customization is an important factor for food delivery apps in Thailand due to the cultural preferences of Thai customers. Order customization options give users the ability to customize their meals according to their individual preferences and tastes, which is a primary characteristic of Thai cuisine.
For example, popular Thai dishes such as Pad Thai or Tom Yum Soup can be ordered with different sauces and additional toppings, which allow customers to tailor the dish exactly how they want it.
This type of order customization encourages users to use food delivery apps more frequently since it accomodates everyone's tastes and preferences. Additionally, user experience also plays an essential role in improving customer satisfaction on these platforms by providing a convenient way to access their desired meals at home.
Feedback and Ratings
Feedback and ratings are essential components in the modern food delivery app landscape in Thailand. User reviews act as guides for Thai customers when making decisions about which apps to use, and how often.
Applications with a large number of positive feedback from satisfied customers are likely to be used more often than those with mostly negative reviews. High-rated applications show promise for delivering quality services and engaging a wider customer base.
Customers who give good ratings believe that their experiences can benefit others while negative ratings indicate improvement areas within the app or service. Negative comments can also help companies identify potential issues before they become widespread, addressing them quickly and professionally allowing users to get back on track without disruption of service.
Popular Food Delivery Apps in Bangkok
Bangkok-specific delivery apps such as Food Panda Express, Get Me, TakeEatEasy and BFour have become increasingly popular within the city due to their efficient delivery options and the wide variety of restaurants available.
User Preferences in the Capital City
As one of the largest cities in Thailand, Bangkok provides many unique opportunities for food delivery app users. Vietnamese consumers are increasingly using these services due to their convenience and ability to offer a wealth of choices from local restaurants.
The competitive market reflects an abundance of food delivery apps with great user ratings and reviews as well as attractive promotions and discounts – making them all the more appealing to Thai customers.
This wide selection allows users to compare different options for price, speed, menu variety, customer support, payment options, and order tracking before placing an order – making it easy for customers to choose the best option that fits their needs without any hassle or fuss.
Unique Features of Bangkok-Specific Apps
Bangkok-specific food delivery apps feature specialized searching options, customizations, and preferences that ensure users can find the perfect dish for their needs. For instance, with Gojek's 'Nearby Restaurants' filter, diners can easily sort through all restaurants within a specified range of their current location.
Additionally, some apps integrate unique features such as LINE MAN's 'Local Shop Of The Day' which highlights different local stores every day so that customers know exactly what kind of deals they can snap up at any given time.
Moreover, to cater to Bangkokians' preference for fast deliveries, many Bangkok-specific apps offer enhanced speed when ordering from specific locations – this is also beneficial for those who are taking part in corporate events or meetings where time may be limited.
Tips for Using Food Delivery Apps in Thailand
Get the most out of your food delivery experiences by familiarising yourself with the app's features, tactics for maximizing savings and rewards, as well as how to troubleshoot any potential problems.
How to Choose the Best App for Your Needs
When choosing a food delivery app, it is important to consider both the cost and features of the various services available. Delivery fees should be taken into account when comparing apps since this can drastically vary between platforms.
Additionally, it is also essential to take notice of user reviews for each app as these will provide an accurate indication of customer satisfaction with order accuracy, speed of delivery, and quality control among other factors.
Furthermore, evaluating a variety of restaurant options from multiple cuisines ensures you get great value every time you order. Lastly, ease of use plays a vital role in determining which food delivery apps are right for your needs – hence ensuring that navigating through the menu selections and placing orders quickly and accurately should always be a top priority for any discerning user.
Maximizing Savings and Rewards
Reading Thailand's best food delivery app reviews and comparing the menus of different services can help people make cost-effective choices on their orders. To ensure they get the most bang for their buck, readers should take advantage of discount codes and coupons when making an order.
Additionally, checking for promotions or special offers from the app is a great way to maximize savings. Many apps offer loyalty programs that let customers earn rewards points each time they make a purchase.
Comparing prices and delivery fees between different apps can also help save money in the long run by finding the lowest-cost option. Lastly, providing feedback and reviews about orders helps restaurants improve their food quality while giving readers access to discounts or other incentives such as free items or discounts on future orders.
Trouble Shooting Common Issues
When using food delivery apps in Thailand, users may encounter a variety of issues like delayed delivery times, incorrect orders or unsatisfactory customer service. To ensure a smooth ordering experience, it's important to understand the possible reasons for such issues and follow some practical tips for troubleshooting them.
Common problems might include software glitches or unresponsive app services, as well as driver shortages or wrong addresses provided by customers. The best way to troubleshoot app-specific issues is to be thorough when entering information in the app forms – including accurate address details and contact numbers – so that restaurants and drivers are able to track orders properly.
It's also helpful to directly communicate with customer service if there are delays in order deliveries; many food delivery services offer chat support which can help identify any roadblocks quickly.
Read also: Best 30 Family Beaches in Thailand
Takeaway
Food delivery apps are becoming increasingly popular in Thailand and present an efficient and convenient way to order food from the comfort of your home. The article talked about some of the top food delivery apps in Thailand, taking into account user ratings, menu variety, promotions and discounts, safety precautions, etc. Grab Food is considered the best app due to its vast selection of restaurants and reliable services.
Other popular food delivery apps include FoodPanda, Line Man, Robinhood 1112 The Pizza Company, and many more.
When using a food delivery app in Thailand customers should take into consideration pricing & fees, order tracking options, payment methods available, and customer service provided by each platform before making a choice.
Looking ahead there will be more features such as AI integration for personalized recommendations according to individual tastes along with an expansion of deliveries to even farther places outside major hubs like Bangkok.
So make use of all these wonderful applications for hassle-free meals all within your comfort zone!