Best Food Delivery Apps in Hong Kong for a Taste Sensation [Top 30 Listed]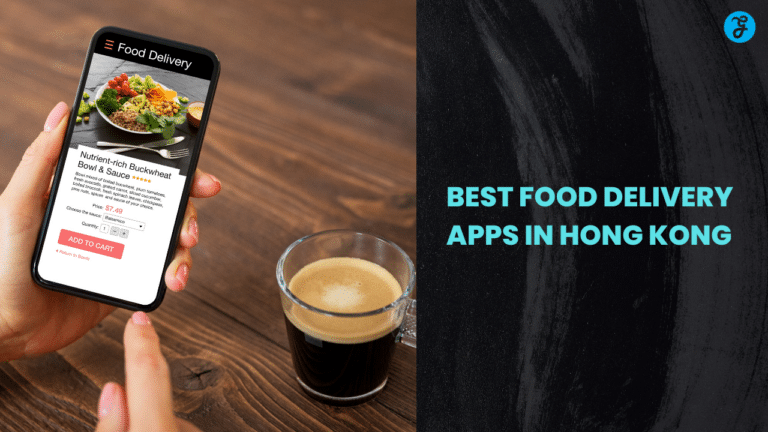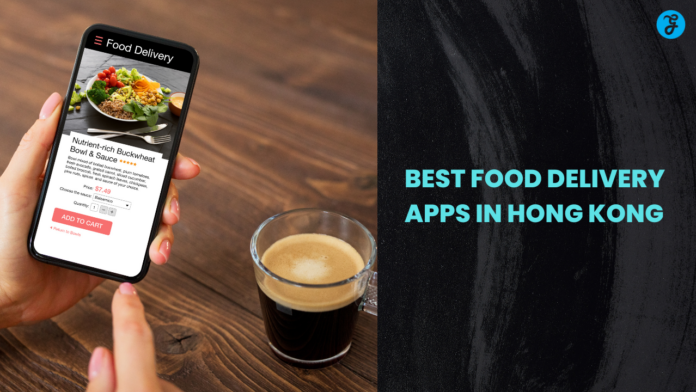 Are you looking for the best food delivery apps in Hong Kong? The city has several delivery options, from meal plans to independent restaurants and fast-food chains. In this article, we will explore the top food delivery services available in Hong Kong and provide tips on using these services effectively.
Learn all you need to know about ordering food online with the latest updates! Looking for a convenient way to satisfy your cravings without leaving home?
Check out our guide today!
Content Highlights
Popular food delivery apps in Hong Kong include Food Panda, McDonald's HK, Storellet, Café de Coral, and Deliveroo.
Users can take advantage of specialized features and discounts when ordering through apps like Open Rice, Chope Restaurant Reservations, or The Gulu.
All users can access customer ratings and reviews to make an informed decision before ordering from any app.
Payment options such as Visa PayWave or other payment gateways are available on most online food delivery apps, making it easy for customers to purchase their meals without cash.
10 Best Food Delivery Apps in Hong Kong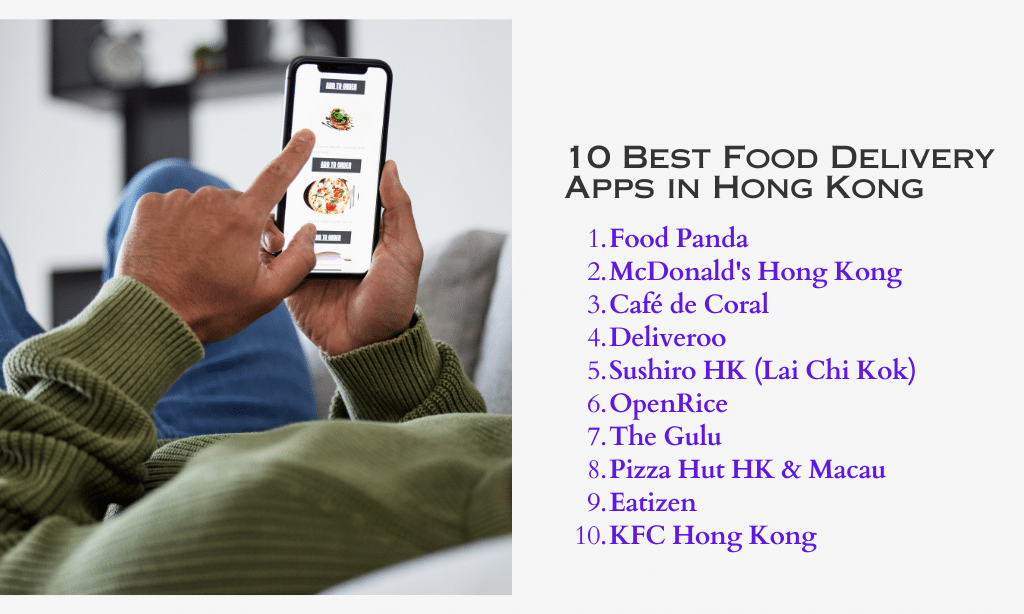 This section enumerates some of the most popular food delivery apps in Hong Kong, such as Food Panda, McDonald's HK, Eatizen, Café de Coral, Deliveroo, and other apps.
Food Panda
Food Panda has become the go-to food delivery app in Hong Kong due to its convenience and range of options. The mobile app allows customers to order from a wide selection of restaurants, giving them access to local favorites and international cuisine – all delivered quickly and efficiently.
It also features online payment options, making it easy for users to complete their purchases without stopping by a store or waiting in line. Additionally, customers can view user reviews and ratings on each restaurant before they make their order, helping them make an informed decision when selecting meals or snacks.
What's more, Food Panda offers regular discounts and promotions for its users, which helps add value to every purchase. This is why 72% of respondents have chosen Food Panda as their preferred choice for food delivery apps in Hong Kong – a market dominance that shows no signs of slowing down anytime soon.
McDonald's Hong Kong
This is one of the leading restaurant chains on food delivery apps in Hong Kong. The McDonald's app provides customers efficient and convenient order and payment options. With over 4,500 restaurants spread across mainland China and Hong Kong, McDonald's has gained immense popularity among food delivery users in these regions.
Through collaborations with top-rated food delivery apps in Hong Kong, such as Food Panda and Chope Restaurant Reservations, McDonald's gives customers access to its wide variety of dishes for easy online ordering at unbeatable prices.
Not only that, but hassle-free payments made through Visa PayWave or other payment gateways make McDonald's a favorite amongst customers looking for simple convenience when ordering their meals online from anywhere in the world.
Café de Coral
Café de Coral is the largest Chinese fast-food restaurant group in Hong Kong and the world, catering to over 300,000 people on a typical day. It has established itself as one of the best online food delivery apps in Hong Kong by 2023 with its excellent quality food offerings.
Offering a wide range of savory meals that are sure to satisfy all types of diners, along with efficient services provided through associated delivery platforms such as Deliveroo and The Gulu, Café de Coral stands out due to its reliable customer experience when ordering from them via any platform.
Deliveroo
Deliveroo is one of the best food delivery apps in Hong Kong, competing with major apps like Foodpanda. Since 2020, Deliveroo has seen a 14.2% increase in restaurants on its platform as part of its growth strategy in Hong Kong and other countries.
As well as providing convenience for customers, Deliveroo also offers discounts and special promotions to garner further attention from new diners. It is now associated with some of the top food delivery apps available in Hong Kong, where customers can benefit from an array of exciting options when using their service while accessing quality customer support round-the-clock regardless of wherever they may be ordering from.
Sushiro HK (Lai Chi Kok)
Sushiro HK is the food delivery app associated with the Japanese conveyor belt sushi restaurant Sushiro in Hong Kong. It makes ordering delicious takeaway and delivery options from the Jordan/Yau Ma Tei area simple for users, as well as gives them a wide range of other food-related services.
From online payment options to reviews and recommendations, this app provides an all-rounded solution for hungry customers seeking convenience and ease of use, with over 100,000 downloads on Android devices and features such as instructions and critiques related to food, beverages, or groceries that make eating out hassle-free. Sushiro HK (Lai Chi Kok) has become one of the most used apps among diners living in and near Hong Kong.
Open Rice
OpenRice is a highly-rated food delivery app in Hong Kong that offers restaurant recommendations, online restaurant booking, and takeaway ordering. It features a comprehensive restaurant guide with detailed reviews from local users to help you find the perfect place to eat.
The app also has an integrated mobile payment solution for dining and voucher purchasing options to pay for your meals on the go conveniently. Additionally, OpenRice facilitates loyalty rewards programs, allowing customers to get discounts or special deals by accumulating points.
This makes it one of the most useful food delivery apps, as users can access various deals while enjoying their favorite restaurants' dishes without leaving home.
The Gulu
The Gulu is a food delivery app 100% made in Hong Kong and dedicated to providing its users with the best services. It specializes in crowd management, offering over 2000 partners citywide and comprehensive services such as queuing, appointment, takeaway, shopping, and promotional offers.
With its advanced features like order management, queue management for restaurants or cafes, as well as online appointment booking for service providers, it has quickly become one of the top food delivery apps in Hong Kong.
For customers looking for convenience and ease of use when ordering 24/7 with multiple payment options or taking advantage of special promotions and discounts, The Guluis is the perfect choice!
Pizza Hut HK & Macau
This is one of the top food delivery apps in Hong Kong, offering convenient and efficient ordering and delivery services. With its mobile application, customers can choose from a wide range of European-inspired pizzas, pasta, salads, and desserts – all available for takeaway or delivery options.
The app provides an easy-to-use online payment system, allowing customers to select their desired payment method before confirming their order. Customers have access to customer ratings and reviews, which they can read before making any purchase decisions.
Thanks to Pizza Hut HK & Macau's extensive selection of items, customers are never left without wanting something more! Plus, with its fast service times, orders will be easily delivered within Hong Kong!
Eatizen
Eatizen is a widely used food delivery app that offers a range of restaurant options for customers in Hong Kong. With this popular app, users can quickly and easily order their favorite dishes from local restaurants in the comfort of their own homes.
From traditional favorites like Cantonese cuisine to international offerings such as Italian fare and sushi, there's something available for every downloader on Eatizen. Its intuitive web design makes it easy to navigate menus and read about each item before making selections; its online payment system allows you to securely complete your purchase without ever leaving the app.
In addition, Eatizen often rolls out discounts or promo codes so patrons can save even more money when using their services – perfect for budget-conscious eaters! Whether you want quick takeout or an elaborate dinner party meal prepared within minutes, Eaterzen will surely provide quality eats at unbeatable prices!
KFC Hong Kong
KFC is one of the most popular restaurants and fast-food chains on food delivery apps in Hong Kong. From an easy self-pick-up option at selected KFC outlets to a convenient home delivery order, the KFC-HK app provides users with various options when ordering their meals.
While choosing between dine-in or pickup, they may also opt for doorstep deliveries. Acknowledging customer needs has made it easier for them to tailor their orders according to time, convenience, and other preferences.
Furthermore, during busy periods, customers can always keep track of their orders through timely notifications provided on the app itself, ensuring that no part is left unfulfilled under pressure. Additionally, you can also read Best Food Delivery Apps in Australia.
15 More Food Delivery Options from Restaurants
If you love to order from restaurants, then check this list.
Diverse Restaurants with Delivery:
Explore Jia Everywhere at jiagroup.co
Savor the flavors from Le Comptoir at lecomptoir.hk
Enjoy the convenience of LKF Delivery Direct via pizzaexpress.com.hk
Healthy Eats Delivered:
Opt for Nutrition Kitchen's Hong Kong delivery at nutritionkitchenhk.com
Embrace nutritious meals from Eatology's Hong Kong Food Delivery at eatologyasia.com
Delight in wholesome options from Nosh at nosh.hk
Experience wellness with Youni's offerings at youni.com.hk
Explore Spoonful Meals' menu at spoonfulmeals.com
Discover the variety at Mealthy via mealthy.com.hk
Pizza Pleasures Delivered:
Indulge in Linguini Fini's offerings through deliveroo.hk
Experience Homeslice's pizza perfection at deliveroo.hk
Order from global favorites Pizza Hut at pizzahut.com.hk
Enjoy the renowned flavors of Pizza Express via pizzaexpress.com.hk
Quick Bites, Swiftly Delivered:
Relish the taste of KFC's offerings at kfchk.com
Enjoy McDonald's Hong Kong Delivery via mcdonalds.com.hk
Features and Benefits of Food Delivery Apps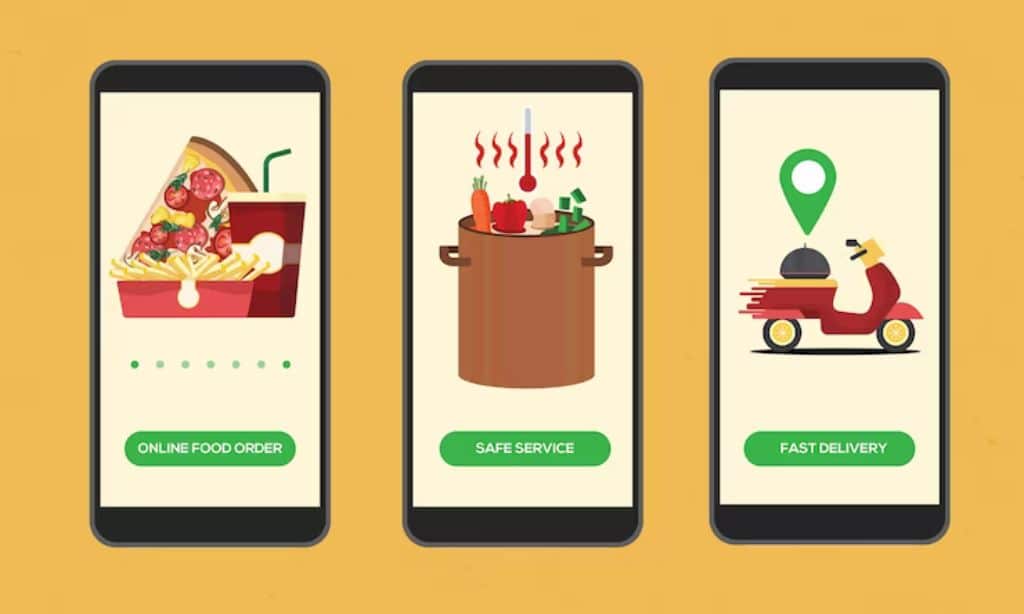 Food delivery apps offer various features and benefits, such as convenience and ease of use, access to a wide range of restaurant options with fast and efficient delivery services, online payment options for transactions, and user reviews & ratings.
Convenience and Ease of Use
Food delivery apps in Hong Kong provide an unprecedented level of convenience and ease of use for their customers. Instead of having to physically visit a restaurant, order takeout through the telephone, or wait in line at the checkout counter, users now have the luxury of simply tapping away on their smartphones to get end-to-end access when ordering food from any number of restaurants around town.
Not only does this save time, but it also offers a near-effortless experience with minimal hassle typically associated with traditional methods. Moreover, these apps often feature various menu selections ranging from gourmet cuisines to family favorites, giving consumers greater choice and increasing overall satisfaction.
Additionally, most food delivery apps facilitate fast and efficient deliveries directly to your doorstep; some even offer online payment options that further streamline the entire process with maximum comfort.
Wide Range of Restaurant Options
Food delivery apps in Hong Kong offer users diverse restaurants and cuisines, making it easier to enjoy food from different parts of the world without stepping out from home.
For example, customers can choose anything from traditional Chinese food dishes like dim sum to Japanese sushi or Italian pasta simply through the convenience of an app. It also provides many other options, such as burgers, sandwiches, pastry shops, and more, for a complete food journey experience.
These online platforms are efficient and offer an extensive variety of restaurant choices with detailed descriptions of each dish, giving customers the information they need before placing their order.
Fast and Efficient Delivery
Fast and efficient delivery is a key factor in successful food delivery apps. With increasingly busy lifestyles, millions worldwide rely on food delivery services to meet their needs and enjoy restaurant-quality meals from the comfort of their homes.
Fast and efficient delivery ensures that customers receive their orders timely and without any issues. Food delivery apps employ multiple strategies, such as real-time tracking to keep customers updated about their order status, leveraging optimization algorithms to map out the most optimal routes for drivers, thus streamlining operations and minimizing wait times.
App developers also take essential precautions like pre-cold chain contingency plans for long journey orders to protect food items until they reach users' destinations without compromising quality or taste.
Online Payment Options
It is becoming increasingly popular as a convenient and safe way to make payments for food delivery in Hong Kong. Most major apps offer various payment methods, including mobile wallets, cashless transactions, e-wallets such as Apple Pay and WeChatPay, and digital currency like the recently launched China Digital Yuan app.
These options allow customers to securely charge their purchases within minutes – without having to wait or worry about carrying physical money around. Customers can also take advantage of promotions and discounts that are frequently offered through the apps' online payment platforms.
With more restaurants accepting these payment options daily, an electronic wallet could enable customers to save time with fast transactions while also enjoying great value from freebies attached to their orders!
User Reviews and Ratings
Food delivery apps have become an important part of the online food delivery experience in Hong Kong, allowing customers to share their experiences with various apps and user-generated content.
With so many options available, ratings can provide insight into what others think of different food delivery services based on reviews from others who have used them before.
User ratings guide everything from menu selection and quality to payment options and customer service, allowing customers to make more informed decisions when selecting a food delivery app for their needs.
Latest Updates and Innovations in Food Delivery Apps in Hong Kong
[Video Credits @MyBrokenPassport]
Food delivery apps in Hong Kong stay ahead of the competition by continuously adding new features and improvements, such as integration with other platforms, special promotions, and discounts for customers.
New Features and Improvements
Food delivery apps in Hong Kong are constantly looking for ways to enhance the user experience and provide more convenience. Some of the latest updates in this field include advanced tracking systems that allow customers to keep a real-time update of their order progress, personalized recommendations based on past orders and preferences, improved customer support, as well as incentives for loyal customers.
One example is Meituan's KeeTa app which was launched in Mong Kok earlier this year and offers an array of services such as online payment options, live order-tracking functions, discounts, and more.
This has greatly enhanced the food delivery experience for users and vendors by offering them a smoother transaction process every time they use the app. All these new features make it much easier for customers to find exactly what they need while allowing vendors to spend less time dealing with administrative tasks.
Integration with Other Platforms
has become increasingly important in the food delivery app market in Hong Kong. Integrating popular platforms such as McDonald's, Café de Coral, KFC, and Pizza Hut with third-party apps provides users an expanded range of restaurant options from established brands.
Additionally, this smooths out the ordering and payment processes by allowing customers to order directly through their favorite platform instead of switching between multiple apps for different restaurants or paying additional cash on delivery fees.
This enhanced convenience boosts user engagement, which leads to more sales and better customer Ratings for these apps. For example, OpenRice HK boasts over 80 smartphone applications connected via its ingenious smartphone app ecosystem, making it easy to find your desired meal at any time without turning to a third-party site using its destination platform feature.
Special Promotions and Discounts
Food delivery apps in Hong Kong offer various types of exclusive deals, and limited-time offers on meals to attract new customers, such as free vouchers for new users worth up to HK$300 (Meituan KeeTa), special promotions on certain restaurants (Cafe de Coral) or discounts on popular dishes (HungryPanda).
By providing these promotional activities, food delivery apps make it easier and more affordable for customers to access restaurant-quality meals. They also encourage existing users to take advantage of the offers and try different cuisines.
Delivery providers advertise their discounts and specials prominently through online platforms like Facebook, Instagram, and Twitter. Special benefits can come in various forms from restaurants, so being aware of all available options is key when deciding which app to use.
Challenges and Solutions in Food Delivery Apps
Addressing issues relating to delivery logistics, quality control, and customer service can help ensure efficient and reliable operations of food delivery apps.
Delivery Logistics and Timing
The food delivery industry can be challenging in terms of finding an efficient and cost-effective way to get orders delivered quickly without affecting the quality of service. Delivery logistics and timing are major hurdles for food delivery startups, as unexpected delays due to traffic congestion, high order volume, or bad weather can reduce customer satisfaction.
In addition, accurately estimating delivery time can help customers decide when they want their order delivered before placing it, reducing the stress associated with waiting times.
Moreover, services such as real-time tracking are also beneficial to keep customers updated on order progress so they know exactly how long they have to wait for their dish.
To solve potential problems that may arise from delivery logistics and timing issues, food delivery companies need continual improvement in logistical efficiency and customer experience through innovative technologies.
Quality Control
Quality Control is critical for the success of food delivery apps. While customer convenience and selection are important factors influencing consumer purchase behavior, poor quality control can harm the user experience on such platforms.
Quality control refers to all processes – from menu accuracy to order tracking and fulfillment – designed to ensure prompt, accurate delivery with consistent product quality.
Restaurants must form partnerships with reliable vendors to guarantee customers receive fresh meals promptly while offering customer service and support as necessary. Additionally, app developers should strive to improve aspects such as ratings and reviews by focusing more on user satisfaction than features; this will help them sustain customer loyalty over time.
Customer Service and Support
In the competitive, customer-oriented food delivery app industry, providing high levels of customer service and support is important. Research indicates that 62% of surveyed customers had missed calls related to issues with their orders.
This highlights the need for entrepreneurs in this field to strive towards developing efficient solutions for addressing such challenges on a large scale basis. Provided options can include chatbots, automated tools that can answer straightforward questions and help users resolve some simple problems or self-service resources where customers can easily access guidelines and recommendations.
Additionally, it can be beneficial to focus on creating an environment immediately available whenever a problem arises while ordering food items online, as most customers want immediate answers.
These features allow companies in this domain to address current consumer shortcomings and build long-term relationships with them by building trust between both parties due to proven commitment.
Tips for Using Food Delivery Apps in Hong Kong
Research and compare different apps to find the right one for your needs, and keep an eye out for discounts and promotions to get the best deal. Read on to learn more about getting the most out of Hong Kong's food delivery services!
Choosing the Right App for Your Needs
When it comes to finding the right food delivery app in Hong Kong, there are some key features you should consider. Most popular apps offer a wide variety of restaurant options so that customers can easily find their desired meal.
Furthermore, delivery speed is an important factor; many apps offer quick and efficient services within an hour or less. Customer reviews can help gauge user satisfaction and verify the quality of food they receive.
Additionally, online payment options may be necessary depending on your preference when ordering and paying for food items.
It is worth noting that competition in the Hong Kong food delivery market has increased significantly due to recent entries such as Meituan KeeTa- making it even more crucial to choose wisely when selecting your preferred app or platform.
The constraints brought about by COVID-19 have also caused a surge in demand for takeaway meals from restaurants, which further boosts business opportunities for these platforms, providing convenient customer experiences through digitalized means.
Customizing Your Orders
Food delivery apps in Hong Kong provide an easy and convenient way to order meals, and users can customize their orders according to their needs. Tools such as dietary restrictions or preference filters allow users to narrow down the list of possible options they can choose from.
For example, Meituan KeeTa's Meal for One program tailors menus specifically for residents' nutritional requirements. UpMenu offers features that enable people with specific diets, such as vegan or gluten-free lifestyles.
Chowbus also allows customers to modify orders before submitting them by changing the number of servings or adding extra ingredients like sauces upon request. Some food delivery services tackle customization on a broader level, allowing customers to personalize entire promotional campaigns around their preferences and eating habits, creating tailored programs that are built on user data points gathered over time.
Providing Feedback and Reviews
Customer feedback and reviews are invaluable when it comes to using food delivery apps in Hong Kong. Reviews provide valuable insights into user experience, and ratings help users decide which app is the most suitable for them.
By looking at what others have experienced while using an app, customers can make informed decisions about their choice of service. Customer feedback also helps businesses evaluate the performance of their food delivery applications and make improvements where needed, leading to greater customer satisfaction and better overall quality of service.
Additionally, customer opinions can help identify areas that need improvement or additional features that could be added to enhance user experience even more. All these factors contribute significantly towards the success of any information system, such as a food delivery application; therefore, providing honest feedback is highly important for anyone who wishes to benefit from a smooth ordering process with efficient follow-up services.
Future Trends in Food Delivery Apps
The food delivery market in Hong Kong is set to grow as innovative technologies, such as Artificial Intelligence (AI) and Machine Learning, are adopted by app developers.
The use of Artificial Intelligence and Machine Learning
Machine learning has revolutionized the food delivery industry in Hong Kong, providing users with a wide variety of benefits. AI can provide personalized recommendations based on user preferences and past orders, resulting in an improved overall experience for consumers.
Machine learning algorithms are used to improve accuracy and efficiency when processing orders, leading to more timely deliveries and cost savings. Additionally, chatbots powered by natural language processing (NLP) are becoming increasingly popular in customer service departments of many food delivery services.
These automated agents can quickly answer basic queries from customers while routing complicated ones to human representatives for further assistance. Food delivery entrepreneurs now also benefit from this technology, which helps analyze applications using AI algorithms, ensuring validations by considering various factors such as restaurant ratings and customer feedback – helping create better user experiences through sophisticated matching models tailored specifically for food-ordering platforms.
Sustainability and Eco-Friendly Practices
Food delivery apps in Hong Kong have taken the necessary initiatives to ensure sustainable operations and reduce their environmental footprint. These include promoting the use of eco-friendly packaging, partnering with restaurants with green policies, and implementing efficient delivery routes to minimize emissions resulting from their services.
Using reusable and compostable dishes or opting for digital receipts instead of paper are ways food delivery apps limit their carbon footprint. Furthermore, stringent quality control measures allow them to source only the freshest ingredients while boosting safety standards, which naturally benefit the environment.
These practices also help create a healthier all-around experience for users by reducing exposure to harmful chemicals or components that could be found in conventional packaging materials such as plastic wrap.
Other Food Delivery Options in Hong Kong
From chain restaurant delivery services to other online food delivery platforms, there are various options for Hong Kong users looking for convenient and reliable food delivered right to their doorsteps.
Chain Restaurant Delivery Services
Chain restaurants in Hong Kong offer convenient delivery options through food delivery apps like Meituan, McDonald's Hong Kong, Eatizen, Café de Coral, and Deliveroo. Chain restaurants are becoming increasingly popular for their range of quick and delicious options that can be ordered from the comfort of your own home.
These services have made dining more accessible than ever, as customers no longer need to wait for a meal in person or use cash payments at the counter. The top chain restaurants offering these services include McDonald's HK, KFC, TamJai, and Café de Carol.
Notable features of these services include a wide variety of menu items to choose from, fast delivery times, and seamless online payment methods. Customers also enjoy discounts such as promotional vouchers offered by various delivery platforms, making chain restaurant deliveries even more budget-friendly.
Other Online Food Delivery Platforms
Apart from the top food delivery apps in Hong Kong, consumers also have several other online food delivery platforms available to choose from. These include Black Sheep Go Delivery, Nosh, Nutrition Kitchen, OOHK Meraki at Home, Jia Everywhere, and the recently launched Meituan KeeTa app, an extension of Chinese giant Meituan.
Food aficionados can rely on these services to get home-cooked meals and attractive deals delivered directly to their doorsteps. Such services offer flexibility in ordering as consumers can customize orders according to their dietary needs and preferences.
Most of these websites are also user-friendly, with effective design tools for easy navigation and detailed information about ingredients used for particular menu items.
Frequently Asked Questions (FAQs)
Now, let's find answers to some common questions about the best food delivery apps in Hong Kong.
1. What are the best food delivery apps in Hong Kong?
Some of the most popular food delivery apps in Hong Kong include Deliveroo, Foodpanda, and UberEats.
2. Are there any discounts available with these food delivery apps?
Many of these food delivery apps offer customers special offers and discounts when ordering from their respective restaurants.
3. Do I need to pay a fee for using a food delivery app?
In most cases, no; however, some platforms may charge an additional service or convenience fee on orders placed through their platform or particular restaurants they partner with.
4. Is using my credit/debit card safe when placing an order on a food delivery app?
Yes, all online payments made via these apps are protected by secure encryption technology, so you can rest assured your payment information is safe while ordering online.
Takeaway
Food delivery services in Hong Kong are flourishing, with various apps, meal plans, and restaurant options to choose from. These apps allow users to order food online at their doorstep in a few clicks.
The range of restaurant options available through these apps is wide, offering choices for every taste bud. Delivery services are fast and efficient thanks to advanced logistical systems in place.
Furthermore, most online food delivery apps accept a range of payment gateways that make the process easy to use and secure for customers. Through user reviews and ratings on many platforms, customers can know what to expect when ordering food using these applications.
To stay up-to-date with new features or promotions, shopping around different food delivery applications could benefit you a lot! Apart from this, customer service 24/7 should be available to ensure a satisfactory customer experience by addressing any challenges quickly and effectively and taking necessary measures aiming toward sustainability initiatives for the industry's future growth.
As such, users have more than enough food delivery options anytime – anytime now!