10 Best Food Delivery Apps in Vietnam for Easier Home Dining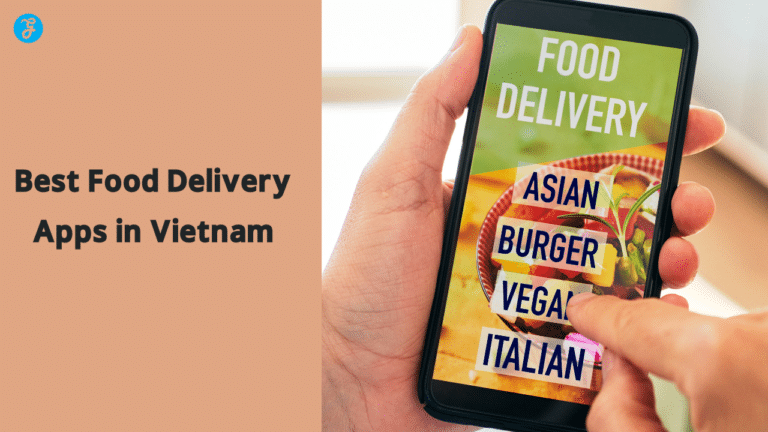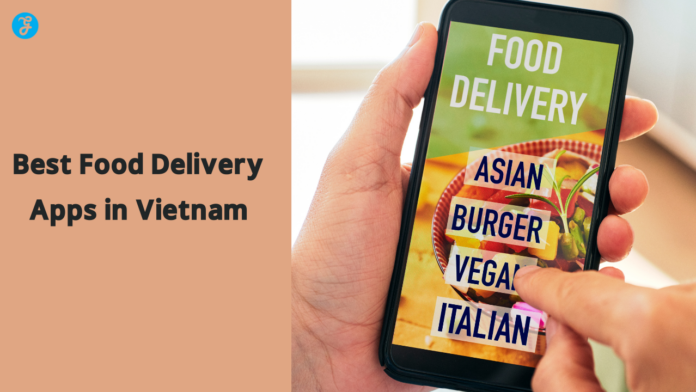 Struggling to find the best food delivery apps in Vietnam? You're in luck! Every year, there's an increasing number of food apps that are emerging and competing for your attention.
In this article, you will learn about the top food delivery applications available in the country along with their features and updates. We'll also provide useful tips when using these services so that readers can make informed choices for ordering their meals.
Get ready for a delicious journey as we explore the world of meal delivery options in Vietnam!
Content Highlights
GrabFood, Shopee Food, GoFood, and Baemin are some of the most popular food delivery apps in Vietnam offering a wide selection of restaurants.

With easy payment methods such as e-wallets, cash on delivery, or direct card/PayPal transfers, ordering through GrabFood is both secure and convenient.

Shopee Food offers users an integrated shopping experience with competitive pricing and discounts while GoFood provides quicker deliveries along with exclusive promotions.

Baemin stands out amongst other apps due to its advanced order tracking system as well as reliable delivery services and excellent customer service.
Top 10 Food Delivery Apps in Vietnam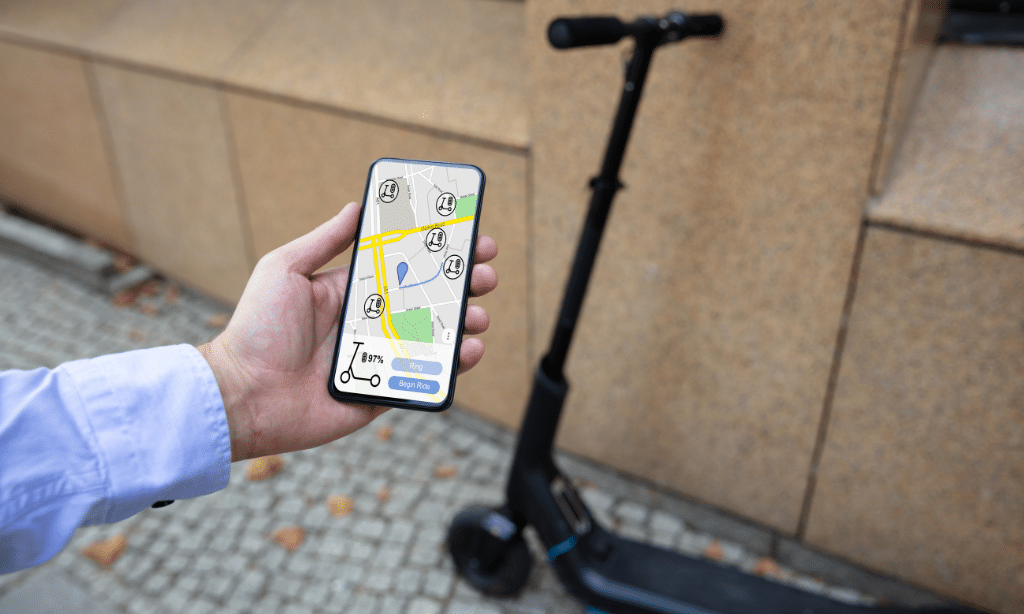 Grab Food, Shopee Food, GoFood, and Baemin are some of Vietnam's most popular food delivery apps.
Grab Food
Grab Food is the top food delivery app in Vietnam designed to make it easy for users to order and receive their meals quickly. This fast-food delivery service offers a variety of restaurants to choose from, a simple yet intuitive interface for placing orders, as well as secure payment options like e-wallets.
Popular among Saigonese office workers due to its convenience and competitive prices, GrabFood also enables users to track their delivery progress more easily. With its wide range of restaurant options and discounts on popular dishes, GrabFood assures you that there will never be a dull meal again!
Shopee Food
Shopee Food is a rebranded version of the Now app introduced by Shopee in Vietnam. The service was designed to offer consumers an online food ordering and delivery solution. It provides access to a wide selection of restaurants as well as convenient payment options, which make it easy for customers to order from anywhere at any time.
With its extensive range of restaurant options and competitive pricing, Shopee Food has become one of the top choices of food delivery apps in Vietnam, with users enjoying seamless integration with Shopee's existing platform.
Moreover, it offers reliable delivery services coupled with excellent customer care. Additionally, exclusive promotions and deals are regularly offered on Shopee Food, making it an even more attractive option for food lovers throughout Vietnam.
GoFood
GoFood is one of Vietnam's top food delivery apps, offering a fast and convenient delivery experience. This app provides customers with an extensive selection of restaurants, allowing them to choose from various popular cuisines, including Vietnamese, Japanese, and Chinese.
Customers can also take advantage of easy pickup options at various locations nationwide. The user-friendly interface makes it easy for users to place orders quickly and securely.
Additionally, GoFood offers many free promotions that customers can use to save money on their orders. With its lightning-fast speed and reliable service, GoFood has quickly become a go-to choice for efficient food delivery in Vietnam.
Baemin
Baemin is one of the top food delivery services in Vietnam, with its most recent acquisition of Vietnam solidifying its market dominance. Customers can enjoy a wide variety of authentic dishes at competitive prices and exclusive promotions and deals.
When ordering through Baemin, customers benefit from an easy-to-use interface, convenient payment options, quick delivery time, and advanced order tracking available within the app.
In addition to delivering a delightful customer experience every time they interact with Baemin's digital platform, customers are assured of reliable delivery service and excellent customer support.
As Vietnam's leading food delivery service, Baemin continually pushes boundaries with its scalability solutions based on MongoDB Atlas technology infrastructure and expands into new sectors, including beauty services.
VnExpress Eats
VnExpress Eats is a highly regarded food delivery app in Vietnam that has earned its popularity through a combination of extensive restaurant choices and user-friendly features. It stands out for its vast selection of restaurants and cuisines, allowing users to explore a diverse range of dining options.
The app offers a straightforward and intuitive ordering process, making it easy for users to place their orders with just a few taps. VnExpress Eats understands the importance of user convenience and offers various payment options, including digital wallets, to cater to different preferences.
One of the key strengths of VnExpress Eats is its efficient delivery services. Users can rely on prompt deliveries, ensuring their meals arrive fresh and hot. Furthermore, the app frequently features promotions and discounts, providing users with cost-effective options for enjoying their favorite dishes.
Loship
Loship is a homegrown Vietnamese food delivery app known for its commitment to fast and reliable delivery services. It connects users with nearby restaurants, making it a convenient choice for those looking for quick and hassle-free food deliveries.
Loship strongly emphasizes user experience, offering a user-friendly interface that simplifies the ordering process. Customers can browse through various restaurant options, view menus, and place orders effortlessly.
Loship has implemented a rewards program to incentivize user loyalty that allows users to earn points or enjoy exclusive benefits with each order. Special deals and discounts are also periodically offered, making dining through Loship even more enticing.
Gojek
Gojek, originally founded in Indonesia, has expanded its services to Vietnam, offering motorbike ride-sharing and food delivery options. It has quickly gained popularity among users in Vietnam due to its multi-service platform, which includes food delivery, transportation, and more.
Gojek's food delivery service provides access to a wide selection of restaurants, allowing users to order their favorite dishes conveniently. The app's user-friendly interface simplifies the ordering process, making it easy for customers to choose their meals and place orders.
One of Gojek's strengths is its seamless integration with its existing platform, offering users a comprehensive range of services, from transportation to food delivery, all within a single app. Additionally, Gojek often features promotions and discounts, enhancing its appeal to cost-conscious users in Vietnam.
With its established presence in various countries, including Vietnam, Gojek has become a prominent choice for those looking for a diverse range of services, including food delivery, all in one app.
Now. vn
Now.vn is a well-established food delivery platform in Vietnam with a reputation for its extensive restaurant choices. It's a go-to app for users seeking their favorite dishes from local eateries, international restaurants, and everything in between.
Beyond its diverse restaurant offerings, Now.vn provides users with various payment options, ensuring flexibility and convenience. The app has garnered a loyal following due to its commitment to timely deliveries and maintaining food quality during transit.
Whether you're craving traditional Vietnamese cuisine or exploring international flavors, Now.vn aims to provide a seamless and enjoyable food delivery experience.
LalaFood
LalaFood is a food delivery app that caters to the diverse appetites of users in Vietnam. It takes pride in offering an extensive selection of restaurants and cuisine types, making it a versatile choice for those who enjoy culinary exploration.
LalaFood places a premium on user convenience and quick delivery times. Its user-friendly features simplify the ordering process, allowing users to easily browse menus, place orders, and track their deliveries.
LalaFood's mission is to make ordering food convenient and enjoyable, ensuring that users have a pleasant dining experience from the moment they open the app to when their meal arrives.
Foody
Foody is a multifaceted food delivery app in Vietnam that goes beyond simple food delivery. While it offers a comprehensive range of restaurant choices for ordering food, it also serves as a valuable resource for discovering new dining options.
The app provides users with restaurant information, including reviews and recommendations, helping them make informed choices about where to order from. Foody's user interface is designed for exploration, allowing users to discover various dining experiences.
Foody's platform is a favorite among food enthusiasts who appreciate not only the convenience of food delivery but also the opportunity to explore and appreciate the rich culinary landscape of Vietnam.
Comparison of Food Delivery Apps in Vietnam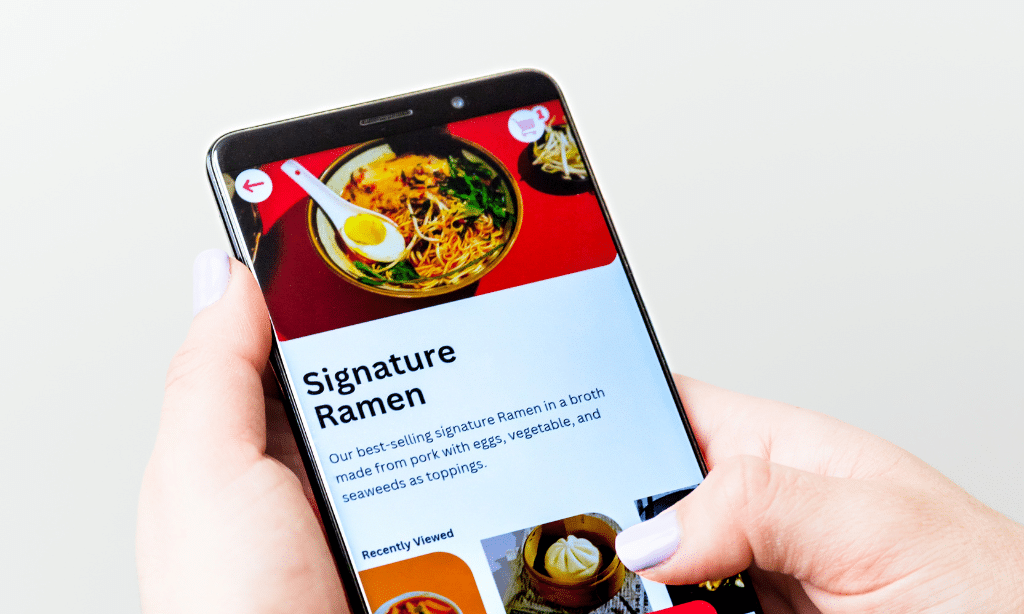 Analyze different aspects such as pricing, delivery fees, restaurant options, and availability, user reviews, and ratings of the top food delivery apps in Vietnam to find the best app suited for your needs.
Pricing and Delivery Fees
Vietnam is home to several popular food delivery apps, such as Grab Food, Shopee Food, GoFood, and Baemin. All these services offer convenient payment options, a wide range of restaurant options for customers to choose from, and competitively priced meals.
The fees associated with each app may differ according to the type of order placed or the total amount of the order.
For instance, Grab Food's pricing may vary depending on location but usually includes a delivery fee based on factors like distance from the restaurant to the customer's address. Generally speaking, its base rate is low compared to other competitors despite some additional miscellaneous charges that could occasionally be included in an order.
On the other hand, Shopee Food charges ¥3-5 per kilometer and ¥15 for pickup orders; additionally, there might be packaging fees or 'peak time' surcharges during rush hours when demand is higher.
Restaurant Options and Availability
The top food delivery apps in Vietnam offer various restaurant choices for customers with different tastes and preferences. Popular apps such as GrabFood, NOW, Loship, and GoFood are popular among locals and foreigners alike, allowing users to access a diverse range of cuisines, including Filipino, Banh Mi (Vietnamese sandwiches) or Pho (noodle soup).
The Vietnamese food and beverage industry is heavily influenced by changing market trends and consumer preferences, which results in an ever-evolving selection of restaurant options available for delivery.
According to the latest statistics, the online food delivery market in Vietnam reached an impressive value of US$727.9 million in 2022 alone – indicating that there is both growing demand alongside an increasing number of restaurants offering their services for home deliveries or takeouts.
User Reviews and Ratings
are an important factor to consider when choosing a food delivery app in Vietnam. Reviews can provide insight into customer satisfaction with the quality of service, reliability of delivery, and overall convenience of the platform.
Positive reviews demonstrate a reliable and satisfactory user experience that is likely to draw more customers in. Negative reviews serve as warning signs helping customers to make informed decisions about their order preferences.
For instance, GrabFood has a 66 percent satisfaction rate according to survey results, indicating how well-received this particular service is among consumers. Reviews allow users not only to save time & money by making better choices but also help companies build trust through transparency within the industry thus positioning them for success. If you want check out another article on Kimski 2.0
Latest Updates and Innovations in Food Delivery Apps
From integrating e-wallet portals to improving delivery logistics and enhancing customer support, food delivery apps in Vietnam have experienced many updates and innovations.
Integration of e-Wallet Portals
with the emergence of digital payments, e-wallet portals have been gaining traction in Vietnam. This growing adoption of e-wallets is not only beneficial to customers who now enjoy a greater range of payment options but also to businesses that can process transactions safely and conveniently for their consumers.
Integrating e-wallet portals with food delivery apps has become particularly popular as it allows users to make payments quickly and securely, thus improving customer satisfaction with an enhanced user experience.
Moreover, this advancement leads the way for further digitalization initiatives in Vietnam's food industry as more people are encouraged to use online channels, such as mobile phones or laptops, during their daily transactions.
Improved Delivery Logistics
have seen significant advancements in Vietnam alongside the rise of food delivery apps. The integration of innovative features, such as real-time tracking systems and contactless payment options, has enabled customers to track their order status, avoid interpersonal interactions during deliveries, and make payments securely.
Food providers have also benefited from improved delivery logistics with more efficient pickup processes, leading to faster deliveries and better customer satisfaction. Moreover, alternative platforms like ride-hailing apps are now integrated into food delivery apps allowing for even quicker pickup times in saturated areas.
These new developments have made ordering meals easier than ever before while improving the overall customer experience.
Enhanced Customer Support
Customer support plays a vital role in food delivery apps, helping to ensure that customers have a positive and hassle-free experience. In Vietnam, food delivery apps such as GrabFood, Shopee Food, GoFood, and Baemin are putting significant emphasis on customer service with features such as 24/7 chat support, quick response times for queries or complaints, and resolution of issues.
This helps to not only improve customer satisfaction but also boost their loyalty towards the app itself. Efficiently addressing customer concerns and providing timely resolutions helps the restaurant, as well as all stakeholders involved in the process, gain better trust from its consumers.
Furthermore, these advancements help to streamline processes pertaining to payment transactions, dealing with inquiries concerning deliveries, tracking orders for restaurants, etc., leading to a fast turnaround time for each transaction while improving the overall user satisfaction rate at the same time.
Tips for Using Food Delivery Apps in Vietnam
[Video Credits @Pagoda Projects]
You can ensure accurate delivery, get great deals, and leave reviews to help restaurants earn by using food delivery apps!
Ensure Accurate Delivery Address
Providing accurate delivery addresses is essential when using food delivery apps in Vietnam. This is because the success of a food delivery depends on providing precise address information.
If customers provide incomplete or inaccurate details, it can lead to wrong orders and complications in deliveries. Furthermore, delayed deliveries caused due to incorrect address information can also affect the customer experience negatively.
Therefore, users need to double-check that they have provided their exact location before placing an order. By ensuring accuracy with locations and other contact details while availing of food delivery services in Vietnam through these apps, customers can get hassle-free, prompt delivery without any errors or issues in the process.
Check for Promotions and Discounts
Making the most out of food delivery apps in Vietnam may require more than just ordering your favorite meals. Checking for promotions and discounts can be a great way to save extra money and get the best value on orders.
Many apps offer users special offers, such as percentage discounts, free delivery, buy-one-get-one deals, and other money-saving opportunities like reduced prices or exclusive limited-time promotions.
By taking advantage of these promotional codes and vouchers, customers can enjoy their meals at discounted rates without missing out on their preferred restaurants due to high costs.
Leave Reviews and Ratings for Your Favorite Restaurants
The power of reviews and ratings is often underestimated by users regarding food delivery apps in Vietnam. Sharing feedback can be a great way for other customers to make informed decisions about their orders, as user experiences often provide more up-to-date information than what's available online.
Reviews and ratings also help restaurants understand the areas where they need to improve, allowing them to maintain a certain level of quality with their products or services. By leaving reviews and ratings for your favorite restaurants on food delivery apps, you can play an important role in fostering customer trust, keeping businesses accountable for providing good service, and incentivizing high levels of consumer satisfaction.
Read Also: Best Android Backup Apps
Frequently Asked Questions (FAQs)
Now, let's learn about some related questions on this topic.
1. What are the best food delivery apps in Vietnam?
Some of Vietnam's most popular food delivery apps include GrabFood and Foody.vn, Now.vn, and GoViet/Gojek.
2. Does using a food delivery app in Vietnam cost extra?
Yes, there is usually a service charge that each app adds to orders before they are delivered to you.
Yes, most of these sites offer up-to-date menus for restaurants registered with them so customers can have access to accurate information about their meals and make informed decisions about their orders.
Takeaway
In conclusion, food delivery apps have revolutionized how people order and enjoy food in Vietnam. Whether ordering from a local restaurant or looking for international cuisine, these top-rated food delivery apps are convenient and efficient.
GrabFood is one of the most popular apps with competitive pricing and discounts. Shopee Food features seamless integration with its platform, while GoFood offers an extensive variety of choices.
Baemin has excellent customer service, and exclusive promotions make it stand out among local providers such as Bach Hoa Xanh, Loship, BeChef, and The Coffee House. All these apps provide great services like quick deliveries and easy payment options, making them excellent alternatives to traditional food ordering online in Vietnam.