10 Best Augmented Reality Apps for Android to Explore the World in a New Way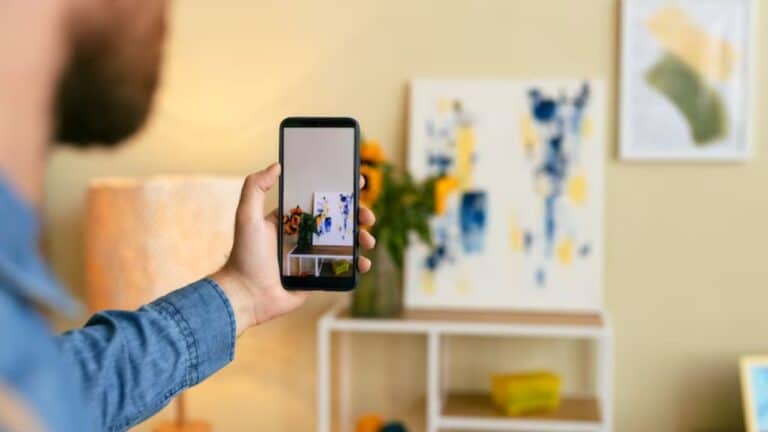 Augmented reality (AR) has a long history dating back to 1968, when Ivan Sutherland and Bob Sproull unveiled the first AR headset. A heads-up display was used to project graphical data from this device. However, it was clunky and impractical for regular usage, as were many 1960s innovations. AR superimposes digital content — such as video, 3D models, sound, or photos — on top of our real-world surroundings.
AR is now ubiquitously incorporated into our daily lives, frequently without our awareness. Numerous applications leverage the potential of augmented reality displays for a variety of reasons ranging from business and banking to entertainment. AR has undeniably matured into a necessary human technology.
Today, we present an investigation of augmented reality via the perspective of 10 of the finest augmented reality applications for Android that you should try, which are redefining our engagement with the world around us. These apps, which range from gaming to makeovers and interior design, enable immersive experiences that seamlessly blend the digital and the physical.
Google Lens
Google Lens, a standout in Google's vast ecosystem, exemplifies the confluence of augmented reality (AR) and machine learning. Google Lens is, at its core, a visual search engine. By pointing your camera at an object, the app may recognize it and provide related web info. This includes everything from identifying locations to artwork, flowers, and apparel.
The text recognition capacity of the software is outstanding, assisting users with time-consuming chores such as scanning business card details, translating other languages, and connecting to Wi-Fi networks. Google Lens can act as your personal shopper if you are a shopaholic. Simply point it towards clothing or accessories, and it will find similar things online, including pricing comparisons. It improves navigation by superimposing directions, company information, and reviews on your live camera stream in partnership with Google Maps. Going out to eat? Google Lens will scan menus and provide user ratings to highlight popular meals.
The brilliance of Google Lens' augmented reality rests in its capacity to overlay digital data on top of the actual world in real time. It delivers pertinent insights on your screen by processing visual data and juxtaposing it with its large database. Advanced machine learning algorithms and Google's massive data troves drive this continuous learning and improving process.
Google Lens provides tangible benefits in addition to satisfying curiosity. It can assist students with research, travelers in unfamiliar locations, or even individuals with simplifying daily tasks. Its interaction with other Google services expands its utility, transforming it into more than just an app — it's a glimpse into the future of visual-centric searches.
Google Translate
Google Translate is a sophisticated tool designed to break down language barriers by providing rapid translations. Using the augmented reality (AR) framework, users can just point their camera at foreign text, and the translation appears superimposed over the original information in an instant. This skill is extremely useful for travelers navigating foreign terrains and interpreting street signs, menus, and other printed items in languages they may not comprehend.
Google Translate uses optical character recognition (OCR) to extract text from images beneath its user-friendly interface. This is then combined with powerful machine learning algorithms to assure the highest level of translation accuracy.
Aside from text, the app includes a voice translation feature that allows users to vocalize sentences and receive instant translations – great for on-the-spot conversations. Its offline capabilities, which allows translations to be sent even when there is no internet connection, is a unique feature. As a result, Google Translate is an indispensable tool for travelers and multilingual folks.
Pokémon Go
Several games have experimented with incorporating augmented reality into their gameplay mechanics. The Nintendo 3DS projected a 3D image on its screen using a camera and AR cards. While other games experimented with this new technology, Pokémon Go is the only one that has genuinely weathered the test of time.
Niantic's Pokémon Go incorporates map data into the game to create real-world Pokémon Gyms and specific places. Players can visit these locations and capture Pokémon utilizing augmented reality as if they were real. This immersive experience occasionally resulted in amusing occurrences, such as catching a Bulbasaur in a salad bowl or a Charmander in a bucket of water.
When it first came out, Pokémon Go was rather simple, focusing solely on collecting Pokémon. Today, the game has a variety of features, including quests, legendary Pokémon encounters, Team Rocket battles, Raids, and much more.
This worldwide sensation shows the potential of augmented reality as a gaming enhancement. Rather than making AR the focus point, which may have reduced it to a gimmick, Pokemon Go easily integrated it as a fun feature without making it the basis of gameplay.
IKEA
The IKEA app is a handy resource for fans of the well-known Swedish furniture company. It has a number of features that are intended to simplify both online shopping and in-store navigating via IKEA's sophisticated layouts. The "IKEA Kreativ" functionality is a standout feature of this software. This tool provides users with a selection of blank room templates from which to unleash their creativity, whether L-shaped, square, rectangular, or any other distinctively curved design. Users can log in and scan their own living spaces to integrate their specific layout into the app for a more personalized experience.
Users can then utilize AR to fill these virtual spaces with any item from IKEA's huge inventory. The UI is simple and straightforward. For example, if a room requires a sofa, users may quickly select its style and color, as well as arrange it within the app's 3D image.
Every IKEA product may be integrated into this AR space, allowing for quick alterations as consumers design their ideal room. Users may easily add their options to the shopping cart and complete a purchase right within the app after they are satisfied with the design.
ModiFace
ModiFace provides a comprehensive platform for anyone wanting a true facial makeover to experiment with several appearances before making a final decision. The ModiFace software, which makes use of augmented reality (AR), allows users to alter their pictures with a variety of hairstyles, clothing, and cosmetics.
ModiFace's cutting-edge software has been integrated into the digital experiences of well-known cosmetics companies like as L'Oréal and Maybelline. This technology not only simulates hairstyles and makeup, but it also makes individualized skin care suggestions based on particular skin kinds and tones. The software determines if one has oily or dry skin and recommends products accordingly.
ModiFace's capabilities are also being used by new and developing businesses to provide personalised beauty solutions. Users may fine-tune makeup hues to their liking and visualize them using AR, ensuring the correct finish. ModiFace also functions as a virtual makeup educator, providing guided, step-by-step tutorials for people who want to experiment but lack the necessary expertise.
While ModiFace has a robust commercial toolkit, the Hair Makeover app provides many of its capabilities for free. This simple program allows users to take a photo and quickly change their hairdo and makeup. There's also a "cartoonify" tool that turns users into anime-inspired avatars for a little extra fun.
SketchAR
SketchAR is a fantastic application that may help you improve your art regardless of your ability level. SketchAR, which makes use of the capabilities of augmented reality, provides real-time depiction of your artwork for educational and entertainment purposes.
When the AR camera is turned on, the application walks users through each stroke line by line, allowing them to create beautiful artwork. This step-by-step guidance ensures that even people with limited artistic skills may easily make beautiful illustrations.
The app also includes weekly challenges in which users are given sketching exercises designed to help them improve their artistic abilities. SketchAR is an excellent platform for those who want to learn how to draw. While the majority of the app's capabilities are free, SketchAR also offers a premium membership. Subscribers get access to a huge library of over 660 distinct lessons, a function that allows them to record time-lapse films of their drawing process, a variety of brush and palette tools, and supplemental AR drawing filters. The premium membership costs $7.99 per week or $69.99 per year.
YouCam Makeup
YouCam Makeup uses artificial intelligence (AI) and augmented reality (AR) to touch up and enhance your photos, offering both professional-grade and entertaining results straight within the app. YouCam Makeup allows you to channel your inner makeup artist and experiment with different makeup looks, skincare regimes, and hair colors. It is ideal for people who want to experiment with fresh looks or simply have fun. This software is your canvas, whether you're trying out a new look or giving yourself a total makeover.
YouCam Makeup, at its core, allows users to experiment with a wide variety of makeup arrangements. Whether using a live video stream or an old shot, the software ensures impeccable image quality and a plethora of customizing choices.
There are a lot of fascinating AR and AI technology possibilities if you just want to play around with the program. YouCam Makeup can automatically build an animated avatar based on a photograph of yourself using a basic image. It can also fully change your fashion style by superimposing AI-generated fashion styles over your image utilizing AR.
YouCam Makeup charges $4.99 per month or $24.99 per year for a premium membership. This premium membership grants access to a variety of additional features, including object removal, teeth whitening, animations, blemish removal, additional makeup options, and eye touch-ups.
Work Link By Scope AR
Work Link is likely one of the more intriguing and practical applications of AR to come. The goal of Work Link is to use AR to provide precise step-by-step instructions to a workforce. For example, if a system requires a certain method to troubleshoot or check for maintenance, the Work Link software and app can be used to produce a complete step-by-step guide with guided information on how to perform the procedure.
When performing maintenance on machinery such as a generator or engine, the software may superimpose an augmented reality illustration onto the equipment, pinpointing the particular components to inspect at each phase. Furthermore, if the machinery is prone to specific problems or malfunctions, the app can inform the user proactively during the appropriate maintenance step.
The app's real-world utility makes excellent use of AR technology. Users can also communicate directly with skilled team members who can see exactly what they're experiencing and assist with troubleshooting. Work Link is mostly used for commercial purposes, however individual licenses are available for people who want to test the software or create their own AR overlays and courses.
Star Walk 2
Star Walk 2 is an app that you may download out of curiosity but keep on your phone because it is so fantastic. As the name suggests, Star Walk 2 uses location data and augmented reality to build a 3D representation of the constellations and celestial bodies visible from your specific position.
Whether you're camping in the woods or just getting away from city lights, this app allows you to identify constellations using your phone's camera and the AR interface. An innovative feature lets users to change the overlay's temporal parameters, revealing the position of stars at any given hour. Star Walk 2 is one of the best Android astronomy apps, an educational tool for family outings, and a one-of-a-kind way to add a bit of magic to a romantic evening.
A variety of add-ons for Star Walk 2 are available for a one-time fee. Ad removal costs $2.99, but all other features are only $0.99 each. These include overlays such as 3D constellation views, deep sky objects, satellite locations, and planet fun facts. There is also a $5.99 bundle that allows users to access everything the app has to offer. There is also a monthly membership option for $0.99 each month, however it is not suggested because the bundle is cheaper.
Augment
Augment is an excellent option for individuals looking for a full 3D modeling and augmented reality (AR) platform. The app acts as a portal to the extensive services provided on their main website. Augment is yet another B2B AR service that allows users to create 3D representations of nearly any product with only a few images. These 3D models can then be interacted with dynamically via AR.
This platform is ideal for professionals such as designers, mechanics, or startups looking to create 3D models or complicated instructional. Augment's ability to easily create and incorporate AR models sets it apart in its field.
The app's user interface is intended to be simple to use. Users can explore a database of public models and animate them using AR immediately on their mobile devices after selecting one. These augmented reality models may be moved, shifted, and enlarged to meet the needs of the user, all while preserving fluid animations and user-friendly controls. Pricing for enterprises starts around $10 per month. Augment also has a special plan for educators that is around half the price of the usual business rate.