Review of "Teen Patti Live" by Ezugi: A Game-Changer in the World of Online Casino Games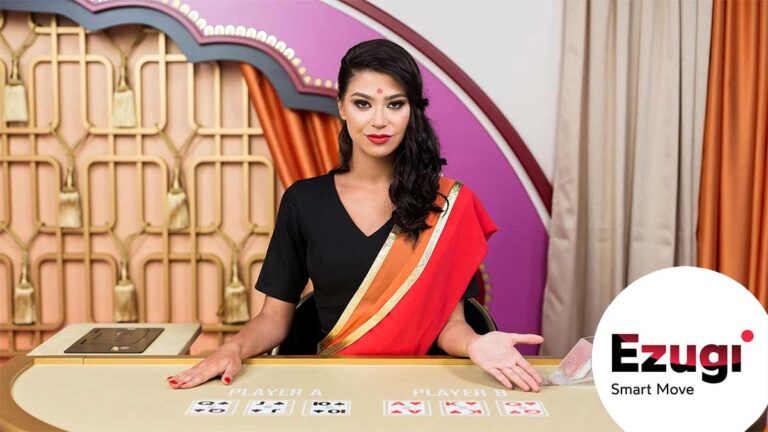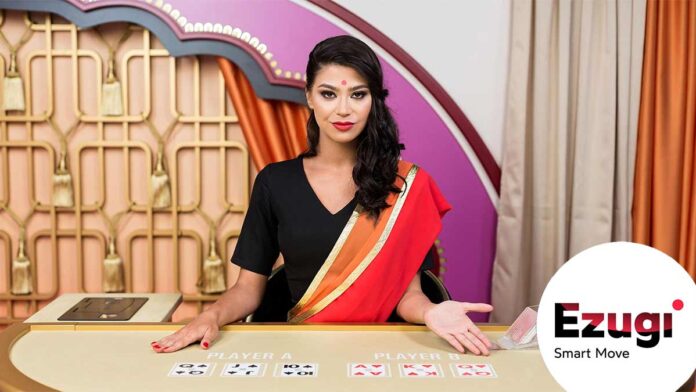 "Teen Patti Live" by Ezugi, released in 2019, has quickly become a favorite among online casino enthusiasts, especially in India. With an impressive RTP of 96.63% and a betting range of $1 to $1,000, it offers both novices and seasoned players an engaging and potentially lucrative gaming experience. Available in both English and Hindi, the game is accessible on desktop and mobile platforms, ensuring players can enjoy it anytime, anywhere.
| | |
| --- | --- |
| Key Takeaway | Description |
| Release Date | 2019 |
| RTP | 96.63% |
| Betting Range | $1 to $1,000 |
| Languages | English and Hindi |
| Platform Compatibility | Desktop (Flash) and Mobile (HTML5) |
Game Features and Interface
The game's interface stands out for its clarity and user-friendliness. Players can easily navigate through the digitally presented rules and start playing within minutes. The game screen is devoid of unnecessary segments, ensuring minimal visual disruptions. Live Teen Patti also offers the unique experience of having a live dealer, adding a touch of authenticity and enhancing the overall gaming experience.
Gameplay and Betting Options
At its core, "Teen Patti Live" is a three-card poker game where the objective is to have a better hand than the dealer. Players begin by placing an Ante Bet. They also have the option of placing two additional side bets: Pair Plus and 3+3 Bonus. The game supports unlimited players, allowing for a communal gaming experience.

The payouts for the game are as follows:

Ante Bonus Bet Payouts:
Straight Flush (Including Royal Flush): 5 to 1

Three of a Kind: 4 to 1

Straight: 1 to 1
Pair or Better Side Bet Payouts:
Royal Flush: 100:1

Straight Flush: 40:1

Three of a Kind: 30:1

Straight: 5:1

Flush: 4:1

Pair: 1:1
3+3 Bonus Side Bet Payouts:
Royal Flush: 1000:1

Straight Flush: 200:1

Four of a Kind: 100:1

Full House: 20:1

Flush: 15:1

Straight: 10:1

Three of a Kind: 7:1
Where to Play "Teen Patti Live" by Ezugi
"Teen Patti Live" by Ezugi is exclusively available in online casinos, making it essential for players to choose the right platform for the best gaming experience. When selecting an online casino to play this game, there are several crucial factors to consider:

Licensing and Regulation: Ensure the online casino is licensed and regulated by a reputable authority. This ensures fair play and the security of your funds.

User Reviews and Reputation: Look for casinos with positive reviews and a good reputation in the online gaming community. Player feedback can provide valuable insights into the casino's reliability and service quality.

Payment Options: A good online casino should offer a variety of payment methods, from credit cards to e-wallets, ensuring convenient deposits and withdrawals.

Customer Support: Opt for casinos that provide 24/7 customer support. This ensures that any issues or queries you might have are addressed promptly.

Game Variety: While your primary interest might be "Teen Patti Live," it's always a bonus if the casino offers a diverse range of games to keep the experience fresh and exciting.

For those interested in diving deep into the world of online card games, the best 3 patti game for real money offers not just a chance to win but also an immersive experience. It's essential to choose the right platform to enjoy the game to its fullest.
Unique Features and Benefits
One of the standout features of "Teen Patti Live" by Ezugi is its 24/7 availability. Whether you're an early bird or a night owl, the game is always accessible. The game is based on Flash for desktop users, while mobile users can enjoy an HTML5 version, ensuring smooth gameplay across devices. The game also supports unlimited players, allowing friends to join in and play together. Additionally, players have the option to tip the dealer, adding a personal touch to the online gaming experience.
Conclusion
"Teen Patti Live" by Ezugi offers a unique blend of traditional Teen Patti gameplay with modern online gaming features. Its impressive RTP, wide betting range, and user-friendly interface make it a top choice for online casino enthusiasts. Whether you're new to Teen Patti or a seasoned player, this game promises an engaging and rewarding experience.
FAQ Section
What is the minimum bet amount in 'Teen Patti Live'?
The minimum bet in Teen Patti Live is $1
How does the live version differ from regular online Teen Patti games?
The live version offers real-time interactions with dealers and players, high-quality streaming, and a sense of community, making it more immersive than regular online versions.
Is 'Teen Patti Live' by Ezugi available on mobile devices?
Yes, the game is optimized for mobile devices, ensuring players can enjoy the game on the go without compromising on the experience.