When Did Dana White Buy UFC? A Turning Point in the History of Mixed Martial Arts [Detail Guide]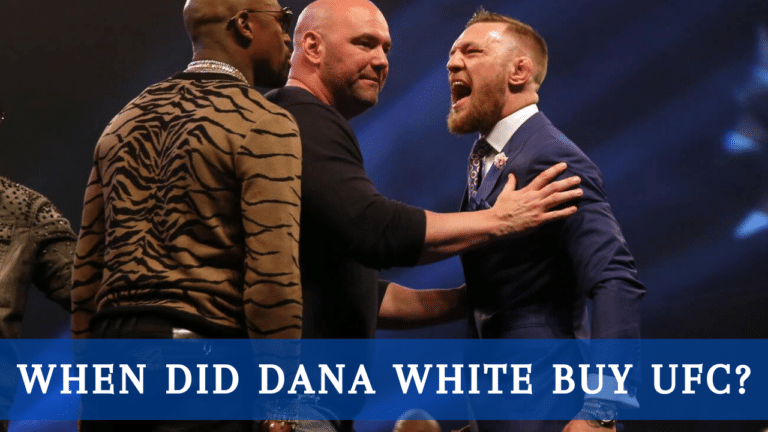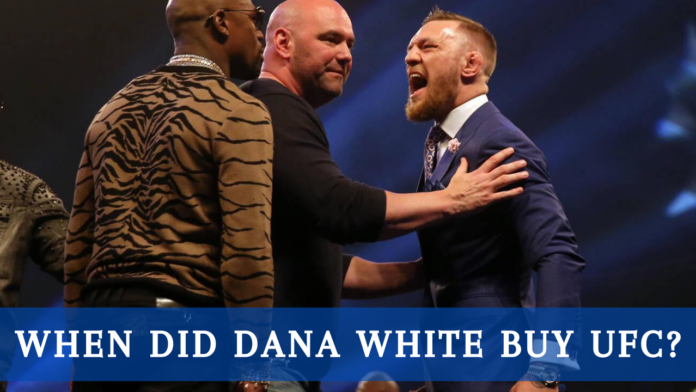 Mixed Martial Arts has been on the rise in recent years, and it's no surprise – with Dana White at the helm of the Ultimate Fighting Championship (UFC), its popularity is sure to keep climbing.
But when did Dana White buy the UFC? This blog post will provide you with information about how he got involved in MMA and offer insight into his current role as president of the company.
We'll explore his early life, successes, controversies, and future plans for himself and his company. It'll also delve into why investing in a little-known fighting league turned out to be one of the biggest gambles that paid off immensely! So if you're curious to find out all you need to know on this topic, read on for more details!
Content Highlights
Dana White and the Fertitta brothers acquired the UFC in 2001 for $2 million and, under their leadership, transformed it into one of the world's most successful sports leagues worth over $4 billion.

Due to Dana White's expertise in combat sports, he was able to implement strategies that grew UFC's popularity with improved pay-per-view numbers and greater reach through television deals.

Through his aggressive promotional tactics and securing sponsorships with companies like Bud Light, as well as striking televised deals for events such as The Ultimate Fighter, White helped turbocharge MMA's influence around the world.
Latest Update: The Story of Dana and Anne White
Who Is Dana White and His Role in the UFC
Dana White is the current president of the Ultimate Fighting Championship (UFC). Under his leadership, the organization has grown exponentially and has become one of the world's premier mixed martial arts promotions.
President of The UFC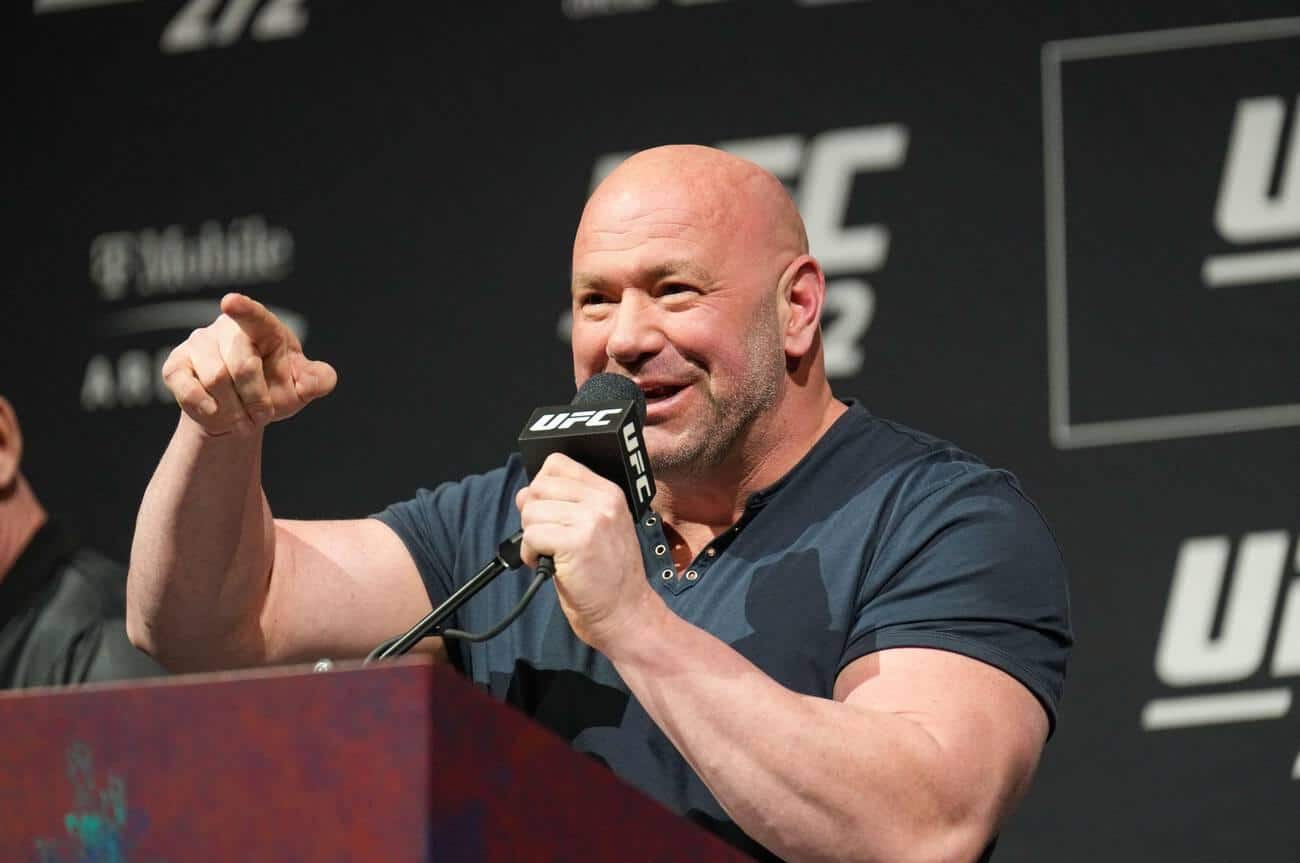 Dana White has been the president of the UFC since 2001 and is mainly responsible for transforming it into one of the most successful global sports leagues in history. Under White's leadership, the once fledgling promotion—which was acquired by him and partners Lorenzo Fertitta with an investment of only $2 million during a public bankruptcy auction—has grown exponentially to become a multi-billion dollar industry with events held all around the world.
As CEO and president of the organization, he plays an active role in making business decisions as well as developing strategic partnerships, helping to increase television revenue streams, laying out plans for expansion into new markets worldwide, negotiating deals with athletes, promoting upcoming fights through pressers or interviews with media outlets – essentially overseeing every aspect related to running UFC businesses.
White also became a head referee at amateur MMA tournaments earlier on in his career, which required knowledge not only from boxing but martial arts such as judo or tae kwon do. He has dealt with various risks associated with this rapidly growing sport due largely to controversies surrounding some fighters while displaying excellent leadership qualities throughout his tenure, which have ultimately cemented his name synonymous with that of mixed martial arts itself.
Transformation of the UFC Under His Leadership
Under Dana White's leadership, the UFC underwent a remarkable transformation. From struggling financially to becoming one of the most successful businesses in professional sports, White proved masterful at growing and promoting the sport of MMA worldwide.
Through his outspoken approach and promotional tactics, he was able to attract new fans on an international scale while building relationships with key players in the industry. With improved pay-per-view numbers and greater exposure through television deals, the company's gross revenue reached $600 million by 2015 – almost 300 times larger than when White first got involved with it.
On top of that, he managed to arrange a sale for $4.025 billion in 2016; due to this success, White remains as president while also having a stake in WME-IMG, which purchased the company from him during that deal.
White's influence can be seen across all levels of mixed martial arts promotion today as well: he has been instrumental in popularizing MMA into a mainstream form of entertainment through his business decisions, such as contracting fighters under exclusive contracts or managing media appearances for talented athletes.
He also raised wages significantly so they were better compensated for their physically demanding jobs – going above and beyond what any other organization had done before him for its ranking athletes.
The Origin Story of Dana White Buying the UFC
In 2001, Dana White was approached by the Fertitta brothers, Lorenzo and Frank Jr., with the idea of purchasing the then-struggling UFC organization for $2 million. Through their investment, they were able to jumpstart a resurgence in popularity for mixed martial arts and expand its reach across the world.
How He Became Involved in The UFC
Dana White became involved in the UFC through his long-time friendship and business partnership with Lorenzo Fertitta. Alongside brother Frank, they sought to purchase the struggling mixed martial arts company from its original owners in 2001 for just $2 million – a significant drop from its estimated value of $36 million.
At the time, the previous owners had stripped the company's assets to avoid bankruptcy, meaning that White and Fertitta saw an opportunity to revive it. Despite initial struggles with public perception for its often violent nature, UFC eventually rose up as one of the sport's biggest entities under White and Fertitta's leadership and stewardship.
In July 2016, this profitability was recognized when a consortium of investors led by WME-IMG purchased it for $4.025 billion – a 201,150 increase over what they first paid 15 years ago.
The Partnership With the Fertitta Brothers
When childhood friends Lorenzo and Frank Fertitta partnered with Dana White to purchase the UFC in 2001 for $2 million, it was unclear if it would be a successful venture. The company was facing bankruptcy after its previous owners had stripped its assets to pay debts.
The partnership brought needed resources, vision, and guidance to the organization, that transformed it into one of the premier sporting leagues in the world.
The Fertittas provided financial support as well as marketing and legal knowledge crucial for revitalizing a struggling brand such as UFC. Meanwhile, White's expertise in combat sports—gained through working at boxing organizations like Top Rank Promotions—brought an unprecedented level of professionalism into events production and advertising strategies which made way for potential partners within cable networks involved with live fight broadcasting deals such as Fox Sports Media Group and ESPN+.
Additionally, his influence on matchmaking contributed to developing compelling rivalries between talented fighters who had become household names by 2016 when WME-IMG acquired Zuffa LLC (the parent company of UFC) for approximately $4 billion dollars; Dana owned 9% stake while the two brothers shared 45%.
Acquisition of the UFC for $2 Million
In 2001, Dana White struck a deal with childhood friend Lorenzo Fertitta to purchase the UFC for $2 million. The UFC was dealing with catastrophic losses at the time and had been on the brink of bankruptcy following years of failed attempts to commercialize mixed martial arts as an entertainment product.
As president of its newly re-imagined entity, Dana White helped transform the previously struggling organization into one of the sport's most prominent brand names.
White's partnership with Fertitta enabled them both to help facilitate sponsorships, secure television and internet rights, and manage star athletes like Ronda Rousey and Brock Lesnar, among others while attracting legions of new fans from around the world since announcing his investment in 2001.
UFC's Growth and Sale for $4 Billion
Under Dana White's leadership, the UFC experienced exponential growth and, in 2016, was sold to WME-IMG for a record-breaking $4 billion.
The Evolution of the UFC as a Global Sport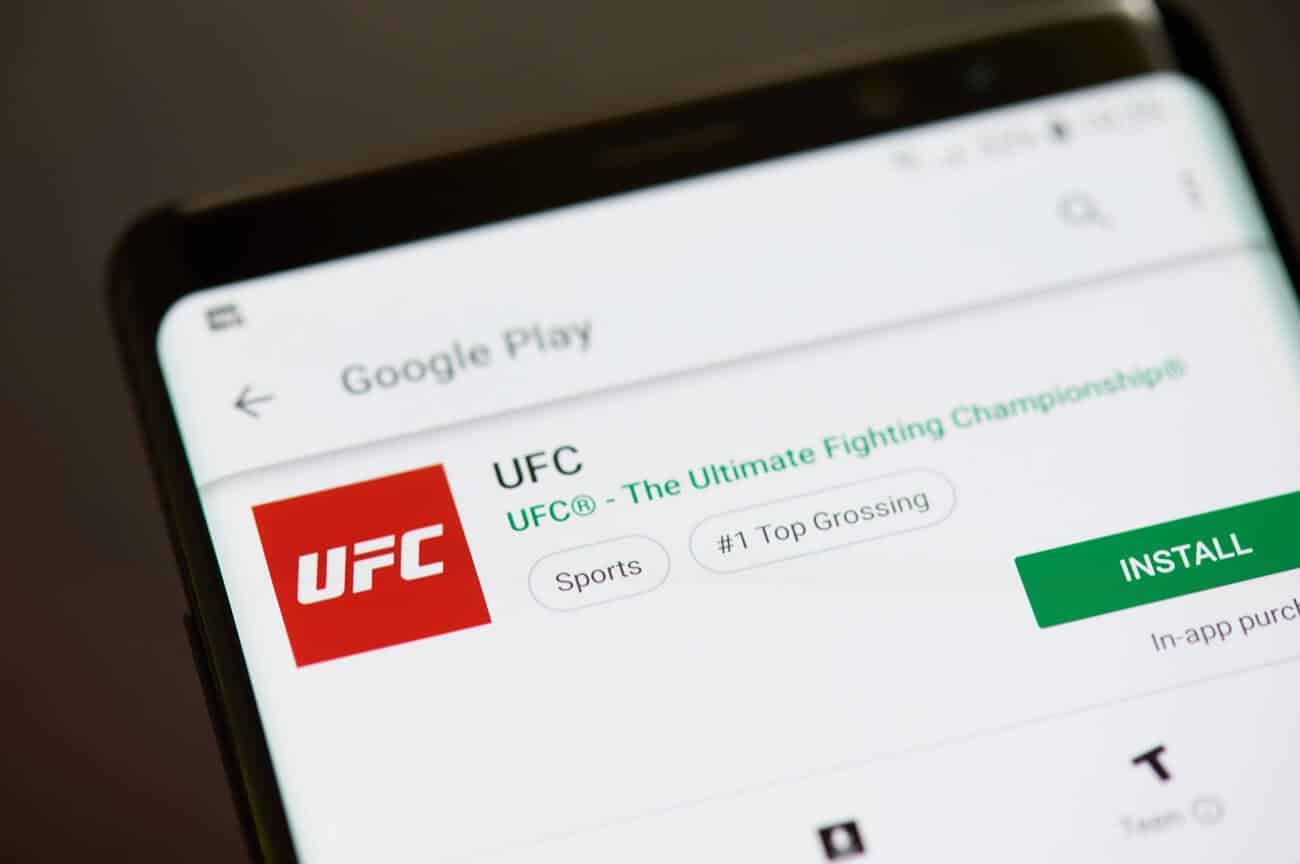 Under the guidance of Dana White, the UFC has experienced tremendous growth. Despite being nearly bankrupt when White took control in 2001, he was able to turn it into one of the most lucrative sports brands in the world.
He's been able to showcase some of the greatest fighters from all over and helped build interest in MMA around the world.
Particularly since 2005, there have been huge changes in how much larger scale events can be in terms of promotion, even as far as new international markets and connections with promoters outside of North America, such as Pride Fighting Championships Japan, which eventually became a subsidiary brand part-owned by Zuffa (UFC parent company).
With popularization coming shortly after The Ultimate Fighter reality series premiere on Spike TV (USA NETWORK) in 2004, leading up to 2014 when Fox Sports got involved—all combined, providing outlets additional broadcasts and new distribution channels worldwide available at accessible platforms making this programming widely available greatly increasing visibility & reach globally.
The Sale of the UFC to Wme-Img in 2016
In 2016, the UFC was sold to a consortium of investors led by WME-IMG in an astonishing deal valued at $4.025 billion. This marked a staggering increase from its acquisition 15 years earlier for only $2 million.
The sale of the company marked an impressive shift in fortune under Dana White's leadership and spotlighted how far it had progressed over the years due to his involvement.
White became president of the UFC in 2001 when he partnered with Frank and Lorenzo Fertitta, who purchased the organization for just 2 million dollars.
Under their reign, combined with White's expertise as well as skillful marketing decisions made on behalf of traditional media while gaining traction through social media platforms, revenue eventually grew to reach almost 600 million in 2015 prior to being sold for such a high amount four years later.
Dana White's Early Life and Career Before the UFC
Prior to becoming involved in the UFC, Dana White had a colorful past that included actively running away from mobsters and working in the boxing industry with notables such as Mike Tyson.
Running from the Mob
Dana White's unexpected involvement with the mob posed a threat to his safety in Las Vegas, as the city was known for its criminal gangs. Determined not to risk his life and future career, White moved back to Las Vegas against advice from friends, longtime mentor John Lewis, and even bosses at the local casino he worked for.
The threats came primarily from infamous mobster Whitey Bulger and his associate Kevin Weeks, who were actively seeking him out, leaving Dana no choice but to leave Massachusetts behind him.
Moving back allowed White to continue pursuing his career in boxing gyms across town while protecting himself by avoiding confrontations with anyone connected with potential criminals like those who issued death threats to him.
Involvement in the Boxing Industry
Dana White is a prominent figure in the Ultimate Fighting Championship (UFC). Before his involvement in the UFC, however, White had extensive experience with boxing. In 1995, he opened up a boxing gym in Boston alongside former Golden Gloves champion Peter Welch.
The two also set up gyms in Las Vegas and provided instruction for both local kids and professional boxers.
In 2017, White co-promoted the Floyd Mayweather Jr. vs Connor McGregor fight—a bout that shattered all existing pay-per-view records globally—further cementing his name within the boxing industry sphere.
Initially, he expressed interest in incorporating more boxing events into UFC's portfolio; however later said that the business model of promotion was too broken to be successful anymore.
Transition into MMA With the UFC
When White moved to Las Vegas, his involvement in MMA began. He had trained in martial arts before and embraced the emerging sport. When White met Chuck Liddell and Tito Ortiz while training jiu-jitsu at John Lewis's school, he started helping expand their careers in MMA.
Eventually, when childhood friend Lorenzo Fertitta acquired the UFC with his brother Frank for just $2 million dollars, they tapped White to become the president of the company in 2001 – a decision that would have massive consequences on what we know as UFC today.
Together they launched promotion campaigns for fighters like Rampage Jackson and made fighter payouts that were far more measured than prior to their arrival. This increased further exposure of not only these two names but many others, which helped usher in an entirely new era for Mixed Martial Arts combat sports worldwide as we know it now.
The Impact of Dana White on The UFC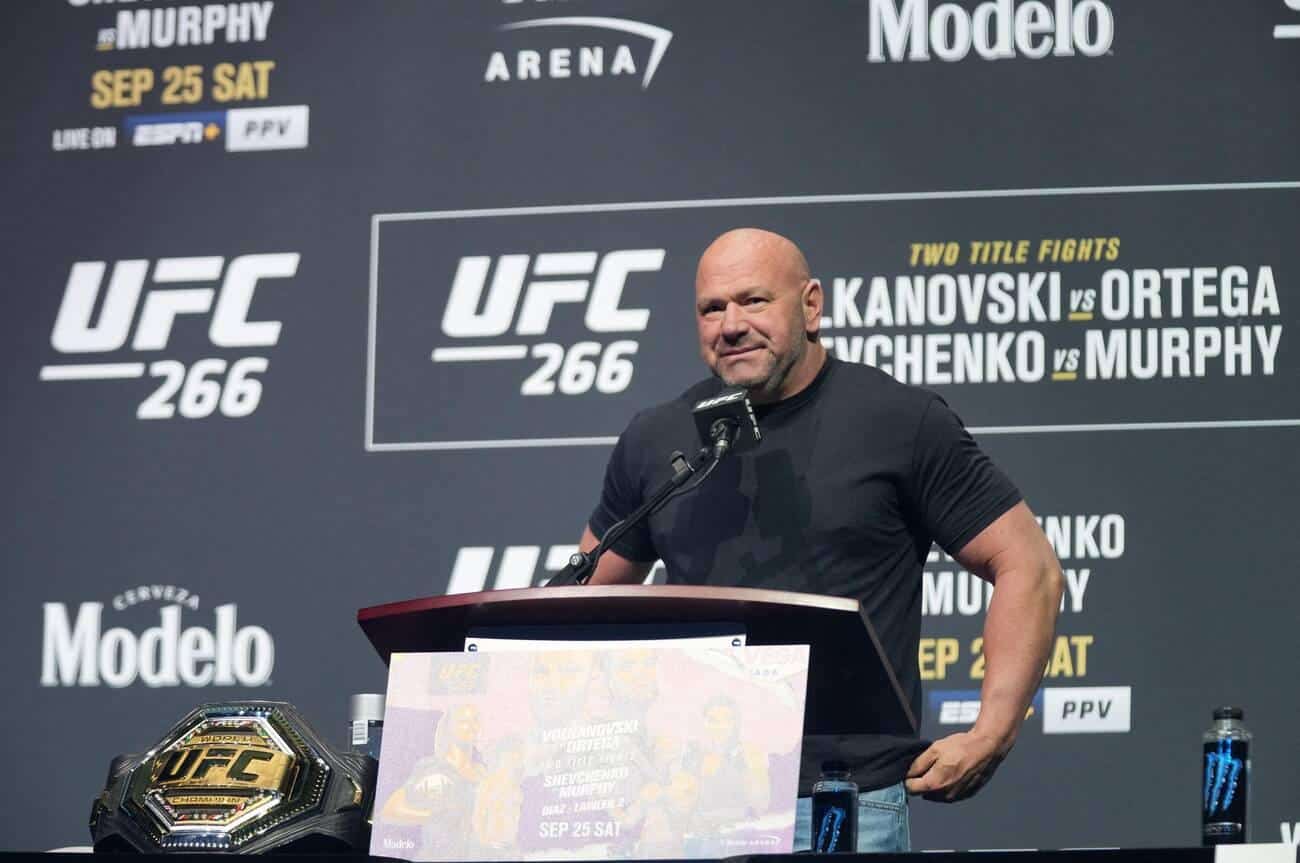 From brand building to launching major events, Dana White has changed and guided the destiny of UFC's legacy through a combination of shrewd business decisions and effective promotional tactics.
Controversies and Criticism
Dana White, the current president of the UFC, has faced a variety of controversies and criticism throughout his tenure. In particular, this includes issues with fighter pay and contracts, often falling short of expectations for some athletes.
This lack of financial stability has resulted in legal battles between fighters, managers, journalists, and even rival promotions such as Bellator. White's outspoken nature hasn't shied away from public disputes when handling misbehavior or disagreements with prominent names such as Tito Ortiz, Josh Barnett, and Scott Coker.
During this period, he's also been criticized for his treatment of press outlets – going so far as to challenge and threaten physical violence towards those that violate media protocols set forth by the UFC organization.
Business Decisions and Promotions
Under Dana White's leadership, the UFC has seen an unprecedented level of growth and success. While much of this can be linked to his compelling promotional style and eye for talent, other key strategic decisions have contributed to the company's success.
At the start of his tenure, he introduced a series of business-savvy moves that helped build brand recognition beyond hard-core fans, including creating a reality show around fighters on Spike Network called The Ultimate Fighter, setting up pay-per-view deals with major cable providers like Comcast, and getting involved in international markets such as Japan.
He also secured lucrative sponsorship deals with some of the biggest companies around, like Anheuser Busch InBev and Visa. These strategies were hugely important in helping bring mixed martial arts into mainstream culture, leading to new interest from casual viewers as well as increased revenue for both fighters and promotions.
Longevity As President
Dana White has been president of the UFC since 2001, overseeing its tremendous transformation into one of the most successful sports franchises in history. As part of a partnership with Lorenzo Fertitta and his brother, he became involved at a time when MMA was still deemed unlawful in many states.
He oversaw its growth as it made groundbreaking deals with major television networks such as Fox Sports and ESPN, helped to establish it as a popular sport for mainstream audiences around the world, and transformed it into an international powerhouse despite numerous controversies along the way.
With each new challenge or obstacle that was faced, White ran headfirst into them and became heavily involved in every facet of its operations. From negotiating TV contracts to handling matchmaking decisions to developing marketing strategies – White did whatever he could to build up the fledgling organization's reputation and brand so that by 2016 there would come an offer from WME-IMG worth $4 billion for acquiring ownership rights of UFC.
Dana White and The UFC's Future
As UFC President, Dana White continues to lead the organization into the future, with endeavors such as new TV deals, working within combat sports' sanctioning bodies, and ongoing projects in order to ensure that the UFC is considered a premier sport around the world.
Current Projects and Plans
Dana White, the president of UFC since 2001, has been its driving force for transforming it into a global sport. Under his leadership, he has taken on numerous projects to help evolve and expand the scope of MMA further than ever before.
According to reports, in 2019, he signed an extension with WME-IMG making him president for seven more years, putting him at the helm until 2026. Recently Dana revealed plans for how UFC will look in upcoming years that include adding boxing under its banner, launching a new product called Power Slap which is slap fighting competition, and potentially merging with WWE. These were discussed frequently by Dana White during interviews throughout 2020 and the earlier part of 2021.
In April 2023, it was announced that plans between WWE and UFC had come together, allowing them to form a public company; therefore, putting Dana as CEO of both companies combined forging opportunities never thought possible in MMA until now, setting up many events planned over the next few years including what's presumed to be "The Battle" within 2021 franchise offering massive reward pools sponsored by various entities stretching possibilities even further forward.
Speculation on Potential Retirement or New Ventures
With the signing of a new seven-year contract in 2019, Dana White is committed to remaining president of the UFC. But speculation about his potential retirement or other ventures has circulated since then.
In press conferences and interviews over the years, White has spoken candidly about potentially moving on from the promotion when his term expires in 2026.
In May 2020, he expressed some deep-seated reshuffling was necessary at Zuffa LLC, which owns UFC for its long-term success past 2026, fueling speculation that things are very much up in the air at this stage regarding his future role within it.
Some have even engaged that he may double down with alternative investments such as a part ownership in an NFL team, considering Dana White's beefed up $500 million net worth accumulated during his nearly two decades run with the brand UFC 1998 – present.
Others still speculate that retirement isn't off King Dana's table either as he heads does into 2021 – now 20+ years working for this martial art juggernaut coalition of owner families; The Fertittas and fellow board member Ari Emmanuel (ICM).
Frequently Asked Questions (FAQs)
Below are some of the most frequently asked questions about Dana White you don't want to miss.
1. When Did Dana White Buy UFC?
Dana White bought the Ultimate Fighting Championship (UFC) in January 2001.
2. How Much Did Dana White Pay For UFC?
Dana White and his business partners, Frank Fertitta III and Lorenzo Fertitta paid $2 million to acquire the Ultimate Fighting Championship (UFC).
3. Who Was The Previous Owner Of UFC before Dana White Bought It? 
Norman Zucker owned a majority portion of the company before Dana White obtained it. It was then purchased by Semaphore Entertainment Group, which ushered in the modern era of Mixed Martial Arts competition under their management from 1997-2001.
4. What Changes Has Dana White Made Since Owning UFC? 
Since buying UFC, Dwite has revitalized and popularized mixed martial arts through its partnership with numerous networks such as Fox Sports 1, Spike TV, and more recently, ESPN+, enabling greater accessibility to MMA content worldwide than ever previously imaginable at unprecedented levels across platforms including digital streaming services and Pay-Per-View broadcasts among many other promotions.
Final Thoughts
Since taking the helm of the Ultimate Fighting Championship (UFC) in 2001, Dana White has been a driving force for growth and success. His ability to recognize potential investment opportunities, develop strategic relationships, and take calculated risks have enabled the UFC to become one of "the most profitable sports organizations on earth," according to Sports Illustrated.
Along with his business acumen, White's aggressive approach to promotion also had a major contributive role; making some savvy decisions with how he marketed fighters such as Conor McGregor played no small part in turning this organization into what it is today – an internationally recognized brand worth over $4 billion dollars.
While there have certainly been controversies that White navigated along the way that sparked much debate across both sport-centered and non-sports media outlets alike (most notably gender discrimination allegations), these moments have done little to diminish his standing as one of sport's greatest impresarios in modern times—nor has it hindered team UFC's amazing ability move from strength to strength under his vision.
With ESPN's partnership guaranteeing visibility for future years and developments like WWE CEO Vince McMahon attempting a merger between their respective companies exhibiting more affirmation than ever for Dana's leadership style, UFC fans should be hopeful that we will experience much more brawling brilliance during and beyond!