Top 5 Easiest Countries for Securing a Work Visa Abroad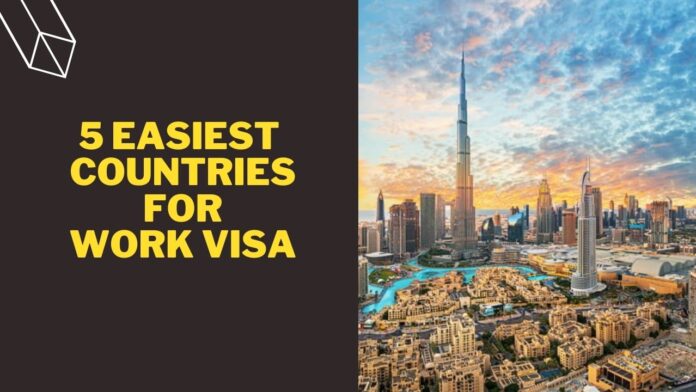 Working abroad can be a great way to experience new cultures, meet new people, and advance your career. However, securing a work visa can be a complex and time-consuming process. That's why it's important to do your research and choose a country that is known for being relatively easy to obtain a work visa.
Here Are the Top 5 Easiest Countries for Securing a Work Visa Abroad:
Germany Offers EU Blue Card for Highly Skilled Workers
Germany has a strong economy and high demand for skilled professionals in various sectors. The EU Blue Card program provides a straightforward pathway for non-EU citizens to live and work in Germany. Applicants must have a recognized university degree, job offer above a minimum salary threshold, and sufficient German language abilities. Germany also has specialized work visas for certain jobs and situations.
Canada's Points-Based Express Entry System  
Canada is known for having an immigrant-friendly environment. The Express Entry program assesses candidates based on factors like education, work experience, and language ability. Those who qualify and receive an invitation can apply for permanent residency or a work permit. Canada also has visas targeting highly skilled workers in specific occupations.In addition, you can also read an article on- All You Need to Know about Jobs Opportunity in Abroad
Australia Values Skills and Experience
Australia has popular work visas based on applicants' existing qualifications and demand for their occupation. The Skilled Migration program enables skilled workers to get permanent residency. Temporary visas like the Temporary Skill Shortage program allow employers to sponsor workers short-term. The Working Holiday visa lets young people work and travel in Australia for up to a year.
United Arab Emirates Offers Company-Sponsored Visas 
The UAE's thriving economy and abundant jobs make it enticing for expats. The Employment Visa requires a job offer and criteria set by the Ministry of Human Resources. Free zones like DIFC and DMCC have their own regulations and simplified processes for visas.Additionally, you can also read about- 10 Cheapest Countries to Live and Work
Singapore Seeks Highly Educated, Skilled Workers
Singapore's strong economy relies on skilled foreign professionals. The Employment Pass targets executives, managers, and specialists with a job offer meeting salary and education requirements. Other options include S Pass for mid-level skilled workers and the Work Holiday Program for students/recent grads.
You May Find Interest: Golden Visa Europe: The Ultimate Guide