Subaru Solterra Review: In-Depth Guide on Pricing, Performance, and Features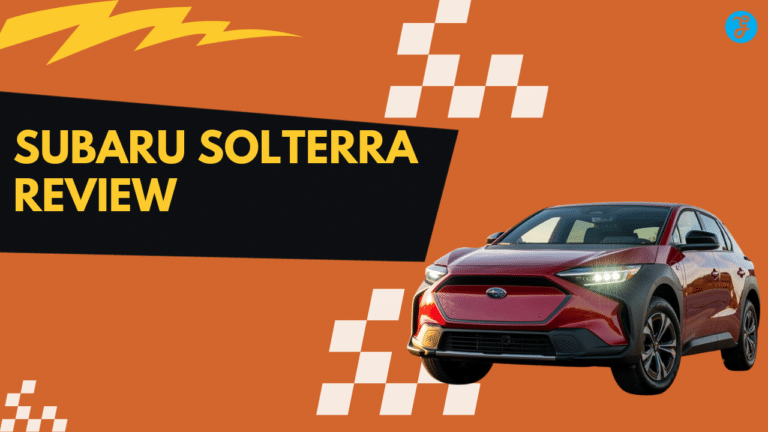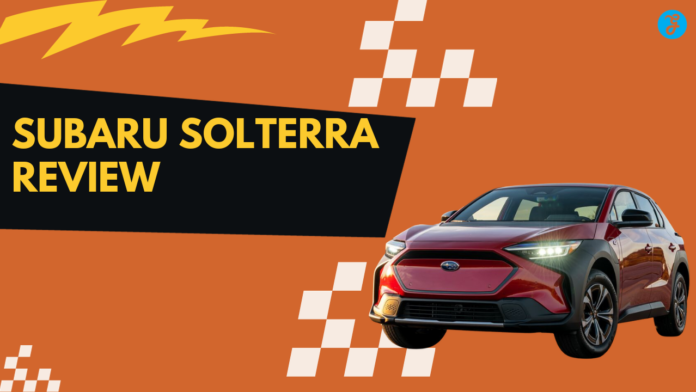 Are you in the market for a fully electric SUV that will make your long commutes easier? If so, consider the 2023 Subaru Solterra review it could be the perfect choice for you. I know how overwhelming it can feel to select an electric vehicle, so I've done all of the research and provided an unbiased review with details about this model's newest features.
This blog post will cover everything from what makes the Subaru Solterra great to answers to common questions so that you have all of the information necessary to make smart car buying decisions confidently.
Get ready for my comprehensive analysis of why this is one of the best electric SUVs out there!
Content Highlights
The 2023 Subaru Solterra offers a driving range between 222 – 228 miles, dual 80 kW motors generating 215 hp and 249 lb/ft of torque, and numerous high-tech features making it one of the best electric SUVs in the market.
It has three trim levels – Premium at $46,220 MSRP, Limited at around US$49,720 MSRP, and Touring with an MSRP of $53,220.
All trims come standard with fabric upholstery while leather seating options can be found on Premium models and sumptuous StarTex material on Touring trims.
Key upgrades from the predecessor include higher ground clearance for off-road travel and an improved suspension system which makes every ride smooth even if you take your vehicle across terrains that are rough or untidy.
Overview of the 2023 Subaru Solterra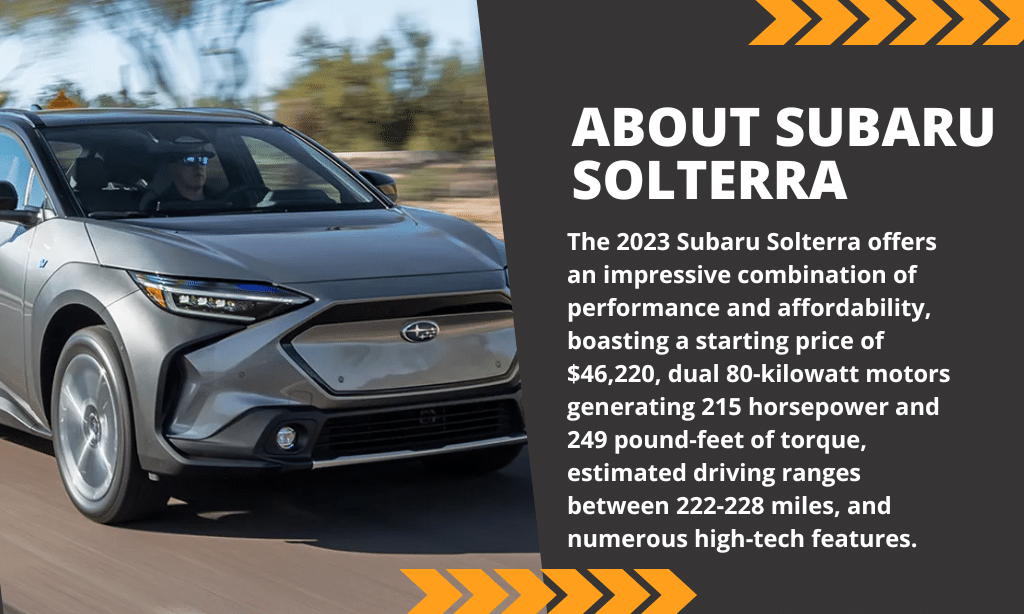 | Subaru Solterra Models | Price | Notable Features |
| --- | --- | --- |
| Premium | $46,220 | Lane-keeping systems, proximity sensors, audio system, moonroof, heated front seats, 18-inch wheels |
| Limited | $49,720 | Leather seats, navigation, blind spot monitoring, parking sensors, added comfort and tech features |
| Touring | $53,220 | 12-speaker Bose audio system, wireless charging, heated rear seats, heated steering wheel, rain-sensing wipers, premium tech features |
The 2023 Subaru Solterra offers an impressive combination of performance and affordability, boasting a starting price of $46,220, dual 80-kilowatt motors generating 215 horsepower and 249 pound-feet of torque, estimated driving ranges between 222-228 miles, and numerous high-tech features.
Price and Starting Cost
The lowest-priced model is the Premium. It starts at $46,220. The Premium has useful safety features like systems that help you stay in your lane and keep a safe distance from the car in front of you. It also has a nice audio system, moonroof, heated front seats, and 18-inch wheels. The Premium gives you good value for a lower price.
The mid-level model is the Limited. It starts at $49,720. The Limited adds leather seats, navigation, blind spot monitoring, and parking sensors. It has more comfort and tech features than the Premium. This model appeals to buyers who want more luxury in their compact sedan.
The top model is the Touring. It starts at $53,220. The Touring has a fancy 12-speaker Bose audio system, wireless charging, heated rear seats, a heated steering wheel, and rain-sensing wipers. It has the most premium feel and tech features. The Touring costs about $3,500 more than the Limited.
Performance Ranking Compared to Other EVs
The 2023 Subaru Solterra holds its own in the competitive field of electric SUVs, coming in ranked as the ninth electric SUV by the U.S. News & World Report, reflecting its blend of performance, quality, and value. Here's a comparative look at the Subaru Solterra with other electric SUVs in the market in terms of acceleration, handling, and cabin space.
The 2023 Honda Civic competes in the competitive compact sedan segment against rivals like the Hyundai Elantra, Toyota Corolla, and Nissan Sentra. When considering alternatives in the segment, buyers may also cross-shop the Civic with other models including the Hyundai Ioniq 5, Kia EV6, Ford Mustang Mach-E, Volkswagen ID.4, and Nissan Ariya.
| Electric Vehicle | Acceleration | Handling | Cabin Space |
| --- | --- | --- | --- |
| 2023 Subaru Solterra | 0 to 60 miles per hour takes 6.5 seconds | Agile and responsive | Roomy |
| Hyundai Ioniq 5 | 0-100 km/h 6.1 seconds | Responsive | Spacious |
| Kia EV60- | 0-60 mph in 3.5 seconds | Agile | Comfortable |
| Ford Mustang Mach-E | 0-to-60 mph times drop to 3.8 seconds | Smooth and precise | Ample |
| Volkswagen ID.4 | 0-60 mph and 0-100 km/h | Smooth | Larger |
| Nissan Ariya | 0-60 in 4.8 seconds | Stable | Roomy |
As each vehicle has its strengths and weaknesses, the Subaru Solterra shines with its quick acceleration and responsive handling. It also offers a roomy cabin, making it a worthy contender in the electric SUV market.
What's New for 2023?
The 2023 Subaru Solterra delivers upgraded features compared to the previous model, including a range of powertrain choices and an array of optional driver assistance technology.
Upgrades and Changes From Previous Model
The 2023 model of the Subaru Solterra comes with several upgrades and changes from its predecessor. First is in terms of design, with higher ground clearance, short overhangs for tricky terrain maneuvers, and sleek lines that make it look modern and sporty.
Additionally, an impressive battery capacity ensures up to 222-228 miles per charge range. The interior also has a few major changes: all trim levels feature fabric upholstery as standard leather-grained seats are included on Premium models. While Limited and Touring trims offer StarTex water-repellent leather-like material a first for electric SUVs.
Subaru Solterra Review: EV Motor, Power, and Performance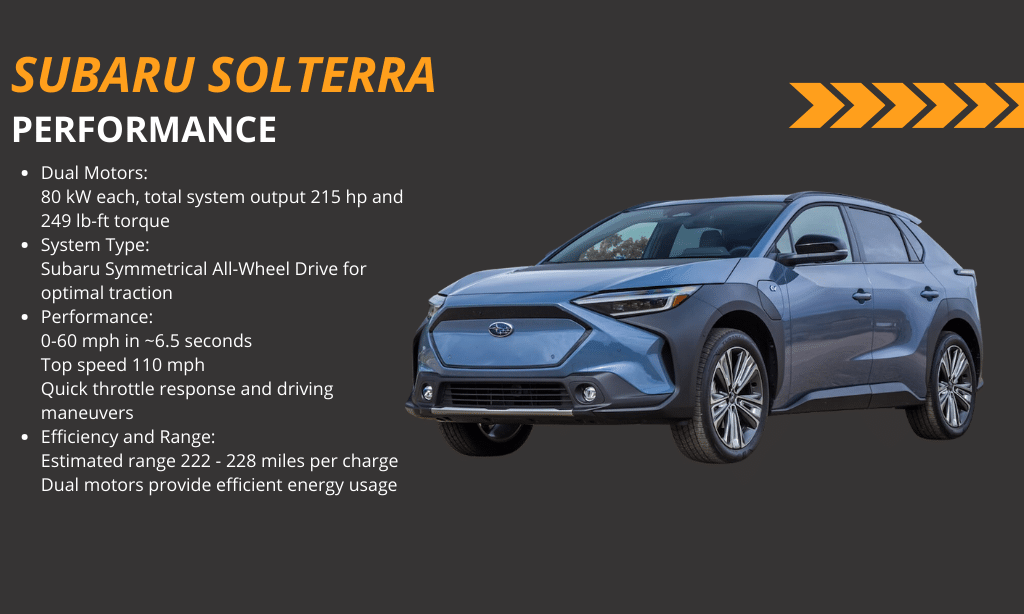 |  Aspect  | Performance Details |
| --- | --- |
| Dual Motors | 80-kilowatt each, contributing to a total system output of 215 horsepower and 249 pound-feet of torque |
| System Type | Subaru's Symmetrical All-Wheel Drive system for optimal traction in various conditions |
| Performance | Capable of reaching 0-60 mph in approximately 6.5 seconds; Top speed rated at 110 mph, offering rapid throttle response for quick driving maneuvers |
| Efficiency and Range | Estimated driving range between 222 – 228 miles per charge, leveraging dual motors for efficient energy usage |
The Subaru Solterra's dual 80-kilowatt motors create up to 215 horsepower and 249 pound-feet of torque, making it an efficient and powerful electric vehicle.
Dual 80-Kilowatt Motors
The power and performance of the 2023 Subaru Solterra are made possible by two 80-kilowatt motors, which contribute to a total system output of 215 horsepower with 249 pound-feet of torque.
This power is routed through the Subaru Symmetrical All-Wheel Drive system for optimal traction in all weather conditions. With this double motor setup, it's easy to feel confident when driving off-road or on wet surfaces due to superior grip from both the front and rear axles.
Additionally, these dual motors allow for efficient energy usage that gives the Solterra an estimated driving range between 222 – 228 miles per charge one more way this electric vehicle stands out from its competitors.
215 Horsepower and 249 Pound-Feet of Torque
The 2023 Subaru Solterra is a powerful electric vehicle with impressive performance capabilities. It features a dual-motor system that produces up to 215 horsepower and 249 pound-feet of torque, giving it plenty of power for acceleration and hill climbing.
This amount of combined power output makes the Solterra capable of reaching 0-60 mph in around 6.5 seconds while its top speed is rated at 110 mph – making it one of the fastest EVs on the market today.
As expected from an electric vehicle, this combination allows drivers to achieve near-instantaneous throttle response when driving quickly or passing others on the highway. Not only do these specs make its performance stronger than most trims in its segment, but they also give drivers peace of mind knowing they can take full advantage when needed without any worries about straining car parts due to excessive force being applied to them while accelerating or braking suddenly.
Range, Charging, and Battery Life
The 2023 Subaru Solterra has an estimated driving range between 222-228 miles and can be quickly charged with the standard home or Destination Charger. It also offers a durable battery life that customers will appreciate.
Battery Capacity
The Subaru Solterra electric SUV has a 72.8 kilowatt-hour battery pack. This describes how much total energy the battery can store. Having a big battery capacity allows the Solterra to drive longer distances before needing to be recharged. Specifically, the 72.8 kWh battery has enough capacity to provide a driving range of up to 228 miles on just one full charge. Being able to drive over 220 miles is a long-range for an electric vehicle.
Many other electric SUVs on the market today have shorter ranges, sometimes significantly so. The Solterra's ample battery capacity gives drivers the confidence they can take longer trips without worrying about the battery running out of charge too quickly. Overall, the large 72.8 kWh battery pack is a key feature that allows the Solterra EV to offer a substantial driving range.
Driving Range
The Subaru Solterra electric SUV is available with either 18-inch or 20-inch wheel options. The specific wheel size affects how far the Solterra can drive on a single full charge. Models that are equipped with 18-inch wheels can travel up to 228 miles before the battery runs out and needs to be recharged.
This gives the 18-inch wheel models the maximum driving range. On the other hand, Solterra models with 20-inch wheels have a slightly reduced range capability. They can only go about 222 miles before needing to be plugged in and recharged. The reason the 20-inch wheel models have a lower electric driving range is that larger wheels and tires are less energy efficient. The bigger wheels create more rolling resistance, which uses up more of the battery's power.
So in summary, customers who want to maximize their driving distance between charges should choose the 18-inch wheel configuration on the Solterra electric SUV. This allows going up to 228 miles on a single charge, versus just 222 miles with the less efficient 20-inch wheels.
Charging Times
The Subaru Solterra has two main charging options that owners can use to recharge the battery. For home charging, the Solterra is compatible with a Level 2 charger that requires a 240-volt electrical outlet. Many homeowners choose to install a Level 2 charger in their garage for convenient overnight charging. Using a Level 2 home charger, the Solterra can go from an empty battery to a full charge in about 9 hours. This allows owners to start each day with a "full tank" by charging while they sleep.
The other option is public DC fast charging stations. These high-powered chargers can quickly recharge electric vehicles much faster than Level 2 home units. If an owner needs to rapidly recharge the Solterra on a road trip, they can plug it into a DC fast charger. In around 56 minutes, a fast charger can replenish the battery up to 80% from empty. So fast charging is great for topping off the charge when you're traveling and need to minimize downtime.
Interior, Comfort, and Cargo
The 2023 Subaru Solterra boasts a simple and functional interior with plenty of standard driver assistance features, as well as off-road capabilities. Explore more about this gem!
Simple and Functional Interior
The 2023 Subaru Solterra offers a beautifully designed interior that is both effective and functional. Its unique design elements and high-quality materials are sure to delight customers.
The instrument cluster is positioned in an eye-catching way – the two LCD screens blending seamlessly – and provides drivers with essential, useful information like vehicle diagnostics, odometer readings, and range status.
Driving with the Solterra not only looks good but also feels great thanks to its uncomplicated driving controls that are easy to master even for first-time owners of electric cars.
Standard Driver Assistance Features
The 2023 Subaru Solterra comes equipped with the latest EyeSight Driver Assist Technologies to keep drivers safe on the road. These features include a pre-collision system and dynamic cruise control, which improve visibility and allow for smoother operation of the car. Not only do these driver assistance features enhance driving safety, but they also make it more comfortable as well as provide a sense of confidence in knowing that you're protected by advanced technology.
You can also look forward to better fuel efficiency thanks to adaptive cruise control which helps optimize speed and braking depending on your environment. With these extra features behind you, you can be sure that your drive in any situation will be smooth and comfortable contributing to an overall better experience in the Subaru Solterra.
Off-Road Capabilities
The 2023 Subaru Solterra is the perfect partner for outdoorsy adventures, providing impressive off-road capabilities. It features a powerful dual 80-kilowatt electric motor setup, as well as Subaru's renowned symmetrical all-wheel drive (AWD) system.
Thanks to its AWD system and 215 horsepower / 249 pound-feet of torque engine, you can trust that it'll take on challenging terrains with ease. Additionally, the vehicle comes standard with eight different driving modes so you can adjust your power settings and functions to various weather conditions and surfaces while out on an adventure in your Solterra.
Whether muddy trails or risking snowbanks with ease – rest assured knowing that incentivizing performance lies at the core of this extraordinarily capable SUV from Subaru!
Infotainment and Connectivity
The 2023 Subaru Solterra comes with an intuitive touchscreen display designed to provide drivers access to multiple apps, Bluetooth audio streaming, and other digital features.
Touchscreen Display
The 2023 Subaru Solterra is equipped with a hi-res 12.3-inch touch-screen infotainment system that enables you to control music, navigation, news, podcasts, and more in an intuitive way.
Its large display allows for easy interaction with the various functions on offer, making it simple to keep track of your trip information or to access important media options. Furthermore, premium models of the Subaru Solterra feature an even larger 8.0-inch multimedia touchscreen which supports Android Auto and Apple CarPlay for maximum device compatibility and connectivity wherever you go.
With its dependable features and easy operation capabilities supported by two different-size screens offers convenient technology giving users total control over their onboard entertainment systems.
Compatibility With Smartphone Apps
The 2023 Subaru Solterra offers an incredibly convenient and user-friendly way to stay connected with your world via its seamless integration with Apple CarPlay and Android Auto. This means users can simply pair their device once with the vehicle for easy access, without the need for cords or cables.
Once successfully synced, passengers can enjoy activities like playing music through Pandora or getting directions through Google Maps directly from their smartphones – all on an 8" high-definition touchscreen display.
With real-time updates, detailed route information, turn-by-turn guidance options, and alternate routes provided by Subaru STARLINK in-vehicle technology, drivers are guaranteed safe and efficient driving experiences every day.
Safety and Driver Assistance Features
The 2023 Subaru Solterra includes a range of standard safety features as well as optional driver assistance technology for added convenience and protection.
Standard Safety Features
The 2023 Subaru Solterra comes with an excellent set of standard safety features to enhance your overall driving experience. In addition to braking and stability control systems, the vehicle includes advanced driver assistance technologies such as Advanced Adaptive Cruise Control with Lane Change Assist, Automatic Pre-Collision Braking, and Blind Spot Detection.
Other standard safety features found on the Solterra include a comprehensive suite of active safety features like a 360-degree surround-view camera system and lane departure alert and prevention which help you stay safe during your journeys. All trim levels also come with symmetrical all-wheel drive as standard for maximum traction in any condition.
Optional Driver Assistance Technology
The Solterra electric SUV comes with a lot of advanced driver assistance and safety technologies. All models have Subaru's EyeSight system, blind spot monitoring, lane-keeping assist, auto high beam headlights, and a pre-collision throttle management system. These help detect hazards and prevent accidents.
Optional upgrades include adaptive cruise control that can automatically adjust your speed based on the traffic ahead. Reverse automatic braking slams on the brakes if it detects something behind you when backing up. The DriverFocus camera watches for distracted or drowsy driving. Cornering LED headlights help see around turns. The surround view camera improves visibility around the vehicle at low speeds.
Other handy features are keyless entry and special locks to prevent false alarms from vehicle motion. Users can also unlock the Solterra using their smartphones.
In summary, the Solterra offers many advanced safety and driver assist technologies as standard or optional. These help keep drivers aware of their surroundings and can step in to prevent collisions. The safety features make driving the Solterra more convenient while also providing peace of mind.
Warranty and Maintenance Coverage
Subaru factory warranty offers 3 years or 36,000 miles of basic coverage and 5 years or 60,000 miles for powertrain components. Maintenance costs can vary depending on the type of services required.
Subaru Factory Warranty
The 2023 Subaru Solterra comes with a comprehensive factory warranty that ensures the car is covered for any damages or malfunctioning components. The bumper-to-bumper coverage provided by the warranty lasts for 36 months or 36,000 miles, whichever comes first.
Meanwhile, the powertrain component coverage offered by this warranty lasts up to 5 years or 60,000 miles. In addition to this factory warranty protection option, Subaru also provides an extended coverage plan called Subaru Added Security which can provide additional protection from 8 years/100,000 miles of driving depending on the plan chosen.
Furthermore, maintenance costs and other services for my vehicle are all covered by Subaru's complimentary scheduled maintenance program so that I can get proper care for my new car without worrying about hefty out-of-pocket expenses.
Maintenance Costs and Coverage Information
For the 2023 Subaru Solterra, maintenance costs and coverage information are available for customers. The limited warranty of the model covers three years or 36,000 miles, whereas the powertrain warranty included in the purchase covers five years or 60,000 miles.
Both basic and major components of the vehicle are covered by these warranties so your Solterra will be taken care of should any issues arise. In addition to the warranties' protection, it is recommended that you follow LDS (Lubrication Distance Service) intervals suggested by Subaru.
This ensures that your car runs according to optimal performance conditions and will last longer without requiring too many repairs or replacements from potential defects caused by to lack of regular servicing.
Takeaway
The 2023 Subaru Solterra is a great pick for those looking to enter the electric vehicle market. It features advanced technology, higher performance, and superior comfort compared to its competitors while still offering competitive pricing.
With its spacious interior, cutting-edge safety features, and tremendous range potential, the Solterra will surely make even experienced EV drivers a happy driver.
Frequently Asked Questions (FAQs)
Let's now explore some typical questions related to Subaru Solterra.
1. What is the Subaru Solterra?
The Subaru Solterra is a mid-size crossover SUV that was released in 2023 with an electric powertrain and improved features for better efficiency.
2. What safety features are included with the Subaru Solterra?
The Subaru Solterra has been rated as one of the highest safety ratings due to its numerous driver assistance technologies such as lane departure warnings, forward collision warning, Adaptive Cruise Control, sight driver Assist system, and more.
3. How efficient is the new electric model of the Subaru Solterra?
The new all-electric model comes with an estimated range of 222 – 228 miles on a single charge using its 80kWh battery pack. It delivers up to 215 horsepower for powerful performance when needed and excellent fuel economy compared to other models available in this segment.
4. Does the interior have any luxury features?
Yes! The luxurious cabin of the Subaru Solterra offers a comfortable leather seating set within an updated dashboard design featuring a 10-inch touchscreen navigation system along with wireless charging capabilities, heated seats, and much more!