Simone Biles Qualifies for US National Championships, Wins First Event Since 2021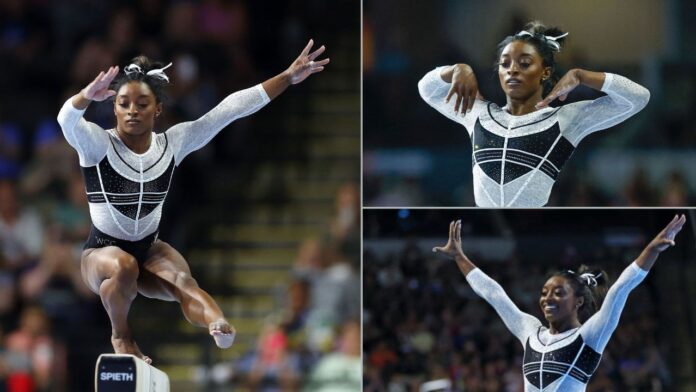 Gymnastics powerhouse Simone Biles returned to the competitive stage in a big way this past weekend. At the Core Hydration Classic in Illinois, she nabbed first place in several categories and demonstrated she's still got it.
She scored a 14.0 on the uneven bars, an impressive 14.8 on the balance beam, a 14.9 on the floor, and an extraordinary 15.4 on the vault. This stellar performance placed her first overall, and she also took home the top spot for vault, floor routine, and balance beam. She managed to place third on the uneven bars as well.
This competition marked Biles' first event since the 2021 Tokyo Olympics where she withdrew from multiple events, citing a need to prioritize her mental health. Post-event, she spoke with CNBC and expressed her delight with the result. She was visibly moved by the overwhelming crowd support and their faith in her, especially given her hiatus from the sport.
Biles' decision to return was fueled by her own desire to compete and her newfound belief in herself. She outscored fellow gymnasts Jordan Chiles, Leanne Wong, and Katelyn Jong at the Core Hydration Classic, formerly known as the US Classic.
She was on fire during her routines, even pulling off a move named after her in the floor routine, earning her a 14.9. The Yurchenko double pike, arguably the hardest women's vault, scored her an impressive 15.4.
To secure first place in the all-around, Biles only needed a score of 10.350 in the final event. She surpassed this by a mile and finished with an all-around score of 59.1, a whopping five points ahead of runner-up Leanne Wong.
It was an emotional moment as the crowd roared in approval and Biles celebrated with her signature smile and a fist bump. Her efforts have also secured her a spot in the US Championships in San Jose, California, later this month.
Biles, now 26, had taken a step back from competition at the Tokyo Games after experiencing the "twisties" – a mental block that gymnasts sometimes face, which throws off their spatial awareness. Despite this, she returned to claim a bronze in the balance beam event at Tokyo.
This successful comeback puts Biles on the path to compete in the world gymnastics championships in Belgium between September 30 and October 8.
Biles is a true champion, having 32 medals to her name, including four Olympic golds and 19 world championships golds – the most by any gymnast ever.
Even though her return to the sport was celebrated, she admitted to being "scared to do gymnastics" but reassured her fans on Instagram that she's "twisting again. No worries. All is good."
Fans flocked to the event to show their love and support, applauding her courage to prioritize mental health and celebrating her resilience. Many are eagerly looking forward to what more Biles can offer the world of gymnastics.
When asked about the possibility of competing at the 2024 Paris Olympics, Biles confirmed things are "heading in the right direction." She emphasized her commitment to continue working on herself and maintaining her therapy sessions, putting her well-being first.
If you want you can also read – NBA Trade Deadline: 5 Players Who Could Help Contenders