Russell Brand: The Comedian Who Isn't Afraid to Speak His Mind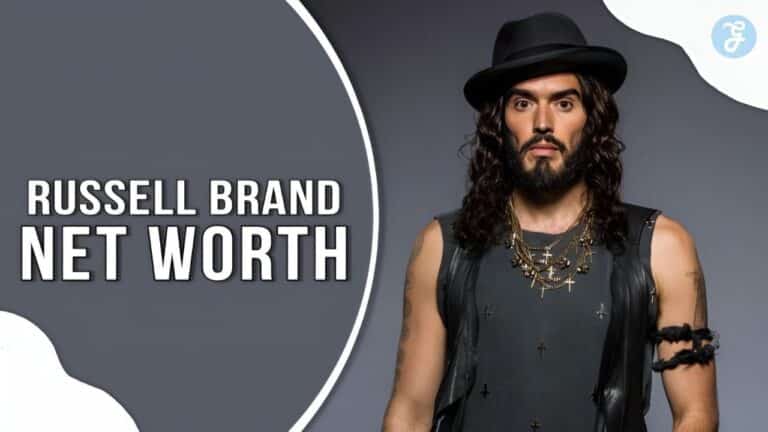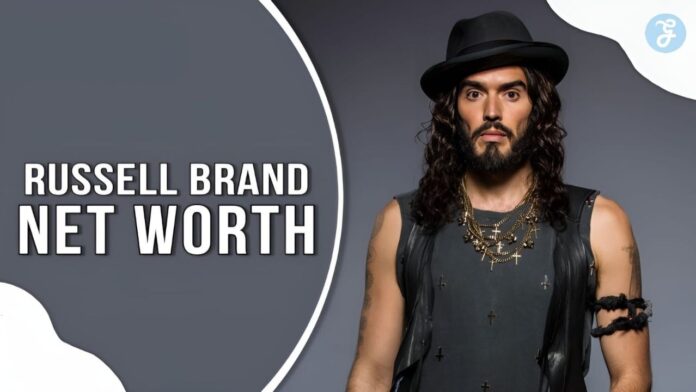 Are you curious about Russell Brand's full biography and net worth with the latest updates? This post will provide an interesting and comprehensive overview of his life as a comedian, actor, author, radio host, and political activist.
Brand is a British-born celebrity who stands at a height of 6 feet 1 inch tall Brand has become quite well-known in many circles worldwide. From his career beginnings to controversies and scandals to his activism stance today, this article will help readers understand where he came from.
and what success awaits him on the horizon. Dive into our post to unravel all there is to know about Russell Brand!
Content Highlights
Russell Brand is a successful actor, comedian, author, and activist who has earned immense success through his various works over the years, with an estimated net worth of $15 million.
Brand's career began as a stand-up comedian, but he soon went on to become internationally renowned across many fields in the entertainment industry like films and TV series and writing books like My Booky Wook (2007)and Revolution (2014).
He has been involved in several controversies, including accusations of rape and sexual assault by four women as well as being criticized for inappropriate radio show content during the 2008 "Brand & Ross" live broadcast.
Throughout his career, he has actively supported progressive causes such as public control of major companies doing charity work for health consciousness by fundraising charities promoting social justice & economic reform with YouTube videos discussing Brexit & US Presidential Election 2020 topics!
Early Life and Background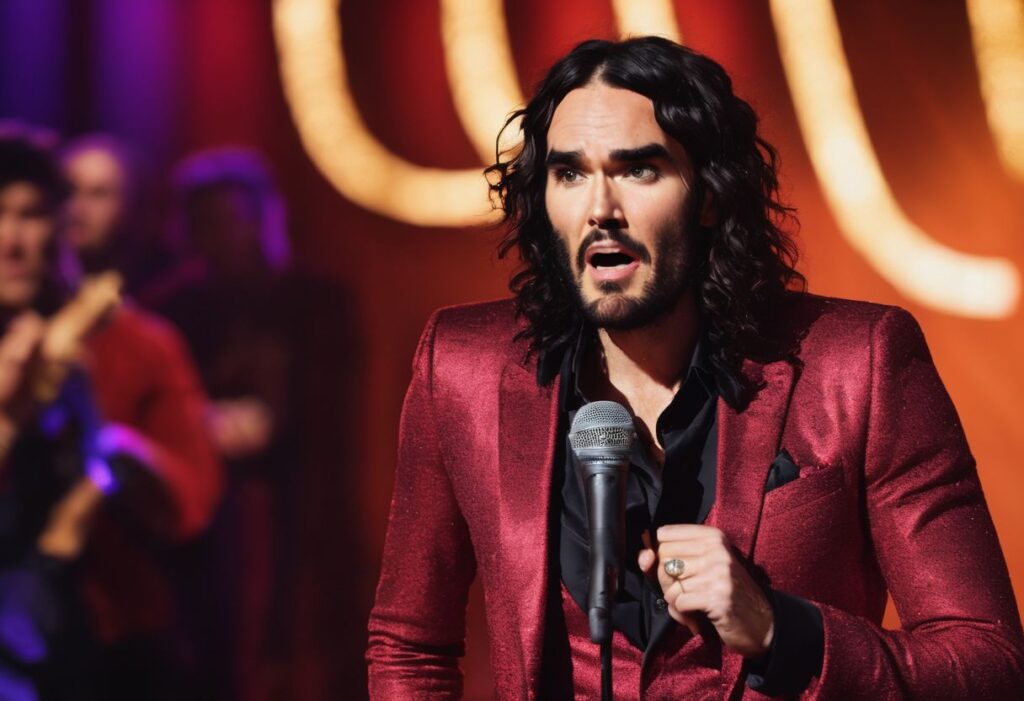 Russell Brand was born to Barbara and Ron Brand in Grays, England, on June 4, 1975.
Attribute
Value
Full name
Russell Edward Brand
Birthdate
June 4, 1975
Birthplace
Grays, Essex, England
Parents
Barbara Elizabeth (Nichols) and Ronald Henry Brand
Height
1.87 m (6 ft 1+1⁄2 in)
Weight
75 kg (165 lb)
Religion
Agnostic
Education
Italia Conti Academy of Theatre Arts
Profession
Comedian, actor, radio host, author, and activist
Relationships
Laura Gallacher (m. 2007–2009), Katy Perry (m. 2010–2012), Laura Brand (m. 2017–present)
Children
Mabel Brand, Peggy Brand
Net Worth
$20 Million as of 2023
Notable works

Stand-up comedy: Shame (2006), Russell Brand Live: Messiah Complex (2008), Russell Brand Live: Scandalous (2013)

Acting: Forgetting Sarah Marshall (2008), Get Him to the Greek (2010), Arthur (2011), Rock of Ages (2012)

Awards

British Comedy Award for Best Male Stand-up Comic (2006, 2007), NME Award for Best New Male Comedian (2006), GQ Man of the Year Award (2008), BAFTA Award nomination for Best Actor in a Leading Role (2009)
Table: Biography of Russell Brand
Parents, Siblings
Russell Brand was born to Ronald Henry Brand and Barbara Elizabeth Nichols in Grays, Essex, England. His parents married in 1969, but their relationship ended shortly after his birth when they separated just six months later.
As a result of the divorce, Brand was raised by his mother alone. There has been no mention of siblings, so it is assumed that he does not have any other known relatives apart from his mother and father.
Growing up with one parent likely impacted the comedian's outlook on relationships as an adult; one which would prove to be tumultuous until meeting and marrying American singer Katy Perry in 2010-2011.
Career Beginnings
Russell Brand embarked on a highly successful career in comedy, television, and film acting, as well as writing books, making him one of the most recognizable figures in the entertainment industry. Learn more about his success by reading this article!
Stand-Up Comedy Career
Russell Brand began his professional career as a stand-up comedian, pursuing this profession from an early age. By the mid-2000s, he was already gaining fame for his dynamic and often outrageous performances, winning accolades like Time Out's "Funniest Person In The World" title in 2004 and British Comedy Awards before that.
His caustic style quickly made him a favorite amongst comedy audiences across England and, soon enough, around the world as well. Through consistent performance, Russell has become known for being unapologetic about everything from politics to relationships — earning high praise due to subject matter and subtle joke structure.
He markets himself under the unique mantra that being able to laugh at yourself allows you to achieve self-actualization; it seems obvious then why people continue coming back time after time, eager to see what discussion points will be explored through the comedic take.
Read More: Taylor Swift's Net Worth Soars to $740 Million [2023 Updated]
Movie and TV Career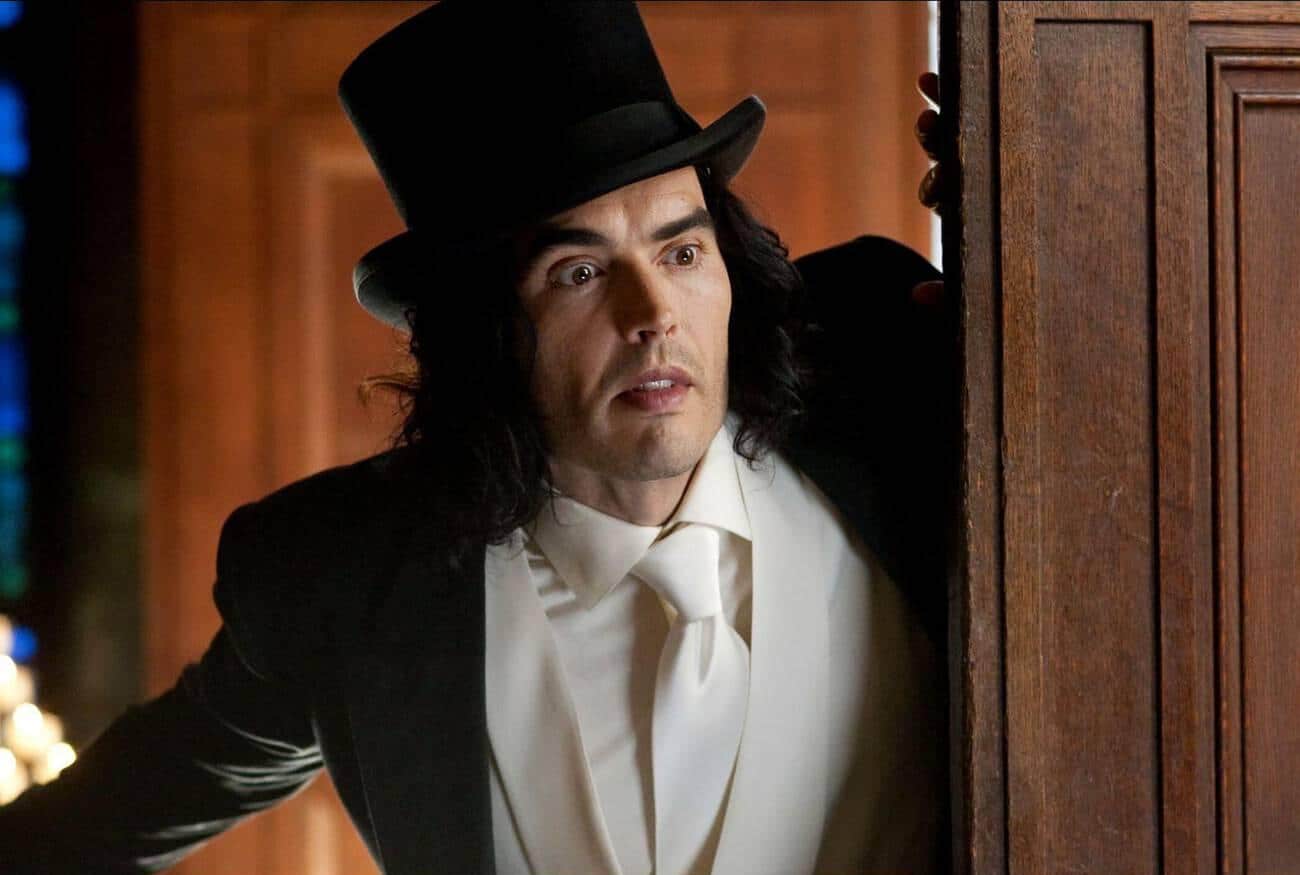 Russell Brand made his mark on the entertainment industry by both writing and performing. He began a stand-up career in 2000, taking the stage name Russell Brand became a popular British television star for appearing on Big Brother's Big Mouth and hosting his own talk show.
His debut role was as an actor in the film "Forgetting Sarah Marshall," released in 2008, which shot him to fame overnight. Additionally, since then, he has been featured in major films like "Get Him to the Greek," "Rock of Ages," "Arthur," and many more.
Furthermore, Brand also tested out some roles for television series, such as guest starring roles for Westworld 2020 season 3 and Fox comedy musical series Starstruck 2019 season 1, where he had critical acclaim with reviews from viewers. For gaining celebrity status, an additional boost came through other media platforms like authoring two books, including My Booky Wook(2007)and Revolution (2014).
Moreover, after being at a peak level of stardom due to the ongoing success of shows & movies that used the brand's acting skills lately, we saw him make cameo appearances on the Netflix original special Comedians in Cars Getting Coffee with Jerry Seinfeld, the latest music video premiere Boys With Emotions by Gabbie Hanna. Additionally, you can also read about- ASAP Rocky Net Worth: Jaw-Dropping Secret Revealed
Writing Career
Russell Brand is a British actor, comedian, author and activist. His writing career began in the early 2000s when he released his best-selling autobiography 'My Booky Wook.' Since then, he has gone on to publish three more books – 'Revolution,' 'Recovery' and 'Mentors'.
He has also written articles for various publications, including The Guardian and The Huffington Post, covering topics such as politics and social commentaries. Brand's writing has helped him build an audience of devoted followers who respect his opinions on these issues, making him one of the most successful authors today.
During his career as a writer, Brand often focused on topics related to drug rehabilitation and mental health awareness due to personal experiences with addiction, making them even more impactful among readers because of their relatability.
Controversies and Scandals
Russell Brand has received criticism in the past for his involvement in multiple controversies, such as accusations of rape and sexual assault and other public statements he has made over time.
Accusations of rape and sexual assault
In 2020, four women accused Russell Brand of rape, sexual assault and emotional abuse. The allegations were reported by The Sunday Times and Channel 4 Dispatches as part of a joint investigation.
One woman described being sexually assaulted by Brand and experiencing his physically and emotionally abusive behavior. Five women also came forward to share their experiences, including Brand's alleged controlling and emotionally abusive behavior.
These accusations have caused considerable public scrutiny over Brand's previous actions due to the rise of the #MeToo movement against power imbalances in interactions between both genders, leading to questions about consent, responsibility, victim blaming, and accountability for those implicated in such acts.
Other controversies
Russell Brand has often been the center of attention for his scandalous behaviors, which have sparked public outcry and media scrutiny. In 2008, the BBC radio show "Brand & Ross" resulted in 55,000 complaints when Russell made explicit content during a live show involving mocking actor Andrew Sachs about his granddaughter.
This incident went down as "Sachsgate" and led to Brand's resignation from the station. Later on, More Controversy surfaced after the 2017 Radio X broadcast featured numerous alleged sexual references and was deemed breaching broadcasting rules by Ofcom, which caused a temporary suspension of their license.
Furthermore, conspiracy theories have also become linked to him due to Badr Hari's film produced by Hollywood studios that was never released following threats at gunpoint being connected with him, although he denied any involvement in it.
Activism and Political Views
Russell Brand is well-known for his activism, which has included supporting a number of charities and speaking out on some of the most pressing issues in politics.
Current involvement and causes
Russell Brand is a long-time political activist and has become increasingly vocal about his support for progressive causes. He launched an online program, Trews (The Russell Brand News Show), to promote these values and discuss social and economic justice, socialism, climate change activism, as well as the ongoing British establishment voices attempting to silence dissenters.
Over the years, he has supported figures like Bernie Sanders in America and champions trad-socialist values such as public control of major companies that are founded upon state aid or monopoly interests.
His strong views have sparked debates on whether he genuinely believes what he's talking about or if it's all just publicity stunts to remain relevant within mainstream culture. While speculation remains around this particular topic, there's no denying that the young appear to be gravitating toward more radical agendas, often closer to George Monbiot's views rather than Brands'.
Personal Life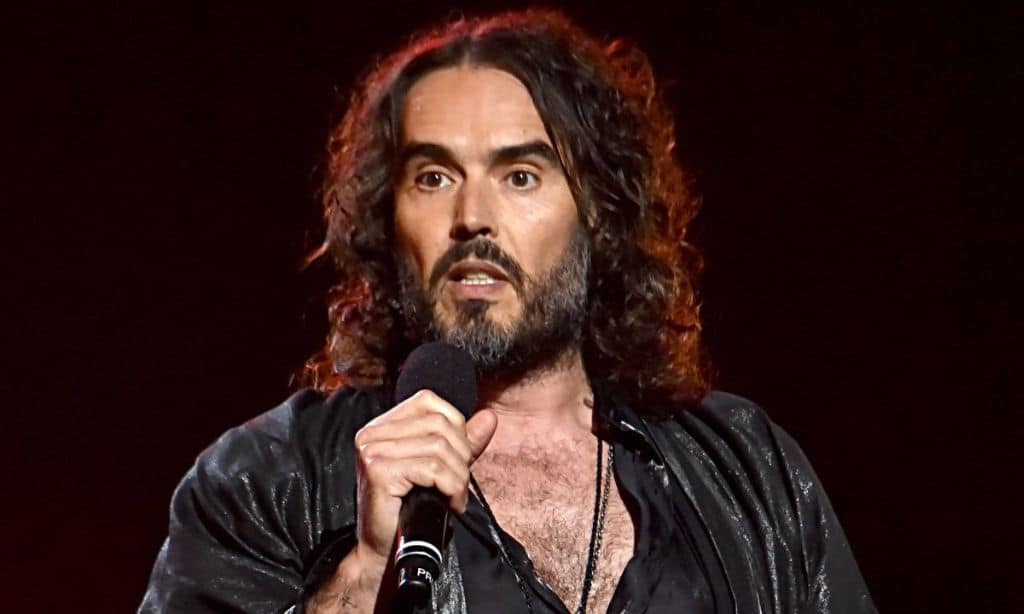 Read on to find out more about Russell Brand's relationships, marriage, and children.
Relationships and Marriage
Russell Brand has been married twice. His first marriage in 2010 to singer and actress Katy Perry was highly publicized, as both were already very successful celebrities before their relationship began.
The two met on the set of the film Take in 2009 and later got engaged three months after they began dating. Unfortunately, the marriage only lasted for 14 months before a mutual decision was made to end it in 2011.
In 2017, Brand married Laura Gallacher, a blogger and former restaurateur from Scotland whom he had known since childhood. They have one daughter together who was born that same year.
Read Also: Bad Bunny Net Worth: Highest-Paid Latin Artist in the World!
Children
Russell Brand and his current wife, Laura Gallacher, have two daughters together – Mabel (born in 2016) and Peggy (born in 2018). The couple announced that they are expecting their third child.
The children often accompany Brand to his on-screen appearances as well as being the focus of some of his posts on social media. This has allowed both Russell's fans and detractors to get a perspective into this side of him, which is rarely seen or spoken about in interviews and appearances.
While Mabel's name became known early after her birth due to an Instagram post by Brand, neither daughter's name was officially confirmed until the publication of Russell's biography later that year; It was at this time that it was revealed either girl's true name – making them no longer merely 'Baby Girl One/Two' but real people with distinct identities for editorial audiences across the world.
Net Worth and Financial Success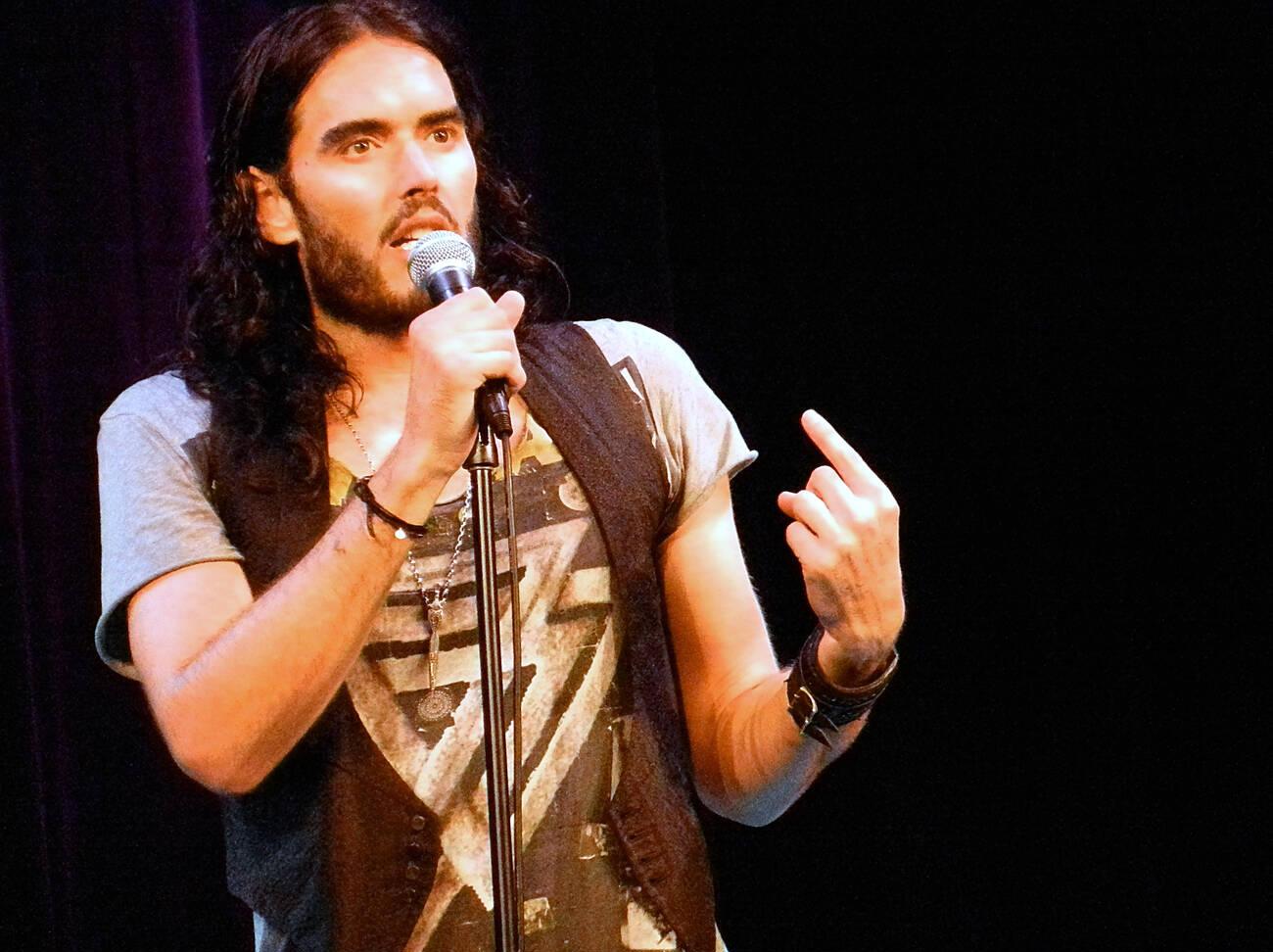 Russell Brand has been able to turn his various talents into a combined fortune and continues to be one of the highest-earning celebrities in the world. Read on to find out more details!
Current estimated net worth
As of September 2023, Russell Brand's estimated net worth is $20 million. From movies and stand-up comedy gigs to producing his own YouTube channel, the comedian has earned over $10 million from a variety of sources in the last year alone.
He made his debut in the entertainment industry as a stand-up comic but has grown to become an award-winning actor, writer, and director. Through books, TV shows like The Russell Brand Show (2015) and Bazodee (2016), and documentaries such as Love Thy Nature (2014), he continued expanding his career opportunities.
His financial success comes both from television appearances for sitcoms like Get Him To The Greek (2010) and dramas Tristan & Isolde(2006). In addition to royalties coming from writing books or hosting radio shows, he garners millions annually on brand partnerships while investing wiser than most celebrities do with real estate deals across Hollywood Hills.
Sources of income (stand-up, movies, books, etc.)
Russell Brand's career has earned him a fortune of around $20 million, most of which came from his work in stand-up comedy, movies, and books.
Stand-Up Comedy: Staring out with small gigs in London comedy clubs, Brand then climbed the ranks to become an international star on the world's stage, garnering millions for touring performances or hosting events.
Movies: With movie appearances ranging from "Forgetting Sarah Marshall," "Get Him To The Greek" to more recently voicing the character Slug in "The Secret Life Of Pets 2", Russell earns over five million dollars per film role plus any back-end deals on box office successes.
Books: As a best-selling author with seven titles under his belt, such as "My Booky Wook" and "Recovery – Freedom From Our Addictions," he generates royalties through book sales that contribute significantly to his net worth
Latest Updates
From trying his hand in multiple fields to actively supporting the causes he believes in, stay tuned to find out what Russell Brand is up to next!
Recent projects and appearances
Russell Brand is a well-known British actor and comedian who has creative roles in films, television, radio shows, podcasts, and books. His 2018 net worth was estimated at $15 million (£10.9m).
He is most recently known for appearing on the Netflix comedy show 'The Big Bang Theory' where he plays scientist Dr. John Sturgess. Brand's podcast 'Under The Skin with Russell Brand' also debuted in 2018 to critical acclaim, winning him an award from the Academy of Podcasters.
Recently he also starred in a German parody thriller called "Tideland." On top of this, he can be seen regularly performing stand-up comedy across many venues worldwide and continues to tour Europe and America throughout 2019 – 2020.
Social media and online presence
Russell Brand has long been vocal about the use of social media, stressing its importance as a communicative tool. He believes that just like the printing press, which revolutionized communication during the Renaissance era, modern-day technology, such as social networks, is also critical for effective and democratic forms of communication.
The actor and comedian connects with his fans through an active presence on digital platforms such as Twitter, Instagram, and YouTube. Despite expressing ethical reservations regarding the overuse of online activities to waste time or act in ways detrimental to others or society at large, Brands will often take full advantage of these tools to spread important messages across various mediums instead.
Furthermore, he is known for using devices such as podcasts and virtual events in order to gain more impactful feedback from viewers around topics linked with global humanitarian issues he's passionate about fighting against, like poverty fighters, climate change activists, etc.
Also Read: Selena Gomez's Net Worth: A Breakdown of Her Earnings in 2023
Real Estate and Assets
Russell Brand is a multi-millionaire and has amassed a large portfolio of properties, investments, luxury items, and assets. His estimated net worth today lies at an impressive $25 million.
Brand largely credits his success to stand-up comedy but also earns from television appearances and book royalties. He also runs his own YouTube channel with over 1 million subscribers, which helps contribute to his current financial success.
The brand owns luxurious residences in the UK and the US, including mansions in Los Angeles and New York state valued at around $8 million each. Additionally, he holds high-end real estate holdings across parts of London, such as Notting Hill.
Some of these properties are occupied by various members of Brand's family, while others are leased out or used for commercial activities like weddings or special events parties. Moreover, the actor-comedian reportedly drives exotic cars such as Land Rovers and Audis along with other vehicles like jetskis usually found on millionaire lifestyles' portfolios too! In addition to property acquisitions, Russell keeps valuables, including jewelry pieces and artworks from notable names, making multitudes away from homes!
Frequently Asked Questions (FAQs)
If you want to know more about Russell Brand, check the answers to some commonly asked questions below.
1. Who is Russell Brand?
Russell Brand is an English comedian, actor, presenter, and radio host who gained prominence in the 2000s for his television presenting work and stand-up comedy gigs.
2. How much is Russell Brand's net worth?
Russell Brand has a reported net worth of about $15 million as of 2021.                             
Subscribe to Our Latest Newsletter
To Read Our Exclusive Content, Sign up Now.
$5/Monthly, $50/Yearly