35 Best Reading Chairs for Comfort and Style [Buying Guide]
A sunny spot with a good book and reading chair is a simple and timeless way to be happy. People who like to read know that sometimes being alone with a great book is the best way to feel better. Cold weather is the only thing that makes me want to curl up in one of my favourite reading chairs, wrapped in a fuzzy blanket with a hot mug of tea next to me, and read for hours on end. But the reading chair, which is the most important part of that equation, can sometimes be the hardest thing to get right when you're looking for a new one.
Everyone has a slightly different idea of what the "perfect" reading chair is, but we have a bunch of great ones for you in every price range, from the ones you should really splurge on to the ones you won't believe didn't cost a fortune. You're sure to find something that will keep you turning pages for a long time. We've also told you exactly what to look for when shopping for the best reading chairs to make your shopping experience as easy as possible. In this article, we are going to talk about the top 35 reading chairs, their build materials, and everything that you need to know. 
Best Materials for Reading Chairs
Cotton
Cotton is a soft and strong fabric, but it wrinkles easily and gets dirty quickly. Slipcovers are often made of cotton because most cotton can be washed in a machine. It's not likely that you'll find upholstery fabric made entirely of cotton. More likely, it will be a mix of cotton and other materials. The best cotton blends usually have between 45 and 60 per cent cotton in them.
Genuine Leather
Real leather is very strong and can last for many years without getting worn down. It's the best upholstery you can get, which means it's also the most expensive. Although it's a strong material overall, leather is vulnerable to scratches and water damage.
Wool
Wool is a natural textile derived from animal hair that makes an excellent upholstery fabric for the reading chair. But wool is known for being scratchy and hard to clean if it is not mixed with other materials. As a result, you will mostly find chairs and other upholstered furniture that use a wool blend in the construction.
Polyester
It is a good choice for sofas and chairs because it doesn't get stained or dirty easily. Polyester velvet is particularly popular, offering the high-end look of true velvet at a lower cost.
Linen
Linen is made from flax, which is a plant. It's as smooth as silk, soft as a cloud, and naturally shiny. While linen is naturally resistant to soiling and pilling, it is prone to wrinkling, making it more suitable for casual than formal settings. It is frequently blended with cotton to increase its flexibility.
PVC
Polyvinyl chloride (PVC) looks like real leather but is less expensive. Compared to real leather, this fake leather is less likely to get scratched and can handle water better.
Read More: How to Make Your First Apartment
35 Best Reading Chairs for Any Space and Budget
1. JUMMICO Recliner Chair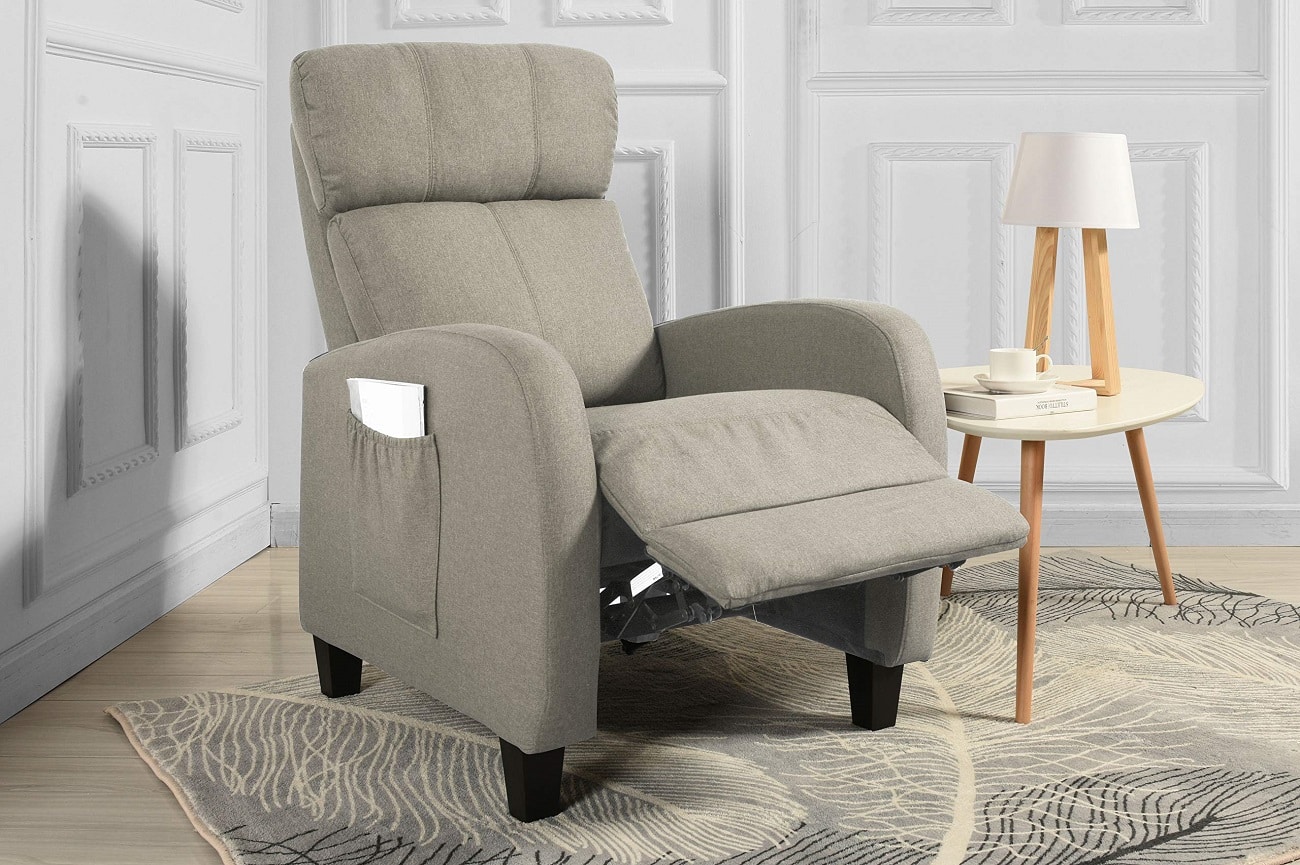 This cheap option has a lot of good ratings and reviews, and its high back and fairly wide seat make it a great place to relax and read. The recliner seat lets you lay back, and it also has a footrest that can be moved and padded armrests. The look is improved by the thick cushions and durable upholstery, and the rubber feet protect the wood floors. Reviewers say it's a perfect size, "not too big and not too small." Because of that, it took place in our reading chair list.
2. Christopher Knight Home Ophelia Club Chair and Ottoman Set
A club chair and ottoman set with great features will add to the style of your sitting area. Our club chair and ottoman set have a charming modern look thanks to the soft upholstery and beautiful nailhead trim. This chair has a classic look with a unique twist that makes it a great addition to any room. Our chair set is finished with button-tufted diamond stitching and tapered legs, giving it both comfort and a fresh look. There is also an available shower chair.
3. Dilleston Upholstered Chaise White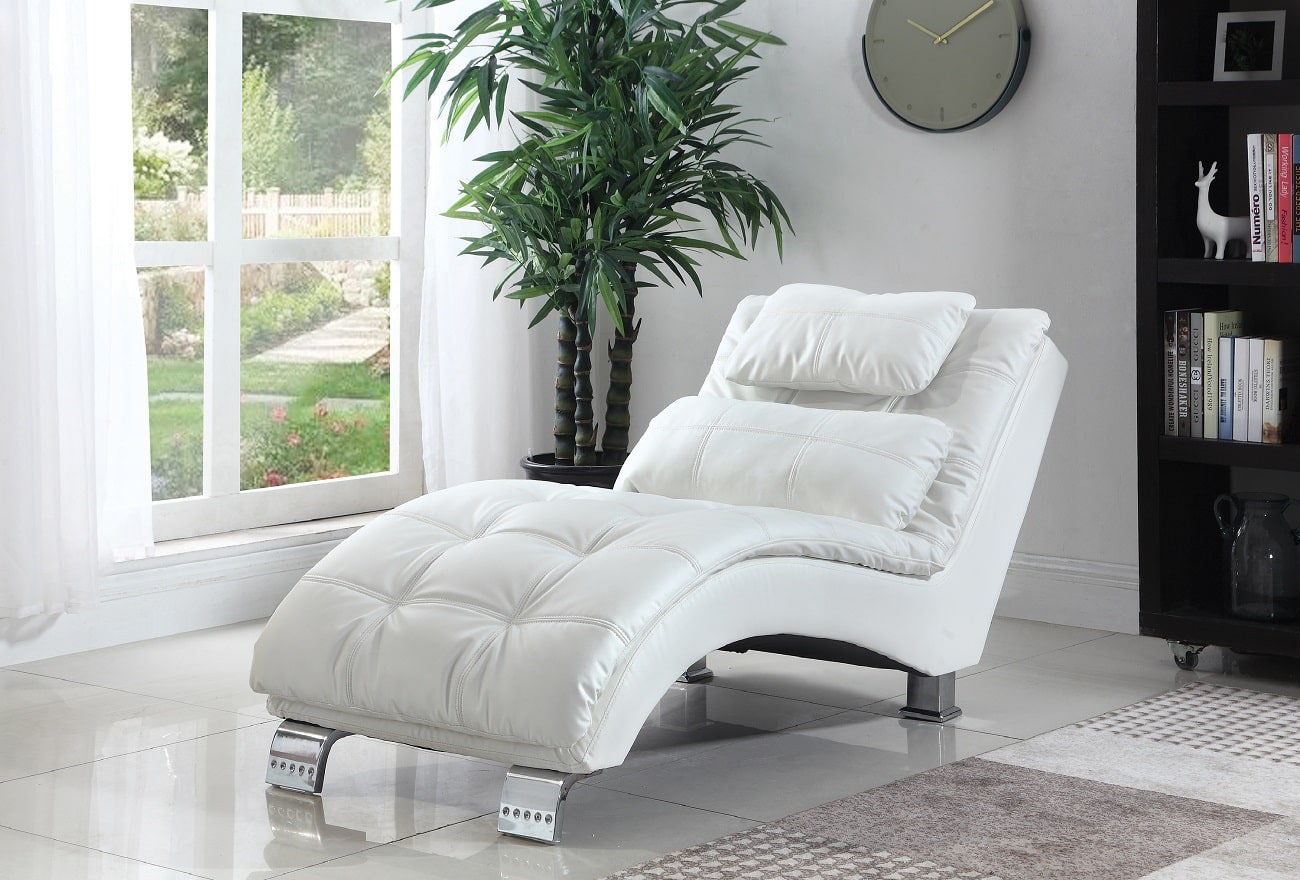 Set aside a comfortable place to rest in a modern room. This great chaise has the ergonomic benefits of a shaped lounge and a design that is pleasing to the eye. It's made of white leatherette, so it's easy to clean and can fit into a number of different styles. Plush padding with channels and a pillow make the chair feel even better. It looks modern because it has metal feet with stylish chrome finishes.
4. Christopher Knight Home Emmie Fabric Recliner
When there are two book lovers in the house, reading is twice as much fun. This Christopher Knight Home Emmie Fabric Recliner Set of 2 is perfect for any couple who wants to read together. You and your partner can both put your feet up without taking up space in your reading room with two whole ottomans. As a set of chairs that go together and come in different colours, these reading chairs will be easy to use in many of your rooms.
5. Milliard Cozy Chair/Faux Fur Saucer Chair
You want to get your child to read more, but you don't know how. Start with a comfortable reading chair like this saucer-shaped one. It has a round, soft cushion and stylish gold metal legs that fold up to make it easy to store and move. Both teens and adults can use it because it has a wide seat and can hold up to 265 pounds. It can be used in bedroom decor, playroom, basement, or dorm room.
6. Lexicon Elle Accent Chair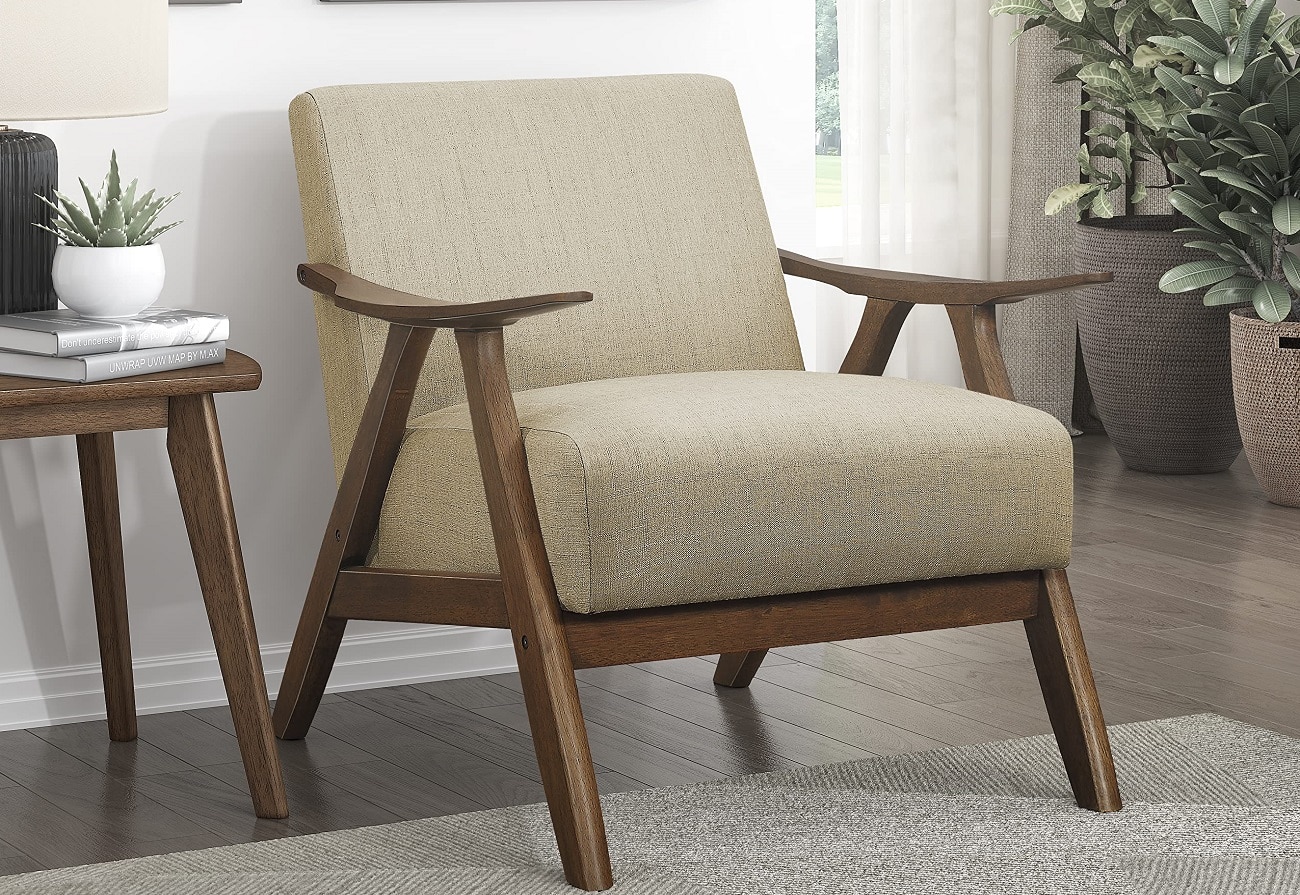 Our Elle Collection will look great with your modern home decor because it has a retro shape and bright colours. The frame is made of solid rubberwood and has a walnut finish. The seat and back are padded and covered with textured fabric. This piece of decor comes in five different colours: orange, blue, light brown, grey, and dark grey.
Read Also: High-End Massage Chair
7. Safavieh Home Collection Arlette Retro Glam Grey Velvet Accent Chair
This mid-century accent chair adds a touch of luxury to any room. It was inspired by retro collector's items found in one of New York's best design galleries. Its soft grey velvet upholstery, stylish curves, and chic gold Cap legs make a statement right away.
8. Rivet North End Wood Accent Living Room Arm Chair
Rivet is one of Amazon's own lines of office furniture, and it has a style that is kind of like mid-century modern. Amazon says that the pieces are "sure to turn heads," but that's not really true. The North End accent reading chair, on the other hand, is perfect for quiet people who want to read in the corner. There's nothing wrong with that.
9. Stone & Beam Lauren Armchair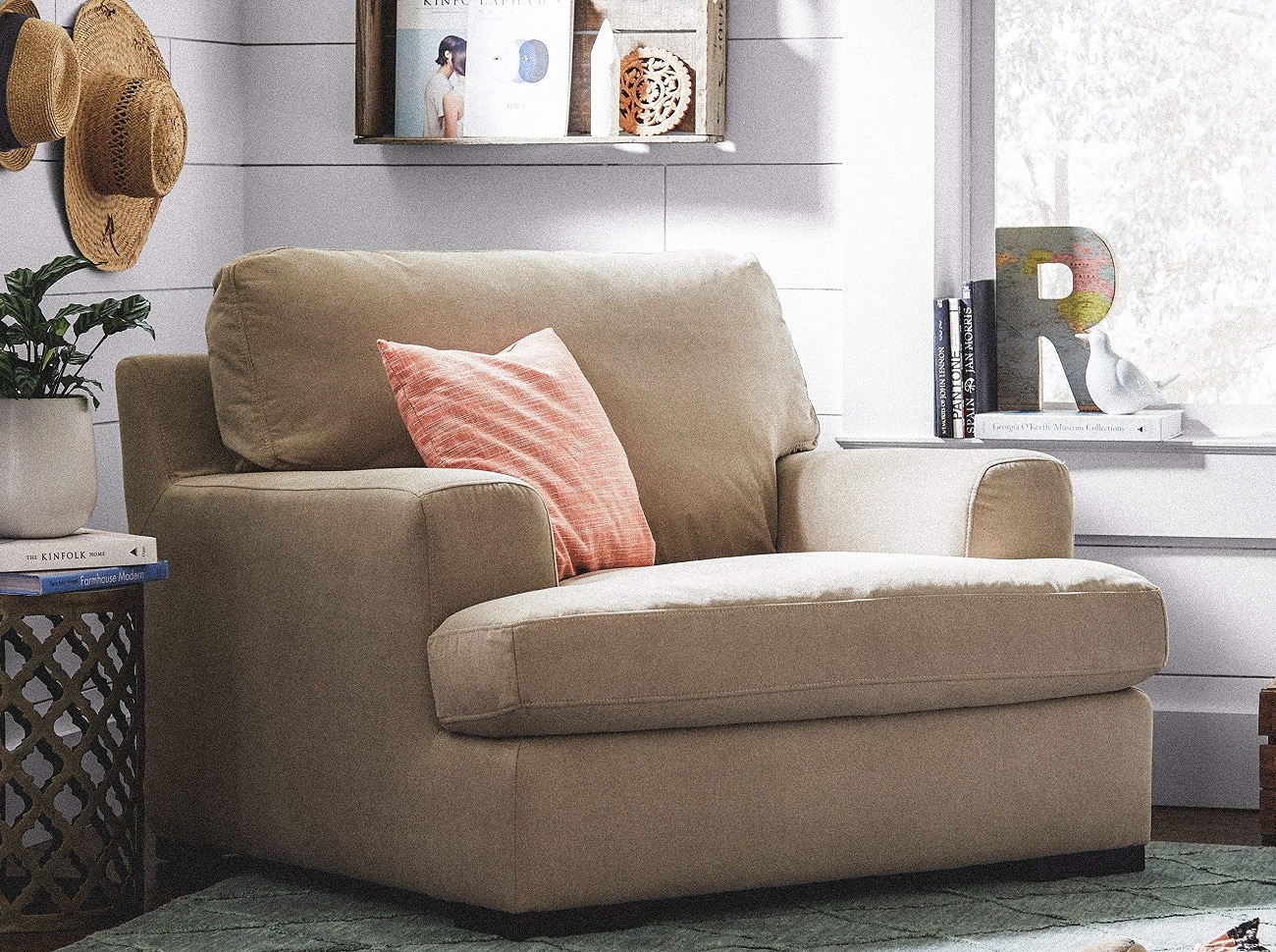 If you want more space, a chair with too many cushions is the way to go. This one is 46 inches wide, which is a lot wider than many other options. The extra space makes it even more comfortable. Its down-filled pillows are a big plus, and the fabric is easy to care for because it repels water and doesn't show stains. With seven neutral colours to choose from, you'll be able to find the right colour for your home.
10. Rankok Recliner Chair Ergonomic Adjustable
The Rankok recliner chair looks nice, is made of high-tech materials, and is built to last. The design makes you feel very comfortable. It can be changed to fit your needs. It's perfect for watching TV, reading books, or lying down to sleep.
11. Dolonm Mid-Century Modern Rocking Reading Chair
The Mid-Century Modern Rocking Chair from Dolonm might be good for you if you tend to move around while you read. Its soft upholstery is made of a natural, no-face towelling fabric, and the pocket on one side makes it easy to store books. Because the rocking legs are made of a material that doesn't slip, you won't have to worry too much about your floors. Just sit back in your rocking chair and lose yourself in a good book.
12. Tbfit  Mid Century Modern Accent Chair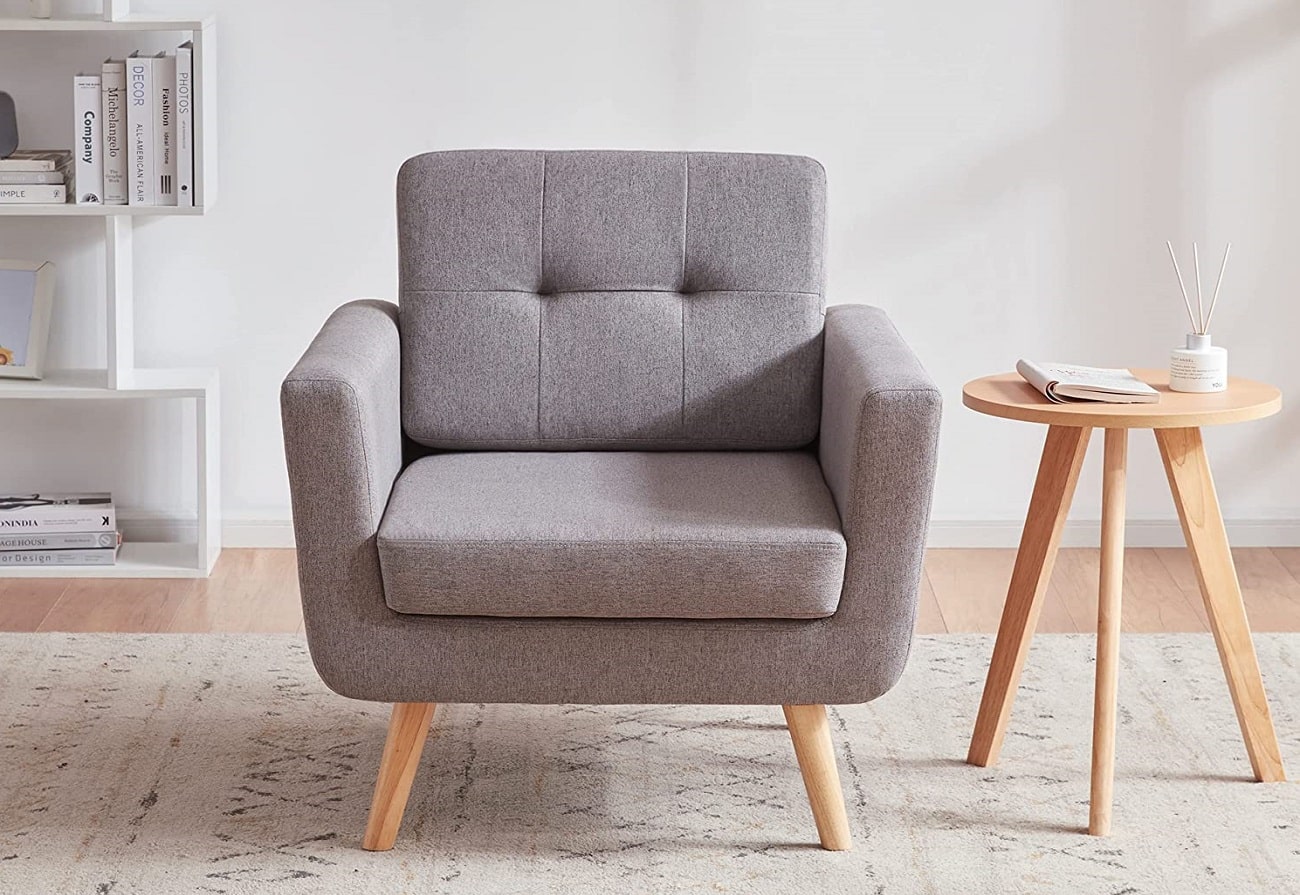 Large cushions and gentle curves make this a favourite place to relax. The Tbfit armchair is a welcome addition to your home, whether you want to sit down after a long day at work, have a cup of coffee, or talk with friends.
13. GDFStudio Elizabeth Tufted Bonded Leather Recliner, Vintage Reclining Reading Armchair
With its tufted back, the Walter Recliner will stand out in any room of your home. The back's shape and height make it stand out, while the armrests and cushioned seats make the reading chair comfortable. Perfect for entertaining or just hanging out, and adds a touch of smart design to your home.
14. Lohoms Modern Faux Leather Accent Chair
Leather Armchair in a Modern, Contemporary Style: This chair's high-quality leather stitching and elegant design make it feel warm and expensive. It will go with both modern and traditional styles of decor. It would look great in your living room, office, or club. Comfortable and strong, this accent chair has a solid wood frame and a soft sponge seat, so it will last for a long time. Both the seat cushion and the back cushion are thick and supportive. There is enough room for an adult to sit on them.
Ergonomically designed with curved armrests for extra comfort and thick, supportive seat and back cushions for maximum comfort and cosiness.
15. JOYBASE Velvet Lounge Chair with Ottoman
The Velvet Lounge Chair with Ottoman from JOYBASE is a good choice for people who want a brighter and more interesting piece for their reading room. This reading chair is soft and comfortable, and it has a modern shape and bright colours that make it a great choice for any modern reading area.
Also Read: Bariatric Shower Chair
16. Lohoms Upholstered Armchair
With a strong solid-wood frame and linen upholstery in a warm mustard colour, this piece has everything you could want in terms of quality and style, which you might not expect given how affordable it is. More than 600 buyers give this armchair top marks for how easy it is to put together, how sturdy it is, and how much support it gives. This is your best bet if you want a cute chair that looks like high-end furniture but costs less than $200.
17. Baby Relax Paisley Rocker Chair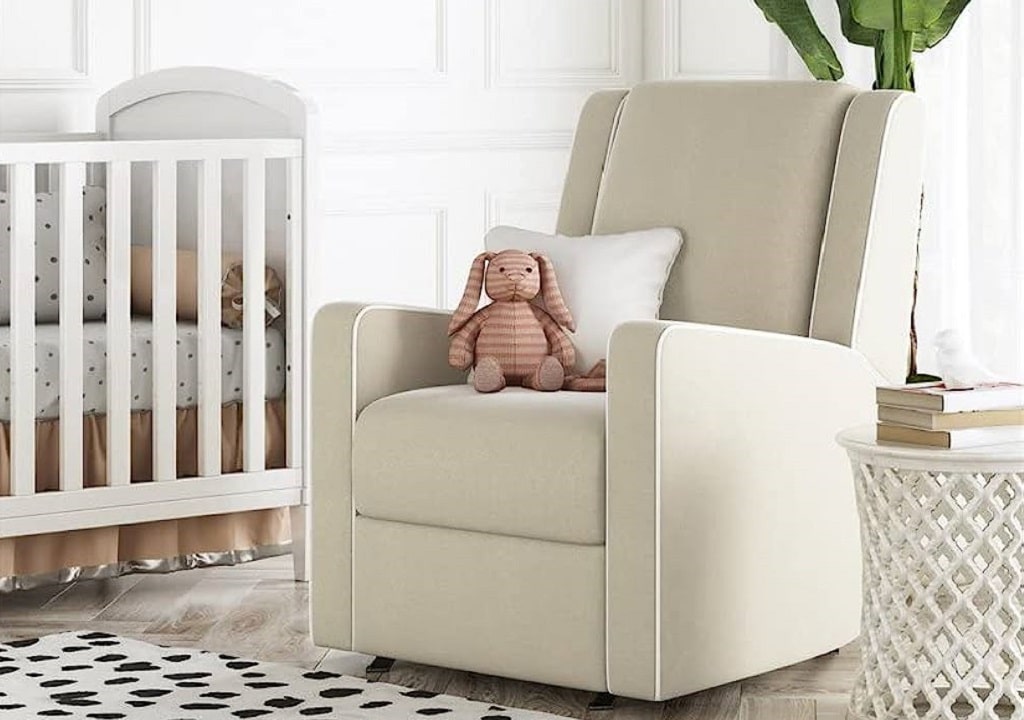 The comfortable pocket coil seating and adjustable settings of the Baby Relax Paisley Rocker Recliner Chair will keep you and your child happy. The Paisley Rocker & Recliner Chair from Baby Relax can be used to both relax and move around. The pocket coils in the cushions of this chair will keep you comfortable. This reading chair lets you put your feet up and gently sway as you read.
18. Macedonia Mid-Century Modern Tufted Back Fabric Recliner
Gone are the days of your dad's bulky basement recliner. At first glance, this chair doesn't look like much of a recliner. It's slim and the upholstery is tufted. There's no ugly handle on the outside, and if you want to relax, you can just lean back and the chair will follow you. More than 2,000 reviews give this chair high marks for being easy to put together and a good value for the price.
19. Yaheetech Modern Club Chair 
The Yaheetech modern club chair is a simple, stylish reading chair. It is made of velour and comes in grey, black, white, and navy blue. Classy without trying and surprisingly cheap!
20. Stone & Beam Lauren Down-Filled Oversized Armchair
With this chair, you can literally sink into its comfort. It has a classic look and is very padded. It has a clean, simple shape with track arms and is made of durable performance fabric. And also it would look great in your cosy corner.
21. Christopher Knight Home Alfred Club Chair
This wide-backed club chair is a beautiful addition to any reading room because it is both stylish and useful. Add a blanket and a mug of something warm, and you go from being cosmopolitan to being cosy in an instant.
22. DUOMAY Modern Accent Rocking Chair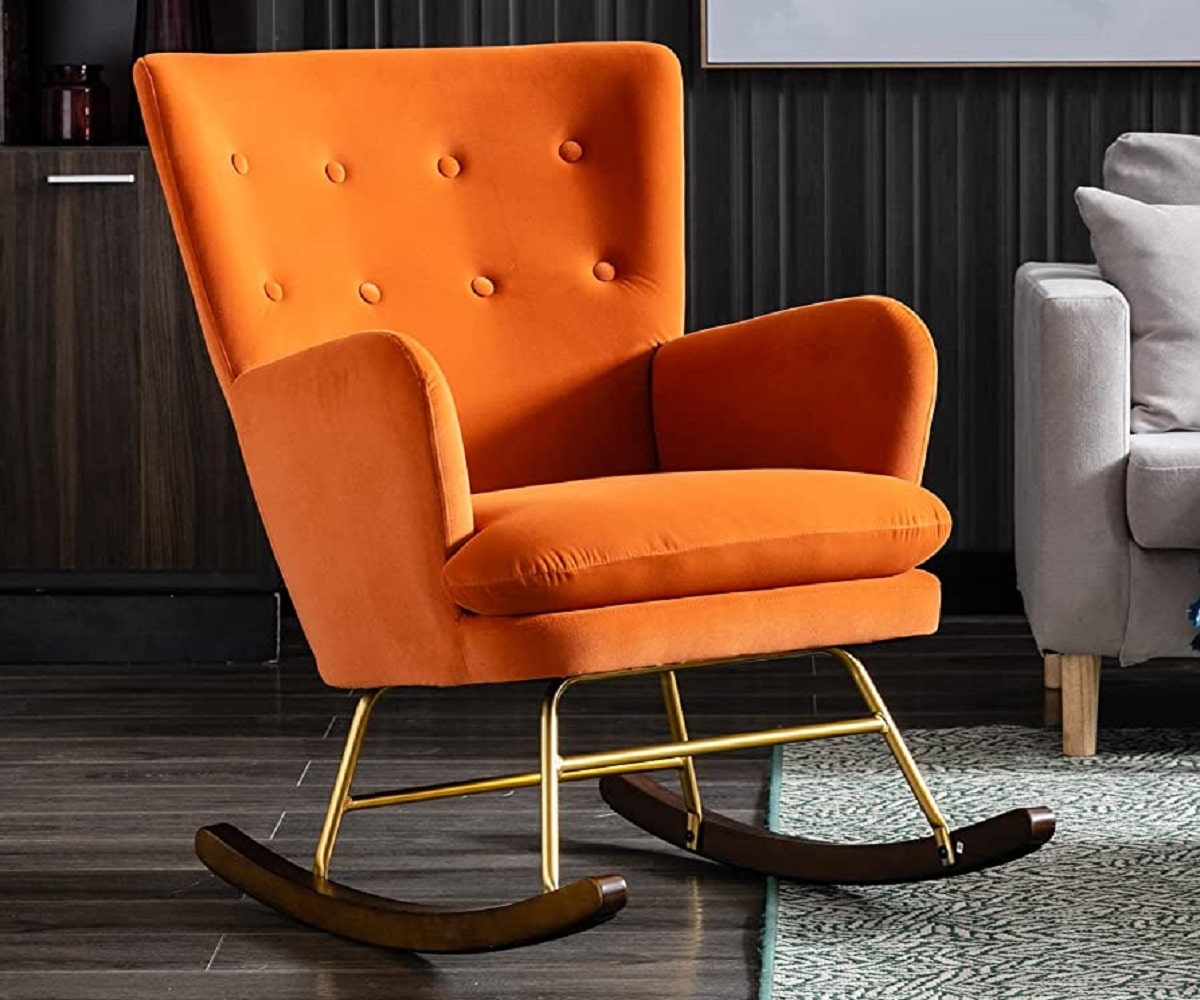 What could be more relaxing than reading a favourite book while sitting in a rocking chair? This armchair from the mid-20th century has stylish button tufting and smooth wooden rockers. It would look great in colourful nurseries and other cosy places.
23. Mac Motion Comfort Leisure Accent Straw Fabric Swivel Pub Chair
The Pub Leisure Accent chair from our "Comfort Chair Collection" is stylish and comfortable. This chair will look good in both a casual and a business setting. Pub's wide range of colours lets you change the look of any room by giving it a unique look. This chair stands out from the rest because it fits any body type and goes well with its surroundings.
24. Roundhill Furniture: Lenola Upholstered Accent Arm Reading Chair
Even though it's simple and modern, sitting in the Lenola Contemporary Upholstered Accent Arm Chair will make you feel like the most glamorous and sophisticated person in the world. The luxurious upholstery stands out against the gold metal tube frame, which gives this seat a strong and stable base for long-lasting lounging. With its square, cut-out armrests and pillow back, this chair is very comfortable and has a very modern look, making it an unexpected addition to your home.
25. Best Choice Products Outdoor Hanging Lounge Chair
Products That Are the Best Picks The curved outdoor hanging chaise is made for people who like to read outside. With a curved steel chaise that hangs from a 46-inch removable canopy, this outdoor chair gives you the unique feeling of being weightless while you relax. Also, the canopy is resistant to ultraviolet (UV) light, so it gives just the right amount of shade to read a book without squinting.
The cheap chair comes in five different colours and has foam-filled cushions 2 inches thick and a removable headrest for extra support. But keep in mind that at 73 inches long and 46 inches wide, it's pretty big and will need a lot of room. It can hold up to 265 pounds.
To Know More: Electric Wheelchair
26. Christopher Knight Home Alyssa Velvet Arm Chair
This chair has big wings that make it feel like you're sitting in a hug, and its lower profile makes it look more casual. The bold fuchsia upholstery on this piece will make it the centre of attention right away.
27. KidKraft Little Dreamer Deluxe Reading Chair Nook
This creative, all-in-one reading nook will give your kids a place to store and read their favourite books. This fun design is in the shape of a cute little house, and it has lots of places to put books and soft toys.
28. Maiden Home The Perry Chair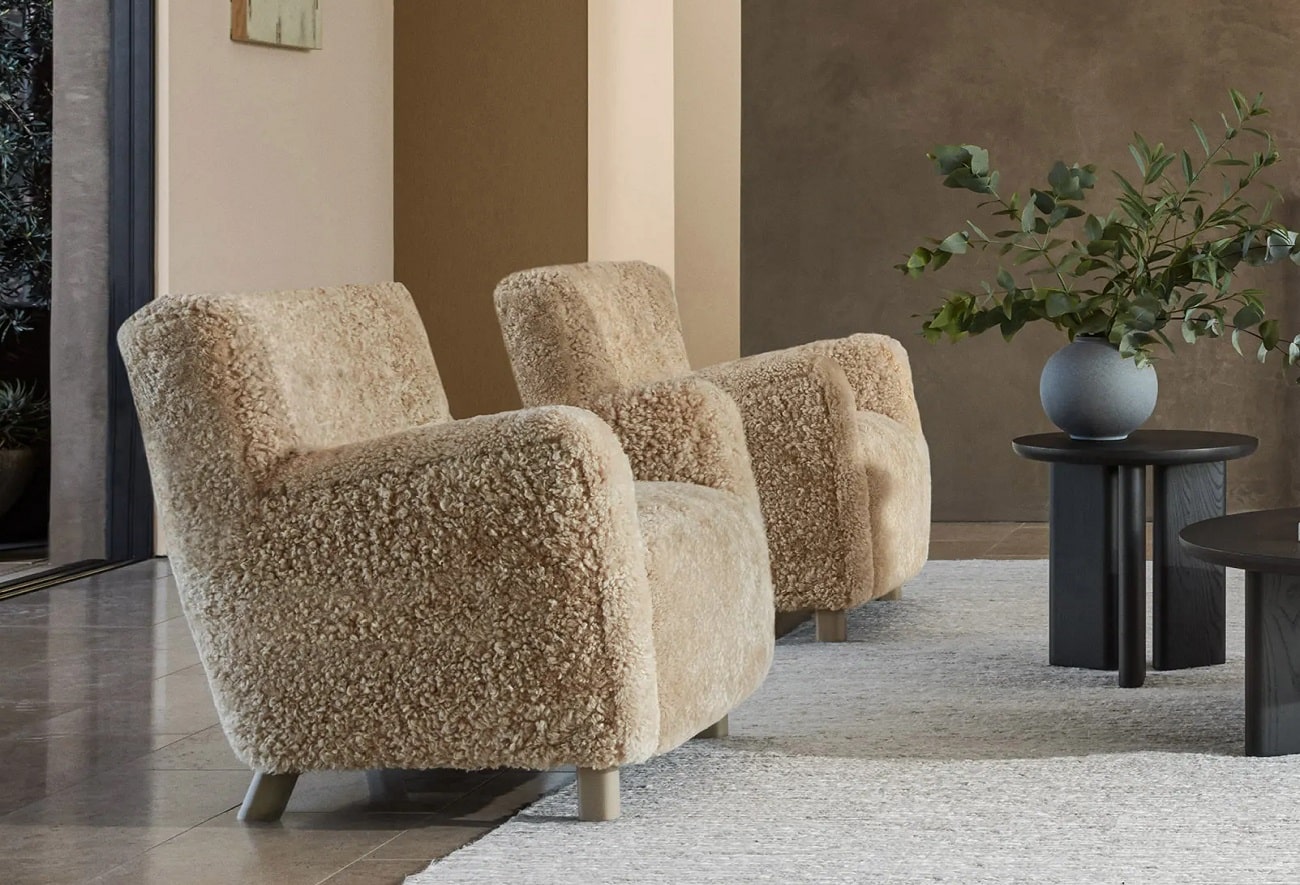 This piece takes the classic club chair and reworks it into a charming new shape that would fit anywhere from a traditional cottage to an ultramodern loft. It is both beautiful to look at and comfortable to sit in. Each custom chair is made by hand in the U.S. You can choose from more than 60 upholstery options and four finishes for the chunky, rounded legs. You can order free swatches to help you decide, but for a luxuriously soft finish, we recommend the ivory shearling.
29. Portside Outdoor Lounge Reading Chair
This beachy outdoor lounge chair is just the right size for curling up with a good book when the weather is nice (if you live in a warmer climate, prepare for year-round reading bliss). Its yarn-dyed cushions can stand up to the weather and look and feel luxurious. The wood frame can stand up to moisture and is strong. There is a built-in shelf for drinks and other small items, and there is an ottoman that goes with it.
30. Article Gabriola Boucle Reading Chair
The article's curved, deep-set reading chair has a feel of the 1970s and 1980s, which was laid-back and a little strange. It's also made of a boucle, which gives your living room a nice chance to show off some different textures. You could also buy a couch that looks just like the one you want. It's where you hang out.
31. Mcombo Swiveling Recliner Chair and Ottoman with Wrapped Wood Base
The Swiveling Recliner Chair and Ottoman with a Wrapped Wood Base from Mcombo is a great set that you can use at home or on the go. The base of the reading chair is made so that it can be set up in an RV. The set looks great in your mobile home because it has black faux leather and a smooth wood finish.
32. Threshold Elroy Accent Reading Chair
Target has some great furniture options at reasonable prices. Its Threshold brand is one of its most popular, and a recent partnership with Studio McGee, which makes the Netflix show Dream Home Makeover, makes it an even better place to shop. The Elroy cushions are very thick, and the fact that it is made of fleece makes them even more comfortable to relax in.
33. Hogle Lounge Chair and Ottoman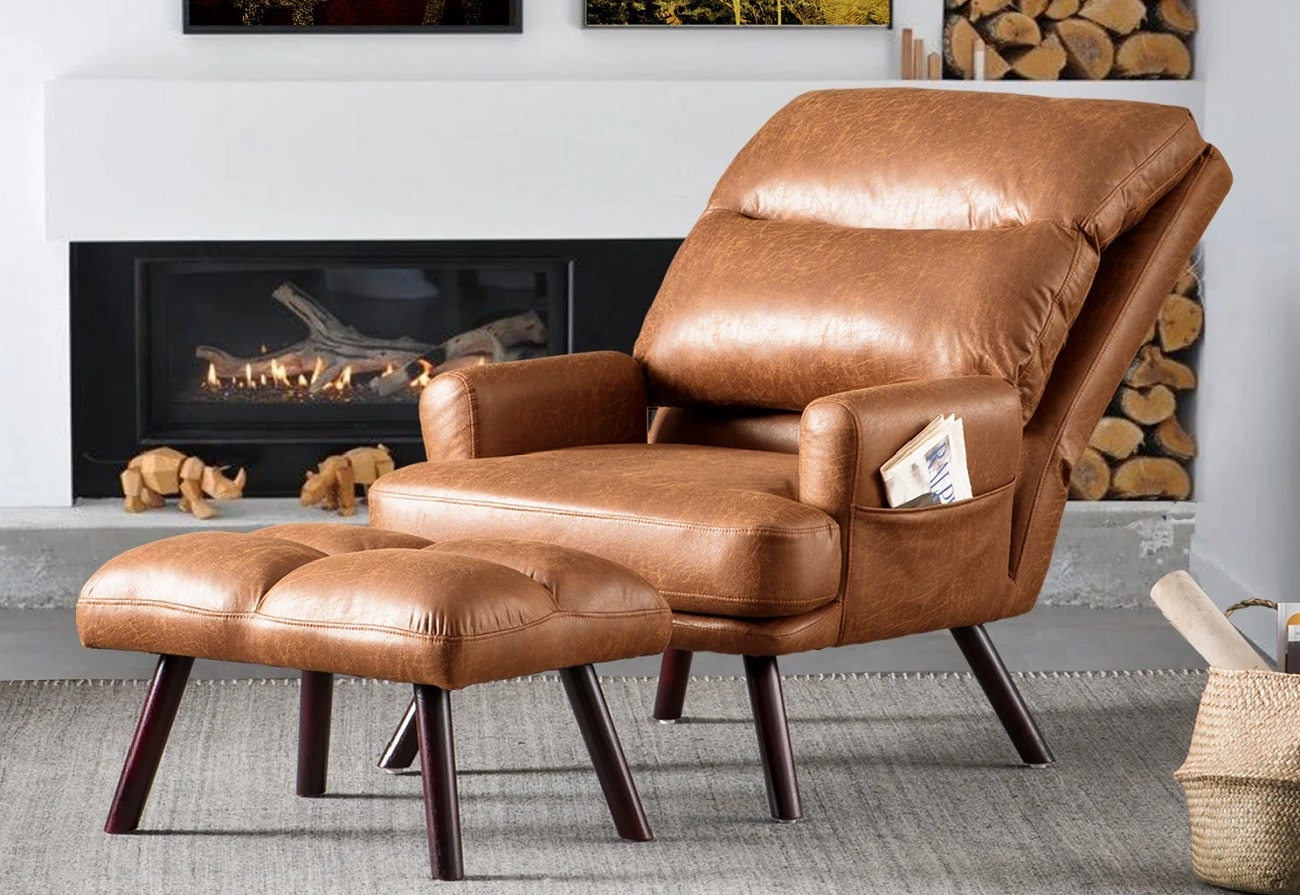 The Hogle lounge chair and ottoman in teal are for people who want to lay back but don't want a real recliner. The back is at a nice, airy 120° angle, and it's just the right mix of style and comfort. It also has a sneaky side pocket for books.
34. West Elm Carlo Mid-Century Reading Chair
The Carlo chair from West Elm is inspired by the mid-century modern furniture trend, but it's not the same chair that's been made by every company in the world. From the front, the chair looks much deeper and narrower than it really is. This gives it a kind of sneaky cosiness. West Elm also has different choices for fabrics, colours, and legs.
You can Read: Gaming Desk and Chair for Gamers
35. Burrow NLSO-SL-1-LO-BW Armchair and Ottoman
The Burrow armchair and ottoman set are also very comfortable, which is important for a chair used for reading, but it has a more imposing look. The coolest thing about these pieces of furniture, besides the way they look, is that they have a USB cable and port built-in. This is especially useful if you use your tablet or Kindle to read.
What to Consider When Choosing a Reading Chair
Material
The most important thing to look for in a good chair for reading is comfort. Look for a reading chair made of something soft and plush, like understuffed velvet, washed linen, or a versatile polyester. If you want a more classic and timeless look, choose leather or vegan leather. Just keep in mind that leather is a little harder to keep clean. If you plan to eat or drink in the chair, materials that don't stain are a big plus.
Size
First, think about the size of the room where the chair will go. A reading chair shouldn't be much bigger than the other furniture in the room, so you'll need to carefully measure the space and pay close attention to the sizes of the chairs you're considering. There are big massage chairs for people with more space, and there are also smaller chairs for people with less room. Also, think about the size of the chair's back: A tall back gives you more room to lie down, but it also makes the chair bigger.
Comfort
Notice how you keep moving around when you're reading in bed? That's because your body doesn't feel good in that position and is looking for a better one.
When you add a reading chair to your reading room, you can sit comfortably and read your books. When you're comfortable, you're more likely to enjoy and understand what you're reading because your mind isn't on the pain in your buttocks from sitting on a hard surface.
Style
There are so many different kinds of reading chairs, like recliners, accent chairs, swivel chairs, and so on. Choose the one that goes best with the way you like to decorate, and then look at all of the options in that category. If comfort is most important to you, don't worry about how it looks. Instead, try a recliner, which lets you adjust how you sit. If, on the other hand, you want the chair to really make a statement, choose an accent chair that is more sturdy.
Where Should You Place a Reading Chair?
Once you've chosen the best chair for reading, it's time to decide where to put it. If you're like a lot of people, it can be hard to read when there's a lot going on around you. We suggest that you put your reading chair in a quiet area of your home. This could be in the living room, bedroom, or office. Even a small space under your stairs could work."
Speaking of nooks, the great thing about a cosy reading nook is that you can make one almost anywhere—all you need is a little bit of empty space. Even though bedrooms are often the best place, reading chairs can also be put in the living room or family room if there is enough room. Any corner can be turned into a place for a reading chair by adding shelves and a place to store books, a fireplace, or even a window seat."
Know More: Home Decor Tips
Conclusion
Just recently, people have started to realize how important a good reading chair is in a reading room, but you shouldn't wait any longer to add a comfortable reading chair to that reading corner.
Choose a good reading chair for your reading room so you can enjoy all of its benefits. These reading chairs will make you feel good and help you stay healthy, among other things.
Frequently Asked Questions (FAQs) about Reading Chair
What style is best for Reading Chair?
Look for a reading chair made of something soft and plush, like understuffed velvet, washed linen, or a versatile polyester. If you want a more classic and timeless look, choose leather or vegan leather. Just keep in mind that leather is a little harder to keep clean.
What do you call a reading chair?
A recliner is a big, padded chair that leans back for comfort and is often used to read or watch TV. You can find leather or fabric versions that are classic and stylish.
Which type of Reading Chair is best for sitting?
People who sit for long periods of time and have a lot of body pain have found that a chair made with ergonomics in mind helps. A chair with good ergonomics can help spread stress and strain out over the whole body.
What makes a chair good for reading?
For the most comfort, a good reading chair should have back and neck support and a padded seat.
What is the best type of reading chair for children?
Reading nooks are great places to put bean bag chairs. Saucer chairs and chairs that look like eggs or bowls are also popular choices for kids. Most of the time, these chairs come in bright colours and busy patterns to make your child's room more fun.
How much should I spend on a good Reading Chair?
If you want a good chair, you can expect to spend between $250 and $750. Within this price range, you can get a sturdy chair with features that cheaper chairs might not have.
What is the healthiest position to read in?
Ergonomic principles say that the best way to read is to sit up straight in a chair with your back straight and your neck tilted forward just a bit. Your feet should be firmly on the ground, and your knees should be bent at a 90-degree angle.
Is reading in bed healthy?
Reading can help us feel less anxious because it takes our minds off things. And that's not easy. Distracting yourself from things that stress you out in life is a good, evidence-based way to deal with anxiety. It's also calming, whether you're trying to deal with anxiety or just too much stress.
Subscribe to Our Latest Newsletter
To Read Our Exclusive Content, Sign up Now.
$5/Monthly, $50/Yearly