Materials and Finishes: The Aesthetics of Modern Sideboards
Sideboards, buffets, display cabinets… Is it a tribute to fashion, antiquity, or a convenient place to store something? If you try to figure it out, the answer is incredibly simple and obvious. This is the first, and the second, and the third. On top of that, it's also very beautiful.
Well, let's start from the very beginning. The first thing that comes to mind with the word sideboard takes us far back, and this memory does not always look modern and stylish.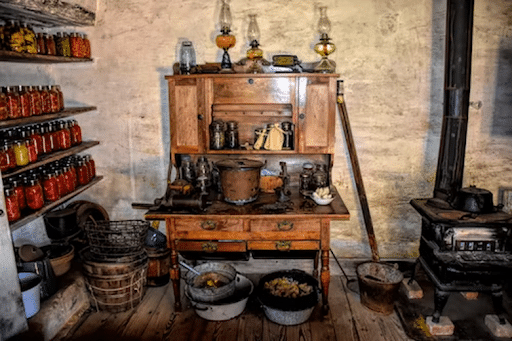 Maybe these are warm memories from childhood, like the ancestral home, grandmother, jam? But this is definitely not part of the modern interior. 
What about this option?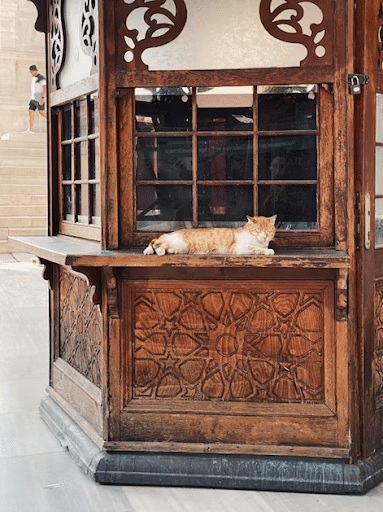 Or this absolutely sleek version of the modern sideboard?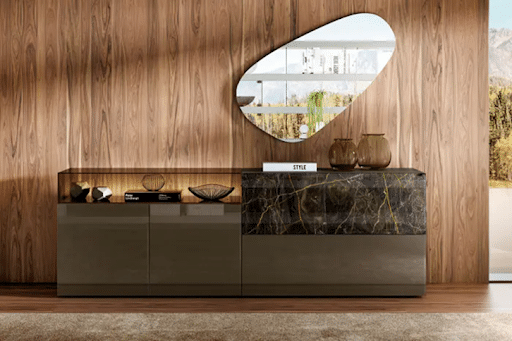 Here we want to figure out together with you how sideboards differ, what materials and finishes brand manufacturers use to make not just a sideboard, but a real work of modern furniture art. Let's start off!
Understanding the Meaning of the Modern Sideboard
To understand why you need a sideboard, let's make sense of the names. Sideboard and buffet. For most people, this is generally the same kind of furniture designed to store dishes or something else. Well, what are the differences anyway? A sideboard is most likely furniture for a living room or a private office, and a buffet for a dining room. The buffet always consists of an upper part with glazed swing-doors (so that everyone can see the contents), and the lower part, closed with solid doors and usually used for heavy dishes. 
Compared to a buffet, the sideboard looks lighter and more compact, and does not always include the upper part in modern design. That is why a modern sideboard, like a buffet, has a tabletop, which, if necessary, can be done out with decorative elements, favorite photographs or use as a serving-table.
The Materials Used to Make Modern Sideboards
Glass, wood, ceramics, metal, marble and leather are among the wide range of materials that are used to make modern sideboards. Each of these materials creates an image of individuality, dignity and style.
Wooden sideboards are always expensive. So we can immediately take antiques out of the scope and continue the conversation exclusively about modern furniture. Most of us buy sideboards without clearly understanding what wood materials were used in their manufacture. There are different options for different requirements and budgets.
Solid Wood 
A sideboard made of hardwood is furniture that was once a single tree. Most often in the manufacture of furniture, either hardwood is used: 
Mahogany;

Walnut;

Oak;

Maple;

Cherry;

Birch.
Or softwoods, which include:  
Pine;

Sal;

Red;

Cedar;

Redwood.
The indisputable advantages of solid wood certainly include a unique pattern, durability (with proper care), and access to restoration.
HDHMR (High Density High Moisture Resistant) board
This is a relatively new wood-based material product, superior in density and moisture resistance to plywood, and very suitable for use in wet conditions. One of the benefits for its maintenance (other than above) is that you can easily remove stains with warm water without having to wash the entire surface.
MDF (Medium Density Fiberboard) 
It is made by bonding wood fibers with wax and a resin binder under high temperature and pressure. Being more durable than many hardwoods, it remains very easy to maintain. By the way, the surface is perfectly flat. Moreover, it is relatively resistant to water. 
Particle Board 
It is believed to be the most budget-friendly option, manufactured by pressing and extruding various wood wastes like wood chips, sawmill shavings, or even sawdust. Benefits and features of particle board (eco-friendly, moderate resistance to warping and impact) corresponds to the low price of a finished sideboard.
Furniture Glass
Just as it is difficult to imagine a house without windows, it is also almost impossible to imagine your favorite sideboard without glass elements. If historically glass was used only to give absolute transparency to sideboard doors or in the form of shelves, modern design allows for almost unlimited use of various types of glass. The use of glass in sideboards suggests an open design, characteristic of the minimalist style that is gaining popularity all over the globe.
Traditionally, clear glass was used for sideboards and crockery cabinets. However, modern trends in furniture fashion increasingly give preference to frosted glass, not only when decorating a modern sideboard, but also as the main material for its construction.
Let's see all this on real examples of generally recognized manufacturers of modern sideboards.
Brera Glass Sideboard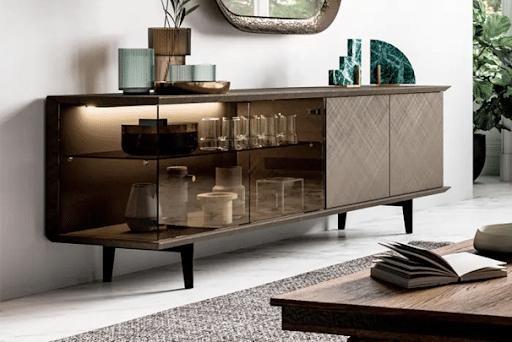 It is one of the brightest examples of modern design art, manifested in the combination of glass and wood. Transparent glass with some mysterious opacity on the left side of the sideboard harmonizes with the closed right side, which can be made from your favorite type of wood or wood-based material.
Rain Sideboard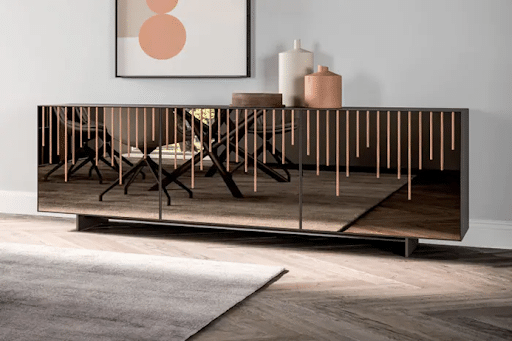 It gives a feeling of unique airiness, combined with the atmosphere of "tropical rain" conveyed by the best designers, which is achieved thanks to the complete prevalence of frosted glass in the construction.
Sideboard by Daniele Lago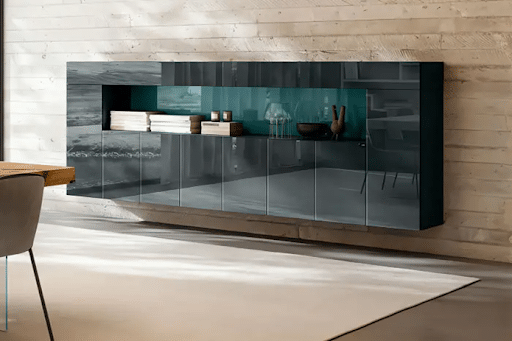 It is a cosmically inspired sideboard presented in a variety of finishes, like matte lacquer, mirror, glass and wood. Moreover, any type of proposed configuration not only changes the sideboard beyond recognition, but also makes it unique because of its originality.
Wrap Up
A modern sideboard is not just a place to store dishes or any other kitchenware. A modern designer sideboard is like a burning fire or flowing water. This is something that can be admired indefinitely.
Subscribe to Our Latest Newsletter
To Read Our Exclusive Content, Sign up Now.
$5/Monthly, $50/Yearly