Trendiest Men's 70s Outfits: Discover the Hottest Men's Style of 2023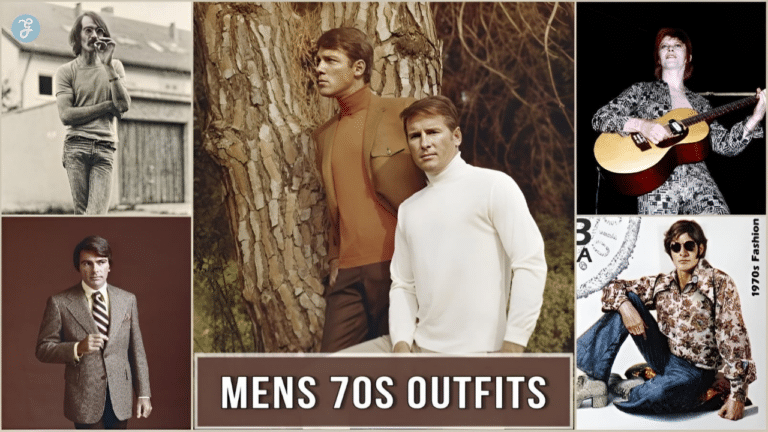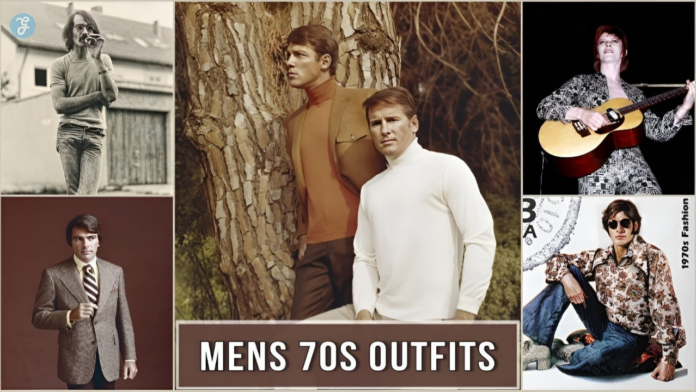 Do you love classic trends and wonder how to pull off the dynamic mens 70s outfits in 2023? The men's fashion scene of the 70s was a vibrant mix of bold colors, memorable patterns, and distinctive textures.
This blog post will guide you through popular styles from that era, updated with modern twists for relevance today. Let's dive into this exciting journey; your wardrobe transformation awaits!
Content Highlights
Corduroy, suede, roll necks, flares, silk shirts, sportswear, retro sneakers, knitted vests, tailoring, velvet, and bold knitwear, were popular fashion trends for men in the 70s.

These trends are coming back in 2023 with modern twists to add vintage flair to contemporary outfits.

Mixing vintage and contemporary pieces is a great way to incorporate 70s fashion into your wardrobe.

You can easily achieve an iconic look by embracing elements like prints, colors, layering techniques, and accessories from the 70s era while paying attention to grooming and hairstyles.
Mens 70s Outfits: Popular Fashion Trends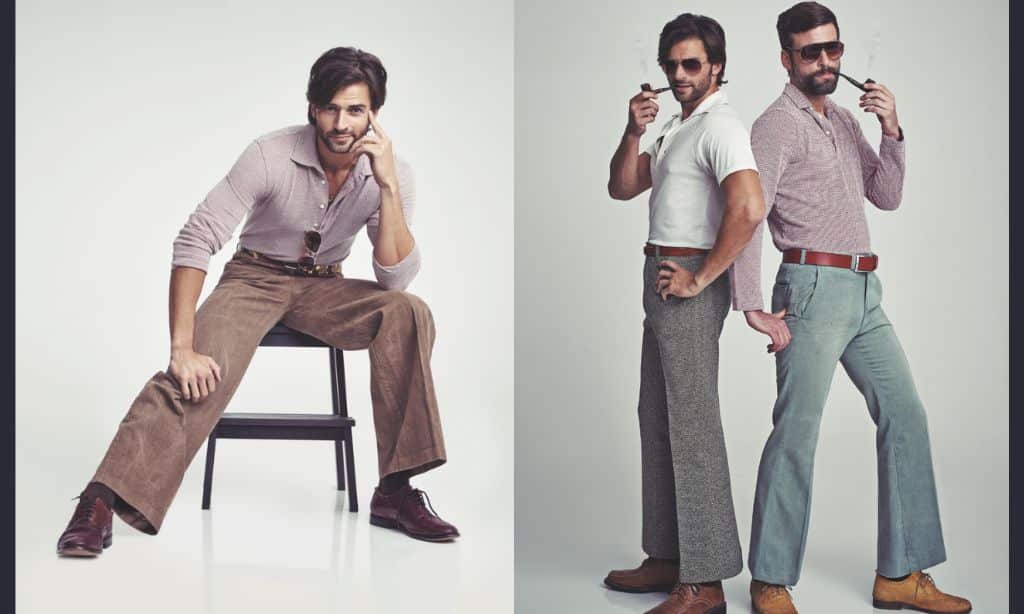 70s Fashion Trends for men included popular items such as corduroy, suede, roll necks, flares, silk shirts, sportswear, retro sneakers, knitted vests, tailoring, velvet, bold knitwear, and more.
Corduroy
Corduroy, a fabric characterized by its distinct corded texture or "wale," was one of the defining pieces of men's fashion in the 70s. You likely would've spotted men donning corduroy pants, jackets, and even suits; it was not limited to casual wear but also stepped into formal arenas.
The chunkier wide wale style is often associated with classic corduroy apparel and continues to be favored today. Despite transitions in fashion trends over decades, this beloved fabric has made its way through the years, frequently appearing in modern workwear-style designs.
Corduroy stands as an enduring testament to 70s sartorial elegance and versatility.
Suede
Suede was not just another fabric in the 70s; it was a fashion statement for men. Notable personalities like Bob Dylan and John Lennon frequently sported suede, propelling its popularity during that era.
This remarkable material masterfully defined men's 70s outfits due to its unique textural appeal.
In outerwear, suede jackets took center stage as one of the most iconic elements of men's fashion. The obsession over this rich material sparked an overwhelming demand, making it a key component of popular 70s fashion trends for men.
From boots to belts and bags, suede became known throughout various style aspects during this time.
Roll Necks
Roll necks ruled the fashion roost back in the 70s. Both sophisticated and stylish, these wardrobe staples worked their charm on men's outfits during this fashionable era. Recently, we're witnessing a rebirth of this trend, marking its presence in contemporary fashion circles.
The fine-gauge roll necks make quite a statement when tucked into trousers or peeking beneath a suit jacket for an effortlessly sleek look. On colder days, chunky roll-neck sweaters are best when layered with other clothing items.
Subtle yet classy, they add a flair of sophistication to any outfit while keeping you comfortably warm.
Flares
Flared pants were a popular fashion trend for men in the 1970s and are coming back in 2023. Incorporating flared jeans into your outfits is an easy way to embrace the 70s style.
Not only do they provide a relaxed and baggy silhouette, but they also give off a sense of freedom and liberation. This trend started in the late 1960s and continued well into the early 1970s, making flares an iconic piece of retro fashion that can add flair to any modern look.
Silk Shirts
Silk shirts were a must-have fashion trend for men in the groovy 70s. These stylish garments were often worn unbuttoned to the navel, exuding a cool and laid-back vibe. Made from luxurious silk fabric, these shirts were typically oversized and flowed loosely, creating a relaxed yet fashionable look.
Whether they featured bold prints, intricate patterns, or solid colors, silk shirts added an element of sophistication to any outfit. Interestingly, the resurgence of 70s fashion in recent years has again brought back the popularity of retro silk shirts.
Sportswear
Sportswear was a popular choice for men in the 70s, with track pants, running shorts, T-shirts, sneakers, and hoodies being commonly seen. These pieces were typically made from cotton, polyester, or terry cloth.
Retro sneakers also became fashionable in men's outfits during this decade. Corduroy and suede were favored fabrics for sportswear in the 70s, adding texture and style to these casual looks.
Knitted vests were another trendy option for layering in men's sportswear. So if you're going for an authentic 70s look, incorporating some sportswear elements into your outfit is a great way to capture the era's vibe.
Retro Sneakers
The sneakers of the 70s were colorful and streamlined low-tops. They are associated with iconic fashion trends from that era, making them a stylish addition to men's outfits today.
Retro sneakers from the 70s bring a vintage and nostalgic vibe to any look. They can be worn with jeans, shorts, or even suits to add a touch of retro style. The popularity of retro sneakers from the 70s reflects the ongoing trend of nostalgic fashion and showcases how past decades continue to influence contemporary style.
Knitted Vests
Knitted vests were a popular fashion trend for men in the 70s. These sleeveless tanks featured deep V-necks and came in various patterns and colors, with argyle being one of the most common.
Shades like brown and orange were particularly trendy during this time. Now, knitted vests are returning in modern fashion as designers draw inspiration from the iconic styles of the 70s.
So, if you want to add some retro flair to your wardrobe, consider incorporating a knitted vest into your outfit for a touch of vintage charm that's still on-trend.
Read More: 5 Best Men's Glasses for Summer 2022
Tailoring
Tailoring played a pivotal role in 70s fashion for men, allowing them to create unique and personalized outfits. It was all about embracing individuality and self-expression through the art of tailoring.
In 2023, tailoring continues to significantly influence the fashion industry, drawing inspiration from past decades like the 70s. This trend allows men to incorporate retro touches into their modern looks, adding a touch of nostalgia while staying on-trend.
From tailored blazers to perfectly fitting trousers, tailoring offers endless possibilities for creating stylish and sophisticated outfits that pay homage to the iconic style of the 70s.
Velvet
Velvet was a popular fabric choice in 70s fashion for men. It was loved for its soft touch and rich, textured appearance. Men often opt for velvet suits in vibrant colors like corduroy, paisley, wool, or crushed velvet.
Three-piece and double-breasted suits made of velvet were particularly trendy during this era. Velvet also made its way into knitwear, with patterns and fabrics showcasing the luxurious material.
The use of velvet added an element of sophistication and elegance to men's outfits in the 70s.
Bold Knitwear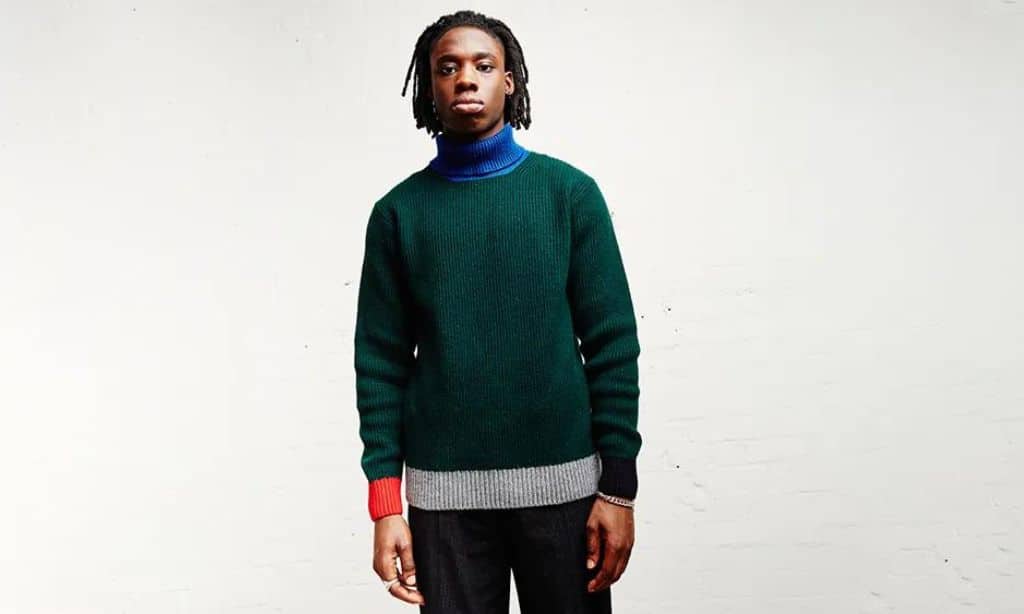 Bold knitwear was a popular fashion trend for men in the 70s. Knitwear in the 70s was often big and tactile and came in shades of brown and orange. Common patterns found in knitwear included curtain-style patterns.
The knitwear of this era featured all-over intarsia patterns, deep V-necks, and sleeveless tanks. Interestingly, bold knitwear is returning in modern fashion, proving that this retro style still exists in today's wardrobe.
The Roll Neck
The roll neck, a turtleneck, was a popular fashion trend for men in the 1970s. It has recently made a comeback and is now considered a stylish choice for modern outfits.
Fine-gauge roll necks are perfect for tucking into trousers or wearing underneath a suit jacket, giving a polished and sophisticated look. In the 70s, rugged and chunky Aran or cable roll neck sweaters were also fashionable, with cream chunky cable knit styles particularly popular.
Suede Jackets
Suede jackets were a major fashion trend for men in the 70s. These stylish jackets were often paired with popular 70s items like corduroy pants, roll-neck sweaters, and light-wash denim.
What made these jackets unique was their wide lapels, adding to the groovy style of the era. To complete the ultimate 70s look, flared pants were commonly worn with suede jackets. Interestingly, suede jackets have experienced a resurgence in recent years, proving that these iconic 70s fashion trends are still relevant and fashionable today.
The Blazer
The blazer was a popular choice in men's fashion during the 1970s. Corduroy blazers and trousers became fashionable in the 70s and are still easy to wear today. This versatile clothing is associated with popular 70s fashion trends for men.
While the prevailing look in men's tailoring has been soft and unstructured, the trend is shifting towards more structured blazers. Even in 2023, the blazer continues to be a fashionable choice, offering a timeless and sophisticated style that can be dressed up or down for various occasions.
The Jeans
The fashion of the 70s wouldn't be complete without mentioning the iconic jeans that were popular during that era. Men's jeans in the 70s were all about embracing a relaxed and casual style.
Flared jeans, which flared out from the knee, were trendy and often associated with this period. Whether it was pale washes or mid-rise straight cuts, men wanted to rock their denim with flare.
In addition to flares, bell-bottom pants were another popular jean style, featuring bottoms that added a unique touch to outfits. For those seeking a more distressed look, frayed jeans were also in vogue during this decade.
How to Incorporate 70s Fashion into Modern Outfits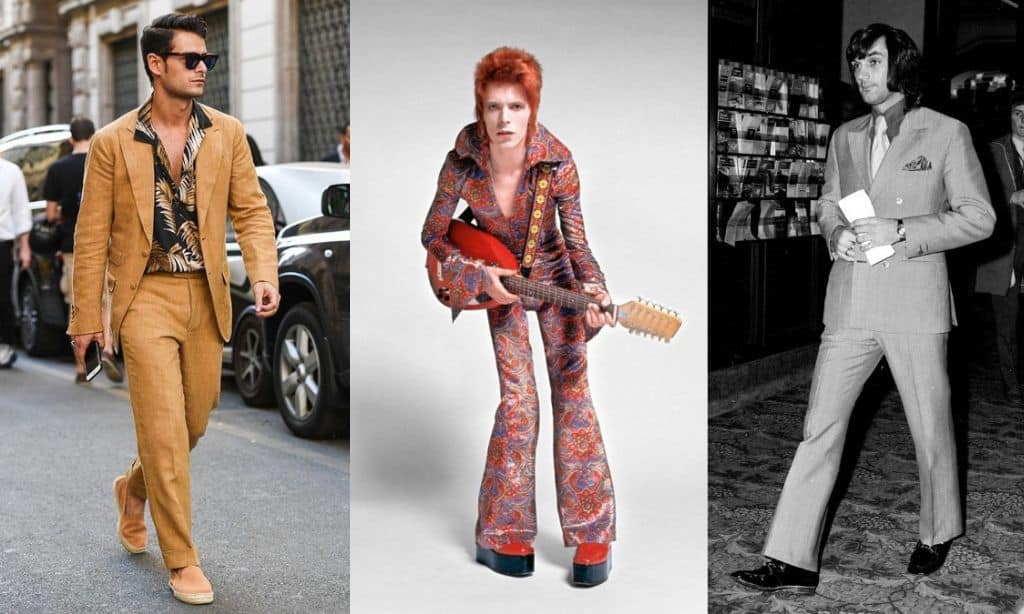 Mix vintage and contemporary items to incorporate 70s fashion into modern outfits for a unique and stylish look.
Styling Tips and Tricks
To achieve a modern, retro 70s look, consider the following styling tips and tricks:
Mix prints and bright colors for a vibrant and eye-catching outfit.

Pair looser, flared pants or jeans with tighter-fitting shirts or sweaters for a balanced silhouette.

Experiment with layering by combining different textures and fabrics like corduroy and velvet.

Add accessories such as wide belts, oversized sunglasses, or statement jewelry to enhance the 70s aesthetic.

Opt for vintage-inspired footwear like platform shoes or retro sneakers to complete your look.

Tuck in your shirts or tops to create a more polished appearance.

Embrace wide lapels on blazers and jackets for an authentic 70s vibe.

Add retro patterns like paisley, geometric prints, or floral designs to your outfits.

Consider wearing turtlenecks or roll necks as layering pieces in colder weather.

For a subtle nod to 70s fashion, choose pieces with subtle details like contrast stitching or bold buttons.
Mixing Vintage and Contemporary Pieces
Mixing vintage and contemporary pieces is a popular way to achieve the 70s look in modern fashion. Combining old and new elements allows you to create a unique and stylish outfit that pays homage to the retro era while still feeling current. Here are some tips for successfully mixing vintage and contemporary pieces:
Pair a vintage silk shirt with tailored jeans and modern sneakers for a casual yet sophisticated look.

Layer a knitted vest over a retro-inspired graphic tee and style it with modern slim-fit pants for a trendy twist.

Mix a suede jacket with a contemporary turtleneck and corduroy pants for a cool, textured outfit.

Accessorize your ensemble with retro-inspired items like aviator sunglasses, wide-brimmed hats, or chunky leather belts.

Combine bold knitwear from the 70s with modern minimalist pieces for a balanced, eye-catching outfit.
Accessorizing With Retro-Inspired Items
Add a touch of nostalgia to your 70s-inspired outfit by accessorizing with retro-inspired items. Here are some ideas to complete your vintage look:
Statement sunglasses: Choose oversized frames with tinted lenses for that classic 70s vibe.
Wide-brimmed hats: Opt for floppy hats or fedoras to add a bohemian touch to your ensemble.
Chunky belts: Cinch your waist with a wide, embellished belt to accentuate your silhouette.
Neck scarves: Tie a silk or patterned scarf around your neck for an instant pop of color and style.
Platform shoes: Elevate your look with platform heels or boots, adding height and retro flair.
Vintage watches: Sport a sleek timepiece with a leather strap or gold detailing for a refined touch.
Shoulder bags: Carry a small shoulder bag in bold colors or textured materials like suede or leather.
Retro jewelry: Don't forget to adorn yourself with statement pieces like chunky rings, hoop earrings, and layered necklaces.
70s Hairstyles and Grooming Trends
Get inspired by shaggy haircuts, mustaches and sideburns, and grooming products of the 70s to complete your authentic 70s look. Discover more about achieving the perfect retro hairstyle in our upcoming blog post.
Shaggy Haircuts
The shag haircut is a popular 70s hairstyle that has come back in recent years. It was often seen on celebrities and rock stars during the 70s and 80s, and it's still trending in 2023, especially during the summer season.
The great thing about the shag haircut is its versatility – it can be adapted to suit different hair textures and lengths. Whether you have long or short hair, curly or straight, the shag haircut can give you a stylish, choppy look.
It's also a low-maintenance option for those who prefer a more carefree hairstyle. So if you want to add retro charm to your look, try a shaggy haircut!
Mustaches and Sideburns
Mustaches and sideburns are set to return in 2023 as popular facial hair styles for men. Throughout history, mustaches have experienced cycles of popularity, and now they are gaining traction again.
Men embrace various mustache styles, such as walrus, handlebars, hipster, and porn staches. These unique styles allow individuals to express their personalities through grooming choices.
In addition to mustaches, sideburns are also making a notable comeback in 2023. The return of these facial hair trends is part of a larger movement towards embracing and celebrating diverse grooming styles for men.
Grooming Products and Techniques
Maintaining a 70s-inspired look goes beyond just clothing. Grooming plays a vital role in achieving an authentic vibe. Here are some grooming products and techniques to help you complete your 70s outfit:
Hair Products: Use styling products like mousse or gel to achieve the shaggy, messy look popular in the 70s.
Beard Care: If you're rocking a mustache or sideburn, invest in a good beard trimmer and oil to keep them neat and well-groomed.
Skincare: Take care of your skin with moisturizers and exfoliators to maintain a healthy, youthful complexion reminiscent of the 70s.
Key Elements of 70s Fashion
Vibrant colors, patterns, wide lapels, turtlenecks and roll necks, disco-inspired outfits, corduroy, and velvet fabrics.
Vibrant Colors and Patterns
The 70s were known for their vibrant colors and bold patterns in men's fashion. Popular hues included yellow, orange, blue, and pink, which added a lively touch to outfits. Pastel shades like baby blue, yellow, mauve, and peach were also in vogue.
These bright colors were not limited to adults' wardrobes but also appeared in children's clothing. Additionally, the 70s showcased eye-catching prints with geometric designs and bold graphics influenced by pop art and psychedelia.
Ruffles adorned many men's shirts of the era, sometimes featuring black lines between each ruffle for added visual interest.
Wide Lapels
Wide lapels were a prominent feature in men's fashion during the 1970s. They could be seen on blazers, suit jackets, and cardigans, adding a bold and groovy touch to outfits of that era.
Even in 2023, the wide lapel trend from the 70s remains relevant and can be incorporated into modern outfits for a stylish look. The wide lapel blazer was often paired with fitted dresses or tight t-shirts, creating a fashionable silhouette that embraced the decade's spirit.
Towards the end of the 1970s, double-breasted suits with wider shoulders, narrower legs, and lapels became popular.
Turtlenecks and Roll Necks
Turtlenecks and roll necks were trendy fashion choices for men in the 70s. Men confidently sported these tops with various outfits, from jeans to suave slacks. Turtlenecks can be worn smartly or casually, offering a range of styling options.
For a sleek look, fine-gauge roll-necks are perfect for tucking into trousers or wearing underneath a suit jacket. On the other hand, chunky and rugged turtlenecks were also popular during this era.
These versatile pieces added a layer of style and warmth to any outfit.
Disco-Inspired Outfits
Disco-inspired outfits were a major trend in 1970s fashion, known for their flashy and flamboyant style. Men embraced this disco fever with vibrant colors, glitter, and bold patterns.
Flared pants, with shiny fabrics that sparkled under the disco lights, were a staple. Crop tops and mini dresses also appeared on the dance floor, adorned with crystals for extra glamour.
Suits took on a more exaggerated look during this era, featuring wide lapels and eye-catching prints. To complete the disco look, men accessorized with large glasses, leather belts, fedoras or boaters, and watch fobs.
Corduroy and Velvet Fabrics
Corduroy and velvet fabrics were both popular choices in 1970s fashion. Corduroy, known for its soft and plush texture, was used for various clothing items such as jackets and pants.
It was often called the "poor man's velvet" due to its similar appearance at a lower cost. Velvet, on the other hand, was primarily used in formal menswear. The wide wale corduroy's chunky texture is favored for recreating the iconic '70s look.
Whether for a casual or formal outfit, these fabrics can add that authentic touch to your 70s-inspired ensemble.
Celebrities Influencing 70s Fashion Trends
Many celebrities of the era, such as David Bowie and Mick Jagger, embraced the bold and striking style of 70s fashion.
Icons of the Era
Celebrities played a significant role in shaping the 70s fashion trends. Here are some of the icons from that era:
Cher

Diana Ross

David Bowie

Farrah Fawcett

John Travolta

Mick Jagger

Elton John

Jane Birkin

Jimi Hendrix
Modern-Day Celebrities Embracing the 70s Style
Modern-day celebrities have embraced the 70s style in their fashion choices. They have brought back the excitement of formal menswear associated with the 70s. The following are some of the celebrities who have influenced the 70s fashion trends:
Harry Styles

Matt Healy

Tom Ogden

Alex Turner
Tips for Nailing the 70s Aesthetic
Research and gather inspiration to fully understand the elements of 70s fashion that resonate with you.
Researching and Gathering Inspiration
To nail the 70s aesthetic, it's important to research and gather inspiration. Look for iconic images, movies, or music from the era that capture the essence of 70s fashion.
Explore vintage fashion magazines or websites for ideas on recreating authentic looks. Keep an eye out for celebrities who embraced the 70s style back then and now. By immersing yourself in this era's fashion trends, you can build a versatile wardrobe that captures the unique spirit of the 70s.
Consider popular fabrics like corduroy and velvet staples of 70s fashion when delving into your research. Attention to details like vibrant colors and patterns, wide lapels, and turtlenecks.
Building a Versatile Wardrobe
To build a versatile wardrobe with a 70s aesthetic, focus on incorporating iconic pieces from the era into your modern look. Invest in flared trousers, suede jackets, and bold knitwear to capture the essence of 70s fashion.
Mix vintage finds with contemporary pieces for a unique and stylish outfit. Attention to details like vibrant colors and patterns, wide lapels, and turtlenecks. By carefully curating your wardrobe with these key elements in mind, you'll be able to create endless outfits that embody the spirit of the 70s while remaining relevant in 2023.
Paying Attention to Details
When recreating 70s outfits, it is crucial to pay attention to details. The fashion of this era had a unique focus on cut and silhouette, so getting the right fit for your clothing is essential.
Additionally, incorporating elements such as corduroy, suede, roll necks, flares, silk shirts, sportswear, retro sneakers, and knitted vests can help you achieve an authentic 70s look.
To nail the aesthetic of this decade, researching and gathering information about the specific style and fashion trends of the 1970s is advised. By focusing on these details and paying homage to the iconic fashion of the time period, you can effortlessly pull off a stylish menswear look with a nod to the past while still feeling contemporary.
The Evolution of 70s Fashion Trends
70s fashion trends have come back in recent years, and this section explores their influence on contemporary fashion and the revival of these iconic styles. Discover how the 70s aesthetic has evolved and how you can incorporate it into your wardrobe today.
Influence on Contemporary Fashion
The fashion trends from the 1970s continue to strongly influence contemporary fashion, especially when it comes to men's outfits. Modern designers often draw inspiration from the iconic decade, incorporating elements such as wide lapels, bold patterns, and retro-inspired accessories.
Many celebrities and fashion enthusiasts are embracing the 70s style as well, further fueling its popularity. From dramatic flares to plunging halters, key elements of 70s fashion are still wardrobe-relevant today.
Whether it's a groovy disco-inspired ensemble or a more subtle incorporation of vintage pieces, the influence of 70s fashion can be seen in both men's and women's clothing lines.
Revival of 70s Trends in Recent Years
Fashion trends from the 70s have made a strong comeback in recent years. The iconic styles of this era, such as flared pants and bold patterns, have once again become popular among fashion enthusiasts.
Designers and brands are embracing the 70s aesthetic, showcasing clothing inspired by this decade on runways and in stores. This revival has brought back the nostalgia of the 70s while adding a modern twist to these retro looks.
Whether it's wide lapels or vibrant colors, elements of 70s fashion are now seen everywhere, proving that this era continues to influence contemporary style.
Also Read: The Best Perfume Brands for Men in the World
Frequently Asked Questions (FAQs)
If you have queries on the mens 70s outfits, you can check below for the answers.
1. What are some popular 70s fashion trends for men in 2023?
Some popular 70s fashion trends for men in 2023 include flared pants, wide collars, retro graphic t-shirts, platform shoes, and denim jackets.
2. Where can I find authentic vintage 70s clothing for men?
You can find authentic vintage 70s clothing for men at thrift stores, online vintage retailers, or through specialized vintage dealers. You may also consider visiting local flea markets or vintage clothing fairs.
3. Are there modern updates to the classic men's 70s outfits?
There have been modern updates to the classic men's 70s outfits. For example, designers have incorporated contemporary fabrics and fit into these retro styles to create a more updated look while still paying homage to the iconic fashion of that era.
4. How can I incorporate elements of men's 70s outfits into my everyday wardrobe?
Add small accessories like aviator sunglasses or a wide-brimmed hat to incorporate elements of men's 70s outfits into your everyday wardrobe. Additionally, try incorporating retro-inspired pieces like patterned shirts or high-waisted trousers paired with modern items such as sneakers or a leather jacket to achieve a stylish fusion of past and present fashion trends.
Subscribe to Our Latest Newsletter
To Read Our Exclusive Content, Sign up Now.
$5/Monthly, $50/Yearly