Is Threads Threat for Elon Musk?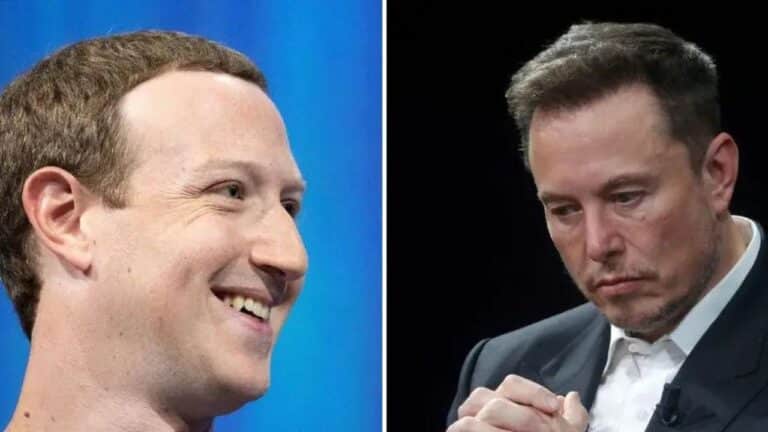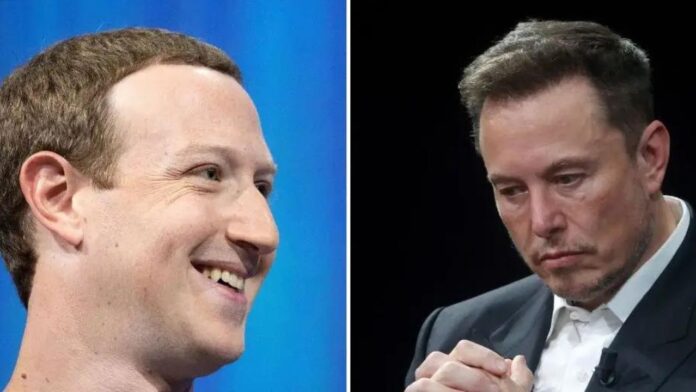 Listen to the Podcast:
Threads, a social media program that competes with Twitter, is a game changer.
Meta, which also owns Facebook and Instagram, unveiled the new platform ahead of schedule yesterday. Threads was hailed almost instantly, particularly by throngs of Twitter fans who have watched in dismay as their favorite site crumbles in Elon Musk's hands.
Threads garnered 30 million users in less than 24 hours. Threads' user base will develop quickly, given that Meta already has over two billion Instagram users who can immediately link their profiles to it.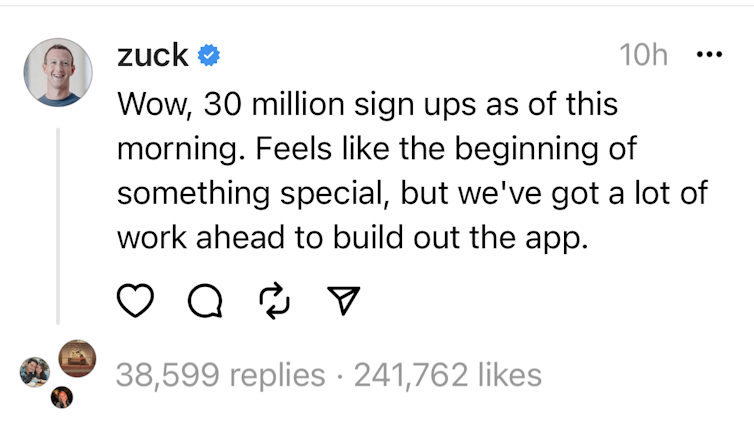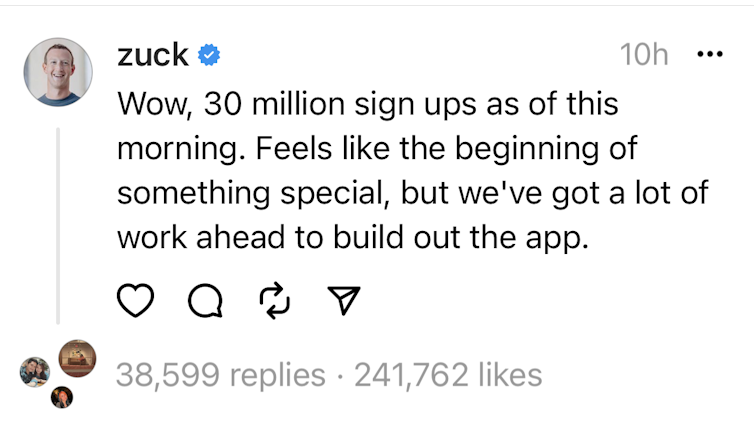 Mark Zuckerberg celebrated Threads' 30 million new users with a post.
The parallels between Threads and Twitter are clear, with their simple black and white feeds and features that allow you to react, adore, quote, and comment on other people's "threads".
We've been here before
Twitter users watched helplessly as Elon Musk was appointed CEO in October of last year. The first "escape plan" was Mastodon. Many users, however, found its decentralized servers to be difficult and complicated to use, with each having drastically distinct content policies and communities.
Many Twitter users set up "back up" Mastodon accounts in case Twitter went down, and they waited to see what Musk would do next. The wait was brief. As Musk began cutting off Twitter employees (he has now fired over 80% of Twitter's original workers), platform instability and outages became regular.
Soon after, Musk shocked users and created news by upending Twitter's verification system and charging "blue tick" holders for the right of authenticating. This enabled account impersonation and the widespread dissemination of false information. Some major corporate brands abandoned the network, taking their ad dollars with them.
Musk has referred to trusted news organizations like the BBC as "state-owned" media, until public outrage forced him to back down. Recently, he began limiting the number of tweets that consumers could access and stated that TweetDeck (a management tool for scheduling tweets) would be restricted to paying subscribers.
Twitter users have experimented with a variety of alternatives, including Spoutible and Post. Bluesky, founded by Twitter co-founder Jack Dorsey, is gaining traction, although its expansion has been hampered by its invitation-only signup process.
Nothing had really captivated the attention of Twitter users… until now.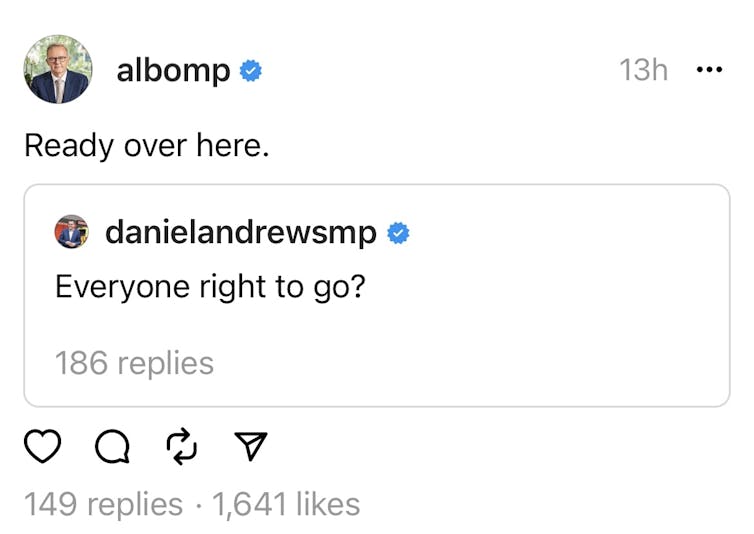 Prime Minister Anthony Albanese, Oprah Winfrey, the Dalai Lama, Shakira, Gordon Ramsay, and Ellen DeGeneres are among those who have joined Threads.
Community is the key to success
Twitter was a huge success before Musk took over. It had long served as a forum for journalists, politicians, scholars, and the general public to discuss current events. Twitter provided real-time assistance in times of crisis. Users have shared information and taken life-saving decisions during some of the greatest calamities.
While not without issues, such as trolls, bots, and online abuse, Twitter's verification procedure and ability to ban and report improper information were critical to the company's success in creating a flourishing community.
This is also what distinguishes Threads from its competitors. By connecting Threads to Instagram, Meta has given itself a huge advantage in obtaining the critical mass of people required to establish itself as a prominent platform (a benefit that Mastodon did not have).
Threads users can not only keep their identities, but they can also keep their Instagram followers. Threads' ability to retain community in an app that gives a similar experience to Twitter makes it the most serious threat yet.
According to my research, when it comes to online knowledge, individuals crave authority, authenticity, and community the most. My co-authors Donald O. Case, Rebekah Willson, and I explain how consumers look for information from sources they know and trust in our new book.
Fans of Twitter want an alternative network with similar capabilities, but most crucially, they want to discover "their people" immediately. They do not wish to reconstruct their communities. This is probably why so many people have stuck with Twitter despite Musk's efforts to run it into the ground.
Challenges ahead
Twitter users may be apprehensive about jumping from the frying pan into the fire as well. Signing up for yet another Meta app raises its own set of issues.
Readers of the fine print on New Threads will notice that their information will be used to "personalize ads and other experiences" across both sites. Users have also pointed out that you can deactivate your Threads account only if you also remove your Instagram account.
This type of entrenchment may be repulsive to some.
Furthermore, due to regulatory issues, Meta decided yesterday not to debut Threads anyplace in the European Union. Threads may face significant hurdles as a result of the EU's new Digital Markets Act.
The act, for example, states that organizations cannot "track end users outside of [their] core platform service for the purpose of targeted advertising, unless effective consent has been granted." This may be in violation of Threads' privacy policies.
Meta has also revealed plans to transition Threads to a decentralized architecture in the future. "Future versions of Threads will work with the fediverse," according to the app's "How Threads Works" section, allowing "people to follow and interact with each other on different platforms, including Mastodon."
This implies that users with non-Meta accounts will be able to access and interact with Threads content without having to sign up for Threads. Threads may then function in the same way as WordPress, Mastodon, and email servers do, using the ActivityPub standard (which facilitates decentralized interoperability between platforms).
It's unclear when and how Threads will implement its decentralized engagement strategy, and how this will affect users' experiences.
Did Meta steal 'trade secrets'?
Musk, on the other hand, is not going down without a fight. Twitter's lawyer, Alex Spiro, issued a letter accusing Meta of "systematic" and "unlawful misappropriation" of trade secrets just hours after Threads was posted.
According to the letter, former Twitter employees employed by Meta were "deliberately assigned" to "develop Meta's copycat 'Threads' app in a matter of months." According to sources, Meta has denied these assertions, but the competition between the two corporations appears to be far from done.

(Author:Lisa M. Given, Professor of Information Sciences & Director, Social Change Enabling Impact Platform, RMIT University)
(Disclosure Statement: Lisa M. Given is a Fellow of the Academy of the Social Sciences in Australia. She receives funding from the Australian Research Council and the Social Sciences and Humanities Research Council of Canada)
Subscribe to Our Latest Newsletter
To Read Our Exclusive Content, Sign up Now.
$5/Monthly, $50/Yearly