iPhone 15 vs iPhone 15 Pro: Is the Pro Version Rocking [In-Depth Analysis]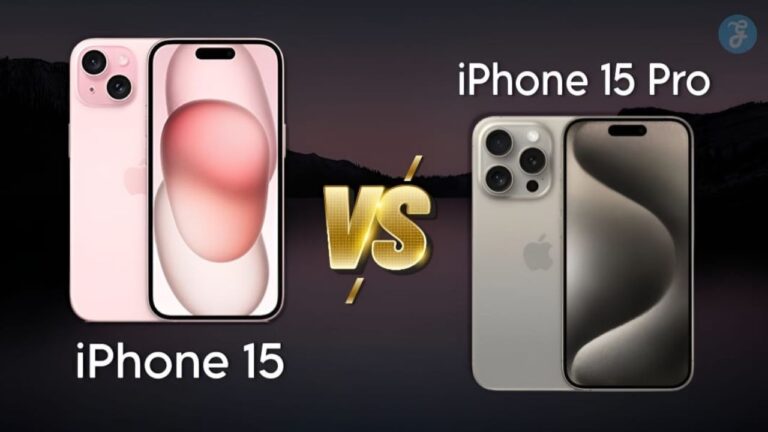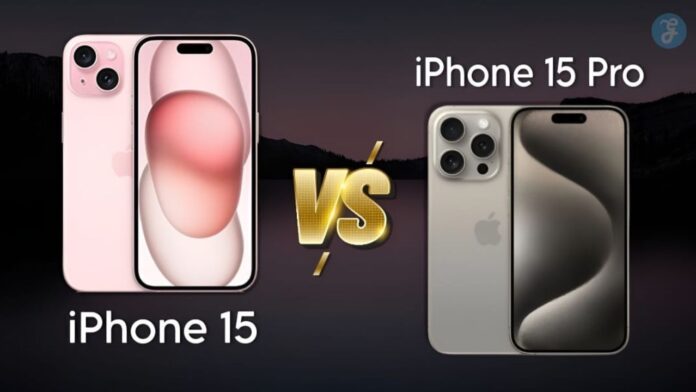 With the new iPhone 15 and Pro models set to be released soon, there is so much excitement in the air. This year's iPhones are rumored to have some significant improvements over their predecessors. However, it can be hard to understand what sets these two models apart. If you are looking for the iPhone 15 vs iPhone 15 Pro difference, this article will help you make an informed decision by outlining all of the key differences!
Here we'll cover specs like design and display size, performance features, camera capabilities, as well as audio quality and battery life – with comprehensive charts for easier comparison.
Additionally, you will get all the pricing details from both models before deciding on which one will best suit your needs! So let's dive in and explore why choosing between the iPhone 15 or its Pro version really matters.
iPhone 15 vs iPhone 15 Pro: The Features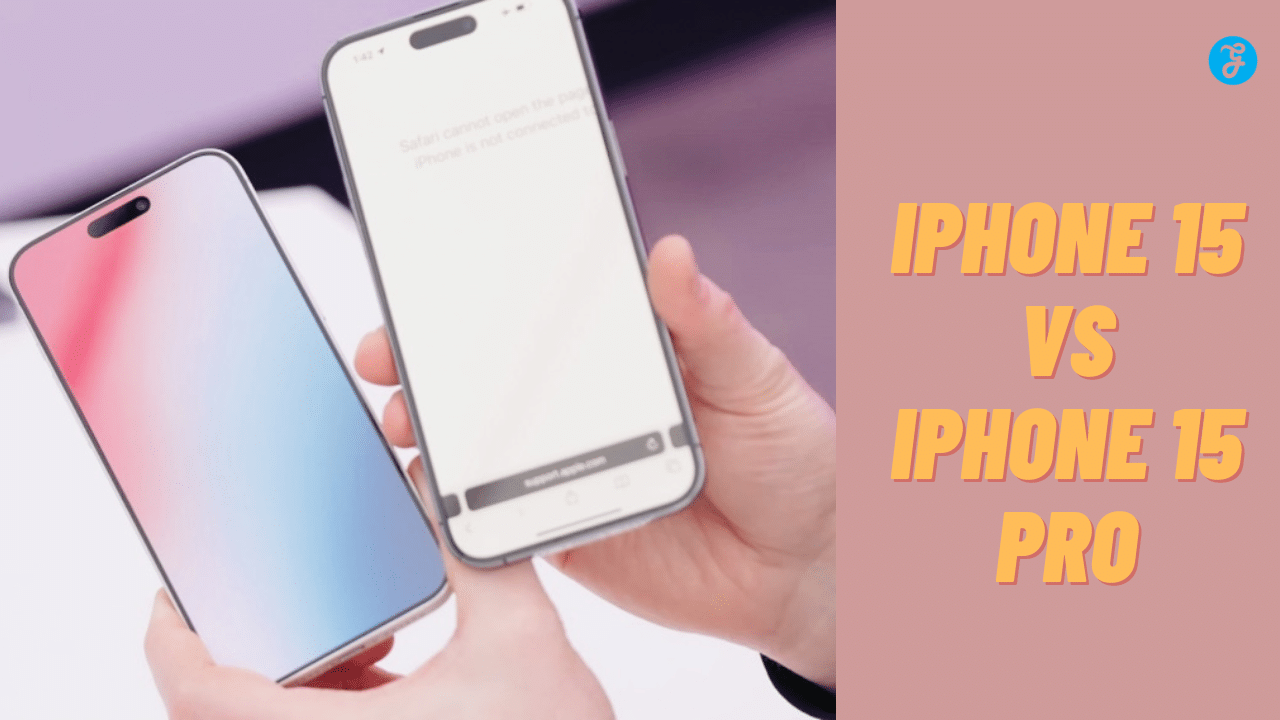 | | | |
| --- | --- | --- |
| Feature | iPhone 15 | iPhone 15 Pro |
| Display | 6.1″ Super Retina XDR OLED display | 6.1″ Super Retina XDR OLED display |
| ProMotion technology | Yes | Yes |
| Always-On display | No | Yes |
| Dynamic Island | A magical way to interact with the iPhone | A magical way to interact with the iPhone |
| CPU | 6-core CPU with 2 performance and 4 efficiency cores | 6-core CPU with 2 performance and 4 efficiency cores |
| | | |
| Neural Engine | 16-core Neural Engine | 16-core Neural Engine |
| Emergency SOS | Yes | Yes |
| Crash Detection | Yes | Yes |
| 5G Connectivity | Super-fast 5G connectivity | Super-fast 5G connectivity |
| Face ID | Enabled by TrueDepth front camera | Enabled by TrueDepth front camera |
| Water Resistance | Rated IP68 (maximum depth of 6 meters up to 30 minutes) | Rated IP68 (maximum depth of 6 meters up to 30 minutes) |
| MagSafe Compatibility | Compatible with MagSafe cases, wallets, wireless chargers, and more | Compatible with MagSafe cases, wallets, wireless chargers, and more |
Table: Comparison between the features of iPhone 15 and iPhone 15 Pro
When faced with the enticing prospect of choosing a new iPhone, Apple enthusiasts are presented with a delightful dilemma. The iPhone 15 Plus and iPhone 15 Pro stand as two formidable contenders, each offering a remarkable array of features and capabilities. In this thorough comparison, we aim to dissect both the shared and distinct characteristics of these powerful smartphones, empowering you to make an informed and confident decision.
1. Display Excellence: Super Retina XDR OLED
Both the iPhone 15 and iPhone 15 Pro boast a dazzling 6.1″ Super Retina XDR OLED display. This shared feature promises a visual treat characterized by vibrant colors, deep blacks, and outstanding contrast. Whether you find yourself engrossed in video content, perusing your photo gallery, or navigating your favorite apps, these displays consistently deliver a top-tier visual experience.
2. ProMotion Technology: Elevating Display Performance
ProMotion technology is yet another common thread that binds these two devices. With adaptive refresh rates capable of reaching up to 120Hz, users are treated to a level of smoothness and responsiveness that elevates the overall user experience. This feature ensures that interactions with your iPhone, from scrolling to app transitions, feel fluid and utterly delightful.
3. Always-On Display: Convenience at a Glance
Both the iPhone 15 and iPhone 15 Pro offer the convenience of an Always-On display. This shared attribute allows you to swiftly check the time, review notifications, and access other critical information without fully waking your device. It's a thoughtful addition that contributes to the user-friendly nature of these iPhones.
4. Dynamic Island: Interactivity at Its Best
Dynamic Island represents a unique feature that unites both models. This feature introduces a novel and engaging way to interact with your iPhone, offering shortcuts, widgets, and dynamic controls right at your fingertips. This innovative approach to user interface design simplifies tasks and streamlines your daily iPhone experience, enhancing efficiency and convenience.
5. Powerful Processing: A Core Comparison
Under the hood, both the iPhone 15 and iPhone 15 Pro rely on a robust 6-core CPU architecture featuring 2 performance cores and 4 efficiency cores. This shared processing capability ensures that multitasking remains smooth and the execution of demanding tasks is swift. Whether you're immersed in gaming, photo editing, or utilizing productivity apps, these devices consistently deliver high performance.
6. Neural Engine: Fueling AI and Machine Learning
The presence of a 16-core Neural Engine is another attribute common to both the iPhone 15 and iPhone 15 Pro. This neural engine serves as a catalyst for AI and machine learning tasks, substantially enhancing performance in areas such as photography, augmented reality applications, and the recognition capabilities of Siri. This shared feature contributes to a more intelligent and responsive iPhone experience.
7. Safety and Assistance: Emergency SOS and Crash Detection
Safety remains paramount, and both the iPhone 15 Plus and iPhone 15 Pro offer essential features designed to safeguard users. The inclusion of Emergency SOS and Crash Detection functions provides peace of mind, offering immediate assistance in emergencies and enhancing safety while on the road.
8. 5G Connectivity: Super-Fast Speeds
As we enter the era of 5G technology, both the iPhone 15 Plus and iPhone 15 Pro are equipped with super-fast 5G connectivity. This shared capability ensures that you can fully leverage the incredible speeds offered by 5G networks, whether you're streaming high-definition content, downloading large files, or immersing yourself in online gaming adventures.
9. Face ID: Secure Facial Recognition
Security is uncompromised on both devices thanks to Face ID, a feature enabled by the TrueDepth front camera. Face ID offers a secure and convenient means of unlocking your phone, authenticating payments, and protecting your personal data, ensuring that your privacy remains intact.
10. Water Resistance: IP68 Rating
Both models carry an IP68 rating, guaranteeing water resistance to a depth of 6 meters for up to 30 minutes. This shared feature serves as a protective shield, safeguarding your iPhone against accidental water exposure and thereby enhancing its durability and longevity.
11. MagSafe Compatibility: Convenience and Versatility
MagSafe compatibility represents another feature that enhances the user experience on both the iPhone 15 Plus and iPhone 15 Pro. With this capability, you can explore a myriad of MagSafe cases, wallets, wireless chargers, and other accessories that personalize and expand the capabilities of your iPhone, allowing you to tailor your device to your unique preferences.
Differentiating Features: iPhone 15 vs. iPhone 15 Pro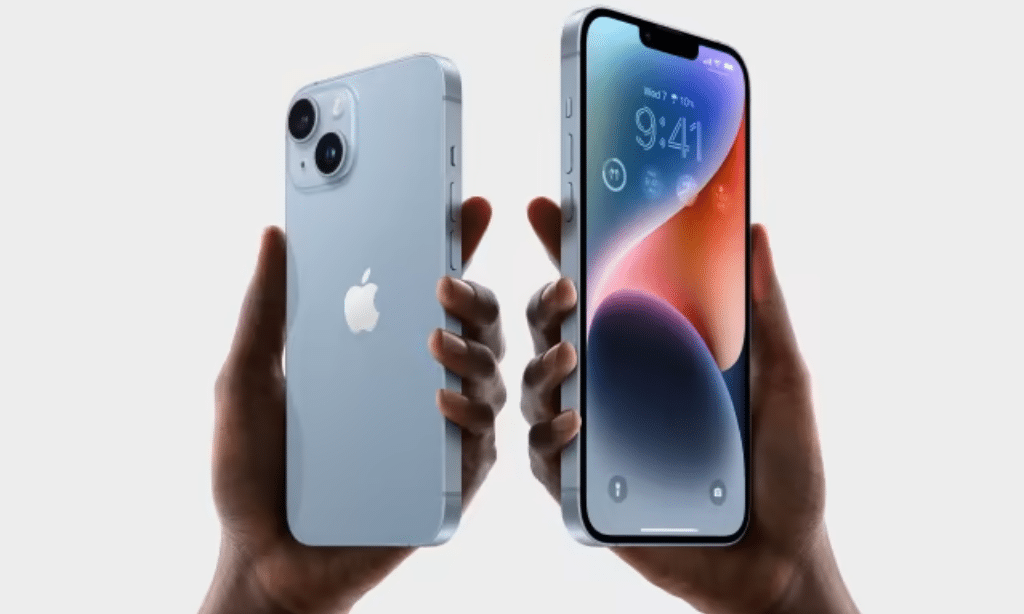 | Feature | iPhone 15 | iPhone 15 Pro |
| --- | --- | --- |
| Weight | 171 grams | 187 grams |
| Max Brightness (typical) | 1,000 nits | 1,000 nits (HDR display) |
| Build Material | Aluminum with color-infused glass back | Aerospace-grade titanium with textured matte glass back |
| Chip | A16 Bionic chip | A17 Pro chip |
| GPU | 5-core GPU | 6-core GPU |
| Video Playback (local) | Up to 20 hours | Up to 23 hours |
| HDR Display | No | HDR display |
| Audio Playback | Up to 80 hours | Up to 75 hours |
| Camera System | Advanced dual-camera system (48MP Main and 12MP Ultra Wide) | Pro camera system (48MP Main, 12MP Ultra Wide, and 12MP Telephoto) |
| Optical Zoom Options | 0.5x, 1x, 2x optical zoom options | 0.5x, 1x, 2x, 3x optical zoom options |
Table: iPhone 15 vs iPhone 15 Pro
The world of smartphones is abuzz with excitement as Apple introduces its latest offerings, the iPhone 15 and iPhone 15 Pro. These two models bring a host of innovative features and improvements, but they also have their unique distinctions. In this article, we'll delve into the key differences that set the iPhone 15 and iPhone 15 Pro apart, helping you make an informed choice that aligns with your preferences and requirements.
1. Weight: A Matter of Heft
The weight of a smartphone can significantly impact your daily experience. The iPhone 15, at 171 grams, is notably lighter than its Pro counterpart, which tips the scales at 187 grams. This slight difference may influence your comfort and convenience when handling the device over extended periods.
2. Optical Zoom Options: Getting Closer
Zoom capabilities can be pivotal for capturing details and achieving unique shots. The iPhone 15 offers optical zoom options of 0.5x, 1x, and 2x, providing a solid range for most photography needs. However, the iPhone 15 Pro takes optical zoom to the next level by offering options of 0.5x, 1x, 2x, and an impressive 3x optical zoom. This added zoom range caters to users who desire greater flexibility in their photography, whether for close-ups or distant subjects.
3. Build Material: Beauty and Durability
The materials used in the construction of a smartphone can significantly impact its aesthetics and durability. The iPhone 15 sports an aluminum frame paired with a color-infused glass back, delivering a sleek and stylish look. In contrast, the iPhone 15 Pro takes it a step further by incorporating aerospace-grade titanium for its frame and textured matte glass for the back. This premium build not only exudes sophistication but also enhances durability, making the Pro variant an attractive option for those who seek both style and ruggedness.
4. Chip and GPU: Performance Matters
The heart of any smartphone lies in its processing capabilities. The iPhone 15 is equipped with the A16 Bionic chip and a 5-core GPU, ensuring smooth performance for a wide range of tasks. However, the iPhone 15 Pro steps up the game with the A17 Pro chip, accompanied by a 6-core GPU. This upgrade translates to enhanced processing power and graphics performance, making the Pro model an ideal choice for users who demand top-notch speed and responsiveness.
5. Video and Audio Playback: Longer Entertainment Hours
For entertainment enthusiasts, the iPhone 15 Pro offers a slight advantage. It provides up to 23 hours of local video playback, while the iPhone 15 offers up to 20 hours—a difference that could be appreciated during long journeys or binge-watching sessions. However, when it comes to audio playback, the iPhone 15 takes the lead, offering up to 80 hours of continuous music playback compared to the Pro's 75 hours. This divergence in playback times caters to different entertainment preferences.
6. Camera System: A Pro-Level Upgrade
Photography enthusiasts will find a compelling reason to opt for the iPhone 15 Pro. While both models feature advanced dual-camera systems, the Pro model takes it a step further with its Pro camera system. This system includes a 48MP Main camera, a 12MP ultra-wide camera, and a 12MP Telephoto camera. The iPhone 15, in contrast, features a 48MP Main camera and a 12MP ultra-wide camera. The Pro model's additional Telephoto lens opens up a world of creative possibilities, including improved zoom capabilities and enhanced photography versatility.
Performance and Software Features
The iPhone 15 and 15 Pro feature different processors, RAM configurations, operating system versions, and select software features that significantly impact their performance.
Processor and RAM Differences
The iPhone 15 and iPhone 15 Pro significantly differ in terms of their processor and RAM specifications, a factor that significantly affects the performance and capabilities of the devices. Below is a detailed comparison of these critical features.
| Feature | iPhone 15 | iPhone 15 Pro |
| --- | --- | --- |
| Processor | A16 Bionic | A17 Bionic |
| RAM | 6GB | 8GB |
From the table, it's evident that the iPhone 15 Pro is equipped with an advanced A17 Bionic processor and higher RAM capacity, ultimately offering a remarkable improvement in speed, multitasking, and overall performance. On the other hand, the iPhone 15 houses the A16 Bionic processor and 6GB RAM, providing decent performance, though not on par with the Pro model. Therefore, if you prioritize high performance, the iPhone 15 Pro could be the better option for you.
Operating System Version
The operating system version is one of the most important factors to consider when deciding between an iPhone 15 and an iPhone 15 Pro. iOS17, the latest version of Apple's popular mobile operating system, is available on both models.
This brings with it powerful new features that enhance connectivity and performance for all users. While many of these major updates apply equally to both devices, some exclusive features are also available on the newer model – like secure Folder Sharing and Multi-Window capabilities on iPad.
Furthermore, software versions impact compatibility with other applications, including streaming services like Netflix or even AR/VR apps which may require certain hardware components in addition to a minimum OS requirement.
Additional Software Features
iOS 15 brings new ways to stay connected and powerful features that help users focus and explore – this includes new notification options, an improved home screen, the ability to add widgets for quick access to data, app integrations with Siri, and a 'Focus' mode that allows users to customize which apps will receive notifications.
Audio Quality and Haptics
Both models feature excellent audio and dynamic haptic feedback technology to make for a more immersive sound experience.
Sound Quality and Speaker Setup
The iPhone 15 and the iPhone 15 Pro both offer enhanced audio performance. Apple has achieved equal sound quality in both phones with a main, bottom-firing speaker and a helper speaker housed in the earpiece cutout.
They also support Spatial Audio for immersive surround sound playback and Dolby Atmos for a theater-like experience when listening to movies or music. The major difference between them lies in their speaker systems: the iPhone 15 Pro sports two powerful speakers, while the standard version comes equipped with just one dynamic driver.
Additionally, haptic feedback has been significantly improved over its predecessor models on both phones, offering users precise tactile responses as they use their devices.
Haptic feedback technology
Haptic feedback technology allows users to interact with their devices in an intuitive and responsive manner. This advanced capability is featured on iPhone 15 Pro and 14 Pro models, enabling buttons or taps to be felt through slight vibrations.
It resists accidental presses and creates a premium user experience by providing a tactile response when interacting with the device. Apple custom-developed its haptic engine using specialized linear resonant actuators to drive precise vibration patterns that are tailored for each action.
With this technology, even virtual buttons can now provide tactile feedback for heightened accuracy and immersion while navigating the device's user interface. In addition, Apple also implemented the buttonless design in both iPhone 15 Pro models, which allows users to simply press anywhere on the surface of their iPhones instead of depending on physical controls such as volume up/down buttons or power switches, thus further complementing the usage of haptic capabilities on these phones.
iPhone 15 vs iPhone 15 Pro: Pros and Cons
The new iPhone 15 is a big upgrade over last year's model, with a faster processor, better cameras, a new Dynamic Island cutout, and a beautiful new finish that comes in a variety of great colors.
iPhone 15 Pros
Great design
Dynamic Island
Processor and camera upgrades
iPhone 15 Cons
There is no Always-On Display
No telephoto lens
The iPhone 15 Pro has a lot of new features, including a new Action button, extra camera features, a faster processor, and a more durable titanium build.
Pros of iPhone 15 Pro
Light weight and more durable design
Camera feature upgraded than iPhone 15
Action Button is exciting
Cons of iPhone 15 Pro
Pro Max has more features than the Pro version 
A bit expensive
Pricing and Availability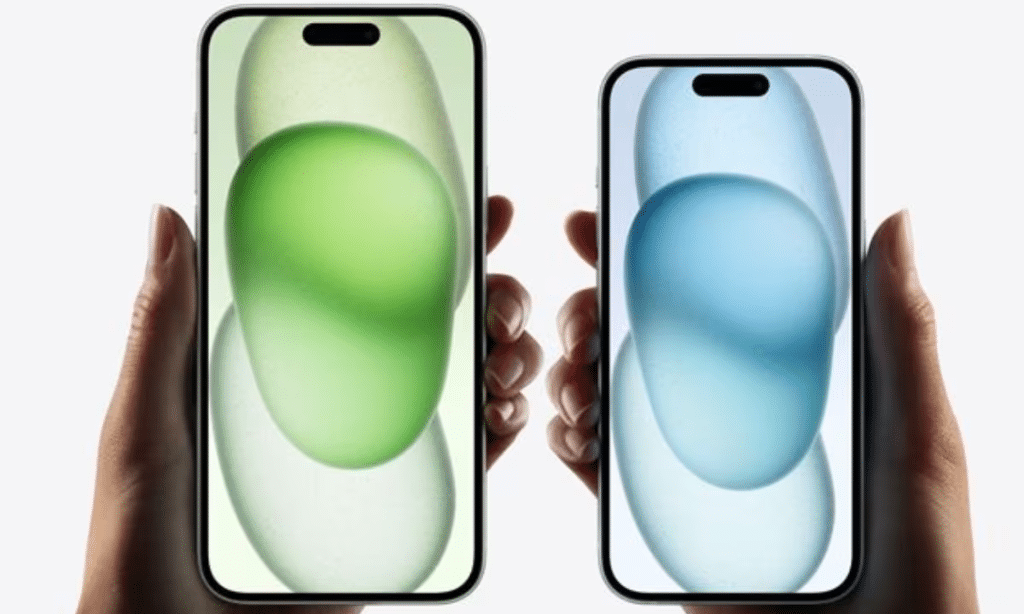 Apple enthusiasts and tech aficionados eagerly marked their calendars for September 12, 2023, as it was the day the tech giant unveiled its latest marvels, the iPhone 15 and iPhone 15 Pro. With a legacy of innovation, Apple did not disappoint, showcasing these new smartphones that set the bar even higher in the world of mobile technology.
Both devices offered an impressive array of features, from cutting-edge performance to advanced camera systems, giving users a glimpse into the future of smartphone technology. The September 12 release date marked the beginning of a new era in mobile communication and digital experiences, as Apple once again redefined what's possible with its iconic iPhones.
iPhone 15 Storage Options
The iPhone 15 comes in three storage configurations, allowing users to select the one that aligns with their digital lifestyle and content needs:
128GB – Starting at $799: This option is ideal for those who have a moderate collection of apps, photos, and videos. It provides ample space for everyday usage, making it a budget-friendly choice without compromising on performance.

256GB – Starting at $899: If you require more storage for a growing library of multimedia content, the 256GB variant offers a generous capacity. It's well-suited for users who frequently capture high-resolution photos and videos or download a multitude of apps and games.

512GB – Starting at $1099: For power users and content creators who demand substantial storage for their media, projects, and files, the 512GB option is the top-tier choice. With this capacious storage, you can confidently explore various creative endeavors without worrying about running out of space.
iPhone 15 Pro Storage Options
The iPhone 15 Pro takes the storage game a step further, offering not only the previous options but also an extraordinary 1TB configuration:
128GB – Starting at $999: The base model of the iPhone 15 Pro provides a compelling balance of performance and storage, catering to users who want top-tier features without venturing into the highest price range.

256GB – Starting at $1099: This variant offers an enhanced storage capacity for users who demand ample space for their multimedia, productivity, and creative needs. It's a versatile choice for professionals and enthusiasts alike.

512GB – Starting at $1299: For users who desire extensive storage and require a smartphone that can handle data-intensive tasks with ease, the 512GB option provides a capacious solution.

1TB – Starting at $1499: The 1TB variant is the pinnacle of storage capacity in the iPhone 15 Pro lineup. It's tailor-made for individuals who work with large files, engage in high-resolution content creation, and prioritize having virtually unlimited space at their disposal.
Read Also: iPhone 15 Pro Max Review.
Frequently Asked Questions (FAQs)
Now let's learn about some common queries on this topic.
1. What are the differences between the iPhone 15 and iPhone 15 Pro?
The main differences between the iPhone 15 and iPhone 15 Pro are their displays, cameras, batteries, processors, and storage options.
2. Is one phone more powerful than another?
Yes, the iPhone 15 Pro is generally more powerful in terms of processor power and battery life compared to the standard model.
3. Are there any design differences between these two phones?
The iPhones differ slightly in size but overall have a similar design with a glass body that curves along its edges into an aluminum frame for extra durability. Additionally, both models have water resistance capabilities up to four meters deep for 30 minutes.
Subscribe to Our Latest Newsletter
To Read Our Exclusive Content, Sign up Now.
$5/Monthly, $50/Yearly