How Are Domed Building Shelters Made?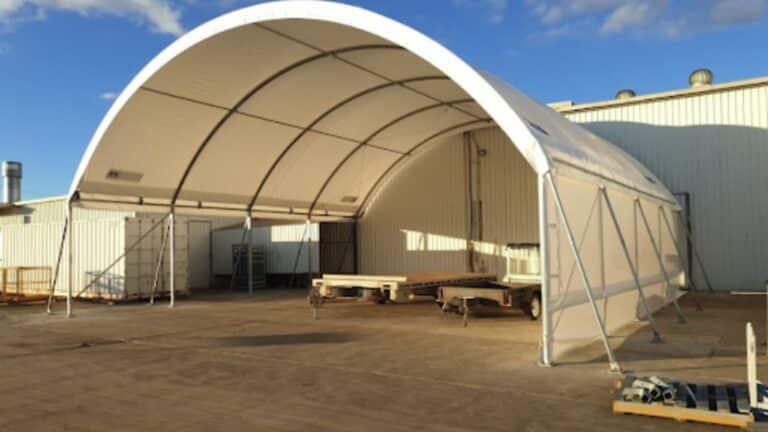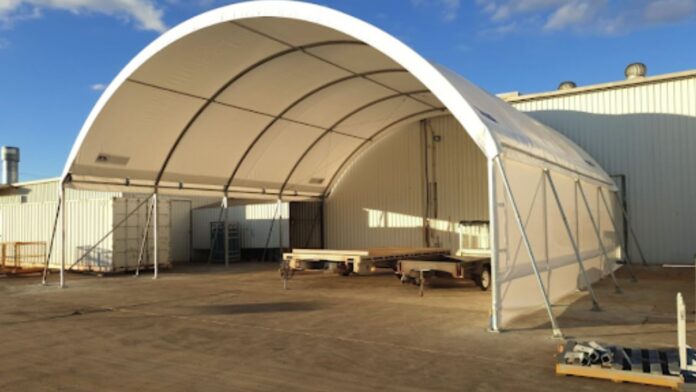 Dome Shelters have become increasingly popular over the past 20 years, with varying industries using them for various versatile uses. With a curved profile, these structures provide a clear-span sheltered area, allowing maximum space usage.
The Manufacturing of Domed Building Shelters
Fully engineered fabric dome shelters offer a quality shelter solution, providing an area where people and assets can be protected from the elements. The manufacturing and construction methods of fabric shelters can impact the quality of the final product, which is why it is essential to consider how much quality means to you before making any decisions.
Quality fabric dome shelters such as Allshelter's fabric domes are generally manufactured using high-grade steel and fixtures with a polyethylene (PE) fabric cover.
The Construction Process
The flexible nature of domed buildings provides the ability for DIY installation. Whilst fabric shelters allow for easy installation and dismantling, it is highly recommended to follow the correct process when constructing your dome shelter. Depending on your dome shelter's size and mounting option, the process can vary slightly. General construction processes are as follows:
Site Preparation: The area should be cleared of any hazards or obstacles that could hinder the installation of your dome shelter.
Foundation Preparation: The foundations can vary depending on site requirements and the size of the shelter. Whatever your foundation needs are, mainly if it is a concrete slab or piers, it is essential that you have prepared them correctly before the installation of the actual shelter begins.
Placement of the Mounting Option: Whether it's container-mounted or post-mounted, the mounting solutions should be placed and secured before the frame assembly starts.
Frame Assembly: The dome shelter manufacturer's installation instructions should be followed in this step to ensure the frames are assembled correctly. The arcs should be built on the ground, lifted into place, and secured. Once the frames are in place, a frame guard should be applied to any area that could cause damage to the cover.
Fabric Cover Installation: The cover must be unrolled on a clean surface before attaching ropes. Then carefully pull the cover over the frames using the ropes. The cover then needs to be secured to the frames and tensioned tightly.
Once installed, the dome shelter should be inspected to ensure the installation was performed correctly. Poorly tensioned fabric shelters impact the longevity of the shelter and create the risk of damage and failure.
Uses of Dome-Shaped Shelters
With a diverse range of types and sizes, combined with accessory add-ons, dome shelters are used across all industries, particularly by companies in the aviation, construction, industrial, mining and waste management sectors. From aircraft hangars to workshops to storage facilities, fabric shelters offer a practical, cost-effective and flexible shelter solution. Engineered to be permanent and designed to be relocatable, there are some common uses for fabric shelters across many industries; these include:
Storage Facilities: Dome Shelters offer excellent protection to equipment and machinery, particularly container-mounted shelters, where the shipping containers can also provide secure storage for tools and goods.

Workshops: Many sites need temporary workshops, such as fabrication and maintenance facilities. Fabric Shelters provide an area that is sheltered from the elements, allowing staff to work in a comfortable environment and not have to worry about what the weather is doing.

Assembly Areas: Worksites, particularly those within the construction and mining industries, sometimes have indoor facilities nearby so that fabric shelters can be used as assembly areas, for briefings, emergency points or even lunch areas.
Companies can ensure that their people and assets are protected from the elements by utilising fabric shelters. By creating areas where staff can work more efficiently, and equipment can be stored safely, productivity levels will increase, with less downtime caused by unexpected weather, machinery faults and illnesses.
The Benefit of Quality Fabric Shelters
Whilst cheap, imported fabric shelters may seem precisely like Australian-made shelters; they are not. They are often made from inferior-quality materials and components, which can be prone to failure and damage. Quality products, such as those made by Allshelter, are designed and engineered to the latest Australian Standards. Constructed from high-grade steel, the curved profile of the dome-shaped shelter has incredible strength and intrinsic ability to resist pressure from external forces. The steel framing and tensioned High-Density Polyethylene (HDPE) fabric protect against the elements.
Like ordinary buildings, fabric shelters must adhere to strict guidelines, including wind and snow loads. Quality dome shelters are designed to withstand these conditions, including those that need to resist the destructive winds of cyclones.
Why Australian-Made Dome Shelters?
Not only do Australian-made shelters offer superior strength, but companies can also have peace of mind that their shelters will withstand the harsh conditions of the Australian environment. Some reasons to consider when purchasing a fabric shelter are:
Quality and Durability: How long do you want your shelter to last? Shelters made from quality materials that adhere to strict manufacturing and engineering guidelines will be able to withstand more weather conditions and more rough activity.

Compliance With Australian Standards: Australian standards are designed to ensure that all buildings and structures can cope with the conditions of the Australian climate. Shelters that are made to Australian standards will be more structurally integral.

Customised Solutions: Quality dome shelters can be customised to suit individual site needs. Whether a company needs to enclose their shelter or extend an existing shelter, they can be confident they will receive what they purchase.
Domed buildings offer a versatile shelter solution for many companies. With an enormous scope of customer needs, quality products can be designed for their specific needs while still holding that engineering integrity.
Subscribe to Our Latest Newsletter
To Read Our Exclusive Content, Sign up Now.
$5/Monthly, $50/Yearly