How Amrabat Brings Energy, Versatility to Man United Midfield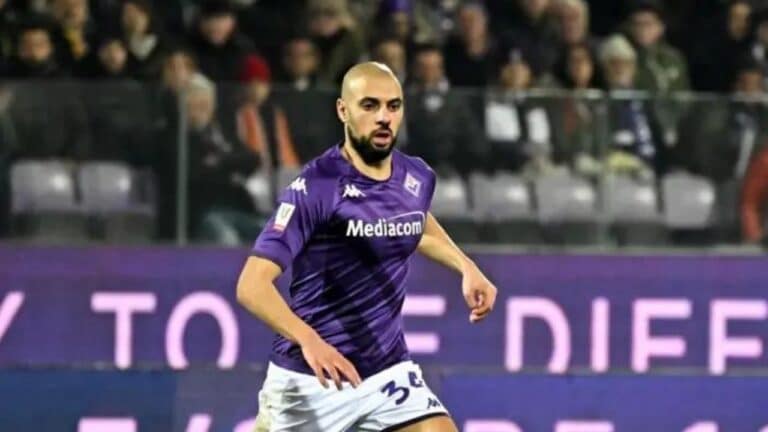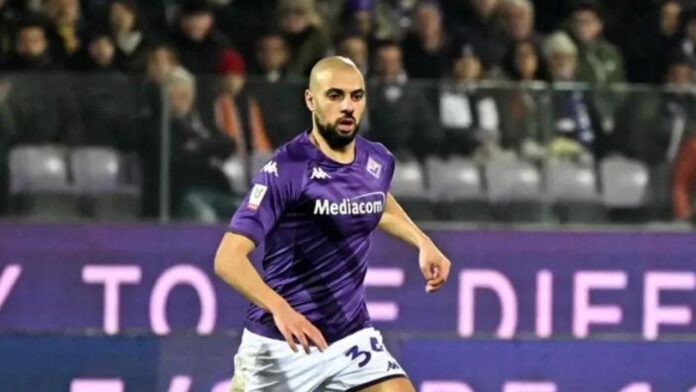 Morocco's midfielder Sofyan Amrabat has finally received his massive post-World Cup transfer after nearly two transfer windows.
Amrabat has joined Manchester United on loan from Fiorentina, bringing an end to an agonizing summer of waiting for a player who spent the summer either not practicing or practising alone, nervously checking his phone for word of a prospective move.
The fact that he was signed so late in the transfer window may give the idea that his signing was not a significant coup, but that says more to Man United's usual disorganization around signings than it does to Amrabat's qualities. To be honest, the club is really fortunate that he is still available.
The 27-year-old is nearing his peak, having recently had his greatest season to date, and possesses nearly a full skill set for a No. 6. The weird thing is, if you simply watched him play for club or country, you wouldn't necessarily know that.
Only by combining the two – by seeing him in the purple of Fiorentina and the deep red of Morocco – can you get the full picture: a man who can do everything required to play at the top level at the base of midfield.
Morocco: Ground Pounder and Ball Winner
Amrabat was introduced to a broader audience at the 2022 World Cup in Qatar. Fans witnessed a player eager to sprint through brick walls for Morocco as they advanced to the semifinals, running around the pitch with such ferocity that even the most established midfield opponents were caught off guard. Indeed, his devastating tackle on France's Kylian Mbappe thrust him into the limelight.
He covered the greatest ground during the event, clocking in at an incredible 81.4 kilometers (just over 50 miles). It's a statistic aided by the fact that he played all seven games as the Atlas Lions finished fourth after losing the third-place playoff 2-1 to Croatia, but it adds up to the image that everyone remembers from that tournament: Amrabat pounding across the turf, covering every inch, closing down every pass.
The midfielder's total of 22 tackles and interceptions, plus 10 clearances, demonstrates his defensive effectiveness. Only France's Aurélien Tchouaméni, Argentina's Enzo Fernández (both 25), and Croatia's Luka Modric (27) and Mateo Kovacic (28) had more combined tackles and interceptions than him.
He accomplished all of this despite suffering an injury mid-tournament, putting himself through a rigorous physio routine, and receiving pain-killing injections in order to play against Spain in the quarterfinals. "I am very emotional," he admitted at the moment. "It was debatable whether I would be able to play this game [against Spain]." I was up till 3 a.m. last night with the physio, and I also had an injection before the game. I can't abandon my men or my nation."
Morocco's strategy was dependent on him. They were a ferocious team to play against, closing the space between the lines, forcing loose balls, and then hunting them down with frightening persistence. Amrabat established the tone; he personified their style and was irreplaceable.
Fiorentina: A Ball Mover That Can Withstand Pressure
Amrabat's off-the-ball abilities at the 2022 World Cup are consistent with what Serie A viewers see on a weekly basis. At Fiorentina, as at Hellas Verona before them, it's his on-the-ball abilities that stand out.
Fiorentina coach Vincenzo Italiano prefers a dominating, possession-dominant approach; their average possession per game in Serie A last season (54.4%) was second only to Napoli's title-winning performance. As the graph above illustrates, this gets Amrabat on the ball frequently, and he averaged 73.9 touches per 90 minutes, ranking seventh among midfielders who played half a season or more.
Amrabat plays as the deepest point for his side, regularly receiving the ball from the centre-backs in buildup. He'll drop in between them to create a temporary back-three defensive line before throwing the ball forward or carrying it into space.
Giving him too much time on the ball is a bad idea. During Fiorentina's journey to the UEFA Europa League final, he completed the most passes (845) of any player, had the third-most switch passes (18), and carried the ball 2,326 yards.
La Viola's run to two cup finals hampered his league season, forcing Italiano to rest his stars frequently at the end of the season. But, on a per-90 basis, he sparkled, averaging 7.93 progressive passes per 90 minutes in Serie A, which leads Arsenal's Martin degaard (7.67), falls just short of Man City's Rodri (8.05), and is not far behind the outstanding Kevin De Bruyne (9.14).
Amrabat's ability to receive and turn the ball under duress will always open up the game for him. It's a talent that should help him succeed at United.
Best of Both Worlds
Erik Ten Hag, the manager of Manchester United, had wanted to sign Barcelona midfielder Frenkie de Jong for his ball development talents since taking over last summer. He finally has some of those traits in Amrabat.
The 2022-23 season also demonstrated that United require a player to fill in for Casemiro, who missed several games due to suspension, and Amrabat is another tough-tackling, hard-nosed presence who can set the tone.
Ten Hag's prior relationship with Amrabat (they worked together at Utrecht in the Eredivisie from 2015 to 2017) should enable a smooth transition to Old Trafford. And United fans will be thrilled to see the Moroccan combine his two skill sets, resulting in an outstanding, all-action midfield powerhouse.