Humanitarian Crisis Unfolds in Gaza Amid Ongoing Israeli Airstrikes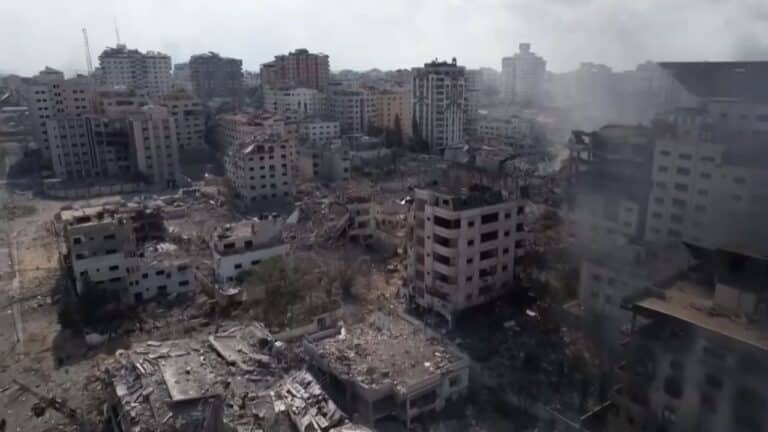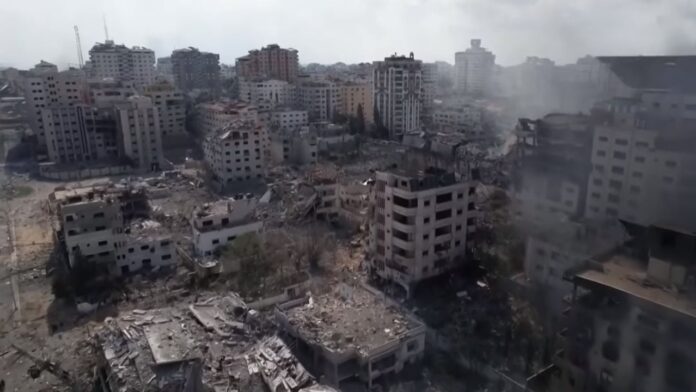 A humanitarian crisis is rapidly worsening in Gaza as residents face ongoing Israeli airstrikes in response to Hamas' deadly attack on Israel. Many are cut off from electricity, food, water, and shelter amid the bombardment.
Israel has enacted a blockade on Gaza, halting supplies of electricity, food, water, and fuel. Airstrikes over four days have left over 900 dead per Palestinian authorities.
Terror for Gaza Family Sheltering at Home
13-year-old Nadine Abdul Latif of Gaza City said her family was warned to evacuate but had nowhere safe to go. Her father has been missing since working in Israel when Hamas attacked.
Like many Gazans, the family has been terrified sheltering at home as airstrikes pummel their neighborhood. When Nadine hears planes, she hides under tables.
Over 200 Targets Struck Overnight
The Israeli military reported hitting over 200 targets in Gaza overnight, including towers, buildings, and mosques. Hamas denies using the destroyed sites.
29-year-old Tariq Al Hillu of northern Gaza described chaos when airstrikes suddenly devastated his neighborhood Sunday morning. Neighbors were trapped crying for help.
Makeshift Shelters at Capacity
The UN refugee agency UNRWA has turned 83 Gaza schools into crowded shelters at 90% capacity with 137,000 seeking refuge. But Gaza lacks dedicated bomb shelters.
Over half of Gaza's 2 million residents already lived in poverty and food insecurity before the conflict per the UN. Israel controls most of Gaza's electricity, water, food, and fuel.
UN Warns of Exponentially Worsening Conditions
UN Secretary General Antonio Guterres warned Gaza's "extremely dire" humanitarian situation will now "deteriorate exponentially" under the Israeli blockade and bombardment.
Human Rights Watch criticized Israel's blockade as potential "collective punishment" and a "war crime" but also condemned Hamas for attacks on Israeli civilians.
Repeated Destruction in Gaza Conflicts
Gaza has faced repeated Israeli airstrikes during conflicts since Israel's withdrawal in 2005. Hamas and other factions have fought Israel from the territory.
A potential ground invasion could drastically worsen conditions. Israel shut the crossings through which it allows food, aid, and goods into Gaza.
Dwindling Food Supplies and Infrastructure
The World Food Programme said Gaza shops have 1-month food stocks that could quickly vanish as people hoard supplies. Power cuts also risk spoiling food.
For Nadine's family, water was cut off entirely amid danger leaving home. "We barely get electricity or internet, and we can't leave the house to buy food as it's getting more and more dangerous," she said.
No Clear End as Death Toll Mounts
As the death toll passes 900, there appears no immediate end to the conflict. Israel continues targeting Gaza, worsening deprivation. Hamas attacks on Israel persist as well.
In the meantime, ordinary Gazans face terror and despair trapped in the escalating violence. The UN and rights groups warn Gaza's humanitarian emergency requires urgent international intervention. But so far, none has come.
Israel Must Ensure Humanitarian Access Amid Gaza Crisis
While Israel has valid security concerns after Hamas' horrific attack, it must uphold its obligations under international law as an occupying power.
Completely cutting off Gaza's electricity, water, food, and medicine amounts to collective punishment of the entire population. Doing so would constitute a war crime.
Israel should take all feasible steps during its military operations to ensure humanitarian supplies reach the trapped civilian population. Immediate access for aid groups is critical to prevent a complete collapse.
Of course, Hamas also bears responsibility for triggering the crisis by launching intentional attacks on Israeli civilians. It must cease further assaults on Israel to have any hope of alleviating Gaza's plight.
Diplomacy Only Path to End Crisis
Ultimately, renewed diplomacy is the only way to unwind the devastating violence in a just manner.
Both sides must agree to an immediate ceasefire and return to the mediation table. Without diplomacy, civilians will continue paying the price as conditions deteriorate.
Regional powers like Egypt could potentially broker an interim truce allowing humanitarian access while creating space for longer-term conflict resolution.
But the urgent priority is ensuring Gaza's civilians can receive lifesaving aid and preventing full-blown catastrophe. This harrowing crisis underscores yet again that only by addressing root causes can long-term peace and security be achieved for both Israelis and Palestinians.