Israeli Airstrike Kills 19 Civilians in Gaza Refugee Camp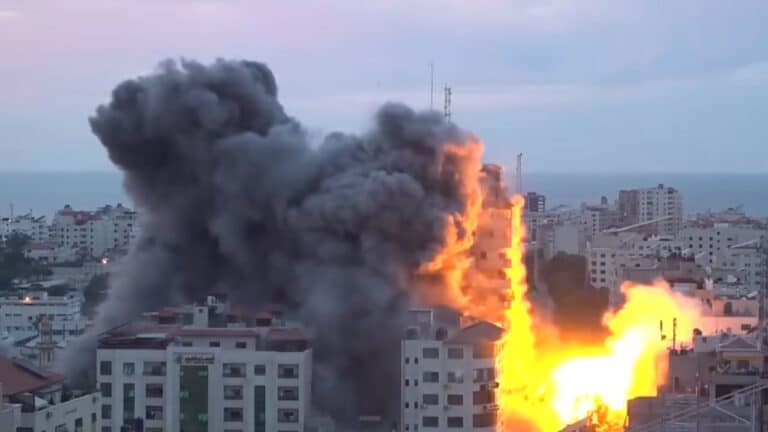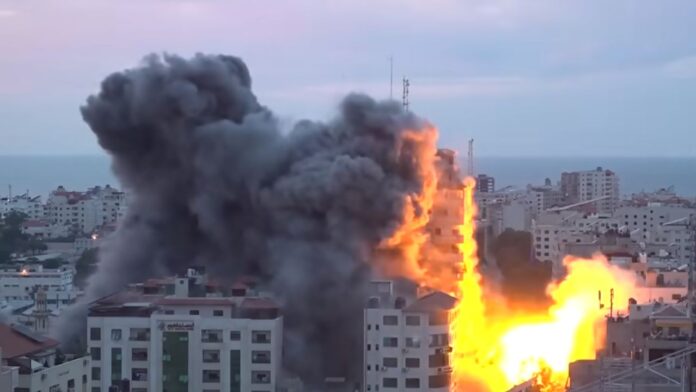 As night fell, an evacuation warning rang out in the southern Gaza Strip. The Israeli military fired a shot nearby, a precautionary measure aimed at giving people time to leave before airstrikes hit.
Nasser Abu Quta, a 57-year-old resident in the area, believed that he and his extended family, who had moved about a hundred meters away from the house warned of an impending strike, would be safe. They gathered on the ground floor of their four-story building, bracing for the impact.
Read More: Israel vs Palestine Conflict History
However, the neighboring house was spared from the strike. In a devastating moment, an explosion tore through Abu Quta's home, claiming the lives of 19 of his family members, including his wife and cousins. The airstrike also tragically killed five of his neighbors who were outside in the densely populated refugee camp, a chaotic maze of buildings and alleyways.
This airstrike occurred in Rafah, a southern town on the border with Egypt, as Israeli forces escalated their bombardment of targets in Gaza. This escalation followed a significant, multi-front attack by Hamas militants on Saturday, which had already resulted in over 700 casualties in Israel by Sunday night. Hamas had also taken several Israelis hostage and launched thousands of rockets toward Israeli population centers, although most were intercepted by the country's Iron Dome defense system.
Read Also: Israel Palestine War Updates
As of now, the series of airstrikes had led to the deaths of more than 400 Palestinians, including numerous women and children, as reported by health officials on Sunday. There appeared to be several similar deadly airstrikes on densely populated residential buildings.
Late on Saturday, the Israeli military reported that it had targeted various Hamas offices and command centers located in multi-story buildings.
Nasser Abu Quta, however, remains perplexed as to why his house was struck. He adamantly stated that there were no militants in his building, and his family had received no prior warning. He emphasized that they would have evacuated if they had been informed. Khalid, a relative, echoed this sentiment, emphasizing that their house was a place of safety, sheltering children and women.
Abu Quta, still deeply affected by the tragedy, struggled to piece together the details. He recounted the overwhelming dust, the anguished cries, and the complete absence of walls. It had all been reduced to an open, devastated space.
As of now, the Israeli military has not responded to inquiries regarding the strike on Abu Quta's home.
You Can Read: Inter Miami Playoff Dream Ends
The Israeli army maintains that it conducts precise strikes, primarily targeting militant leaders or operational sites, with the intention of avoiding harm to civilians. They also argue that their adversaries often position militants within civilian areas in Gaza, a densely populated enclave of 2.3 million people subjected to a severe land, air, and sea blockade imposed by Israel and Egypt.
However, human rights organizations have previously criticized Israel for a pattern of deadly attacks on residential homes, asserting that these actions display a disregard for the lives of Palestinian civilians and may potentially constitute war crimes.
In previous conflicts and rounds of hostilities between Israel and Hamas militants, individual Israeli airstrikes have tragically resulted in the deaths of a significant number of civilians. For example, in a harrowing incident during the 2021 war, a single airstrike claimed the lives of 22 members of a single family.
Nasser Abu Quta found himself overwhelmed by grief on Sunday as he prepared for the heartbreaking task of burying his loved ones. He was joined by two dozen surviving relatives, including wounded children and grandchildren. Abu Quta recounted the grim scene of pulling lifeless bodies from beneath the rubble, many of which were charred and severely disfigured.
While he managed to identify the bodies of 14 family members, at least four children's bodies remained unrecognizable in the morgue, and one body was still missing. Abu Quta expressed his hope that they could lay them to rest together in a single grave, where they could finally find peace.