Top 15 Ceramic Coatings for Ultimate Paint Protection
Listen to the Podcast:
Are you looking for a perfect ceramic Coating? In a perfect world, every car on the road would always look like it just came off the production line. Unfortunately, we live in a world where our cars can get surface scratches, rock chips, paint stains, and UV rays fading no matter how much we wash or wax them.
Modern ceramic coating products have given car owners a big boost in their fight against the weather, bird poop, tree sap, oxidation, and other things that can damage their cars. Now don't get us wrong. Even if your car has a good ceramic coating, it won't stop bullets. But nano ceramic coatings offer a lot of protection that body armour doesn't. The last time we checked, body armour was both very expensive and very heavy.
Some of the items here are professional-level or very close to it. In fact, ceramic coating costs hundreds to thousands of dollars at a paint shop because it takes a lot of work and skill. But if you're on a tight budget and know your way around a car, this is what we suggest.
What is Ceramic Coating for Cars?
To understand ceramic coatings, it helps to look at the most common products used to protect the paint. Wax is natural and the least expensive. It comes in different forms, from an old-fashioned paste to a quick-and-easy spray. "Waxing" a car has been a way to keep it looking shiny and new for decades.
Unfortunately, wax doesn't last very long, so it needs to be put on more than once a year. Some companies say otherwise, but environmental pollutants and even a harsh soap can easily get through that thin layer of wax. On the other hand, sealants are made of chemicals and are made to last for several months. They are easy to use, but they don't usually give the same deep shine that a good wax does.
A ceramic coating is better than both of them. This liquid polymer made of silica is spread by hand and hardens into a protective layer that, if kept in good shape, can last for several years.
Read More: Power Waxer
15 Best Ceramic Coating For 2023
Adam's UV Ceramic Paint Coating Kit – 9H Ceramic Coating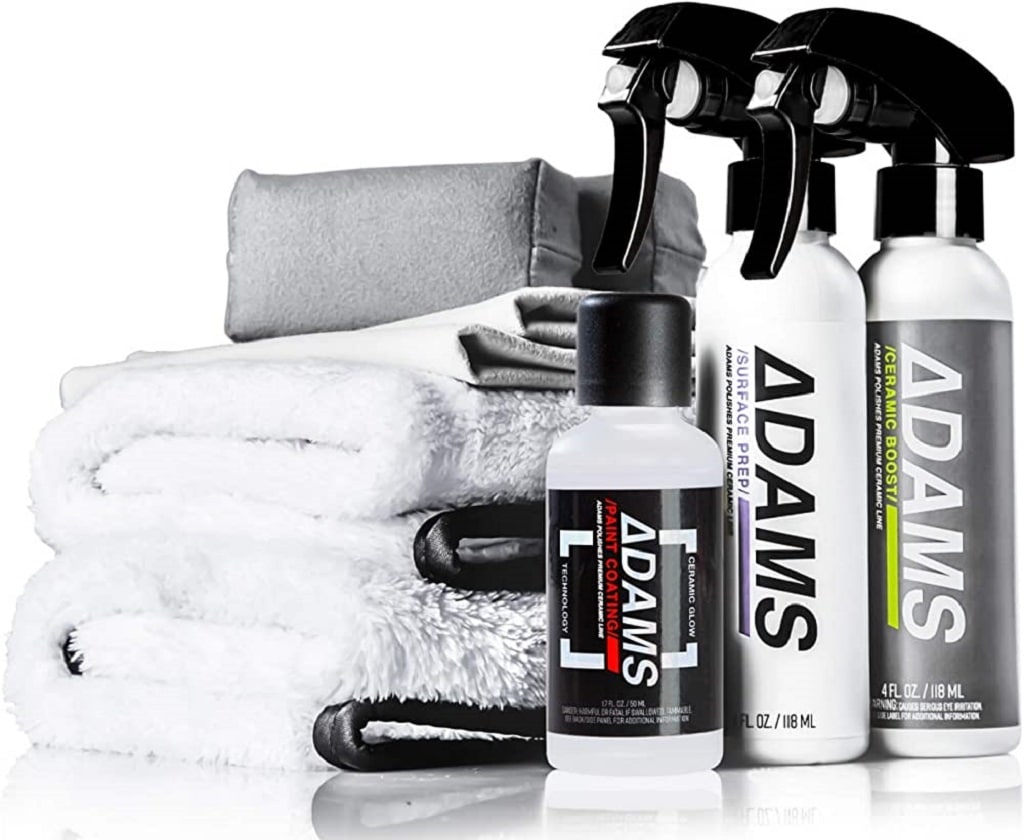 Rating: (4.5-star average rating from 504 reviews on Amazon)
Adam's Ceramic Paint Coating is a clear nanocrystalline coating that protects your car from weather, chemicals, and UV rays while keeping water, dirt, and other contaminants away. Even in the harshest conditions, it is 9H hard and will protect you for 5+ years.
With Ceramic Glow Technology, which is still pending a patent. This feature makes it easier to apply the coating, so users or professionals will never miss a spot and the coating will be perfect every time.
CARPRO CQUARTZ UK 3.0_50ml Kit – Ceramic Coating Finish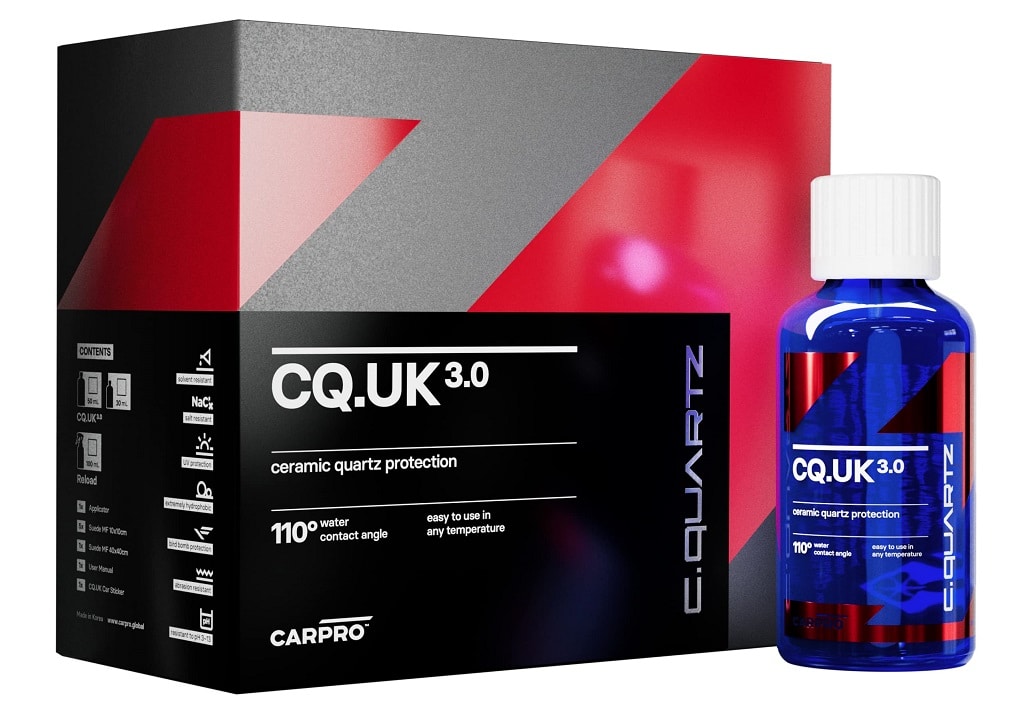 Rating: (4.7-star average rating from 1,533 reviews on Amazon)
A better formula for CQUARTZ is resistant to damage from chemicals, salt, and the environment and gives great UV protection. The high amount of silica and quartz makes a hard, glassy layer on painted or gel-coated surfaces. CQUARTZ UK gives the paint incredible depth, incredible resistance to water and dirt, and a toughness that can be measured in years.
Between 40F and 100F, you should be able to use it on surfaces like paint, metal, and plastic. CQuartz UK is 99.9% pure and has 70% SiO2. This very high level of SiO2 gives the best protection and shine and is easy for any detailer to use.
Nasiol ZR53 Nano Ceramic Coating for Car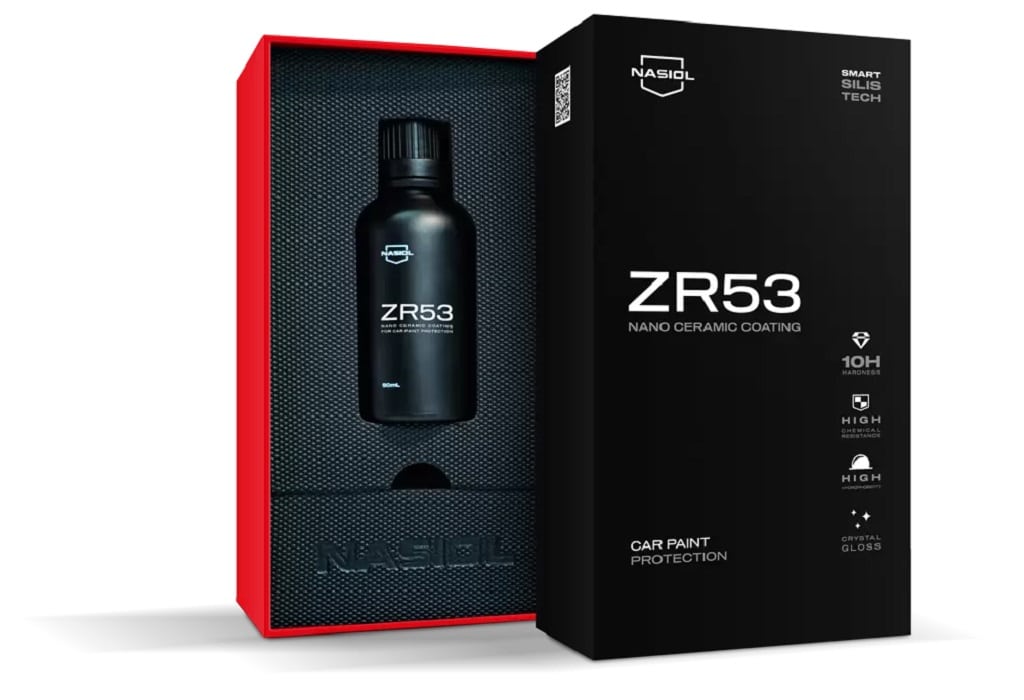 Rating: (4.4-star average rating from 187  reviews on Amazon)
With Nasiol ZR53 ceramic coating, you don't have to put on multiple layers, which saves time. If you wash it often, one coat can last up to three years. ZR53 is different from its competitors because it has a two-layer powder coating system with a softer bottom layer under a hard top layer to give it the most resistance and flexibility.
After coating, the product starts to harden in as little as 20 seconds, which makes it easy to use but also presents a challenge. If you don't work in small sections and buff the treated area quickly, you may have to polish it out and apply it again.
Nexgen Ceramic Spray Silicon Dioxide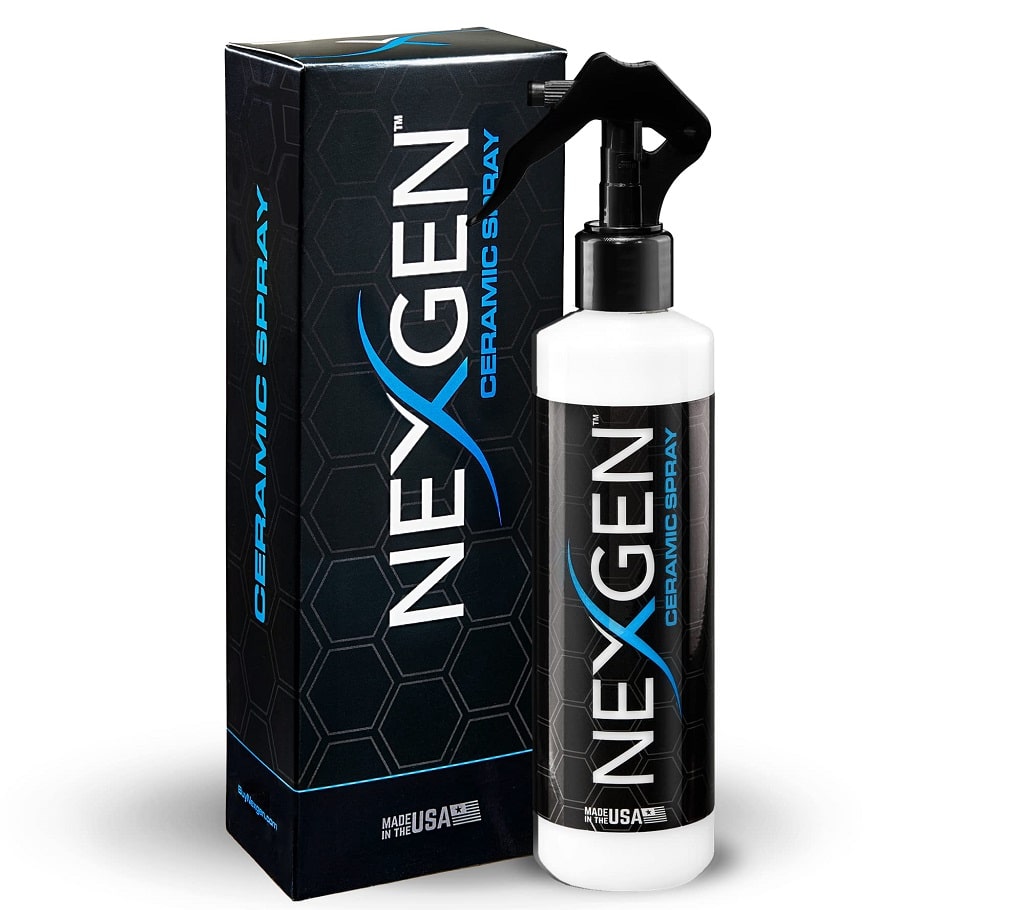 Rating: (4.4-star average rating from 6,166 reviews on Amazon)
This high-quality ceramic coating for cars makes a layer of protection that can't be broken through. Using the highest grade of Silicon Dioxide (SiO2) makes your clear coat and vehicle paint shine like a mirror and makes it much harder for contaminants to streak, scratch, and damage them.
Nexgen Ceramic Spray has the fastest application time of any product on the market. It was made to protect your car from scratches, fading, and other damage while also protecting it from UV rays and giving it a deep, glossy shine. In three easy steps, you can protect your car. Spray ceramic detail spray on the surface of your car, wipe it down evenly with a microfiber towel, and then buff it for an amazing shine!
Torque Detail Ceramic Spray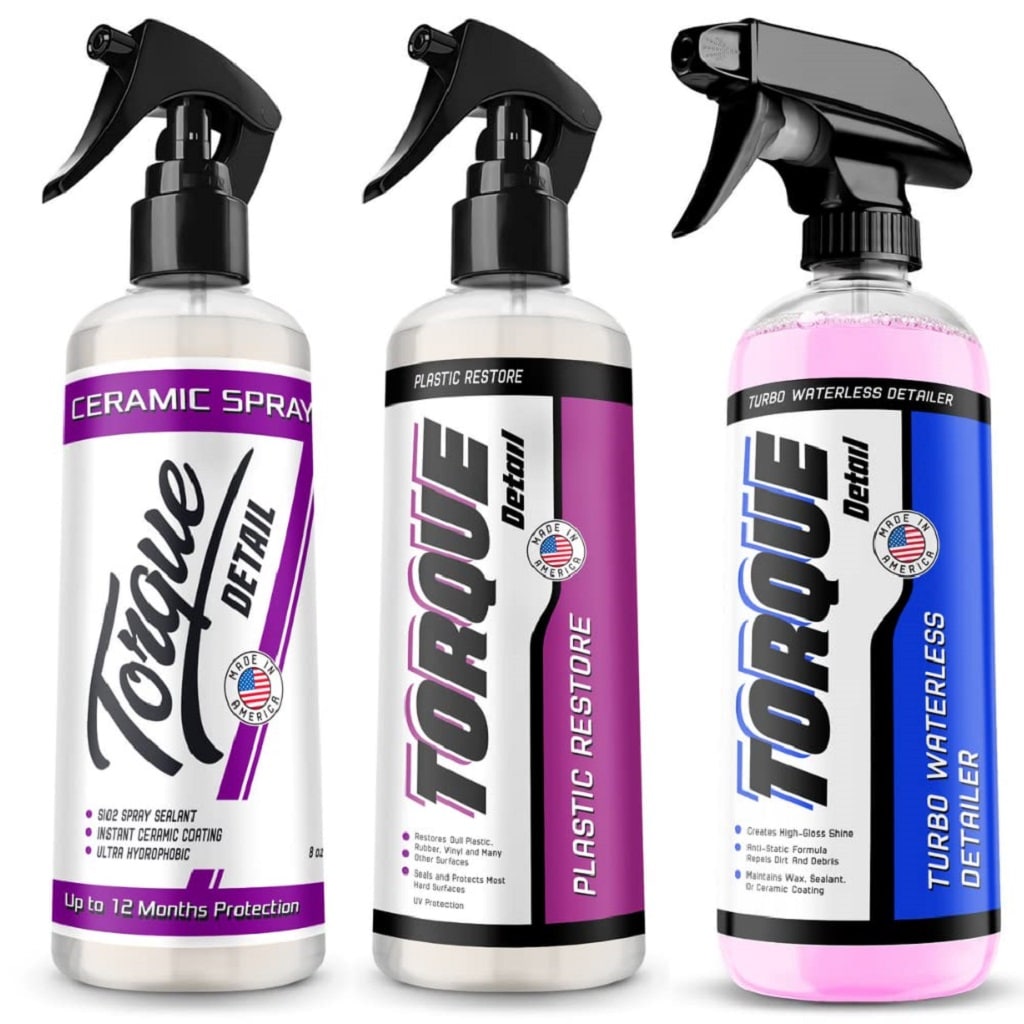 Rating: (4.4-star average rating from  4,724 reviews on Amazon)
Car detailing has changed a lot for the better since nanotechnology came along. You can now detail your car like a pro without having to spend a lot of money on a pro. By putting a ceramic coating on the clear coat of your car, you can protect it for a long time and make it look shiny. Premium ceramic formulas, like our Ceramic Spray, break up ceramic, or silica dioxide (SiO2), into small pieces using nanotechnology.
When you put these tiny particles on your car's surface, they go all the way through the top coat and seal all the pores. The surface of your car is now protected by this completely clear layer. It makes it hydrophobic, which means it won't hold water. It also makes it very resistant to scratches, high heat, UV rays, and other contaminants.
Migliore Strata Coating: High Gloss SiO2 PRO Ceramic Coating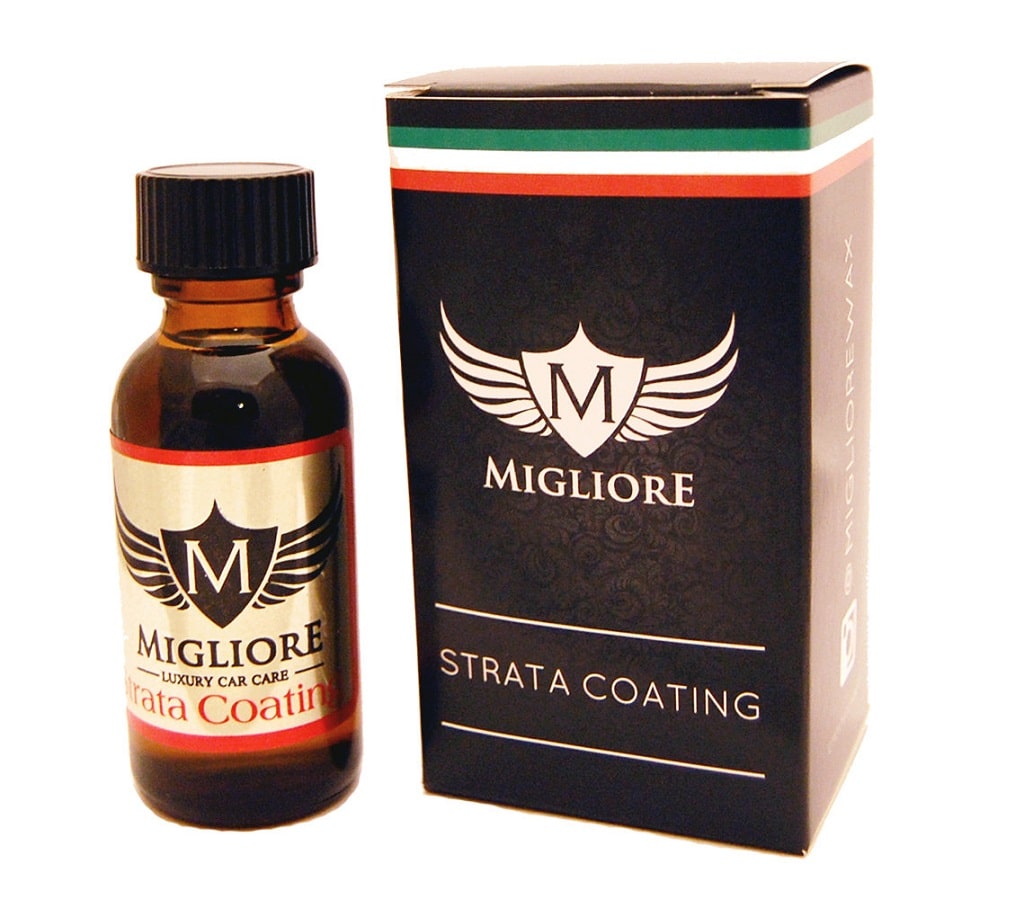 Rating: (4.4-star average rating from 299 reviews on Amazon)
Your answer for a very shiny, easy-to-apply, low-maintenance coating and sealant for your car! This high-shine ceramic coating keeps harmful particles from getting on your paintwork. Protection for 12 months or more. Strata Coating protects against rain, sun, salt, bird droppings, and other debris for a long time.
American-made! It's very easy to use, and it cleans itself. Most dirt and debris won't stick to your car in the first place, so you may need to wash it less often. Ceramic particles in Strata protect against UV rays, and extreme water sheeting helps protect your paint from damage caused by washing.
Read Also: Foam Cannon
Drexler Ceramic Car Coating Kit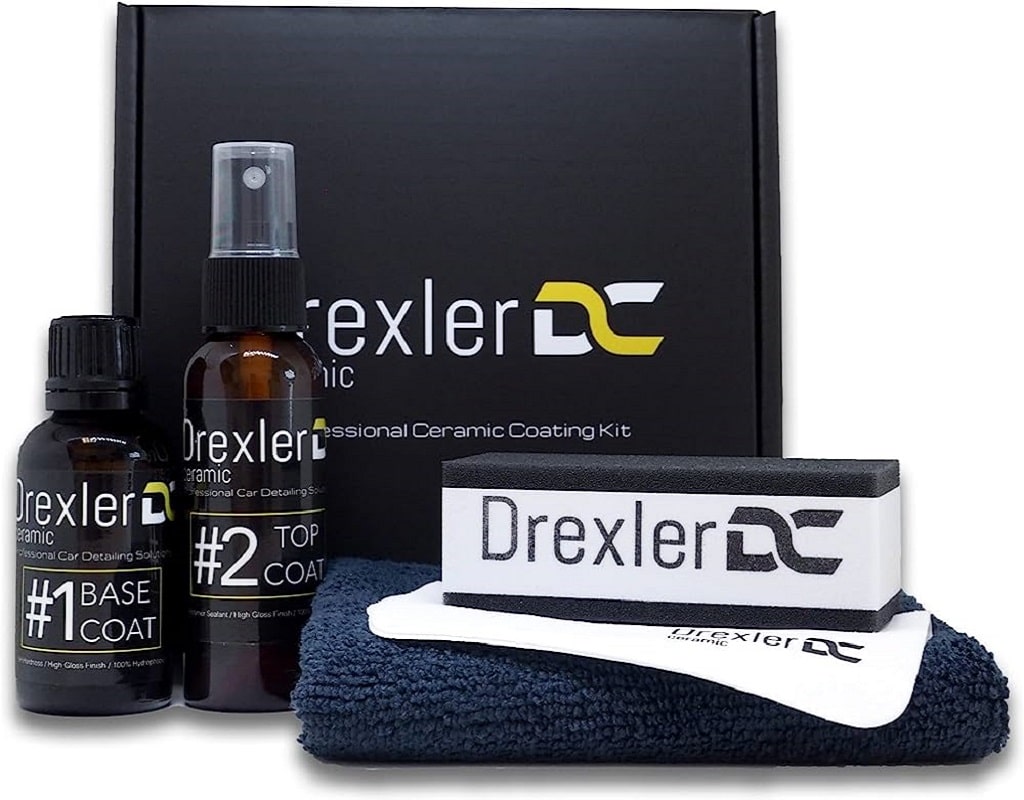 Rating: (4.4-star average rating from 462 reviews on Amazon)
Professional Car Ceramic Coating Kit with a 2 coats (Base Coat + Top Coat spray) formula that is truly unique. Drexler Ceramic is a French brand that is known all over the world for high-end details and for making the best products possible.
Protects your car and makes it shine like crazy for up to 3 years with one layer and up to 5 years with two layers. Your car stays cleaner longer because it cleans itself, and it's easy to clean with just high-pressure water.
PROJE' Premium Car Care Premium Ceramic Coating kit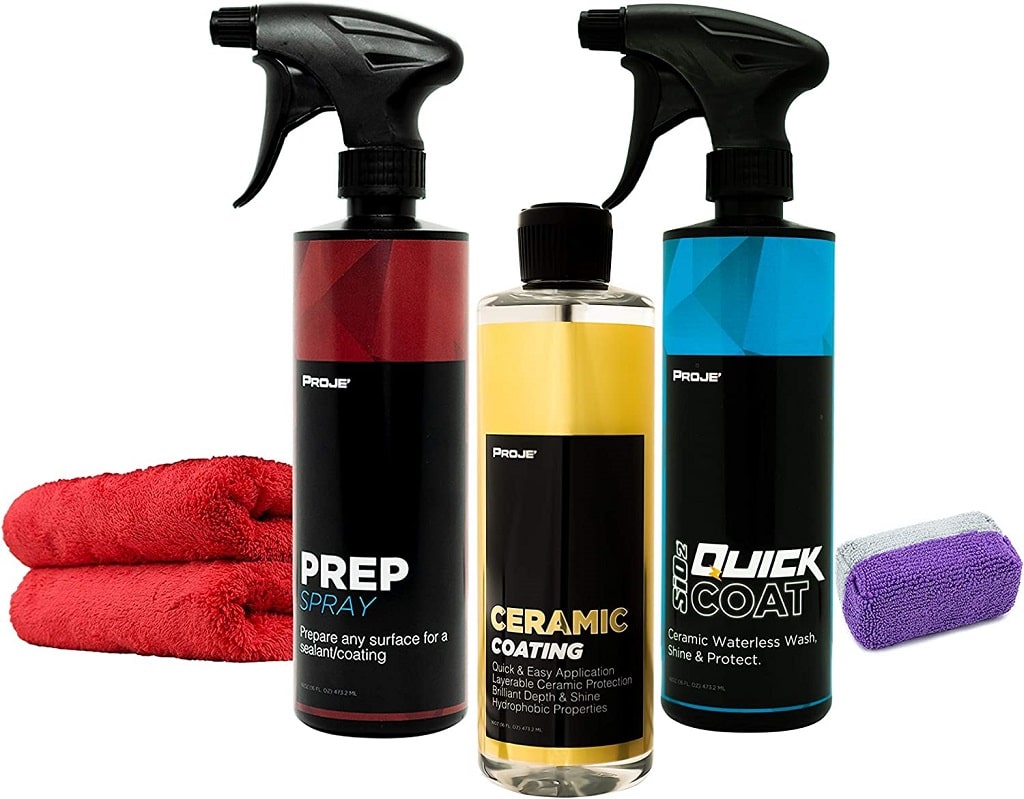 Rating: (4.5-star average rating from 334 reviews on Amazon)
Remove old layers of wax and polish, and a Ceramic Coat will protect your car's paint and give it a deep shine. Fixes flaws, scratches, and fading by giving them back their original colour and depth. Guards against UV and weather. Our Prep Spray takes off old polish, wax, and dirt, revealing flaws and scratches that have been hidden by dirt and grime over time. When you get rid of what was left behind, your new coat shines like never before.
Nano SiO2 Ceramic Coating makes a glass-like shield that protects your car from harmful UVA/UVB rays, weather erosion, bird droppings, pollen, and more for up to a year. Get a sealant from a professional that will really protect you.
WEIRUIXIN 10H Ceramic Coating 3.0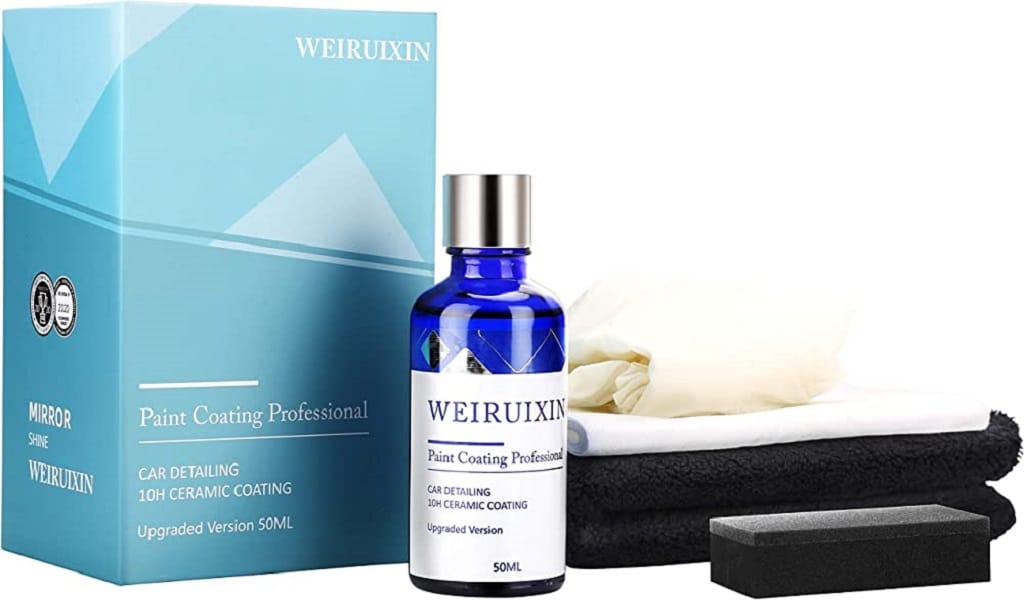 Rating: (4.3-star average rating from 1,978 reviews on Amazon)
The coating on this updated version is 10H, which is harder than 9H coatings. This makes it last longer. When this kit is used to paint a car, a protective layer will be added. This high-shine ceramic coating is made up of ceramic particles and a very thin layer of water. protects your car from salt fog corrosion, bird droppings, UV light, scratches, crushed stones, car junk, iron filings, etc.
10H Ceramic Coating is a very strong barrier that keeps dirt and other contaminants from sticking to the paint. It also repels water so well that it almost jumps off the surface. By the way, get a waxing effect, and your car will be clean and shiny again.
Meguiar's G200416EU Hybrid Ceramic Liquid Car Wax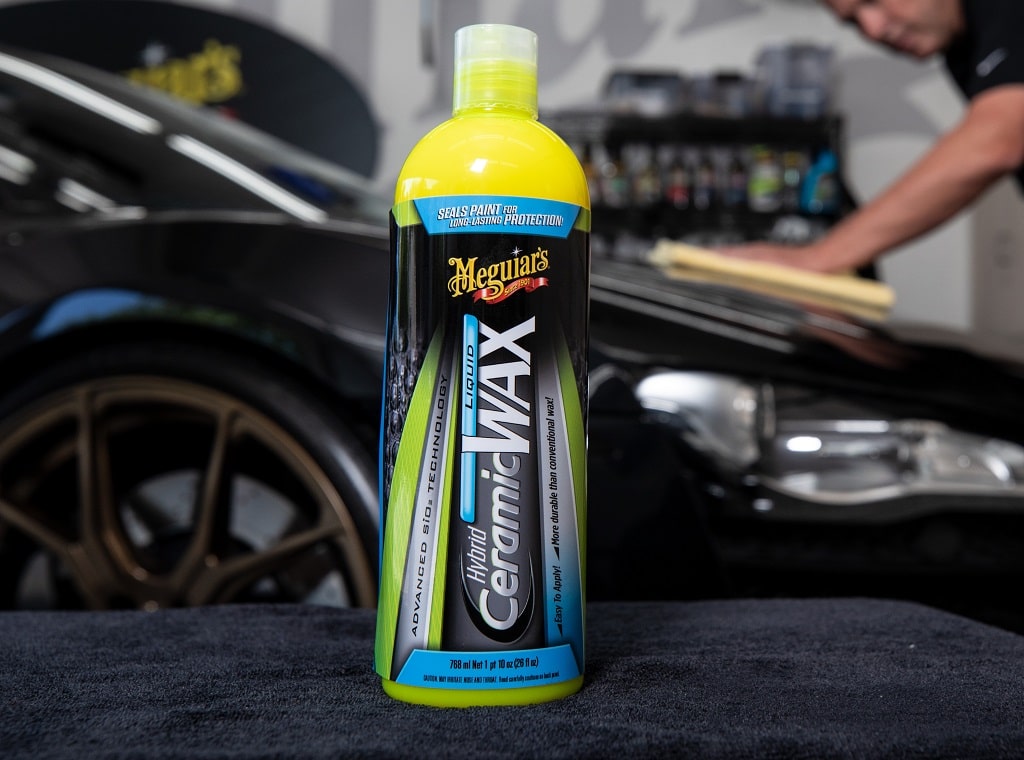 Rating: (4.6-star average rating from 13,596 reviews on Amazon)
The high-tech Hybrid Ceramic chemistry used by Meguiar makes this product as easy to use as a regular liquid wax. This formula is made to be used by hand or with a dual-action variable speed polisher (DA polisher). It creates a protective, water-beading layer that seals your paint from the outside world. It can also be used as a top coat over traditional waxes and sealants or on chrome and plastic trim.
Chemical Guys WAC22916 HydroSlick Intense Gloss Sio2 Ceramic Coating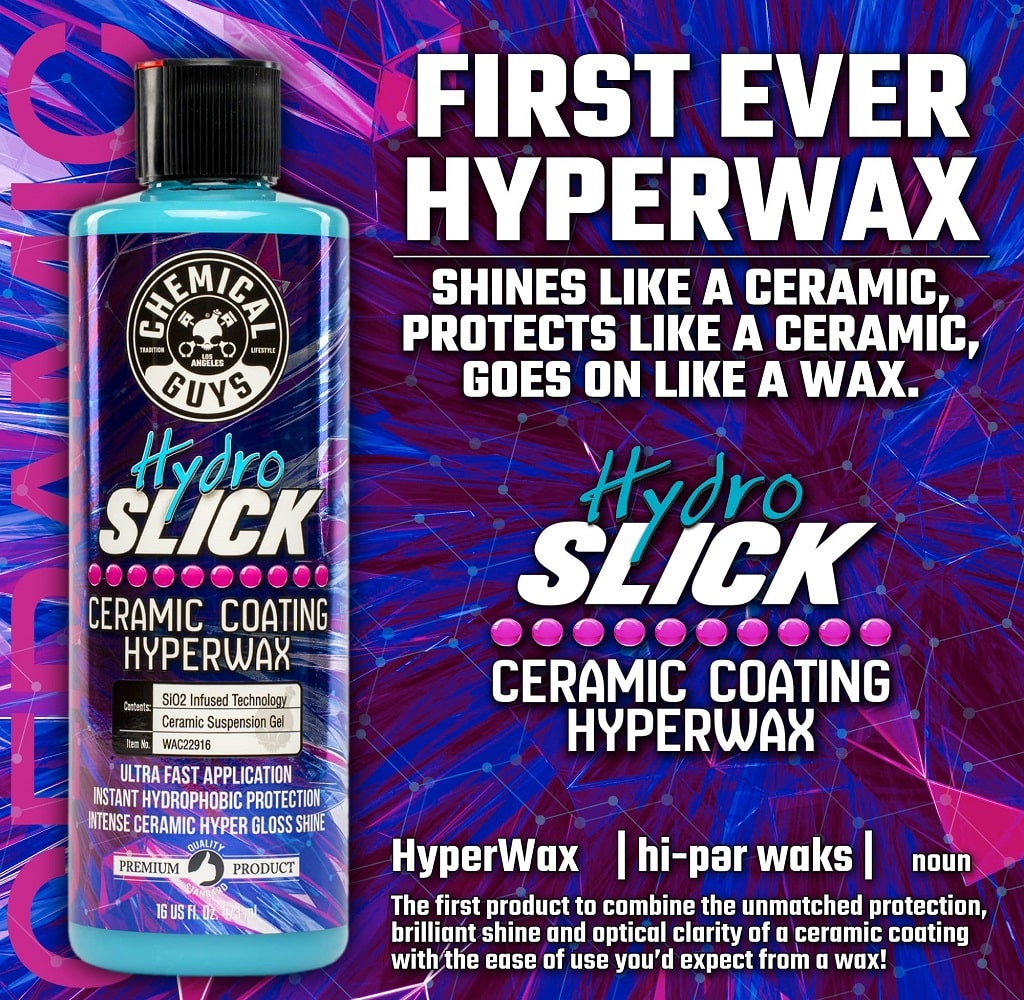 Rating: (4.6-star average rating from 5,629 reviews on Amazon)
Hydro Slick is unlike any wax you've ever used. It's a new product that deserves its own category. Hydro Slick is a true ceramic coating that gives unmatched protection, brilliant shine, and optical clarity in an easy-to-apply ceramic suspension gel. A Hyper Wax has the shine, depth, and clarity of wax and the durability, water beading, and smoothness of a ceramic coating.
Hydro Slick uses the most up-to-date SiO2 gel suspension technology to completely change the way a ceramic coating is made into a very easy-to-use, long-lasting coating that anyone can use. Oh, yak, did we say it doesn't have wax? Hydro Slick is the first Hyper Wax. It is not wax.
Turtle Wax 53409 Hybrid Solutions Ceramic Spray Coating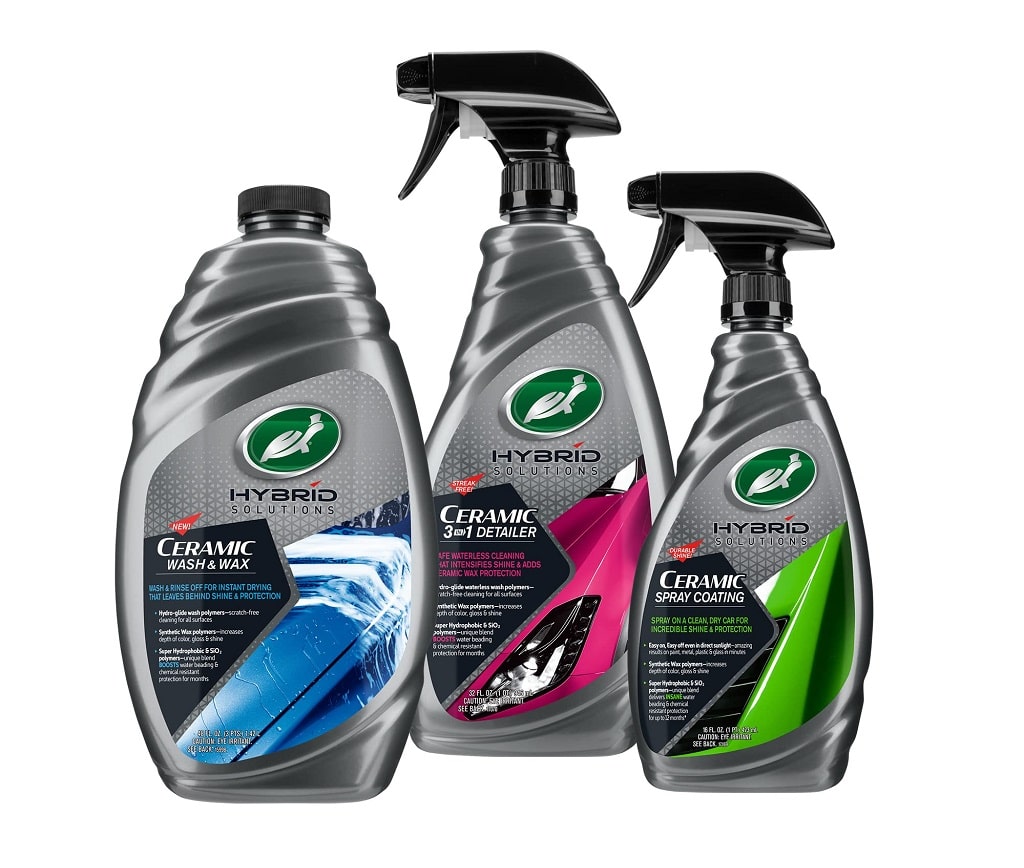 Rating: (4.6-star average rating from 17,990 reviews on Amazon)
The Turtle Wax Hybrid Solutions line was made by and for the most skilled detailers in the business. Yet, this cleverly made set of professional-grade products is the most accessible on the market in terms of price and ease of use.
Hybrid Solutions will give you results that can't be beaten by combining the best of the latest car care technologies with Turtle Wax's decades of experience. Hybrid Solutions will not only give cars a high-gloss shine and long-lasting protection for today's finishes, but they will also be ready to go on any unexpected trip.
Also Read: Jack Stands
SHINE ARMOR Ceramic Coating Fortify Quick Coat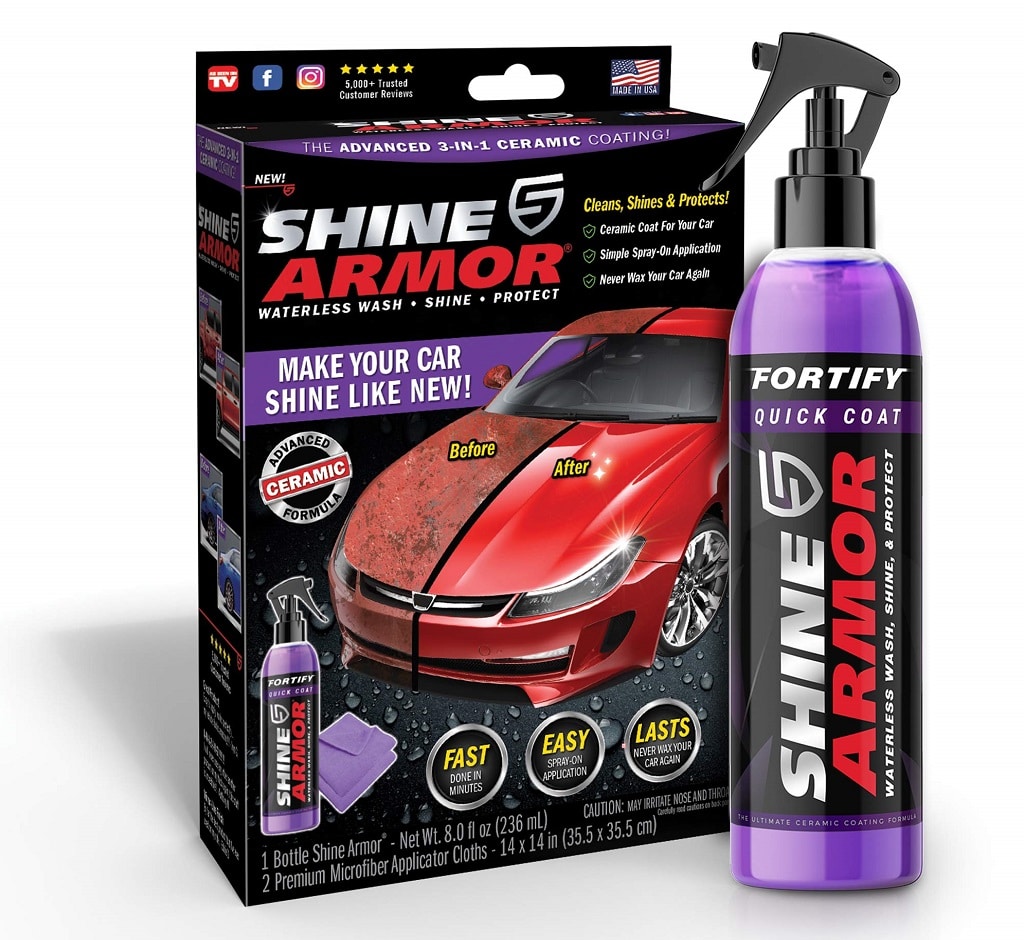 Rating: (4.3-star average rating from 76,911 reviews on Amazon)
Ours Fortify quick coat spray is a ceramic coating and a water-repellent all in one. Shine Armor Fortify Quick Coat ceramic car wax is an all-in-one product that cleans, coats and shines the car without using water.
Shine Armor Build Up Quick Coat premium formula ceramic car coating is a gentle and effective car polish for any car! Get your car's paint clean and shiny without damaging it. Our Quick Coat ceramic wax sealant for cars gets rid of dirt, grime, and grease right away! With our signature 3-in-1 formula, you can wash, coat, and shine your car without using water, giving it a clean, show-ready look.
Detail King Jade Graphene PRO 50cc W/Applicator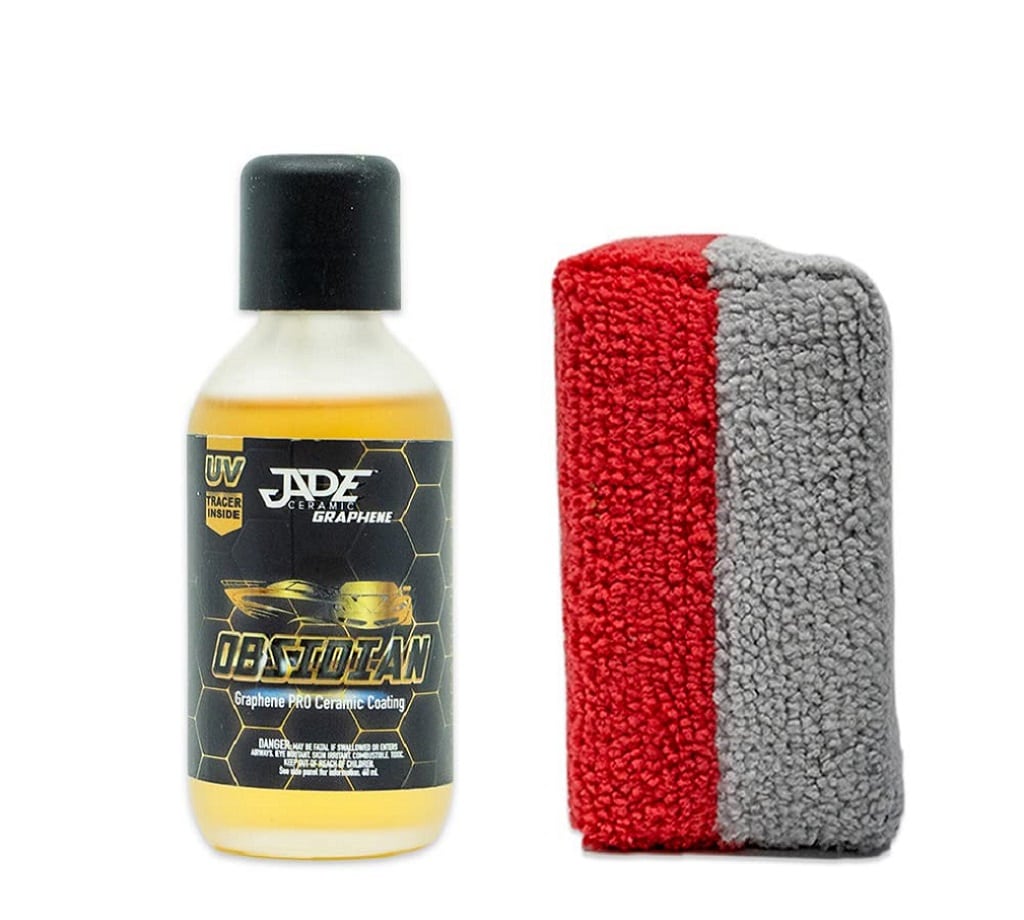 Rating: (5-star average rating from 5 reviews on Amazon)
This graphene ceramic coating is the strongest and most durable I've ever seen. If you use this graphene coating, you won't need any other paint protection. You can save a lot of time and effort by putting a protective film on the outside of your car. With this graphene coating, you can give your car's paint a brilliant shine that lasts.
The Last Coat Ceramic Coating Spray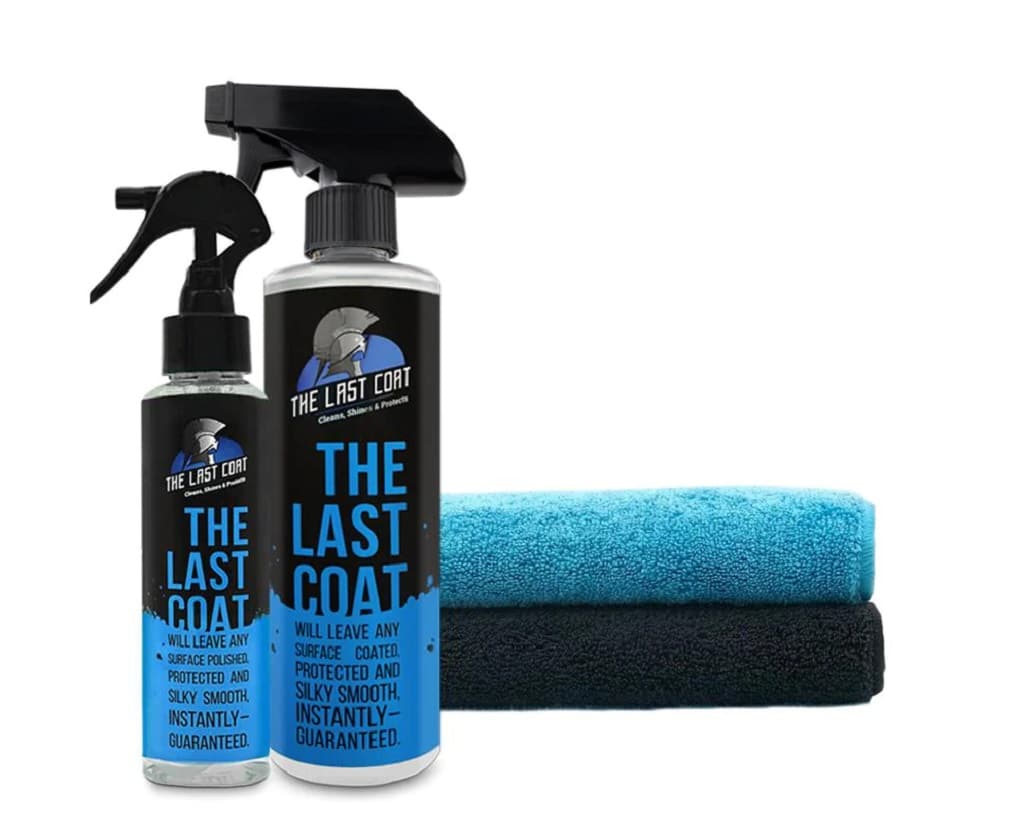 Rating: (4.5-star average rating from 8,697 reviews on Amazon)
Built on similar mesh technology, this ceramic spray coating has a very high gloss and great water-repelling properties. The coating spray was made only for external surfaces and to last longer, mainly for detailers who want to offer longer-lasting coating.
This ceramic coating spray for a car is made of high-quality materials and will meet all of your needs. The last coat products polish, protect, and leaves all surfaces feeling silky smooth. We are so sure you will love the last coat that we offer a 30-day guarantee.
Why Apply Ceramic Car Coating?
You might want to add ceramic car coating to your arsenal of car care tools for the following reasons:
Longer-lasting than car wax: Waxing your car gives it a nice shine, but it only lasts for three to six months. Some of the best ceramic coatings for cars last for more than a year. Ceramic coatings may take more work to put on a car, but they don't need to be reapplied as often as traditional carnauba wax.
Protection from the elements: Ceramic coatings keep UV radiation, dirt, debris, rain, stains, oils, dirt, contaminants, and industrial fallout from damaging your car. Depending on where you live, the paint job on your house can get beat up. A ceramic coating on your car will protect the paint for a long time.
Cut down on cleaning time: After a ceramic coating on your car cures and hardens, the surface will be smooth and hard for water, dirt, and other things to stick to. Less dirt on your car means it will take less time to clean.
A cost-effective way to enhance your car: Most ceramic coatings for cars cost between $15 and $25. Kits for professionals cost more, but most of them cost less than $100.
Is Ceramic Coating Easy to Apply?
No, and yes. Most of the time, the hardest and trickiest ceramic coatings to put on are also the most durable and protective. Any of them shouldn't be too hard for experienced do-it-yourself detailers, but it takes work and sometimes things go wrong. Traditional wax-on, wax-off sealants are harder to use than easy-to-use sprays or hybrids. They will shine at least as well as regular waxes, protect better, and last longer.
Just keep in mind that the ceramic coating will only make whatever is underneath it shine and protect it, so you could end up with some really shiny scratches and tar flecks. The amount of prep work done before painting has a direct effect on how it looks and how long it lasts. If your paint is in pretty good shape, we recommend at least a spray-and-wipe prep solution. This will get rid of old wax and chemical residue and create a solid base that helps the coating and paint stick together as well as possible.
Advantages of Ceramic Coating
The main reason people choose a ceramic coating over other options is that it protects the car accessories for a long time. A ceramic coating is basically a hard shell that keeps water stains, road grime, bird droppings, and other things from getting to the paint and damaging it. They will come right off with a quick rinse.
Now we can talk about a cool word: hydrophobic. Usually, anything that has to do with the word "phobic" has a bad meaning, but in this case, it's all good. A ceramic coating will make a hydrophobic layer that repels water, which makes it harder for mineral deposits and dirt to damage the paint surface.
To Know More: Steering Wheel Cleaner
Is Ceramic Coating Worth It?
Yes, that is the short answer. As we've seen in this article, ceramic coating has a lot of great benefits that will make your car more valuable over time. It will make it easier for you to clean and take care of. So you can spend more time driving and enjoying your car and less time worrying about how to protect it.
But if you asked us if it's a one-stop solution for all your paint problems, we'd say no. There is no one product on the market that will protect your car from everything. If there were, we wouldn't be talking about ceramic coating, which is one of the best ways to protect car paint today. When you compare the cost of ceramic coating to the cost of car maintenance and waxing once a year, it's a no-brainer.
What's the Difference Between Waxes and Ceramic Coatings?
The wash, polish, and wax method has been the best way to care for car finishes for decades. It takes a long time and a lot of work to put on, and the shiny, protective results usually only last a few months. Ceramic coatings change this formula in a new way. Ceramic coatings are a chemical compound solution made mostly of silica and titanium dioxide. They are sometimes called nano-ceramic coatings.
The two substances stick together at the atomic level, and the result is very hydrophobic, which means that water can't get through it. Even though it doesn't chemically bond to the paint, it doesn't come off as wax does. It does wear down over time, but the hydrophobic properties keep water away, protect the surface underneath, and improve the depth and clarity of the paint for a longer time than regular wax. They are easy to put on, offer better income protection, and last much longer. Many manufacturers say they are effective for more than a year.
Frequently Asked Questions (FAQs) about Ceramic Coating
Is ceramic coating your car a good idea?
The main reason people choose a ceramic coating over other options is that it protects the car for a long time. A ceramic coating is basically a hard shell that keeps water stains, road grime, bird droppings, and other things from getting to the paint and damaging it. They will come right off with a quick rinse.
How long does ceramic coating last?
Ceramic coatings last between two and five years most of the time. In some cases, they can last up to ten years, but this doesn't happen very often. But there are many things that affect how long they last. And you might have to replace yours sooner than you thought.
Are Ceramic Coatings Right for You?
Yes, without a doubt. In the long run, the money you spend now to protect your car will pay for itself. Of course, it won't make your car bulletproof, but it will protect it much better than regular wax or sealant. The best way to protect your car from rock chips is with a clear bra or paint protection film.
Can you wax over the ceramic coating?
Yes, that's the easy answer. You could start by putting down the ceramic-based protectant, letting it dry, and then covering it with wax.
Is there anything better than a ceramic coating?
Ceramic coatings don't last as long as graphene coatings and don't protect as well from UV rays and chemicals as graphene coatings do. They also last longer, and most manufacturers offer up to a five-year warranty. Ceramic coatings are easier to put on and take off than coatings made of graphene oxide.
Does ceramic coating scratch easily?
Ceramic Coatings offer hard protection and will help stop some of these marks, but they are not scratch-proof. Small scratches can be made in your car's finish with just one bad wash.
Are ceramic coatings worth the cost?
At first glance, it seems like the price you pay for a ceramic coating to protect your car's paint is well worth it. You can expect strong protection from things like dirt or swirl marks on the surface and clear coat scratches.
Can ceramic coating mess up your car?
No matter what you do, ceramic coatings can't hurt the paint on your car. But if you don't do it right, you can get streaks, high spots, hazing, and bad reflections.
Why do car manufacturers not do ceramic coating?
Pricey and hard to handle. Maybe not the price of the material, but the time it takes to cure. That would add 12 to 48 hours to the time it takes to make them. And during that time they would need to be kept in a clean place.
Can I cover my paint protection film in a ceramic coating?
Absolutely! Using a ceramic coating and a paint protection film together to give your car the best value, shine, and quality is a very proactive move. At Chicago Auto Pros, our paint protection films keep flaws from getting to your real finish. And the ceramic coating on top of them makes your paintwork even better.
How do you maintain ceramic coating?
Keeping your car's ceramic coating in good shape is as simple as washing it regularly with your choice of automotive soap. It is best to do this every two weeks. If contaminants are allowed to stay on the coating, the coating will lose its ability to repel water.
Subscribe to Our Latest Newsletter
To Read Our Exclusive Content, Sign up Now.
$5/Monthly, $50/Yearly