Carlos Alcaraz Triumphs Over Novak Djokovic: The Start of a New Wimbledon Era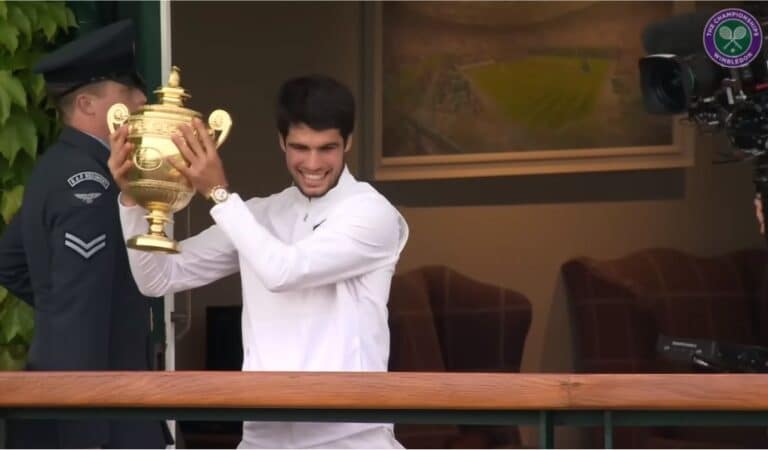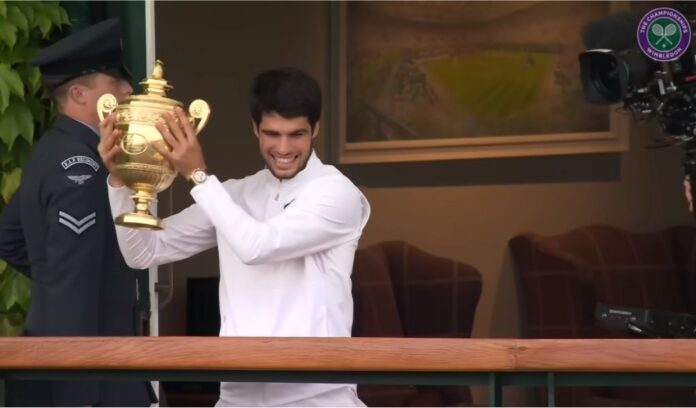 The previous time Carlos Alcaraz met Novak Djokovic, he was so terrified that he became a nervous wreck and ended up getting crippling cramps that wrecked his chances of winning the French Open in front of a large international audience.
Amazing what five weeks can do.
In the All England Club final on Sunday, Djokovic stormed to a 5-0 opening set lead, leaving Carlos Alcaraz gazing into an abyss against the same opponent who had not lost at Wimbledon since 2016.
Alcaraz entered the Wimbledon championship with a newfound mental conviction that he belongs among the best, unlike in the French Open semifinals.
On Sunday, he finally ended Djokovic's reign to usher in a new era at Wimbledon with a win that is being heralded as the changing of the guard in men's tennis. That confidence saw him through a five-set rollercoaster that lasted over five hours.
The 20-year-old defeated 23-time Grand Slam champion Novak Djokovic on Centre Court with a score of 1-6, 7-6 (8-6), 6-1, 3-6, 6-4. "I did it for myself, not for tennis generation, honestly," he stated. It was excellent.
Being the first person to defeat Novak after 10 years of being unbeaten on that court and defeating him at his peak is fantastic to me. There is no doubt in my mind that I will never forget it.
"I believe that the younger generation will benefit greatly from seeing me defeat him and developing the belief that they are also capable of doing so. It's fantastic for me and, in my opinion, for the younger players.
Since losing to Andy Murray in the 2013 Wimbledon final, Djokovic had only lost twice at the tournament. He expressed amazement at how fast the 20-year-old Alcaraz has mastered all of the game's surfaces.
Despite playing so well on grass this year, Djokovic remarked, "He's proven he's the best player in the world."
To be honest, I've never played a player like him. I believe that throughout the past year or so, people have been speculating about how Roger, Rafa, and I contributed to some aspects of his game. I'd concur with that.
He possesses the finest of all three worlds, really. He possesses the same Spanish bull attitude, battling energy, and exceptional defense that Rafa possessed. He has some beautiful sliding backhands, which remind me a bit of my own.
He is an all-around player.
For more than a decade, a number of gifted "Next Gen" tennis players had been expected to unseat Roger Federer, Rafael Nadal, and Novak Djokovic as the sport's top three players.
All of that chatter was for naught as the Big Three continued to hold a vice-like grip on the Grand Slam, winning 65 titles between them since Federer's maiden Wimbledon victory in 2003.
Prior to Sunday's Wimbledon final, Novak Djokovic and Nadal had won eight of the previous ten matches while Federer had retired the previous year.
In spite of this, Alcaraz was able to establish his legitimacy by winning his first major tournament at the U.S. Open last year and rising to the top of the ATP rankings.
But because he avoided Djokovic and Nadal throughout that run, there were concerns about how he would fare in a best-of-five-set match against the legends.
The world No. 1 proved on Sunday that he is a very quick learner, dispelling any concerns about his mental toughness that may have been caused by the French Open match with Djokovic.
Since 18-year-old Boris Becker won the championship in 1986, Alcaraz became Wimbledon's youngest champion. "I am a totally different player than at the French Open," Alcaraz stated. Since then, I have significantly matured. I took a lot away from that experience.
"Before the match, I psychologically prepared a bit differently. I was able to handle the stress and anxiety better than I did during the French Open.
"I didn't give up or get depressed. I battled right up to the last ball.
Alcaraz's victory over the guy who has won the most men's Grand Slams added extra weight to his accomplishment of becoming the first man to win Wimbledon since 2002 who wasn't Federer, Djokovic, Nadal, or Andy Murray.
Since I first began playing tennis, I had aspired to defeat Novak and win the Wimbledon title, he stated. "For that reason, this is the most important time in my life.
"Before this match, I believed I wasn't prepared to defeat Djokovic in five sets in such a thrilling contest. against a tale, to maintain good health for around five hours intellectually or physically Today, I discovered (a lot) about myself.
"Wimbledon champion, which was something I truly want. I was genuinely surprised to receive it so quickly. The happiest I've ever been in my life.
Subscribe to Our Latest Newsletter
To Read Our Exclusive Content, Sign up Now.
$5/Monthly, $50/Yearly