Canada Wildfire Smoke Clouds New York City's Air Pollution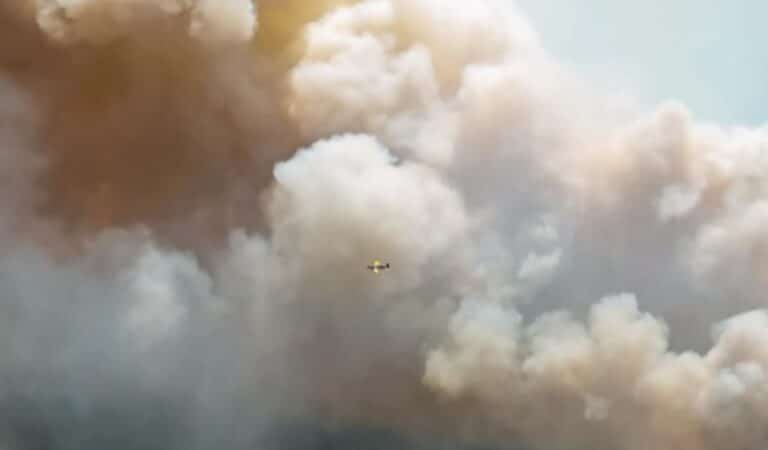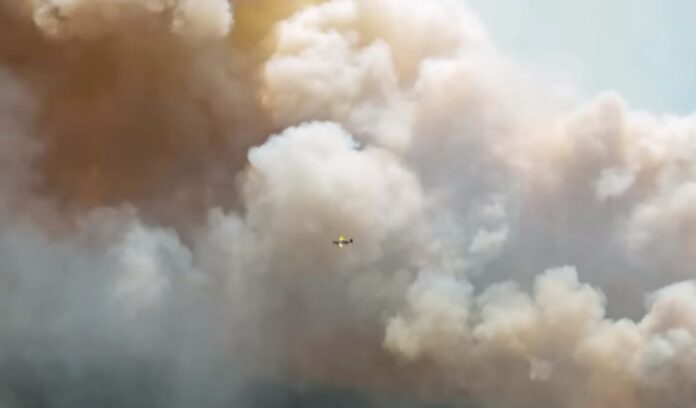 Parts of Tuesday, New York City had the worst air pollution in the world. This was because smoke from more than a hundred wildfires in Quebec was blowing south.
Smoke from fires in Canada has been blowing into the Northeast and Mid-Atlantic on and off for more than a week, making people worry about how bad the air quality will be if it stays bad for a long time.
At one point Tuesday night, the air quality gauge in New York City was above 200, which is "very unhealthy," according to IQair. IQair says that at 10 p.m. ET on Tuesday, the air quality in the city was the worst of any big city.
IQair said that by Tuesday night, New York City had the second most polluted air in the world, after New Delhi, India. Doha, Qatar, Baghdad, Iraq, and Lahore, Pakistan, were also on the list.
On Tuesday morning, New York City was also at the top of the list for a short time.
Because of this, at least 10 school districts in central New York state had to cancel outdoor events and programs on Tuesday. Events in the classroom, on the field, and outside of school were canceled, as were outdoor recess and gym classes, according to announcements from the school system.
PM2.5 is the smallest pollution that is also the most dangerous. It is found in smoke from wildfires. If you breathe it in, it can go deep into your lungs and get into your system. It comes from burning fossil fuels, dust storms, and wildfires. It has been linked to asthma, heart disease, and other lung illnesses.
Every year, millions of people die because of health problems caused by air pollution. The World Health Organization says that small particulate matter was linked to about 4.2 million early deaths in 2016.
On Tuesday, the amount of PM2.5 in the air in New York City was more than 10 times what the World Health Organization says is safe.
"If you can see or smell smoke, you are being exposed," said William Barrett, the American Lung Association's national senior head of clean air advocacy. "And you should do everything you can to stay inside when pollution levels are very high, and you should keep a close eye on your health and any signs of illness."
Barrett said that children, seniors, women who are pregnant, and people with respiratory or heart diseases are especially sensitive to wildfire smoke because their symptoms may get worse or start up for the first time.
Barrett said, "Really, make sure you do what you need to do to check in with health care providers if you start to feel bad during these events."
The Canadian Interagency Forest Fire Center says that there are more than 150 active wildfires in Quebec this week. This is more than double the number of fires in any other Canadian state.
So far in 2023, there have been more than 400 wildfires in Quebec. This is twice as many as usual for this time of year. So far this year, wildfires in Canada have burned nearly 9 million acres. In Quebec alone, nearly 500,000 acres have been burned.
On Tuesday, parts of the Northeast and Midwest had air quality alerts because smoke from wildfires had moved west into Detroit and Chicago.
The National Weather Service in Chicago said, "Weather conditions are such that ozone and or particulate levels are likely to be at or above the level that is unhealthy for sensitive groups." "Children and adults who are active, especially those with lung or breathing problems like asthma, should limit how long they spend outside."
Tuesday afternoon, IQair released a list of the top 10 places with the most polluted air. On Tuesday afternoon, the air quality in Chicago was about average, and it is projected to stay about average for the next few days.
At the same time, the air quality in Pittsburgh was unhealthy, and forecasts showed that it would get a little worse for the aged, young children, and people with breathing problems on Tuesday before getting better again on Wednesday. On Tuesday, there was a warning about the air quality in the city.
Some parts of New York and New England, like most of New York state and all of Massachusetts, Connecticut, Rhode Island, and Vermont, were also under an air quality alert on Tuesday. On Tuesday, the air quality in places like Baltimore, Boston, Hartford, Providence, and Montpelier, Vermont, is expected to be bad enough to make some people sick.
Over the next few days, a cold front is expected to move south, which will push smoke farther south and east all week.
Climate change caused by people has made it even hotter and drier, which helps flames start and spread. Scientists recently said that carbon pollution from the world's biggest fossil fuel and cement companies could be to blame for wildfires that burned millions of acres in the Western US and Canada. This is an area about the size of South Carolina.
And when they burn, the smoke can move thousands of miles downstream, putting millions more people in danger.
Glory Dolphin Hammes, CEO of IQAir North America, told CNN in the past that wildfires are a big problem because of global warming. "It has a lot to do with climate change, which is basically making things unsafe."
Subscribe to Our Latest Newsletter
To Read Our Exclusive Content, Sign up Now.
$5/Monthly, $50/Yearly