Is Blue Sky Amazon Legit?
Blue Sky Amazon is a course by Sophie Howard that teaches people how to make money online by selling via Amazon. It is sometimes called Amazon Seller Academy.
Fulfillment by Amazon is a popular business model for people who want to be in ecommerce and Sophie Howard claims to know how it works well enough to share her insights with the public.
In this Blue Sky Amazon review, we will examine what works for the course, how much it costs, what you get when you buy it, and whether it is worthwhile.
What is Blue Sky Amazon?
Blue Sky Amazon is an Amazon FBA course offered by Sophie Howard. Blue Sky Amazon teaches you how to build an ecommerce business with Amazon FBA.
It features one-on-one coaching calls and access to an active community of FBA students.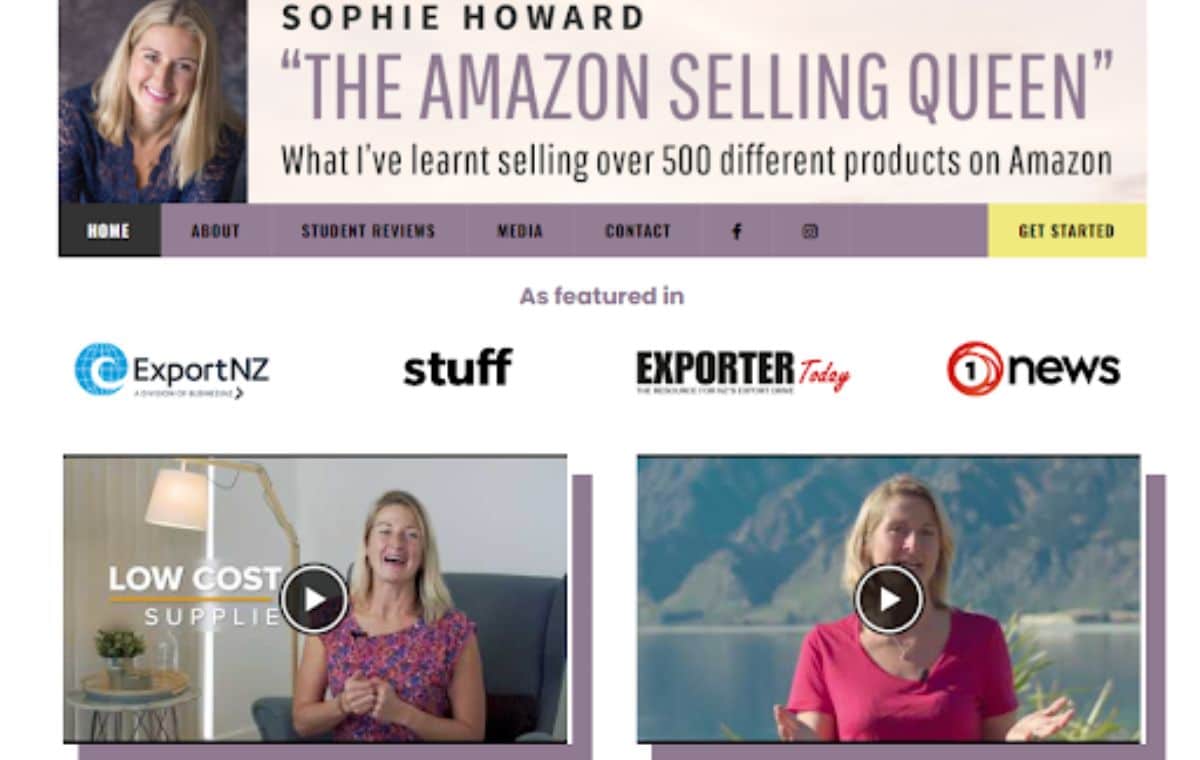 There are many ways by which you can sell products online and even on Amazon. What this course from Sophie Howard specializes in is private labeling. In this model, you create your own branded products that you then sell on Amazon.
Sophie's material in this course is directed towards beginners who have zero experience selling products on Amazon or merchants who want to scale up their operations.
If you have been looking up Amazon FBA to see whether you can start your business on the platform, you should not forget that building a successful online business – even with the help of a course like Blue Sky Amazon – is not easy. If you're new to the realm of internet marketing and starting businesses online, it will be a steep learning curve.
What is Fulfillment By Amazon (FBA)?
Fulfillment by Amazon (FBA) is a service offered by Amazon.com that enables businesses to outsource the order fulfillment part of their business to Amazon.
When a business joins FBA, they send their products to Amazon fulfillment centers. When a customer makes a purchase online, Amazon picks, packs, and ships the order. They also provide customer service and process returns for the orders.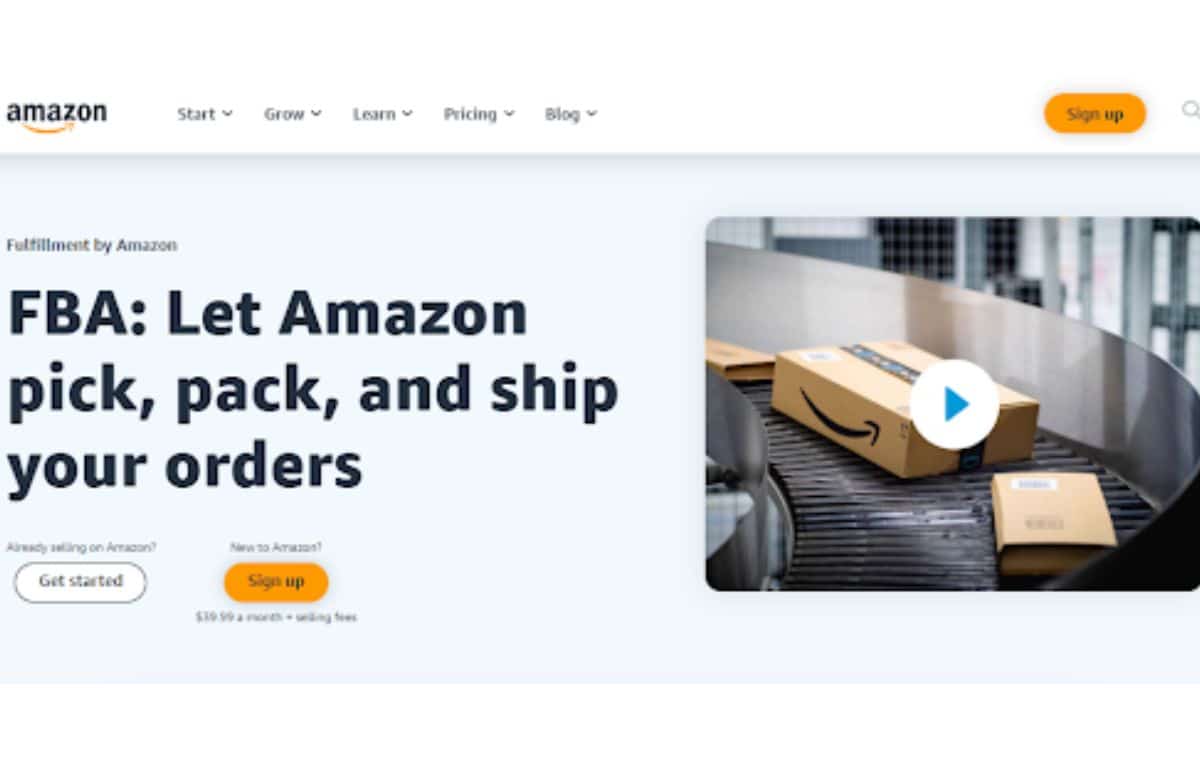 For a business looking to expand their operations online, there are benefits to using FBA. These include:
They get to access Amazon Prime members:

If a business is offering qualified FBA listings, they are usually displayed with the Prime logo. The merchant can sell to customers who want free one- or two-day shipping, those who shop exclusively Prime-eligible products, and those who only trust products with the Prime badge.

You Leverage Amazon's Customer Service Management

: A business using FBA benefits from Amazon's 24/7 customer service management because the company uses its vast resources to handle inquiries, returns, and refunds on behalf of the seller. This service is free but with some exceptions for the Returns Processing Fee.

Access to Amazon Fulfillment Centers

: FBA merchants have their inventory stored at Amazon's fulfillment centers from where they are shipped quickly. These centers also handle products that are not just on Amazon's marketplace.

Multi-Channel Fulfillment

: Amazon can handle inventory that is being sold on other channels, not just that which is sold through the Amazon marketplace.

They benefit from brand recognition

: Amazon is a household name and if your products are associated with Amazon's name, they get a boost. Consequently, buyers are more likely to patronize a seller because of that association. The Amazon name does wonders for customer trust because among other things, they offer excellent customer service and rapid delivery.

Shipping Standardization

: FBA orders are processed the same way Amazon handles its own inventory. As a merchant, you can feature an item on your website and use Fulfillment By Amazon to have Amazon take care of the inventory processing.

Better Shipping Fees

: If you sell your products through FBA, you pay less in shipping because Amazon has a relationship with the shipping companies. You can also offer free shipping over a certain amount to your customers because products sold through FBA qualify for Amazon Prime shipping.
If you want to start selling your products via Amazon, here is how you set it up:
Step 1: Set up FBA
Create your Amazon selling account, and login to Seller Central to provide the details needed.
Step 2: Create product listings
Then you add products to the Amazon catalog
Step 3: Prepare products
Prepare your products for safe and secure transportation to a fulfillment center.
Step 4: Ship products to Amazon
The final step is to create a shipping plan, print Amazon shipment ID labels, and send shipments to Amazon fulfillment centers.
Let's circle back to Sophie Howard's Blue Sky Amazon course.
What is included in the Blue Sky Amazon course?
The Blue Sky Amazon course has 35+ hours of video. It is a two-in-one course because it has two courses under one name. The two are:
Product University

Amazon Navigator
Sophie used to sell these two courses separately, but she decided to integrate them into the Blue Sky Amazon training program.
This integration came with some challenges because there have been complaints about overlap and disorganization. Besides the problems caused by combining the courses, people were also complaining that the video production quality isn't great.
Besides the video training, when you are a student of Blue Sky Amazon, you get access to a private Facebook group with more than 10,000 members, weekly group Q&A calls, and 1-on-1 coaching sessions.
In total, the program comprises 14 modules covering the whole Amazon FBA business model. Sophie Howard designed the course to lend a helping hand to mid-level sellers who are looking for create long-selling products.
The course also shows them how to scale their businesses with virtual assistants, sales funnels and other online services.
In that sense, you can see that the course is not optimal for the entry level seller because you need to have an idea of how the Amazon FBA model works to make the most of it.
Let's take a look at what's included in the course in finer detail.
Product University
Product university is the first of the two courses that were brought together to create Blue Sky Amazon. Its modules are:
Module 1 – Foundation
It is a five and a half-hour long video that gives you an introduction to the course. It has four sessions that cover foundational topics. They are:
Sophie's accomplishments and career background.

How to cultivate a positive mindset in order to create a good FBA business

How to plan your year

The benefits and drawbacks of other business formats besides FBA for ecommerce merchants.
In this module, you also get an introduction to sales funnels. Sophie Howard walks you through the process of using this marketing channel.
Sophie talks about how you can build a sales funnel and the steps you need to take to create one. She demonstrates how she creates one.
Module 2 – Product Selection Strategy
This video is slightly longer than five hours long and in it, Sophie shows you why she thinks a high MOQ (minimum order quantity) is beneficial. She explains that it is great because it creates a higher entry barrier thus reducing the number of competitors.
That's unlike most Amazon FBA courses that focus on showing you how to find products that sell quickly.
Sophie emphasizes on the need to focus on highly exclusive products that can sell for a long time rather than fast-moving ones in highly competitive niches.
Module 3 – Basic of Sales Funnels
While in the first module Sophie introduces sales funnels, she goes into the finer details in this module.
This near five and a half hour-long module is made up of four sessions.
In the first session, you get an overview of sales funnels and their components. That includes things like ads, lead magnets, just to mention a few.
In the second session, she walks you through the process of setting up a funnel using Clickfunnels.
The 3rd session is where she shows you how she set up a  funnel for her student's chosen product. She also discusses setting up a Facebook ad campaign to drive traffic.
In the final session, she evaluates her student's funnel and includes a 30-minute Q&A session.
Module 4 – Who will you hire to be your Virtual Assistant?
This four and a half hour module is made up of 3 sessions. The focus is on how and where to hire virtual assistants (VA's).
Sophie discusses how she outsources tasks to VA's and the difficulties that come with that.
She narrates her experience managing VAs as well as the successes. For example, she talks about how she outsourced supplier negotiation and product selection to her VAs who handled the job well.
Module 5 – Behind the Scenes: Selling on Amazon
This five-hour module includes details of how Sophie started her business on Amazon. She also shares the pros and cons of Amazon FBA.
She explains the process of setting up a seller account, acquiring a business license, and using tools like LSI Graph, Keyword Inspector, and Google Keyword Planner to find the best keywords.
She has also included a demonstration that walks you through the process of creating a product listing. It goes from title creation, product description, to the use of Amazon PPC.
This module also includes the fundamentals of FBA useful to both mid-level sellers and newbies.
Module 6 – Forgotten Product Sourcing Places
In module 6, we learn about the ways by which you can find out unique product sources. Examples of these include Browsing the Local Classifieds, Visiting Markets and Bazaars, Amazon Catalogue Technique, and Amazon Scroll and Search Technique, just to mention a few.
Sophie also talks about how she creates unique product ideas by combining business with pleasure when she travels.
The Amazon Navigator course runs for close to 10 hours and includes the following modules:
Module 1 – Welcome
In this first module, Sophie teaches you how to cultivate a positive mindset to deal with challenges. This stems from the knowledge that most new FBA vendors will experience challenges when they start their businesses.
She also talks about goal setting whereby she tells her students to put their goals in front of themselves and strive to reach those goals.
She also discusses FBA fundamentals. Here, she shows you how to calculate Amazon's fees, product costs and profit numbers. She also shows you how to get a business license and sign up for a professional Amazon seller account. Some of the lessons in this module overlap with the other course.
Module 2 – What you don't know About Branding
This module lasts one and a half hours. Sophie Howard talks about the branding strategy that she used to grow her Amazon stores into multiple 7-figure businesses. She uses this branding strategy to differentiate her products from other similar ones in the marketplace while charging a higher margin.
In this module, you also learn the concept of branding and how to optimally position your product to generate more sales.
Unlike other FBA courses that only scratch the surface when it comes to branding by focusing on things like setting up a brand website and Facebook page, Blue Sky Amazon shows you how to launch a brand competitors cannot copy and keep up with.
Module 3 – Finding Products that Sell for the Long-Term
Sophie Howard attributes her success with Amazon FBA to her knack of finding products that can sell for a long time. Therefore, to replicate her success and build a sustainable FBA business, you have to learn how to do that.
In this module, she details how she finds unique and long-term products from suppliers that are relatively unknown. She also talks about how she sources special products from countries like India, Thailand, Indonesia, Bali, and the US.
Module 4 – Are your listings Pristine?
In this one and a half-hour long module, Sophie walks you through the process of creating a product listing that attracts the attention of Amazon visitors. She also gets into sales copy, title construction, product description, just to mention a few.
She also discusses keyword research, how to to create irresistible offers, how to create titles that appeal to customers, and product descriptions
She insists on the importance of creating a product message that attracts millennials who constitute a majority of the online traffic.
Module 5 – Don't Get Samples, Order the Entire Shipment
This is a short module that covers the topics of shipping, samples and labeling. Sophie is unlike other Amazon FBA instructors because she gives you simple, practical and actionable tips on how to streamline the shipping process.
She talks about the difficulties that come with shipping and offers you solutions to get around them. She also highlights three ways of delivering your products to the designated Amazon warehouse.
Module 6 – Promoting the Sh*t out of your Product
This half-hour module concerns five marketing strategies to implement when launching your products. Sophie reveals seven key performance indicators that will help you keep track of the sales performance.
She also provides you with a blueprint for setting up coupon codes. One of the tips she gives is that you should create a limited number of coupon codes and make sure that those codes are hidden from the product listing.
Module 7 – Maintaining Your Account
To create and run a sustainable Amazon FBA business, you should make data-driven decisions and stay in control of your business.
Sophie shows you how to generate business reports from Seller Central. Seller Central has a variety of business reports like customer concessions report, removal report, sales report, inventory report, payment report, and FBA business report.
She also walks you through the process of optimizing customer support, processing international payments, and seeking help from Amazon.
When running an Amazon FBA business, you have to stay on top of these numbers and metrics. You should also know the profit margins of your products in order to direct your focus to the best-selling ones.
Module 8 – Scaling Beyond Amazon and Hiring VA's
This is the final module where Sophie teaches you how to outsource monotonous tasks so that you can focus on growing your business. One way to do that is to hire a number of virtual assistants to take care of those tasks.
Sophie Howard also encourages you to expand your business beyond Amazon and prepare an exit plan.
Upsell: The AX10 Program
When you join Blue Sky Amazon, you will be offered an upsell called the "AX10 Program." It comes with the promise of more personalized training and "done for you" services.
The price they charge for this upsell is $10,000. It doesn't look like a pushy upsell and there have been positive reviews from the students who've joined AX10.
Blue Sky Amazon Cost
Sophie Howard Price for the course is $3,995 paid once or 7 installments of $713.
In order to purchase Blue Sky Amazon, you have to schedule an "Amazon Fast Track" call with one of the representatives to gauge if you're a good fit for the training.
Besides the fee you pay for the course, bear in mind that you need more money to cater for expenses related to creating and marketing your product on Amazon.
In one of her presentations, she mentions that you should set aside $6,000 – $10,000 for the whole process of bringing your first product to the market. This estimate includes education and support and she insists that it is the minimum.
If you ask most Amazon sellers, they will tell you that you need a budget of $5000 or more on top of the price of a course. Therefore, if you want to implement the lessons Sophie Howard teaches via Blue Sky Amazon, you will need a total budget of $5,000 or more.
The Blue Sky Amazon Refund Policy
The Blue Sky Amazon sales page indicates that they offer a 7-day money back guarantee. You can activate this if you change your mind about starting an Amazon business or feel like you made a mistake signing up for the course.
From what previous customers have said online, Sophie Howard honors that refund policy, though some have reported having to contact Sophie's support team multiple times to get their refund.
The easiest way to request a refund is via the email address customersupport@knowledgesource.com.au 
Unfortunately, 7 days is too short to properly evaluate a course, especially if you've never used Amazon FBA before. If you sign up for Blue Sky Amazon, ensure you try your best to properly dive in and see if it's right for you before seven days pass.
Who is Sophie Howard?
Sophie Howard is an Amazon seller (calls herself the Amazon Selling Queen) and online business coach. Sophie lives in Wanaka, New Zealand, and has two young children.
Sophie has forged a career helping entrepreneurs find profitable products, create solid brands and sell their products via their online businesses.
Sophie Howard has already sold two Amazon businesses, one for 7-figures USD. She is now building her third global brand.
Sophie started offering the Amazon Blue Sky Training Program as online training to help online sellers find the best and most profitable products that have also sold for a long time. She talks about a step-by-step process for getting up and running fast on Amazon.
She gives her students access to coaching which provides them with more personal feedback from her and her team. She also provides "done for you" services to help you get results faster. Sophie espouses a unique approach to product selection, sourcing, and making sure your Amazon business is resilient, profitable, and sellable.
Sophie also goes on Trade Show trips around the world sourcing unique products to sell online and regularly invites her students to join in.
Blue-Sky Amazon Reviews
One of the best places to find reviews from customers is Trustpilot.com.
As of writing this, Blue Sky Amazon has an overall rating of 2.8 (out of 5) based on 268 reviews.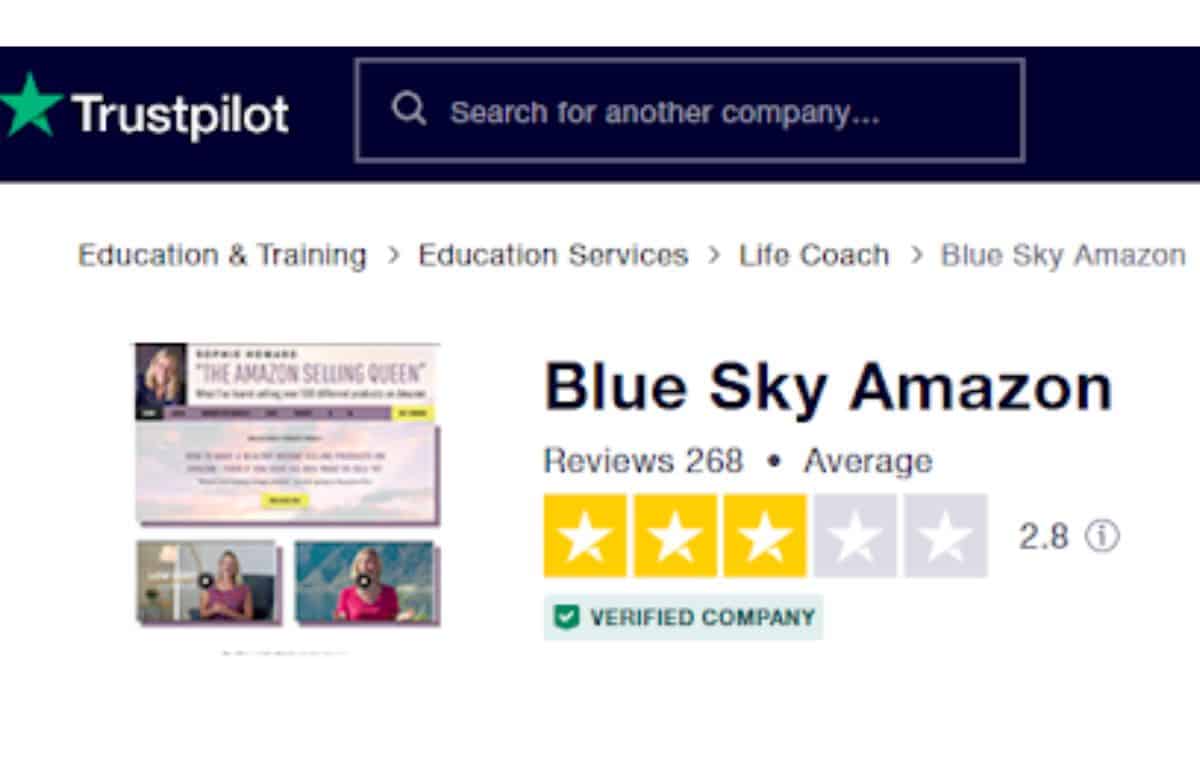 The ratings are mixed, with some students claiming that the course was great. Others say that it wasn't good.
Here is a sample of a few positive ones: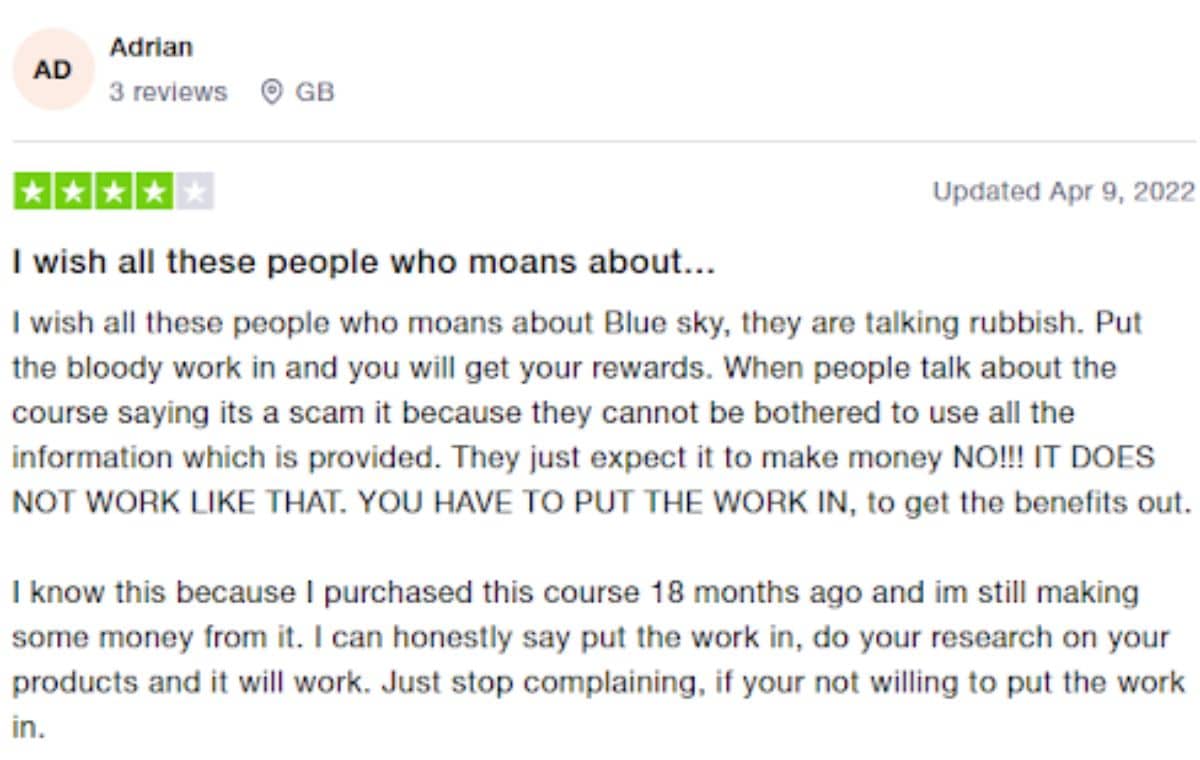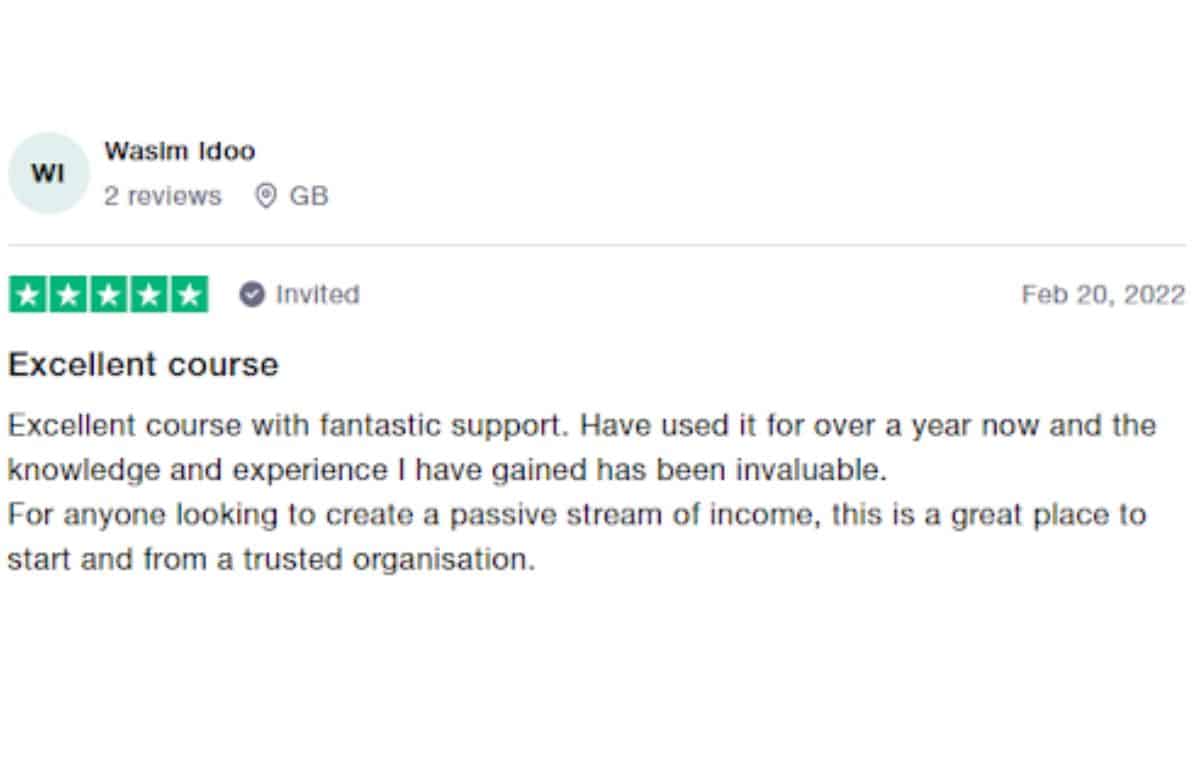 And a couple of bad reviews:
This one is about poor customer service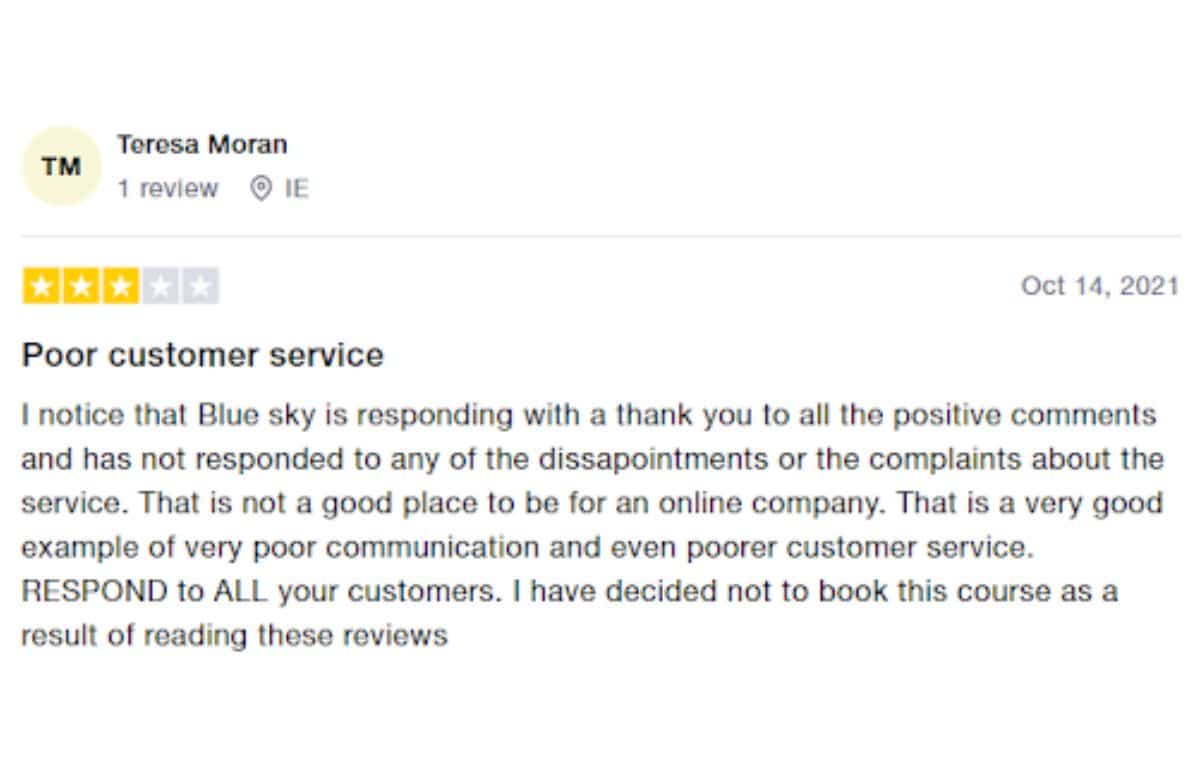 This one complains about the upsells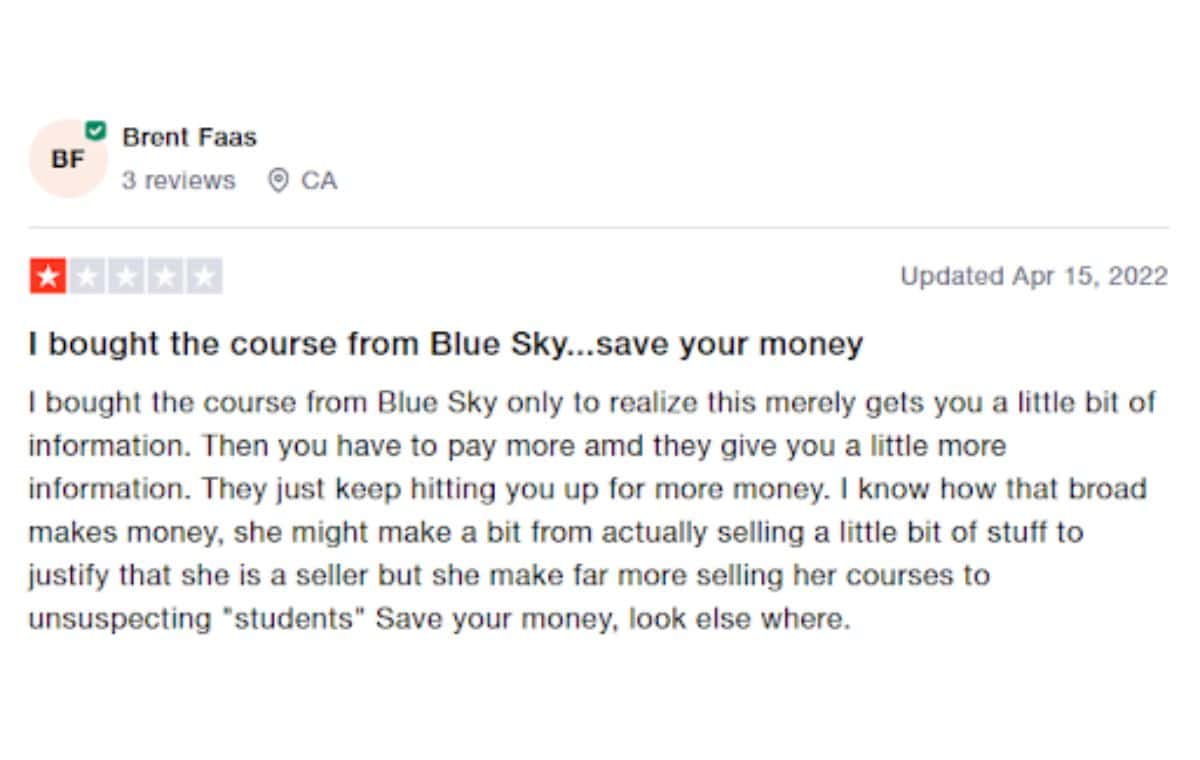 As you can see from those reviews, there are a few complaints about the course just as there are customers that are happy with it.
You expect to see more reviews given how popular her training is with 10,000 students and counting buying it.
Pros of Blue Sky Amazon
There are a few things you are bound to like about Sophie Howard's course:
Sophie offers 1-on-1 coaching calls and weekly live Q&A sessions.

Sophie Howard is an experienced Amazon seller which means that you will be learning from someone who's the real deal.

If you look her up online, you will find lots of positive student reviews.

You have access to an active private community.

Blue Sky Amazon offers comprehensive training in starting and running an FBA business.
Cons of Blue Sky Amazon
There are a few things you will not like about Blue Sky Amazon. These are:
This course is relatively expensive especially when compared to other Amazon FBA courses.

The video production quality in some cases is not good.

Many people online complain about aggressive sales and marketing techniques and the fact that Sophie makes ambitious claims about what you will achieve with the course.

The refund policy only lasts seven days, which doesn't give you adequate time to evaluate the course.

Since Blue Sky Amazon is an aggregate of two courses, there is a lot of overlap and disorganization within the course.

There are a bunch of fake reviews online which give you an inaccurate account of how the course works.
Is Blue-Sky Amazon Legit?
Blue Sky Amazon is a legitimate course. If you read many reviews online, you will realize that there are more positives than negatives regarding this course.
Sophie Howard is an experienced Amazon seller and appears to know what she is talking about. Besides, there aren't any serious disputes over her massive success selling on Amazon. It is also comforting to know that she has sold Amazon businesses for 6 and 7 figures, indicating that they are great businesses.
Sophie Howard's course looks good overall, but it is not perfect as you'll still find some people complaining about it. Most of those complaints are about how the course is marketed. She is often blamed for being too aggressive or charging a relatively high fee for her course.
Conclusion
Sophie Howard's Blue Sky Amazon is a course that teaches you how to get into FBA selling and build your business up once you get started.
From my observation, the course is geared towards you if you value personal coaching over courses that merely spout information.
If you are new to the Amazon FBA business model, the prudent thing to do is to get a feel for it before investing significant time and money. Test the waters and see if it's a good fit for you (but you have to be quick because you only have seven days to claim a refund).
Although she doesn't mention it in her promotional material, when buying the course you should have at least an additional $5000 in cash to jumpstart your Amazon business.
You will have to dedicate at least 7 hours per week available to follow the training and build your Amazon business. If you set aside 20 hours per week, that's more realistic for most people.