Beyonce Net Worth and Complete Biography [Latest Updates 2023]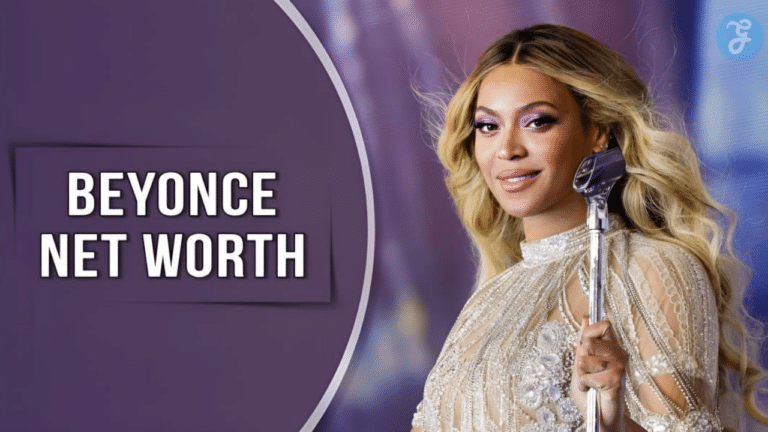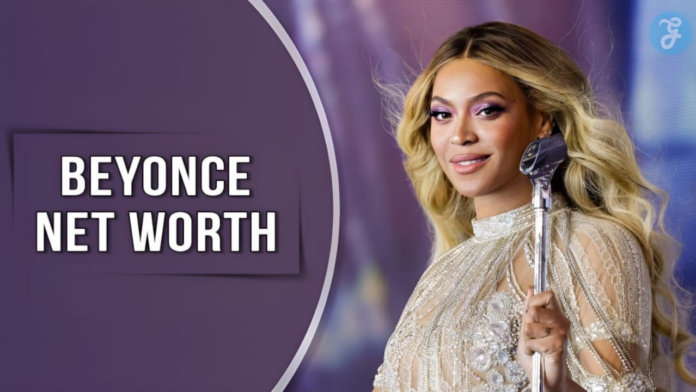 Ever wondered about the net worth of music sensation Beyonce? Born on September 4, 1981, in Houston, Texas, she has become one of the highest-paid celebrities in today's entertainment industry.
This article will delve into Beyonce net worth, her life, and career journey, leading to an estimated net worth of around $500 million as of 2023. Let's zoom into the world of this iconic superstar!
Content Highlights
Beyonce's estimated net worth in 2023 is around $500 million, making her one of the wealthiest artists in the world.

She started her career as a member of the famous girl group Destiny's Child member before pursuing a successful solo career.

Beyonce has earned money through music sales, touring, endorsements, acting roles, and her clothing brand, Ivy Park.

Along with her musical achievements, she has won numerous awards and is known for using her fame to promote feminism and social activism.
Beyonce's Personal Life and Early Career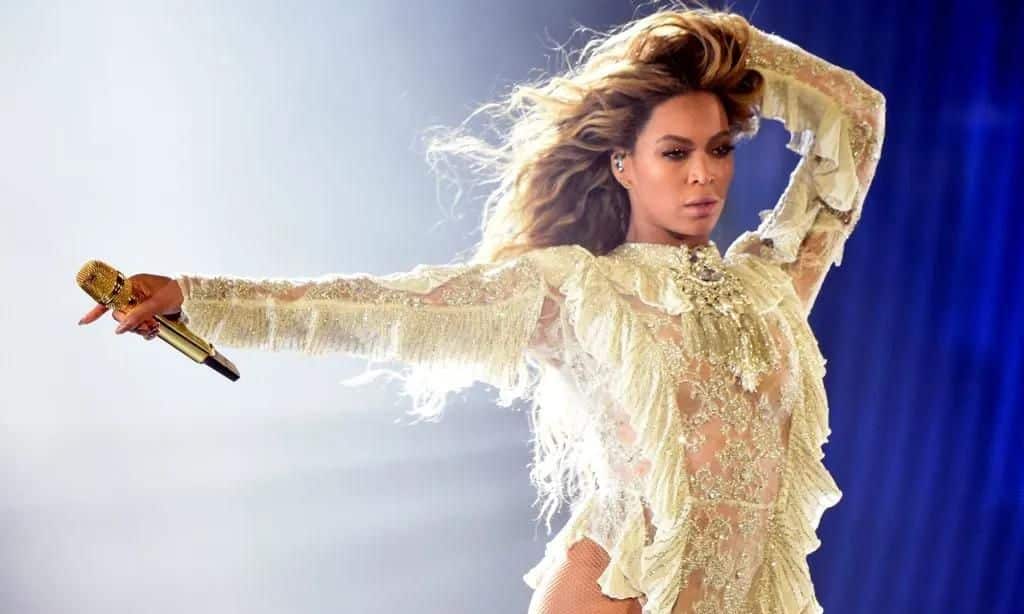 Beyonce, born and raised in Houston, Texas, showed her passion for music from a young age.
Beyonce's Early Life
Beyonce was born on September 4, 1981, in Houston, Texas. Her parents are Celestine "Tina" Knowles and Mathew Knowles. As a young girl, she loved singing. She spent many hours practicing her voice at home.
| | |
| --- | --- |
| Characteristic | Details |
| Name | Beyoncé Giselle Knowles-Carter |
| Born | September 4, 1981, Houston, Texas |
| Parents | Mathew Knowles (father) and Tina Knowles (mother) |
| Siblings | Solange Knowles (younger sister) |
| Husband | Jay-Z (m. 2008) |
| Children | Blue Ivy Carter (daughter) and Rumi and Sir Carter (twins) |
| Occupations | Singer, songwriter, dancer, actress, record producer, businesswoman, director |
| Years active | 1997–present |
| Net worth | $500 million (2023) |
| Awards | 32 Grammy Awards, 28 BET Awards, 24 NAACP Image Awards, 22 MTV Video Music Awards, 7 BRIT Awards, 20 Soul Train Music Awards, 11 Billboard Music Awards, and many more |
Table: Brief Biography of Beyonce
Her talent shone at an early age. People noticed it when she sang at church and school events. This marked the start of her path to becoming one of today's biggest stars.
Destiny's Child
Destiny's Child was a famous girl group. The group started with six members. The list includes Beyonce and Kelly Rowland. Other early members were LaTavia Roberson, Támar Davis, Nikki, and Nina Taylor.
The team saw many changes over time. Some members, like LaTavia Roberson, left the group. Despite this, Destiny's Child did not stop making good music for fans worldwide.
It is also worth noting that their success added to Beyonce's net worth, which is now around $500 million!
Solo Career
Beyonce left Destiny's Child in 2003. She started her music work. Her first solo album was "Dangerously in Love." It became a big hit. Many loved songs like "Crazy in Love" and "Baby Boy."
The album won five Grammy Awards. Beyonce got famous for her strong voice and great shows on stage. She also acted in movies like "Dreamgirls" and "Cadillac Records." Today, she is one of the richest singers in the world.
Family Life and Marriage
Beyonce is happily married to Jay-Z, and they have been together for over 20 years. They have built a strong family together, as they are the proud parents of three children. Beyonce has always been open about her love and devotion to her family, often sharing glimpses of their happy moments on social media.
Their marriage is an important part of Beyonce's personal life, which she cherishes alongside her successful career in music and entertainment. 
Related Read: Taylor Swift's Tour: Get Ready to Dance with the Hottest Celeb!
Beyonce Net Worth in 2023
Beyonce's net worth in 2023 has reached an impressive figure, making her one of the wealthiest artists in the world. Curious to know how she amassed such a fortune? Read on to find out!
Current Estimated Net Worth
Beyonce's current estimated net worth is around $500 million. Her wealth has steadily grown over the years, making her one of the wealthiest musicians in the world. She has achieved tremendous success in her career, earning money through various sources like music sales, live performances, endorsements, and business ventures.
Along with her husband Jay-Z, their combined net worth exceeds $1 billion. Beyonce's financial success is a testament to her hard work and talent as an artist and entrepreneur.
Read Also: Byron Allen's Net Worth
Sources of Income
Beyoncé's sources of income in 2023 include:
Music sales: Beyoncé has had multiple successful albums throughout her career, which have generated significant income through album sales and streaming royalties.
Touring: Beyoncé is known for her high-energy and visually stunning live performances. Her world tours attract millions of fans and generate substantial revenue from ticket sales, merchandise, and sponsorships.
Endorsements: Beyoncé has partnered with various brands for endorsement deals, including Pepsi, L'Oréal, and Adidas. These partnerships have brought in substantial income through advertising campaigns and product collaborations.
Acting roles: In addition to her music career, Beyoncé has also made a name for herself as an actress. She has appeared in several movies, such as "Dreamgirls" and "The Lion King," which have earned her a salary and additional royalties.
Clothing line (Ivy Park): Beyoncé's clothing brand, Ivy Park, has been a successful venture. The brand offers athleisure wear and has collaborated with retailers like Adidas. Sales from the clothing line contribute to Beyoncé's overall net worth.
Collaborations: Beyoncé has collaborated with numerous artists on hit songs throughout her career. These collaborations often result in shared revenue from music sales and streaming.
Investments: Beyoncé has strategically invested in various business ventures outside of music. 
Beyonce's Achievements and Awards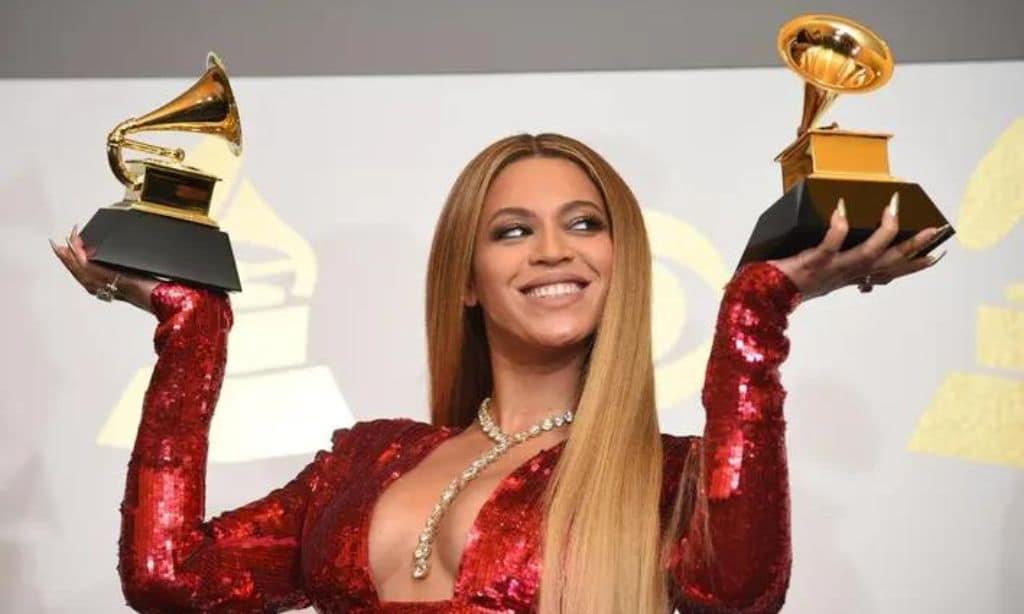 Beyonce has amassed numerous accolades throughout her career, including multiple Grammy Awards, MTV Video Music Awards, and a Golden Globe nomination for her acting. Her contributions to music and philanthropy have solidified her status as an influential figure in the industry.
Music Awards
Beyoncé has won 32 Grammy Awards.
Acting Career
Beyonce has had a successful acting career in addition to her music career. She has appeared in several movies and received critical acclaim for her performances. One notable film role was in "Dreamgirls," where she won a Golden Globe Award for Best Actress.
Beyonce has also showcased her talent on stage, starring in the musical "Carmen: A Hip Hopera" and earning multiple theater awards for her portrayal. Both audiences and critics have recognized her acting skills, solidifying Beyonce as a multi-talented.
You May Find Interest:  ASAP Rocky's Net Worth
Philanthropy
Beyonce has always been passionate about giving back to the community. Throughout her career, she has supported various charitable causes and organizations. Some of the charities she has supported include Oxfam, American Foundation for AIDS Research, and Prince's Trust.
Beyonce's success and net worth have allowed her to make a significant impact through her philanthropy work. She understands the importance of using her platform and resources to help those in need, making a positive difference in the world beyond just her music career.
Beyonce's Business Ventures
Beyonce has expanded her portfolio through numerous business ventures, including endorsement deals with major brands, a multi-million dollar Netflix deal, and the successful launch of her own athleisure brand, Ivy Park.
Endorsement Deals
Beyonce has endorsed various brands, contributing to her impressive wealth and success. Some of her notable endorsement deals include:
Pepsi: Beyonce signed a $50 million deal with Pepsi in 2012, which involved commercials, limited-edition soda cans featuring her image, and sponsorship of her world tour.
L'Oreal: She became the face of L'Oreal in 2001, promoting their cosmetics and hair care products.
Samsung: In 2013, Beyonce partnered with Samsung to exclusively release her self-titled album on their phones and tablets. The deal was worth $20 million.
H&M: Beyonce collaborated with H&M in 2013 to create a summer collection called "H&M for Water," raising awareness about clean water initiatives.
Toyota: She starred in a commercial for Toyota's RAV4 SUV during the Super Bowl XLVII in 2013.
Adidas: In 2019, Beyonce partnered with Adidas to relaunch her athleisure brand, Ivy Park.
Netflix Deal
Beyonce made a big deal with Netflix. She signed a three-project contract that's worth $60 million. This deal is part of her business ventures and is expected to greatly increase her net worth.
It shows that Beyonce is talented in music and acting and has good business skills.
Ivy Park
Ivy Park is a trendy clothing line created by Beyoncé. She owns and runs the brand through her company, Parkwood Entertainment. Ivy Park offers stylish activewear like leggings, sports bras, and hoodies.
It became really popular when it launched in 2016 and sold out quickly. Ivy Park has even collaborated with big brands like Adidas to design exclusive fashion collections.
Beyonce's Real Estate and Other Investments
Beyonce has made significant investments in real estate, owning multiple properties worldwide. In addition to her real estate ventures, she has also invested in various other business opportunities and industries.
Properties Owned
Beyonce and Jay-Z own many properties. Here are some of them:
An $88 million home in Bel Air
A portfolio of real estate assets worth $300 million
At least $350 million worth of property in the US
Investments
Beyonce has made smart investments with her money. Here are some of the investments she has made:
Beyonce has an investment portfolio worth $300 million, which includes her music label and tech investments.
She has also invested in startups like Ivy Park, a clothing brand she co-founded.
Beyonce and Jay – Z own at least $350 million worth of property in the US, another form of investment.
Also Read: Scrub Daddy Net Worth – The Million-Dollar Smile
Beyonce's Influence and Impact
Beyonce's influence and impact extend far beyond music, as she has become a cultural icon and champion for feminism and activism.
Cultural Impact
Beyoncé has had a huge cultural impact. Her songs, performances, and style have influenced pop culture in a major way. She addresses important topics like gender, race, and identity in her music, sending powerful messages that resonate with many people.
Beyoncé's ability to constantly evolve and reinvent herself as an artist is admired by fans and critics alike. She uses her platform to advocate for social issues and promote change, making her more than just a singer but also an influential societal figure.
Throughout her career, Beyoncé has become an icon in the entertainment industry and continues to shape the cultural landscape with her impactful work.
Feminism and Activism
Beyoncé is known for using her fame to promote feminism and activism. She encourages women to be strong, independent, and stand up for themselves. Her music videos and performances have had a lasting impact on pop culture, inspiring many people worldwide.
Beyoncé's album "Flawless" has been praised as a symbol of modern feminism. She is hailed as a game changer and a powerful advocate for change.
Beyonce's Car Collection
Beyonce's Car Collection: A Look into the Luxurious Cars Owned by the Superstar.
Notable Cars
Beyoncé's car collection includes some impressive vehicles, showcasing her luxurious taste and extravagant lifestyle. Here are some of the notable cars she owns:
Cadillac Escalade
Mercedes – Benz SLR McLaren
Chrysler Pacifica
Car Enthusiasm
Beyoncé's love for cars is evident in her impressive car collection. Alongside her husband, Jay-Z, she has amassed a range of vehicles that showcase their shared passion. One notable addition to her collection is the Cadillac Escalade.
Beyoncé's taste and style are reflected in her choice of supercars and ultra-luxury SUVs. Her car collection truly speaks to her appreciation for luxury and power, making it an exciting part of her overall persona.
Beyonce Quotes and Famous Sayings
"I don't like to gamble, but if there's one thing I'm willing to bet on, it's myself."
"Power means happiness; power means hard work and sacrifice."
"We all have our purpose; we just have to find it."
"The most alluring thing a woman can have is confidence."
"You determine your self-worth. You don't have to depend on someone telling you who you are."
"I embrace mistakes; they make you who you are."
"I'm not bossy; I'm the boss."
"We need to reshape our perception of how we view ourselves. We must step up and control how we're looked at."
"Do what you were born to do. You have to trust yourself."
Also Read: Comedy and Currency: Bert Kreischer Net Worth Revealed
Frequently Asked Questions (FAQs)
Check some commonly asked questions about Beyonce's net worth in 2023 below.
1. What is Beyonce's net worth?
Beyonce's net worth is estimated to be around $500 million.
2. How did Beyonce become famous?
Beyonce became famous as a member of the girl group Destiny's Child and later as a solo artist known for her hit songs and mesmerizing performances.
3. Has Beyonce won any awards?
Beyonce has won numerous awards throughout her career, including Grammy Awards, MTV Video Music Awards, and BET Awards.
4. Can you provide an overview of Beyonce's biography?
Beyonce is a singer, songwriter, actress, and entrepreneur from Houston, Texas. She rose to fame with Destiny's Child in the 1990s and had a successful solo career. In addition to music, she has also appeared in films such as "Dreamgirls" and "The Lion King."