15 Best Gaming Routers – No Way to Beat This List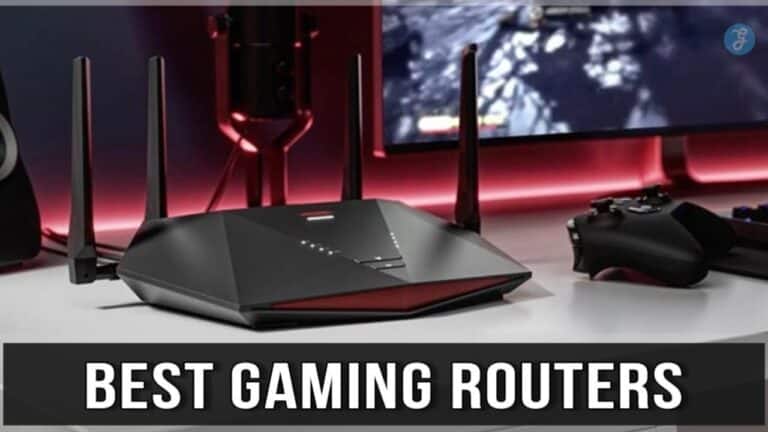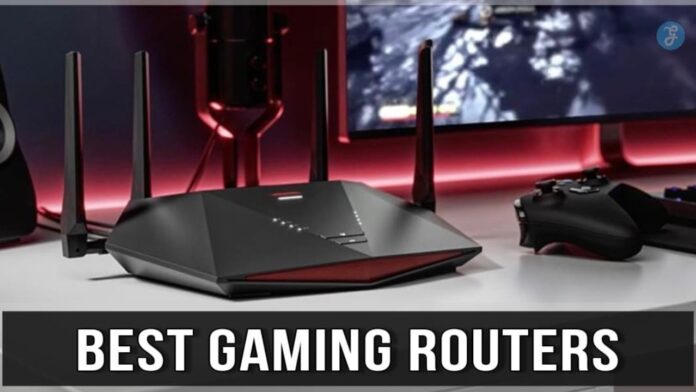 Listen to the Podcast:
Are you tired of lagging and slow internet ruining your gaming experience? Do you want to elevate your gaming performance to the next level? If so, then it's time to consider investing in the best gaming routers.
Gaming routers are specially designed to provide the fastest and most reliable internet connection for gamers, ensuring smooth gameplay, reduced latency, and uninterrupted online battles.
Read on till the end and learn everything in detail.
What Is a Gaming Router?
A gaming router is a special kind of wireless router made for gamers. It helps improve online gaming by giving priority to game data.
Compared to regular routers, gaming routers have extra features like Quality of Service (QoS) that can make gaming faster and smoother. These routers can prioritize gaming traffic, which means they give more importance to game data over other internet activities.
With a gaming router, you can customize your network settings and give more bandwidth to your games. This helps reduce lag and delays, so you can enjoy playing without interruptions.
Simply put, a gaming router is a particular one that makes online gaming better. It helps you have a faster and more reliable connection while playing games by prioritizing your game data.
15 Best Gaming Routers
In the below segment, let's learn about the best budget gaming router.
1. TP-Link Archer AX11000 Next-Gen Tri-Band Gaming Router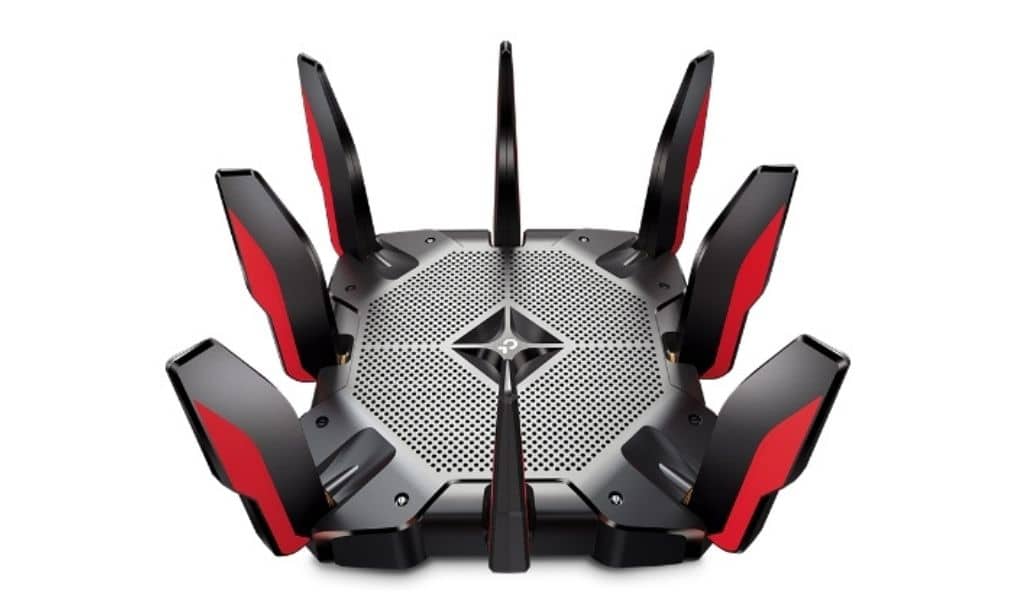 The TP-Link Archer AX11000 Next-Gen Tri-Band Gaming Router is our top-tested pick for gaming routers. With its outstanding performance, gamer-friendly dashboard, and impressive range of I/O ports, including eight 1GbE LAN ports, a 2.5GbE WAN port, and USB ports, this router has earned an Editors' Choice award.
While it comes with a higher price tag, it offers many features. It utilizes top-quality hardware to ensure a seamless gaming experience, making it one of the best all-around gaming routers.
Pros
Easy installation process

The abundance of gamer-friendly settings

Multiple ports for versatile connectivity

Supports multi-gig WAN and link aggregation

Lifetime malware protection for added security

Robust parental controls for managing content access
Cons
Higher cost compared to other routers

The bulky design may require more space for installation
2. TP-Link Archer AX50 (AX3000) Dual Band Gigabit Wi-Fi 6 Router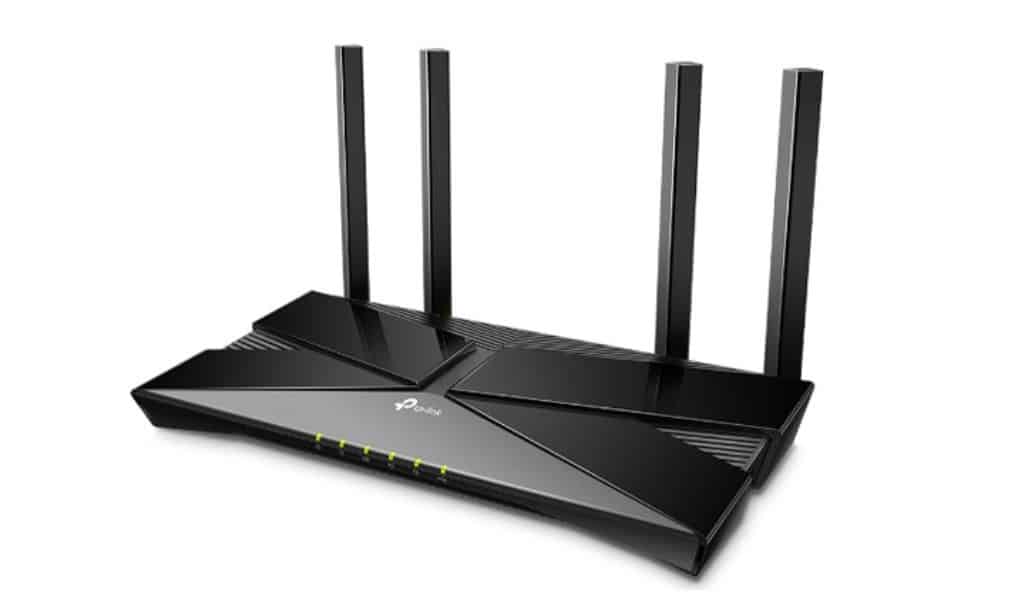 The TP-Link Archer AX50 (AX3000) Dual Band Gigabit Wi-Fi 6 Router is our best budget gaming router. This router has earned our Editor's Choice award with its excellent balance of solid throughput performance, comprehensive signal coverage, and a feature set typically found on more expensive models.
Priced under $100, it offers excellent value as a Wi-Fi 6 router, providing four LAN ports, a USB port, and support for high-speed networking through link aggregation.
Pros
Easy installation process

Solid throughput performance and signal strength

Robust parental controls for managing content access

Anti-malware protection for enhanced security

Supports link aggregation for high-speed networking
Cons
Does not support the WPA3 security protocol

Middling file-transfer performance
3. Asus ROG Strix GS-AX5400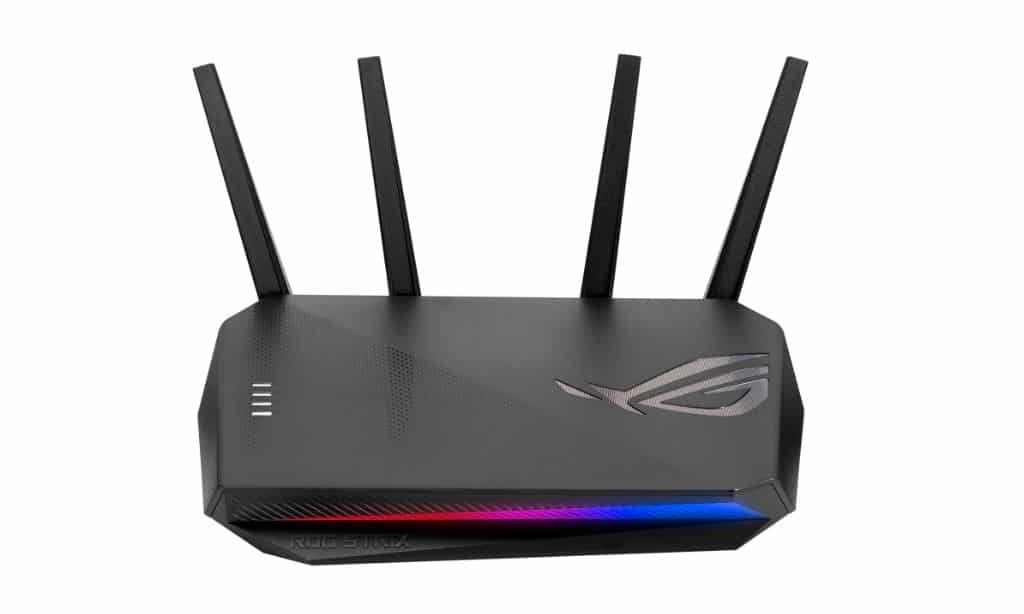 The Asus ROG Strix GS-AX5400 is our top pick for the best mainstream Wi-Fi 6 gaming router. With its impressive performance and gamer-friendly features, it is designed to elevate your online gaming experience. While it may not offer the multi-gig connectivity found in more expensive models, it compensates with a dedicated gaming LAN port that prioritizes bandwidth for gaming PCs and consoles. It also supports link aggregation for high-speed networking.
Pros
Easy installation process

Fast throughput performance

Robust anti-malware and parental control software

Optimized settings for gaming

Dedicated gaming port for prioritized bandwidth
Cons
Does not have multi-gig ports

Only one USB port is available
Related Read: Can Your Router Be Hacked Online?
4. TP-Link Archer GX-90 AX6600 Tri-Band Wi-Fi 6 Gaming Router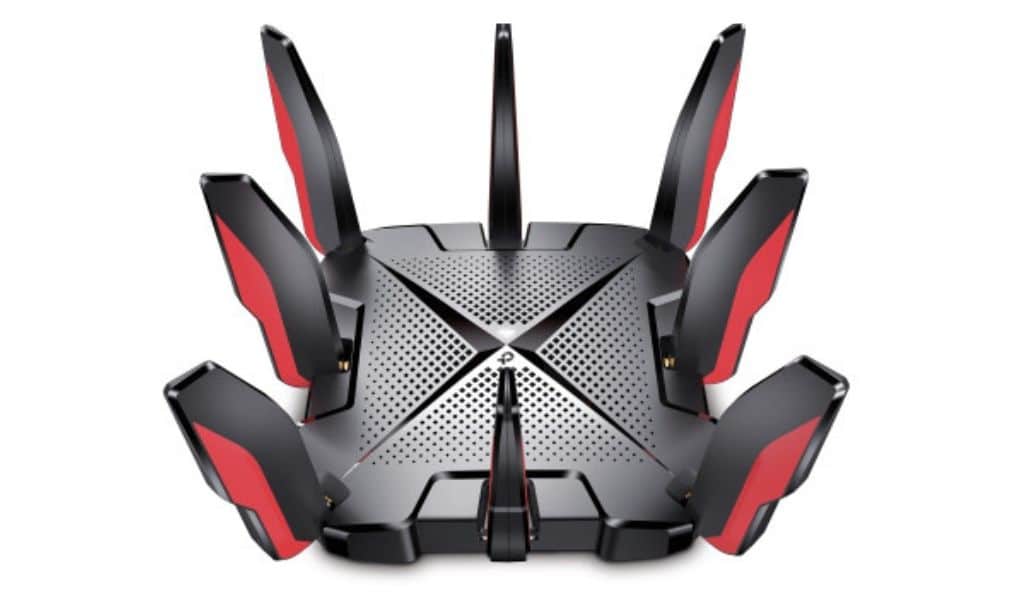 The TP-Link Archer GX-90 is a solid alternative to the Asus ROG Strix GS-AX5400, offering impressive Wi-Fi 6 capabilities and a range of features tailored for gamers. Its powerful hardware, including a quad-core processor and multiple antennas, delivers excellent throughput and comprehensive Wi-Fi coverage.
The router has various ports, including a 2.5GbE LAN/WAN port, a 1GbE LAN/WAN port, and USB ports. It also supports OneMesh technology for creating a seamless mesh network.
Pros
Straightforward installation process

Strong performance in terms of throughput and signal strength

Lifetime network security and parental control software

Multi-gig connectivity for high-speed networking

Gamer-friendly settings for the optimized gaming experience
Cons
Higher price point

Antennas are non-adjustable

Please note that the ratings and descriptions are hypothetical and do not represent actual evaluations.
5. Asus ROG Rapture GT-AX11000 Pro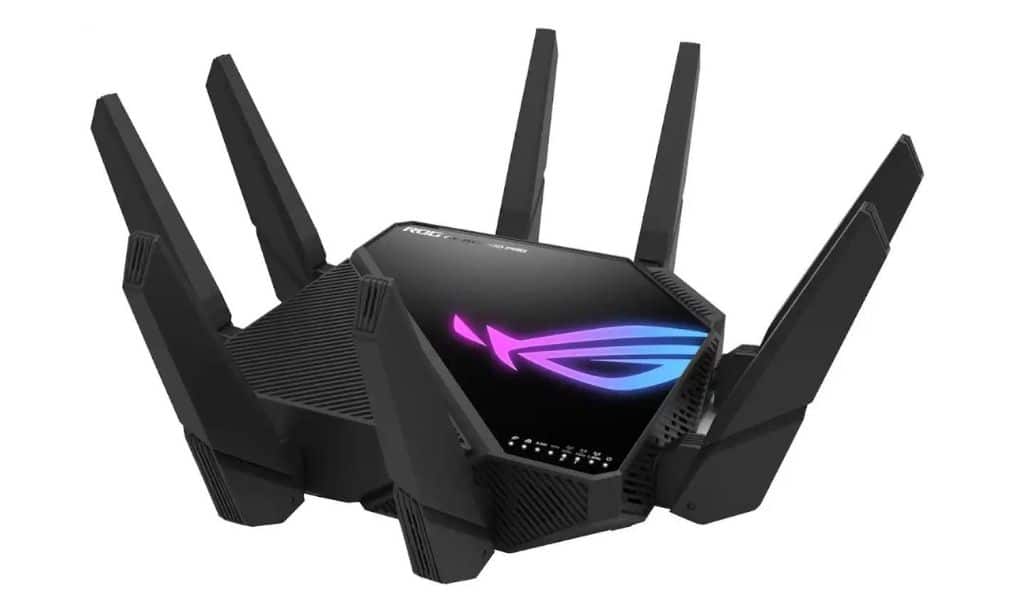 The Asus ROG Rapture GT-AX11000 Pro is the best gaming router for those seeking multi-gig LAN connections. With its impressive lineup of high-speed wired ports, including a 10Gbps LAN/WAN port, 2.5Gbps WAN port, and four 1Gbps LAN ports, this router is designed to deliver exceptional performance for gaming PCs connected via Ethernet.
It also supports link aggregation for even greater bandwidth capacity. Powered by a 2GHz quad-core CPU, ample memory, and DDR4 RAM, it achieves blazing wireless throughput speeds, making it a top choice for demanding gamers.
Pros
Exceptional throughput speeds

Comprehensive signal coverage for extensive Wi-Fi reach

10Gbps LAN/WAN port for lightning-fast wired connections

Lifetime parental control and network security software for added protection

The abundance of gamer-centric settings for an optimized gaming experience
Cons
High price point

Large physical footprint

Please note that the ratings and descriptions are hypothetical and do not represent actual evaluations.
6. Asus ROG Rapture GT-AXE16000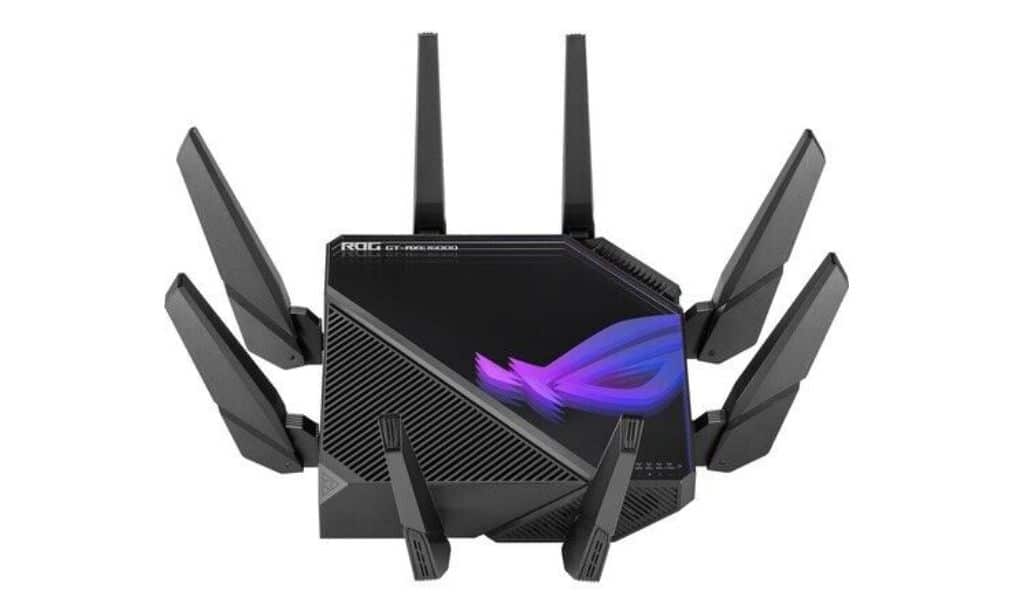 The Asus ROG Rapture GT-AXE16000 is a solid alternative to the GT-AX11000 Pro, offering a compelling upgrade option for those seeking multi-gig networking ports and future-proof Wi-Fi 6E capabilities. With its impressive performance in our tests, this router delivers fast throughput speeds and comes equipped with built-in network-security tools and parental-control software. It also supports mesh networking and offers a range of gamer-centric settings to enhance your gaming experience.
Pros
Fast throughput speeds demonstrated in our tests

Support for Wi-Fi 6E, ensuring compatibility with the latest wireless technologies

Three multi-gigabit ports for high-speed wired connections

Includes network security and parental-control software for added protection

Expandable into a mesh system with additional units

Gamer-friendly settings for optimized gaming performance
Cons
Comes at a high price point

Large physical footprint

File transfer and 5GHz signal range performance could be improved
7. Netgear Nighthawk Tri-Band Wi-Fi 6E Router (RAXE500)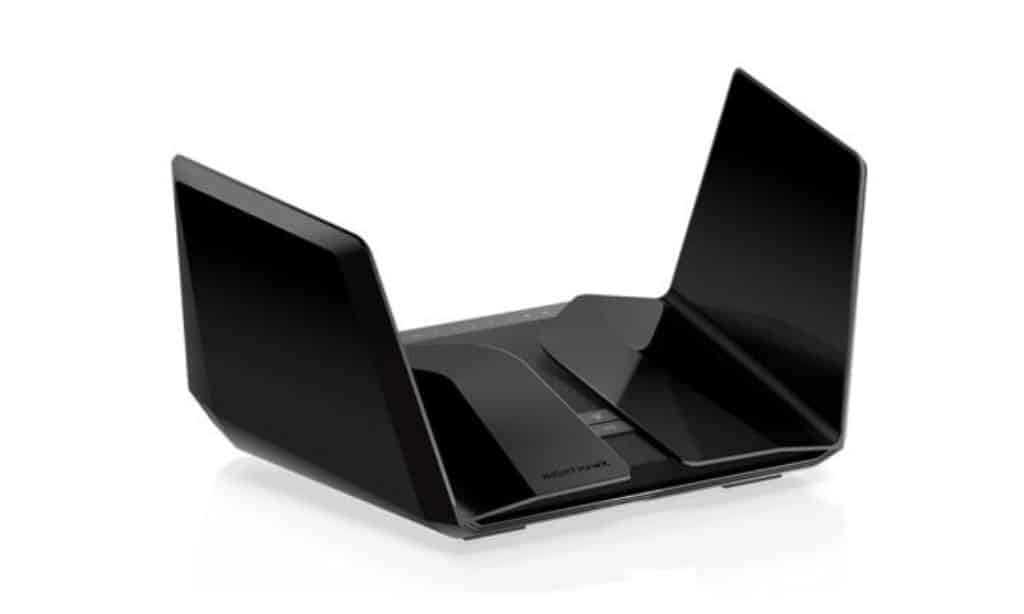 The Netgear Nighthawk RAXE500 is considered the best Wi-Fi 6E gaming router available. As the first Wi-Fi 6E router to enter our labs, it impresses with its 6GHz radio transmissions and high-speed networking capabilities. With a 2.5GbE port and five 1GbE ports supporting link aggregation, this tri-band router delivers fast throughput and excellent signal range. While its $600 price tag may be a deterrent for some, the RAXE500's futuristic design and powerful performance make it a top choice.
Pros
Speedy throughput and file transfer performance

Utilizes the 6GHz radio band, taking advantage of Wi-Fi 6E technology

Multi-gig LAN/WAN ports for high-speed wired connections

Link aggregation support for increased bandwidth

Supports 160MHz channel bandwidth for enhanced performance

Easy management via the web console or mobile app
Cons
Comes with a high price tag

Netgear Armor protection requires a subscription

Limited parental control features

No QoS (Quality of Service) settings for fine-tuning network performance
Read More: WiFi 6 vs. WiFi 6E: 5 Major Differences Explained
8. TP-Link AC4000 MU-MIMO Tri-Band WiFi Router (Archer A20)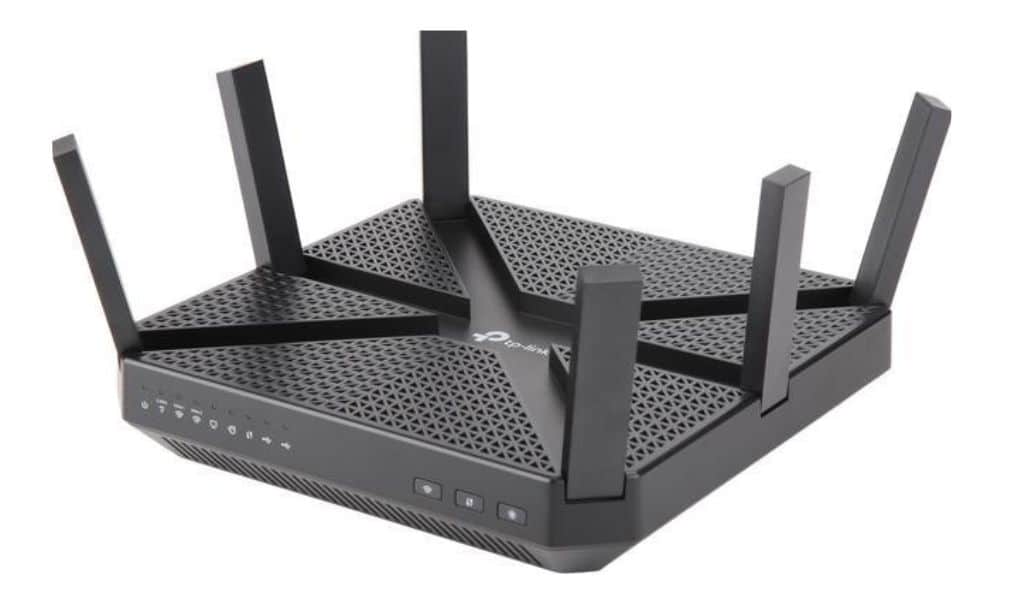 The TP-Link Archer A20 is recognized as the best gaming router for comprehensive security options. Despite using older 802.11ac wireless technology, it delivers robust throughput and impressive file transfer speeds in our performance tests. Setting up the router is a breeze with the Quick Setup Wizard, and its user-friendly web console makes network management a seamless experience.
The Archer A20 is an excellent choice for gamers seeking reliable Wi-Fi 5 performance. It offers ample power to handle online gaming demands and comes bundled with three years of TP-Link's HomeCare software. This software combines robust parental controls tailored to different age groups with network security tools to safeguard your network and connected devices against malware and other threats.
While it lacks advanced game optimization settings and numerous networking ports in higher-end routers, the Archer A20 delivers solid performance at a more affordable price point.
Pros
Easy installation process

Breakneck file-transfer speeds

Parental solid controls and anti-malware tools
Supports Alexa voice control
Cons
Middling performance in terms of the 5GHz range
9. Asus ROG Rapture GT6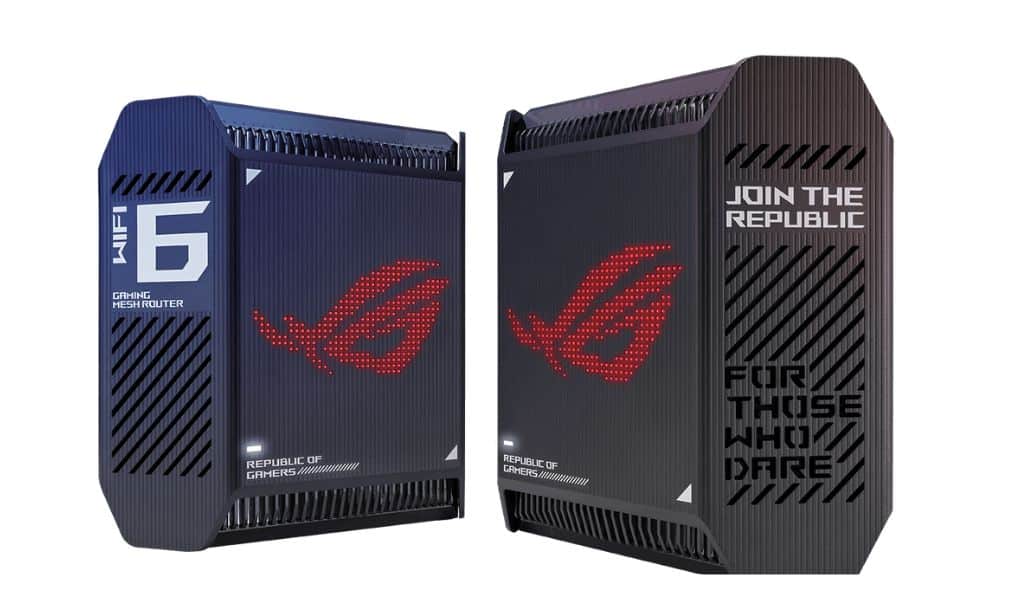 The Asus ROG Rapture GT6 is a powerful mesh router specifically designed for gamers. Wi-Fi 6 technology offers excellent performance and coverage for gaming enthusiasts. It features a unique trapezoidal shape and built-in RGB lighting, making it stand out visually.
The router includes nine antennas for enhanced coverage and comes with multiple Ethernet ports, including a 2.5 Gbps Ethernet port, three gigabit Ethernet ports, and a USB 3.2 port for data access. Although it lacks Wi-Fi 6E support, it utilizes 160 MHz data channels and beamforming to achieve a maximum throughput of 10.1 Gbps.
Pros
Great wall penetration

Built-in security software

Excellent Wi-Fi 6 mesh performance
Cons
10. TP-Link Archer C5400X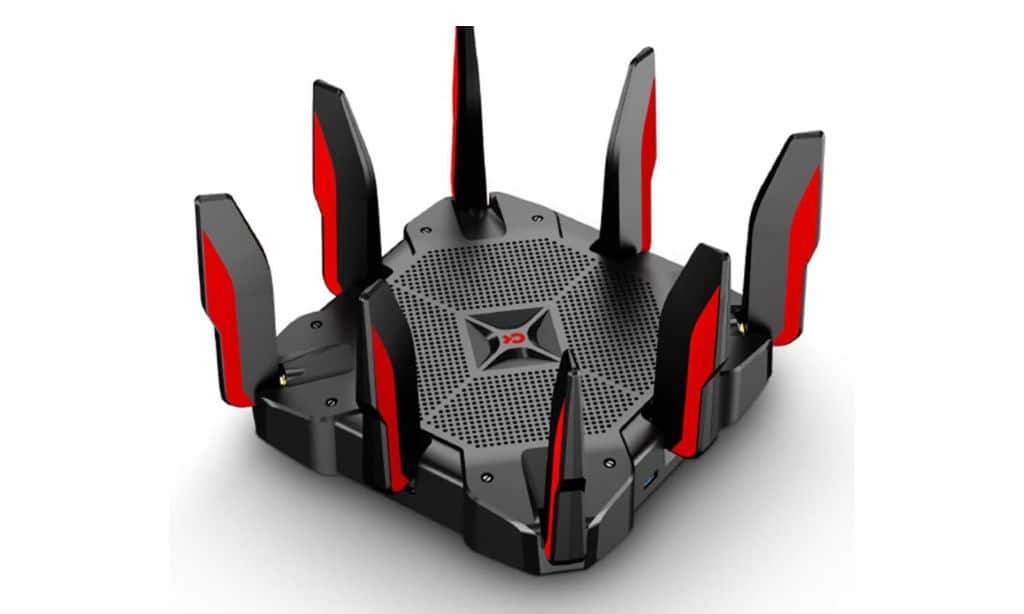 The TP-Link Archer C5400X is a top-notch Wi-Fi 5 gaming router. It offers impressive 802.11ac performance with tri-band speeds, delivering fast and reliable connections. With a spider-like design and a striking red-on-black color scheme, it has a visually appealing appearance. The router provides exceptional coverage, extending over 100 feet, making it suitable for larger homes.
It features eight antennas and offers customization options for advanced users. The Archer C5400X also includes security software to ensure a secure network environment.
Pros
Excellent performance

Tri-band design

Customization potential

Security software
Cons
Large size

Antennas cannot be aimed
11. Netgear Nighthawk XR1000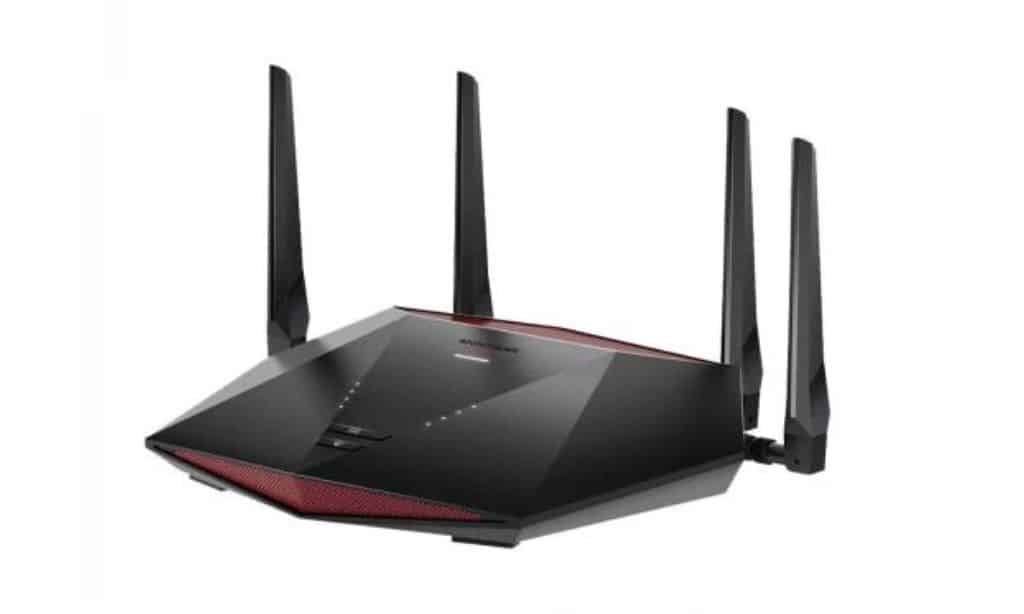 The Netgear Nighthawk XR1000 is a Wi-Fi 6 gaming router that combines high-speed performance with advanced gaming features. Wi-Fi 6 technology delivers impressive speeds and low latency, enhancing the gaming experience. The router offers customization options and built-in security features to protect against threats.
It provides a range of 105 feet, ensuring strong Wi-Fi coverage even in larger homes. The XR1000 has a dashboard of tools for optimizing performance, monitoring CPU usage, and managing connections based on ping rates and location.
Pros
Top Wi-Fi 6 performance at mid-range distances

Includes malware protection

Good configuration options

Top gamer's tools and interface
Cons
No Multi-Gig input or port aggregation

90-day support policy and extra charge for security updates
12. Asus RT-AC86U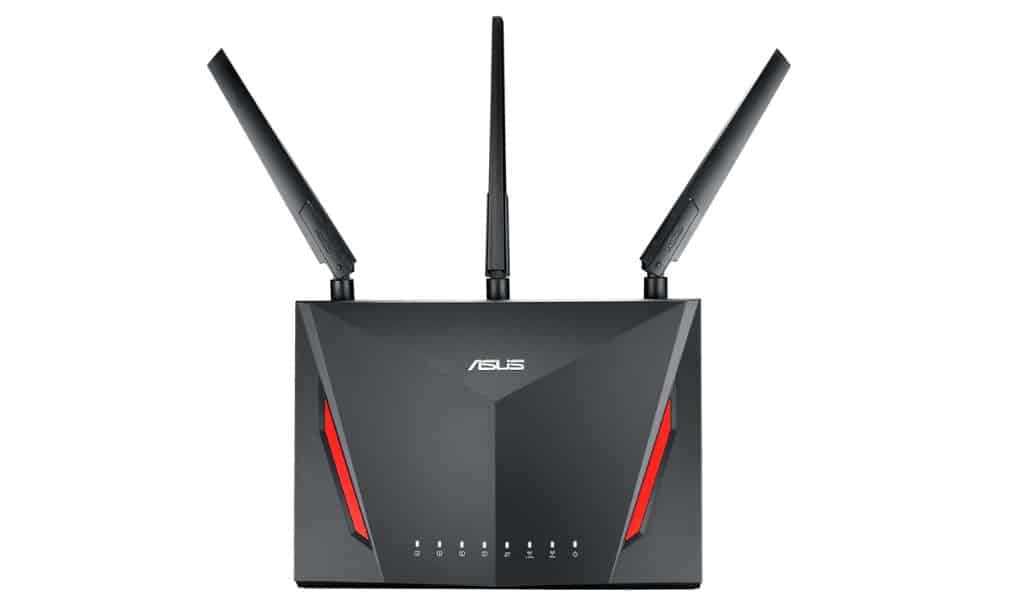 The Asus RT-AC86U is a high-performing AC router with impressive long-distance coverage. While its short-range throughput may not be the strongest, it compensates with superb range capabilities.
This 802.11ac router offers excellent performance, gaming enhancements, and built-in security software. It comes with lifetime internet security from Trend Micro and provides various customization options. The RT-AC86U also features a built-in stand for convenient placement.
Pros
Excellent long-distance performance

Gaming and security optimizations

Excellent customizability

Built-in stand
Cons
Mediocre throughput at short range

The router needs to be set up with a connected browser
13. TP-Link Archer AX6000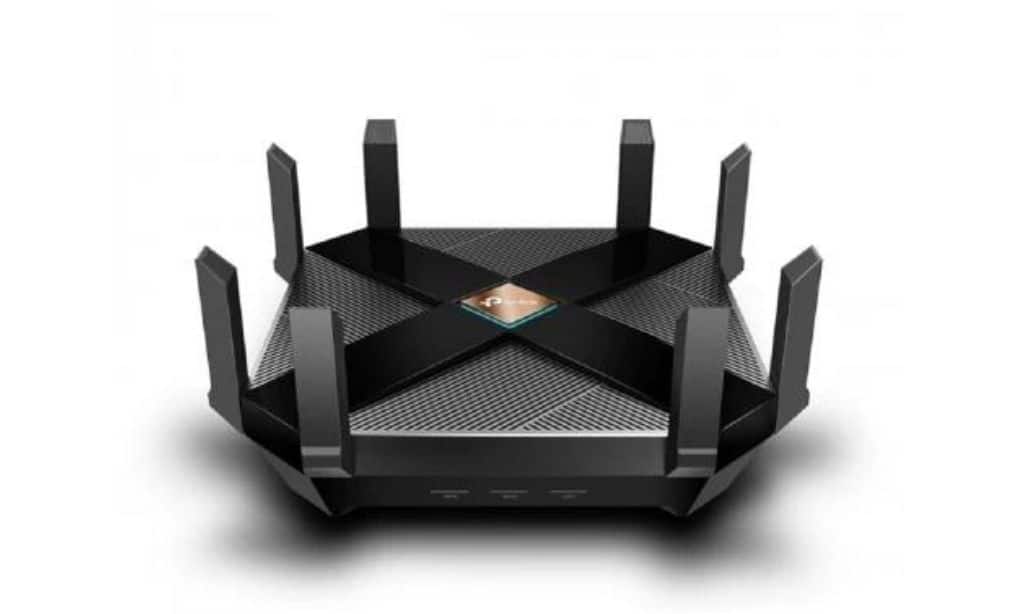 The TP-Link Archer AX6000 is a non-gaming router that offers excellent performance for online gaming at an affordable price. As a budget-friendly Wi-Fi 6 router, it provides robust throughput and connectivity with its eight LAN ports. While it may lack the detailed quality of service controls found in dedicated gaming routers, it still delivers solid gaming-grade performance surpassing older 802.11ac models.
The Archer AX6000 also includes built-in security features, ensuring performance and protection.
Pros
8 LAN ports

Extra security

Inexpensive
Cons
Limited app

Hard to remove LAN cables
14. Netgear Orbi 960 Series RBKE963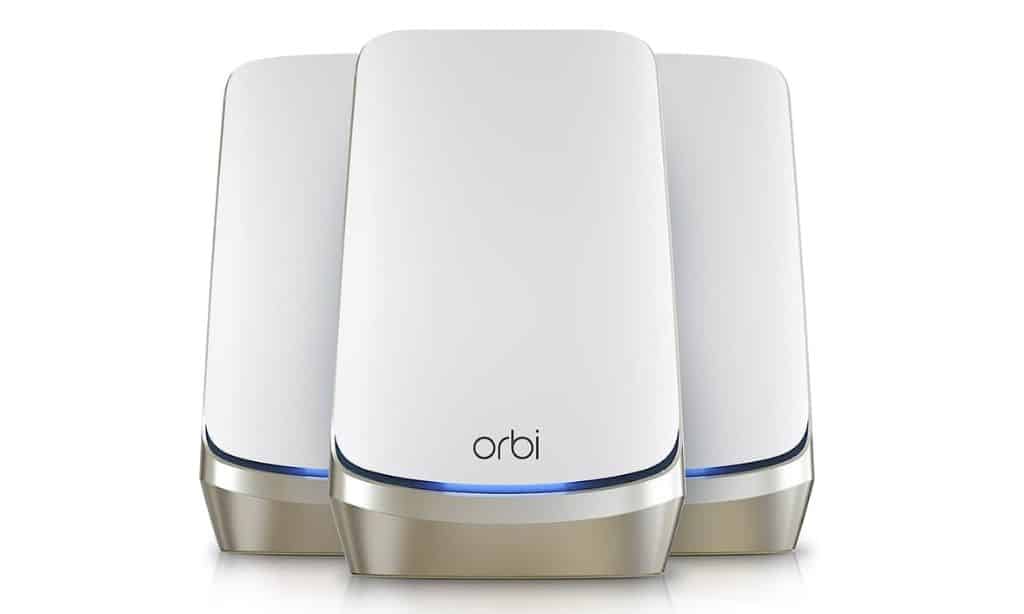 The Netgear Orbi 960 Series RBK963 is a mesh Wi-Fi system that offers expansive coverage for your entire home. With multiple nodes, it eliminates Wi-Fi dead zones and provides reliable connectivity. This system supports Wi-Fi 6E (802.11axe) for quad-band connectivity and features a 10Gbps WAN port, a 2.5Gbps LAN port, and three 1Gbps ports for wired connections.
The Orbi system integrates Netgear's Armor security software and offers MU-MIMO support. While it doesn't have specific traffic prioritization for gaming, it provides ample bandwidth to handle multiple devices simultaneously.
Pros
Expansive Wi-Fi coverage

Good port selection

Supports Wi-Fi 6E
Cons
15. Asus RT-AX82U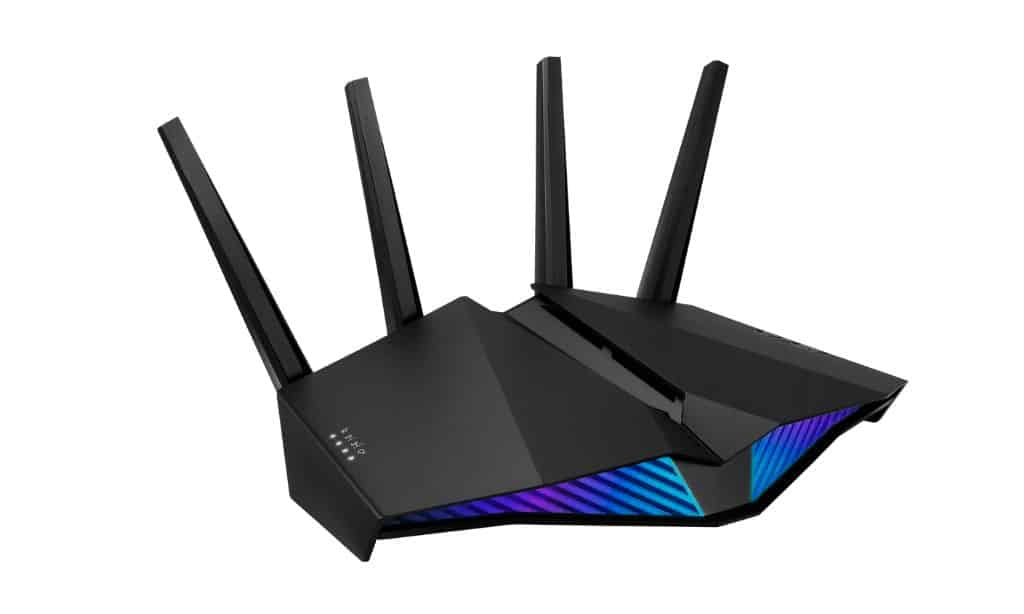 The Asus RT-AX82U is a mid-range gaming router that offers a combination of Wi-Fi 6 throughput and gaming performance. Priced at $230, it provides excellent range and throughput in an attractive and compact design. The router supports Wi-Fi 6 technology and features gaming-centric QoS settings for optimized gaming performance. It also includes integrated security features and offers easy setup and granular control over QoS settings.
Pros
Supports Wi-Fi 6

Excellent range and throughput

Integrated security

Ease of setup and granular QoS control
Cons
Only four Ethernet and one USB port

Minimal effect with gaming port

No Wi-Fi 6E support
Related Read: Razer Blade 15 2018 H2 – One of the Best Gaming and Powerful Laptop
How to Choose the Best Gaming Router?
When selecting a gaming router, there are several factors to consider. Here are some key points to help you make an informed decision:
Wi-Fi 6/6E vs. Wi-Fi 5
For optimal performance, choosing a router that supports at least Wi-Fi 6 (802.11ax) is recommended. Wi-Fi 6E may not be necessary while offering additional benefits unless you have specific requirements. Wi-Fi 6 provides faster speeds, better capacity, and improved efficiency compared to Wi-Fi 5.
Wired Ports
While Wi-Fi is convenient, wired Ethernet connections offer lower latency and increased reliability, which are crucial for gaming. Most routers come with four LAN ports, but if you have multiple devices or a smart home setup, consider a router with more Ethernet ports or use a network switch to expand the number of ports available.
Home Size and Construction
Consider the size and layout of your home. If you have an ample space or obstacles like thick walls or metal construction materials, a mesh router or mesh-compatible router with additional satellites can help extend coverage to weak signal areas. Mesh setups provide seamless network connectivity throughout your home.
Band Selection
The number of bands needed depends on the number of devices connecting to your network. Having separate bands allows for efficient device connections. Look for routers with two 5 GHz bands for gaming-focused setups, allowing your gaming traffic to have dedicated bandwidth. If you have Wi-Fi 6E devices, a router with a 6 GHz band can provide enhanced performance, although the range may be limited.
Wired Connection
Connecting your gaming device directly to the router via Ethernet is recommended to avoid congestion on Wi-Fi bands. Ethernet connections offer the lowest latency and highest reliability for online gaming.
What Sets Gaming Routers Apart From Standard Wi-Fi Routers?
While both types of routers provide wireless internet connectivity, gaming routers offer specific features that cater to the needs of gamers. Here's a breakdown of the key differences:
Throughput and Lag
Gaming routers are designed to deliver higher bandwidth and low latency, crucial for online gaming. They prioritize fast data flow in both directions, resulting in lower ping times and a more responsive gaming experience.
Hardware
Gaming routers feature superior hardware components to enhance performance. With more powerful processors and increased built-in memory, these routers efficiently manage connections and minimize latency, allowing for optimal performance with multiple devices.
Bandwidth Management
Gaming routers go beyond standard routers by offering advanced Quality of Service (QoS) features. These features provide more control over bandwidth management, allowing users to prioritize specific devices (such as gaming PCs) based on the activity or service being used. QoS settings can be customized to accommodate different factors like time of day and the number of connected devices.
Connectivity
Gaming routers are equipped to handle faster and more numerous connections. They offer additional wired LAN ports for faster speeds, better support for Gigabit speeds, and extra antennas to extend Wi-Fi coverage and accommodate multiple devices.
Frequently Asked Questions (FAQs)
Now let's explore some related questions on the best gaming routers.
Which Wi-Fi router is best for gaming?
The best Wi-Fi router for gaming depends on your specific needs and budget. Some popular options among gamers include the Asus ROG Rapture GT-AX11000, TP-Link Archer AX11000, Netgear Nighthawk XR500, and Asus RT-AC86U. These routers offer high-performance features, low latency, and advanced customization options to enhance the gaming experience.
What routers do pro gamers use?
Pro gamers often opt for high-end gaming routers that prioritize low latency and fast speeds. Some popular choices among pro gamers include the Asus ROG Rapture GT-AX11000, Netgear Nighthawk XR500, TP-Link Archer C5400X, and Linksys WRT32X. These routers provide advanced features, robust performance, and reliable connectivity to meet the demanding requirements of professional gaming.
Are gaming routers any good?
Yes, gaming routers can be beneficial for gamers. They are specifically designed to optimize network performance, reduce latency, and enhance the gaming experience. Gaming routers offer features like Quality of Service (QoS) settings, advanced traffic prioritization, and customizable settings to prioritize gaming traffic over other network activities. While standard routers can work well for gaming, gaming routers provide additional optimizations to ensure a smooth and lag-free gaming experience.
What is a better router than XR500?
Some routers offer similar or better performance if you're looking for an alternative to the Netgear Nighthawk XR500. The Asus ROG Rapture GT-AX11000, TP-Link Archer C5400X, and Netgear Nighthawk XR700 are all highly regarded gaming routers with excellent features and performance. It's important to consider your specific needs, budget, and desired features when choosing a router that suits you best.
Bottomline
In conclusion, investing in the best gaming routers can significantly improve your gaming experience. The right gaming router can provide faster speeds, lower latency, and enhanced network stability, giving you the competitive edge you need to excel in online gaming.
Throughout this guide, we've highlighted some of the best gaming routers available, each with its unique features and advantages. From high-performance Wi-Fi 6 routers to mesh systems that offer extensive coverage, there's a gaming router for every gamer's needs and preferences.
Subscribe to Our Latest Newsletter
To Read Our Exclusive Content, Sign up Now.
$5/Monthly, $50/Yearly