Best Cable TV Alternatives in 2023 – The Streaming Revolution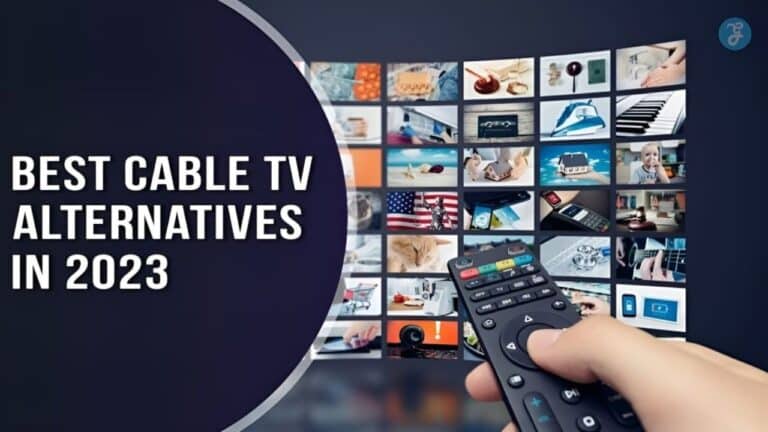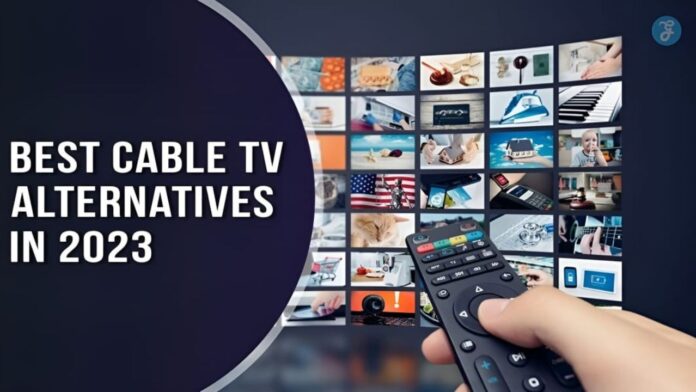 Welcome to the world of the best cable TV alternatives in 2023, where entertainment is just a click away! With the rise of streaming services and innovative platforms, watching your favorite TV shows and movies has never been more exciting and accessible. 
In this guide, we'll take you through the best cable TV alternatives available today. Get ready to discover a whole new way of experiencing entertainment from the comfort of your own home. Whether you're a sports enthusiast, a drama lover, or a documentary buff, we've got you covered.
25 Best Cable TV Alternatives in 2023
In modern days, there are many good alternatives to cable tv. However, we will discuss a few of them here. 
1. Sling TV
Sling TV is a highly popular alternative to traditional cable TV due to its lower cost and customizable options. For $40 per month (with a discounted first month), subscribers can access ESPN, FOX, and NBC. Sling TV offers two main channel packages, Orange and Blue, with the option to add smaller channel bundles for an additional $5.
Additionally, a combined Orange + Blue package priced at $55 includes six extra channels compared to Sling Blue alone. Whether you're a sports enthusiast, a comedy lover, or a parent seeking kids' programming, Sling TV caters to many preferences. An interesting tip to enhance your viewing experience is to purchase an HD antenna and any Sling TV package, allowing you to receive all your local channels.
2. YouTube TV 
YouTube TV is a highly recommended alternative to traditional cable TV, offering a user-friendly interface and an extensive selection of channels. Viewers are spoilt for choice with access to over 70 networks, including ESPN, Bravo, Animal Planet, TLC, National Geographic, and FX. The service boasts an impressive lineup of 100+ live channels, covering a wide range of sports, such as MLB, NFL, and NBA Networks, as well as movies. Additionally, users can add premium channels like Starz, Showtime, or AMC for an extra fee.
One standout feature of YouTube TV is its minimal lag compared to cable TV. Although there is a slight delay of less than a minute compared to live feeds, it delivers sports and live events effectively.
Moreover, the service's DVR feature records sports matches and highlights key plays, allowing users to catch up on important moments within minutes easily. Starting from September 2022, YouTube TV also supports 5.1 channel audio on Apple TV and Fire TV, in addition to its previous compatibility with Smart TVs, Roku, and Google/Android TV devices. Well, if you're 
3. Philo
Philo, a relatively new player in the streaming industry, introduced its nationwide streaming service in 2017. It stands out as one of the most cost-effective alternatives to traditional cable TV, offering a monthly subscription rate of $25 for access to 64 channels. Notable channels available on Philo include A&E, AMC, Comedy Central, Food Network, Hallmark Channel, and Nickelodeon.
However, it's important to note that Philo doesn't offer news or sports channels, so if those are a priority for you, you may need to explore other options.
Philo allows creation of up to ten accounts and enables streaming on three devices simultaneously. In addition to providing unlimited DVR functionality, they also offer a 7-day free trial for new users. Movie enthusiasts will be pleased to know that Philo offers affordable add-ons, including Reelz and Sony Movies for $3, EPIX for $6, and Starz for $9.
4. Hulu
Hulu serves as an excellent cable TV alternative for individuals who want to stay updated with the latest episodes of their favorite network shows. In addition, Hulu has ventured into producing its own content with Hulu Originals like The Handmaid's Tale, Only Murders in the Building, and Letterkenny. Furthermore, Hulu maintains a growing library of movies that are regularly updated. The service includes popular networks such as A&E, HGTV, CNN, FX, MTV, and CNN.
Moreover, Hulu offers various pricing plans to cater to different needs:
Hulu:

Priced at $7.99 per month (or $79.99 per year), this plan provides access to over 85,000 episodes from various shows, movies, and Hulu Originals.

Hulu (No Ads):

At $14.99 per month, this plan offers the same content as the previous plan but without any advertisements.

Hulu + Live TV:

Priced at $69.99 per month, this plan allows users to stream live TV and access the entire Hulu library.

Hulu (No Ads) + Live TV with Disney+ and ESPN+:

For $82.99 per month, subscribers can enjoy the benefits of the previous plan without ads and access to Disney+ and ESPN+.

Hulu Premium Networks:

With prices ranging from $8.99 to $14.99 per month, this plan provides on-demand access to premium cable channels like HBO, Showtime, and Starz, allowing users to choose and pay for specific channels as desired.

Students may be able to sign up for Hulu (with ads) at a reduced rate of $1.99 per month.
Hulu offers unlimited screens, an enhanced cloud DVR with Spanish subtitles, and various add-ons to customize your plan further.
Unfortunately, certain significant sports channels, such as MLB Network and NBA TV, are often not included in Hulu's channel lineup.
Read Also: Yesmovies Alternatives to Watch Movies and TV Shows
5. Fubo TV
fuboTV provides a comprehensive selection of channels through its "Elite" plan, offering access to 164 channels at a monthly cost of $79.99. The channel lineup includes local channels, sports networks, and entertainment channels. For those interested in premium options like Showtime, STARZ, and Regional Sports, FuboTV offers additional add-ons.
Here are the various fuboTV packages available:
Pro Quarterly: Priced at $70/month, this package provides 125 channels, 1,000 hours of Cloud DVR storage, and unlimited screen streaming.
Elite Quarterly: For $80/month, subscribers can access 176 channels, fubo Extra (an additional 39 channels), News Plus (12 extra channels), 1,000 hours of cloud DVR storage, and unlimited screen streaming.
Ultimate Quarterly: Priced at $100/month, this package offers 210 channels, fubo Extra (39 additional channels), News Plus (12 additional channels), SHOWTIME® live + on-demand, NFL Redzone, and 1,000 hours of cloud DVR storage.
Latino Quarterly: This subscription, priced at $33/month, provides 43 channels, 250 hours of Cloud DVR storage, and simultaneous streaming on two screens. It does not offer a free trial and is prepaid every 3 months at $99 monthly.
Notably, fuboTV currently lacks parental controls, which is a significant omission. However, it allows users to cancel their subscriptions anytime without being tied to long-term contracts.
You May Find Interest: Best COX Cable TV Deals
6. Peacock
Peacock, NBC's streaming service launched in 2020, offers three membership options: free, premium, plus. However, as of January 30, 2023, new Peacock subscribers can no longer sign up for the free tier.
The free version of Peacock provides access to 50 channels and a wide range of new and classic shows and movies from studios like Universal and Dreamworks. NBC shows' new episodes become available for viewing one week after their original airing.
By upgrading to the premium plan, priced at $4.99 per month, subscribers gain access to an expanded selection of on-demand content. For example, while the free version allows viewing of the first five seasons of The Office, Peacock Plus unlocks the entire series and bonus material. Additionally, the premium plan enables next-day streaming of NBC and Bravo series and offers live sports coverage on the platform.
For $9.99 per month, the Plus plan provides offline viewing for select titles, allowing subscribers to enjoy content even without an internet connection.
Peacock boasts an extensive library of shows, including popular titles like Cheers, Below Deck, Parks and Recreation, and Bel-Air. With over 40,000 hours of movies, TV shows, and more, Peacock offers diverse content. The platform also features live sports and events such as the Olympics, Super Bowl, and WWE.
7. Vidgo 
Vidgo is a relatively new cable TV alternative that offers a unique feature of chat room integration, allowing viewers to share their experiences with friends and family while watching shows or playing games.
Despite being a newer service, Vidgo provides respectable plan options. Subscribers can choose between two plans: one offering 110+ channels for $64.95 per month and another with 150 channels for $79.95 per month. It's important to note that Vidgo no longer offers free trials to new users.
The channel lineup includes popular options such as ESPN and Fox Sports and a comprehensive range of lifestyle and entertainment channels. However, there are a couple of notable drawbacks to Vidgo. First, it lacks extensive coverage of news networks. Additionally, there is no availability of a cloud DVR feature.
8. Paramount Plus
Paramount Plus, which replaced CBS All Access in March 2021, offers an ad-supported Essential Plan for a budget-friendly price of $50 per year. This plan includes access to the Paramount Network, Nickelodeon, and CBS content.
For a slightly higher monthly fee of $10, Paramount Plus can remove all advertisements. It's important to note that the pricing and offerings of Paramount Plus may change as the service continues to evolve. Overall, with its cost of less than $10 per month, Paramount Plus presents a compelling alternative to basic cable, especially considering it's the exclusive home for CBS shows on-demand.
The Paramount Plus Premium plan includes the following features:
On-demand access to over 30,000 episodes, movies, and original content.

Exclusive programming and Paramount Plus Originals.

Live streaming of NFL and UEFA Champions League games on CBS and coverage of other top soccer leagues, PGA golf, and NCAA basketball.

Access to CBS News Streaming Network and CBS Live for 24/7 local and national news.

Ability to download shows and watch them offline at any time.

Live CBS channel streaming from your local CBS affiliate.

Simultaneous streaming on up to three devices and the option to create up to six profiles.

Additionally, if you have a T-Mobile postpaid wireless account, you can enjoy the Paramount Plus ON US offer without the need to provide credit card information for a year. After the one-year promotional period ends, a monthly fee of $4.99 will be applied to your T-Mobile bill.
9. Disney Plus
Disney Plus provides access to a vast collection of content from Disney, Pixar, Marvel, Star Wars, National Geographic, and select 20th Century Fox titles. Subscribers can enjoy movies and series from the Disney Vault and original programming from the Disney Channel.
For $14 per month, Disney Plus offers a bundle option that includes Hulu and ESPN+ to provide cost savings, although it's important to note that ESPN+ is a separate app and does not include live content from ESPN2.
Disney Plus allows users to download shows and movies for offline viewing. Subscribers can download unlimited files on up to 10 devices as long as their subscription remains active. Additionally, Disney Plus allows simultaneous streaming on up to four screens, a notable feature.
Moreover, Disney Plus offers over 300 titles in 4K UHD and HDR, all without advertisements. These upgrades are free of charge, distinguishing Disney Plus from other platforms that require an additional fee for such enhancements.
The pricing options for Disney Plus are as follows:
Disney Plus Basic (With Ads): $7.99 per month.

Disney Plus Premium: Priced at $10.99 per month or $109.99 per year.
10. Netflix
Netflix has been a longstanding and popular choice for cord-cutters seeking an alternative to cable TV. It offers a wide range of movies and TV shows, including its original content that has garnered 25 Emmy awards in 2022.
Netflix has invested heavily in creating its compelling content, featuring well-known favorites like Stranger Things, Black Mirror, Orange Is the New Black, House of Cards, Arrested Development, and more. The platform consistently adds new titles, including original shows such as Stranger Things and The Crown, to keep its content fresh. Additionally, Netflix excels at analyzing user viewing habits to provide personalized recommendations.
Netflix provides several subscription plans to cater to different needs:
Basic with ads:

Priced at $6.99 per month.

Basic:

At $9.99 monthly, this plan allows unlimited streaming on one device with no ads, covering movies, TV shows, and mobile games.

Standard:

For $15.49 per month, users can stream on up to two screens simultaneously in HD quality, without ads.

Premium:

This plan, priced at $19.99 per month, enables streaming on up to four devices simultaneously, with HD and Ultra HD resolution and no ads.
11. DirecTV Stream
DirecTV Stream, previously known as AT&T TV and AT&T TV Now, has undergone several name changes but failed to address its shortcomings. Notably, it tends to be more expensive than other options, and its entry-level Entertainment package offers a limited selection of about 75 channels. Furthermore, the DVR feature automatically deletes recordings after 90 days, which can frustrate users.
DirecTV Stream may attempt to entice customers into signing annual contracts, but this is generally not recommended. However, the service does provide access to regional sports networks that may not be available through other platforms, making it an appealing choice for fans of local teams.
The pricing and channel lineup for DirecTV Stream is as follows:
Entertainment: The starter plan costs $74.99 monthly and offers 75 channels.
Choice: Priced at $99.99 per month, this plan includes 105 channels.
Ultimate: For $109.99 monthly, subscribers receive 140 channels, including the Golf Channel and NHL Network.
Premier: This top-tier package, priced at $154.99 per month, offers HBO Max, Showtime, Starz, and Cinemax bundled.
12. HBO Max
Moving on HBO Max, it provides access to over 10,000 hours of on-demand popular content. As a streaming service under HBO, HBO Max satisfies cord-cutters who seek premium content options.
HBO Max offers a wide range of shows and movies from WarnerMedia and HBO, including popular originals like Game of Thrones, Succession, Curb Your Enthusiasm, and more. The platform features over 2,000 movies and 500 TV shows, including beloved titles like Friends, South Park, and The Fresh Prince of Bel-Air.
HBO Max provides two plan options: one with commercials priced at $9.99 per month and an ad-free plan available for $15.99 per month.
13. Amazon Prime Video
Amazon Prime Video provides access to a vast library of 25,000 movies and TV shows for $14.99 per month, available to Amazon Prime members. While it offers additional benefits like AmazonFresh and two-day shipping, the value of Prime Video as a standalone, non-Prime membership service is slightly diminished at a cost of $8.99 per month.
Prime Video includes live sports coverage, such as the NFL, NBA, and WNBA, and has been expanding its repertoire of original programming. Notable originals include The Marvelous Mrs. Maisel and The Lord of the Rings: The Rings of Power. However, in terms of sheer volume, Prime Video falls short compared to Netflix's extensive catalog. It also lacks the immediate availability of Hulu, which often streams TV shows shortly after their broadcast.
Read More: Project Free TV: 130 Best Alternatives to Watch and Stream Movies
14. Apple TV+
Now time for the Apple TV+, this streaming service offers hit shows like Ted Lasso and Schmigadoon for $6.99 per month. While Apple TV+ doesn't have an extensive back catalog, it is rapidly growing its collection of original content. It's important to distinguish Apple TV+ as a streaming service from Apple TV streaming devices or the Apple TV app.
Apple TV+ offers a 7-day free trial, is ad-free, and supports 4K streaming. Content downloads are available for 30 days, and users can stream on up to six screens simultaneously. Additionally, purchasing a new Apple device often includes a free year of Apple TV+ (must be activated within 3 months). Apple TV+ is also part of bundles like Apple One, which combines Apple TV+, Apple Music, Apple Arcade, iCloud+, Apple News+, and Apple Fitness+. Students with an Apple Music subscription can enjoy Apple TV+ for free.
15 Television Channels Online (No additional information provided for rephrasing. Please provide the details for "15 Television Channels Online".)
15. Digital Antenna
Using a digital antenna, you can watch numerous live channels, including local network affiliates like ABC, CBS, FOX, and NBC, based on your location. The advantages and disadvantages of using a digital antenna as an alternative to cable TV are similar to those of other alternatives.
One benefit is that no monthly fees are associated with using a digital antenna. Additionally, digital antennas support resolutions up to 4K and HD, providing high-quality pictures and sound. Another advantage is that a single antenna can serve multiple televisions within a household.
On the other hand, one drawback is the limited channel selection compared to cable TV. Additionally, setting up a digital antenna may present some initial challenges, and adverse weather conditions can sometimes affect signal reception.
You will find digital antennas in both indoor and outdoor variants.
16. ESPN+
For sports enthusiasts, ESPN+ serves as an excellent cable TV alternative. Priced at $9.99 per month, this subscription allows you to stream live sporting events, access sports networks, and enjoy ESPN+ Originals.
While ESPN+ does not replace ESPN entirely, it does offer exclusive content. Notably, it is the exclusive provider of UFC pay-per-view fights, which subscribers can access at a reduced rate.
Subscribers can enjoy additional savings by opting for an annual subscription priced at $99.99. Furthermore, for $12.99 per month, users have the option to bundle ESPN+ with Hulu and Disney+.
17. Crackle
Crackle is a free, ad-supported video-on-demand service that offers a wide range of shows and movies. In 2019, Chicken Soup for the Soul acquired majority control of Crackle after Sony's initial acquisition in 2006. Despite not being as prominent as Netflix or HBO, Crackle has gained popularity as one of the leading free streaming services.
Crackle was one of the earliest free streaming platforms to offer original content, known as Crackle Originals. While its original catalog may not be as extensive as Hulu's, it offers a solid collection of original dramas, comedies, docuseries, miniseries, and movies. With over 38,000 hours of combined content, Crackle continues to expand its offerings.
18. Frndly TV
Frndly TV prides itself on offering some of the most affordable live TV programming, priced at only $6.99 per month.
With over 40 live streams, on-demand channels, and DVR functionality, Frndly TV provides diverse entertainment options. Popular channels such as A&E, Hallmark Channel, and the Outdoor Channel are included in the lineup.
Subscribers can enjoy access to a library of over 1,000 on-demand movies and shows and live streaming capabilities. Frndly TV is compatible with various devices, including FireTV, Roku, Android TV, Apple TV, and iOS mobile apps.
Frndly TV allows unlimited recording hours, with the added convenience of being able to watch shows up to 72 hours after they air. The premium plan offers the ability to record multiple movies and shows simultaneously and store them for up to nine months.
Frndly TV offers three different services:
Basic:

Priced at $6.99 per month, this plan enables live and on-demand TV viewing on one television.

Classic:

For $8.99 per month, subscribers can enjoy HD video streaming on two screens simultaneously, record content for up to three months, and watch on two screens at once.

Premium:

This plan, priced at $10.99 per month, allows streaming on four screens simultaneously, recording for up to nine months, and unlimited DVR functionality.
19. Vudu
Vudu is a streaming service that caters to two different audiences with its primary features. It offers a vast library of over 200,000 titles available for rent or purchase, including new releases, catalog titles, and digital rentals/purchases. Additionally, it provides free on-demand streaming of movies and TV episodes without requiring subscriptions or monthly fees.
In 2021, Vudu merged with FandangoNow, resulting in a popular streaming service. However, it's worth noting that free content on Vudu includes advertisements, which can be a drawback for some users. Also, 4K quality is limited to rented content and unavailable for free content.
20. Pluto TV
Pluto TV, an over-the-top (OTT) streaming service, was launched in 2014 and acquired by Viacom in 2019. Viacom is currently leveraging Pluto TV as a means to promote its other services and has expressed interest in positioning it as a more competitive player in the streaming market.
Accessing Pluto TV is incredibly straightforward, requiring users to launch their browser or download the app. As long as you have a stable internet connection, you can enjoy Pluto TV's content across various devices without any cost. Furthermore, the service allows for simultaneous viewing with friends.
Pluto TV has amassed over 22 million monthly viewers through its free streaming service. It boasts an extensive selection of over 200 channels, including popular Viacom properties like Comedy Central, MTV, and Nickelodeon. Additionally, notable content providers such as A&E Networks, CNN, Nerdist, and WeatherNation TV have partnered with Pluto TV.
21. Samsung TV Plus
Samsung TV Plus is a streaming app that offers users worldwide access to over 200 live TV channels and on-demand content. The app comes pre-installed on all Samsung Smart TVs, requiring no subscription or account creation to start using it.
Not only is Samsung TV Plus available on Samsung Smart TVs released from 2016 onwards, but it can also be accessed on Galaxy Devices such as mobile phones and tablets by updating their operating systems to Android 8.0 or higher. This makes it a convenient and cost-effective choice for cord-cutters who want to enjoy their favorite channels effortlessly.
22. Tubi
Since its launch in 2014, Tubi has gained popularity as a free streaming service often referred to as "the free Netflix." It offers a vast collection of quality movies and TV shows available for online streaming. Tubi operates on an ad-supported model, making it popular among cord-cutters.
While Tubi may have lower resolution compared to other services, viewers appreciate its user-friendly interface, frequent library updates, and, of course, the fact that it's completely free. The service also includes parental controls, which is a feature appreciated by parents.
23. The Local Library
For many individuals, local libraries serve as their favorite alternative to cable TV, primarily because it is 100% free.
Libraries house extensive collections of movies, including new releases, Blu-rays, and complete TV series, among other media. In many cases, libraries collaborate with one another, allowing patrons to access materials from other libraries if they are not available locally.
Several libraries now offer free digital access to TV shows and movies through platforms like Hoopla and Kanopy. However, it's important to note that there may be limitations on the number of shows and movies that can be watched each month. Nevertheless, for those seeking to cut the cord and significantly reduce monthly expenses, utilizing the resources available at the local library is often a highly recommended option.
24. Premium Channel Online Subscriptions
In the past, the only way to access programming from premium channels like HBO, Showtime, and Starz was through additional subscriptions bundled with cable packages. However, these premium channels now offer their own online streaming services, typically priced between $9 and $15 per month.
While these subscriptions may not provide the same extensive content library as platforms like Netflix, Hulu, or Amazon Prime Video, they do offer exclusive access to certain original series and movies, often available shortly after their original air date. For viewers who prioritize specific premium channel content, these online subscriptions may be the primary alternative to cable TV to consider.
25. HGTV
HGTV is a popular cable TV network that focuses on home improvement, real estate, and renovation shows. It offers a wide range of programming centered around home design, interior decorating, home renovation, and house hunting. HGTV features various entertaining shows such as "Fixer Upper," "Property Brothers," "Love It or List It," and "House Hunters." The network provides viewers inspiration, tips, and ideas for transforming their living spaces. HGTV is available as part of some cable TV packages and can also be accessed through streaming services that offer the channel as part of their lineup.
How to Select the Right Cable TV Alternative for Your Needs
Choosing the best cable TV alternative can be done in a few different ways. One straightforward approach is to start by considering the price. If your budget is under $40 per month, then Sling TV is the clear choice, as it offers its Orange or Blue packages for a competitive price of $40 per month.
While it may have a smaller channel selection compared to other options, it remains the most affordable choice. This can be especially beneficial if you also plan to subscribe to additional streaming services like Netflix and Disney Plus, which typically range from $8 to $20 per month.
However, if accessing all your local broadcast channels (ABC, CBS, FOX, and NBC) is important to you, then you'll need to explore alternatives beyond Sling TV. Previously, YouTube TV was the most affordable option for accessing all four local channels, but now it is priced similarly to Hulu + Live TV. That said, Hulu + Live TV offers the advantage of delivering buzzworthy originals such as Normal People, Shrill, Ramy, and Little Fires Everywhere.
By considering your budget and specific channel preferences, you can make an informed decision when choosing the best cable TV alternative for your viewing needs.
How We Tested the Best TV Cable Alternative?
Our process for testing cable TV alternatives involves thorough evaluations across various devices, including streaming boxes, smart TVs, and mobile apps. This comprehensive approach allows us to assess the streaming services' performance and determine which ones offer smooth streaming experiences and should be recommended.
During our testing, we also pay close attention to the user interfaces of these services. The best streaming platforms feature intuitive and visually appealing menus, making it effortless for users to navigate and discover new content to watch. Additionally, we compare the channel lineups provided by each service, recognizing that they can differ significantly from one another. We also consider if the services offer multiple package options, which is a crucial factor in our assessment.
Finally, we carefully evaluate the pricing and value of each streaming service. We take into account the features and benefits users receive for their subscription fees, considering how well the services complement traditional cable TV or facilitate cord-cutting. By thoroughly assessing these aspects, we aim to provide accurate and informative ratings to help users make informed decisions about their streaming service choices.
Frequently Asked Questions (FAQs)
Let's talk about some common FAQs on the topic now. 
What is the most recommended streaming service for live TV?
The best streaming service for live TV depends on your specific preferences. However, YouTube TV is often considered one of the top choices. It provides access to a wide range of local channels, sports networks, and more. Additionally, YouTube TV offers unlimited DVR storage, allowing you to save as many recordings as you want.
How can I cancel my cable TV subscription?
If you want to get rid of your cable TV subscription, start by checking if you are still under contract with your current cable provider. If you are not, explore different streaming services by reading reviews and comparing their features to find the best fit for your needs.
Can I watch local channels without a cable subscription?
Yes, many cable alternatives offer access to local channels without requiring a cable subscription. Streaming services like DIRECTV STREAM, Hulu + Live TV, and YouTube TV include local channels in their offerings. Another option is to use a digital TV antenna to access over-the-air broadcasts. Additionally, if available in your area, you can consider downloading the Locast app to watch local channels.
Where can I find free TV shows to watch online?
There are several platforms where you can watch TV shows for free online. Roku TV, Fire TV, and other streaming devices offer a variety of free streaming services that provide access to thousands of movies and TV shows. Services like Hoopla and Tubi TV are popular options for free content streaming. Additionally, you can watch free TV shows on YouTube, which may include advertisements as part of the viewing experience. These options are great for those seeking budget-friendly alternatives to cable TV.
Final Verdict
In conclusion, the landscape of cable TV alternatives in 2023 offers diverse options to cater to every viewer's preferences and interests. From streaming giants like Netflix and Hulu to specialized platforms like ESPN+ and HGTV, there is a streaming service for everyone.
Subscribe to Our Latest Newsletter
To Read Our Exclusive Content, Sign up Now.
$5/Monthly, $50/Yearly