The Best Apple Watch Accessories for 2023 [Detail Guide]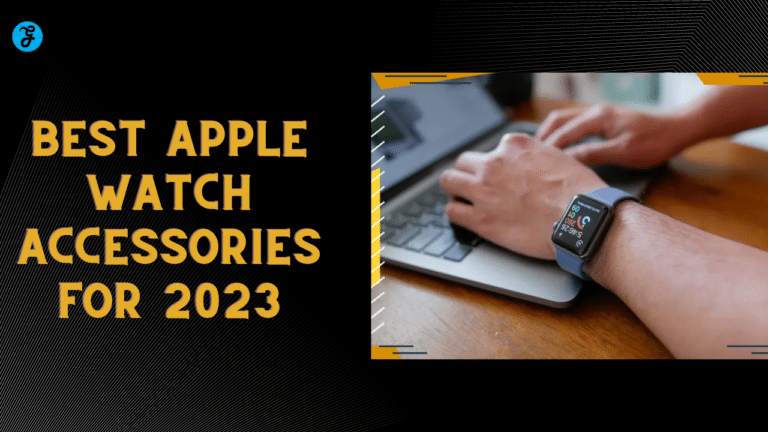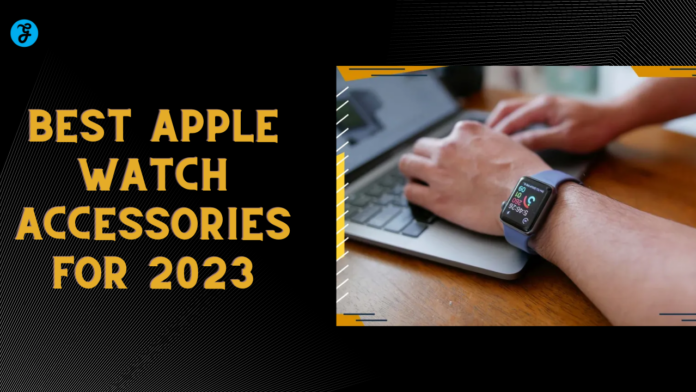 With each passing year, Apple Watch continues to keep up with the latest trends and technologies. In 2023, more innovations are expected in both hardware and accessories for the device. So, what are the best Apple Watch accessories for 2023
With so many options available nowadays, it can be hard to choose the best Apple Watch accessories for a given user's needs. This blog post will help outline what some of those options could be, ensuring users get exactly what they need out of their watch experience.
From cases and screen protectors to charging devices and fashion-forward straps – this article takes an in-depth look into the top picks for any budget or style preference!
Content Highlight
Apple Watch cases and screen protectors like Spigen Thin Fit Case, Zagg InvisibleShield Screen Protector, and Catalyst Waterproof Case can protect your device from dust, dirt, and scratches.
High-speed chargeable devices have been developed for the new Apple Watch such as the Anker Nano 3 30W charger, Apple MagSafe Duo Charger, and Nomad Basestation Apple Watch Edition offer charging power up to 30W.
Stylish accessories consisting of unique bands like Casetify Flexi Bands & Sena Leather Travel Case; storage organizers such as Incase Bionic Organiser; audio devices such as AirPods Pro (2nd Generation) or JBL Clip 3; and fitness-focused products including Wolf Six Piece Charging Box & Aura Strap 2 will be in demand in 2023.
Apple Watch Cases and Screen Protectors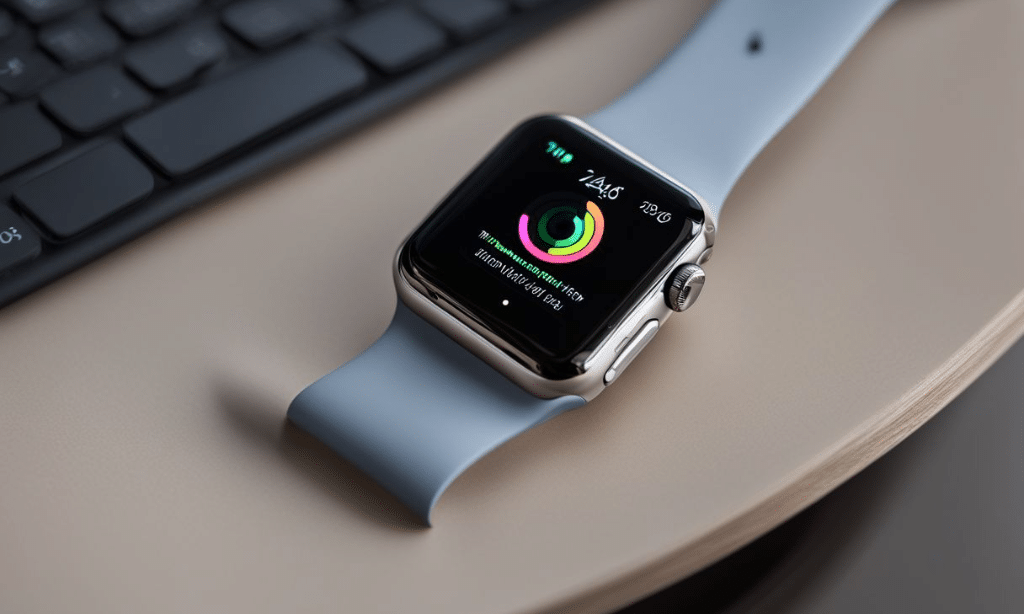 Invest in a reliable screen protector and case to keep your Apple Watch safe; some of the popular options are the Spigen Thin Fit case, Zagg InvisibleShield screen protector, and Catalyst Waterproof Case.
Spigen Thin Fit case
The Spigen Thin Fit case for the Apple Watch Series 8/7 is a slim and lightweight layer that provides everyday scratch defense. Its raised bezels also offer more screen protection, while easy access to every button on the watch is enabled by its precise cutouts at the side.
Featuring a two-piece construction with a soft TPU shell and hard PC frame, Thin Fit guarantees optimal fit and shock resistance. Additionally, it fits directly over the watch dial and locks in solid seamlessly, ensuring your device stays as safe as can be.
All this makes it an ideal choice for daily use if you're looking to keep your Apple Watch well-protected without compromising style or comfort.
Zagg InvisibleShield Screen Protector
The Zagg InvisibleShield screen protector is one of the best Apple Watch accessories for 2023. It offers total protection against scratches, scrapes, dirt, and dust while providing a crystal-clear view of the display.
The Glass Elite 360 protects both the edges and face of your watch from impacts, plus it features an easy installation process with its advanced adhesive technology. Its nano memory technology also helps self-heal minor scratches so you always have a perfect viewing quality at all times.
Not only that but Zagg has patented Ultra Clear+ antimicrobial coating to help protect your watch against bacteria and germs. For those who want even more protection, their GlassFusion hybrid glass construction absorbs impacts and disperses shock for the ultimate defense against unpleasant drops or scratches.
Catalyst Waterproof Case
The Catalyst Waterproof Case is a must-have accessory for Apple Watch Series 5 and 4 owners. This unique case has been specifically designed to provide up to 16.4 ft of water protection and 6.6 ft of drop protection, allowing you to take your watch out on any adventures with confidence.
It's made from impact-resistant polycarbonate that completely surrounds the Apple Watch so it will keep your device safe even in the toughest conditions such as construction or other rugged professions and still remain breathable when submerged in water up to 330ft deep.
With its superior water and drop protection capabilities, combined with reliable compatibility, this case makes an excellent choice for anyone who wants their Apple Watch secure no matter where they go.
The Best Apple Watch Accessories for 2023: Charging Accessories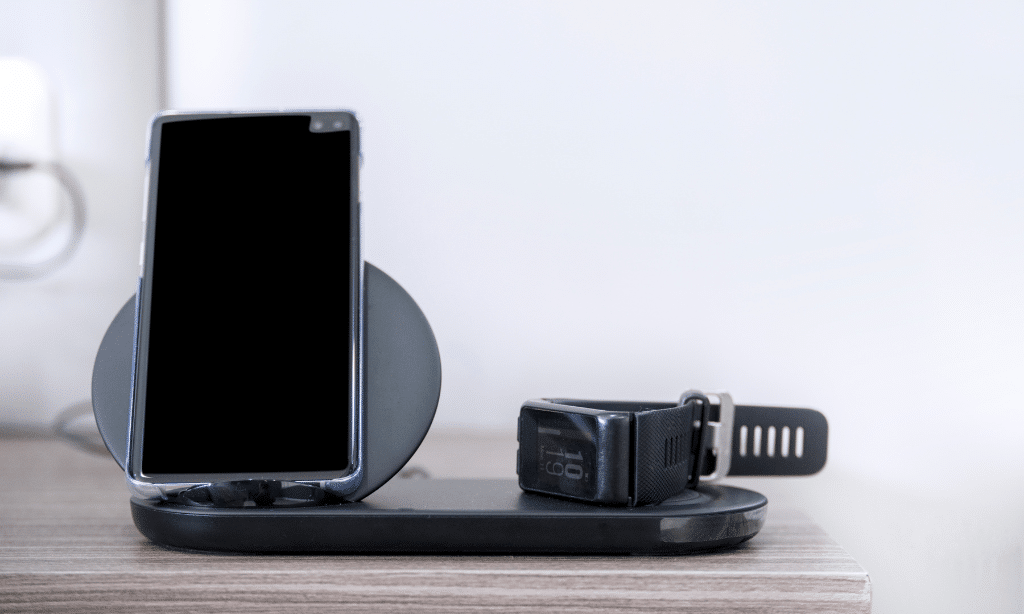 Choose from a range of high-speed chargers, such as the Anker Nano 3 30W charger, Apple MagSafe Duo charger, and Nomad Base Station Apple Watch Edition.
Anker Nano 3 30W Charger
is a new charging accessory for the Apple Watch designed in 2023. It's thin and compact, offering convenience for users to carry it anywhere they go. Thanks to its gallium nitride technology, this charger has a maximum output of 30W and can charge any iPhone quickly and efficiently.
Engadget editors have also selected the Anker Nano 3 charger as one of the best Apple Watch accessories of 2023 – highlighting its quick-charging capabilities, portability, and safety features making it an ideal choice for both casual and power users alike.
Apple MagSafe Duo charger
The Apple MagSafe Duo Charger is a fold-out device that allows you to wirelessly charge both your iPhone and Apple Watch simultaneously. Compatible with the newest models of iPhone 12, 13, and 14 as well as other Qi-certified devices and the Wireless Charging Case for AirPods, this charger makes it possible to keep all of your mobile devices powered up while traveling or at home.
Yet despite its versatility and convenience, there are some drawbacks – it does not come with a power adapter nor does it support fast charging for Apple Watch Series 7; plus at $129, it's quite an expensive accessory.
But in general, the advantages outweigh the cons: if you want one device that charges multiple compatible pieces from your tech collection without taking up space, then this is a great choice for 2023!
Nomad Base Station Apple Watch Edition
is the perfect central charging station for Apple Watch users. The wireless charging pad comes with USB-A and USB-C ports, making it compatible with a multitude of devices. Additionally, it has three powerful coils that allow for multiple orientations for charging efficiency.
Encrusted in leather, this elevated magnetic platform puts your device on display while giving you the convenience of optimal battery power. It also includes an overall sleek design that makes its compact size perfect as a desktop or bedside companion at home or while traveling.
Whether you're connecting multiple devices to wirelessly power up your Apple Watch through one centralized hub or just need another option so your watch stays charged throughout the day, Nomad Base Station Apple Watch Edition has got you covered!
Apple Watch Bands
Explore unique and stylish watch bands, including Casetify Flexi Bands, a Sena Leather Travel Case, and a Silicone Maid Apple Watch Necklace Pendant. Unleash your style with these must-have accessories!
Casetify Flexi Bands
Casetify has launched the new Flexi Apple Watch Band, which is inspired by timeless craftsmanship and contemporary minimalism. This band is compatible with all Apple Watch models and Samsung Galaxy smartwatches.
It was designed to be thicker than an Apple sport band for a more finished look but also uses a buckle to make sure it stays fastened around your wrist. Additionally, its unique design also allows you to adjust the settings and hook sizes according to your own needs.
The Casetify Flexi Band comes with premium materials such as stainless steel, silicone, etc., making it one of the best accessories available for all kinds of smartwatches this year, perfect for those looking for something stylish and dependable.
Sena Leather Travel Case
The Sena Leather Travel Case brings classic sophistication to your Apple Watch. This case is the perfect choice for those looking to keep their device safe from damage while on the go.
Specifically designed for the Apple Watch, it features a magnetic closure lid and plush microsuede lining that offers protection and lasting durability. Additionally, Sena also offers an amazing range of premium leather bands to complement the case and complete the look of your smartwatch.
The high-quality materials used in making this travel case ensure that it not only looks great but also provides sufficient protection for your expensive device while traveling. Its sleek black color adds a touch of timelessness to the design making it an indispensable accessory for every wanderlust out there!
Silicone Maid Apple Watch Necklace Pendant
The Silicone Maid Apple Watch Necklace Pendant is the perfect accessory to add style and convenience to your Apple Watch. This lightweight pendant provides a comfortable wearing experience, made from 100% non-toxic allergy-free silicone which makes it skin-friendly and resilient.
The TPU case that is compatible with your existing Apple Watch bands offers protection against shock absorption, allowing you to securely wear the watch on a necklace or even just attached to clothing as a stylish alternative to having it on your wrist.
Apple Watch Storage and Organization
Utilize organizers such as the Incase Bionic Organizer, HelloZeroMass Wooden Stackable Storage Case, and Anden Valet to maximize storage space.
Incase Bionic Organizer
The Incase Bionic Accessory Organizer is the ideal solution for Apple Watch storage and organization needs. Measuring 9.5 x 6 x 2 inches, this organizer boasts multiple internal pockets and loops to accommodate everything from extra watch bands to small adapters – making it easy to keep your accessories organized and easily accessible.
In addition, it's built with a durable exterior that ensures protection of all stored items within the case. Its lightweight design makes it highly portable, so you're never without your essentials wherever you go.
While offering convenience in its own right, what really sets the Incase Bionic Accessory organizer apart from other organizers for Apple Watch is its sleek yet timeless aesthetics that match perfectly with minimalist Apple products such as the AirPods Pro (2nd Generation).
HelloZeroMass Wooden Stackable Storage Case
The HelloZeroMass Wooden Stackable Storage Case is the perfect accessory for Apple Watch owners who need storage for their bands. This unique case is made from natural and renewable bamboo material, making it both stylish and eco-friendly.
It can offer versatile storage options for different band types including silicone, leather, and mesh straps. Not only that but it also offers a space-saving stacking design that ensures optimum organization of your bands in your drawer or on your dresser top so you can always reach them without rummaging around at the bottom of a box.
Customers have consistently given this product high grades as shown by its numerous positive ratings on Etsy which makes it an excellent accessory to consider if you're an Apple Watch user looking for an extra storage solution for their bands!
Anden Valet
The Anden Valet is a premium charging station designed specifically for the Apple Watch that helps to organize and store all of its accessories in one place. It features four grooves on its back to hold different-sized bands, making it compatible with both the 38mm and 42mm sizes of the Apple Watch.
With this stylish solution, you can keep your watch secure without any extra clutter while still having easy access to all your bands – from classic nylon straps to leather loops.
The Other unique feature of Anden Valet is that by simply removing one screw it turns into a dock – allowing users to take advantage of nightstand mode and charge their watches overnight.
Apple Watch Health and Fitness Accessories
Equip your Apple Watch with fitness-focused accessories like the Wolf six-piece charging box, Lumos Matrix Urban Bike Helmet, and Aura Strap 2 for greater health monitoring.
Wolf Six-Piece Apple Watch charging box
The Wolf six-piece Apple Watch charging box is the perfect solution for keeping your Apple Watch and its accessories secure and organized. With 5 compartments for traditional watches and 6 watch strap compartments, this stylish charging box also includes a dedicated Apple Watch charger station to keep your cable and puck close at hand.
This striking stocking stuffer comes with a secure magnetic closure so that all of your items will stay safe while you're away. The design allows it to be compatible with all models and sizes of Apple Watches, meaning you can use this convenient storage solution without needing multiple boxes if you get additional devices in the future.
Not only does it provide protection from scratches, dust, or dirt; but it also makes sure that your valuables are always within easy reach – wherever life takes them!
Lumos Matrix Urban Bike Helmet
The Lumos Matrix Urban Bike Helmet is a stylish and functional Apple Watch-compatible bike helmet that ensures rider safety while simultaneously staying connected. This smart bicycle helmet integrates with the Apple Watch, allowing its features to be managed through the watch.
To increase visibility and guarantee safety on the roads, it offers bright front lights alongside a 77-light LED rear panel for maximum illumination wherever riders go. Moreover, its LEDs are programmable to display turn signals & brake light alerts that can give nearby drivers better-perceived awareness in dark or wet conditions to ensure their safe passage.
The Lumos Matrix provides riders of all ages with convenient protection and assurance from every journey they go on!
Aura Strap 2
This Apple Watch accessory offers more than the standard watch does when it comes to tracking health and fitness information. It uses advanced bioelectric impedance analysis technology – a measurement of the body's electrical resistance to change in its conductivity due to different factors like temperature, hydration, and overall fat composition – to provide detailed data on muscle progressions, body fat levels, and water balance.
With this additional feedback, users can better understand their own physical development over time as well as track their general health through accurate metrics that are not available with the original device.
This makes Aura Strap 2 a valuable tool for those wishing to reach or maintain personal health goals. If you're interested check an article on how to restart Apple watch.
Apple Watch Audio Accessories
Listen to your favorite music on the go with top-quality accessories such as the Apple AirPods Pro, JBL Clip 3, and Home Fitness+. Explore now for the best listening experience.
Apple AirPods Pro (2nd Generation)
offer a comprehensive solution to listening on the go. Compatible with MagSafe chargers, Apple Watch chargers, and Qi-certified chargers, their MagSafe Charging Case also comes with a built-in speaker for added convenience.
Furthermore, these AirPods Pro boast 2x more Active Noise Cancellation than the previous generation as well as Personalized Spatial Audio for an incredibly immersive experience. What's more is that they can be purchased from the Apple website with free shipping and engraving should you so choose making them an ideal choice for anyone looking to upgrade their audio setup and add some personal flair!
JBL Clip 3
For Apple Watch audio accessories, the JBL Clip 3 is an excellent choice. This powerful wireless speaker has amazing sound quality and offers great environmental noise control capabilities via the versatile JBL Headphones app.
Amazon customers rate it highly for its crisp highs, deep bass, and loud volume without distortion or echoing. It's also compatible with both iOS and Android devices so no matter which type of phone you have – iPhone or Android – you won't miss out on enjoying music with clear sound quality while still keeping your privacy intact.
With a small size that fits perfectly in any pocket; plus durability but lightweight design are key features that make this product attractive to users exclusively using their Apple Watch for audio personal events like running, gym sessions outdoor activities as well as attending virtual parties and meetings indoors.
Home Fitness+
Home Fitness+ provides users with access to guided workouts from leading trainers and world-class fitness studios, such as Surbhi Duggal & the Peloton app. This feature works alongside your Apple Watch and enables you to track your progress in real-time–including calories burned, time taken for each exercise, heart rate monitoring, etc. With Home Fitness+, users can also explore specific health metrics like resting heart rate trends over time or monitor their sleep activity and schedule reminders to keep up with their daily workout routines.
Through this feature on the Apple Watch, users get a customizable experience that helps them reach their goals in a fun yet structured way by providing personalized health insights tailored just for them.
It's an ideal partner when it comes to tracking progressiveness in all kinds of activities and exercises, making sure that you always stay motivated while keeping up with a healthy lifestyle!
Apple Watch Power Banks and Wireless Chargers
Keep your Apple Watch powered up when needed with Quatro Wireless Power Bank, AirUnleashed wireless charger, and Magnetic Charging Apple Watch Stand.
Quatro Wireless Power Bank
The Quatro Wireless Power Bank is an all-in-one charging hub designed specifically for Apple Watch users. It offers up to 5W of Qi-based wireless charging power, 2.5W for the Apple Watch, and 18W USB-C + 12W USB-A ports for wired fast charging.
The 10020mAh capacity means it's powerful enough to keep your device or devices topped up on long trips or in between uses without needing frequent recharging. Its sleek aluminum exterior adds a stylish touch and ensures greater protection from storms or bumps while you're out and about.
With its versatility, portability, durability, high-capacity storage, and design especially with Apple Watches in mind – the Quatro Wireless Power Bank is perfect for anyone looking for a complete solution to charge their devices while on the go!
AirUnleashed Wireless Charger
The AirUnleashed wireless charger offers the ultimate charging experience with its oval-shaped design and soft top. It is a great choice for those looking to charge their iPhone, Apple Watch, and AirPods all at the same time.
The charger features three built-in coils that enable it to handle multiple devices simultaneously; plus it has an LED light indicator which lets you know when your devices are being charged.
Powered by USB-C, this power bank also boasts fast charging so you can get back to using your Apple devices quickly and effortlessly. Priced at $99, the AirUnleathed is becoming a popular choice among individual users who need reliable multi-device charging capabilities anywhere they go.
Magnetic Charging Apple Watch Stand
Apple Watch Magnetic Charging Stands are a must-have for any Apple loyalist who wants to ensure their device is charged wherever and whenever needed. These stands not only offer the convenience of placing an Apple Watch on a sleek charging stand, but they also feature a built-in magnetic charger that connects securely with the back of the watch before inductively delivering power without needing cables or ports.
Compatible with both series 4 and 5 models, these stands come in several colors and materials making it easy to match existing home decor styles while providing maximum functionality.
Not only can you charge your devices quickly and easily this way, but many stands also come with features like designated organization ports so you can keep all your tech gadgets neatly sorted away when not in use or even display jewelry or other items while adding charm to any room.
Read also: Apple Watch alternatives
Frequently Asked Questions (FAQs)
Now get some common questions on this topic.
1. What are the best Apple Watch accessories for 2023?
The best Apple Watch accessories for 2023 include charging stands, bands made from leather or metal, scratch-resistant screen protectors, and waterproof cases.
2. Are these accessories compatible with newer models of the Apple Watch?
Most of the available accessories should be compatible with all versions of the Apple Watch (Series 6, SE, 5). However, it is always advisable to check compatibility before making any purchase.
3. Does an accessory help make my watch more durable?
Yes, certain types of accessories such as waterproof cases and scratch-resistant screen protectors can help maximize your watch's durability by protecting it from weather conditions and everyday wear and tear.   
4. Can I find lesser-known brands that offer good quality products at competitive prices?
Yes, there are a number of well-known third-party manufacturers who produce various high-quality accessories at competitive prices for the Apple Watch. It is important to do proper research in order to identify genuine brands that provide reliable services backed by good customer support services.