How to Restart Apple Watch? [A Step-by-Step Guide in 2023]
Listen to the Podcast:
Do you want to know how to restart Apple watch? Apple has given us a lot of tech toys that we like. The Apple Watch is one of these things. The Apple Watch is a smartwatch that can do many things, like track your steps and make your life easier.
Just connect it to your phone, and you're good to go. But, just like any other tech gadget, the Apple Watch can have problems. You can hit the watch or hang it in the middle of something. You have no choice but to force it to start over. Don't worry; restarting is not the same as resetting and won't erase any of your data. In this article, we'll talk about how to restart Apple watch repeatedly.
When and Why to Restart Apple Watch?
If you think your computer or phone is moving too slowly or not responding, you can restart it. Even high-end wearables like the Apple Watch, which has cutting-edge hardware and well-polished software, can become slow and sluggish after being used a lot.
Sometimes, the Apple Watch might have its logo on the screen. It won't start up or do anything else. Instead, it just shows the static logo.
Sometimes, when you try to use the menu on the Watch, it will be slow or not work at all. In some cases, the Apple Watch just stopped working on one screen. All of these problems can be fixed by restarting the Apple Watch.
Read More: How to connect AirPods to iPhone
How to Restart Apple Watch Manually?
Step 1: Press and hold your Apple Watch's side button until the screen shows you three options: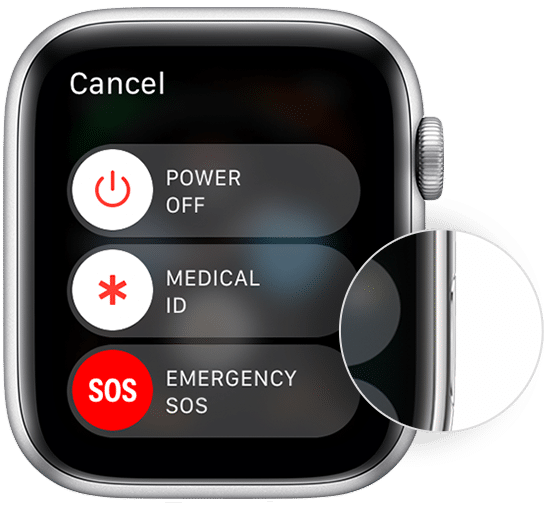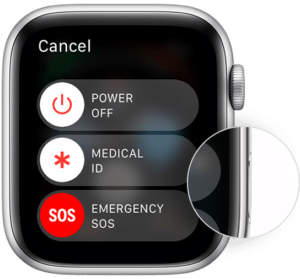 Power Off: To be able to turn your watch off.
Medical ID: To see your health records.
To make an emergency call, say "Emergency SOS."
Step 2: To turn off your watch, move the power off slider to the right.
Step 3: Hold down the side button until the Apple logo appears to turn on your Apple Watch.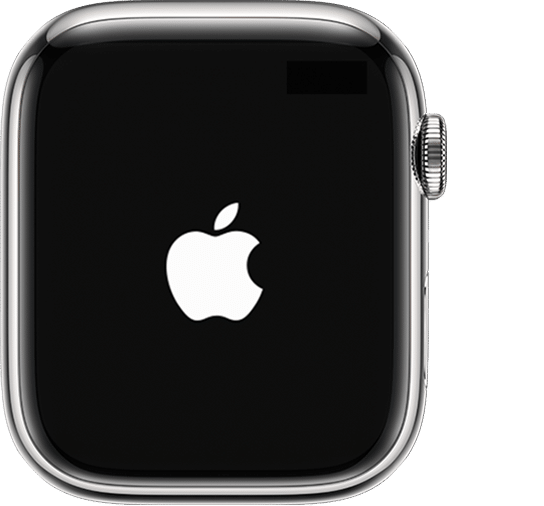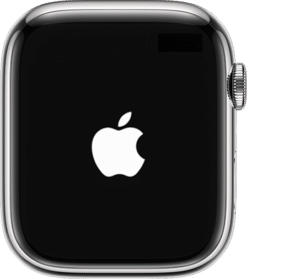 If your Apple Watch is charging, you should take it off the charger first. You won't be able to restart your wearable if it is charging.
How to Hard Reset Apple Watch?
You only need to perform two things to forcibly restart an Apple Watch.
Hold down both the side button and the Digital Crown. The button that turns on the side of the device is called the "Digital Crown."

Keep holding down these two buttons until the Apple logo shows up on the screen.

After your Apple Watch restarts, if you have a passcode, you'll be asked to enter it. If you tend to forget your passcode, make sure you have it with you before you start this process.
If you forget your passcode, you'll need to erase the device through the Watch app on your iPhone and then restore it from a backup.
It shouldn't often happen that your Apple Watch freezes. If this starts often happening on your Apple Watch, you should look into other ways to fix it, like updating its software, updating your iPhone to the latest version of iOS, or setting it up again from scratch. If your Apple Watch keeps freezing, you should contact Apple support to see if they know how to fix it.
Read Also: How to Fix Bluetooth Problems in Windows 11
How to Restart Apple Watch Firmware with Your iPhone?
Your iPhone backs up important data from your Apple Watch, but Apple just added a feature that lets you use this data to restore the firmware on your watch. You need an Apple Watch with WatchOS 8.5 and an iPhone with iOS 15.4 to get started.
For this method to work:
Make sure your iPhone is connected to WiFi and that Bluetooth is turned on.

Link your Apple Watch to its charger.

Click your Apple watch's side button twice.

Follow your iPhone's prompts to finish the firmware restore process.
How to Reset your Home Screen Layout?
You have set the home screen of your Apple Watch to look like a honeycomb. You can use the Watch app on your iPhone to reset it to its factory settings.
Open the app for Watch.

Click the "My Watch" button.

Tap General.

Tap Reset.

Touch Reset Home Screen Layout.

Tap the Reset Home Screen button to confirm your choice.
How to Disconnect your Apple Watch?
You will need to use your iPhone to unpair your Apple Watch and reset it to factory settings. When you unpair the devices, your Apple Watch will delete all of its data and be completely removed from your iCloud account.
Open the Watch app and tap All Watches in the upper left corner.

Tap the info icon (a lowercase I with a circle around it) next to the watch you want to disconnect.

Tap Unpair Apple Watch, then say "Yes" when asked.

If you have a model with cellular data, you will be asked if you want to keep your cellular plan. If you get rid of the plan, you may also need to call your carrier to cancel the service. Tap to say yes.
Erase All Content And Settings
By pressing the "Erase All Content and Settings" button on an Apple Watch, all of its settings are reset to their factory defaults, and all of its data and media are deleted. It's the last thing you can do to make sure there isn't a problem with the software. After the reset is done, you'll have to connect your Apple Watch to your iPhone again, just like you did when you first took it out of the box.
Before you do this step, you should back up your Apple Watch. If you do this reset without making a backup, you will lose all the information you have saved on your Apple Watch.
Open the Watch app on your iPhone and go to General > Reset > Erase Apple Watch Content and Settings. To confirm your choice, tap Erase All Content and Settings.
Restore Apple Watch
If your Apple Watch is disabled because you forgot your passcode or entered it wrong too many times, you can use the Apple Watch app on your iPhone to enter the passcode again. If you still don't remember your passcode, you can reset the passcode by resetting your Apple Watch. When you restore, your Apple Watch will lose all of its content and settings, but they will be replaced by a backup. See Software Update for Apple Watch to learn more.
Also Read: How Long Does It Take to Reset a PC
Things to Note While Restarting Your Apple Watch
Your data will not be lost if you turn off and on your Apple Watch. We just turn off and on the device. If you reset the device, you might lose data. If nothing else works, use the "Force Restart" method. Then you are working on something, and the Watch stops responding. You might not be able to save the work even if you force restart the Apple Watch.
If you are updating the Apple Watch to the latest watchOS, don't force restart the Watch during the update. Plug the watch into the charger and leave it that way until the watchOS is updated.
Conclusion
Now you know how to restart your Apple Watch and how to force it to restart. Don't forget that both of the guides above work on all Apple Watch Series. Apple Support can help you if your Apple Watch is still frozen. But you might want to try resetting the Apple Watch to factory settings first.
Frequently Asked Questions (FAQs) about How to Restart Apple Watch
Does Restarting My Apple Watch Delete Everything that is on it?
No, unlike when you reset your Apple Watch, you won't lose all of your data or content when you reset your Apple Watch. We don't think you should force reset your Apple Watch too often, though. Only do it when you need to.
Is Apple Watch Worth Buying?
Even though the Apple Watch is great, it's not a must-have. Don't buy something you can't pay for. Apple Watches are slowly getting cheaper, especially if you buy an older model like the Apple Watch 3, but they are still not cheap.
Does Apple Watch Work Without an iPhone?
Even if you don't have your iPhone with you, your Apple Watch can do the following things if it's connected to Wi-Fi or a cellular network. Siri can help you find your way, send iMessages, and do more.
How do I Reset my Apple Watch after too Many Wrong Attempts at my Passcode?
If you've entered the wrong passcode too many times, you'll need to reset your Apple Watch. To do this, follow the steps above to reset the watch from your iPhone.
Can I Reset my Apple Watch without the Passcode?
As was already said, you can reset your Apple Watch from your paired iPhone even if you don't know the passcode. You can also soft reset your Apple Watch without a passcode by holding down the Digital Crown and side button for ten seconds.
Does a Force Restart Delete Apple Watch Data?
No! If you force restart your Apple Watch, you won't lose any data. It's like trying to restart a frozen computer by pressing Ctrl, Alt, and Delete at the same time. When you turn it back on, your data, installed programs, and other settings are all the same as before.
Does Apple Watch work with Android?
The Apple Watch only works with iPhones, and that probably won't ever change. For an Apple Watch to work, you need an iPhone with the Watch app. Even if your Android device can connect to Bluetooth, there is no other way to do this.
Can you restart the Apple Watch from the app?
Press and hold the Digital Crown until the app is closed and the Watch face is back on the screen.