Independence Day is to be Celebrated Across Bangladesh on March 26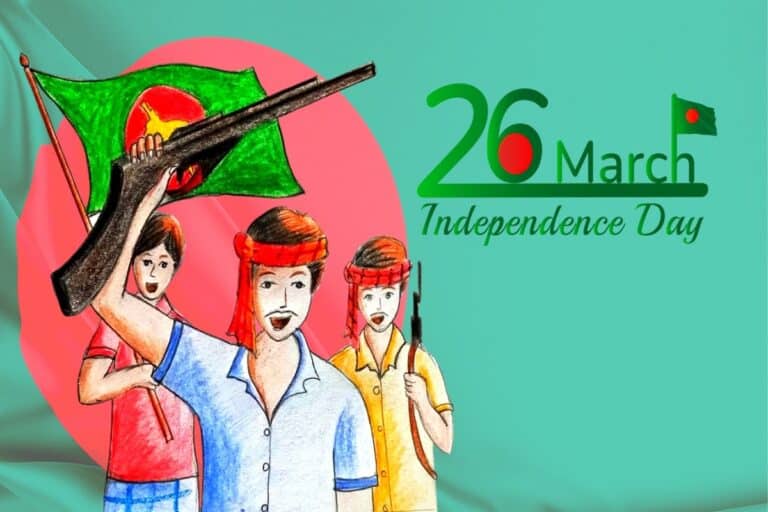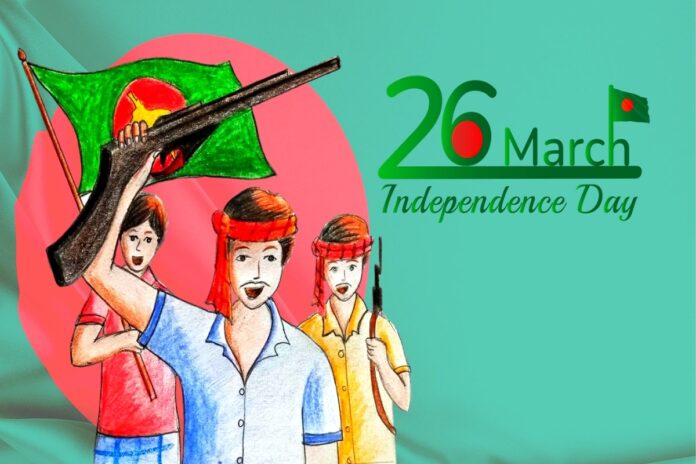 Listen to the Podcast:
The nation is celebrating its 53rd Independence and National Day today (Sunday) with a renewed commitment to lead the country to prosperity in the spirit of the Liberation War.
Bangabandhu Sheikh Mujibur Rahman, the Father of the Country, declared Bangladesh's independence on March 26, 1971, after unarmed Bangalees were attacked by Pakistani occupation forces at midnight on March 25.
On December 16, 1971, Bangladesh attained its treasured independence following a nine-month War of Liberation in which three million people embraced martyrdom and two hundred thousand women sacrificed their virginity.
President Abdul Hamid and Prime Minister Sheikh Hasina delivered separate statements extending heartfelt congratulations and felicitations to the inhabitants of Bangladesh, both at home and abroad.
The holiday will commence with a gun salute and wreath-laying ceremony at Savar's National Monument in honor of the Liberation War's fallen.
On the occasion of the Independence Day of Bangladesh, @UNDP 🇧🇩 Resident Representative @stefanliller visited the National Martyrs' Memorial and shared his thoughts in this video. Watch this to learn more.
We wish you all a Happy Independence Day! pic.twitter.com/80gOG4VfJx

— UNDP Bangladesh (@UNDP_BD) March 26, 2023
At dawn, the national flag will be flown above all government, semi-government, private, and autonomous structures, and all notable structures and institutions will be lighted.
Bangladesh Betar, Bangladesh Television, private radio stations, and television networks will broadcast special programs emphasizing the significance of the day.
Bangla Academy, Bangladesh Shilpakala Academy Shishu Academy, the National Museum, the Liberation War Museum, and other social and cultural institutions will conduct seminars, cultural events, painting and sports competitions for youngsters, as well as screenings of films and documentaries commemorating the liberation war.
At the metropolitan, district, and upazila levels, the families of martyrs and liberation fighters must be honored. To commemorate the occasion, the Bangladesh Post Office Department will issue a special commemorative stamp.
Many religious institutions will organize special prayers and doa mehfil for the peace, development, and prosperity of the nation.
Institutions such as hospitals, prisons, children's homes, retirement communities, and daycare centers will receive meals of superior quality.
The parks and museums for children will remain accessible throughout the day. Also, Bangladesh Navy and Coast Guard vessels will be open to the public from 2:00 p.m. till dusk at Chattogram Khulna, Mongla, Payra Port, and Bangladesh Inland Water Transport Authority (BIWTA) ports in Dhaka, Narayanganj, Barishal, and Chandpur.
Independence Day will be commemorated with similar events at the district and upazila levels, as well as at Bangladesh's embassies in various countries.
BSS reports that President Md Abdul Hamid stated in his speech that the country must ensure people-oriented and sustainable development, excellent governance, social justice, transparency, and accountability in order to attain its ultimate objective of independence.
"To reach the desired goal of Independence, we must assure people-centered and sustainable development, excellent governance, social justice, transparency, and accountability," he stated.
President Abdul Hamid stated that tolerance, human rights, and the rule of law must be strengthened in order to institutionalize democracy.
"It is our sacred duty to provide the next generation with a safe, happy, beautiful, and successful Bangladesh," he remarked.
He expressed his warmest greetings and best wishes to his fellow countrymen living in the United States and overseas.
"I honor the architect of our independent Bangladesh, the greatest Bangalee of all time, Father of the Country Bangabandhu Sheikh Mujibur Rahman, on this special day. On the fatal evening of March 25, 1971, the invading Pakistani army attacked the defenseless Bangalees without warning "he added.
The President stated that in the early hours of March 26, the Father of the Nation Bangabandhu Sheikh Mujibur Rahman declared Bangladesh's independence.
"We won an independent and sovereign Bangladesh through Bangabandhu's excellent leadership of the nine-month Liberation War," he remarked.
He recalled with profound reverence the millions of martyrs who died during the War of Liberation.
"I remember with profound respect our Four National Leaders, who were courageous liberation fighters, organizers, and supporters. Foreign friends and individuals from all walks of life who helped us achieve our right to self-determination and freedom of movement "he stated.
He stated that Bangabandhu has always desired to construct a joyful and successful nation in addition to achieving political freedom.
He stated that the current government has been exerting ceaseless efforts to make Bangabandhu's vision a reality and that Bangladesh is now heading inexorably down the path of progress.
"We have achieved tremendous success in numerous areas of socioeconomic development, such as poverty alleviation, education, health, human resource development, women's empowerment, reduction of child and maternal mortality rates, elimination of gender discrimination, and increase in average life expectancy," he said.
The President stated that the poverty rate has decreased while the per capita income has risen. He stated that a large number of landless and homeless persons are being rehabilitated.
"The Padma Bridge, which was completed with our own funds, and the Metrorail are now open to traffic. Payra Deep Sea Port, Karnafuli Tunnel, the Third Terminal of Hazrat Shahjalal International Airport, and Rooppur Nuclear Power Plant are also making steady development "he stated.
In her message, Prime Minister Sheikh Hasina urged all Bangladeshis to uphold the spirit and ideals of the Great Liberation War and contribute to the realization of Father of the Nation Bangabandhu Sheikh Mujibur Rahman's vision of a hunger-free, self-confident, and self-respecting "Golden Bangladesh."
"The 26th of March is Independence Day and National Day. Bangladesh entered its 52nd year of independence following its golden jubilee. On this important occasion, I extend my heartfelt greetings and felicitations to all Bangladeshi citizens residing in Bangladesh and abroad "Premier stated.
She said, "I remember with the utmost reverence the greatest Bengali of all time, the great architect of Bangladesh, the Father of the Nation, Bangabandhu Sheikh Mujibur Rahman, under whose steady and visionary leadership we achieved independence."
She recalled the four national leaders, including the war organizers, who skillfully directed the liberation fight.
She stated that the debt incurred by the blood of three million liberations struggle martyrs and the self-sacrifice of two hundred thousand mothers and sisters will never be repaid.
The prime minister offered her respects to all the courageous liberation fighters, especially those who were wounded in battle.
She stated, "I am grateful to all the friendly nations, organizations, institutions, and individuals, especially the then-Prime Minister of India, Shrimati Indira Gandhi, for their tremendous support during the War."
She stated that since the establishment of Pakistan in 1947, the young student leader Sheikh Mujib, who was a law student at Dhaka University, had dreamed of establishing a sovereign state on this territory.
She stated that Pakistanis' social, economic, and political discrimination was becoming more and more apparent by the day.
In exchange for whatever sacrifice, Sheikh Mujib remained resolute in preserving the rights and dignity of Bengalis, according to the prime minister.
She stated that the two organizations to which he was fully committed from the beginning to the end of his life were the Chhatra League and the Awami League, where he held expansive views.
She stated that from the language movement of 1952 to the United Front election triumph of 1954, the anti-Ayub movement of 1962, the six points of 1966, and the popular uprising of 1969, these two groups played a significant part in the fights.
You Can Read More: Bangladesh Victory Day