Xiaomi Mix Fold 3 Review: Did It Perform as Expected [In-Depth Analysis]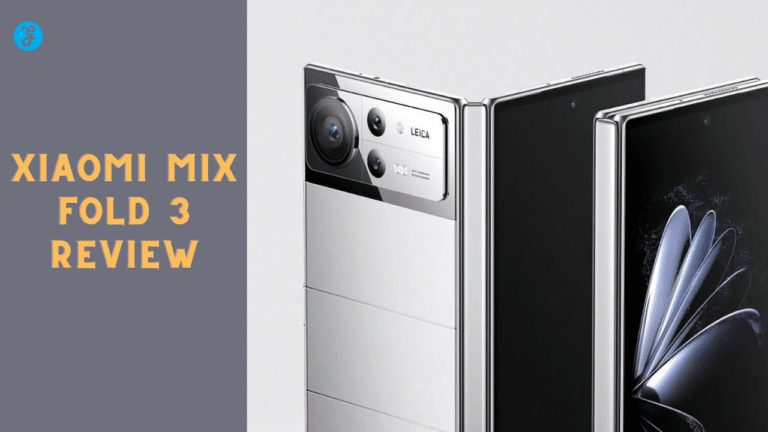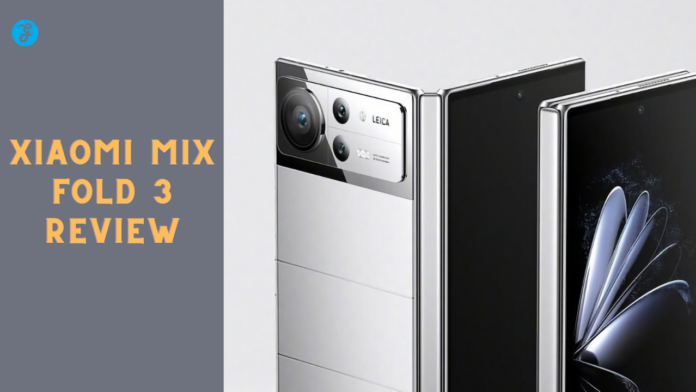 Having a solid foldable phone can be tough to find. We've been there and understand the challenge of finding the right device that caters to your specific needs. That's why we've taken an in-depth look at the Xiaomi Mix Fold 3 review, one of the leading foldable smartphones in the market, with its newly released updates this year.
In this article, we'll provide you with all the essential information about the device and cover topics such as its specs, design capabilities, impressive display and performance features, long-lasting battery life, and powerful AI Enhancements.
So dive into our review for all the details on Xiaomi Mix Fold 3 – from user feedback to availability & pricing!
Content Highlight
The Xiaomi Mix Fold 3 has a slim, portable design, a book-style folding mechanism, and a durable hinge for added protection.
It features an 8.03″ foldable display with high-resolution visuals, smooth performance, AI scene recognition, and manual focus/HDR controls for professional photography purposes.
It offers a long-lasting battery life reaching up to 1.34 days of screen time, with quick wired or wireless charging capabilities for easy recharging on the go.
User experience is further enhanced by its intuitive MIUI interface allowing users to customize their device easily while being part of the Xiaomi ecosystem for easier integration into existing hardware ecosystems in households.
Xiaomi Mix Fold 3 Review: Specs and Design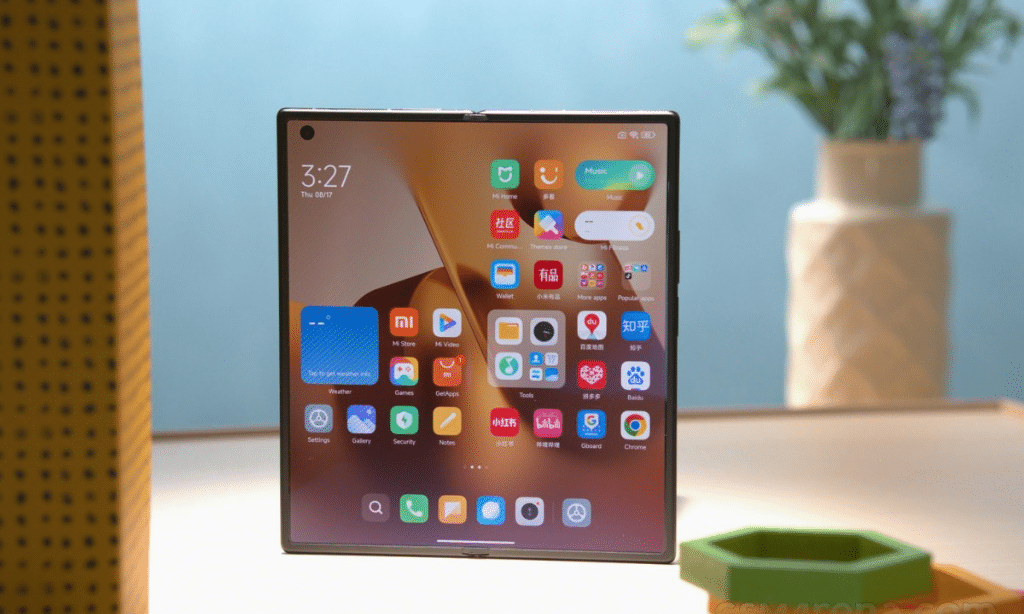 The Xiaomi Mix Fold 3 features an ultra-slim and portable design, a book-style folding mechanism, and a strong hinge for durability.
Slim and Portable Design
The Xiaomi Mix Fold 3 has a remarkably slim profile, measuring only 10.86mm when folded. It is surprisingly light for its size, too, weighing in at 255 grams—which is even lighter than its predecessor.
You can effortlessly carry the phone around town with you without any added bulk or feeling weighed down by it. With its ultra-slim design, this foldable device offers users an effortless and convenient folding experience that is perfect for daily use and portability.
To ensure that it stands up to all kinds of wear and tear, the special hinge design was also improved from the previous version to be more durable and reliable.
Book-style Folding Mechanism
The Xiaomi Mix Fold 3 boasts a revolutionary design thanks to its innovative book-style folding mechanism. This allows for an incredibly slim and portable device while also being able to withstand multiple folds with the durable hinge design.
The hinge is made from tough high-strength materials designed to last up to 500,000 folds easily without any wear and tear. The slimmer profile compared to previous models is due in part to these advanced materials and updated design specifications.
As such, this foldable phone offers users all the durability they need with less bulk than ever before—the perfect balance between practicality and performance.
Hinge Design for Durability
The Xiaomi Mix Fold 3 has a hinge design that is engineered for durability. Its folding mechanism consists of 198 components, including a three-level connecting rod encircling the hinge and 14 micro-hinges.
The 3-element structure ensures enhanced durability while simultaneous movements of closely positioned elements allow consistent movement without gaps. It also contains carbon ceramic materials, which can endure wear and tear better than other models, helping to ensure long-lasting performance.
Furthermore, these materials combine with precise coordination between each element in the device's book-style foldable cover providing necessary stability during heavy use or accidental misuse. If you're interested, check out another review on Samsung Galaxy S24 Ultra.
Impressive Display and Performance
The Xiaomi Mix Fold 3 boasts a large foldable display that offers high-resolution visuals with extra smooth and fast performance.
Large Foldable Display
The Xiaomi Mix Fold 3 features an impressive 8.03-inch foldable display that provides a smooth and immersive visual experience. With a resolution of 2160 x 1916, the internal display offers vibrant visuals with great clarity and detail.
Moreover, it has an impressive maximum refresh rate for ultra-smooth scrolling during use. The exterior of the phone is also constructed from UTG (ultra-thin glass), providing protection to ensure durability while extending its lifespan too.
Furthermore, compared to traditional smartphones, which usually offer 6" or 7" displays, having a large foldable design allows for much larger viewing areas in folded mode as well as device portability when unfolded – making it easy to get things done efficiently on the go!
High-Resolution and Vibrant Visuals
The Mi Mix Fold 3 offers an immersive viewing experience with its expansive 8.03-inch foldable display with 2160 x 1916 resolution. This high-resolution ensures that users enjoy sharp and crystal clear visuals, allowing them to see even the finest details in pictures and videos.
The vibrant color palette of this OLED display has been AVH-certified to produce accurate tones, letting you view your content as it was meant to be seen by bringing out every single detail of the image.
Xiaomi's smart display technology automatically adjusts brightness levels, ensuring that your eyes remain comfortable no matter how long you spend using it – making it an ideal choice for reading and media consumption.
Smooth and Fast Performance
The Xiaomi Mix Fold 3 features an upgraded display and processor that offer a fluid user experience. The device's Qualcomm SM8550-AC Snapdragon 8 Gen 2 (4 nm) chipset, along with 12GB of RAM and 256GB of internal storage, makes it capable of handling any task thrown at it without hiccups or lag.
With the large foldable display reaching resolutions up to 2K HDR++, users are guaranteed vivid visuals for media consumption and gaming purposes. Furthermore, technologies like artificial intelligence help manage processes more efficiently to optimize their speed and performance further.
The result is a responsive UI coupled with powerful hardware that lets you easily switch between multiple apps while offering smooth multitasking capabilities – perfect for heavy-duty productivity tasks.
Advanced Camera Capabilities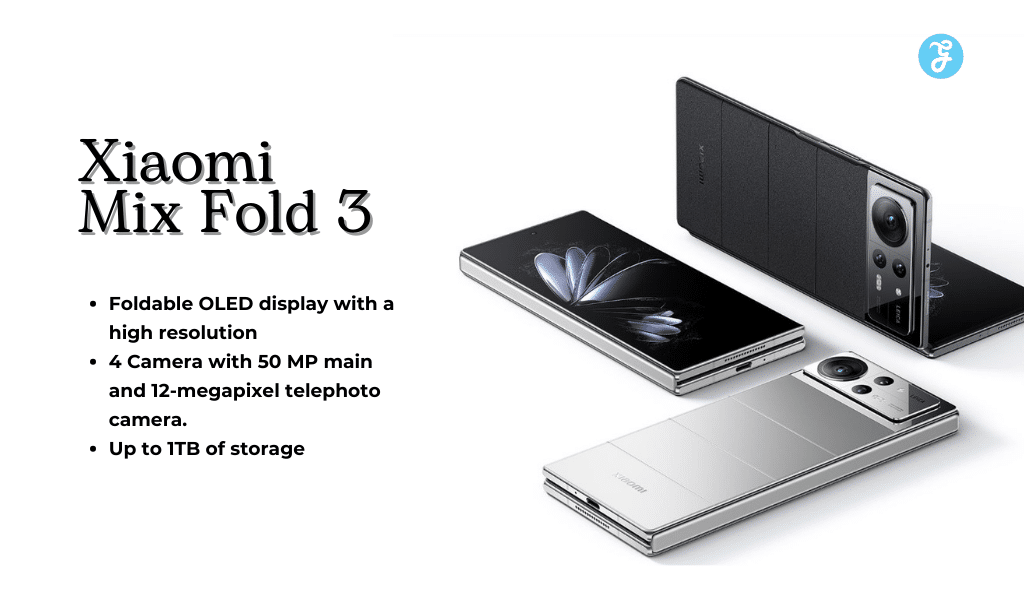 Enjoy professional-grade camera capabilities, versatile shooting modes, and AI-powered enhancements through the new Xiaomi Mix Fold 3 – a complete package for photography lovers!
Professional-grade Camera System
The Xiaomi Mix Fold 3 is equipped with four rear-facing cameras
Wide: 50 MP
Telephoto (3.2x optical zoom): 10 MP
Telephoto (5x optical zoom): 10 MP
Ultra-wide angle: 12 MP
And a pair of 20 MP selfie cameras, making it an exceptionally capable device for taking photos. The camera module of the Mix Fold 3 has been inspired by Xiaomi's number series design and features a rounded square shape with dividing lines that integrate the four individual lenses into one cohesive unit.
Additionally, there are AI-driven enhancements such as the bokeh effect when using telephoto or portrait mode when using Google Lens integration which allow millions of consumers to take amazing photographs in any context without having prior experience or skill level in photography compared to what would be needed beforehand.
Versatile Shooting Modes
The Xiaomi Mix Fold 3 offers a broad range of shooting modes to help you capture stunning photos and videos. It comes with AI scene recognition that automatically adjusts settings for sharper images and optimal results in any condition. The device also sports professional-grade camera features, such as manual focus control, high dynamic range (HDR) mode, and advanced exposure metering functions.
You can switch between photo and video modes quickly thanks to the dedicated buttons on the side of the frame. Other photography design features include time-lapse, slow-motion videos, night mode for low light conditions, 4K UHD recording up to 60 frames per second (FPS), portrait mode blurring background shots into a bokeh effect or adding artistic filters to strengthen your creative expressions.
Additionally, an 8K Video resolution support allows you to record ultra HD quality visuals with crystal clarity. With these powerful tools at hand, it's easy for users to capture amazing moments and preserve memories forever!
AI-Powered Enhancements
The Xiaomi Mix Fold 3 is equipped with a range of AI-powered enhancements geared to take this foldable phone's camera capabilities to a professional level. The enhanced image processing technology automatically detects and enhances photos for improved contrast, colors, and resolution.
This ensures that your shot looks crisp no matter the lighting situation or scene background. Meanwhile, advanced object detection ensures that images remain focused even when there's movement in the frame.
With these AI-powered enhancements, you can expect better-quality images from every photo session without any extra effort on your part. And since they are all powered by IPU-level intelligence algorithms embedded into the hardware architecture of the device, you don't have to worry about compromising speed or efficiency for improved picture clarity either!
Long-lasting Battery and Efficient Charging
The Xiaomi Mix Fold 3 boasts an impressive battery life and fast charging capabilities for uninterrupted usage throughout the day; it also supports wireless charging.
Extended Battery Life
The Xiaomi Mix Fold 3 is equipped with a 4800mAh battery that offers an impressive extended battery life that brings it in league with other leading foldable devices. This is achieved through the use of a dual-cell battery that supports up to 1.34 days of screen time, 11% higher than other traditional foldable phones.
Not only does this provide ample juice for all-day use, but it also enables more productivity from customers who can go longer without needing to recharge their devices. As well as providing good longevity on the external 8-inch display, the internal 8.03-inch also offers long hours of usage – up to 1.34 days thanks to its efficient batteries and optimization features built into the MIUI interface – so you can get work done while multitasking or gaming with no fear of running out of power quickly!
Fast Charging Capabilities
The Xiaomi Mix Fold 3 packs a major punch in the fast-charging department with its impressive 67W charger that comes with the phone. This powerful charging speed is made possible by its combined G1 power management chips and P2 fast charging chip, giving you more freedom to recharge your battery quickly.
Not only does it support superfast wired charging, but it also permits up to 50W of wireless charging for greater convenience. With such speedy charge times, you'll be able to get from drained battery levels back up to full within just a few minutes – an essential feature for any tech lover looking for continual performance and flexibility on the go.
Wireless Charging Support
A key feature the Xiaomi Mix Fold 3 offers is its wireless charging support, which eliminates the need for cables when charging the device. With its fast 67W wired and 50W wireless charging capabilities, users can wirelessly juice up their device in a snap.
Furthermore, there's an option available within MIUI called "Battery and performance," where users can access wireless charging settings and switch between wired or wireless options accordingly.
This makes it incredibly easy to charge your device without worrying about finding a compatible charger or messy cables whenever you want to charge your phone. The convenience of this technology proves to be very beneficial as it allows users to keep their workspace neat while also having quick access to fully charged devices with minimal effort.
User-Friendly MIUI Interface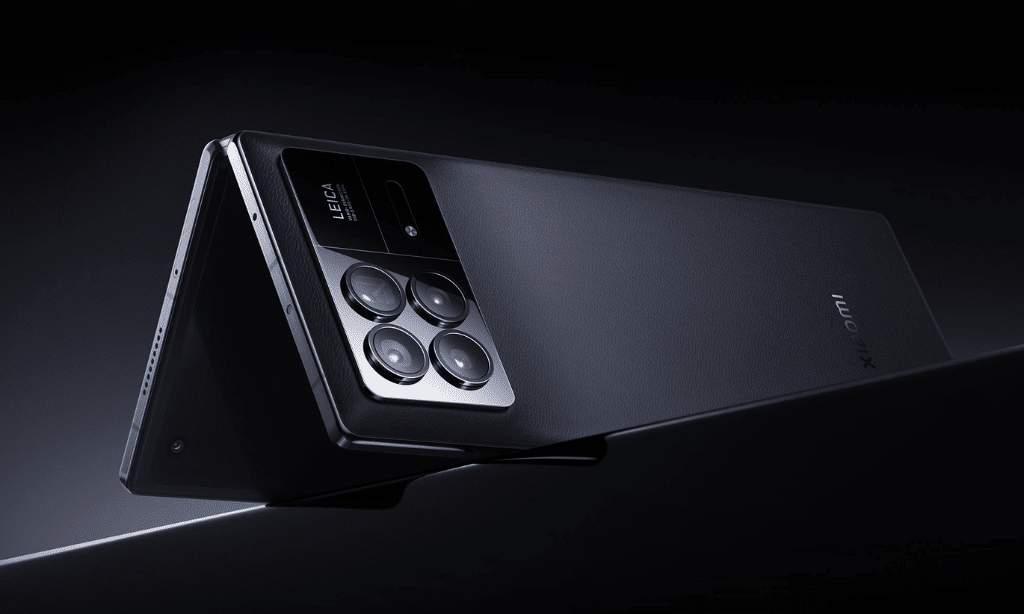 The Mi User Interface (MIUI) provides an intuitive and customizable user experience with its cutting-edge software suite and seamless integration with the Xiaomi ecosystem.
Intuitive and Customizable User Interface
The Xiaomi Mix Fold 3 redefines personalized experiences through its MIUI Fold 14.1.5 user interface, providing users with an improved experience when using a foldable device. The intuitive design of the user interface offers easy navigation and a wide range of customizable options.
With easy access to shortcuts, notifications, tools, and apps from single-swipe screens; users can quickly access what they need without complicated searches or procedures. For further convenience, the phone also allows for the creation of separate home screen profiles for work or entertainment activities, along with customized app icons and themes according to individual preferences.
In addition, deep system integration ensures all of these features are seamlessly supported by both software and hardware components, such as advanced security protocols as well as OS optimization that optimize performance while reducing power consumption and lag time.
Feature-Rich Software
The software associated with the MIUI interface on the Xiaomi Mix Fold 3 is feature-rich, providing a wide range of tools and settings that users can explore to get the most out of their devices.
The user-friendly MIUI interface also enhances the overall functionality of this foldable phone, making it easy for anyone to adjust its settings and customize pages according to their own preferences.
In addition, the Xiaomi Mix Fold 3 software supports seamless multitasking between apps and provides great integration with other popular ecosystems. It also receives regular updates containing bug fixes as well as security patches so you can enjoy improved performance over time.
Seamless Integration With Xiaomi Ecosystem
The Xiaomi Mix Fold 3 provides a seamless integration with the Xiaomi ecosystem, making it easy for users to connect and make use of other compatible devices easily. It allows users to quickly access all the features or functions they need without any hassle by taking full advantage of its sophisticated integration capabilities.
For instance, you can quickly pair your laptop with the phone's display and take advantage of its large screen for streaming movies, playing games, or catching up on work tasks. This allows you to transfer data instantly between various connected Xiaomi devices, significantly enhancing convenience in daily use.
Moreover, this feature also helps improve battery life by intelligently managing power consumption when multiple connections are established at once. Overall, due to its seamless integration technology and powerful technical aspects behind it, the Xiaomi Mix Fold 3 is certainly one of today's most innovative foldable phones, providing an effortless user experience unlike ever before.
Hands-On Impressions and User Feedback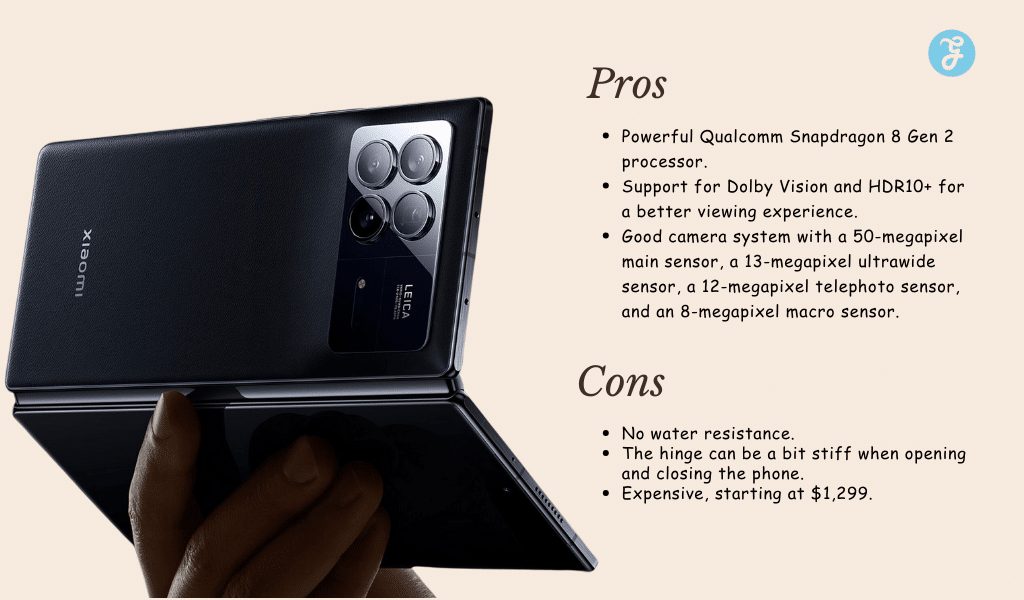 With positive reviews coming from both users and tech experts, the Xiaomi Mix Fold 3 offers a refined and reliable foldable experience with high satisfaction for its performance and features.
Positive Reviews from Users and Tech Experts
The Xiaomi Mix Fold 3 has been met with glowing reviews since its release. Both users and tech experts are amazed by the refinement of this foldable device, from its solid aluminum frame to the premium Gorilla Glass Victus 2 cover screen that ensures robust build quality.
Its impressive quad-camera system, equipped in collaboration with Leica's lenses, allows users to capture stunning photos while offering various shooting modes for versatile photography needs.
The large 8.03-inch display reveals high-resolution visuals accompanied by smoother performance; completing an engaging multimedia experience. Users have expressed satisfaction with the phone's extended battery life, which makes it reliable for those long days out without needing to be recharged regularly.
Also, 50W wireless charging provides faster and more convenient charging options whenever needed! Tech experts also remarked about these features along with others, such as MIUI's intuitive user interface greatly improving the overall smartphone experience—all contributing to why Xiaomi Mix Fold 3 is highly regarded in both tech circles and customer base alike!
Refined and Reliable Foldable Experience
As one of the most refined foldable phones available in the market today, the Xiaomi Mix Fold 3 boasts a sleek and durable design. Its book-style folding mechanism ensures optimal portability, while its hinge keeps it secure when flipped open or closed.
In terms of user experience, this phone delivers an incredibly smooth and reliable folding action that can be configured customarily to your preferences. With its large foldable display, users can enjoy crisp visuals with high resolution for viewing content without any drones or tearing during operation.
The device's professional-grade camera system offers superior image quality in both stills and video recording modes, with AI-powered enhancements ensuring stunning results even under challenging lighting conditions.
In addition to long battery life, there are fast charging capabilities for quick top-ups and wireless charging support, allowing easier power throughout the day.
Even more importantly, all these great features are integrated into Xiaomi's intuitive MIUI interface, which makes controlling the device straightforward thanks to its rich suite of features that blend effortlessly into their ecosystem.
High Satisfaction With Performance and Features
The Xiaomi Mix Fold 3 has been met with much acclaim, especially for its impressive performance and features. The device is able to provide a flagship-level user experience while keeping a slim and lightweight design too.
Users have enjoyed the versatility of such a powerful foldable phone, as they can complete tasks quickly without compromising quality or laggy responsiveness.
Reviews from both users and tech experts rave about the smooth animations on screen, giving them an almost seamless experience when using the device for even complicated tasks like photo/video editing.
Users are also impressed with physical hardware specs, such as cameras' AI-powered capabilities, which can allow professional-grade photography while reducing time spent during post-production sessions.
Availability and Pricing
The Xiaomi Mix Fold 3 will be released in 2021, and it's set to have a very competitive pricing compared to other foldable devices.
Release Date and Availability
The Xiaomi Mix Fold 3 was released on 14th August 2023. It is only available for purchase from the Xiaomi store within the country, and it will not be sold globally since there are no plans to do so.
Although the pricing might be considered expensive at USD 1,299 (Strats from), consumers who choose to purchase this foldable device can get their hands on a truly impressive piece of technology that surpasses other devices of its kind.
The Mix Fold 3 is able to offer an extremely slim design, a series of advanced camera capabilities, and features such as fast charging support and seamless integration with the MIUI interface, which enhances user experience beyond compare. If you're interested, also read on – iPhone 15 Pro Max Review.
Comparison with Competing Foldable Phones
We can compare the Xiaomi Mix Fold 3 with other popular foldable devices and evaluate its features and advantages over them.
Highlighting the Unique Features and Advantages of Xiaomi Mix Fold 3
The Xiaomi Mix Fold 3 is a remarkable device with several useful features. Its slim design and book-style folding mechanism make it highly portable, while its hinge ensures durability, so you can be sure the device won't break after regular use.
The impressive foldable display provides high-resolution visuals and an immersive experience. With smooth performance, a long-lasting battery life, and fast charging capabilities, this phone has set the benchmark in terms of specs and usability.
The versatile camera system has several shooting modes, such as portrait, slow motion, etc., that further enhance photos taken with the Mix Fold 3. It's not just about looks – an intuitive invader friendly MIUI interface allows for customization based on your preference which comes with various features such as dual window mode, allowing you to open two apps simultaneously.
Comparison With Other Popular Foldable Devices in the Market
Xiaomi Mix Fold 3 stands unique amongst the various foldable devices available in the market right now. It is lighter and thinner than its competitors, including the Samsung Galaxy Z Fold 5, making it convenient to carry and handle.
Moreover, it features an impressive 10-layer hinge design for added durability. The mix Folder 3 has one more camera than other foldable – with telephoto and ultra-wide-angle lenses, enabling users to capture stunning visuals from any angle or distance.
In terms of performance, it runs on a 12GB RAM-powered Qualcomm Qualcomm SM8550-AC Snapdragon 8 Gen 2 (4 nm) chipset with MLE Boost 6 technology, providing smooth performance even when multitasking or playing HD games for long hours.
Plus, the phone comes equipped with a large 4800mAh battery that delivers up to 14 days of standby time on a single charge as well as fast charging capabilities for enhanced convenience.
Frequently Asked Questions (FAQs)
Now it's time to get some related questions on this topic.
1. What is the Xiaomi Mix Fold 3?
The Xiaomi Mix Fold 3 is a foldable tablet with a dual-screen display and 5G connectivity from Chinese manufacturer Xiaomi.
2. What are the specifications of the Xiaomi Mix Fold 3?
The mix fold three features two 8.03 inch displays, a Snapdragon 8 Gen 2 (4 nm) processor chipset, up to 12 GB RAM, 256 GB storage space, and expandable memory of up to 1TB in total via microSD card slot. It also includes a quad camera setup: 8MP primary lens ( telephoto), 16MP ultra-wide angle lens, 20 MP superwide macro lens, and advanced liquid cooling technology for improved gaming performance.
3. Does it support 5G technology?
Yes, the Xiaomi MixFold Three supports a 5G internet connection on both models available now – either Dual SIM cards or an enabled version at no extra cost.      
Takeaway
The Xiaomi Mix Fold 3 is a powerful, impressive foldable phone offering users an innovative, professional-grade experience. Its highlight features are its slim design, durable hinge, large display, advanced camera system, and long-lasting battery.
As one of the slimmest vertical foldable devices available in the market today, it provides users with high satisfaction across performance metrics such as speed and responsiveness.
The intuitive MIUI interface allows users to customize their user experience efficiently while providing reliable integration into the Xiaomi ecosystem, highly regarded by tech experts for its versatility.
This device is definitely worth considering if you're looking for a good foldable phone with outstanding features at competitive pricing compared to other folding devices on the market.
Subscribe to Our Latest Newsletter
To Read Our Exclusive Content, Sign up Now.
$5/Monthly, $50/Yearly