Volvo XC40 Recharge Review: A Luxury Electric SUV Worth the Price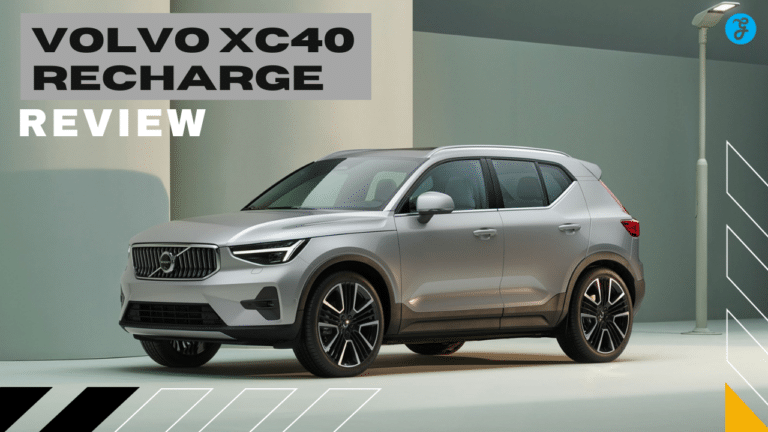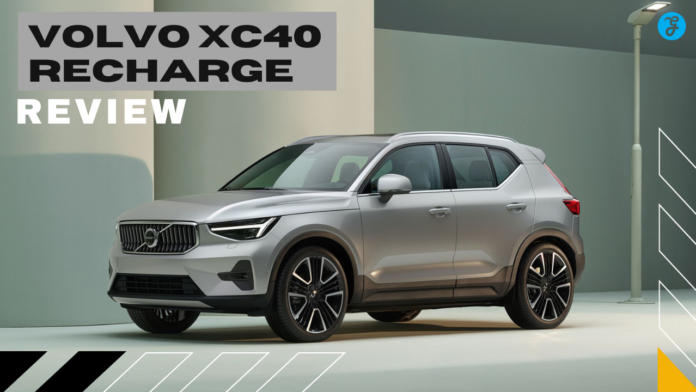 Making the switch to an electric vehicle can be a difficult decision but with features like a 402 hp engine and a range of over 223 miles on a single charge – the 2023 Volvo XC40 Recharge makes it easier than ever. This fancy SUV looks great and runs on electricity. It's not too expensive and works well, giving you a smooth ride. It's a good choice for people who want to go eco-friendly without breaking the bank. This electric SUV stands out from others because of its performance and how easy it is to buy and use.
Let's take a closer look at the Volvo XC40 Recharge Review. This way, you can decide if it's the right choice for you when you're thinking about getting a new car!
Content Highlights
Pricing is competitive compared to rivals like BMW and Audi, with a starting price of $54,645 for the Core trim. Good value for the performance.
New for 2023 is an animal-free vinyl interior option, improved power output of 402 hp and 486 lb-ft torque, extended 223-mile range, enhanced semi-autonomous driving features, and upgraded connectivity.
Pros include stability from the battery weight, comfortable ride, powerful motors, and luxury interior. Cons are higher pricing than some rivals, charging infrastructure limitations, and slightly less cargo room than traditional SUVs.
Notable updates include reshaped headlights, an integrated grille, a Google operating system, a 12-inch touchscreen, parking assist, and lane-centering steering assistance for added safety and convenience.
Overview of the 2023 Volvo XC40 Recharge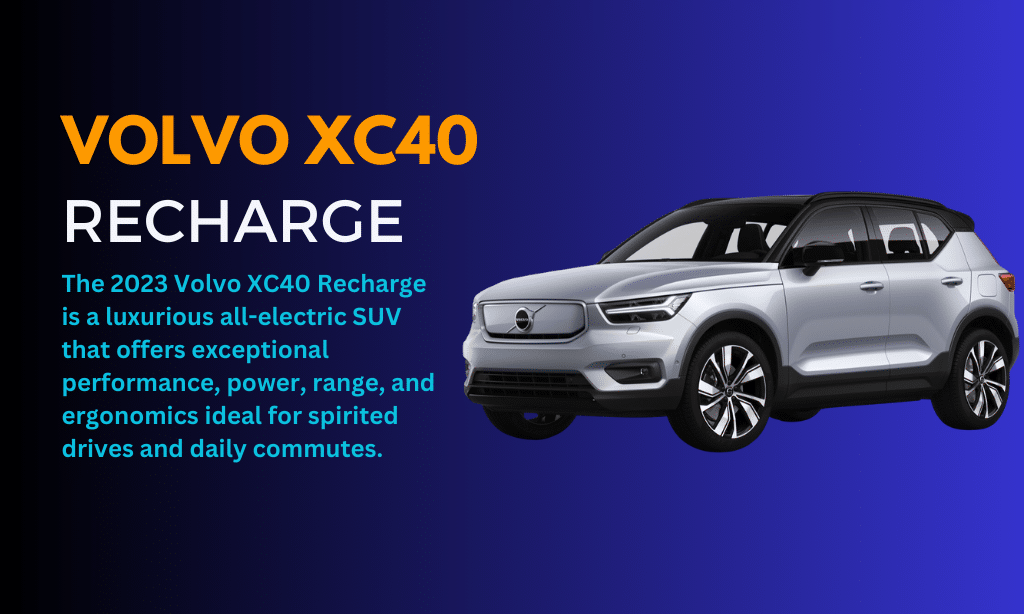 The 2023 Volvo XC40 Recharge is a luxurious all-electric SUV that offers exceptional performance, power, range, and ergonomics ideal for spirited drives and daily commutes.
Pricing and Competition Ranking
When it comes to pricing and competition ranking, the 2023 Volvo XC40 Recharge offers a great balance of value and performance in comparison with its rivals. The starting price for the Core trim is $54,645, which is competitively priced against other EV models within its class such as BMW iX, Rivian R1S, Audi Q8 e-tron, and Genesis GV60.
It holds its own in terms of overall performance due to its powerful electric motor when comparing specs side by side with similar models from rival automakers like the Mercedes-Benz EQS SUV.
What's New for 2023?
The 2023 Volvo XC40 Recharge brings several exciting updates and improvements compared to earlier models. Here's a look at what's new for 2023:
A new animal-free vinyl interior option for a luxurious feel and an eco-friendly alternative.
Improved power from its 2-electric motors, with 402 horsepower output, and 486 pound-feet of torque deliver better acceleration than before.
A 223-mile range on a single charge is ideal for daily commuting plus reports of better efficiency all around.
The latest version of the Pilot Assist semi-autonomous driving system is now enhanced with adaptive cruise control and lane centering.
Upgraded suspension improves comfort levels while reducing road vibrations significantly over older versions.
Improved connectivity comes in the form of wireless Apple CarPlay or Android Auto integration, plus improved Bluetooth support for various audio devices such as phones, speakers etcetera
Pros and Cons
The 2023 Volvo XC40 Recharge undoubtedly comes with a set of pros and cons that need to be analyzed before making a purchase decision.
| Pros | Cons |
| --- | --- |
| The electric version of the 2023 Volvo XC40 Recharge drives better than the gasoline version due to the battery's weight, which enhances stability. | The XC40 Recharge has a higher price tag compared to other similarly sized SUVs in the market. |
| The XC40 Recharge is fairly comfortable for a small, sporty SUV, which is a bonus for long-distance journeys. | The charging infrastructure for electric vehicles, though improving, is still not as widespread and convenient as gasoline stations. |
| The XC40 Recharge packs over 402 horsepower, making it a powerful sleeper car, which is not common in the EV segment. | The overall range of the XC40 Recharge may not be as impressive as some competitors. |
| The interior of the XC40 Recharge is well-put-together and refined, providing a luxury feel. | The cargo capacity is slightly less compared to traditional SUVs due to the battery placement. |
Of course, like with any vehicle, what might be a positive for one individual could be a drawback for another. That's why it is important to consider all the factors before settling on the 2023 Volvo XC40 Recharge.
Featured Updates and Improvements
The 2023 Volvo XC40 Recharge is making substantial updates to its design and technology. To start with, the front end of the vehicle has been updated with reshaped headlights, an integrated grille for a more stylish and sophisticated look, and a restyled bumper for improved road safety.
Moreover, drivers can now benefit from a Google-powered operating system which provides advanced connection options and access to all the latest tech features through intuitive controls. Inside the cabin, a new 12-inch touchscreen display offers additional convenience with sharp graphics while voice control allows handling various entertainment functions hands-free.
This updated model puts a lot of focus on safety. It has a special parking system that helps you park in small spaces without you doing anything. Also, there's a feature that helps you stay in the middle of your lane when you're driving at normal speeds or on the highway. It does this by adjusting the steering wheel for you. These improvements make driving safer and easier.
Volvo XC40 Recharge Review: Performance and Powertrain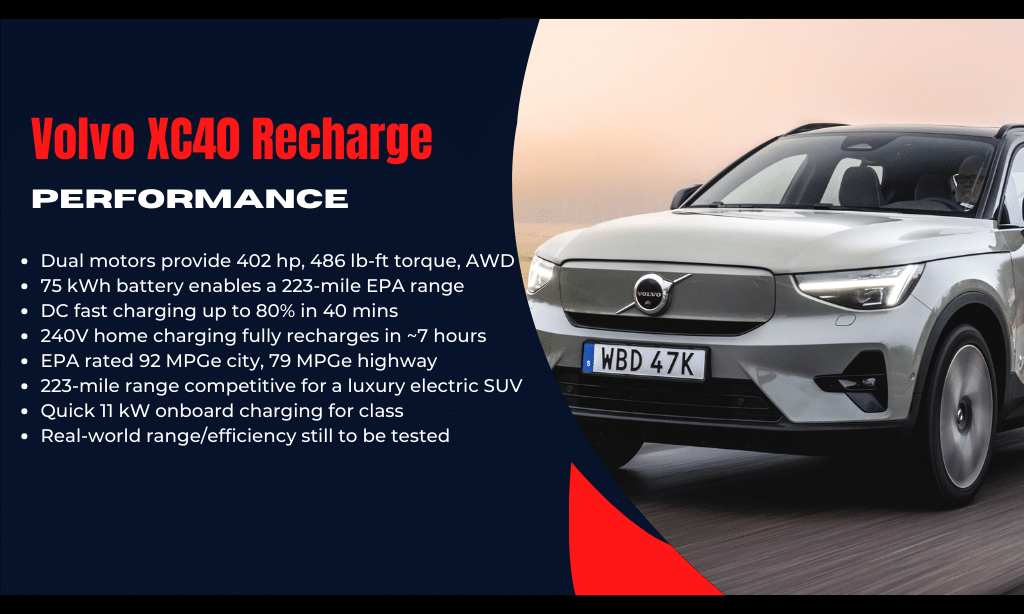 Understand the powerhouse of Volvo XC40 Recharge as you dive in to explore its EV motor and power, battery life, range, and charging options for a smooth drive.
EV Motor and Power
The 2023 Volvo XC40 Recharge is powered by a 75-kWh lithium-ion battery, powering front and rear electric motors. This dual motor setup provides the XC40 Recharge with an impressive net output of 402 horsepower and 486 lb-ft of torque.
The powertrain also has all-wheel drive capabilities, which combined with its two electric motors makes it dynamic yet efficient in performance. Furthermore, the large battery capacity enables drivers to travel up to 223 miles on a full charge as certified by EPA (Environmental Protection Agency).
All these features make the XC40 Recharge one of the most powerful EVs released lately – providing plenty of torque for powering through curves quickly without compromising on the unique automotive experience that only Volvos can provide.
Range, Charging, and Battery life
The new all-electric Volvo XC40 comes equipped with a sizable 75.0-kilowatt-hour battery pack, giving it a decent estimated driving range of about 223 miles on a single full charge according to EPA testing. This puts the XC40's range right in line with competitor electric SUV models like the Audi e-tron and Jaguar I-Pace, which offer similar range estimates. However, the XC40 falls a bit short of the industry-leading Tesla Model Y, which boasts an impressive driving range of over 300 miles per charge.
While the XC40 may not beat the Model Y's range, it still provides ample capacity for daily driving needs. When it's time to recharge, the XC40 supports fast charging at DC fast-charging stations, which can top up the battery relatively quickly. For home charging, a 240-volt outlet can also be used to charge up overnight. So even though some rivals like the Tesla best the XC40 in maximum range, Volvo's first fully electric SUV delivers solid everyday usability with its reasonable 223-mile range capability and convenient charging options.
Fuel Economy and Efficiency
The EPA rated the electric XC40's fuel economy at 92 MPGe in the city and 79 MPGe on highways. We want to test how efficient it is. We will drive it at 75 mph to see what its highway fuel economy is like in the real world. We will also check its actual driving range. We will update this information when we finish testing. This will show how far the XC40 can go on a charge when driving at highway speeds. Our test results will give potential buyers a clear idea of what to expect from the electric SUV's range and MPGe in day-to-day driving.
It has an impressive all-electric range of 223 miles, providing ample distance to get where you need to go with fewer charging stops. What's more, its 11 kW charger capability reduces charge times considerably when compared to other electric vehicles – it takes approximately seven hours for a full recharge at home! This makes the Volvo XC40 Recharge a very efficient option in terms of fuel economy from both the distance covered per charge and charging time perspective.
Interior and Comfort
[Video Credit: @WhatCar?]
The Volvo XC40 Recharge features a modern, well-equipped interior with comfortable seating and the latest in infotainment connectivity.
Infotainment and Connectivity
The 2023 Volvo XC40 Recharge is fitted with advanced infotainment and connectivity systems, providing users with a more intuitive experience. Bluetooth technology integrated into the vehicle makes for a seamless connection between mobile devices.
It also provides access to satellite radio through SiriusXM, enabling users to enjoy their favorite genres of music easily. For those looking for an easier information exchange from iPhone to car controls, Apple CarPlay integration allows just that – plugging the phone into a USB port connects both vehicles quickly and efficiently.
On top of that, heated front seats provide additional comfort during colder climates while the cushion adjustment feature lets drivers find preferred seating positions without hassle whatsoever.
Safety and Driver-Assistance Features
The 2023 Volvo XC40 Recharge is one of the safest vehicles on the roads today and offers a wide range of driver-assistance features. It comes packed with an array of advanced safety systems, including:
Warranty and Maintenance Coverage
For the 2023 Volvo XC40 Recharge, Volvo offers a comprehensive warranty package for worry-free motoring. Owners are covered by a 4-year/50,000-mile limited and powertrain warranty with generous coverage that includes scheduled services up to 3 years or 36,000 miles at every 10,000-mile interval.
In addition to this basic coverage, the battery of the XC40 Recharge also gets an 8-year/100,000-mile bumper-to-bumper warranty which is robust enough to last you through numerous adventures without breakdown worries.
This advanced protection makes sure any defects due to design or manufacture are addressed quickly and accurately so you can continue enjoying your new vehicle for many years down the line.
Shopping Tools
Analyze the market and compare pricing, features, and specs for the 2023 XC40 Recharge using Edmunds' helpful tools.
Edmunds' Suggested Pricing
Edmunds suggests fair market prices for the 2023 Volvo XC40 Recharge, providing reliable pricing information to help shoppers make an informed decision. Edmunds offers their suggested market prices for the three different trims available: Core ($54,645), Plus ($57,345), and Ultimate ($60,595).
Through promotions and sales events, you may be able to get a better deal than listed. Additionally, they also offer deals that bring up-front costs down which can include cash-back incentives or reduced finance rates on select vehicles.
With Edmunds' easy-to-access data and research tools, you are sure to find something perfect from within their selection of offers designed specifically for this car model.
Model Recommendations
When downsizing from a larger SUV, the Volvo XC40 Recharge offers fantastic value with its 2023 model. The new model includes several updates and improvements to both styling and features for an enhanced user experience. This review provides some helpful insight into the models available from the company's fast-growing lineup of luxury electric SUVs.
The T5 AWD Momentum is perfect for commuters who need all-wheel drive capability while maintaining power efficiency in any road conditions, without sacrificing performance or tech offerings. It comes with plenty of options including heated front seats, tinted windows, and 18″ Performa alloy wheels as standard equipment; plus unique exterior paint colorways like Maple Red Metallic and Lime Yellow Pearl Chromium Effect Paint are also options on this model.
For a more exciting driving experience, check out the T5 AWD R Design option. It comes with cool features like 19-inch black alloy wheels, sporty suspension, and stylish black accents on the grille and side mirrors. You can also choose leather seats in different colors to match your style. The interior layout is upgraded, and there are options for a sporty driving mode and improved steering control, perfect for people who love a bit of thrill on long drives. It's a great way to add some excitement to your ride!
If you want maximum comfort and convenience, the newly introduced Inscription level offers great features. It includes an infrared thermal sunroof, a four-zone automatic climate control system, and a large 15-inch touchscreen audio monitor. The dashboard has a fancy Wood Inlay design with Alcantara Suede inserts. You can use Apple CarPlay to connect your smartphone for navigation, finding hotspots, and even making cashless payments. Plus, there's a driver alert system that warns you about approaching objects at set speeds, which helps keep you safe in heavy traffic or when staying in your lane.
Owner Reviews
Before you invest in the 2023 Volvo XC40 Recharge, it is important to read what other actual owners have to say. Doing a fair bit of research can come in handy while investing in an expensive vehicle and that's exactly why reading reviews from delighted customers offers some valuable insights.
Those who own the 2021 model XC40 Recharge are largely satisfied with its performance due to improved electric range capacity and efficient battery life as per their feedback on consumer-review platforms such as Edmunds, Consumer Reports, and Kelley Blue Book.
They praise its handling capabilities, particularly on tight bends along with lower cabin noise levels. In addition, all those features added for EV models like wireless Apple CarPlay setup deserve special mention according to user reviews.
Features and Specs
Take a look at how the 2023 Volvo XC40 Recharge compares to other EV models, as well as its safety and IIHS ratings. Read on to find out more!
Comparison With Other EV Models
With the 2023 Volvo XC40 Recharge, you're not just getting an electric SUV. You're getting a powerhouse that offers 402 horsepower as standard. When compared to other electric models on the market, the XC40 Recharge stands out for its combination of efficiency, exhilaration, style, and premium features. Let's take a closer look at how it compares to its competitors.
| Model | Horsepower | Efficiency | Style |
| --- | --- | --- | --- |
| Volvo XC40 Recharge 2023 | 402 horsepower | High | Elegant, robust design |
| Polestar 2 | 295 horsepower | Good | Minimalist, sleek aesthetic |
| Rivian R1S | 835 horsepower | Average | Adventurous, rugged look |
| BMW iX | 516 horsepower | Average | Future-forward, sporty design |
| Audi Q8 e-tron | 402 horsepower | Good | Sophisticated, bold design |
| Genesis GV60 | 429 horsepower | Average | Stylish, aerodynamic design |
| Mercedes-Benz EQS SUV | 536 horsepower | Efficient | Luxurious, iconic Mercedes design |
While all these models offer unique takes on the electric vehicle market, the 2023 Volvo XC40 Recharge excels with its high horsepower, efficiency, and style, outshining the competition in several areas.
Safety and IIHS Rating
The 2023 Volvo XC40 Recharge was tested by the Insurance Institute for Highway Safety (IIHS) and earned good scores in all crash categories, indicating that occupants in both front and rear collisions are well-protected.
The SUV also provided acceptable protection during side impact tests. In addition, customers can rest assured knowing they have advanced safety features like automated emergency braking, blind-spot warning with detection of pedestrians and cyclists, adaptive cruise control with semi-autonomous driving capabilities, and lane departure mitigation systems among other features.
As a result of its exceptional performance in safety tests and thoughtfully designed technology to ensure passenger safety, the XC40 Recharge was evaluated with an overall rating of "Good" by IIHS.
Is the Volvo XC40 Recharge a Good Car?
Evaluating it based on reliability and customer satisfaction, this 2023 model has all of the features customers are looking for including impressive performances, up-to-date safety technology, various comfort amenities, and a great range of models to choose from.
Reliability and Customer Satisfaction
The Volvo XC40 Recharge has received mixed reviews in terms of reliability and customer satisfaction. According to some owners, the car is quite reliable but they may have experienced a few minor glitches.
On the other hand, some owners reported issues such as battery draining too quickly or infotainment system flaws. Although it might depend on how well-maintained an individual vehicle is, many people agree that overall the Volvo XC40 Recharge provides reliable performance.
When it comes to customer satisfaction, this electric car offers plenty of convenience features including intuitive infotainment systems equipped with Apple CarPlay & Android Auto integration.
An impressive range of driver-assistance features like Autopilot Mode and Premium Pilot Assist make driving more comfortable and confident in different road conditions. The presence of Qi Wireless Charging further allows drivers greater convenience when charging their phones on the go without requiring any cables at all.
Frequently Asked Questions (FAQs)
Let's find out the answers to some questions people often ask about the Volvo XC40 Recharge.
1. What is the Volvo XC40 Recharge?
The Volvo XC40 Recharge is a compact SUV equipped with hybrid engine technology and powered by both electricity and gas for sustainable driving in 2023.
2. What are the latest features of the Volvo XC40 Recharge?
Facts about this car include aggressive wheel arches, LED headlights, larger wheels, an intuitive infotainment system connected to Apple CarPlay and Android Auto compatibility.
3. Does the new version of the XC40 have autonomous self-driving mode?
Yes, the advanced version of this car comes with a single-lane Pilot Assist semi-autonomous drive feature that helps keep you centered in your driving position without requiring constant attention from drivers while on highways or freeways.
4. What safety features does The XC40 offer?
The standard safety features offered by The Volvo CX40 Helsinki edition include Electronic Stability Control (ESP), rear collision warning technology, City Safety Collision Avoidance Technology that automatically stops brakes before any frontal collisions as well as a 360 camera set around its perimeter among other essential settings for driver assistance like adaptive cruise control.
Takeaway
The 2023 Volvo XC40 Recharge is a top-tier all-electric SUV that provides powerful performance with the environment and budget in mind. Its EV motor offers 402 hp of instant power delivery, providing an eye-opening driving experience.
It comes equipped with advanced driver assistance features such as Highway Assist, Parking Assist Pilot, Blind Spot Information System (BLIS), Cross Traffic Alert, and more for added safety and convenience.
The cabin has plenty of comforts like an infotainment dashboard screen, panoramic sunroof false ceiling, and automatic climate control system among other luxurious touches. The price range is competitive considering its features and technology compared to similar models from other brands in this segment such as Rivian R1S, BMW iX 3 Electric SUV, or Audi Q8 e-tron 50 quattro Ultra Luxury S Line trim package.
Overall it represents great value for money factoring in excellent long-distance range along with convenient charging options making it a solid choice for those who looking to own a state-of-the-art electric vehicle without breaking the bank balance.