Stifling Heat at U.S. Open Causes Players to Falter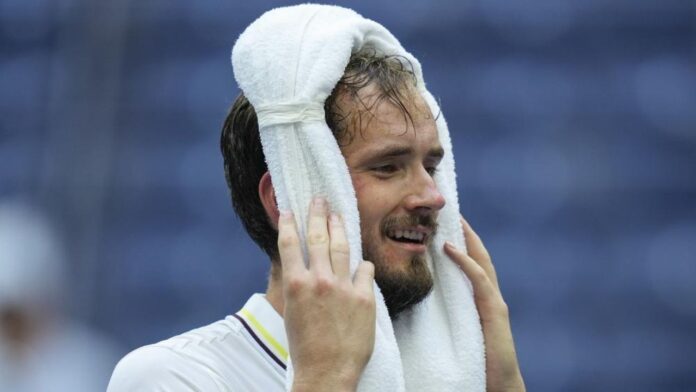 The US Open has a fairly distinct weather pattern most years.
The competition begins near the end of August, in the lingering heat and humidity of a New York summer. It's a good idea to bring a light sweater or a windbreaker to the Billie Jean King National Tennis Center by the final matches, which take place at the conclusion of the first full week of September.
This year, no. It's not even close.
A first week of cool, breezy afternoons and crisp nights has given way to some of the warmest days — and nights — of the summer, with conditions that have driven some of the world's fittest athletes virtually to their knees, even when playing in the twilight and after sunset. It's the terrible heat and humidity that lodges itself in the brain, instills terror, and makes it difficult to focus on anything else, especially returning 130-mph serves and chasing forehands and backhands around the court for up to five hours.
It's the first thing Daniil Medvedev thought about as he stepped onto the court for his warm-ups this week, which take place hours before his matches.
"I was like, 'Oh, my God,'" Medvedev remarked the other day as he prepared to face Australia's Alex de Minaur. Medvedev is from Russia and, like many Eastern European players, may get irritated in hot weather. Additionally, you can also read about- Federer Picks His Favorite: Djokovic is 'Safe Bet' to Win US Open.
On Wednesday, he struggled to see the ball and had to rely on instinct to survive a grueling duel with his countryman and close friend, Andrey Rublev. For the second day in a row, officials brought comfort by partially closing the roof of Arthur Ashe Stadium to shade the court.
"One player will die, and they will see," Medvedev grumbled in the middle of the game.
Even yet, after winning in straight sets in two hours and 47 minutes, Medvedev sank in his chair, hanging an ice-packed towel around his neck, his head between his knees, pleading for water. If the match had gone to a fourth set, Medvedev stated he would have taken a cold shower during the 10-minute break, even though he knew it would make his body stiff as a board.
"I didn't care, I was going for a shower," Medvedev remarked, the flesh on his face sore from rubbing it too hard with a towel.
"Brutal," said Cliff Drysdale, an ESPN tennis analyst.
As the world warms, officials in every warm-weather sport seek a balance between safety and the conviction that elite sports require exceptional fitness and the capacity to win in difficult conditions. In high temperatures, international soccer has used water breaks. Marathons are now being scheduled at dawn or at night by track and field.
Tennis, which has become more physical and exhausting in the previous 20 years as a result of improved racket and string technology and court conditions, is also grappling with the issue.
"It's part of the sport," said Stacey Allaster, tournament director for the US Open, of the heat.
Tennis players are no strangers to hot weather. Their seasons begin in January, during the Australian summer, when strong winds from the desert plains may drive temperatures into the triple digits, making the event feel like it's taking place inside an oven. Shifting winds and temperature variations of 20 to 30 degrees within a few hours are not uncommon at the Australian Open in Melbourne.
After Australia, despite there are a few indoor competitions, the sport spends the next ten months chasing the sun. There are hot destinations like Doha, Dubai, Florida, and Mexico, as well as August events in Atlanta, Washington, D.C., and outside Cincinnati before of the U.S. Open in New York's "big heat," as Novak Djokovic calls it.
This week, the heat has been intense, necessitating Allaster, tournament referee Jake Garner, and their team of advisers to keep a close eye on the WetBulb Globe Temperature, a measure of heat stress in direct sunlight that also considers temperature, humidity, wind speed, sun angle, and cloud cover.
When the temperature exceeds 86 degrees, mitigation measures are implemented, such as a 10-minute break between the second and third sets of women's matches and the third and fourth sets of men's matches.
In an interview on Wednesday, Garner stated that administrators decided last summer that when the temperature reached 90 degrees, he and his colleagues would meet to discuss whether to partially close the roofs at the league's two main stadiums, Louis Armstrong and Arthur Ashe.
It was close to 92 degrees on the court during Coco Gauff's quarterfinal win over Jelena Ostapenko on Tuesday. The roof would have been partially closed if the match had gone to a third set, but Gauff triumphed in straight sets. As a result, authorities shaded the court for Novak Djokovic's straight sets win over Taylor Fritz.
"We both struggled," remarked Djokovic. "A lot."
Later in the afternoon, on one of the field courts, Stephane Houdet, a wheelchair tournament participant, hid a water bottle in the box near the baseline where players kept their towels, sipping from it between points.
"A fantastic idea," said Brian Hainline, head of the United States Tennis Association and the N.C.A.A.'s chief medical officer. The issue for the USTA — and, ultimately, the players — is that both stadiums are designed as open-air facilities that cannot be covered, even with the roofs closed. Instead of fully operating air conditioning systems, they have air circulation systems that prevent moisture from collecting on the court when the roof is closed. On the plus side, the property is only a short distance from Flushing Bay, and when the wind blows off the water, it can be cooler there than in many other parts of New York City. Unfortunately, the wind has been dead recently.
As players confirmed their spots in the Thursday and Friday semifinals, a clear pattern emerged – Florida. Gauff and Aryna Sabalenka, two of the three women who had made the final four by late Wednesday afternoon, live there. Madison Keys, who lives in Orlando, won the last berth on Wednesday night with a 6-1, 6-4 victory over Czech Republic's Marketa Vondrousova. Ben Shelton, the 20-year-old from Gainesville, Fla., who will face Djokovic in the semifinals on Friday, lives in Gainesville.
Sabalenka, who grew up in Belarus, hardly a tropical location, lauded her summer training near her home in Miami for her ability to avoid wilting during her triumph over China's Zheng Qinwen on Wednesday.
"What can be worse than Florida?" Sabalenka explained.
For Gauff, the 19-year-old from Delray Beach, Fla., who has emerged as the tournament's sweetheart, the heat promises a potential to grow rather than merely endure.
"The hotter the better," Gauff, who will face Karolina Muchova of the rarely hot Czech Republic on Thursday, has declared several times.
This may be especially true in the case of Muchova. She battled against Gauff in the Western & Southern Open final in Ohio last month. That day, as she stepped onto the court for the warm-up, she exclaimed, "Oh, Jesus."
"Ouch," she exclaimed when it was all over.
Muchova's coach, Jaroslav Blazek, stated on Wednesday that she should concentrate on keeping her body cool. During the changeovers, many players have been wearing black hoses that spray chilly air under their shirts. But he expected the struggle to be as much a mental as a physical one.
"You should be prepared for it to be like hell," he said.
Subscribe to Our Latest Newsletter
To Read Our Exclusive Content, Sign up Now.
$5/Monthly, $50/Yearly