Rupert Murdoch's Net Worth: The Richest Media Mogul in the World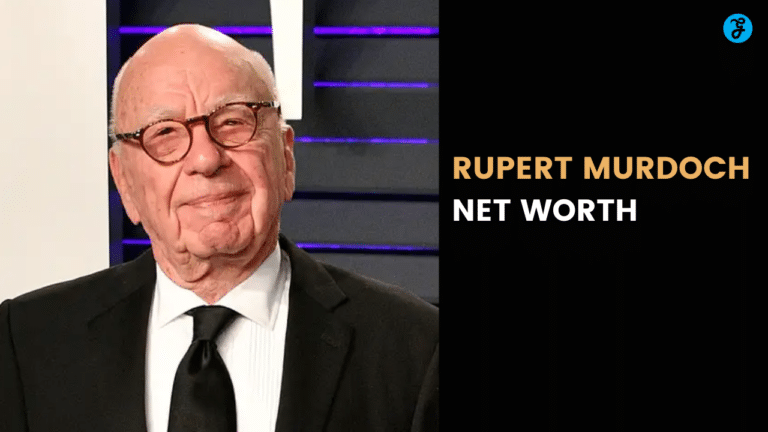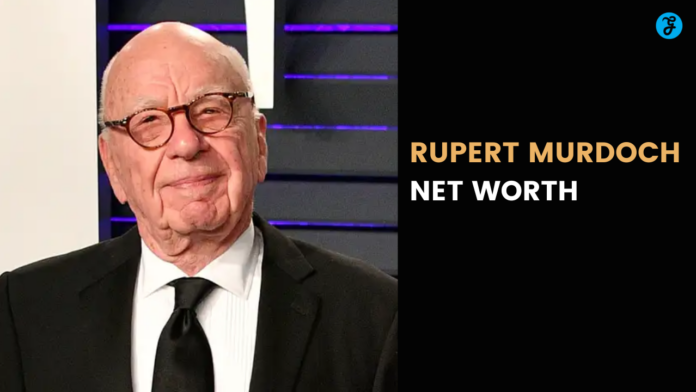 Rupert Murdoch is the billionaire media mogul who has had an extraordinary impact on how we get our information from around the world. Born in Australia, Murdoch started his media empire more than half a century ago and today he is one of the most powerful businessmen. Today, Rupert Murdoch net worth stands at an estimated $9 billion according to Celebrity Net Worth as of October, 2023.
In this article, we'll look at Rupert Murdoch's net worth, life, and career – from his earliest successes to his latest moves – as well as his immense wealth and influence.
Let's explore together how much money Rupert has and what are some of the major milestones that made him reach where he is today!
Content Highlights
The Australian-born media mogul who built a global media empire under News Corp. His net worth is estimated at $9 billion.
Started with one newspaper in Adelaide, Australia, and aggressively expanded into US and UK media markets. Became a US citizen in 1985.
Major media assets include Fox News, Wall Street Journal, The Times, and Sky News Australia. Wields significant influence.
Served as Chairman and CEO of News Corp for over 3 decades, shaping its growth. Also chaired spinoffs like 21st Century Fox.
Married 4 times, most notably to Anna Murdoch with whom he has 4 children who now manage parts of his business.
What is Rupert Murdoch Net Worth, Total Wealth, and Income?
Rupert Murdoch is an extremely wealthy and influential media owner from Australia. He started News Corp, which now owns many major news outlets like Fox News, The Wall Street Journal, and Sky News Australia. Though born in Australia, Murdoch expanded heavily into the US and UK media markets. In 1985, he became an American citizen for business reasons.
Murdoch built his media empire starting from a tiny newspaper inherited in Australia. He quickly grew it into a global conglomerate valued at over $5 billion by 2000. At his peak, Murdoch was among the 60 richest people in the world with a net worth of $9 billion today. In the 1990s, his fortune grew from $1.1 billion to $3.2 billion as News Corp added more media assets internationally.
Murdoch is considered one of the most powerful figures in news and publishing. His outlets shape public opinion widely. But his influence has also drawn criticism for being too dominant. Still, Murdoch's drive and business acumen made him a major media tycoon over his decades-long career. Additionally, you can also read Kevin Hart's Net Worth.
Rupert Murdoch's Personal Life and Relationships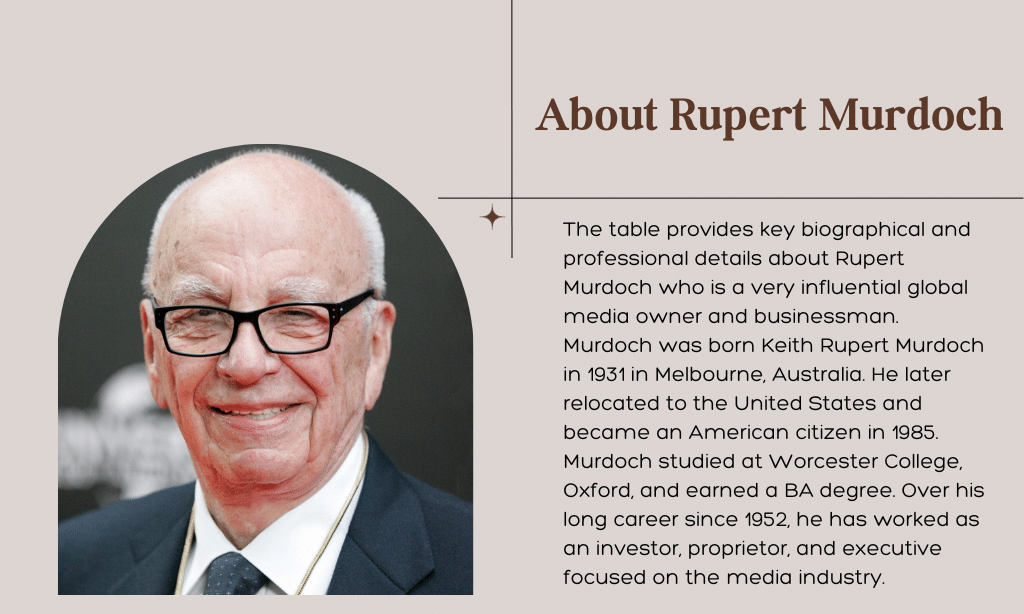 | Category | Details |
| --- | --- |
| Full Name | Keith Rupert Murdoch |
| Known As | Rupert Murdoch |
| Birthdate | 11 March 1931 (age 92) |
| Birth Place | Melbourne, Victoria, Australia |
| Citizenship | Australia (until 1985), United States (from 1985) |
| Education | BA from Worcester College, Oxford |
| Occupation | Businessman, Investor, Media Proprietor |
| Years Active | 1952 – Present |
Table: Short Biography Profile of Rupert Murdoch
Rupert Murdoch has been married three times and has six children from those marriages. Dive into the personal life of media mogul, Rupert Murdoch, to learn more about his relationships and family.
Rupert Murdoch's Profile
[Video Credits @CNN]
The table provides key biographical and professional details about Rupert Murdoch who is a very influential global media owner and businessman. Murdoch was born Keith Rupert Murdoch in 1931 in Melbourne, Australia. He later relocated to the United States and became an American citizen in 1985. Murdoch studied at Worcester College, Oxford, and earned a BA degree. Over his long career since 1952, he has worked as an investor, proprietor, and executive focused on the media industry.
Some of Murdoch's most significant leadership roles have been serving as Chairman and CEO of the giant media conglomerate News Corporation, which he founded, as well as Chairman of spinoff companies like 21st Century Fox and Fox News. He has controlled these corporations and shaped their growth for many decades. Now in his 90s, Murdoch remains one of the most powerful figures in international news and publishing through his various media holdings worldwide.
Marriages and Family
Murdoch has been married 4 times over his long life. His first wife was Patricia Booker from 1956-1967. His second wife was Anna Murdoch Mann from 1967-1999 with whom he has 4 children – Elisabeth, Lachlan, James, and Prudence.
In 1999, Murdoch married Wendi Deng but they divorced in 2013 after 14 years. His fourth and most recent wife was Mick Jagger's ex-wife, Jerry Hall starting in 2016. However, it was revealed in 2022 that Murdoch and Jerry Hall are also getting divorced.
Anna Murdoch's Large Divorce Settlement
When Murdoch divorced his second wife Anna after over 30 years of marriage in 1999, he paid her a huge $1.7 billion divorce settlement. Very soon after his divorce was finalized, Murdoch married Wendi Deng in 1999.
Scandals and Controversies
In 2011, Murdoch was accused of hacking the phones of celebrities, politicians, and British royals through his newspaper journalists. This led to government investigations in the UK and USA plus criminal charges. Due to the scandal, Murdoch had to resign from his role at News International.
Additionally, Murdoch lost money in the Theranos scandal involving Elizabeth Holmes' fraudulent blood testing technology. Like others, Murdoch was tricked by Holmes into investing in her company without the technology working.
Early Life and Career Beginnings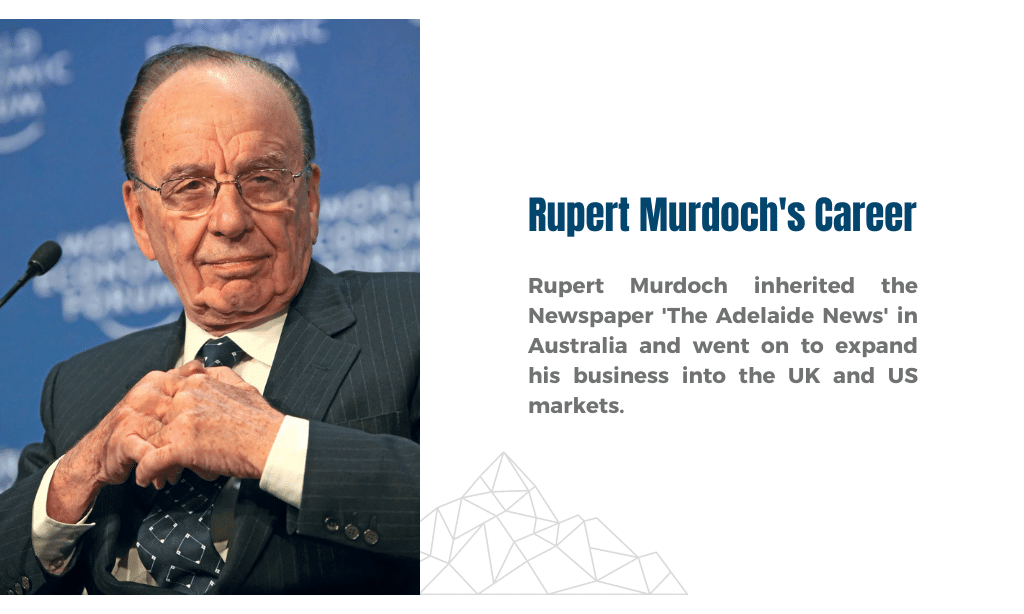 Rupert Murdoch inherited the Newspaper 'The Adelaide News' in Australia and went on to expand his business into the UK and US markets.
Inheritance of Newspaper in Adelaide, Australia
Rupert Murdoch's journey from newspaper publisher to one of the most powerful and influential media tycoons began with his father's legacy. At 22, Murdoch took over The News newspaper in Adelaide, Australia which was initially established by his father Sir Keith Murdoch.
He inherited his father's publishing business, News Limited – an Australian public company owning dozens of daily newspapers nationwide. His inheritance not only obtained a valuable entrepreneurial base but also laid the foundation for his news industry career and successfully expanded it into a global media empire.
By navigating new markets such as television, internet services, or music production, Rupert successfully became one of the world's biggest and most influential media moguls who influenced generations across continents.
Expansion Into the UK
Rupert Murdoch's media empire originated in Adelaide, Australia where he inherited a newspaper from his father. In 1969, Murdoch acquired the News of the World and then Times Newspapers Limited from Canadian book publisher, Roy Thomson.
By 1984, he had bought The Sun and The Sunday Times as part of News International Group creating an empire that soon held vast power over large segments of printed media in Britain.
His success continued in 1988 when he gained total control of SKY TV to augment his digital broadcasting capabilities and it wasn't long until Sky became one if not the leading satellite broadcaster in Europe.
Expansion Into the US
After inheriting a handful of newspapers in Adelaide, Australia, Rupert Murdoch sought to expand his empire by setting his sights on far-off countries and markets. In 1974, he boldly moved to New York City to expand into the US market.
This decision was integral for achieving Murdoch's success and global media presence as it allowed him to take News Corporation public in 1981 and acquire Dow Jones & Company which added iconic brands like The Wall Street Journal, Barron's Magazine, and MarketWatch into its portfolio.
His expansion also saw an incredible growth of wealth for both himself and the company — by 1990, News Corporation had grown to become worth $19 billion making Murdoch one of the world's wealthiest men at that time. If you're interested you can also read Tom Sandoval's Net Worth.
Business Activities and Successes
Rupert Murdoch has had an expansive career, with his media empire beginning when he inherited a newspaper in Adelaide, Australia, and expanding into the UK and then later the US.
Creation of the Australian Newspaper
Rupert Murdoch established The Australian newspaper in 1964, four years after inheriting his father's paper, the Adelaide News. This national publication, which held dominion over print media at the time was largely considered to be a bold move for Soros and would form the foundation of his publishing empire.
By this time Murdoch had already expanded into other major newspapers both in Australia and abroad including The Sunday Times and News of the World – major publications that became key parts of related counties' newsCycle.
The journey began as early as 1962 when he funded an expansion project to establish a chain-style newspaper with quickly written articles from across several different sources given its main objective being to increase circulation rates significantly.
Expansion Into Television
Rupert Murdoch achieved great success in television thanks to various investments, acquisitions, and sales. In 1985, Rupert purchased the 20th Century Fox movie studio and added a division devoted to broadcast TV stations.
He created networks like Fox Broadcasting Co., which became the first viable competitor to the "Big Three" TV networks (ABC, CBS, NBC). In 2013, he sold most of his assets including FX Networks, National Geographic Channels, and its stake in Star India for $71.3 billion to Disney.
This further increased Rupert's net worth and solidified his influence over the media industry globally on an even larger scale. Additionally, with News Corporation owning 800 companies worldwide and many of them involved in broadcasting it was clear that Rupert had found a goldmine in expanding into television.
Acquisition of Dow Jones
In 2007, Rupert Murdoch made a major business move that solidified his position in the global media industry when he acquired Dow Jones & Company for $5 billion. This acquisition saw Rupert Murdoch take control of an iconic news publisher owned by the Bancroft family since 1902.
By incorporating this respected financial information publishing house into his growing News Corporation empire, Murdoch was able to expand and capitalize on all aspects of media ownership such as television, newspapers, magazines, books, and even movies.
The Wall Street Journal also came under his ownership after the acquisition and provided him with massive influence in finance circles. Long seen as one of America's most influential voices in union with money matters, this upheaval was brought about thanks to huge expansion efforts involving more than 60 countries from 5 continents worldwide – establishing him within respectable ranks high up along other big names such as AOL Time Warner Inc., Disney Itself and partners like Microsoft Corp.
Sale of Fox Empire to Disney
In 2019, Rupert Murdoch sold the majority of 21st Century Fox's entertainment assets to the Walt Disney Company for a 71 billion dollar deal, making him gain a 39 percent stake in the newly formed Fox Corporation.
Rupert Murdoch made a very large and important business deal with Disney in 2019. Through this deal, Murdoch sold many of his Fox media assets to Disney for $10.5 billion. In return, Murdoch received shares of Disney stock worth the same amount. This gave Murdoch a lot of power and influence in the media world.
Owning part of Disney allowed Murdoch to gain control over popular TV networks like FX and National Geographic. He also got access to big Hollywood studios like 20th Century Fox Studios. These studios make movies and TV shows that are seen by people across the world on platforms like Netflix and Amazon Prime Video.
Before this deal, Murdoch was best known for owning newspaper and print outlets like The Wall Street Journal and British newspapers. But by selling Fox to Disney, Murdoch was able to grow his media empire greatly. His business reached many more people through Disney's global television networks and studios. This deal brought Murdoch huge financial gains as well as increased his fame and impact as a major media mogul worldwide.
Donald Trump once praised Rupert Murdoch, saying "Rupert knows what he's doing." This seems accurate given Murdoch's business accomplishments. His deal with Disney brought tremendous financial gains. The sale earned $10 billion-plus valuable Disney shares. This greatly grew Murdoch's wealth and stature globally. His reputation rose beyond just English-speaking countries. Murdoch cemented his media legacy worldwide. He strategically expanded his reach into TV, film, and digital media. This deal left a permanent imprint, increasing Murdoch's presence across the global media landscape.
Political Activities and Controversies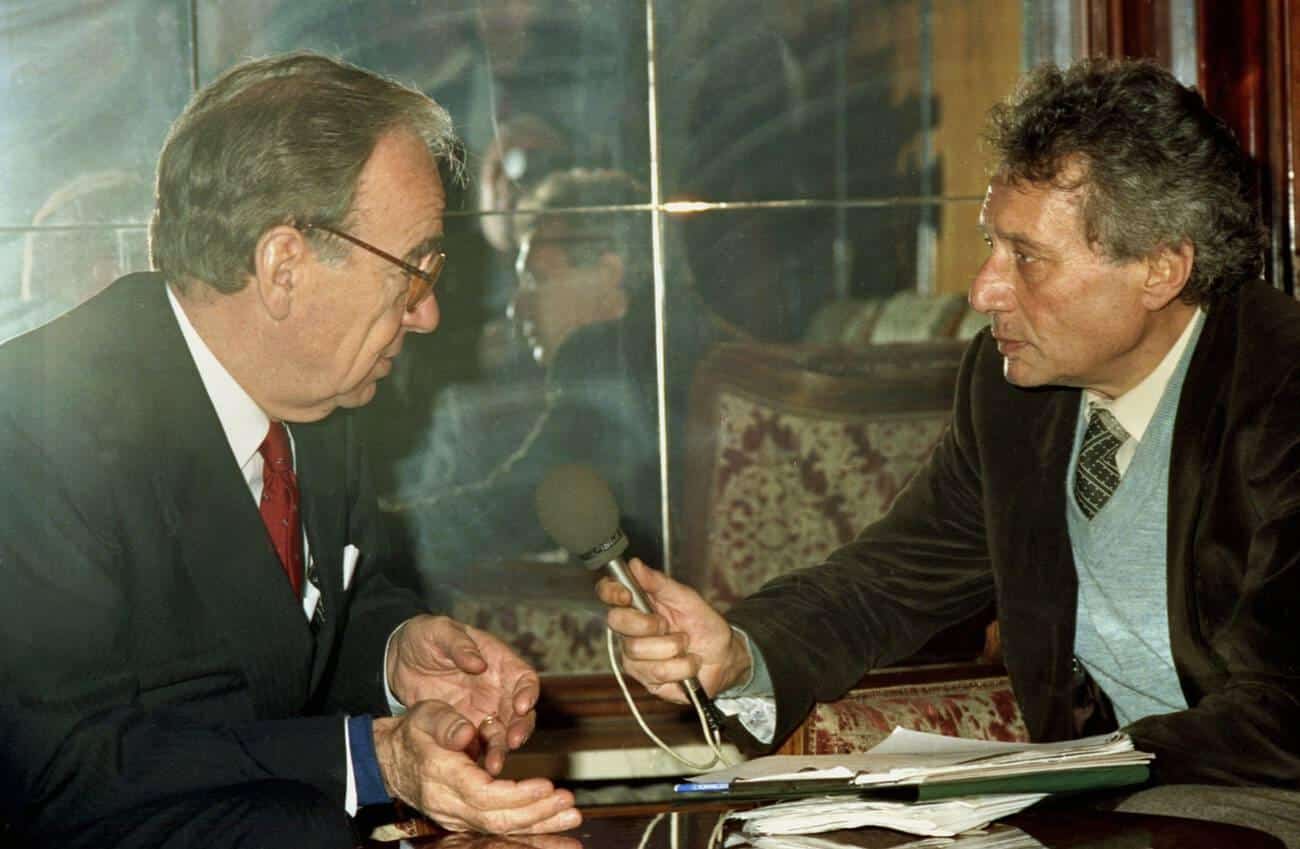 Rupert Murdoch has been involved in political activities throughout Australia, the UK, and the US, most notably the News International phone hacking scandal.
Political Activities in Australia
Since inheriting his father's newspaper in Adelaide, Australia at the age of 21, Rupert Murdoch has been involved in various political activities. He has used his media empire to routinely support and lend credibility to conservative politicians and parties in Australia.
His newspapers have come under fire for allegedly distorting news stories to bolster further his allies, a practice that continues today despite fierce criticism from mainstream organizations such as the Australian Competition & Consumer Commission (ACCC).
This focus on promoting pro-right-leaning causes through the press not only holds within Australia but extends outward into other countries like Britain and the United States.
Murdoch's influence is much broader than just lending his prestigious name alone, however; by using this powerful platform he cannot only sway public opinion but also shape Government policy with critical decisions heavily influenced by his political stances.
As such critics argue both of these abilities warp an otherwise balanced Media landscape away from its original purpose: providing accurate reporting unaltered by subjective bias or personally motivated agendas.
Political Activities in the UK
Rupert Murdoch is one of the most powerful and influential people in the UK. Through his media empire, which includes The Times of London, Sky News U.K., The Sun, and The Wall Street Journal Europe he has a commanding presence in British politics and culture.
Murdoch's legacy consists of both successes and controversies such as his involvement in political manipulation and interference with public opinion through biased news coverage favoring certain candidates or agendas.
His influence has been described as having altered Britain's ideological landscape; however many argue that it gathered too much power into too few hands with potentially damaging societal implications on democracy.
News International Phone Hacking Scandal
involving the now-defunct News of the World newspaper, revealed a shocking pattern of illegal and unethical behavior conducted by staffers. Initially, staff members engaged in activities such as hacking mobile phone mailboxes with the intent to obtain confidential information for civil and criminal investigations.
News International initially claimed that only one reporter was responsible for the unethical activities but further evidence soon emerged which showed how widespread it was across their organization.
This led to an extensive public inquiry along with numerous police investigations into allegations of bribery and corruption. The scandal has had far-reaching implications on media ethics, privacy invasion, journalistic integrity, and legal implications, highlighting media accountability worldwide.
Political Activities in the US
Rupert Murdoch has been a major force in American politics, with his expansive media empire including Fox Broadcasting Co., News Corporation, and The Wall Street Journal. With these entities, he has the power to influence public opinion and shape popular policy discussions.
His involvement in US politics includes giving numerous donations to Republican politicians, forming partnerships with conservative figures such as Sean Hannity, creating Fox News – which is often considered a "˜mouthpiece' for the Republican party – and lobbying against government regulations of broadcasting outlets.
He was also criticized for attempting to interfere on behalf of former President Donald Trump during his 2016 campaign. Additionally, Murdoch's children James and Kathryn are known political influencers in Washington D.C., especially through their roles involving charities focused on environmentalism causes or international peace initiatives respectively.
Influence, Wealth, and Reputation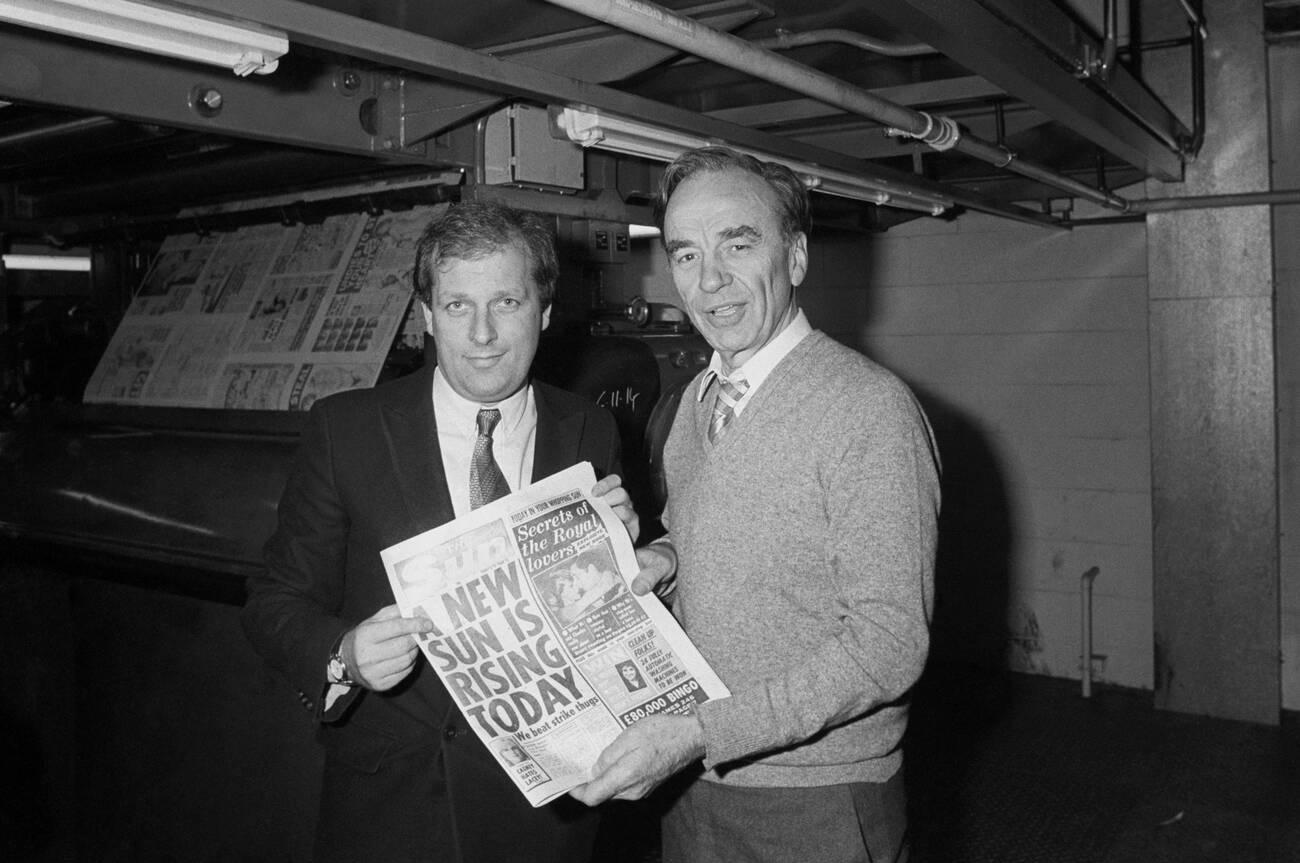 Rupert Murdoch's unparalleled success has made him one of the most influential media moguls in history, with a net worth estimated at more than $9 billion and ranked 32nd on Forbes list of world's billionaires.
Impact on the Industry
Rupert Murdoch has had a powerful and lasting impact on the media industry. His News Corp is one of the biggest media conglomerates, with assets that span different areas of technology, entertainment, television networks, and newspapers across multiple countries.
Over decades he expanded his empire through strategic decisions and acquisitions including pioneering ventures in satellite pay TV such as Sky TV in Europe. He also acquired the 21st Century Fox film studio in 1985 which made him an established figure in Hollywood studio space – ultimately resulting in selling some of these assets for $71 billion to Disney earlier this year.
His other asset disposals include closing down News International's newspaper publication 'The Times' and Downsizing Australian Television Network channels such as Foxtel when confronted by financial struggles due to COVID-19 pandemic-related disruption & government regulations at a global level.
Legacy and Influence on Journalism
Rupert Murdoch's influence on the journalism industry cannot be understated. As a media mogul, he has made his own rules in an industry that was often bound by decades of tradition.
His newspapers and other publications have set benchmark standards for the world of journalism. His longstanding presence in broadcast television, as well as digital publishing, has seen him pushing boundaries and challenging accepted norms through modernizing whole markets.
His businesses and media holdings have also faced criticism over their influence on our culture, manipulation of public opinion, and inciting moral panics due to bias in representation or news coverage.
Rupert Murdoch has had many successes over his long career, but also some controversies. He started the newspaper The Australian and bought Dow Jones, the company that owns The Wall Street Journal. He also expanded into American film and television with Twentieth Century Fox. However, some of his media companies have been involved in scandals like phone hacking. Overall, Murdoch built a huge global media empire and made a major impact, but parts of his legacy are controversial.
Portrayal in Media and Pop Culture
Rupert Murdoch has been widely featured in television, film, books, and music to show his rise to power as a media mogul and billionaire.
Depictions in Television, Film, Books, and Music
have been a major force in crafting public perception of Rupert Murdoch. From tabloids to films, documentaries, and books, he has been portrayed with both fascination and criticism.
These portrayals often feature themes such as political activities, media empire-building, and even personal relationships that contribute to his persona. In the film "The Sands of Time," for instance, Rupert Murdoch is seen taking control over News Corporation the parent company that publishes The Sun in the UK to influence British politicians.
Other depictions include popular television series' like Succession where one plotline focuses on the battle between Bryce Durban's character (played by Alan Ruck) and looking into Rupert Murdoch-like tycoon Logan Roy (Brian Cox).
Rupert Murdoch's life story has been documented in several biographical books and novels. These discuss his rise from inheriting a small Australian newspaper to building a worldwide media empire, including Fox News. His sharp business skills enabled big deals like acquiring Dow Jones & Company.
However, his influence has also sparked debates. Critics question if his companies hold too much power and sway in society.
Additionally, satirical comics poke fun at smaller controversies tied to Murdoch. While highlighting his successes, books also examine serious issues around Murdoch's far-reaching media dominance and impact on public opinion. In short, Murdoch's career makes for an intriguing tale full of business triumphs, power plays, and societal concerns.
Recent News and Updates
Showcasing his corporate savvy and success, Rupert Murdoch's latest endeavors have proven to be exciting developments in the media industry. Learn more about his career updates and recent business ventures!
Latest Developments in Rupert Murdoch's Career
Now in his mid-80s, Rupert Murdoch recently stepped down as Chairman of News Corp and Fox Corporation, becoming the emeritus chairman of both companies. This marks an important milestone for the billionaire media mogul who has been a dominant force in business empires worldwide.
Due to take effect in mid-November 2020, this shift signals a changing of the guard at News Corporation and follows succession planning that will ultimately see his son, Lachlan Murdoch, become Murdoch's successor as group chairman and chief executive.
Rumors about the creation of a media dynasty had surrounded Lachlan's move up within the company hierarchy, leading some to draw comparisons between Rupert Murdoch's reign with those of other billionaires such as Steve Jobs or Jeff Bezos whose influence continues beyond their tenures.
Recent Business Ventures or Acquisitions
In the past few years, Rupert Murdoch's business endeavors have been dominated by headline-making deals, such as the 71 billion dollar sale of 21st Century Fox assets to Disney in 2019 and the purchase of Dow Jones for $5 billion in 2007.
With the majority of his wealth being held unaffected by fluctuations through stocks and shares he still controls via the Murdoch Family Trust, Rupert continues demonstrating his shrewd ability wheeling and dealing across multiple business sectors including entertainment industry divestiture plans, media consolidation strategies via acquisitions and indicative stakesholding amongst several tech startups and nonindustry investments like genetic testing companies.
Frequently Asked Questions (FAQs)
Now, we will explore some questions that people often ask about Rupert Murdoch's net worth.
1. Who is Rupert Murdoch?
Rupert Murdoch is an Australian-American media mogul who has a net worth of $9 billion. He is the executive chairman, founder, and controlling shareholder of News Corp, which owns multiple media outlets including Fox Corporation.
2. How old is Rupert Murdoch?
Rupert Murdoch is 92 years old as of 2023.
3. How did Rupert Murdoch amass his fortune?
Rupert Murdoch acquired most of his wealth through investments in television channels, film production companies, book publishing houses, and other corporate entities over his career spanning more than six decades in the media industry worldwide.
Takeaway
Rupert Murdoch is a billionaire media tycoon, chairman and executive officer of News Corp, and founding member of the Fox Corporation. His net worth stands at an estimated $9 billion as of August 22, 2023.
Throughout his impressive career he has accomplished many feats -propelling himself from inheriting Newspaper in Adelaide, Australia to expanding into some of the world's largest television networks such as Sky UK or Fox USA.
As well as racking up political controversies, Rupert Murdoch has had an immeasurable influence on journalism both within his publications as well advancements in technology across all mediums and formats used for news consumption worldwide.
He even expanded his lists of Ireland-based startups through new investments – ensuring added security with data privacy regulations becoming increasingly strict today. Through it all he remains one of the richest people in the world whose latest acquisitions not only increased his wealth but also solidified him into a legacy within the media industry that will last for centuries to come!