Top 20 Noodle Eating Countries in the World
We're embarking on a journey to explore the Top 15 Noodle Eating Countries in the World. We'll delve into the latest industry trends and take a closer look at the key contributors in this fascinating sector. So, sit tight and prepare for a gastronomic tour of the world's noodle hotspots.
Taking a Closer Look at the Instant Noodle Market
Let's delve into the tantalizing world of instant noodles, a global comfort food enjoyed from the bustling streets of Jakarta to the cozy kitchens of Rome. As per a recent report by ReportLinker, this beloved quick-fix meal industry was valued at a staggering $52.73 billion in 2022 and is projected to grow to an even more impressive $71.83 billion by 2027. That's a lot of noodles being slurped up worldwide!
However, the ever-popular instant noodles haven't always had the best reputation in the nutrition department. The solution? Companies are embracing localization and product innovation to make these tasty meals healthier, more diverse, and packed full of local flavors. Take the example of Yu Foodlabs, an Indian noodle company, which in April 2022 launched two unique flavors, Zingy Cheese and Chili Manchurian, that hit the spot for local spice enthusiasts.
So, why the noodle love? One possible reason is the soaring demand for ready-to-eat meals. Convenience is key in our fast-paced world, and this trend is mirrored in the projected growth of the ready-to-eat food industry, which is set to grow from $383.93 billion in 2023 to a whopping $488.60 billion by 2028.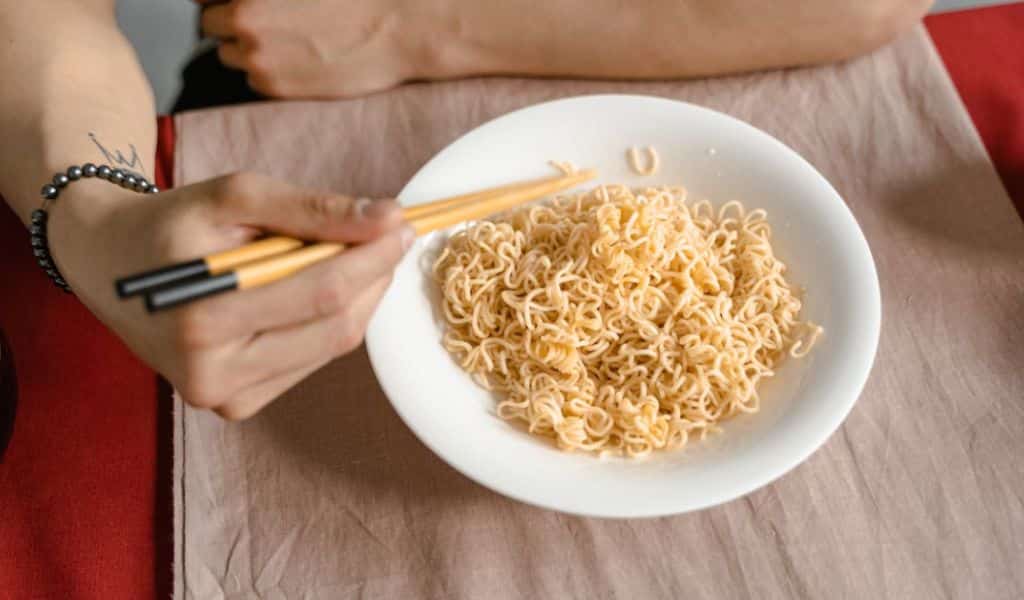 Now, let's take a trip to the global noodle hotspots. India, China, and Indonesia take the top spots as the world's most noodle-devouring nations. Especially in India, the love for instant noodles is undeniable, with the industry expected to leap from a market size of $1.84 billion in 2023 to an impressive $3.48 billion in 2028.
The noodle fever isn't just contained to Asia, though. Europe is embracing the noodle trend too, with Sun Noodles, a US-based noodle producer, recently setting up a new factory in Rotterdam, Netherlands. This new venture is expected to churn out 4 million servings of noodles annually to satiate the continent's growing appetite for ramen.
In short, the world's love affair with instant noodles is set to continue, and companies are innovating like never before to meet the diverse palates and nutritional demands of the global noodle aficionado. So, next time you're savoring that bowl of instant ramen, remember, you're part of a global phenomenon!
How Social Media is Spicing up the World of Ramen?
The way people are engaging with noodles is changing, and social media has been playing a big role in it. Across platforms like Instagram and TikTok, videos related to instant noodles, from recipes to taste tests, are garnering millions of views. It's not just about increasing sales, it's about creating a global community where people share their love for noodles and inspire each other to try new brands and concoct their own special recipes.
One of the best examples of this can be seen in the success story of Samyang Foods Co., Ltd., a popular Korean noodle brand. When BTS band member Jimin publicly declared his fondness for Samyang's fire chicken (Buldak) noodle brand on social media, it sparked a surge in sales for the company. In 2022 alone, sales spiked by a whopping 41.6% compared to the previous year. This social media-powered popularity also led Samyang to sponsor major events and performances for BTS, further amplifying their brand awareness.
A heartwarming example of the power of social media comes from Shoki Ramen, a family-owned noodle restaurant in Sacramento, California. When Letetsu, a Wharton student and family member, tried to revive his family's dwindling noodle business, he turned to social media for help. He started posting promotional videos on Instagram which quickly gained traction and went viral. His efforts were so successful that he was approached by ABC10, a local television station, to document the grand reopening of the Shoki Ramen restaurant.
Indeed, social media has become a major influencer in the noodle industry, changing the way people connect, discover, and savor this global comfort food.
Leading Companies in the Noodle Industry
Let's delve into a few key players in the global instant noodle industry. These include Japan-based Nissin Foods Holdings, Indonesia's PT Indofood Sukses Makmur, and Swiss multinational Nestlé.
Nissin Foods Holdings, a market leader with a valuation of $8.73 billion as of July 28, 2023, has a wide product portfolio. From packaged and cup noodles to frozen foods and soups, the company caters to a diverse range of taste buds. Some of their popular brand names include Chicken Ramen, Cup Noodle, Demae Iccho, and 365 Noodles.
Meanwhile, PT Indofood Sukses Makmur, with a market cap of $4.30 billion as of the same date, is an integral part of the Indonesian food and beverage scene. Their offerings extend from cup noodles to fresh egg noodles and their best-selling brand is Indomie. Despite recent rumors about a cancer-causing ingredient in their product, the company maintains that their noodles are safe, a claim supported by tests conducted by Indonesian food regulators.
Finally, the Switzerland-based giant, Nestlé, with a massive market cap of $331.741 billion, offers a diverse product range across multiple continents. Among their offerings is the well-known Maggi brand, which includes the popular 2-minute noodles, veggie masala noodles, chicken noodles, and oats masala noodles, to name just a few.
Our Methodology
We've compiled a list of the top 15 noodle-consuming countries around the globe, using valuable data from esteemed sources like the World Instant Noodle Association, GlobalData, and Fortune Business Insights. Our rankings, as of December 31, 2022, are predominantly determined by the annual demand for noodles, measured in servings per year.
To ensure our list is thorough and informative, we've incorporated country-specific market size valuations for the noodle industry from Fortune Business Insights and GlobalData, whenever available. Although these metrics offer key insights into the state of the noodle industry within each country, data accessibility may limit the comprehensiveness of the information.
It's worth noting that our rankings provide a general view rather than a perfect snapshot of global noodle consumption, as many factors can influence annual servings, such as population size, living standards, and average population age. Yet, we believe it still offers a useful look into the world of noodle consumption.
World's 15 Most Noodle Eating Countries
1. China
Servings as of December 31, 2022: 45.07 Billion
China holds the title for being the world's top noodle consumer. With a massive demand of 45.07 billion servings as of December 31, 2022, China's noodle industry is the largest globally, serving a whopping 40% of the world population. It's projected that the country's pasta and noodle sector will see a compound annual growth rate of 3% between 2021 and 2025. Echoing trends seen worldwide, China's noodle industry is pivoting towards healthier alternatives. This shift is demonstrated by the increased use of whole wheat flour and quinoa in ramen production.
2. Indonesia 
Servings as of December 31, 2022: 14.26 Billion
Indonesia takes the second spot as the world's biggest noodle consumers. The country's yearly noodle demand was reported at 14.26 billion servings as of the end of 2022. Given Indonesia's prominent position in the global noodle industry, it's not surprising that Samyang Foods is planning to invest a whopping $3.412 billion in its Indonesian subsidiary. Besides, Indonesia also hosts PT Indofood Sukses Makmur Tbk (OTC:PIFMF), one of the world's leading noodle companies. This company's product range offers a variety of snack options to its consumers, with Indomie becoming the most purchased item in the country. Interestingly, Indomie has crossed national borders and is now sold in more than 90 countries worldwide.
3. Vietnam
Servings as of December 31, 2022: 8.48 Billion
Coming in third in the noodle consumption rankings is Vietnam. As of December 31, 2022, the country has recorded an impressive demand of 8.48 billion servings per year. Among the wide variety of popular noodle dishes enjoyed in Vietnam are glass noodles (Miến), Pho (Phở), banh canh (Bánh Canh), hu tieu (Hủ Tiếu), and banh da (Bánh đa). Unique to the Vietnamese palate, there's a preference for noodles to be flat and cut into small squares, similar to rice, which is quite distinct from how noodles are typically enjoyed in other countries.
4. India
Servings as of December 31, 2022: 7.58 Bil
India claims the fourth spot on the list of the world's biggest noodle consumers, with a whopping demand of 7.58 billion servings reported as of December 31, 2022. Veggie masala noodles by Nestle Maggi hold a special place in the hearts of Indians, largely due to religious considerations. The instant noodle industry in India is set for an impressive growth trajectory, expected to soar from $1.84 billion in 2023 to $3.48 billion in 2028, exhibiting a compound annual growth rate of 13.69%. This trend is largely influenced by the increasing number of working women in the country, leading to a rising demand for instant and ready-to-eat meals, particularly among the working youth. This societal shift significantly contributes to the widespread popularity of Maggi noodles in India.
5. Japan 
Servings as of December 31, 2022:  5.98 Billion
Japan holds the fifth position on the leaderboard of the world's top noodle-consuming nations, with a remarkable annual demand of 5.98 billion servings recorded as of December 31, 2022. Projected to grow from a 2021 market size of $7.34 billion to $9.44 billion by 2030, Japan's pasta and noodles sector is set to witness a compound annual growth rate of 2.8% from 2022 to 2030. Soup noodles are deeply rooted in Japanese culture, dominating a major chunk of noodle sales in the country. As health consciousness rises among the Japanese populace, traditional ramen vendors and restaurants have started adapting to these dietary needs by offering gluten-free and vegan options to their customers.
6. USA 
Servings as of December 31, 2022: 5.15 Billion
The United States ranks as the sixth top noodle-consuming country worldwide, having chalked up an annual demand of 5.15 billion servings as of December 31, 2022. North America, particularly the U.S., leads the pack in terms of noodle consumption, and the demand shows no sign of dwindling. This is largely driven by the growing appetite for convenient, ready-to-eat meals, and the constant roll-out of novel, tantalizing flavors. Out of all the noodle varieties in the U.S. market, it's the fried noodles that hold the lion's share of sales.
7. Philippines 
Servings as of December 31, 2022: 4.29 Billion
Ranking seventh in the global noodle consumption chart, the Philippines has made noodles a central part of their snack culture. Filipino cuisine features a variety of beloved noodle dishes, including Pancit Canton, a type of stir-fried noodles, along with Pancit Luban, Kinalas, Spaghetti, and Pancit Malabon, among others. As of December 31, 2022, the nation registered an impressive annual demand for noodles, clocking in at 4.29 billion servings.
8. Republic of Korea 
Servings as of December 31, 2022: 3.95 Billion
With an annual demand of 3.95 billion servings recorded as of December 31, 2022, South Korea certainly has a significant noodle-consuming population. The market here is set to see substantial growth, with an estimated compound annual growth rate of 4.1% between 2023 and 2028. A standout in the Korean noodle scene is Nongshim Shin Noodle Soup, a brand that has garnered widespread recognition, both nationally and internationally. At present, Nongshim exports its noodle products to over 100 countries and operates production facilities in the United States, China, and, of course, South Korea.
9. Thailand 
Servings as of December 31, 2022: 3.87 Billion
Ranking ninth in the list of top noodle-consuming countries, Thailand reported a significant annual demand of 3.87 billion servings as of December 31, 2022. A characteristic feature of Thai noodle dishes is their distinctive spiciness and the common preference for consuming them without soup. The country's noodle industry is poised for notable growth, with a projected compound annual growth rate exceeding 4% from 2021 to 2025.
10. Brazil
Servings as of December 31, 2022: 2.83 Billio
Brazil, with a reported annual demand of 2.83 billion servings as of December 31, 2022, shows a significant taste for noodles. The country's noodle industry is on an upward trajectory, forecasted to grow at a compound annual growth rate of 6% from 2021 to 2025. Noodle varieties such as chili noodles, instant noodles, dried noodles, and ambient noodles are particularly popular among Brazilian consumers.
11. Nigeria 
Servings as of December 31, 2022: 2.79 Billion
With an annual demand reaching 2.79 billion servings as of December 31, 2022, Nigeria finds itself among the top noodle-consuming nations globally. Whether it's a quick breakfast or a midday snack, noodles are a favored choice for Nigerians, particularly among students and young adults. Unlike some cultures that serve noodles with soup, Nigerians typically enjoy their noodles without it. Leading the pack in terms of popularity is Indomie Instant Noodles, renowned for their unique flavors and generous servings.
12. Russia 
Servings as of December 31, 2022: 2.20 Billion
Russia, with its unique noodle traditions, secures a spot among the top 15 noodle-consuming countries worldwide. They recorded an impressive annual demand of 2.20 billion servings by the end of 2022. In Russia, noodles aren't just an everyday meal; they're part of the cultural fabric. They're a staple on sleeper trains, savored with BBQ dishes, and often enjoyed during outdoor activities. Looking ahead, the Russian noodle industry is set for a healthy expansion, with a forecasted compound annual growth rate of 5% from 2021 to 2025.
13. Nepal 
Servings as of December 31, 2022: 1.65 Billion
When it comes to noodles, Nepal has its own unique take, with variations that include deeply flavored brown noodles and delicate white noodles. It's the brown noodles, rich with spices and a unique cooking technique, that have won the hearts of the Nepalese and become a regular part of their cuisine. As of December 31, 2022, the country's love for noodles has translated into an impressive annual demand of 1.65 billion servings.
14. Malaysia
Servings as of December 31, 2022: 1.55 Billion
In the world of noodle connoisseurs, Malaysia claims the fourteenth spot, clocking in an impressive 1.55 billion servings as of December 31, 2022. A favorite go-to dish is their delicious fried noodles, served with a tangy chili and sweet soy sauce, a flavor combination that's hard to resist. Given the country's diverse ethnic makeup, which includes Muslim and Hindu populations, the Malaysian ramen scene is a smorgasbord of diverse flavors and styles, ensuring there's something to satisfy every noodle craving.
15. Mexico
Servings as of December 31, 2022: 1.51 Billion
Mexico has earned its place among the top 15 noodle-loving nations worldwide, with a whopping 1.51 billion servings of instant noodles consumed as of December 31, 2022. Vermicelli served with a rich tomato sauce is a particular favorite in this Latin American country.
Not to be overlooked are the leading global companies powering this noodle consumption, such as Nissin Foods Holdings Co., Ltd. (OTC:NFPDF), PT Indofood Sukses Makmur Tbk (OTC:PIFMF), and Nestlé S.A. (OTC:NSRGY), who continue to serve the world with their tasty, convenient noodle offerings.
Subscribe to Our Latest Newsletter
To Read Our Exclusive Content, Sign up Now.
$5/Monthly, $50/Yearly