Messi Leads Inter Miami to Win Over FC Dallas in Leagues Cup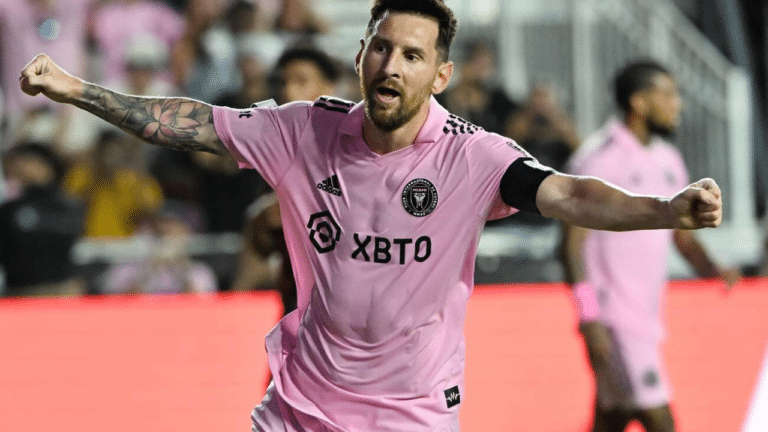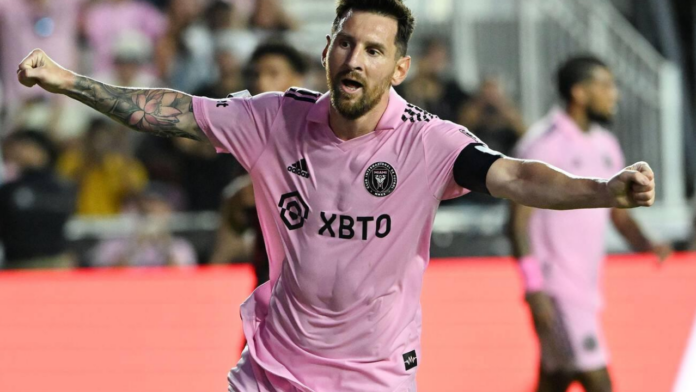 In a display of sheer brilliance, Lionel Messi once again proved why he is the epitome of Messi Mania.
Inter Miami has emerged victorious in a thrilling showdown in Dallas and secured their spot in the next round of the Leagues Cup.
Messi Leads Inter Miami to Win Over FC Dallas
In a thrilling match that had fans on the edge of their seats, Lionel Messi showcased his incredible skills by netting not one but two goals. The Argentine superstar's first goal came as a crucial equalizer, leveling the game at 4 in the 85th minute. A moment of pure brilliance injected new life into the contest.
However, the drama didn't end there. As the match ended in a deadlock, both teams prepared for a nerve-wracking penalty shootout to determine the winner. In this high-pressure situation, Inter Miami managed to maintain their composure and emerged victorious with a 5-3 edge in penalty kicks.
[Video Credits @ESPN FC]
Messi's exceptional performance undoubtedly played a pivotal role in Inter Miami's triumph. His ability to rise to the occasion and deliver when it mattered most is a testament to his status as one of the greatest footballers ever. With his goals and leadership, Messi propelled his team to the next stage of the competition, leaving FC Dallas in their wake. This thrilling encounter will undoubtedly be remembered as a classic, with Messi's heroics and Inter Miami's penalty shootout victory etching their names into the annals of sporting history.
Lionel Messi, the illustrious World Cup champion with Argentina and a remarkable seven-time Ballon d'Or recipient, orchestrated a remarkable comeback for his newly joined club.
When Will Lionel Messi Play Next?
On August 11-12, the quarterfinal winner will play the victor of Houston Dynamo FC vs. Charlotte FC.
Lionel Messi's Performance in Inter Miami Stint: A Closer Look
Lionel Messi, largely regarded as the best player in the sport, scored the game-winning goal for Inter Miami in the 94th minute of extra time on a free kick from around 25 yards out. On July 21st, this goal was the difference in Inter Miami's 2-1 win over Cruz Azul of the LIGA MX.
[Video Credits @SH Studio]
Messi scored twice in the opening 22 minutes of his second game. On July 25, he helped Inter Miami beat Atlanta United 4-0 with an assist in the second half.
Messi scored twice in Inter Miami's 3-1 win over Orlando City SC in the first round of the Leagues Cup, his third game with the club.
Messi scored the game's first goal after teammate Robert Taylor passed him a dime. Taylor assisted on the game-winning goal scored by Josef Martinez, who gave up his own goal by passing a short kick to Lionel Messi.
Related Read: Lionel Messi's Milestones
Inter Miami's Remaining 2023 Schedule
Aug. 20: vs. Charlotte FC, 7:30 p.m. ET
Aug. 23: at FC Cincinnati (U.S. Open Cup), 7 p.m. ET
Aug. 26: at New York Red Bulls, 7:30 p.m. ET
Aug. 30: vs. Nashville SC, 7:30 p.m. ET
Sept. 3: at Los Angeles FC, 10:30 p.m. ET
Sept. 9: vs. Sporting Kansas City, 7:30 p.m. ET
Sept. 16: at Atlanta United, 7:30 p.m. ET
Sept. 20: vs. Toronto FC, 7:30 p.m. ET
Sept. 24: at Orlando City SC, 7:30 p.m. ET
Sept. 30: vs. New York City Fc, 7:30 p.m.
Oct. 4: at Chicago Fire FC, 8:30 p.m. ET
Oct. 7: vs. FC Cincinnati, 7:30 p.m. ET
Oct. 21: at Charlotte FC, 6 p.m. ET