Mac Pro Review (M2 Ultra): A Powerful Workstation for Professionals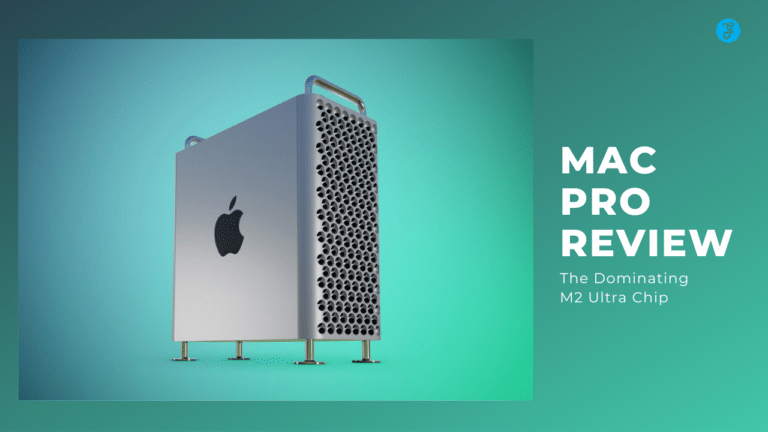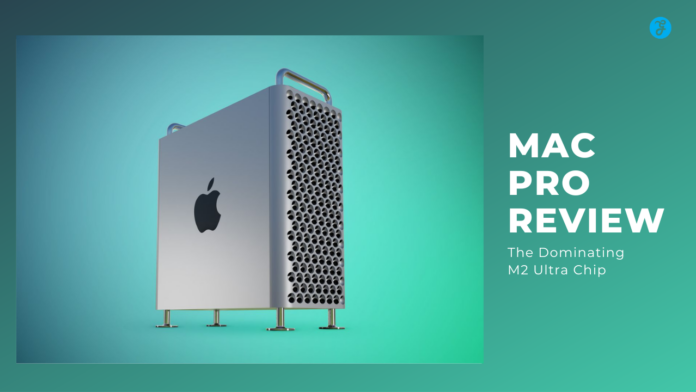 Are you looking for reliable and up-to-date information on the latest Mac Pro? Apple has recently released their new Mac Pro M2 Ultra, which promises to be a powerful machine for professional workers. So are you interested in learning about Mac Pro Review?
It features an advanced M2 Ultra chip with PCIe expansion that allows users to take their computing power even further. We will explore its features, performance enhancements, and how it can enhance your workflow. Lastly, we'll provide you with all of the updates and improvements from recent software optimizations.
Get ready to learn all about why professional users should consider investing in this powerful computer!
Content Highlights
The Mac M2 Ultra boasts exceptional CPU and GPU performance, making it a powerhouse for demanding tasks like video editing, 3D rendering, and machine learning.

It can support up to 22 streams of 8K ProRes 422 video playback, setting a new industry standard for video professionals in terms of performance.

Despite its remarkable power, the Mac M2 Ultra maintains a compact and efficient design, allowing it to easily fit under most displays and save desk space.

With 12 high-performance ports, including USB-C, Thunderbolt 4, HDMI, Ethernet, and more, the Mac M2 Ultra ensures seamless integration into various setups and efficient data transfer.
Mac Pro Review: Short Overview
First, have a look at the specifications in a quick-view table 
| Specification | Mac Pro with M2 Ultra |
| --- | --- |
| CPU | 24-core CPU |
| CPU Performance | Up to 1.8x faster than Intel-based Mac Pro1 |
| GPU | Up to 76-core GPU |
| GPU Performance | Up to 3.4x faster graphics performance2 |
| Memory Bandwidth | 800GB/s |
| Unified Memory | Up to 192GB |
| 8K ProRes Video Playback | Up to 22 streams3 |
| Display Support | Up to 8 displays |
| Expansion Slots | 7 PCIe slots (6 PCIe gen 4) |
| PCIe SSD Support | PCIe gen 4 SSD cards with up to 26GB/s12 |
| High-Speed I/O | 8 Thunderbolt 4 ports, 2 HDMI ports (supporting up to 8K at 240Hz) |
| Network | 2x 10Gb Ethernet |
| Audio | 3.5 mm headphone jack |
| USB Ports | 2x USB-A |
| Rack Mount Option | Available |
| Design Features | Stainless steel space frame, removable aluminum housing, advanced thermal system |
| Cooling | Quiet thermal system |
| Wireless Connectivity | Wi‑Fi 6E14 and Bluetooth 5.3 |
| Pro Display XDR Compatibility | Designed for Pro Display XDR |
| Pro Display XDR Features | 32-inch 6K Retina display, 1,000,000:1 contrast ratio, up to 1600 nits of brightness15 |
Mac Pro M2 Ultra In-Depth Review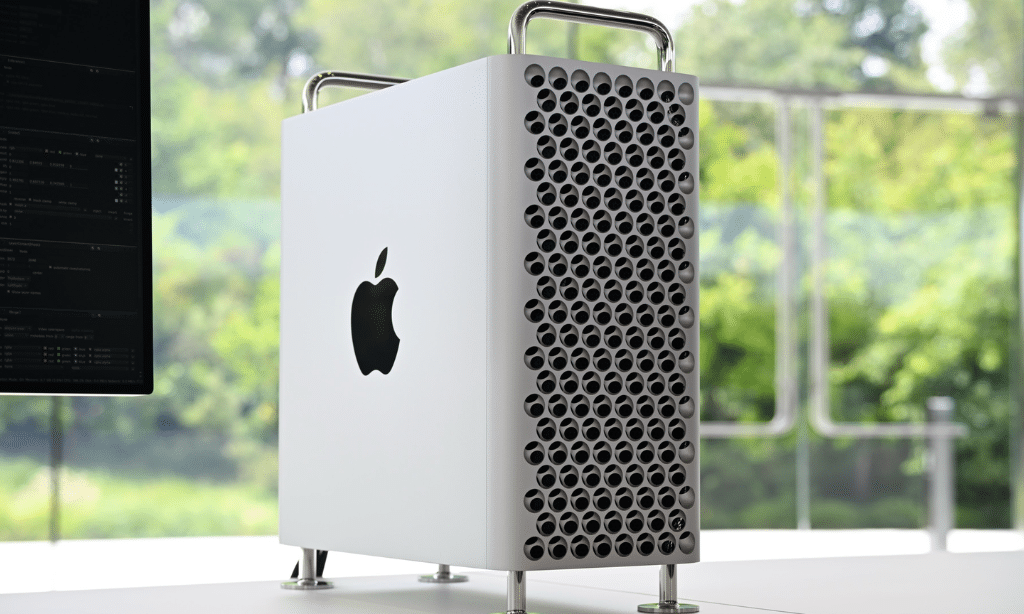 The Apple Mac Pro has always been synonymous with uncompromising performance and cutting-edge design, and with the introduction of the M2 Ultra chip, Apple has taken a quantum leap forward in the realm of high-end computing. This comprehensive review aims to explore in depth the groundbreaking features and innovations that elevate the Mac Pro with M2 Ultra into a league of its own.
M2 Ultra: The Powerhouse Within
At the heart of the Mac Pro's performance lies the M2 Ultra chip, a marvel of modern engineering that combines a 24-core CPU, a GPU with an astonishing 76 cores, and a staggering 192GB of unified memory. The same chip is used on Mac Studio.
While these specifications may seem impressive on paper, it's their real-world performance that truly leaves a lasting impression.
The 24-core CPU demonstrates its prowess by outperforming its Intel-based predecessor by a jaw-dropping 1.8 times. This colossal boost in processing power makes resource-intensive tasks such as 3D rendering, video editing, scientific computing, and code compiling feel effortless. The GPU, boasting 76 cores, delivers a mind-boggling 3.4 times the graphics performance, setting new standards for creative professionals and gamers alike. Whether you're rendering intricate 3D scenes or editing 8K ProRes video, the Mac Pro with M2 Ultra accomplishes these tasks with grace and ease.
Optimized for Professional Applications
One of the standout features of the Mac Pro is its seamless integration with a vast ecosystem of professional applications optimized for Apple silicon. From music production with Avid Pro Tools to video transcoding in DaVinci Resolve Studio, 3D rendering with Autodesk Maya, and animation in SideFX Houdini, this machine delivers unprecedented levels of performance and efficiency. Whatever your creative or scientific endeavors may be, you can trust that your go-to applications will run faster and smoother than ever before.
Unparalleled Expansion Opportunities
The Mac Pro with M2 Ultra introduces a level of versatility that was previously unimaginable. With seven expansion slots, including six PCIe Gen 4 slots, users gain access to twice the bandwidth for audio and video I/O, networking, and storage cards. Notably, the PCIe Gen 4 SSD cards are capable of delivering a colossal 26GB/s data transfer speed, ensuring that data access and transfer are nothing short of breathtaking.
Moreover, the Mac Pro's design has been meticulously engineered to maximize airflow, ensuring that internal components remain cool and efficient even during the most demanding tasks. This dedication to thermal management means that the machine can maintain peak performance without suffering from overheating, setting it apart from the competition.
High-Speed Connectivity for Modern Needs
Recognizing the increasing importance of high-speed connections in today's data-driven world, the Mac Pro boasts eight Thunderbolt ports, enabling a wide array of advanced connectivity options. The two HDMI ports support resolutions up to 8K and refresh rates up to 240Hz, catering to those working with high-resolution displays or multiple monitors. Furthermore, support for Wi-Fi 6E and Bluetooth 5.3 ensures that you stay seamlessly connected to the world around you.
Rack Mount Option and Thoughtful Design
For those working in studio setups or other space-constrained environments, Apple offers a rack-mounted version of the Mac Pro with the same outstanding performance as the tower. The rack mount design retains the 3D lattice and stainless steel handles, promoting enhanced airflow and ease of handling.
The Mac Pro's iconic stainless steel space frame and removable aluminum housing remain unchanged, providing stability and solidity that's unmatched in the industry. The option for wheels enhances its mobility, allowing it to be moved effortlessly between locations, ensuring that your creative powerhouse is where you need it, when you need it.
Pro Display XDR: A Perfect Match
To complement the Mac Pro's exceptional performance, Apple offers the Pro Display XDR, a 32-inch 6K Retina display boasting a remarkable 1,000,000:1 contrast ratio and up to 1600 nits of brightness. This display ensures that your creative work is showcased in its full glory, meeting the high standards set by the Mac Pro.
Touch ID and Magic Accessories
Adding to the convenience of the Mac Pro is its support for Touch ID, offering fast, easy, and secure authentication for logins and purchases. Additionally, Apple includes the latest Magic accessories, enhancing the overall user experience and providing seamless interaction with the Mac Pro.
Other Features of Mac Pro M2 Ultra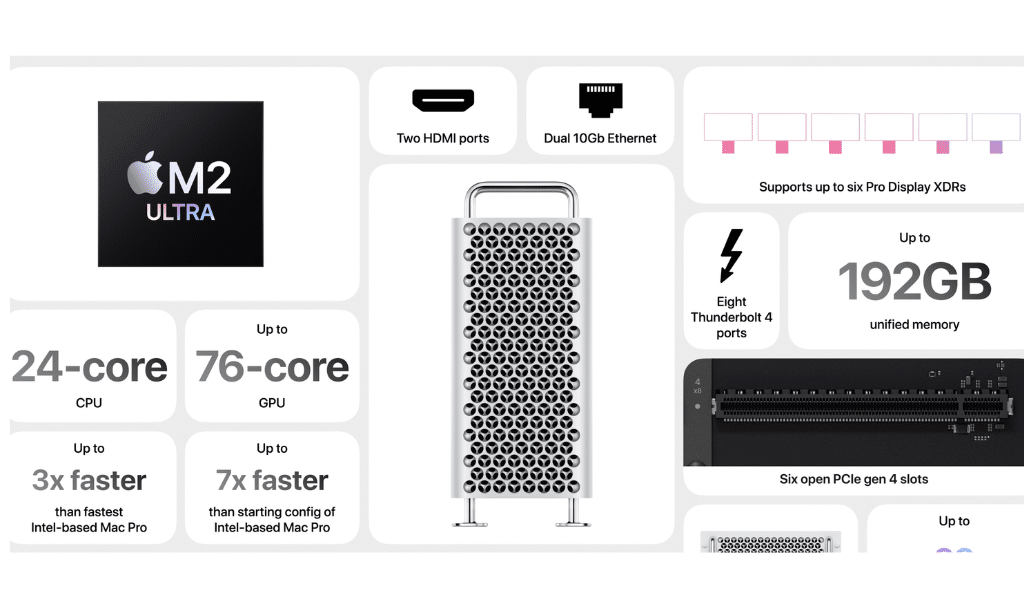 The Mac Pro M2 Ultra is a powerful machine released by Apple in June 2023. Here we'll discuss some other features of this device.
Design and Specifications
The new Mac Pro M2 Ultra is Apple's largest and most capable chip to date, offering improved performance, power efficiency, and design. Despite its similarities in appearance with 2019's Intel-based model, the M2 Ultra version includes major updates for both professional and creative workflows.
Expansion Capabilities
The new Mac Pro M2 Ultra offers an impressive number of expansion capabilities. It comes with six open PCIe Gen 4 slots for faster connectivity and improved performance. Its 82 ports provide plenty of room for users to attach additional panels, drives, accelerators, and other hardware upgrades.
Additionally, the Mac Pro features eight universal Thunderbolt 3 connectors—more than on any other desktop Mac—for fast transfers between compatible devices and professional peripherals such as storage solutions or audio-video equipment used by film editors or music producers.
Thanks to its versatile expandability options, this powerful workstation is suitable for many demanding tasks like video editing and graphic design that require higher-performance computing capabilities over longer periods of time.
Review of the Mac Pro M2 Ultra
Combining a formidable design with top-of-the-line components, the Mac Pro M2 Ultra offers superb hardware build quality and power efficiency that makes it an ideal workstation for professionals.
Hardware Design and Build quality
The Mac Pro M2 Ultra is a powerful desktop computer crafted using only the highest quality materials and components. Its design directly follows from its predecessor's with an aluminum frame providing rigidity encased in stainless steel to protect against corrosion all while maintaining a sleek, modern look.
The chassis features vents for heat dissipation and noise reduction along with six open PCIe Gen 4 slots that provide exceptional expansion opportunities. Additionally, its 8 Thunderbolt ports allow users to connect high-end peripherals such as external storage drives for additional speed and data transfer reliability compared to other available workstations.
All of these components together create a customizable machine perfect for creative professionals needing performance out of their workstations.
Expandability and Ease of Upgrades
The Mac Pro M2 Ultra offers a great range of upgradable hardware, enabling users to customize their workstation according to the tasks they plan to use it for. It features six full-length PCIe Gen 4 expansion slots, allowing users to easily add new components and peripherals whenever they need.
This versatile workstation boasts high-performance capabilities that can meet any challenging creative requirements while also providing support for intensive computing tasks like 3D rendering or video editing.
Additionally, its wide range of supported peripherals including GPUs and specialized equipment makes the Mac Pro ideal for professionals who are looking for customizable options and an extra level of control over their workflow.
Performance and Speed
The Mac Pro M2 Ultra is a powerful workstation optimized for professional users looking to take their tasks to the next level. With 1.4x faster performance than its predecessor, the M2 Ultra's custom-designed Apple chip offers an increase in both CPU and GPU power with enhanced speed running on all eight of its cores when compared to the previous M1 chip.
Additionally, it houses a 40 percent more powerful Neural Engine which provides improved machine learning capabilities for creative professionals. Moreover, BlackMagic Disk comes standard on every model that offers up blazing read speeds of 3,300MB/s and write speeds close to 3,000MB/s allowing you quicker access to large files or projects enabling efficient workflow management.
All these features coupled with advanced processing power and higher memory options ensure that no task will leave you as frustrated as before because now speed & performance won't be an issue again!
Comparison with Other Apple Products
Now we'll compare Mac Pro with other Apple products. 
| | | | |
| --- | --- | --- | --- |
| Specs | Mac mini | Mac Studio | Mac Pro |
| Chip | Apple M2 or M2 Pro | Apple M2 Max or M2 Ultra | Apple M2 Ultra |
| CPU Cores | Up to 12 | 12 or 24 | 24 |
| GPU Cores | Up to 19 | 30 to 76 | 60 to 76 |
| Memory (RAM) | Up to 32GB | 32GB to 192GB | 64GB to 192GB |
| Storage Capacity | Up to 8TB | 512GB to 8TB | 1TB to 8TB |
| Starting Price | $599 | $1999 | $6999 |
| Exterior Color | Silver | Silver | Silver |
Mac mini
It is a budget-friendly option starting at $599, featuring the Apple M2 or M2 Pro chip, offering up to a 12-core CPU and a 19-core GPU. It supports up to 32GB of unified memory and storage capacities up to 8TB, all wrapped in a Silver exterior.
Mac Studio
With a starting price of $1999, takes performance to the next level, boasting the Apple M2 Max or M2 Ultra chip, offering CPU configurations of 12 or 24 cores, and GPU options ranging from 30 to 76 cores. It provides a wide memory range, from 32GB to 192GB of unified memory, and storage options from 512GB to 8TB, all in a sleek Silver design.
Mac Pro
Mac Pro caters to the most demanding professional users, starting at $6999. It comes with the formidable Apple M2 Ultra chip, offering a powerful 24-core CPU and GPU options of 60 to 76 cores. Memory options range from 64GB to 192GB of unified memory, and storage capacities vary from 1TB to 8 TB. Like its counterparts, it's available in Silver, but it's tailored for the highest levels of computing needs
The Mac Pro's Impact on Professional Workflows
With its powerful chip, versatile expansion capabilities, and impressive performance boost, the Mac Pro can significantly enhance productivity for professional users of all types.
The Mac Pro M2 Ultra was designed to take the work of demanding creative professionals to the next level. The powerful and expandable hardware provides blazing-fast processing for high-end tasks, making it easier than ever before to focus on creative projects.
The incredibly reliable build quality ensures that performance stays consistent over time while premium features such as multiple storage and RAM options, lightning-fast connectivity, and screen synchronization make it a one-stop shop when it comes to tackling intensive workloads.
With features like improved memory and storage options, faster start times, and increased retention rates expect users to engage with their work in ways never previously thought possible.
Additionally, optimized software helps bolster performance further – reducing lag and saving precious time during demanding tasks like rendering media or editing videos in 4K resolution.
Latest Updates and Improvements
With frequent software updates and optimizations, the Mac Pro M2 Ultra continues to be an incredibly powerful tool for professional users that is constantly being refined. Discover all of its features in our detailed review!
Software Updates and Optimizations
Regular software updates and optimizations are important for ensuring optimal performance, stability, security, and compatibility of Apple devices.
These updates provide new features, as well as improvements in performance speed, and efficiency.
They also help to address bugs or vulnerabilities in the system that could otherwise be exploited by malicious actors.
Updates can range from minor bug fixes or patches to larger releases that introduce major changes.
The easiest way for users to check if their device is up-to-date with the latest available updates is by clicking on the Software Update button found in System Preferences on Macs running macOS 12.3 or later versions.
Other ways include using the Smart Update feature while purchasing apps on the Mac App Store which will automatically update any installed apps when linked with an Apple account; and/or directly downloading app packages from specific sites like the developer's website if they offer one-click installation packages called disk images (Files ending with .dmg extension)
User Feedback and Improvements
In an impressive show of user engagement, Apple has taken to heart customer responses regarding the Mac Pro and utilized them to refine and improve their product since its initial launch.
Numerous updates have been released that focused solely on improving functionality based on user complaints. The newer models use much more powerful chipsets and memory configurations, as well as refined mechanisms for cooling in order to maximize performance without producing too much noise or excessive heat.
In addition, the new macOS Big Sur operating system offers a host of features such as multitasking support, stage manager, Siri enhancements, and expanded compatibility between AirPlay devices which were developed from feedback gathered from users.
Future Developments and Upgrades
Apple has long been renowned for its innovative approach to technology, and that commitment is certainly evident in the future of the Mac Pro. With anticipated developments and upgrades set to be released over time, creative professionals are guaranteed powerful tools for their workflows.
The introduction of new chips including the M2 Ultra chip will bring significant performance gains while maintaining power efficiency for intensive computing tasks. Connectivity options will also be improved thanks to greater expansibility and support for advanced display solutions like the Pro Display XDR.
Thanks to this continual stream of advancements, users can rest assured that they'll have access to a cutting-edge toolset well into the future.
Tips and Recommendations for Purchasing and Using the Mac Pro
Research the device's specifications, such as hardware design and build quality, memory and storage options, connectivity features, performance benchmarks, etc., before investing in the Mac Pro M2 Ultra.
Consider budget allocations for purchasing a new Mac Pro in line with one's individual requirements and usage needs.
Look into the user testimonials and experiences to gain insights into the real-life performance of the device.
Explore official resources like reviews from leading technology publications to know more about specific areas of interest like pricing, design comparisons, or gaming experiences associated with using a Mac Pro M2 Ultra setup appropriately configured for various purposes.
Utilize additional guides like the MacBook Pro Essentials handbook to understand essential settings related to customizing your macOS experience based on one's preferences or make other necessary changes for optimum use across different genres of applications that can be run within the macOS operating system optimized environments enabled by certain integrative technologies provided by Apple Inc. If you're interested also read about Macbroo
Frequently Asked Questions (FAQs)
Now let's have a look at some elated questions on this topic.
1. What is the difference between Mac Pro and other Apple Mac computers?
Mac Pro is designed for professional-level tasks such as video editing, audio production, and 3D rendering. It offers more powerful computing performance than the other Mac models.
2. What features does a Mac Pro have?
Mac Pros come with an octa-core processor, up to 1TB of storage space, 6 user ports support for dual 4K/5K displays, and eight PCI Express slots for expansion cards.
3. Is a Mac Pro good for gaming?
Although it has enough power to handle casual games, the Mac Pro is not designed specifically for gaming and may struggle with some advanced titles due to the need for more resources. 
Takeaway
The new Mac Pro M2 Ultra is a powerful workstation designed for professional users. It offers impressive performance, with Apple's latest M2 Ultra chip, and ample expandability to meet the needs of creative professionals.
The M2 Ultra has been praised for its fast speeds and unified memory architecture, making it capable of handling heavy tasks without compromising on battery life or smooth workflow.
Overall, the Mac Pro delivers excellent value for its price—it's a well-rounded machine that will empower users to unlock their potential in whatever field they choose to pursue.