Libya Flood Death Toll: Derna flooding Could Take 20,000 Lives, Thousands Still Missing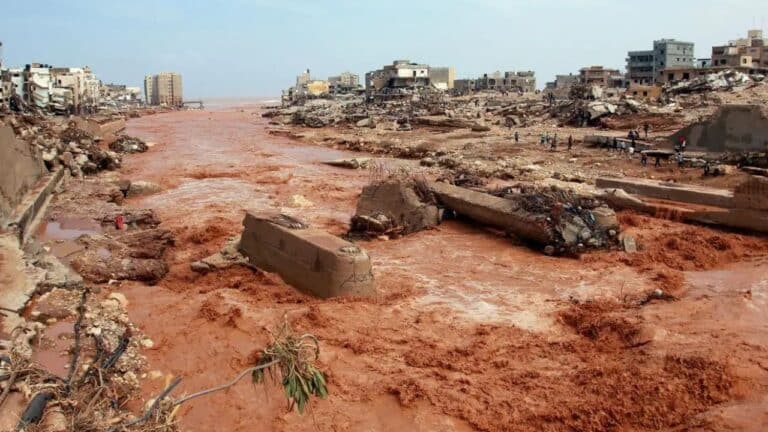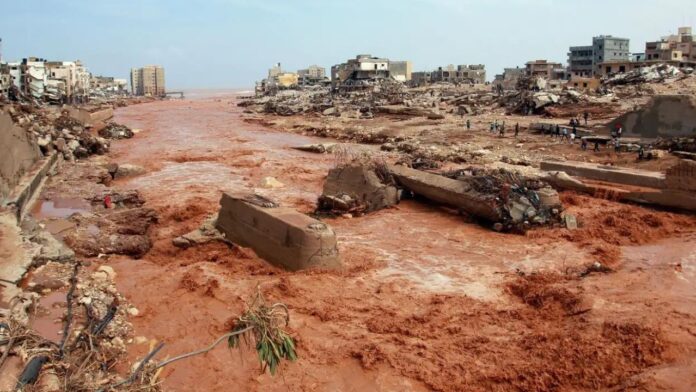 Residents of the devastated Libyan city of Derna urgently searched for lost relatives as rescue personnel requested additional body bags following a horrific flood that killed thousands and washed more out to sea.
A torrent of water released by a violent storm that surged down a normally dry riverbed on Sunday night, bursting dams above the city, devastated swaths of the Mediterranean metropolis. Buildings with multiple stories collapsed, trapping sleeping families inside.
Lieutenant Tarek al-Kharraz, a spokesperson for the interior ministry, told AFP on Wednesday that 3,840 people had died in the Mediterranean city so far, with 3,190 already buried. At least 400 foreigners were among them, the most of whom were from Sudan and Egypt.
Meanwhile, Hichem Abu Chkiouat, minister of civil aviation in the authority that governs eastern Libya, told Reuters that more than 5,300 people had died so far, and that the figure was expected to rise dramatically, if not double.
According to Derna Mayor Abdulmenam al-Ghaithi, the projected number of dead in the city might range between 18,000 and 20,000 based on the number of districts damaged by the flood. Additionally, you can also read about- Earthquake in Morocco: Thousands Injured, Homes Destroyed, What's Next?
Mahmud Abdulkarim, a Derna native, told journalist Moutaz Ali in Tripoli that he lost his mother and brother after failing to flee their first-floor apartment in time after a dam collapsed.
"She refused to leave her spot… "I didn't expect the situation to be so bad and told him [Abdulkarim] it was just ordinary rains," Ali said from a Derwani community function in Tripoli.
When Abdulkarim's mother and brother finally decided to leave their flat, they were washed away by flooding once they reached the streets to evacuate.
Mabrooka Elmesmary, a journalist who escaped Derna on Tuesday, characterizes the city as a "massive disaster." "There is no water, electricity, or petrol," she explained.
She claimed that apartment complexes with families within had been carried away. "There's a wave of displacement as people try to flee Derna, but many are stuck because many roads are blocked or gone," Elmesmary said, adding that some families have taken refuge in schools.
Officials estimate that 10,000 people are missing. According to the UN humanitarian agency OCHA, the amount is at least 5,000.
The beach was covered with clothes, toys, furniture, shoes, and other belongings washed away by the torrent.
The streets were strewn with uprooted trees and hundreds of destroyed cars, many of which had flipped on their sides or onto their roofs. One car was jammed on the second-floor balcony of a demolished structure.
The damage can be seen from high elevations above Derna, where the densely populated city center, which had been built along a seasonal riverbed, was now a wide, flat crescent of dirt with stretches of muddy water shining in the light. Buildings were destroyed.
Rescue Efforts
According to Derna mayor al-Ghaithi, rescue crews have arrived from Egypt, Tunisia, the United Arab Emirates, Turkey, and Qatar.
"We actually need teams that specialize in body recovery," he remarked. "I am concerned that the city will become infected with an epidemic as a result of the large number of bodies found under the rubble and in the water."
According to Al Jazeera's Charles Stratford, reporting from Benghazi, Qatar's contribution to this "seemingly growing international aid effort to Libya" includes a field hospital.
"This is one of three Qatari military… cargo planes that are expected to arrive in Benghazi today," stated Stratford.
"Medical equipment, medicine, food, and tents" are also included in the relief, according to Stratford. "Everything here will be taken to Derna as soon as possible."
Furthermore, Al Jazeera's Malik Traina reported from Tripoli that there has been an outpouring of solidarity from Libyans around the country.
"We haven't seen this kind of unity in this country in many years," Traina added.
He claimed that large government convoys carrying equipment from western Libya had arrived in the east. Volunteer convoys carrying aid are also making their way east.
"We're also seeing volunteers and people giving whatever they can now – water, food, medicine, whatever supplies they can."
Rescue efforts are complicated by profound political divisions in the seven-million-person country, which has lacked a strong central authority and has been at war on and off since a NATO-backed rebellion deposed Muammar Gaddafi in 2011.
In the west, an internationally recognized Government of National Unity (GNU) is located in Tripoli, but in the east, including Derna, a parallel administration operates.
Local authorities in eastern Libya, particularly those in Derna, have come under fire, with some claiming that residents were not notified that they needed to leave before the torrent of water swept through the city.
However, al-Ghaithi said on Wednesday that homeowners had been notified in advance of the inundation.
'We took all precautions and alerted the… residents of the areas where the disaster may have occurred, we set up an emergency facility… the security forces did their job," he stated.
Subscribe to Our Latest Newsletter
To Read Our Exclusive Content, Sign up Now.
$5/Monthly, $50/Yearly