7 Sick Last-Minute Halloween Costume Ideas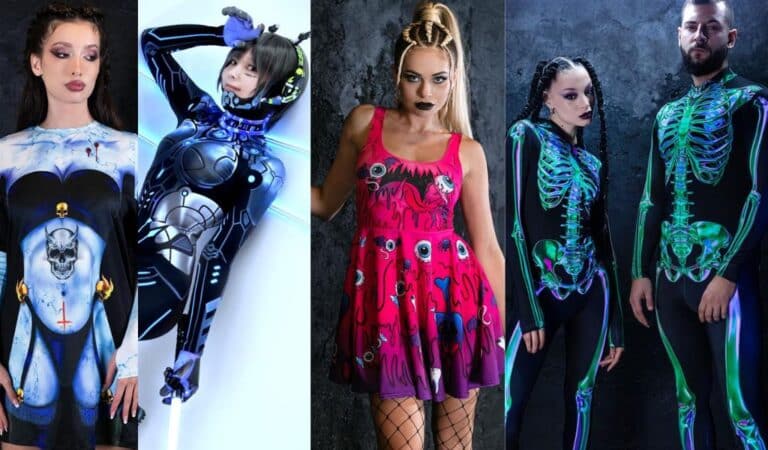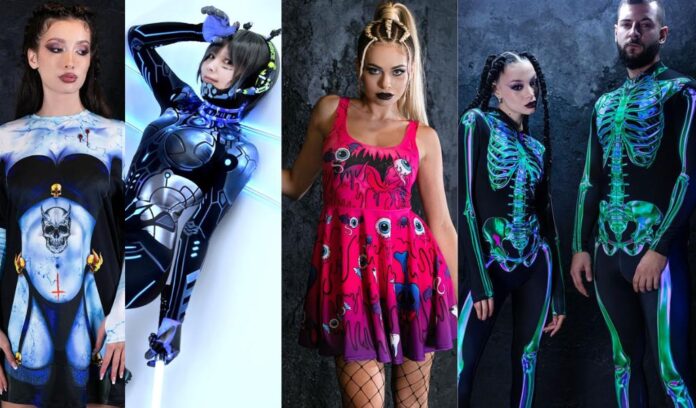 Listen to the Podcast:
If you still haven't planned your Halloween outfit, you're far from alone in this. Last-minute solutions now taste even sweeter with the massive range of online alternatives and brands that offer swift international delivery. So – if Halloween costume shopping is still on your to-do list, we have a quick inspiration list that might tickle your creativity.
Below, we are listing seven of the smartest ways to look over the top with last-minute sexy Halloween costumes. 
1. Hi-Tech Cyber Costumes 
Have you seen these stunning full-body costumes people usually wear during cosplays, rave parties, and EDM festivals? Well, these have now evolved into an official Halloween trend, and you will love both how they look and how they feel on the body.
Printed spandex costumes are springy and elastic, lightweight, and 100% non-see-through. Moreover, they are designed to fit the body like a glove and provide an excellent moisture-wicking effect that will keep you comfy and cool during trick-or-treating.
Finally, they come in a variety of eerie and glam prints with sci-fi, technical, horror, and supernatural motifs. All you need to do is choose your character and become a walking embodiment of Halloween fashion!
2. Printed Dresses
Spine-chilling and sexy are a dream team, and a Halloween dress is how you make them your team. The good news is that printed Halloween dresses are nowadays made to fit all body shapes and sizes, thus promoting confidence and positive body image.
When it comes to designs and cuts, some of the most popular alternatives on the market include foxy skater dresses, sleek bodycon models, and cut-out dresses with different lengths. In addition, you can often combine them with matching thumbhole sleeves or arm warmers, thus rounding out a complete Halloween outfit.
When prints are concerned, we can't not mention the evergreen x-ray skeleton fashion design. This year, Halloween dresses come in a mind-blowing variety of skeleton prints – from classic black-and-white to rainbow skeletons, mechanical skeletons, and old-school rock-n-roll interpretations of skeletons and roses.
3. Graphic Hoodies
Both women and men appreciate the snug and homey feeling of an oversized hoodie. But what if you keep the perfect convenience while you upgrade it with a graphic 3D print all over? Printed Halloween hoodies are nothing like everyday hoodies, and they will make you stand out without ever compromising your comfort.
You can wear these with virtually all types of bottoms – from your favourite pair of jeans to a pair of printed leggings, leather pants, or even booty shorts if you're gutsy enough. Plus, it's perfectly fine to wear a printed Halloween hoodie in your workplace before you take it on a midnight walk around town.
Except for the skeletons and skulls, Halloween hoodies also come in three-dimensional prints of Jack-o'-lantern pumpkins, grimly goth symbols, monsters, goblins… And whatever else you can imagine, in fact.
4. Oversized T-Shirt and Tees
Oversized T-shirts and tees are characterised by a lengthy cut below the hips, baggy elbow-reach sleeves, and a roomy design. They build up a cheeky street-style appearance, and they are well-preferred among all ages and genders as they are comfy and easy to outfit. Now, let's bring Halloween into the sentence!
Oversized Halloween tees for men are officially the quickest and most effortless solution for a last-minute outfit. They cost cheaper than most costumes and can readily outshine them if you choose a high-tech graphic print all over. Last but not least, they can easily be repurposed for nightlife ventures and level up your party life with little to zero effort. 
Women's oversized T-shirts, on the other hand, come with an extra plot twist. They are a 2-in-1 outfit choice you can wear both as a long tee and a short dress if you're into the horror gangsta chick style. Pretty cool for a single-piece purchase, isn't it?
5. Halloween Overalls
Dapper, springy, and terrifically elegant – women's overalls are also super cool last-minute Halloween outfits. They keep the look of a full-body costume while proving more adjustable to styles and occasions. Or else said – while a full-body costume is a top choice for trick-or-treating, a Halloween overall is something you can actually wear when Halloween night is over. 
Bib-and-brace overalls have a long, elastic lower half that looks like a printed pair of leggings. Then, their upper half covers the abdomen and part of the chest and is finished with a couple of adjustable shoulder straps you can put on and off. So, all you need to do is choose a suitable base layer top and go drop some jaws on your way. 
Depending on the climate conditions, you can wear a spandex overall with anything from a sexy bra top to a long-sleeve blouse that keeps you warm. You can also add a jacket or a cardigan without harming your spooky looks. 
6. Matching Couples' Halloween Costumes
Matching costumes are a fine way to bring the horror in bundles, and you will find plenty of looks to choose from. A zombie couple, a vampire family, or a cyborg squad – there are no limits before you, and you can let your imagination run wild.
Surely, matching full-body costumes are the headliner of the Halloween freak show. They will fix many eyes on you and will help you make some epic memories, living up to the freakiest version of yourselves. Anyway, you can also go for a more uncomplicated alternative, such as matching graphic tees or matching Halloween hoodies.
Last but not least – matching costumes are not strictly reserved for you and your significant other. If you happen to be happily single, you can gather your crew and form an entire gang of mischief-makers with 1:1 matching or thematically connected Halloween outfits. And yes – you can do it at the last minute!
7. Let's Talk Zombies
If we leave designs and cuts behind for a second, we can mention one massive thematic Halloween trend in 2022, and this is zombies. This year, you can find zombie outfits for All Hallows Eve in virtually every fashion store, and we dare say that this is among the best last-minute options you have.
Why is that? Simple. The abundance on the market will make your choice broad, swift, and accessible. Then, the overall styling will be as easy as one-two-three – all you need to do is put your costume on, tousle your hair, and put on random smudged makeup.
So, can you already feel the Halloween inspiration taking over? You still have the time to plan, purchase, and style the best outfit before you enjoy all of the tricks and treats the night has to offer!