Kia EV9 Review: A Spacious, Stylish, and Family-Friendly Electric SUV
Are you as excited as we are for the arrival of the Kia EV9, the electrified 3-row SUV set to release in 2023? Car lovers everywhere have been buzzing with anticipation over this impressive electric vehicle.
We understand your eagerness and have done extensive research to provide you with all the details on the Kia EV9 review. This article will explore its range, performance, interior features, safety technology, and more! Plus, don't miss out on exclusive news about upcoming 2024 upgrades.
So, get ready for an in-depth look at everything related to the Kia EV9 review – from the specs sheet to more! Grab a cup of coffee (or tea), and let's dive in together!
Content Highlights
Kia EV9 is a 3-row electric SUV with an efficient battery offering up to 336 miles range and 5,000 lbs of towing power on a single charge.
The powertrain consists of 2 motors giving out 379 hp & 516 lb-ft torque, which accelerates from 0-60 mph in 5.0 secs.
The Interior features an airy cabin that accommodates 7 passengers with improved dashboard technology for optimum entertainment during your trips.
Safety features like the Highway Driving Pilot system & advanced driving assistance systems ensure maximum security on roads for you and your family members
Overview of the Kia EV9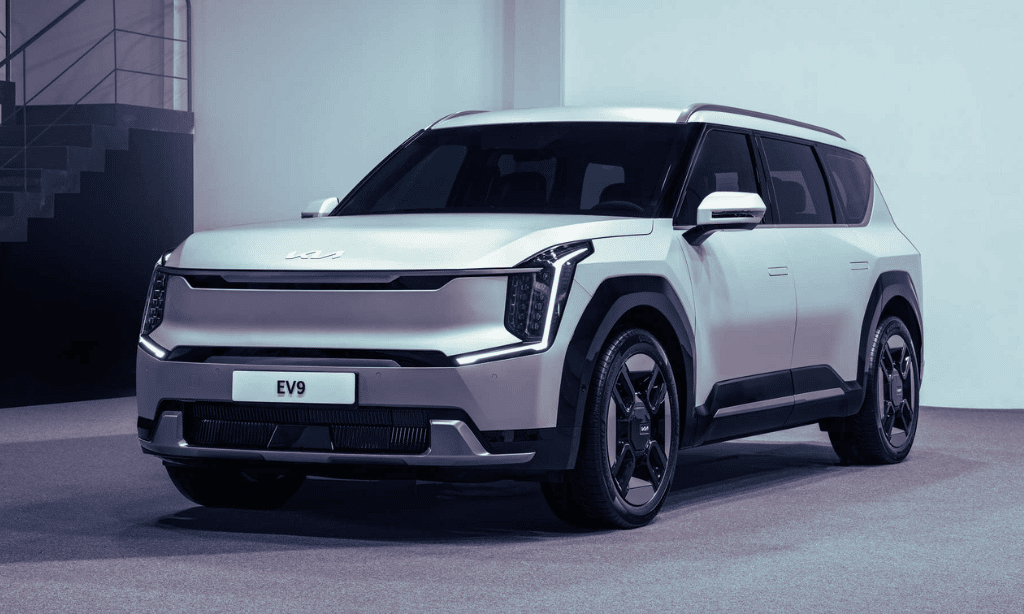 The Kia EV9 is a three-row electric SUV with a sporty and quick performance, capable of towing up to 5,714 pounds and offering up to 336 miles on one charge.
Three-Row Electric SUV
The Kia EV9 is the newest addition to the electric car market. It's a three-row SUV that allows for 6-7 passengers and offers a traditional boxy look that we're all familiar with when it comes to SUVs.
Under the hood lies an impressive 76.1 kWh battery, allowing drivers up to 336 miles of range on a single charge and 5000lb tow capacity. It was designed with family in mind, providing an airy cabin, comfortable seating options, and improved dashboard technology. Hence, your journeys remain entertaining but safe no matter what road you decide to take.
This, combined with its five different driving modes, gives you full control over how much power can be used during acceleration or braking, allowing total control of your experience on the roads like never before!
Quick and Sporty Performance
The Kia EV9 packs a powerful punch with its impressive and efficient 76.1-kWh battery, delivering instant torque to the wheels for an exciting driving experience that will make you forget about gasoline-guzzling vehicles altogether.
The max power output of 379 horsepower accelerates from 0 to 60 mph in only 8.0 seconds, while the front and rear motors ensure agile handling when taking sharp corners or cruising on winding roads at higher speeds.
With incredible range capability of up to 336 miles, there's no need to worry about frequent charging stops as the EV9 has you covered under most long journeys. You'll also get excellent 5000 lbs of towing capacity as it can easily replenish its power thanks to fast-charging capabilities that charge your vehicle more quickly than other electric cars in a similar price range.
Pros and Cons
One of the most powerful electric SUVs on the market, with its 76.1-kWh battery providing an impressive 336 miles range on a single charge
5000-pound towing capacity is good for almost all recreational and work-related hauling
Spacious dashboard technology offers user – friendly experience along with luxurious touches such as modern interior design, wood trim, panoramic sunroof, heated and cooled leather seats
Roomy three-row cabin fit for 6-7 passengers is family-friendly and includes updates like improved safety systems
Highly rated test drive experience shines through excellent acceleration when using the electric powertrain
Comparable to EV6 but not quite as efficient at highway speeds due to different battery sizes and lesser aerodynamics
The price point remains competitive but is slightly higher than other three-row mid-size SUVs, such as the Toyota Grand Highlander Max Limited.
Kia EV9 Review: Powertrain and Range
The Kia EV9 comes equipped with a 76.1-kWh battery that delivers up to 336 miles of range on a single charge and boasts a 5000-pound towing capacity.
76.1-kWh Battery
The Kia EV9 is powered by a 76.1-kWh battery, which makes it one of the most powerful electric vehicles in its class. This battery offers two powertrain options: a 160-kw (215-hp) motor for rear-wheel drive and an optional 220-kW (295-hp) AWD system.
The standard powertrain option provides excellent performance on city streets, while the latter promises a more sporty response when tackling steeper hills or tougher road conditions.
When fully charged, this battery is estimated to offer up to 336 miles of range, making way for longer journeys between charges compared to other competitors on the market today. With 5000 lbs of towing capacity, drivers can also feel confident participating in activities such as boating or caravanning with their new EV9 model.
Up to 336 Miles on a Single Charge
The Kia EV9 is the latest electric SUV from the popular car manufacturer, and it comes with an impressive range. With its 76.1-kWh battery, drivers can expect up to 336 miles on a single charge.
It's important to note that this range estimate may vary based on driving conditions, weather, terrain, how often you use features like air conditioning or heated seats, and how aggressively you drive.
As such, achieving maximum mileage in many cases will require careful consideration of all these factors so as to optimize efficiency for long distances traveled. Compared to other EVs on the market today (such as Tesla's Model Y), The Kia EV9 offers a longer range at a lower price point – making it one of the most appealing SUVs for those looking for value for money when making their vehicle purchase decision.
5000 Pound Towing Capacity
The Kia EV9 electric SUV offers an impressive 5000-pound towing capacity, the highest of any three-row electric crossover. This phenomenal power ensures you can bring everything you need along when taking a trip – boats, trailers, campers, and more.
With this much towing capacity, you won't have to worry about packing light or making multiple trips just because your vehicle isn't up for the job. With its powerful torque of up to 516 lb-ft combined with an efficient battery range of up to 336 miles per charge, hitting the road has never been easier while hauling all your essentials in one go!
Interior Features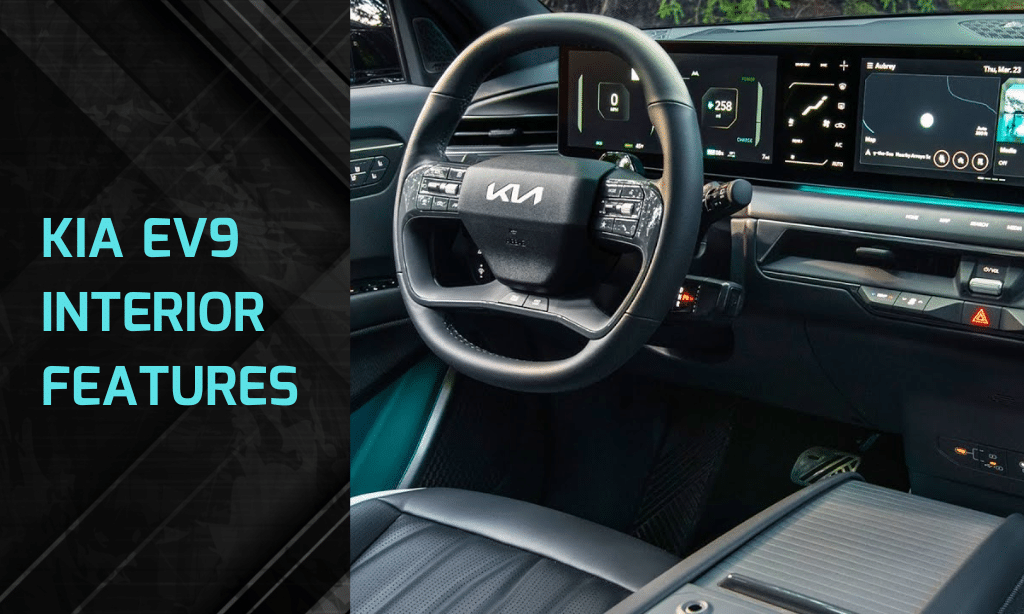 Step into a spacious and airy cabin with room for up to 6-7 passengers, the Kia EV9 is an excellent choice for family trips. Discover the improved dashboard technology and more as you explore this electric SUV's interior features.
The Spacious and Airy Cabin
The Kia EV9 has a spacious three-row seating configuration, offering plenty of room for passengers. The interior features an extra storage space in the form of a front trunk or 'frunk' that adds to the overall utility of the car.
With its airy and clean-looking cabin, Kia executives paid attention to creating an uncomplicated yet technologically advanced space. To make it even better, they included family-friendly features such as improved display screens and uniquely shaped steering wheels, adding complexity yet easy maneuverability around intricate road directions.
These design elements help create an enjoyable driving experience while ensuring maximum passenger comfort with their overwhelmingly spacious seating capacity and high roofline, allowing tall people to function without having to hunch down or have back pains due to cramped spaces in smaller cars.
Family-Friendly With Room for 6-7 Passengers
The Kia EV9 is a spacious and comfortable SUV designed to provide room for up to six or seven people, with a second-row split between two captain's chairs and a bench seat. The interior of the EV9 is airy and inviting; windows that reach all the way into the third row ensure plenty of natural light in every seating area.
With pockets and trays at each seating position providing easy access to essential items, this SUV will help keep your family entertained on any trip. Its low floor ensures you can get everyone inside without having to strain themselves while climbing aboard.
The exterior looks sleek, too – its shape combined with LED accents helps give the vehicle an elegant look from any angle! Whether it's your daily commute or longer trips, there's plenty of space inside the Kia EV9 for everyone in your family.
Improved Dashboard Technology
The Kia EV9's dashboard is attractive and practical, with a large display screen presenting the driver with all the required data. Central to its features are haptic shortcut buttons, which are designed to allow the driver quick access to their most used functions without having to scroll through menus or screens.
The design ensures a level of interactivity between the user and the machine, allowing for intuitive control in a way not present on many vehicles' dashboards before it. Also featured is OTA (over-the-air) technology, allowing users to update their infotainment system when new updates become available wirelessly; these could be bug fixes, feature upgrades, or general performance improvements – ensuring your vehicle stays as up-to-date as possible!
Test Drive Experience
The driving experience was exciting as I tested the Kia EV9 in Korea, with its electric powertrain performing like a dream and driver-aid features offering assistance when needed.
Testing in Korea
The Kia EV9 is currently undergoing testing and development in South Korea. This testing is essential to ensure a smooth release of the vehicle once it officially hits the market. The performance and motoring capabilities of the EV9 are being tested for both short-distance city driving and long-distance journeys on highways.
Autonomous features, such as the Highway Driving Pilot system, enabling conditional Level 3 autonomous driving, have also been seen during tests in various parts of South Korea. Reports from MotorTrend suggest that overall, there have been positive results from these tests regarding aspects like powertrain performance, driver aid technology, and autonomous tech capability with improved dashboard functions compared to earlier models.
It's certainly an exciting time for shoppers interested in this electric SUV!
Electric Powertrain Performance
The Kia EV9 electric SUV reaches its full potential thanks to a high-performance electric powertrain that puts it ahead of the competition. The powerful dual-electric propulsion motors generate an impressive 379 horsepower and 516 lb-ft of torque, allowing for exceptional acceleration and handling.
With torque vectoring, you'll also have improved control at higher speeds when cornering. Underneath it all is Kia's dedicated E-GMP platform, giving the EV9 superior balance and performance on the road. Indeed, nothing quite compares to driving this vehicle on winding roads or city streets!
Driver Aid Technology
I was thoroughly impressed with the driver-aid technology in the Kia EV9. The Remote Smart Parking Assist 2 feature provides diagonal parking support embraced by top-end luxury vehicles, thereby empowering convenience for all types of drivers.
Additionally, Kia's Drive Wise collection of advanced driving-assistance systems ensures that you have options to stay stress-free on roads and remain confident during difficult maneuvers such as lane centering or active emergency braking when required.
Furthermore, level 3 self-driving capabilities featured alongside 15 sensors, which include two lidar sensors, make this vehicle worthy of its value and put it amongst the classier options available for EVs today.
Comparison with Other SUVs
Look into how the Kia EV9 stacks up against its competitors, such as the EV6 and Toyota Grand Highlander Max Limited, in a 3-row SUV big test comparison.
Kia EV9 vs. EV6
The Kia EV9 is a three-row electric SUV that adds extra room and towing capacity for those seeking an elevated, family-friendly ride. On the other hand, the EV6 is a smaller crossover with just two rows of seating ideal for a more urban lifestyle.
The EV9 has a boxier shape than its successor, allowing it to offer more passenger space for up to seven people. Along with this bump in interior roominess, it also features improved dashboard technology with all the modern comfort you'd expect from such a high-performance vehicle.
However, where the real difference lies between these offer EVs is found under the hood: while both Pairs boast powerful motors, they differ greatly when it comes to range and tow capabilities – making each model suitable for different needs. The Kia EV9 packs a 76.1-kWh battery along with taking advantage of 336 miles on a single charge, whereas the theEV6 offers considerably less capacity – making if better suited for drivers who do not need long trips or heavy hauling jobs but instead favor their car's adaptable size and sporty look over functionality capability.
EV9 vs. Toyota Grand Highlander Max Limited
The Kia EV9 has seen a recent surge in popularity due to its three-row electric SUV offering and sporty performance. With a 76.1kWh battery, the EV9 offers up to 336 miles on one charge and a powerful 5000-pound towing capacity.
Meanwhile, the Toyota Grand Highlander Max Limited is noticeably larger than the regular model, measuring 6.5 inches longer and 2.0 inches taller while offering better equipment for drivers looking for more space without losing any of their powertrains or driving performance capabilities.
The base EV9 RWD model has 215 horsepower available. At the same time, higher levels of power are available with an All-Wheel Drive version, too – making it great for tough terrain and long drives alike and having enough grunt to pull off whatever you need with ease!
The Grand Highlander also now features increased tech capabilities with improved dashboard technology such as Bluetooth audio streaming capabilities, heated front seats plus driver aid technology galore that make this pick from Toyota stand out among competitors in terms of both comfort and convenience levels!
3-row SUV Big Test Comparison
Comparing the Kia EV9 to other three-row SUVs on the market shows that it is an excellent choice when considering both performance and value. Powered by a 76.1-kWh battery and boasting an estimated driving range of up to 336 miles, the EV9 is capable of outperforming even its pricey competitors like Tesla Model X and Rivian R1S in terms of powertrain efficiency; however, this electric vehicle comes with a considerably more affordable price tag.
From its lavish interior with comfortable seating for 7 passengers coupled with improved dashboard technology to family-friendly features such as adjustable second-row seats that make room for larger items or extra legroom when needed, the EV9 gives drivers an exceptional and luxurious ride at a great price.
With numerous safety advances like a blind spot monitoring system combined with punching output from twin electric motors plus comfortable third-row seat space fare far better than you'd expect from any other large SUVs in this segment, thus making Kia EV9 one of the best performing all-electric three-row SUV you can buy currently..
Early Reviews
Initial reviews of the Kia EV9 have been incredibly positive, making it a must-have for car enthusiasts looking to get their hands on the latest electric SUV.
Positive Feedback From Edmunds
The team at Edmunds has praised the Kia EV9 for its sophisticated technology, luxuriously appointed interior, and agile performance. According to their review of this vehicle, most features are top-tier or better than what you'd get from competitors in terms of comfort and quality.
They highlighted the spacious cabin as well as the large cargo area that is perfect for families with plenty of gear. The intuitive dashboard, quiet electric powertrain, and driver aid technologies also got a thumbs up from Edmunds which can make your daily drive more enjoyable.
Additionally, the impressive range per full charge gives it an edge over other vehicles on long trips, resulting in fewer stops to refuel or recharge along the way — an important consideration when EV shopping!
Highly Recommended by MotorTrend
MotorTrend gave the Kia EV9 an exclusive first-drive review. They were thoroughly impressed by the improvements in performance, design, and interior features. According to them, the EV9 is perfect for a family car, with its three roomy rows seating up to seven passengers comfortably.
Furthermore, MotorTrend praised the quick acceleration of this electric SUV powered by a 76kWh battery that gives it a range of 336 miles on one charge – good enough for long road trips without any worry.
Additionally, their testers found the driver-aid technology helpful and useful on Korea's busy roads while driving; they also applauded its exterior styling along with great bump insulation for an even smoother ride experience! All in all, MotorTrend highly recommends this electric vehicle, citing modern features such as improved dashboard tech plus an airy cabin, which is sure to make your travel worthwhile each time.
Features to Look Forward to in 2024
The Kia EV9 promises to be a major breakthrough in vehicle technology, with an array of features to look forward to that will bring enhanced comfort and convenience for the whole family.
Enhanced Tech Capabilities
The Kia EV9 is an electric SUV that marks a major milestone for the brand, offering advanced technology and features to drivers. It's equipped with standard driver-assistance features such as blind-spot monitoring and automated emergency braking, making it a safe pick for drivers on the go.
Additionally, it is also capable of over-the-air updates via its connected services platform so your car can always remain up to date. Developed on the E-GMP architecture dedicated solely to electric vehicles, this vehicle packs more technology than some other EVs on the market.
It offers superior tech capabilities that let you stay connected while driving. Moreover, thanks to its fourth-generation battery technology, it has great performance and range both when in motion or idle – providing 336 miles on a single charge! Finally, with its modern amenities, including Advanced special interior lighting (ASIL) effects and digital instrument cluster, you will certainly be captivated by how many futuristic elements are included inside this Tesla rivaling SUV!
Potential for Dominating the EV Market
As the electric vehicle revolution continues to gain momentum, Kia is making sure it's positioned in the driver's seat of this rapidly changing industry. The International Energy Agency predicts that global EV sales will dominate the auto market by 2040, and Kia is actively looking to lead the way with an ambitious plan to introduce seven dedicated electric models by 2027, as well as achieving 70% of total sales for EVs.
Making good on their promise, Kia has released several new EV models back-to-back over recent years, such as the Niro Hybrid SUV and now its three-row all-electric sibling -the Kia EV9.
Together, these vehicles serve not only as compelling products from a design standpoint but are also becoming increasingly attractive choices from a business perspective, given their lower emissions, amenities, and competitive point of entry within larger markets.
Release Date and Pricing
Expected to hit the market in 2024, pricing is yet to be determined – get ready for the ride of your life!
Expected Release in 2024
The highly anticipated Kia EV9 is slated to arrive in the US market in 2024, making it the brand's first three-row electric SUV. With an initial price of $54,900, the EV9 is expected to offer drivers exceptional performance and range for its price point.
It's touted as a top contender when compared to other popular EVs such as the Tesla Model X and Audi E-Tron. The all-electric powertrain of the EV9 will ensure up to 336 miles on a single charge due to its 76.1 kWh battery.
This SUV also won't skimp on features with improved dashboard technology and the potential for 5000 pounds of hauling capabilities. Early reviews praise it as one of Kia's best-performing SUVs yet with powerful acceleration and handling – perfect for family trips or commuting around town! Considering its impressive range, affordability, advanced features, and reliable airy cabin -the upcoming arrival of this AEV shows great potential to dominate the EV market by 2023!
Initial Pricing Estimates
The Kia EV9 carries a base price of $54,900. This includes a range-topping 76.1kWh battery that offers up to 336 miles on one charge and a 5000-pound towing capacity. However, the more powerful 4WD variant of the EV9 with two electric motors bundled together will cost an extra few thousand dollars – putting it firmly into the upper end of pricing for electric SUVs on sale today.
It's important to note that there may be additional costs too – such as options packages or colors – so make sure you factor these in when budgeting for your purchase. In comparison, competitors like the Toyota Grand Highlander Max Limited start from just over sixty thousand dollars and offer fewer specifications than EV9 does at its base price point – making it great value for money in terms of performance packed inside an efficient package!
Frequently Asked Questions (FAQs)
Now, let's explore some frequently asked questions regarding Kia EV9.
1. What is the Kia EV9?
The Kia EV9 is an electric vehicle released by Kia Motors in 2021, featuring a powerful range of features and cutting-edge technology to provide efficient and reliable transportation.
2. What are the new updates for the EV9 in 2023?
In 2023, the latest updates for the Kia EV9 include a longer battery range offering up to 480 km per charge as well as improvements on several safety systems such as Electronic Stability Control (ESC) and Collision Avoidance Assist (CAA).
3. How do I find out more about this car?
Reviews from industry experts can be found online, which discuss various features of the car, such as performance, interior & exterior styling options, battery life, etc., allowing readers to gain insights into how it may suit their needs.
4. Are there any other electric vehicles available similar to Kia?
Yes! The Hyundai Group has numerous models released for EVs, including the IONIQ 5 SUV concept or other models from sister companies like Genesis G80 PHEV or Sonata N Line HEV, allowing customers wider selections when looking for a suitable electric vehicle option.
Takeaway
The Kia EV9 is an exciting new all-electric SUV that, in the near future, will be available for purchase. With a spacious interior and three rows of seating, the EV9 is perfect for family adventures or long trips.
It has also been receiving positive press from car review websites such as Edmunds and MotorTrend due to its impressive performance and powertrain options. The vehicle boasts up to 336 miles on a single charge thanks to its 76.1 kWh battery, making it one of the most efficient electric SUVs on the market.
The EV9 will be released later in 2023, according to Kia's latest statements, at an estimated price of nearly $56,000 USD; however, pricing may still change due to any improvements made before the release date next year.
With enhanced tech features planned ahead and the potential for dominating other competitors like Toyota Grand Highlander Max Limited soon after its launch in 2024 – we can look forward to even more space-age capabilities with this advanced stage zero emission certification bestowed upon it!