HRW Says Israel Used White Phosphorus in Gaza, Risking Civilians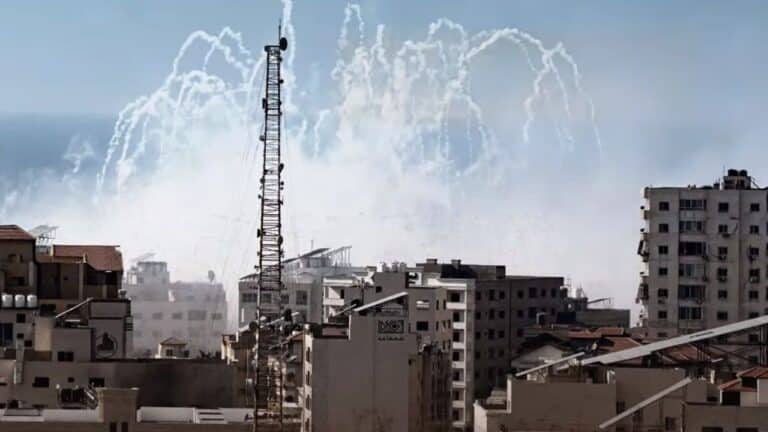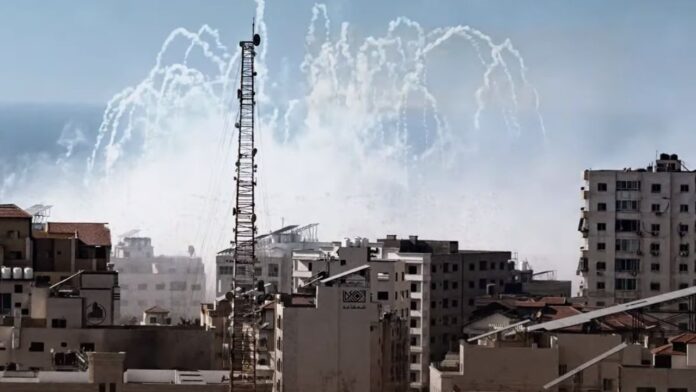 Human Rights Watch claims Israel used highly dangerous white phosphorus munitions in Gaza, violating obligations to avoid civilian harm. Israel denies the accusations.
White phosphorus risks excruciating burns and death when used in populated areas, HRW said. The group called for banning its airburst artillery use near civilians.
White Phosphorus Poses Grave Dangers to Civilians
HRW said it verified footage of white phosphorus attacks over Gaza's port and border areas with Lebanon on Tuesday and Wednesday.
White phosphorus can indiscriminately burn down urban buildings and inflict egregious civilian injuries, HRW noted.
Israel Obligated to Avoid Civilian Harm
HRW said using white phosphorus in crowded areas violates Israel's duty under international law to take all precautions protecting civilians.
Israel is not party to conventions banning the substance near civilians. But rights norms still prohibit indiscriminate incendiary weapons.
Israel Military Denies White Phosphorus Use Allegations
On Friday, the Israeli military categorically denied using white phosphorus munitions in Gaza. It called the accusations "unequivocally false."
Israel said it only uses the substance responsibly for marking targets and screening its forces. But HRW claims its Gaza use was indiscriminate.
History of White Phosphorus Usage Allegations Against Israel
This is not the first time Israel has faced allegations of improperly deploying white phosphorus explosives in Gaza.
2009 Gaza Bombing Campaign
Rights groups widely condemned Israel's extensive use of white phosphorus munitions during its 2008-2009 bombardment of Gaza.
Hundreds of civilians suffered severe burn injuries from purported white phosphorus deployment near homes and buildings.
Pledge to Limit After 2013 Court Petition
In 2013, Israel pledged to restrict white phosphorus to exceptional cases in populated zones after a petition.
This followed international outrage over apparent indiscriminate deployment in Gaza. Israel said it would exercise restraint going forward.
Ongoing Scrutiny From Rights Advocates
Despite Israel's promises, human rights organizations continue scrutinizing its wartime conduct in Gaza and Lebanon.
Particularly, they monitor for illegal munitions like white phosphorus that disproportionately endanger civilians when used improperly.
Conclusion
The latest allegations over white phosphorus come amid Israel's intensive Gaza offensive following Hamas' attacks. But indiscriminate incendiaries would only compound suffering on both sides.
If verified, HRW's charges would mark troubling backsliding from prior restraint pledges. Israel must ensure full compliance with international humanitarian law, even against reprehensible attacks.
Above all, finding a just political solution is imperative to prevent further loss of civilian life through renewed violence. Diplomacy remains the only sustainable path to peace for Israelis and Palestinians alike.