iPhone 15 vs iPhone 15 Plus: Which One Should You Go for?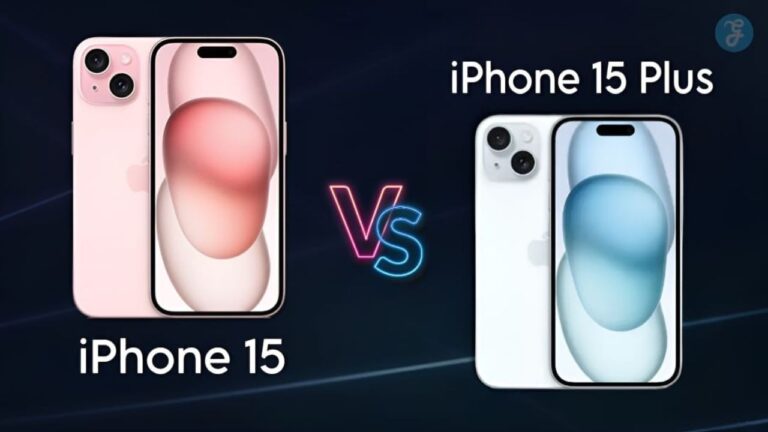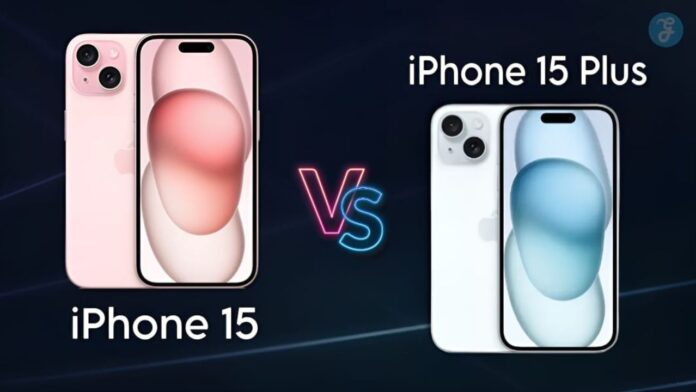 Are you curious about the differences between the iPhone 15 vs iPhone 15 Plus? Do you want to know which model would be a better fit for your needs? Well, look no further! The new Apple's 4nm A16 Bionic chip, coupled with its 5-core GPU, make these devices some of the most advanced iPhones yet.
This blog will help readers understand each model and compare their key differences, including design, display specs, performance capabilities, price comparison, and more. Let's dive in and uncover what makes one device unique from another!
Content Highlights
Both the iPhone 15 and 15 Plus feature an all-new design called Dynamic Island.
The iPhone 15 has a 6.1" OLED display, But the 15 Plus version features a larger 6.7 inch Super Retina XDR display perfect for expansive gaming or movie-watching experiences
The A16 Bionic chipset is common across both models of iPhones and boasts 128GB, 256GB, and 512 GB storage options capable of optimized performance.
Features differ between the regular iPhone 15 & iPhone 15 Plus, including display size & resolution capabilities as well as imaging tech specs such as a 5x Zoom camera on Pro Max
Overview of iPhone 15 Models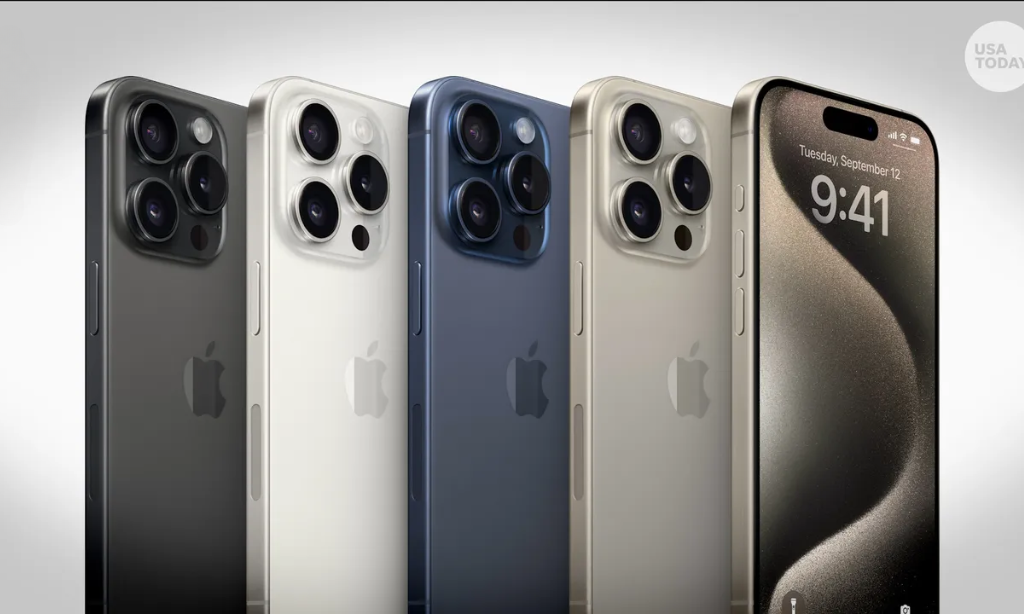 The Apple iPhone 15 series consists of four models: the iPhone 15, iPhone 15 Plus, iPhone 15 Pro, and the encore edition –iPhone 15 Pro Max.
iPhone 15
The new iPhone 15 is the latest model from Apple, offering some of the best and most advanced features on a smartphone. Made from aluminum alloy with an IP68 rating for water resistance up to 6 meters deep, it has a 6.1-inch Retina XDR OLED display with TrueTone adaptive technology that supports HDR 10 and Dolby Vision for stunning visuals.
The powerful A15 Bionic chip ensures fast performance, while Apple's 4-core GPU handles graphics. As far as cameras go, there's a dual 48/12MP rear camera setup with night mode and portraiture lighting effects, along with optical image stabilization video recording capabilities in 4k at 24/30/60fps.
On the front, you get an additional 12MP TrueDepth selfie cam as well as Face ID facial recognition tech for quick unlock speeds used to sign into various services over Wi-Fi or cellular networks securely.
iPhone 15 Plus
The iPhone 15 Plus is the perfect device for power users and those looking for expansive visuals. It comes with a bigger display size compared to that seen on the standard iPhone 15, measuring 6.7 inches across its diagonal with Dynamic AMOLED technology for seemingly seamless visual performance.
It also features an A16 bionic chip to ensure maximum energy efficiency regardless of what one might be doing while on the device. Additionally, its 48MP main camera, along with 2x optical zoom capability, gives users excellent image quality even in low-lighting scenarios.
iPhone 15 Pro
The iPhone 15 Pro is the highest-end model in Apple's 2023 lineup, providing users with an enhanced version of features found on the iPhone 15 and iPhone 15 Plus models. It boasts a larger 6.7-inch Super Retina XDR OLED display and packs a bigger 2,800 mAh battery compared to its predecessors.
This flagship phone also offers increased performance powered by an A17 Pro chip which provides up to 30% faster speed and allows for smooth multitasking capabilities. Furthermore, the improved four-camera system has been replaced with one 12MP lens rather than three cameras, resulting in sharper images while significantly slimming down the device's size profile at 7.4mm thinness overall and weighing list at 229g only.
iPhone 15 Pro Max
The iPhone 15 Pro Max is the latest and most advanced model released by Apple. It features a 48MP camera, providing enhanced imaging capabilities compared to that of its counterparts.
Specifically designed for capturing high-definition images and video, the Pro Max offers superior zooming abilities along with improved low-light performance. The device also features high-resolution display technology as well as an audio experience that rivals top-level home theater systems.
With 48 megapixels and a wide aperture lens, this flagship phone delivers superior image quality with stunning photography presentations even in challenging lighting conditions. When it comes to multimedia features, the iPhone 15 Pro Max provides users with plenty of options, including Dolby Atmos surround sound resulting in a sublime audiovisual experience.
iPhone 15 vs iPhone 15 Plus: Similar Features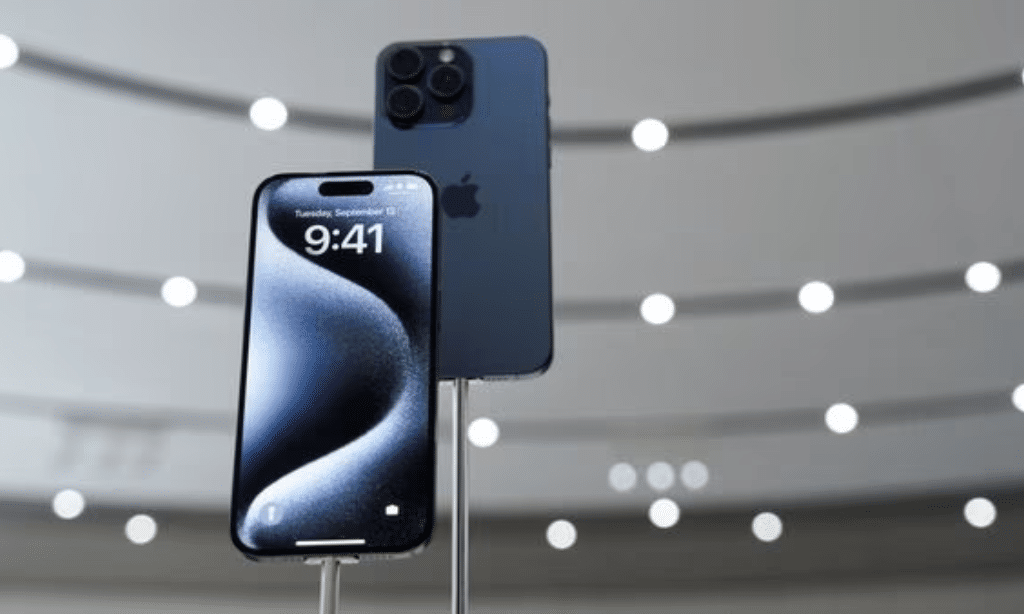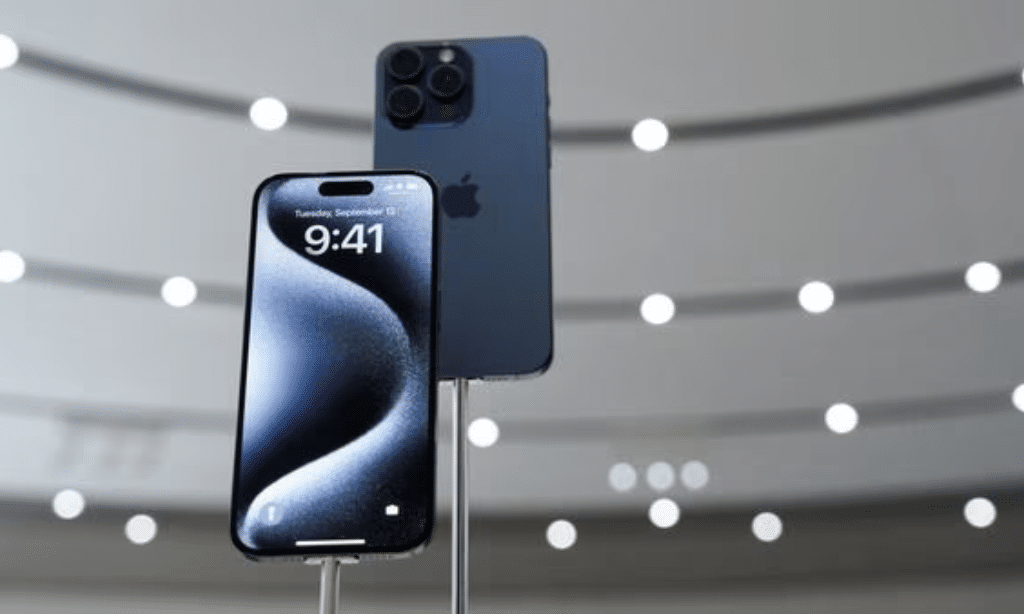 IPhone 15 and iPhone 15 Plus have so many features in common. First, let's get to know about them according to authentic information from Apple.
Specification
iPhone 15
iPhone 15 Plus
Finish
Black, Blue, Green, Yellow, Pink
Black, Blue, Green, Yellow, Pink
Design
Aluminum design
Aluminum design
Front Protection
Ceramic Shield front
Ceramic Shield front
Back Material
Color-infused glass back
Color-infused glass back
Capacity
128 GB/256 GB/512 GB
128 GB/256 GB/512 GB
Size and Weight
5.81inches; 171 grams
6.33inches; 201 grams
Display
Super Retina XDR display
Super Retina XDR display
Display Resolution (ppi)
460 ppi (2556‑by‑1179-pixel resolution)
460 ppi (2796‑by‑1290-pixel resolution)
Chip
A16 Bionic chip
A16 Bionic chip
CPU Cores
6-core CPU (2 performance, 4 efficiency)
6-core CPU (2 performance, 4 efficiency)
GPU
5-core GPU
5-core GPU
Neural Engine
16-core Neural Engine
16-core Neural Engine
Camera System
Advanced dual-camera system
Advanced dual-camera system
Main Camera
48MP Main, 12MP Ultra Wide, 12MP Telephoto
48MP Main, 12MP Ultra Wide, 12MP Telephoto
Optical Zoom (Main)
2x optical zoom in, 2x optical zoom out, 4x optical zoom range
2x optical zoom in, 2x optical zoom out, 4x optical zoom range
Digital Zoom (Main)
Up to 10x
Up to 10x
Video Recording (Main)
4K at various fps, HDR video recording with Dolby Vision
4K at various fps, HDR video recording with Dolby Vision
Front Camera (TrueDepth)
12MP camera
12MP camera
Face ID
Enabled by TrueDepth camera
Enabled by TrueDepth camera
Apple Pay
Yes (Face ID support)
Yes (Face ID support)
Apple Card
Yes
Yes
Power and Battery

Video playback
Up to 20 hours

Video playback (streamed)
Up to 16 hours

Audio playback
Up to 80 hours

Built-in rechargeable lithium-ion battery
MagSafe wireless charging up to 15W
Qi wireless charging up to 7.5W

Video playback
Up to 26 hours

Video playback (streamed)
Up to 20 hours

Audio playback
Up to 100 hours

Built-in rechargeable lithium-ion battery
MagSafe wireless charging up to 15W
Qi wireless charging up to 7.5W

Safety Features
Emergency SOS, Crash Detection, Roadside Assistance
Emergency SOS, Crash Detection, Roadside Assistance
Carriers
Varies by region and carrier
Varies by region and carrier
Table: iPhone 15 vs iPhone 15 Plus Specification
Design and Finish
The iPhone 15 and iPhone 15 Plus stand as prime examples of Apple's commitment to design excellence. Available in a captivating array of finishes, including Black, Blue, Green, Yellow, and Pink, these smartphones offer users a chance to express their style and individuality. The sleek and modern design of both models incorporates a robust aluminum frame, striking a balance between aesthetics and durability. This not only adds to their premium feel but also ensures that they can withstand the rigors of daily use while maintaining their elegant appearance.
Front Protection and Back Material
Apple has prioritized user peace of mind with its choice of materials. The front of these iPhones is fortified with Ceramic Shield glass, a cutting-edge technology that provides an extra layer of protection. This Ceramic Shield glass not only enhances durability but also significantly improves resilience to accidental drops, reducing the likelihood of screen damage.
On the back, users will find color-infused glass, which is not only visually striking but also contributes to the device's overall premium feel. These devices are designed to be beautiful and sturdy inside and out.
Display Excellence
A standout feature shared by both the iPhone 15 and iPhone 15 Plus is their Super Retina XDR display. This cutting-edge OLED display technology guarantees an exceptional visual experience with vibrant colors, deep blacks, and incredible contrast.
With a pixel density of 460 pixels per inch (PPI), these displays deliver sharp, true-to-life visuals that enhance everything from streaming movies to viewing photos and reading text. The Super Retina XDR display ensures that every detail is vividly rendered, making for an immersive viewing experience.
Powerful Chipsets and Processing
Under the hood, both the iPhone 15 and iPhone 15 Plus are powered by the Apple A16 Bionic chip, a testament to Apple's commitment to performance and efficiency. This chipset features a 6-core CPU consisting of 2 performance cores and 4 efficiency cores. This configuration not only ensures speedy performance but also intelligent power management, optimizing battery life.
The 5-core GPU ensures smooth graphics performance, ideal for gaming and graphic-intensive tasks. Additionally, the 16-core Neural Engine enhances machine learning capabilities, contributing to the devices' overall intelligence and efficiency.
Advanced Camera Systems
For photography enthusiasts, the advanced dual-camera systems on both iPhone models are a dream come true. The main camera boasts a 48MP sensor with 2x optical zoom capabilities, making it ideal for capturing impressive close-up shots and detailed images. This camera also supports digital zoom of up to 10x, allowing users to get closer to distant subjects without compromising image quality.
Complementing the main camera, the 12MP Ultra Wide and 12MP Telephoto lenses further enhance the camera's versatility, ensuring you're prepared for any photographic challenge. Whether you're capturing breathtaking landscapes or intricate details, these cameras deliver.
Video Recording and TrueDepth Camera
Videographers will find plenty to love with the 4K video recording capabilities of both iPhones. With various frame rate options, HDR support, and Dolby Vision capabilities, these devices are well-equipped for capturing cinematic moments.
The front-facing TrueDepth camera, featuring a 12MP sensor, not only enables Face ID for secure facial recognition but also adds a layer of fun with Animoji and Memoji. This front camera ensures that your video calls and selfies look as stunning as the rest of your content. Additionally, the video capabilities, including cinematic video stabilization, make it easier than ever to capture professional-looking footage.
Apple Pay and Apple Card
Apple's ecosystem seamlessly integrates into both devices, enhancing convenience and security. Apple Pay, supported by the advanced Face ID technology, allows users to make secure transactions in stores, within apps, and on the web. This feature ensures that your financial data remains protected, making payments quick and effortless. Furthermore, the Apple Card offers a unique and rewarding financial experience.
Users can enjoy benefits such as unlimited 3% Daily Cash at Apple and select merchants, 2% with Apple Pay, and 1% everywhere else. The option to grow your Daily Cash rewards by depositing them into a high-yield Savings account adds another layer of financial convenience.
The physical Apple Card, crafted from titanium and laser-etched, offers a traditional payment option for places where Apple Pay is not yet accepted. For families, the ability to share the Apple Card with up to five people in your Family Sharing group is a valuable financial management tool.
Safety and Emergency Features
Safety is a paramount concern, and Apple has equipped both iPhones with essential safety features. These devices include Emergency SOS, Crash Detection, and Roadside Assistance, ensuring that you have peace of mind when on the road or facing emergencies. With these features at your fingertips, you can quickly access help and assistance when you need it most.
Carrier Compatibility
While carrier options may vary by region, both iPhones are designed to work seamlessly with a wide range of carriers. This ensures that you have the flexibility to choose the carrier that best suits your needs, whether it's for coverage, pricing, or specific features.
In conclusion, the iPhone 15 and iPhone 15 Plus share an impressive array of features that cater to a wide range of user preferences. Whether you opt for the standard iPhone 15 or the larger iPhone 15 Plus, you can expect a powerful, feature-rich smartphone experience from Apple. These devices combine stunning design, cutting-edge technology, and a robust ecosystem to deliver a package that meets the demands of today's smartphone users.
Different  Features
| | | |
| --- | --- | --- |
| Dimensions (mm) | 71.6 x 147.6 x 7.80 | 77.8 x 160.9 x 7.80 |
| Weight (g) | 171 grams | 201 grams |
| Display Size (inches) | 6.1 inches | 6.7 inches |
| Display Resolution (ppi) | 460 ppi | 460 ppi |
| Video Playback (hours) | Up to 20 hours (local), Up to 16 hours (streamed) | Up to 26 hours (local), Up to 20 hours (streamed) |
| Audio Playback (hours) | Up to 80 hours | Up to 100 hours |
Apple's iPhone 15 and iPhone 15 Plus offer a wealth of similar features, but they also come with some notable differences that cater to various user preferences. In this article, we will delve into these distinctions, focusing on dimensions, weight, display size, and battery life.
Dimensions and Weight
One of the first differences you'll notice between the iPhone 15 and iPhone 15 Plus is their physical dimensions. The iPhone 15 measures 71.6 x 147.6 x 7.80 mm, making it a more compact and pocket-friendly option. In contrast, the iPhone 15 Plus is slightly larger, with dimensions of 77.8 x 160.9 x 7.80 mm. This size variation impacts how these devices feel in your hand and how easily they fit into your daily life.
Weight is another differentiating factor. The iPhone 15, with its smaller form factor, weighs in at 171 grams. It strikes a balance between a lightweight feel and substance. On the other hand, the iPhone 15 Plus, being the larger of the two, is somewhat heftier at 201 grams. This additional weight contributes to its solid and substantial presence.
Display Size and Resolution
The display size is a prominent difference between these two iPhones. The iPhone 15 features a 6.1-inch screen, providing an immersive visual experience while maintaining a manageable size for one-handed use. The screen's resolution stands at 460 pixels per inch (ppi), ensuring sharp and vibrant visuals.
In contrast, the iPhone 15 Plus boasts a larger 6.7-inch display. This size offers an even more immersive viewing experience, making it ideal for multimedia consumption, gaming, and multitasking. Like its counterpart, it also sports a resolution of 460 ppi, guaranteeing stunning visuals.
Video and Audio Playback
Battery life for video and audio playback is another area where these devices differ. The iPhone 15 offers up to 20 hours of local video playback, ensuring that you can enjoy your favorite movies and TV shows for extended periods without worrying about running out of power. For streamed video content, it provides up to 16 hours of playback, allowing for binge-watching sessions on the go.
In contrast, the iPhone 15 Plus takes the multimedia experience to the next level. With up to 26 hours of local video playback, it's a powerhouse for watching movies, series, or your own videos during long journeys or flights. When it comes to streamed video content, it offers up to 20 hours of playback, making it an ideal choice for those who rely on streaming services for their entertainment needs.
For audio playback, the iPhone 15 boasts an impressive battery life of up to 80 hours, ensuring that your music and podcasts keep playing throughout the day and beyond. However, the iPhone 15 Plus takes it a step further with up to 100 hours of audio playback. This means you can enjoy your favorite tunes or podcasts for extended periods without needing to recharge.
Price Comparison
Apple has officially unveiled the iPhone 15 and iPhone 15 Plus, and with these remarkable devices come a range of storage and pricing options to cater to different user needs. Let's take a closer look at the pricing details for both models:
iPhone 15 Pricing:
6GB RAM + 128GB Storage: The base model of the iPhone 15 starts at $799, offering users ample storage for their apps, photos, and content.

6GB RAM + 256GB Storage: For those who require more storage space, the iPhone 15 with 256GB of storage is available at a starting price of $899, providing additional room for all your media and files.

6GB RAM + 512GB Storage: The top-tier storage option for the iPhone 15 is the 512GB variant, priced at $1,099. This configuration is perfect for users who demand extensive storage for their data-intensive needs.
iPhone 15 Plus Pricing:
6GB RAM + 128GB Storage: The base model of the larger iPhone 15 Plus starts at $899, providing users with a spacious 128GB of storage for their files, apps, and media.

6GB RAM + 256GB Storage: Users who require even more storage capacity can opt for the iPhone 15 Plus with 256GB of storage, available at a starting price of $999, ensuring they have room for their extensive content library.

6GB RAM + 512GB Storage: For those who demand the utmost in storage space, the iPhone 15 Plus offers a massive 512GB variant, priced at $1,199. This configuration is ideal for users who rely on their devices for storage-intensive tasks and multimedia.
It's worth noting that these prices are indicative of the official starting prices for both the iPhone 15 and iPhone 15 Plus. Pricing may vary depending on your region, carrier, and any additional features or accessories you choose to include with your purchase. Apple's commitment to offering a range of storage options ensures that users can select the model that best suits their storage needs and budget, making the iPhone 15 and iPhone 15 Plus accessible to a wide range of consumers.
Pros and Cons of Each Model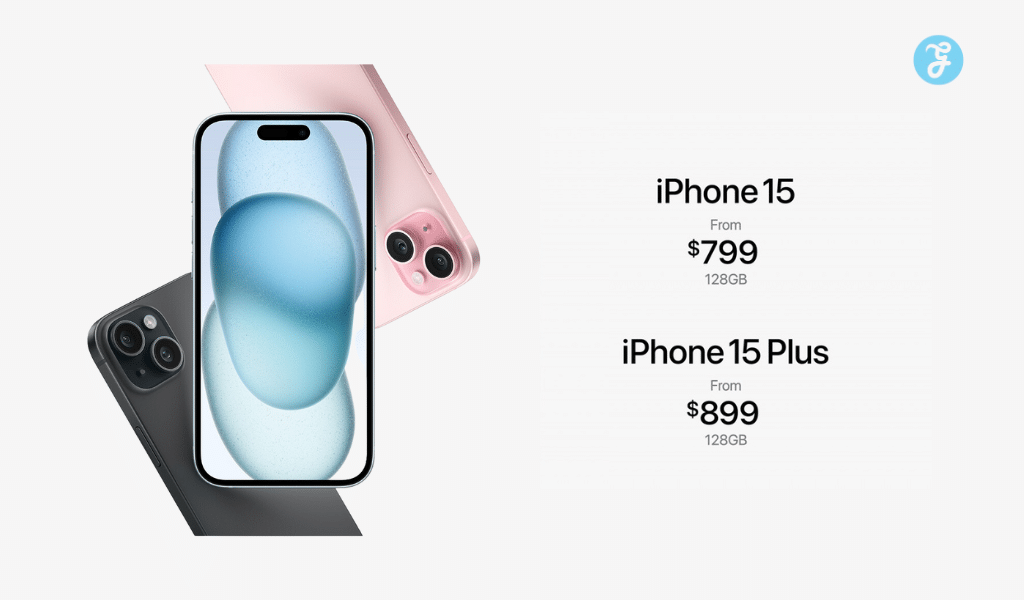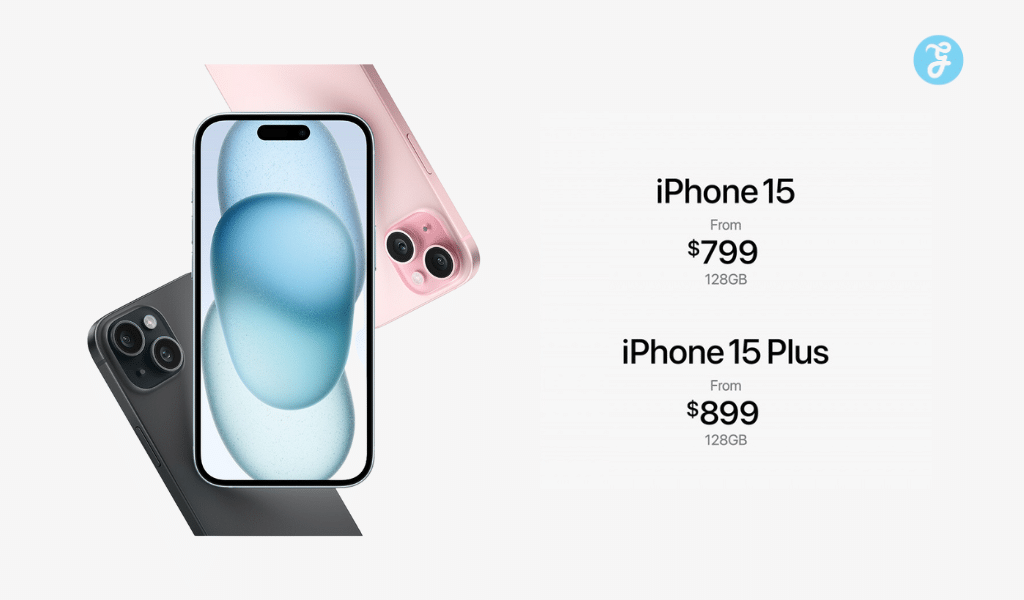 Let's dive into the strengths and weaknesses of each iPhone 15 model to help you make an informed decision.
Model
Pros
Cons
iPhone 15

The 6.1-inch screen size offers a comfortable viewing experience.
A16 Bionic chip enhances performance.
Offers 20 hours of video streaming.

Smaller screen size compared to iPhone 15 Plus and Pro models.
Lower video streaming time compared to the Pro model.

iPhone 15 Plus

Larger 6.7-inch screen for immersive viewing.
Features the new Dynamic Island design.
A16 Bionic chip for improved performance.

It may be too large for some users to handle comfortably.
Higher price tag compared to the standard iPhone 15.
Alternatives to Consider
Besides the new iPhone 15, users can also consider purchasing their previous model – iPhone 14 – as well as the newly released Samsung Galaxy S23 Ultra.
iPhone 14
The iPhone 14 and iPhone 14 Plus are the latest entry in Apple's powerful lineup of smartphones. With its 6.7-inch display, vibrant color options, durable Dynamic Island design, enhanced camera capabilities, and improved photography features – these devices provide a lot of power for their price tag!
In terms of specs, both phones have a 48MP main camera with advanced technology that supports higher resolution photos and videos than their predecessor models, which allows users to capture stunning images no matter the times they shoot.
Apart from this, they also have deeper HDR capability and improved night mode features, as well as an upgraded audio quality with immersive sound when using AirPods Pro or Beats Solo Pro headphones.
On top of this, battery life has been increased so you can get more done without having to recharge frequently – plus fast charging is supported, too, allowing you to get back up and running quickly! All in all, these phones deliver great value for money while still offering premium performance all at once.
Samsung Galaxy S23 Ultra
The Samsung Galaxy S23 Ultra is an advanced smartphone and a great alternative to the iPhone 15 series for those who prefer Samsung's design, interface, and feature set. Its 6.9-inch OLED screen, high-resolution 108MP camera that produces sharp images even in low light settings, 45W charging, 5G support, and long battery life make it ideal for users who want high performance with their daily tasks.
Additionally, with Dual Audio capability of connecting two Bluetooth devices at once and spatial audio by Dolby Atmos gives it an extra edge over its competitors. Despite its premium pricing tag starting from $1,199.99, the device stands out with enhanced photography features making it a worthy option to consider when deciding on your next mobile phone purchase! However, for an even better alternative, you can pick the Samsung Galaxy S24 Ultra
Should You Upgrade?
While the iPhone 15 and its various models share a number of features, there are key differences to consider before making a decision on which model you should upgrade to. In terms of design, the two iPhones differ in size – with the iPhone 15 boasting a 6.1-inch panel and the Plus version measuring out at 6.8 inches – so it's important for each potential buyer to determine what works best for them before purchasing either product.
Additionally, while both devices use an A16 chip and support 5g networks, they house vastly different batteries: The iPhone 15 runs on 2249mAh, whereas its larger counterpart —the iPhone Plus— supports 3687mAh.
The differing camera specifications between the two phones also play into how people can interact with their device – from taking portraits photos or shooting videos in 4K – this may be an especially notable difference when considering user preferences such as experience or even sheer enjoyment when using these cameras compared to other similar products.
Finally, readers will find that all four versions come equipped with different software packages as well and run at varying retail prices; consumers should weigh carefully how much bang you get value-wise if going Pro versus Standard level before settling on one choice exclusively are these factors together make upgrading to either model a complex consideration – one that needs thoughtful deliberation depending on individual interests prior to any purchase being made.
Frequently Asked Questions (FAQs)
Now let's learn about some related questions on this topic.
1. What is the difference between an iPhone 15 and an iPhone 15 Plus?
The main differences between an iPhone 15 and iPhone 15 Plus are size, display type, battery life, and others.
2. Is there a significant price difference between the two models?
Yes, the iPhone 15 is generally less expensive than the Plus model due to its smaller size and reduced specifications.
3. How do the cameras of each iPhone compare?
The iPhones have different camera features, including optical zoom capability on the Plus model, but both phones include double-lens rear-facing cameras with 12MP image resolution and similar displays in terms of color vibrancy and sharpness when viewing photos or videos taken from either device.   
Subscribe to Our Latest Newsletter
To Read Our Exclusive Content, Sign up Now.
$5/Monthly, $50/Yearly