Highest Meat Consumption Countries in the World [Latest Update]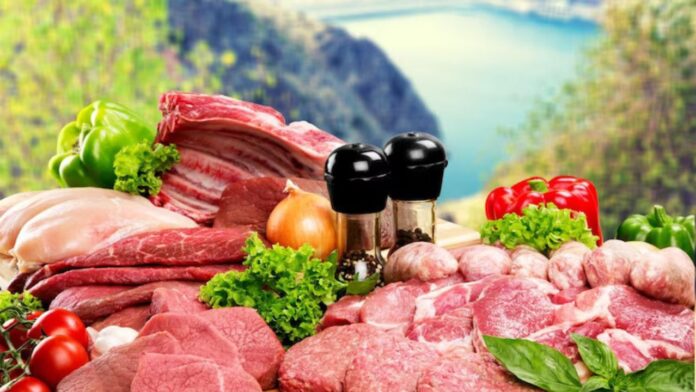 With the global population surpassing 8.1 billion, it's becoming increasingly clear that our current eating habits, particularly when it comes to meat, are unsustainable. According to a recent BBC investigation, agriculture and forestry together account for about 25% of global greenhouse gas emissions. That's on par with electricity and heating and far exceeds emissions from all transportation combined.
If we zoom in a bit more, livestock farming alone occupies 83% of agricultural land and produces 60% of the sector's greenhouse gas emissions. But here's the kicker: it only provides 18% of the calories and 37% of the protein that we consume. When you look at the math, relying so much on meat doesn't make economic or environmental sense.
Why Reducing Meat Is Crucial
In 2018, scientists conducted an exhaustive study concluding that the single most effective way for individuals to reduce their environmental impact is to cut back on meat and dairy. Then, in 2019, a group of 37 experts introduced the planetary health diet. This 'flexitarian' diet proposes a significant shift away from red meat consumption, recommending it be halved.
The benefits are manifold: reduced greenhouse gas emissions, better water conservation, prevention of species extinction, and minimized agricultural expansion. Not to mention the ethical considerations. As historian and philosopher Yuval Noah Harari has noted, industrial farming may well be considered one of history's greatest crimes, given the documented suffering of animals in the livestock sector.
Ethical and Health Concerns
The numbers are staggering. In the UK alone, millions of cattle, pigs, sheep, fish, and birds are slaughtered annually for food. While meat substitutes are on the rise, the ethical dilemma remains. Our reliance on animal farming is increasingly difficult to justify, especially as alternatives become more accessible and affordable.
Besides the environmental and ethical benefits, there are also health advantages to adopting a more plant-based diet. Diseases like heart attacks, strokes, and certain types of cancer, which are prevalent in developed countries, can be significantly reduced by cutting back on meat.
The High-Stakes Geography of Meat Consumption
According to a study by the UN's Intergovernmental Panel on Climate Change (IPCC), the Western world's meat-heavy diet is a major driver of global warming. Wealthier countries tend to consume more meat; it's a luxury that becomes more attainable as incomes rise.
Countries With the Lowest & Highest Meat Consumption
Data from Our World in Data reveals which countries have the highest and lowest average daily meat consumption:
Lowest Consumption
India, 10.10
Bangladesh, 11.3
Gambia, 17.6
Sri Lanka, 17.8
Ethiopia, 19.3
Rwanda, 22.0
Mozambique, 23.3
Nigeria, 25.2
Tanzania, 27.4
Guinea, 28.5 
Highest Consumption
Hong Kong SAR, China, 419.6
Australia, 318.5
USA, 315.5
Argentina, 293.8
Bahamas, 285.5
Samoa, 280.0
New Zealand, 277.8
French Polynesia, 27.07
St Lucia, 272.6
Luxembourg, 270.0
Rank of Countries Consuming the Most Meat
The data presented below is from Our World in Data and rates the average daily meat consumption of 173 nations or territories in grams per person per day. The data is from 2013, which is the most current year available.
| | | |
| --- | --- | --- |
| Rank | Country | Grams |
| 1 | Hong Kong SAR, China | 419.6 |
| 2 | Australia | 318.5 |
| 3 | USA | 315.5 |
| 4 | Argentina | 293.8 |
| 5 | Bahamas | 285.5 |
| 6 | Samoa | 280.0 |
| 7 | New Zealand | 277.8 |
| 8 | French Polynesia | 27.07 |
| 9 | St Lucia | 272.6 |
| 10 | Luxembourg | 270.0 |
| 11 | Brazil | 267.4 |
| 12 | Bermuda | 265.7 |
| 13 | St Vincent & Grenadines | 261.8 |
| 14 | Israel | 260.7 |
| 15 | Spain | 257.7 |
| 16 | Iceland | 255.7 |
| 17 | Austria | 249.0 |
| 18 | Canada | 248.7 |
| 19 | Netherlands | 245.2 |
| 20 | Belarus | 244.1 |
| 21 | Portugal | 242.1 |
| 22 | France | 237.7 |
| 23 | Ireland | 237.5 |
| 24 | Malta | 237.3 |
| 25 | Brunei | 235.6 |
| 26 | Germany | 235.5 |
| 27 | Chile | 234.8 |
| 28 | Antigua & Barbuda | 233.1 |
| 29 | Montenegro | 231.6 |
| 30 | Italy | 230.3 |
Subscribe to Our Latest Newsletter
To Read Our Exclusive Content, Sign up Now.
$5/Monthly, $50/Yearly