Google Pixel 8 Pro vs Pixel 7 Pro: Compare the Key Differences [Detail Guide]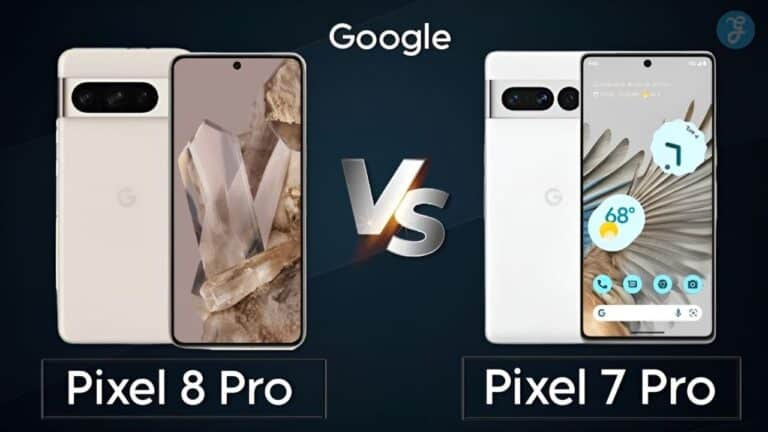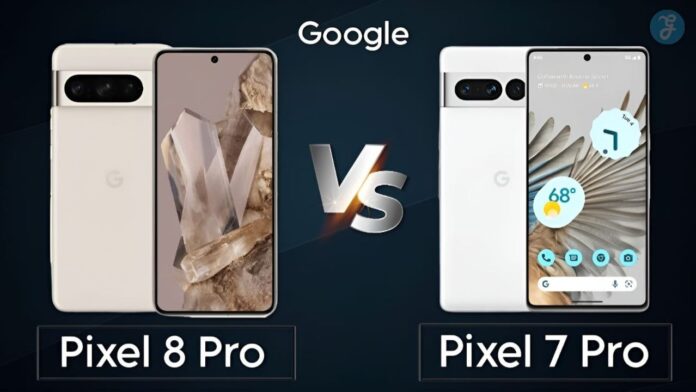 Are you wondering what the differences are between Google Pixel 8 Pro and Pixel 7 Pro? The Google Pixel series has become a flagship of reliable phones, boasting some standout features across the range.
Additionally, several rumors have suggested significant changes in design and specifications for the upcoming model. In this analysis, we will compare all the major key differences between Google Pixel 8 Pro vs Pixel 7 Pro to help you decide which one is better suited for your needs.
With this comparison article, you'll gain an insight into how much of an upgrade or improvement comes with each new release so that you can decide whether or not to buy newer models! Whether it's battery life, display quality, or camera specs- dive in and uncover all the details about these two devices!
Content Highlights
The Google Pixel 8 Pro has a slightly larger size and weight than the 7 Pro and improved biometric options such as in-display fingerprint scanners.
Both models feature an aluminum enclosure with sustainable sourcing practices for construction elements.
While both offer a generous 6.7-inch display size, the Pixel 8 Pro offers a higher refresh rate from 1 to 120Hz and a peak brightness of 2000 nits compared to 927 nits for the 7 Pro model.
Pixel 8 Pro promises performance upgrade with its new Tensor G3 chip, up to 12 GB RAM and 256GB internal storage while the Pixel 7 has max specs including Snapdragon 865 processor,12 GB RAM, and 512GB Storage option available.
Google Pixel 8 Pro vs Pixel 7 Pro: Design
The Google Pixel 8 Pro is slightly larger and heavier than the 7 Pro, with different materials used for construction. Moreover, biometric options are more advanced than the previous version, and new colors have been released for both models.
Differences in size and weight
If you're interested in the physical differences between the Google Pixel 8 Pro and Pixel 7 Pro, you're in the right place. Let's explore the variations in size and weight between these two devices.
|   | Google Pixel 8 Pro | Google Pixel 7 Pro |
| --- | --- | --- |
| Height | 162.6 mm (6.4 inches) | 162.9 mm |
| Width | 76.5 mm (3.01 inches) | 76.6 mm |
| Depth | 8.8 mm (0.35 inches) | 8.9 mm |
| Weight | 213 g (7.51 oz) | 212 g (7.48 oz) |
| Waterproof | IP68 | IP68 |
While we don't have precise measurements yet for the Google Pixel 8 Pro, we anticipate that the design trend will continue, with the newer Pixel 8 Pro being slightly taller and wider to accommodate a larger display. Despite the increased dimensions, we expect the Pixel 8 Pro to be thinner and lighter than the Pixel 7 Pro, giving it a sleeker, more streamlined look and feel.
Materials used
Not much is revealed when comparing the materials used in the Google Pixel 8 Pro and Pixel 7 Pro. Both models feature an aluminum enclosure made of 100% recycled content. The aluminum shell offers excellent durability compared to other plastic-backed smartphones and a slim form factor that fits conveniently in most pockets or hands.
Additionally, it gives these phones a modern metal look and feel that many consumers appreciate.
However, no information is provided about which specific materials have been used for construction inside either phone. Both contain environmentally friendly design elements, such as sustainable sourcing practices, throughout their compositions, but it's unclear what components are part of each model's construction elements. It's possible there may be differences given the differing price tags between both models – but this remains largely unknown to users right now until further details on specifics become available.
Biometric options
The two Google Pixel models, the Pixel 8 Pro and Pixel 7 Pro, offer high-tech biometric options. As per the recent trends in smartphone technology, both models offer in-display fingerprint scanners for secure and quick access. However, the Pixel 7 Pro also includes face unlocking, giving users an additional biometric option.
Here's a detailed comparison of the biometric options available on the Google Pixel 8 Pro and Pixel 7 Pro:
|   | Google Pixel 8 Pro | Google Pixel 7 Pro |
| --- | --- | --- |
| Biometric unlocking | Fingerprint (under display, optical) | In-display fingerprint scanner, face unlock |
| Additional features | 30X Super Res Zoom, Ultra Wideband (UWB) support | Face recognition might offer quicker access in certain situations |
In summary, while the Pixel 8 Pro sticks to the conventional and secure in-display fingerprint scanner, the Pixel 7 Pro provides an added layer of convenience with its face-unlocking feature.
Available colors
The Google Pixel 8 Pro is rumored to come in 4colors – Porcelain, Sky Blue, white, and Black Obsidian. Those looking for a sleek and dark option can opt for the classic Black Obsidian hue.
For those seeking an elegant look with something more unique than usual blacks or whites, then the Hazel color of the Pixel 7Pro might be a great choice. Snow provides users with a light yet stylish tone that catches everyone's attention.
Additionally, these Pixel devices offer their striking porcelain shade, making it difficult to overlook its attraction and appeal. Both devices present buyers with various curvature hue options to choose from, which satisfy anyone's tastes depending on what best suits their needs before choosing either device.
Display Differences
With the Pixel 8 Pro having a larger refresh rate, peak brightness, and better screen-to-body ratio than its predecessor, it is easy to see why this phone will be popular among mobile users.
See what else these phones have to offer!
Size and refresh rate
A smartphone's size and refresh rate significantly affect user experience. The Google Pixel 8 Pro and Pixel 7 Pro both feature a generous 6.7-inch display. As for the refresh rate, both devices come with a high adaptive refresh rate ranging from 1 to 120Hz, ensuring a smooth and responsive display. 
Peak brightness
The Google Pixel 8 Pro and Pixel 7 Pro are expected to show a stark difference in peak brightness output. The rumored peak brightness of the Pixel 8 Pro is as high as 2,000 nits, compared to the 927 nits for the Pixel 7 Pro.
Similarly, while the HDR-enabled display on both devices has a maximum brightness physical limit of 1,400 nits on most tests with (HDR) Content; however, due to software limitations or other factors like color saturation/temperature settings, you won't be able to get more than 1000 nits from either device while viewing typical content.
Contrasting this significant improvement in luminosity capabilities performance is an area where we see minor upgrades between models. The Pixel 7 and Pixel 7 Pro have improved scratch-resistant Corning Gorilla glass technology that is expected to carry over for use with the Pixel 8 series phones, but little else changes when it comes to display protection offerings.
Screen-to-body ratio
The screen-to-body ratio is an important indicator of the display quality for both the Google Pixel 7 Pro and 8 Pro. This ratio represents the portion of a device's front surface occupied by its display, including any bezels or borders.
The higher this ratio is, the larger the available display area and, consequently, a more immersive viewing experience. The Pixel 7 Pro has an impressive 88.7% (or above) screen-to-body ratio with thin bezels surrounding its edge to edge design that offers maximum screen real estate and minimal distractions while watching videos or playing games on your phone.
No specific details are currently available about the Pixel 8 Pro's exact screen-to-body ratio though rumors suggest it will have even thinner bezels than its predecessor, thus offering fullscreen design for its users.
Performance and Software
[Video Credits @Made by Google]
When it comes to performance and software, the Pixel 8 Pro is powered by a Snapdragon 888 chip with up to 12GB of RAM and 256/512GB of storage, while the 7 Pro runs on a Snapdragon 865 chip with up to 12 GB RAM and 128GB/256GB/512GB storage.
System chip and processor
The Google Pixel 8 Pro is set to be boosted with a new Tensor G3 chip, codenamed Zuma. This custom-built processor with Google AI promises improved performance and power efficiency for faster launch times and longer battery life. With the powerful Tensor G3 chip at its core, the Pixel 8 Pro will receive various software enhancements, including an enhanced user experience and AI integration.
For gamers, this could mean increased frame rates and improved graphics renderings, while more general users may enjoy smoother day-to-day app usage. The addition of the Google Tensor G3 chip marks a major improvement compared to earlier devices such as the Pixel 7 Pro.
RAM and storage capacity
The RAM and storage capacity are two major differences between the Google Pixel 8 Pro and Pixel 7 Pro. Both phones are rumored to come with options for 8GB or 12GB of Random Access Memory (RAM) – with the possibility of higher capacities in certain regions. However, the Pixel 7 Pro has a RAM capacity of 12GB compared to just 8GB for the Pixel 7, giving it more power and performance optimization capabilities for multitasking activities.
Meanwhile, both devices will offer internal storage options, including 128GB, 256GB, and 512 GB. Ultimately, these differences in RAM and storage capacity give consumers a range of choices when deciding which phone they want to purchase based on how much capacity they need from their device for all of their daily tasks.
Operating system and user interface
The Google Pixel devices come with an advanced operating system and user interface. The Pixel 8 Pro and 7 Pro offer a clean, intuitive, user-friendly experience on their Android version.
The 8 Pro is expected to have the latest Tensor G3 chipset, while the 7 Pro runs on its predecessor—the second generation of Tensor G2. Both device models provide ample performance thanks to their powerful chipsets, making them great options for gaming and productivity tasks.
Furthermore, both phones possess hidden features that add extra capabilities to enhance your user experience, further building upon much-praised slick software in Pixel's legacy offerings over the past few generations.
Audio Quality and Haptics
The Pixel 8 Pro features improved headphone and speaker options compared to the Pixel 7 Pro and advanced haptic feedback technology.
Headphone and speaker options
The Pixel 7 Pro and Pixel 8 Pro have standout audio performance with their headphone and speaker options. Both phones feature optimized dual front-firing speakers, delivering an immersive sound that can fill any room.
The Pixel 7 Pro has a 3.5mm headphone jack while the Pixel 8 Pro boasts enhanced earphone options which help it deliver more powerful sound quality without compromising on high fidelity acoustic experience.
Additionally, both models offer stereo sound for interminable surround sound effects, giving its users intense cinematic vibes. For a greater bass range and better acoustics, both devices are equipped with robust microphones that utilize noise-cancellation technology for improved voice clarity even in loud environments offering better call and conference experiences for all users.
Haptic feedback technology
The Google Pixel 7 Pro is praised for its accurate haptic feedback. The phone's Haptic Engine allows users to experience tactile and vibrational sensations when using the device. This technology helps enrich the user experience by making actions more immersive and intuitive.
Its advanced vibration intensity control feature allows users to adjust haptic vibrations to their preferences – from light and subtle shakes to firm but intense responses.
Additionally, Gboard on the Pixel 7 includes a technique called Haptic Touch which slightly vibrates with each key pressed in order to provide extra clarity while typing a text message or searching for something in the Google Play Store without causing any heavy burden on battery life.
Battery Life and Charging
The Pixel 8 Pro and the 7 Pro both boast fast-charging capabilities, with a 4500 mAh battery on the 8 Pro and a 4000 mAh battery on the 7 Pro, providing long-lasting performance.
Battery capacity and type
The battery capacity and type of the Google Pixel phones are some of the key factors that can influence their overall battery life and charging experience. The Google Pixel 7 Pro has a battery capacity of 5,000 mAh, which is larger than its predecessor, the Google Pixel 8 Pro, which has a rumored 4,355 mAh.
Along with providing a larger amount of power, this increase in capacity also allows for improved longevity on a single charge. Additionally, both Pixel models support fast wired charging rates up to 21W for the 8 Pro and up to 18W for the 7 Pro.
Moreover, rumors suggest that a 27W wired charger may be included with the 8 Pro – if true, this would allow users to charge their phone quickly and efficiently. Ultimately understanding how much power each device can store will help users determine whether it's right for them based on their needs.
Charging speed
The Google Pixel 8 Pro is rumored to feature enhanced charging capabilities with a potential 27W wired charging solution so that users can enjoy faster and more efficient power-ups. While the Pixel 7 Pro has a maximum wired charging of 15W and wireless charging rate of up to 23W when using the Google Pixel Stand (2nd gen), it's likely that the forthcoming model will offer improved rates for both fast wired and wireless powering up.
Factors such as usage, battery age, and ambient temperature may impact upon these speeds, even if the underlying technology improves overall output rates. Thus, by getting your hands on cutting-edge future tech, you get slightly higher wattage options and variable speeds depending on user preferences, so no waiting!
Wireless charging options
Both the Google Pixel 8 Pro and Pixel 7 Pro support wireless charging, though there are some differences in how quickly they can each charge. The second-generation Pixel Stand charger achieves the fastest wireless speeds, which provides 20W of power for the Pixel 7 series devices.
However, the rumored specifications suggest that the Google 8 Pro could have even faster wireless charging capabilities, with a maximum rate of 27W being supported. Supporting more powerful rates could help to significantly reduce the overall time required for a full recharge or provide additional safety during operation. Additionally, both smartphones should be universally compatible with most third-party Qi-certified chargers that offer 10W and 15W options at minimum.
Camera Capabilities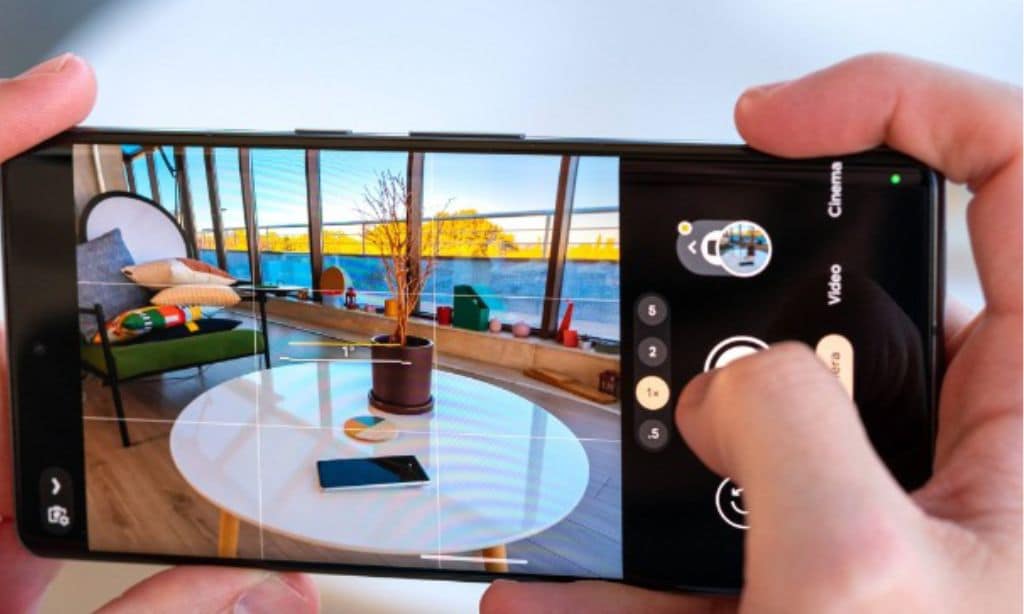 Compare rear camera specifications, additional features, and video recording capabilities to explore which Google Pixel model is right for you. Whether it's capturing stunning photos or recording crystal-clear videos, read on to discover all of the awesome features each phone has to offer!
Rear camera specifications
This section takes a look at the differences between the two phones' rear camera specifications. The Google Pixel 8 Pro has an impressive 64 MP main camera compared to the 50 MP on the Pixel 7 Pro. Both cameras have phase detection autofocus (PDAF) and support video recording in 4k, but only the Pixel 8 Pro includes optical image stabilization (OIS) for shaking-free images and a laser autofocus feature that improves object tracking accuracy.
The aperture size difference is also worth noting, with F1.9 on the Pixel 8 Pro versus F2.0 on its predecessor – this means better low-light photos thanks to more light entering in through larger lens openings.
The lenses are different as well: while both models include telephoto capabilities for up to 5x digital zoom, only the Pixel 8 Pro features an ultrawide 12MP sensor beyond its basic resolution range, which expands your shooting options even further – from food and travel shots to beautiful landscapes that can be framed in one shot with no need for stitching them together manually afterward as you'd do with a smaller field of view sensors.
Additional camera features
The Google Pixel 8 Pro and 7 Pro are two of the newest flagship phones from Google, and they come equipped with numerous camera features to help capture stunning photos. The Pixel 8 Pro utilizes a 50MP main lens as well as a 12MP ultra-wide lens that allows users to get an 87° field of view as opposed to 67° on the Pixel 7 Pro.
Both phones feature Night Sight mode, designed for improved low-light shooting with its advanced AI technologies. Both models also have Portrait Mode capabilities allowing users to take stunning portraits in any lighting condition whilst their HDR+ technology helps ensure all details in the scene are captured accurately.
Besides these handy features, paired with Optical Image Stabilization (OIS) each phone can capture videos without jitters or blur due to movement, making it easier for production-grade quality footage even on shaky grounds.
Video recording capabilities
Both the Google Pixel 8 Pro and Pixel 7 Pro offer high-quality video recording capabilities. However, the cameras are outfitted with different hardware and software features, giving them unique functionalities when filming videos. The Pixel 8 Pro has enhanced streaming capabilities built into its camera system that allows for more seamless video transfers in real-time or almost instantaneous playback speeds.
Its camera setup also enables advanced photo capturing as well as clear images even in low lighting. On the other hand, the Pixel 7 Pro is equipped with a triple rear camera setup that further helps to enhance its video recording abilities: AI-powered video features supported by its Tensor G2 processor help users focus better on subjects while zooming in or out of frames; face unblurring technologies ensure crystal-clear recordings; and lowlight shooting capabilities eliminate darkness from scenes. Both phones have great audio quality and haptic feedback systems to match their top-notch visual experiences when filming videos
Connectivity and Features
Both the Pixel 8 Pro and Pixel 7 Pro offer impressive Wi-Fi and Bluetooth capabilities, as well as two type C USB ports for data transfer.
| Feature | Google Pixel 8 Pro | Google Pixel 7 Pro |
| --- | --- | --- |
| Display | 6.7-inch LTPO OLED, 120Hz refresh rate, 3120 x 1440 pixels, HDR10+ | 6.7-inch LTPO OLED, 120Hz refresh rate, 3120 x 1440 pixels, HDR10+ |
| Processor | Google Tensor G3 | Google Tensor G2 |
| RAM | 12GB LPDDR5 | 12GB LPDDR5 |
| Storage | 128GB/256GB/512GB UFS 3.1 | 128GB/256GB UFS 3.1 |
| Rear camera | 50MP main (f/1.85), 48MP telephoto (f/3.5, 4x optical zoom), 12MP ultrawide (f/2.2) | 50MP main (f/1.85), 48MP telephoto (f/3.5, 4x optical zoom), 12MP ultrawide (f/2.2) |
| Front Camera | 11.1MP (f/2.2) | 11.1MP (f/2.2) |
| Battery | 5000mAh | 5000mAh |
| Charging | 30W wired, 23W wireless | 30W wired, 23W wireless |
| Operating system | Android 14 | Android 13 |
| Other features | Dual speakers, stereo recording, 5G connectivity, in-display fingerprint sensor, Gorilla Glass Victus front and back | Dual speakers, stereo recording, 5G connectivity, in-display fingerprint sensor, Gorilla Glass Victus front and back |
Bluetooth and Wi-Fi capabilities
The Google Pixel 8 Pro and Pixel 7 Pro offer almost identical Bluetooth and Wi-Fi specifications, with the main difference being that the newer model supports the latest Wi-Fi 6E standard.
The Pixel 7 Pro features Bluetooth 5.2, which ensures a stable connection for compatible devices while offering enhanced levels of connection quality with dual antenna designs. Both phones support all WiFi standards, from 2.4GHz to 5GHz and even 6GHz networks, providing users access to a wide range of frequencies for their connections depending on what's best in any given location or situation.
However, one compromise is that many sources have reported fairly poor signal range on the Pixel 7 Pro compared to other smartphones in this price bracket, so owners should consider carefully how they intend to use it before deciding if its right fits them.
USB ports
The Google Pixel 8 Pro and the Pixel 7 Pro smartphones both feature a Type-C USB port for connecting to other devices. Both phones offer universal support of data transfer speeds up to the USB 3.2 Gen 1 standard, allowing them to quickly charge compatible accessories or transfer large amounts of data in seconds.
Additionally, these models offer fast charging capabilities through their Type-C ports, allowing them to recharge at high speed with compatible adapters.
When it comes to using flash drives and external storage, both phones also include USB Storage Mode functionality that does not require an additional cable for file transfers between the device and an external drive but instead plugs directly into the phone's USB type-c port.
Location and sensor options
The Google Pixel 8 Pro and Pixel 7 Pro both offer users improved location-tracking capabilities. Both feature GPS and Wi-Fi for accurate geolocation tracking, as well as Bluetooth, NFC, and sensors such as the accelerometer to provide more contextual information about your surroundings. For additional security measures, both phones come with a fingerprint scanner located on the rear of the device.
The Pixel 8 Pro also comes with an infrared camera, allowing it to detect motion even in low light conditions. Other sensors found on both devices include proximity sensors that detect when a user's face is close enough to activate certain features or make use of facial recognition technology. Furthermore, a variety of other sensors are found within these phones, including gyroscopes and ambient light detectors that help adjust brightness based on current lighting conditions.
Price and Availability
Compare prices and release dates between the models to get an idea of what each device costs.
| Variant | Region | Google Pixel 8 Pro | Google Pixel 7 Pro |
| --- | --- | --- | --- |
| 128GB | United States | $899 | $799 |
| 256GB | United States | $999 | $899 |
| 512GB | United States | $1099 | $999 |
| 128GB | United Kingdom | £799 | £699 |
| 256GB | United Kingdom | £899 | £799 |
| 512GB | United Kingdom | £999 | £899 |
| 128GB | India | ₹64,999 | ₹54,999 |
| 256GB | India | ₹74,999 | ₹64,999 |
| 512GB | India | ₹84,999 | ₹74,999 |
Comparing costs
Comparing the pricing of the Google Pixel 8 Pro and Pixel 7 Pro, there is a $100 price difference between them, with the newer model being more expensive – at $999 compared to the $899 for the former model. However, both phones are considered premium options in their respective ranges and offer advantageous features and newly upgraded specs.
The Pixel 8 will have a similar pricing as its predecessor, starting at $699, whereas the Pixel 7 comes priced at $599, making it a competitive alternative in terms of cost and performance but lacking in some features that are present on its successor, including wireless charging capabilities, HDR support, increased RAM and storage capacity, etc. Overall it's useful to consider all these factors when looking into comparative costs for each phone, including features such as camera specs or battery life, before deciding which device suits you best according to your budget and preferences.
Release dates
The Google Pixel 8 Pro was unveiled to the world on October 4, 2023. The event marked the official launch of this powerful flagship device. One year prior, on October 13, 2022, Google released its previous-generation Pixel 7 and Pixel 7 Pro models simultaneously.
With both generation changes coming relatively close together in terms of their release dates, it's easy to compare features between the two devices – all while keeping up with Google's continuing developments over time.
Summary
The Google Pixel 8 Pro is the latest flagship phone from Google, expected to be released in 2021. Compared to its predecessor, the Pixel 7 Pro, it features a redesign of its exterior components and an upgrade of hardware specifications.
The display of the Pixel 8 Pro is larger, with a higher refresh rate, peak brightness, and screen-to-body ratio compared to that of the Pixel 7 Pro. It also boasts improved performance with a 3nm system chip as well as increased RAM and storage options of up to 12GB for mobile gaming enthusiasts.
An upgraded camera setup includes additional features such as night mode or portrait lighting that Capture stunning images day and night while video recording capabilities are further enhanced.
Although possessing impressive charging speeds, battery life overall remains mediocre than its competitors but still considerable given its use capability coupled with wireless charging options made available for it.
Thus concluding that this state-of-the-art device would be expensive comparatively yet a great experience if your needs match high dynamic range content consumption, documentary filmmaking, etc otherwise, you should opt for Pixel 7 pro due to a lower price cap more suited towards generic usage scenarios like web browsing, etc.
Frequently Asked Questions (FAQs)
Here, we answered some common questions regarding the topic. Check the answers if you have any queries.
1. What are the key differences between Google Pixel 8 Pro and Pixel 7 Pro?
The main differences between Google's Pixel 8 Pro and Pixel 7 Pro include display size, storage capacities, camera performance capabilities, processor type, battery capacity, and price.
2. Does the new Google Pixel 8 have 5G connectivity?
H yes; The Google Pixel 8 has built-in 5G connectivity support that is not available on the previous model (Pixel 7).
3. What kind of processor does the Google Pixel 8 have?
The Google Pixel 8 comes with a Qualcomm Snapdragon 888 processor that provides improved performance when compared to last year's model (Pixel 7).