Google Pixel 7 Review: Still the Best Android Phone?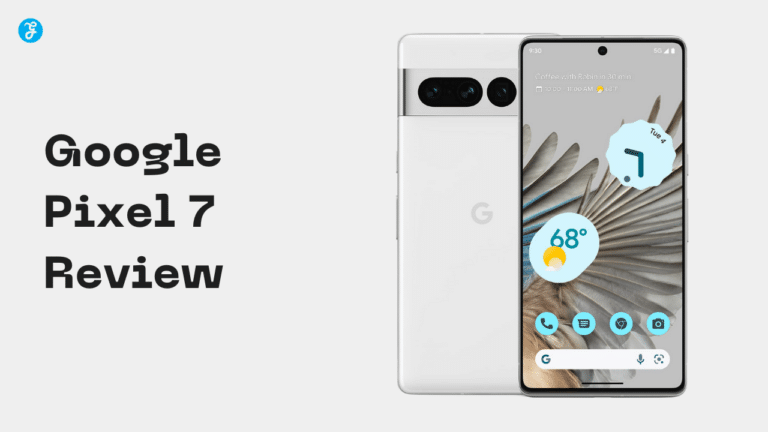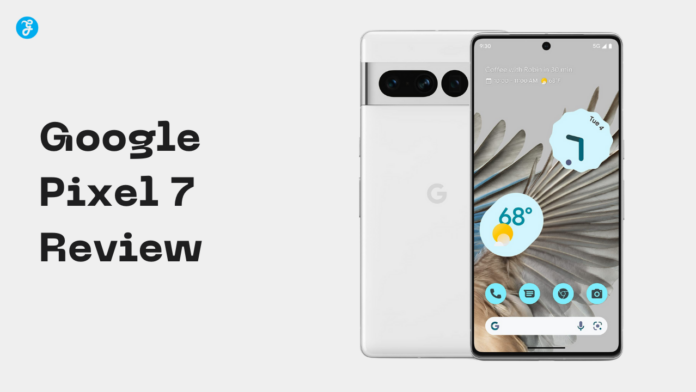 Are you looking for a new phone this 2023 and considering Google's latest addition, the Pixel 7? Want to learn more about Google Pixel 7 Review? We understand your dilemma – figuring out which smartphone can give you the best value is tough.
Having had similar trouble, we've spent time digging deep into the Google Pixel 7; listed at just $599, it's hailed as one of the market's top-value phones! This comprehensive review will dissect all vital features from design to camera performance and even its advanced technology.
Stay with us – there's more to uncover about this remarkable device!
Content Highlights
Google Pixel 7 offers a sleek design, slim bezels, and a modern aesthetic.
It comes in two models: Pixel 7 and Pixel 7 Pro, with the Pro version having extra features.
The phone has a sharp and vibrant display with clear colors and fast touch response.
The camera on the Google Pixel 7 is considered one of the best smartphone cameras available.
The performance is top-notch, with smooth multitasking, fast app loading, and strong network connectivity.
Google Pixel 7 Review: What's New
The Google Pixel 7 introduces a sleek new design with slim bezels and a modern aesthetic.
Design
The Pixel 7 has a neat look. It sticks to Google's fresh way of designing phones. You will see it is sleeker than the older Pixel 6 phone. Yet, there are some key changes that make it better! The Pro version also shares this improved design.
Display
The Google Pixel 7 comes with a sleek screen and a 6.3-inch display. The display Resolution is 2400 × 1080 pixels. It has clear, bright colors that make it easy to see in the sun. This phone's display is sharp and big, so movies and games look great on it.
The touch response is fast too. We love using this screen for everything from texting to watching videos.
Camera
The camera system on the Google Pixel 7 is indeed remarkable, promising an exceptional photography experience. At its core, the rear camera setup features a formidable wide (main) lens with a substantial 50-megapixel sensor, boasting a wide aperture of f/1.9. With a focal length of 25mm and a sensor size of 1/1.31 inches, this camera excels in capturing images with remarkable detail and clarity, even in challenging low-light conditions, thanks to each pixel's relatively large size at 1.2µm.
To ensure that your shots are always in focus, the camera utilizes a combination of multi-directional Phase Detection Autofocus (PDAF) and Laser Autofocus, resulting in quick and precise focusing. Additionally, the Optical Image Stabilization (OIS) feature reduces the impact of hand tremors or sudden movements, allowing for consistently sharp and steady photos.
Complementing the main camera is an ultra-wide-angle lens with 12 megapixels, offering a 114-degree field of view. This lens is ideal for capturing expansive landscapes or fitting more subjects into a single frame. It delivers impressive results, even in wide-angle scenarios, with an aperture of f/2.2 and a sensor size of 1/2.9 inches.
On the front, the Google Pixel 7 features a capable 10.8-megapixel ultrawide camera with an f/2.2 aperture and a 21mm focal length. This front camera is perfect for capturing group selfies or scenic backgrounds, ensuring you can easily take stunning self-portraits and video calls.
In summary, the camera system on the Google Pixel 7 offers a versatile and powerful toolkit for both rear and front-facing photography, catering to a wide range of creative needs.
Performance
The performance of the Google Pixel 7 is top-notch. It is equipped with a powerful processor that ensures smooth multitasking and fast app loading. The smartphone also has ample RAM, allowing for efficient performance even when running multiple applications at once.
The combination of hardware and software optimization results in snappy navigation and quick response times. Whether you're browsing the web, playing games, or watching videos, the Pixel 7 delivers a seamless user experience.
Additionally, it has been praised for its strong network connectivity capabilities, ensuring stable internet connections even in areas with weaker signals. With its impressive performance, the Google Pixel 7 proves to be a reliable device for all your daily tasks and entertainment needs.
Operating System
The operating system of the Google Pixel 7 follows Google's new design style. What specific features or details are included in this operating system upgrade has not been mentioned, but it is expected to provide a seamless and user-friendly experience.
As of now, no further information is available regarding any updates or improvements made to the operating system on the Google Pixel 7.
Battery Life
The Google Pixel is equipped with a robust 4355mAh battery, providing ample power to keep you connected throughout the day. What sets it apart is its speedy charging capabilities. With fast charging at 20W, you can reach a 50% charge in just 30 minutes, as advertised. This means that even if you're running low on battery, a short break can give your device a substantial power boost.
Moreover, the Google Pixel supports fast wireless charging at 20W, ensuring you can conveniently charge your device without cables. Additionally, it offers reverse wireless charging, allowing you to share your device's power with other compatible devices, making it a versatile tool in a pinch.
Including USB Power Delivery 3.0 further enhances the device's charging versatility. It's about speed and adaptability, as this feature ensures that you can charge your Google Pixel using various USB-C compatible chargers, providing flexibility in how you power up your device. Overall, the Google Pixel's battery and charging capabilities are designed to keep you connected and powered up, whether you're at home or on the go.
Audio Quality
The audio quality of the Google Pixel 7 is highly praised. It is known for its fantastic audio capabilities and delivers an excellent listening experience. Whether you're listening to music, watching videos, or making phone calls, the Pixel 7 provides clear and crisp sound with good bass and a balanced overall sound profile.
Users have mentioned in reviews how impressed they are with the audio performance of the Pixel 7. Overall, if you're someone who values great audio quality on your smartphone, the Pixel 7 won't disappoint you.
Powerful Processor: Google Tensor G2 (5 nm)
At the heart of the Google Pixel 7 lies a formidable Google Tensor G2 chipset, built on the 5-nanometer architecture. This cutting-edge processor ensures exceptional performance, boasting an octa-core configuration that includes two high-performance Cortex-X1 cores clocked at 2.85 GHz, two Cortex-A78 cores at 2.35 GHz, and four power-efficient Cortex-A55 cores at 1.80 GHz.
This versatile setup ensures smooth multitasking, responsive app launches, and efficient power management. The Mali-G710 MP7 GPU also ensures top-tier graphics performance, making it ideal for gaming and resource-intensive applications. 
Ample and Swift Memory Options
The Google Pixel 7 offers users a range of memory configurations to suit their storage needs. With options including 128GB of onboard storage paired with 8GB of RAM or a more capacious 256GB storage variant accompanied by 8GB of RAM, users can choose the model that best fits their requirements.
The use of UFS 3.1 (Universal Flash Storage) ensures lightning-fast data transfer and app loading times, contributing to an overall seamless and responsive user experience. Whether you opt for the 128GB model or the expanded 256GB version, you'll have ample space to store your apps, photos, videos, and more while benefiting from swift and efficient memory management.
Unboxing the Google Pixel 7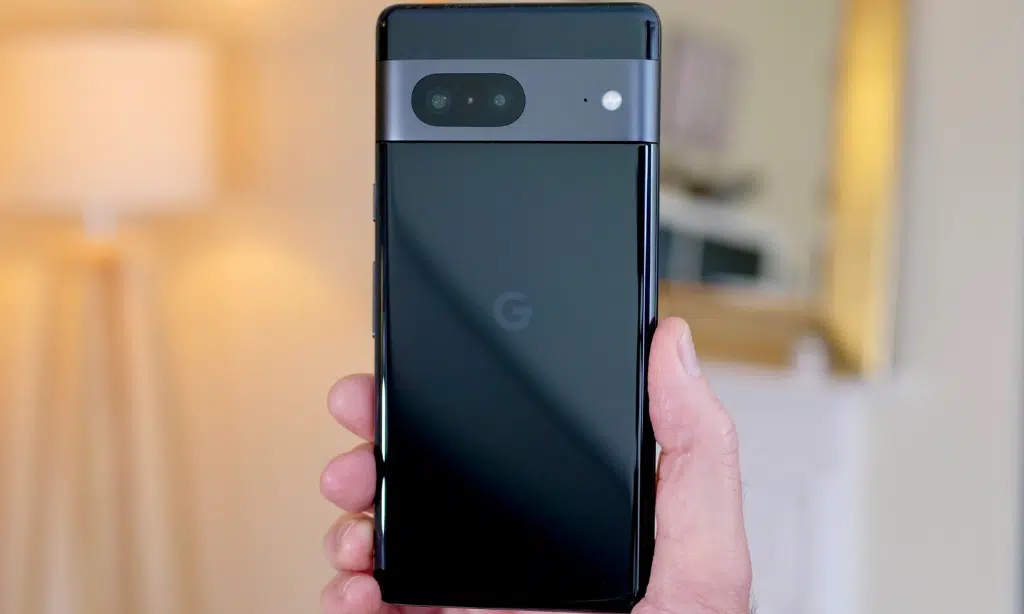 When we received the Google Pixel 7, we couldn't wait to unbox it and see what was inside. Here's what we found:
The Google Pixel 7 phone itself, with its sleek and modern design.
A USB-C charging cable for fast and convenient charging.
A wall adapter to plug in the charging cable.
A SIM card ejector tool to help insert or remove the SIM card.
Some documentation, including a quick start guide and warranty information.
If you're interested, also read on Pixel 8 Pro review
Google Pixel 7 Display Measurements
The Google Pixel 7 display is vibrant and sharp and provides a brilliant visual experience. It boasts a stunning combination of size, resolution, and other significant features that make it stand out.
| Feature | Measurement |
| --- | --- |
| Screen Size | 6.3 inches |
| Resolution | 2400 × 1080 pixels |
| Pixel Density | 416 ppi |
| Type | OLED |
| Refresh Rate | 90 Hz |
| Brightness | Up to 1400 nits |
Google Pixel 7 Camera Performance and Flexibility
The Google Pixel's camera system is nothing short of exceptional. At its core is the main rear camera, a powerhouse with a staggering 50-megapixel sensor, wide f/1.9 aperture, a 25mm focal length, and an impressive 1/1.31-inch sensor size. Each pixel on this sensor is a substantial 1.2µm in size, ensuring remarkable low-light performance. This primary camera is equipped with multi-directional Phase Detection Autofocus (PDAF), Laser Autofocus, and the added advantage of Optical Image Stabilization (OIS), guaranteeing sharp and steady shots.
Complementing the main camera is an ultra-wide-angle lens boasting 12 megapixels, an f/2.2 aperture, and a broad 114-degree field of view. Its 1/2.9-inch sensor size ensures outstanding results, particularly in capturing expansive landscapes and group shots. On the front, the Google Pixel features a capable 10.8-megapixel ultrawide camera with an f/2.2 aperture, a 21mm focal length, and a 1/3.1-inch sensor size, each pixel measuring 1.22µm. This front camera is ideal for group selfies and video calls, ensuring you look your best in every frame.
The Pixel impresses with its ability to capture 4K video at both 30 and 60 frames per second using the rear camera. It also supports various high-definition options at 1080p, including 30, 60, 120, and 240 frames per second, all with gyroscopic Electronic Image Stabilization (EIS), Optical Image Stabilization (OIS), and the capability to record videos in 10-bit High Dynamic Range (HDR).
The front camera is equally capable, offering 4K video recording at 30 and 60 frames per second and 1080p options at 30 and 60 frames per second. The Google Pixel's camera setup is a versatile and powerful toolkit, ensuring top-notch photography and video recording capabilities for all your creative needs.
Google Pixel 7 Release Date and Pricing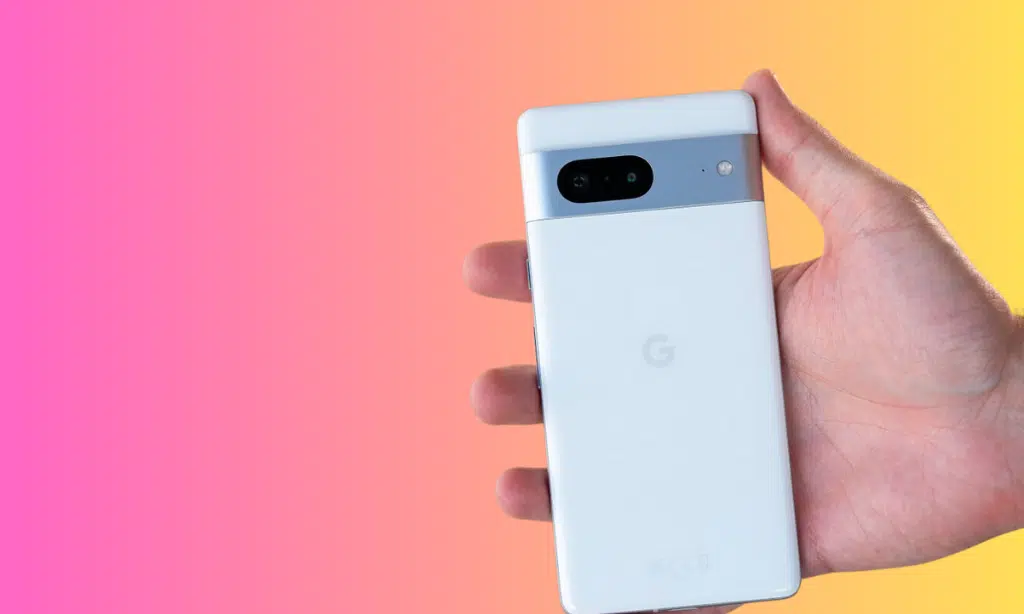 The Google Pixel 7, launched on October 13, 2022, has made its presence felt in both local and online stores across the USA. This highly anticipated device offers consumers a choice between two configurations:
8GB of RAM and 128GB of storage are priced at $599.
For those seeking more storage capacity, there's an option with 8GB of RAM and 256GB of storage, available at a price point of $999.
These competitive price points make the Google Pixel 7 an attractive choice for users looking for a premium smartphone experience without breaking the bank. Whether you opt for the 128GB version or the expanded 256GB model, you can enjoy this device's cutting-edge features and capabilities while staying within your budget.
Read Also: Pixel Fold Review
Frequently Asked Questions (FAQs)
Now let's learn about some common questions on Google Pixel 7.
1. What is the Google Pixel 7 Review?
The Google Pixel 7 Review is a detailed report of the features, strengths, and weaknesses found on the new device from Google in 2023.
2. When is the Google Pixel 7 release date?
The specific release date of Google Pixel 7 in 2023 may differ by country, but it will be announced on all major tech news platforms.
3. Is the Google Pixel 7 worth buying?
That depends! Reading or watching reviews can help you understand if its features meet your needs before making a decision.
4. How can I find out more about the Google Pixel 7?
Watching online videos, reading user comments, and checking official announcements from Google are good ways to learn more about the Pixel 7 after its release in 2023.
Subscribe to Our Latest Newsletter
To Read Our Exclusive Content, Sign up Now.
$5/Monthly, $50/Yearly