10 Best Gaming Monitors: Upgrade Your Gaming Setup Today
Are you looking to maximize your gaming experience with the best gaming monitor available? Gaming monitors have come a long way in recent years, pushing the limits of innovation and providing gamers with terrific quality.
This article offers an in-depth look into modern-day gaming monitors and how they compare in 2023. From top picks, the latest technologies, and helpful guides to choosing one that's right for you, we've got it all covered!
Get ready to revolutionize your gaming experience by learning about the best gaming monitors from around the world!
Content Highlights
High refresh rate monitors help to reduce brownouts and ensure smoother gameplay with minimal artifacts.
Adaptive Sync technology like FreeSync and G-sync reduces screen tearing by syncing the monitor's refresh rate with graphical cards.
Different panel types have distinct advantages; IPS for accuracy, TN for speed, and VA for contrast levels but all offer improved visuals.
Ultrawide resolutions of 3440*1440px provide an immersive experience while 4K resolution (3840*2160px) delivers sharp clarity in gaming experiences.
Understanding Gaming Monitors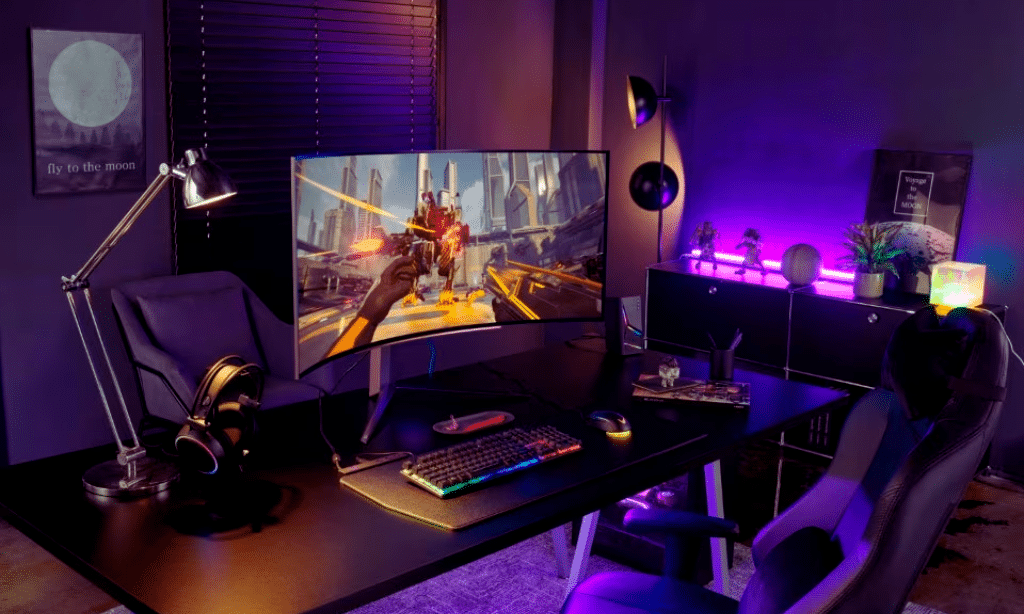 It is important to understand the different types of gaming monitors, such as IPS, TN, and VA, and the panel technologies they use, like FreeSync, G-Sync, HDR, and aspect ratio.
Types of Gaming Monitors (IPS, TN, VA)
TN (Twisted Nematic) Panels: TN panels offer the fastest response rates and usually have lower price points. They are also the most common type of gaming panel available, but their viewing angles can sometimes be restricted compared to other panel types.
Panel Technology (FreeSync, G-Sync, HDR, aspect ratio)
Gaming monitors are designed to provide a smooth and immersive gaming experience. Factors such as refresh rate, panel type, size, and resolution all play a key role in delivering an optimal gaming experience, but the addition of certain technologies can have an even greater impact on image quality.
FreeSync, G-Sync, HDR, and aspect ratio all add distinct aspects to modern gaming monitors that dramatically improve performance.
Most gamers know about adaptive sync technology like AMD's FreeSync or Nvidia's G-Sync; these technologies ensure a stutter-free game by synchronizing the graphics card's output with the monitor's refresh rate.
This reduces input lag and resolves common issues related to screen tearing—which occurs when your GPU sends multiple frames of video simultaneously it can be taken off from here are you for every frame displayed).
With newer versions of both technologies now available (FreeSync Premium Pro 2/G-SYNC Compatible) there is no need for sync enabled either which introduces additional latency while delivering remarkably smooth gameplay at any framerate level expected from AAA title games today. Additionally, you can also read on 240Hz Monitors.
The Latest Innovations in Gaming Monitor Technology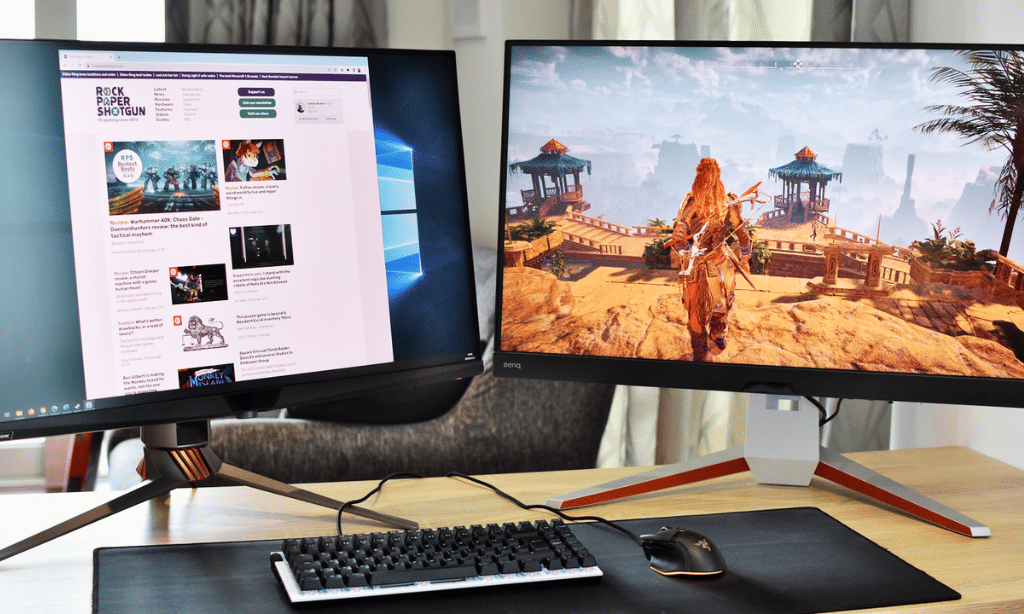 Enjoy a tear-free experience with FreeSync, higher impact visuals thanks to high refresh rates, and clearer image quality with different panel types – all available in ultrawide and 4K resolutions.
Adaptive Sync to Reduce Screen Tearing
Adaptive Sync is a display technology used in gaming monitors to significantly reduce screen tearing and game stuttering. It dynamically syncs the monitor's refresh rate to the frame rates of graphics cards, ensuring that no image information gets 'lost' due to differences in those two components.
This allows gamers to get smoother visuals without any stutter or artifacts like screen tearing from mismatched frames. Additionally, this technology can be used with enhanced technologies such as G-Sync or FreeSync for an even better experience; both AMD and NVIDIA GPUs are compatible with it as well! As a result, gamers now have access to clearer images and more responsive inputs every time they use their gaming monitor – continuously guaranteeing smooth performance every time you take control of your characters' journey onscreen.
High Refresh Rate for Improved Performance
High-refresh rate monitors are great for gaming since they provide a smoother picture with reduced blur and better response time. Refresh rate is how often a monitor refreshes its image, measured in hertz (Hz).
A higher refresh rate brings out the best in fast-paced games and action scenes, delivering an improved experience to gamers of all levels. With faster refresh rates, the images onscreen appear faster compared to those seen on standard monitors running at lower Hz.
This means less lag or artifacting, which can hinder the performance of your game, especially during intense moments when millisecond differences matter. Higher refresh rates also translate into fewer brownouts—bright streaks across your screen that can occur when objects move quickly across it—resulting in even smoother gameplay without compromising graphical detail or accuracy.
Different Panel Types for Unique Benefits
Each type of gaming monitor panel has its own unique advantages and benefits for certain types of gamers or activities. Let's take a closer look at the three most common panels found on gaming monitors: vertical alignment (VA), in-plane switching (IPS) and twisted nematic (TN).
When it comes to contrast levels, VA technology offers the highest values, which provides deeper blacks and brighter whites than IPS or TN options. For color reproduction, IPS significantly beats out VA technology; however, both are generally better than TN for accuracy.
Viewing angles are also improved with IPS compared with TN. For fast response times important for competitive games such as first-person shooters and fighting games, one should get TN due to its blazing response rate that is much faster than either excellently suited for video editing tasks due to their superior color reproduction capabilities.
Ultrawide and 4K resolution options
Both ultrawide and 4K resolution options have become essential components of gaming monitors in 2023. Ultrawide monitors, especially those with a resolution of 3440×1440, provide an immersive experience for gamers thanks to their expansive viewable area.
With this increased screen real estate comes more vibrant details that cannot be replicated on other displays. Additionally, this extended field of vision helps to reduce eye strain during long gaming sessions.
Meanwhile, 4K resolution options provide amazing clarity and sharpness which make games look incredible at any distance from the display. The highly detailed 3840×2160 images result in realistic graphics that are enough to captivate players' attention.
Choosing the Best Gaming Monitor for You
It is important to select a gaming monitor that offers the right properties and features for your individual needs, such as refresh rate, panel type, size, and resolution. Find out which is the best gaming monitor for you in our comprehensive guide!
Factors to Consider (Refresh Rate, Panel Type, Size, Resolution)
Refresh rate is one of the most important factors to consider when it comes to gaming monitors. Higher rates like 120Hz or 144Hz offer higher frames per second, which translates into a smoother and more responsive gaming experience for fast-paced games.
Panel-type options for gaming monitors include TN, IPS, and VA panels. Each panel type offers different advantages in terms of color accuracy, viewing angles as well as response times; so it's important to choose one that best meets your needs.
Size considerations for gaming monitors range from 25″ up to 27″. This ensures an optimal pixel density but individual size preferences may be subjective so this factor should also be taken into consideration while selecting a monitor.
Resolution is another key aspect when choosing a good gaming monitor; 1440p resolution offers good detail and sharpness while 4K resolution takes it up a notch with even more clarity on display – making sure you get the entire look out of every game you play! The choice entirely depends on user preference and setup capabilities though bigger screens tend to benefit from higher resolutions such as 4K where possible.
Lastly, individuals looking for the best balance in any purchase should always opt for 4K resolution displays with refresh rates at least 150 Hz or above as they can provide satisfying results under various circumstances while playing video games..
Top 10 Gaming Monitors of 2023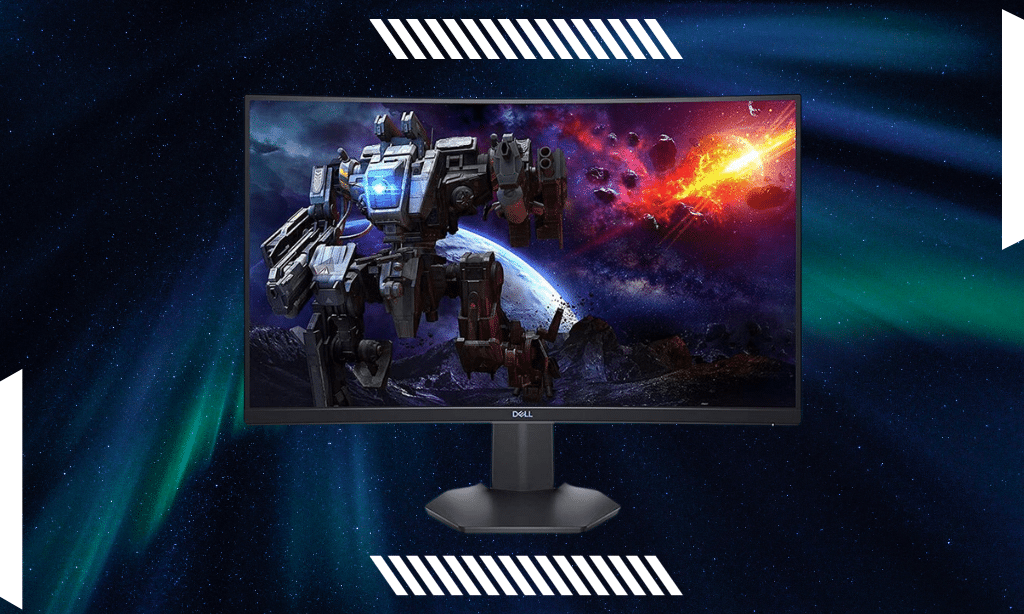 Here are some of the top gaming monitors for 2023, including the Alienware 34 QD-OLED (AW3423DWF), LG 27GN950-B, Gigabyte M32UC, Dell S2722DGM, Pixio PXC277 Advanced, and more.
| Monitor Model | Screen Size | Resolution | Refresh Rate |
| --- | --- | --- | --- |
| Alienware 34 QD-OLED | 34 inches | QD-OLED | 165Hz |
| LG 27GN950-B | 27 inches | 3840 x 2160 (4K) | 144Hz |
| Gigabyte M32UC | 31.5 inches | 3840 x 2160 (4K) | 144Hz (160Hz with OC) |
| Dell S2722DGM | 27 inches | 2560 x 1440 (QHD) | 165Hz |
| Pixio PXC277 Advanced | 27 inches | 2560 x 1440 (QHD) | 165Hz |
| BenQ Mobiuz EX240 | 23.8 inches | 2560 x 1440 (QHD) | 165Hz |
| Samsung Odyssey Neo G9 G95NC | 57 inches | Dual UHD | 240Hz |
| ASRock Phantom PG34WQ15R2B | 34 inches | 3440 x 1440 (UWQHD) | 165Hz |
| Asus ROG Swift PG42UQ | 41.5 inches | 4K | Up to 138Hz |
| Dell S3222DGM | 32 inches | 2560 x 1440 (QHD) | 165Hz (144Hz through HDMI) |
Alienware 34 QD-OLED (AW3423DWF)
The Alienware 34 QD-OLED (AW3423DWF) is one of the top gaming monitors for 2023. Dell has only two QD OLED gaming monitors, and one of them is the Alienware AW3423DWF. It's a 34-inch screen with a high resolution of 3440×1440 (WQHD). It responds incredibly fast, with a 1ms delay, and can refresh the image 165 times per second at a rapid pace.
It features a curved design along with VESA DisplayHDR TrueBlack 400 technology to provide an immersive viewing experience, while its OLED technology enables it to produce deep blacks and excellent picture quality of 329 nits brightness and 0 black levels.
Its all-around performance makes it ideal for competitive gamers looking for smooth visuals without any screen tearing, plus fast response times and high refresh rates that deliver vibrant and crisp images every time.
LG 27GN950-B
The LG 27GN950-B is one of the most popular gaming monitors in 2023. This 4K monitor offers amazing performance with its 144Hz refresh rate, strong brightness, and fast 1ms response time (GtG).
The futuristic design also makes it stand out from other gaming monitors. It comes with modern connectivity options including DisplayPort 1.4 and HDMI 2.0 to ensure smooth transfer of visuals at a high rate without compromising on quality or image clarity even during extreme gaming sessions.
Gamers will be glad to know that this monitor supports HDR technology which gives a lifelike experience while playing games as it conserves details in dark areas ensuring rich contrasts between light and dark colours for accurate natural images; plus, it also supports G-SYNC Compatible technology, thereby reducing screen tearing for smoother gameplay.
Gigabyte M32UC
The Gigabyte M32UC is an impressive 31.5″ 4K gaming monitor with a high refresh rate of 144Hz (160Hz with overclocking). It features Adaptive-Sync technology to reduce screen tearing and stuttering during gameplay, providing an immersive gaming experience.
The curved VA panel offers a stunning contrast ratio along with a generous color gamut, enabling more vivid visuals. The HDR 400 support further enhances brightness and contrast for exceptional viewing quality.
All these features make this highly advanced monitor one of the top models in 2023 that's perfect for PC gamers who want only the best for their setup.
Dell S2722DGM
Dell S2722DGM is your gaming setup in need of an upgrade? The Dell S2722DGM is a must-have monitor for gamers seeking superior visuals. With its massive 27-inch display, this gaming monitor offers gamers high-quality visuals with its VA panel technology.
That means you get bold and detailed colors with optimal viewing angles to bring those games to life. Plus, you won't experience any glitching or disruption due to the 1ms response time providing enhanced action scenes along with incredibly smooth gameplay.
It also has a refresh rate of 165Hz that ensures quick rendering so that everything appears sharp no matter how fast it's moving on screen—even during intense battle scenes! And as if these features weren't enough, the 1500R curved screen adds an immersive edge like nothing else.
Pixio PXC277 Advanced
Pixio PXC277 is a gaming monitor for those looking for an immersive gaming experience and a high-performance display. Featuring a 1500R curve, this 27-inch monitor offers enhanced visual clarity while providing improved sharpness and precision.
With its fast VA panel featuring 1ms GTG response time, gamers can enjoy blur and ghosting-free gameplay with smooth image transition to get better performance from their games. Further benefiting gamers is the WQHD resolution of 2560 x 1440 pixels that will ensure sharp details during intense battles, plus they'll get plenty of speed with the 165Hz refresh rate which keeps on top of game performance without any lags or dropped frames.
BenQ Mobiuz EX240
This is a gaming monitor tailored to suit the needs of serious gamers, advocating the latest technologies and perfecting its features. This monitor has been praised as one of the top gaming monitors for 2023 thanks to its 165Hz refresh rate and 1ms MPRT response time allowing for smooth visuals even in high-intensity battles.
Additionally, it also includes FreeSync Premium technology that reduces screen tearing and stuttering for uninterrupted gameplay. The HDRi (High Dynamic Range Imaging) support provides enhanced visual quality with brighter and more vivid colors while the 23.8″ IPS panel allows greater viewing angles combined with treVolo speakers offering an immersive audio experience making it a truly worthy contender in the gaming tech arena this year.
Samsung Odyssey Neo G9 G95NC
The Samsung Odyssey Neo G9 G95NC is a powerful gaming monitor with 240Hz refresh rate which is ideal for gamers who demand exceptional performance and cutting-edge visuals. Featuring an ultra-wide display, this 57-inch monitor boasts a native resolution dual UHD support of 7,680 x 2,160.
Additionally, it features HDMI 2.1 and VESA-certified DP 2.1 connections for high-speed transfer rates up to 48Gbps. Plus the Quantum HDR 2000 feature provides detailed gradations in dark mountains while boosting contrast ratio on brighter scenes creating an amazing visual experience like no other promises to provide maximum immersion when playing your favorite game titles or watching movies at home!
ASRock Phantom PG34WQ15R2B
The ASRock Phantom PG34WQ15R2B is an ultrawide gaming monitor that offers impressive performance for casual gamers. Featuring a high-contrast VA panel, WQHD resolution, and 165 Hz refresh rate, this monitor provides smoother visuals without screen tearing during fast-paced games like FPS or RTC thanks to its Adaptive Sync technology.
It also has added benefits with its Flicker-free technology, helping reduce fatigue and eyestrain while providing realistic visuals. The low price point also makes the ASRock Phantom PG34WQ15R2B a competitive option in terms of budget compared to other options in the market ideal for casual gamers looking to enhance their experience at an affordable cost.
Asus ROG Swift PG42UQ
The Asus ROG Swift PG42UQ gaming monitor is an impressive entry offering a stunning 41.5-inch OLED display complete with 4K resolution and a rapid refresh rate of up to 138Hz. This setup provides super smooth visuals that are crisp and clear, great for blasting through fast-paced scenes in the latest games.
On top of this, users can take advantage of built-in NVIDIA G-SYNC support for stutter-free performance as well as AMD FreeSync compatibility if required. The panel's extra wide color gamut further enhances the experience by providing prominent displays even amidst dimly lit environments, perfect for those nighttime gaming sessions! Furthermore, its preface calibration ensures accurate colors from the get-go and helps set you off on track when dialing in your desired settings quickly and hassle-free.
Dell S3222DGM
The Dell S3222DGM is a 32-inch curved LCD gaming monitor with an impressive QHD resolution of 2560 x 1440. Utilizing DisplayPort, Driven by its extremely powerful G-Sync processor, the monitor also offers a lightning-fast 165 Hz refresh rate along with 144Hz through HDMI connections – making it one of the top gaming monitors of 2023.
With HDR support and life-like colors presented in vibrant detail, this budget-friendly option boosts immersive experiences for gamers – no matter what genre they are playing. By offering multiple connectivity options such as two HDMI ports, an audio line out jack, and a headphone jack it also provides flexibility to users.
Furthering that capability is their intimidation defenders; when enabled, notifications will flash on the screen featuring alerts when suspicious activity occurs, giving gamers another layer of safety while they play.
PC Gamer Reviews of Gaming Monitors
Reviews from PC Gamer offer a comprehensive look into the features and performance of gaming monitors to help readers decide which one is best for them.
Testing Methods
PC Gamer's testing process for gaming monitors is rigorous and thorough. The editors evaluate a range of factors, including resolution, refresh rate, color quality, contrast ratio, panel type, and more, before making their recommendations.
Resolution is one of the most important criteria for any gamer; bigger means better visuals with no loss in quality. Refresh rates also play a huge part in how well games run; higher refresh rates can lead to improved input latency and provide smoother gameplay overall.
Color accuracy tests are an essential factor too; accurate colors enhance visual look substantially and ensure that all shades come through as properly intended. To ensure gamers get the best performance out of their monitor choice, PC Gamer checks other factors like response time which affects input lag along with its Uniformity measurement to judge how colors appear across different areas of the screen consistently.
Where to Buy
When it comes to where you can acquire a gaming monitor, there are plenty of online and physical retail locations. Online retailers such as Amazon, Newegg, Best Buy, and Microsoft Store offer wide selections at competitive prices.
It is important to research your options before making any purchase—read reviews from trusted websites and check customer feedback. If you have access to a physical store near you specializing in computer hardware or electronics, it's worth taking a look at what they have available too.
Additionally, some brands like Alienware (Dell) also sell gaming monitors directly through their website with custom configurations at competitive prices which might be worth exploring for your needs.
Best Deals
Finding the right gaming monitor at a budget-friendly price can be a daunting task. Thankfully, there are several potential options in 2023 where PC gamers can find great deals without sacrificing features.
The ASUS ROG Strix XG27UQ provides an excellent balance between specifications and cost – boasting high refresh rates, low response times, 4K resolution, and other impressive credentials – yet still comes with a reasonable price tag.
For those who may have more to spend on their gaming monitor but don't want to sacrifice too much on specs, the Samsung Odyssey Ark curved display offers amazing visuals alongside sound quality and customizable settings.
Alternatively, there is also Corsair Xeneon 32UHD144 for those looking for a reliable 4K monitor that still offers a 144Hz refresh rate perfect for competitive gameplay; though this comes at slightly higher costs than its competitors.
Additional Resources
Provide readers with access to additional resources, such as featured brands and recommended resolutions for a comprehensive view of gaming monitors.
Featured Brands
Alienware: Offers a range of powerful gaming monitors with advanced features such as customizable ambient lighting, IPS LCD panels, and up to 1440p resolution.
LG: Specializes in slim gaming monitors with IPS LCD panel technology and advanced features like FreeSync, 1ms response time, and up to 4K resolution.
Gigabyte: Focuses on providing great value for money through exceptional picture quality at affordable prices with various options for refresh rate, resolution—up to 144 Hz, and 4K—and ultra-wide or standard aspect ratio sizes.
Dell: Manufacturer of full-featured gaming monitors offering HDR Plus certification for vivid images supported by 1ms grey to grey response time, FSX FreeSync technology, WQHD resolutions, and high refresh rates (up to 240 Hz).
Pixio: A budget-friendly brand for gamers who want stylish design without breaking the bank. Boasts thin bezels with high refresh rates (up to 165Hz) and 1ms MPRT response time for fast movements in competitive games such as first-person shooter titles like Valorant & others.
BenQ: Known for its wide range of affordable gaming monitors featuring an efficient standby mode when switched off and Advanced Motion Accelerator technology that extracts moving objects from 120 frames per second natively. Supports a variety of resolutions from 1080p content up to ultrawide WQHD support and HDR10/400 certifications.
Samsung Odyssey Neo G9 G95NC: Offers immersive visuals with a curvature ratio of 1900R using Quantum Dot Technology along with Infinity HDR 1000 dimming supports smooth motion experience through variable refresh rate support up to 200Hz that diminishes the input lag time significantly.
Asus ROG Swift PG42UQ: Features 95% DCI-P3 color gamut coverage combined with NVIDIA DLSS AI-powered image optimization that delivers more lifelike images through crisp details while also reducing input lag substantially via a maximum 3840 x 2160 4K UHD resolution for an incredible visual experience suitable for professional players as well.
How to Set Up a Gaming Monitor
Understanding the basics of monitor installation, such as HDMI cables and power sources, is crucial for setting up a gaming monitor.
Tips for Optimal Performance
When setting up and optimizing a gaming monitor, one should always start by adjusting the screen resolution to match the display's native resolution. This will help maximize both visuals and performance.
Additionally, ensure that you are connecting your monitor using either an HDMI or DisplayPort cable for better audio and video transmission quality. If possible, use DisplayPort as it usually allows for higher refresh rates which can improve the overall performance of games.
Furthermore, choose a gaming monitor with low response time to reduce input lag as much as possible. Lastly, take note of contrast ratio and color reproduction when selecting a gaming monitor – these factors will determine how well visual details in games come across on the display.
Frequently Asked Questions (FAQs)
Now, we'll look at some questions that people often ask about Gaming monitors.
1. What are gaming monitors?
Gaming monitors are computer displays that enhance the look and responsiveness of a video game by offering high refresh rates, low response times, and eye-catching visuals.
2. What features should I look for in a good monitor for gaming?
When purchasing a monitor to optimize your gaming experience, you should consider its size, resolution capabilities, contrast ratio, refresh rate, and response time.
3. Are there any specific labels or models that usually provide better performance for gamers than others?
Versioned as 5K or 4K resolutions have become popular among PlayStation 4 players looking to upgrade their viewing experience beyond HD built into earlier consoles; ultrawide aspect ratios can also offer immersive playing on some of the latest games available today at more mainstream price points fairly commonly labeled as "gaming" focused monitors
4. How frequently do new updates come out with improvements regarding Monitors for Gaming in 2023?
Updates pertaining to Monitors for Gaming are likely to change each year as display technologies grow ever closer towards 6k and even 8k specifications being released throughout multiple brand lines within the upcoming calendar year.
Takeaway
In conclusion, it is important to find the best gaming monitor for one's needs in 2023. This requires evaluating several factors like refresh rate, panel type, and resolution for optimal performance.
Choosing the right monitor helps gamers enjoy a smooth and immersive experience without any compromise on the visuals or performance of their favorite games. Some top-performing gaming monitors of 2023 include Alienware 34 QD-OLED (AW3423DWF), LG 27GN950-B, Gigabyte M32UC, Dell S2722DGM, Pixio PXC277 Advanced, BenQ Mobiuz EX240, and Samsung Odyssey Neo G9 G95NC that offer seamless functionality with high image quality.
With all this information at hand, readers can be better equipped to make an informed decision when shopping for a new PC gaming monitor in 2023.