Boost Your Creatine Levels with These 100 Foods High in Creatine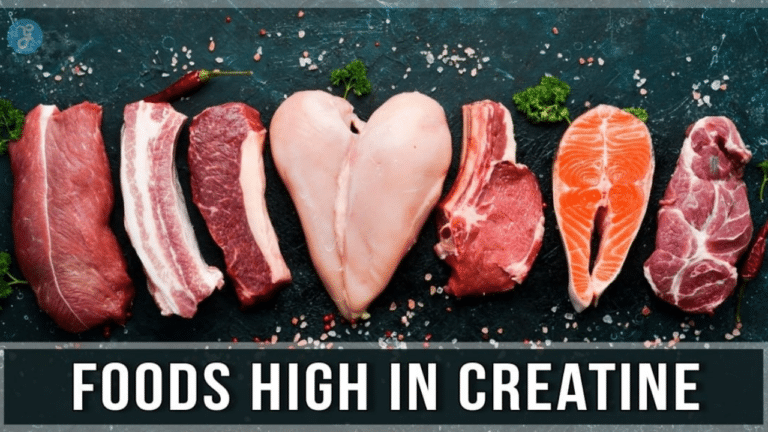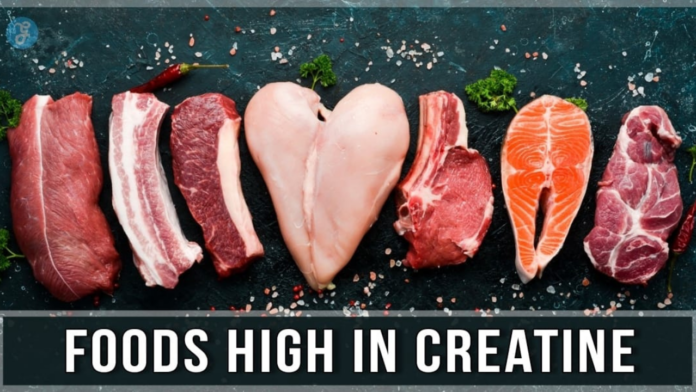 Get ready to discover the secret behind boosting your energy and strength! Creatine is a special substance that helps our muscles stay powerful during workouts and challenges. We often hear about creatine in supplements, but did you know there are foods high in creatine?
From tasty meats to delightful plant-based treats, these foods are natural sources of creatine that can energize and strengthen you. They are good for your body and delicious for your taste buds. Read more and learn about them. 
What is Creatine?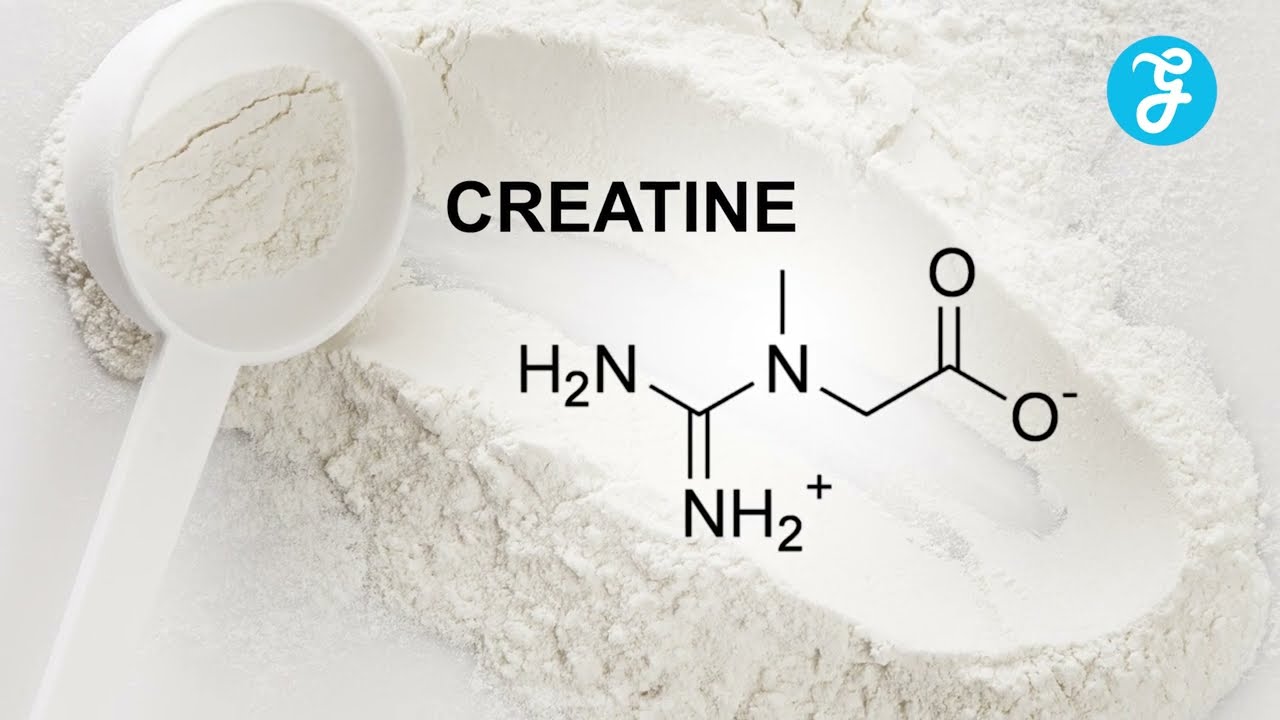 Creatine is a naturally occurring substance in our body, synthesized by the liver, kidneys, and pancreas. It primarily resides in our muscle cells, where it plays a crucial role in energy production.
As an amino acid, creatine is considered a building block of proteins. While we obtain some creatine from our diet, especially from animal products like meat, fish, and poultry, our bodies also produce it internally. Moreover, creatine can be produced synthetically and used as a supplement.
During physical exercise, both energy and creatine are utilized. The consumption of creatine contributes to a reduction in adenosine triphosphate (ATP) production, which is associated with feelings of fatigue. Hence, many people take creatine supplements to provide an extra boost of energy.
The primary purposes of using creatine supplements include increasing muscle size, alleviating fatigue, and enhancing athletic performance. By incorporating creatine into their routines, individuals aim to unlock its potential benefits in pursuit of their fitness and performance goals.
How Does Creatine Work?
Creatine works by increasing the availability of phosphocreatine in the muscles, which enhances the production of adenosine triphosphate (ATP), the primary energy source for muscle contractions. Here's a detailed explanation of how creatine functions in the body:
Phosphocreatine and ATP
During physical activities that require short bursts of intense effort, like weightlifting or sprinting, the muscles rely on a molecule called adenosine triphosphate (ATP) to provide the necessary energy. However, the amount of ATP stored in the muscles is limited and can quickly deplete during high-intensity exercise.
Role of Phosphocreatine
This is where creatine comes into play. When you supplement with creatine or consume it through the diet, it is converted to phosphocreatine and stored in the muscles. Phosphocreatine is a readily available reservoir of high-energy phosphate bonds that can quickly donate a phosphate group to ADP (adenosine diphosphate), converting it back into ATP.
Regenerating ATP
When ATP is used for muscle contractions, it loses a phosphate group and becomes ADP. However, through the action of creatine kinase, the phosphocreatine molecule can transfer its phosphate group to ADP, converting it back into ATP. This process of regenerating ATP occurs rapidly and helps maintain adequate energy levels during short bursts of intense activity.
Improved Exercise Performance
By increasing the availability of phosphocreatine in the muscles, creatine supplementation enhances the rate of ATP regeneration. As a result, individuals experience improved exercise performance during activities that rely on the fast intensity and short duration energy system. This can lead to increased power, strength, and overall athletic performance, especially in activities that involve repetitive bursts of energy.
Water Retention in Muscle Cells
Another beneficial effect of creatine is its ability to draw water into the muscle cells, leading to cell hydration or volumization. This increased water content in the muscles may contribute to the appearance of muscle fullness and size, giving the muscles a more pronounced and "pumped" look.
Other Potential Benefits
Research suggests that creatine may also have other beneficial effects, such as reducing muscle protein breakdown, increasing satellite cell activity (involved in muscle repair and growth), and potentially supporting cognitive function. However, further studies are needed to understand these additional effects fully.
Benefits of Taking Creatine
Benefits of Creatine: Boosting Energy, Performance, Muscle Growth, and Brain Function
Enhanced Energy Production
Creatine is crucial in increasing phosphocreatine stores, contributing to the rapid production of adenosine triphosphate (ATP). As ATP is the primary energy source for cellular functions, having more creatine in the muscles improves performance during short bursts of intense exercise.
Improved Athletic Performance
Research indicates that short-term creatine supplementation can improve max power, increase work performed during maximal effort sets, and enhance single-effort sprints. It has demonstrated notable benefits for high-intensity interval training (HIIT), weightlifting, and sprinting, making it especially valuable for powerlifting exercise plans.
Muscle Growth and Body Composition
Supplementing with creatine during resistance exercise training has been associated with an increase in fat-free body mass. While some of this effect may be due to increased intracellular fluid, evidence suggests that creatine could impact protein metabolism, contributing to muscle growth and improved body composition.
Cognitive Enhancement
Creatine has been shown to significantly boost brainpower, with studies indicating potential improvements in short-term memory and intelligence. However, findings have conflicted regarding its effects on long-term memory, reaction time, and mental fatigue.
Neuroprotection and Mental Health
Beyond its role in energy production, creatine exhibits antioxidant properties that can help reduce age-related damage in the body. Additionally, it has shown promise in reducing mental fatigue and improving aspects of neurological disorders, such as depression and bipolar disorder. These positive effects have sparked interest in using creatine as a potential defense against age-related diseases, including Parkinson's, Alzheimer's, and stroke. Nonetheless, further research is necessary to solidify these claims.
It is important to note that individual responses to creatine may vary, and its benefits can be influenced by dosage, exercise routine, and overall health. Before starting any supplementation, it is advisable to consult with a healthcare professional to ensure safe and appropriate usage.
Related Read: 10 Best Strategies to Avoid Creatine Diarrhea
List of 100 Foods High in Creatine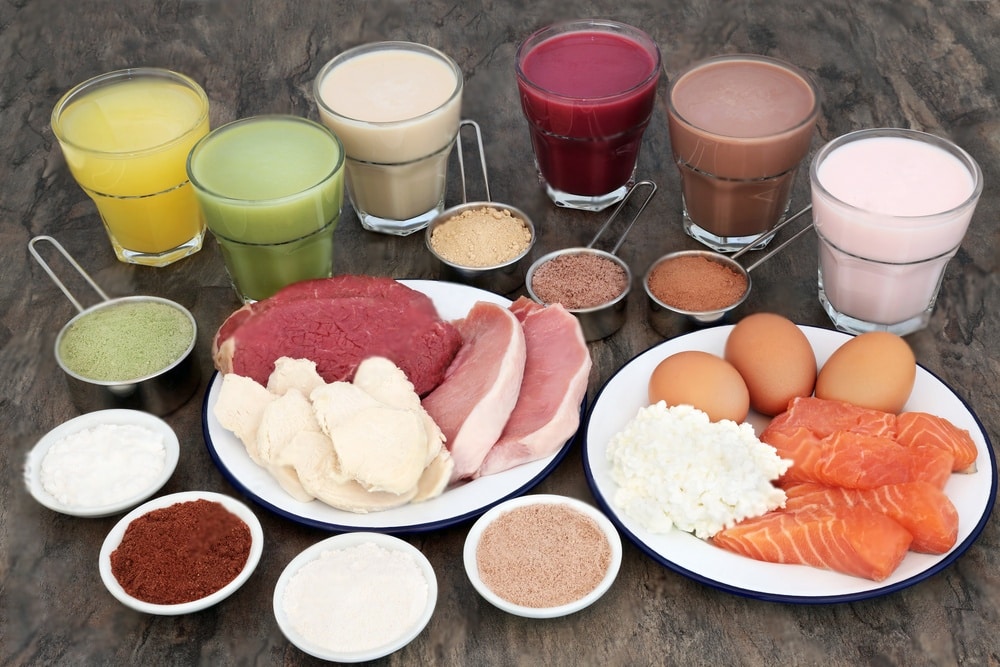 Below we've made a list of 100 foods high in creatine. Let's check them out. 
| | |
| --- | --- |
| Food Source | Creatine (g) |
| Soy protein isolate | 11.4 |
| Pumpkin seed | 7.8 |
| Powdered egg white | 10.0 |
| Hemp seeds | 7.1 |
| Sesame seeds | 5.2 |
| Cuttlefish | 5.1 |
| Butternuts | 7.0 |
| Octopus | 4.7 |
| Venison | 4.5 |
| Peanuts | 5.0 |
| Beef | 4.5 |
| Veal | 4.3 |
| Sunflower seeds | 4.4 |
| Chicken breast | 4.2 |
| Fenugreek seed | 4.1 |
| Rabbit meat | 4.1 |
| Chicken meat | 4.2 |
| Yellowtail | 4.1 |
| Anchovy | 4.0 |
| Clam | 4.0 |
| Pork | 4.0 |
| Mustard seed | 4.0 |
| Brazil nuts | 4.0 |
| Almonds | 4.0 |
| Pink salmon | 3.8 |
| Mussels | 3.8 |
| Lamb meat | 3.8 |
| Turkey leg | 3.8 |
| Turkey meat | 3.8 |
| Chia seeds | 3.7 |
| Trout | 3.7 |
| Snapper | 3.6 |
| Atlantic salmon | 3.5 |
| Lobster | 3.5 |
| Flaxseeds | 3.5 |
| Turkey thigh | 3.5 |
| Pistachio nuts | 3.5 |
| Sardine | 3.4 |
| Pollock | 3.4 |
| Scallops | 3.4 |
| Turkey breast | 3.4 |
| Cashew nuts | 3.4 |
| Duck meat | 3.4 |
| Pine nuts | 3.4 |
| Poppy seeds | 3.4 |
| Crab | 3.3 |
| Walnuts | 3.3 |
| Herring | 3.2 |
| Whiting | 3.2 |
| Chicken thighs | 3.2 |
| Mackerel | 3.3 |
| Hazelnuts | 3.2 |
| Parmesan | 2.9 |
| Crayfish | 3.0 |
| Squid | 2.8 |
| Romano cheese | 2.6 |
| Tuna | 2.6 |
| Lupin beans | 2.4 |
| Soy beans | 2.3 |
| Gruyere cheese | 2.3 |
| Swiss cheese | 2.2 |
| Dry milk | 2.2 |
| Gouda cheese | 2.2 |
| Edam cheese | 2.2 |
| Tempeh | 2.2 |
| Provolone cheese | 2.1 |
| Macadamia nuts | 1.9 |
| Fennel seed | 2.1 |
| Pecans | 1.8 |
| Blue cheese | 1.7 |
| Quail eggs | 1.7 |
| Brie cheese | 1.7 |
| Hard boiled eggs | 1.6 |
| Mozzarella cheese | 1.6 |
| Raw eggs | 1.7 |
| Camembert cheese | 1.6 |
| Soy bean sprouts | 1.6 |
| Cheddar cheese | 1.6 |
| Edamame | 1.3 |
| Raw egg white | 1.5 |
| Ricotta cheese | 1.2 |
| Chickpeas | 1.3 |
| Peas | 1.2 |
| Goji berries | 1.1 |
| Firm tofu | 1.2 |
| Lentils | 1.1 |
| Spirulina | 0.9 |
| Black beans | 1.0 |
| Pea sprouts | 0.9 |
| Laver | 0.8 |
| Kidney beans | 0.9 |
| Quinoa | 0.6 |
| Lima beans | 0.8 |
| Buckwheat | 0.6 |
| Wild rice | 0.6 |
| Cooked rapini | 0.4 |
| Parboiled rice | 0.5 |
| Dried bananas | 0.4 |
| Long-grain white rice | 0.4 |
| Long-grain brown rice | 0.4 |
How Many Grams of Creatine Should be Taken Daily?
To maximize creatine muscle stores quickly, a common approach is to start with a creatine loading phase of 20 grams daily for 5-7 days. Following this loading phase, a 2-10 grams daily maintenance dose is typically recommended. Alternatively, some individuals succeed with a daily dose of 3 grams for 28 days.
However, after the initial loading phase, it is essential to transition to a more manageable dose. Once your muscles become saturated with creatine, continually running a loading phase is unnecessary, as they cannot store any more creatine beyond a certain point.
Taking too much creatine, such as 10 grams, after the loading phase can lead to stomach discomfort. Studies have shown that athletes supplemented with a 10-gram dose experienced diarrhea, stomach upset, and gastric distress. In contrast, those who took a single dose of 2-5 grams did not experience the same side effects.
Once your muscles have reached saturation from the loading phase, a maintenance dose of around 2-5 grams is generally sufficient. It is essential not to exceed this dosage, as your body will excrete the excess creatine in urine.
Common Side Effects of Creatine
Creatine is generally safe for most people when taken within the recommended dosage. However, like with any supplement, there are potential side effects to be aware of. If you experience any severe reactions or adverse effects, it is essential to seek immediate medical attention. Here is a summary of potential creatine side effects:
Serious Side Effects (Seek Emergency Medical Help)
Allergic reaction:

If you notice hives, difficulty breathing, or swelling of your face, lips, tongue, or throat, seek emergency medical assistance immediately.

Cardiovascular issues:

Stop using creatine and contact your healthcare provider if you experience pounding heartbeats, fluttering in your chest, or other concerning heart-related symptoms.

Respiratory problems:

If you have trouble breathing after taking creatine, consult a healthcare professional promptly.

Swelling and rapid weight gain:

Sudden and significant swelling or weight gain should be reported to your healthcare provider immediately.

Dehydration symptoms: I

f you feel thirsty or hot, have difficulty urinating, experience heavy sweating, or notice hot and dry skin, it may indicate dehydration, which requires medical attention.

Electrolyte imbalance:

Signs of an electrolyte imbalance include dry mouth, increased thirst, drowsiness, restlessness, confusion, nausea, vomiting, increased urination, muscle pain or weakness, fast heart rate, feeling light-headed, fainting, or seizures. Seek medical help if you experience these symptoms.
Common Side Effects
Nausea and stomach pain:

Some people may experience mild gastrointestinal discomfort, such as nausea or stomach pain.

Diarrhea:

Diarrhea is another possible gastrointestinal side effect associated with creatine use.

Muscle cramps:

Occasional muscle cramps may occur in some individuals.

Weight gain:

Creatine can increase muscle water retention, which may result in temporary weight gain.
It's important to note that most people tolerate creatine well and experience no or only mild side effects. However, individual responses can vary, and following the recommended dosage guidelines is essential.
Frequently Asked Questions (FAQs)
Now let's learn about some common queries on this topic
What is the primary source of creatine?
The main source of creatine is found in animal products, particularly red meat. However, it can also be obtained from plant-based sources like legumes, nuts, seeds, and algae. If obtaining enough creatine through food is challenging, supplements are an option.
Does heat and cooking destroy creatine?
Creatine is relatively heat-stable, but cooking can reduce approximately 10-30% of the creatine content in the food.
What are the side effects of creatine?
Creatine is generally considered safe, but excessive consumption, especially in supplement form, may lead to gastrointestinal issues such as bloating, stomach cramps, and gas.
How much creatine should be taken per day?
Recommended daily creatine intake ranges from 2-5 grams to obtain its health benefits. Aiming for 1-3 grams of creatine per day is a reasonable goal for those solely relying on dietary sources.
Does creatine cause weight gain?
While creatine can promote muscle mass gain, it does not lead to an increase in fat mass.
Final Words
In conclusion, we've journeyed through foods high in creatine, unlocking a world of natural energy and vitality. From the savory indulgence of red meats to the wholesome goodness of plant-based options, we've discovered many delectable choices to fuel our bodies and minds.
By embracing these creatine-rich foods, we can enhance our athletic performance, strengthen our muscles, and experience the joy of a well-nourished lifestyle. Whether you're an athlete striving for peak performance or seeking a boost in everyday activities, incorporating these foods into your diet can make a significant difference.
Disclaimer: This content is for informational purposes only and does not replace professional medical advice, diagnosis, or treatment. This information is not comprehensive and should not be used to make health or well-being decisions. Consult a qualified healthcare professional with questions about a medical condition, treatment options, or health regimen. This website or the content should never replace professional medical advice.
Subscribe to Our Latest Newsletter
To Read Our Exclusive Content, Sign up Now.
$5/Monthly, $50/Yearly