FIFA World Cup's All-Time Leading Scorer: Klose's Record-Breaking Performance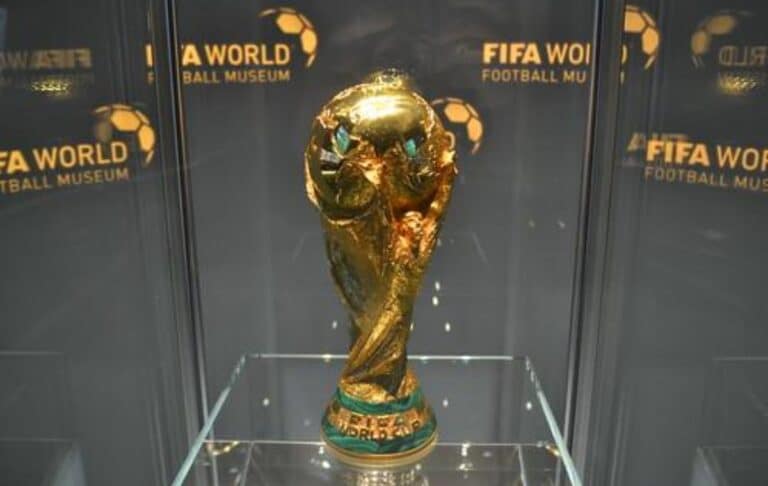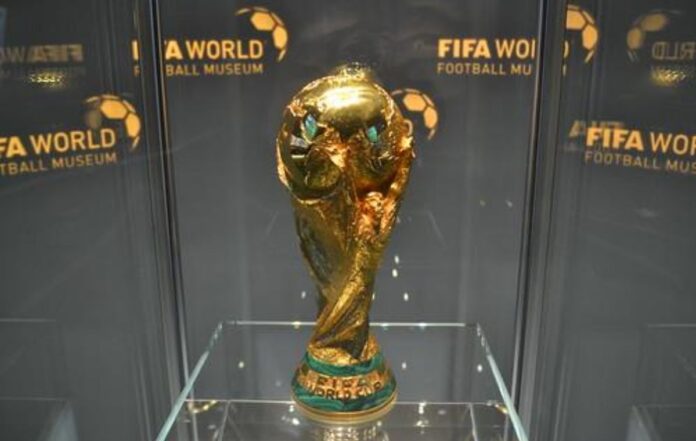 Football thrives on the thrill of goals, and the FIFA World Cup embodies this spirit.
In the 22 iterations of the men's FIFA World Cup to date, fans have witnessed an astonishing 2,720 goals netted by over 1,300 unique players. Yet, out of this vast number, only 16 players have achieved the feat of scoring 10 or more goals throughout the tournament's history.
Let's dive into the top goal scorers in FIFA World Cup history.
Most FIFA World Cup goals
| Rank | Player (Team) | Goals scored | Matches | Editions scored in |
| --- | --- | --- | --- | --- |
| 1 | Miroslav Klose (Germany) | 16 | 24 | 2002, 2006, 2010, 2014 |
| 2 | Ronaldo (Brazil) | 15 | 19 | 1998, 2002, 2006 |
| 3 | Gerd Muller (Germany) | 14 | 13 | 1970, 1974 |
| 4 | Just Fontaine (France) | 13 | 6 | 1958 |
| 4 | Lionel Messi (Argentina) | 13 | 26 | 2006, 2014, 2018, 2022 |
| 6 | Kylian Mbappe | 12 | 14 | 2018, 2022 |
| 6 | Pele (Brazil) | 12 | 14 | 1958, 1962, 1966, 1970 |
| 8 | Sandor Kocsis (Hungary) | 11 | 5 | 1954 |
| 8 | Jurgen Klinsmann (Germany) | 11 | 17 | 1990, 1994, 1998 |
| 10 | Helmut Rahn (Germany) | 10 | 10 | 1954, 1958 |
| 10 | Gabriel Batistuta (Argentina) | 10 | 12 | 1994, 1998, 2002 |
| 10 | Gary Lineker (England) | 10 | 12 | 1986, 1990 |
| 10 | Teofilo Cubillas (Peru) | 10 | 13 | 1970, 1978 |
| 10 | Thomas Muller (Germany) | 10 | 16 | 2010, 2014 |
| 10 | Grzegorz Lato (Poland) | 10 | 20 | 1974, 1978, 1982 |
Miroslav Klose (Germany) – 16 Goals in 24 Matches
Germany's Miroslav Klose is a name that resonates deeply in the annals of FIFA World Cup history. With a whopping 16 goals across just 24 appearances, spanning four World Cups from 2002 to 2014, he sits atop the list of top scorers.
Klose might not be the most glamorous name in football, but his hallmark has always been his unwavering consistency. Every World Cup he participated in saw him find the back of the net multiple times. Plus, his dedication to the sport was evident when he took to the field in Brazil in 2014, even at the age of 36.
Memories of Klose's World Cup debut in 2002 are particularly vivid. As Germany routed Saudi Arabia 8-0, Klose made headlines with a stellar hat-trick. By the tournament's end, he had tallied five goals, trailing only Brazilian legend Ronaldo. Although Germany couldn't clinch the title, finishing as runners up to Brazil, Klose had announced himself on the world stage.
Four years later, in 2006, with the World Cup in his home country, Klose was once again in impeccable form. He scored five goals, this time clinching the Golden Boot, even though Germany finished in third place.
Fast forward to 2010, Klose continued his scoring spree, adding four more goals to his tally. Germany finished third again, but Klose's reputation only grew. Finally, in 2014, in a dream finish to his World Cup journey, Klose found the net twice, helping Germany lift the coveted trophy in Brazil.
🥇 Miroslav Klose (15 goals)
🥈 @Ronaldo (14)

🤸‍♂️ The German somersaulted on to the scene with a hat-trick on his #WorldCup debut in 2002. #OnThisDay in 2014, in Ronaldo's homeland, Klose outranked him to become its outright top scorer 🔝@DFB_Team_ENpic.twitter.com/ogCoRtCBcP

— FIFA World Cup (@FIFAWorldCup) July 8, 2021
Miroslav Klose's record-breaking goal, which crowned him the top scorer in FIFA World Cup history, came during a jaw-dropping 7-1 victory for Germany against host nation Brazil in the semi-finals. With that goal, Klose surpassed Brazil's own Ronaldo, who had previously held the record.
Ronaldo (Brazil) – 15 Goals in 19 Matches
Ronaldo Luis Nazario de Lima, commonly known as Ronaldo, ranks second among the top goal-scorers in FIFA World Cup history, boasting 15 goals across 19 matches.
Although Ronaldo was part of the Brazil team for the 1994 FIFA World Cup in the USA and Mexico, he didn't see any action on the field. With the iconic pair of Romario and Bebeto dominating the Brazilian attack, the young 17-year-old Ronaldo had to wait for his turn. However, by the 1998 FIFA World Cup in France, Ronaldo showcased the exceptional skills that would cement his reputation as one of the finest strikers the sport has ever witnessed.
🔙 #OnThisDay in 2006 @Ronaldo, with his 15th goal in 18 appearances, outranked Gerd Muller to become the World Cup's all-time leading marksman ⚽️

🇧🇷 Is 'O Fenômeno' the best No9 in #WorldCup history? 🤔pic.twitter.com/d00L5GoSJc

— FIFA World Cup (@FIFAWorldCup) June 27, 2020
Ronaldo's contribution to Brazil's journey to the final in the 1998 World Cup in France was undeniable, having scored four crucial goals. However, a fever on the eve of the championship match saw him and Brazil falter against the hosts.
Fast forward to the 2002 World Cup in Japan and South Korea, and Ronaldo was unstoppable. He found the net eight times, steering Brazil to lift the trophy and earning himself the Golden Boot.
By 2006, during the World Cup in Germany, the sands of time seemed to be catching up with Ronaldo. Battling injuries and grappling with fitness challenges, he wasn't at his peak. Yet, he managed to score three goals, helping Brazil progress until they were knocked out by the hosts in the quarter-finals. These goals nudged Ronaldo past the tally set by German football icon Gerd Muller in 1974, placing him higher on the all-time scoring list.
Gerd Muller (Germany) – 14 Goals in 13 Matches
Gerd Muller's scoring prowess in the FIFA World Cup is nothing short of legendary. Across just two tournaments, he netted an astonishing 14 goals in 13 matches.
The 1970 World Cup was particularly special for Muller. He struck gold with ten goals, which included consecutive hat-tricks against Hungary and Peru during the group phase. While he clinched the Golden Boot, his team couldn't progress past the semis. Italy halted their dreams, even though Muller put up a fight with two goals in the match.
However, 1974 was redemption time for Muller and Germany. Hosting the tournament, they clinched the FIFA World Cup title. Muller might not have secured the Golden Boot this time, but he was Germany's top scorer with four goals. Most memorably, he delivered the match-winning goal against the Netherlands in the final, sealing a 2-1 victory.
👏 Well done to those who went for Gerd Muller. 'Der Bomber' got 14 goals in 13 #WorldCup games, but 3 goals was the most he got in one match https://t.co/spokOdM72a pic.twitter.com/3AOhFKPg5T

— FIFA World Cup (@FIFAWorldCup) June 28, 2020
Remarkably, all of Gerd Muller's 14 goals during the FIFA World Cups were netted from within the penalty area. Even more impressive? Half of those strikes were fired from the close confines of the six-yard box!
Just Fontaine (France) – 13 Goals in six Matches
Despite playing in just one FIFA World Cup in 1958, French striker Just Fontaine left an indelible mark on the tournament's history. Competing in Sweden, Fontaine found the net in every match that France played. He started off with a bang, netting a hat-trick against Paraguay in his debut and wrapped up with a four-goal showcase against Germany in the third-place match – marking the last World Cup game he'd participate in.
😲 If scoring 13 goals in 6 games at Sweden 1958 – a record for one #WorldCup – wasn't mind-blowing enough, consider this: Just Fontaine did so in borrowed boots 🤯

🎂 Happy 88th birthday to one of the greatest marksmen of all time ⚽️#HBD | @FrenchTeam pic.twitter.com/QbswbYFmtn

— FIFA World Cup (@FIFAWorldCup) August 18, 2021
In the 1958 World Cup, France's journey to the title was halted by the eventual champions, Brazil, in the semi-finals. Yet, Fontaine showcased his talent by scoring one of the two goals for Les Bleus in the 5-2 loss. Unfortunately, injuries took a toll on Fontaine's promising career, leading him to hang up his boots at just 28 years old. This meant a return to the World Cup stage was out of the picture. However, his incredible feat of 13 goals in the 1958 tournament remains unmatched, holding the record for the most goals by a player in a single World Cup edition.
Lionel Messi (Argentina) – 13 Goals in 26 Matches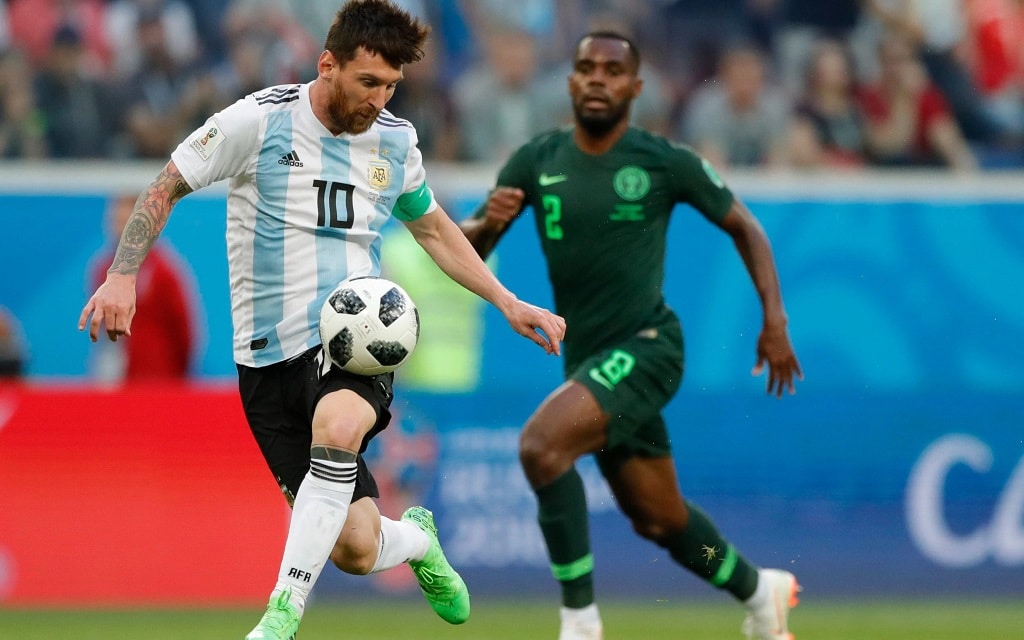 Before the 2022 FIFA World Cup in Qatar, Lionel Messi had a modest record of just six goals in 19 matches. However, the event turned out to be a defining moment for the Argentine superstar. Messi dazzled the football world by scoring seven goals in the tournament, guiding Argentina to the title. Previously, all of Messi's World Cup goals were limited to the group stages, but Qatar 2022 saw a shift. For the first time in World Cup history, he scored in every knockout round. Notably, two of his goals came in the climactic final against France.
Pele (Brazil) – 12 Goals in 14 Matches
While Fontaine's impressive scoring spree during the 1958 World Cup in Sweden caught everyone's attention, it was the rise of a young 17-year-old Brazilian named Pele that stole the show.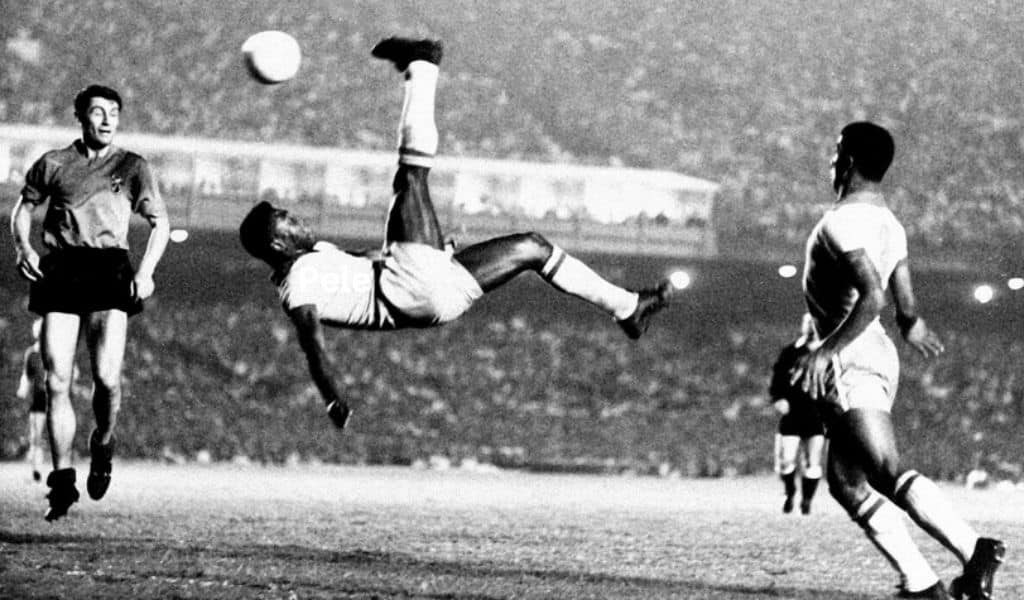 Starting the tournament on the back foot due to a knee injury, Pele didn't feature in Brazil's opening two matches. However, he marked his World Cup debut against the Soviet Union, setting a record as the youngest player to appear in the competition at that time.
Although he didn't find the back of the net in that debut game, he did provide an assist. Pele soon got on the scoresheet with a decisive goal against Wales in the quarter-finals, setting another record as the youngest goal scorer in World Cup history.
Pele's star shone even brighter in the semi-finals against Fontaine's French side. He bagged a hat-trick, becoming the youngest player to achieve this feat in the World Cup. And he didn't stop there. In the final against the host nation, Sweden, Pele netted twice, setting yet another record as the youngest scorer in a World Cup final.
While Pele's record as the youngest World Cup participant has since been surpassed, his goal-scoring milestones from that tournament remain unbeaten.
After making a splash in his first World Cup, Pele continued to dazzle, guiding Brazil to two more titles in 1962 and 1970. Only England managed to stop Brazil's run in the 1966 edition.
Adding six more goals to his tally, Pele ended his World Cup journey with 12 goals from 14 matches over four tournaments. This puts him fifth in the all-time top scorers list for the World Cup.
And while the Golden Boot eluded him, Pele stands alone in football history as the only player to have won the World Cup three times.
Kylian Mbappe (France) – 12 Goals in 14 Matches
Kylian Mbappe, the French sensation, has matched Pele's record but achieved it in just two World Cups: Russia 2018 and Qatar 2022. In his debut World Cup in Russia, he netted four times, one of which came in the final against Croatia, propelling France to lift the trophy.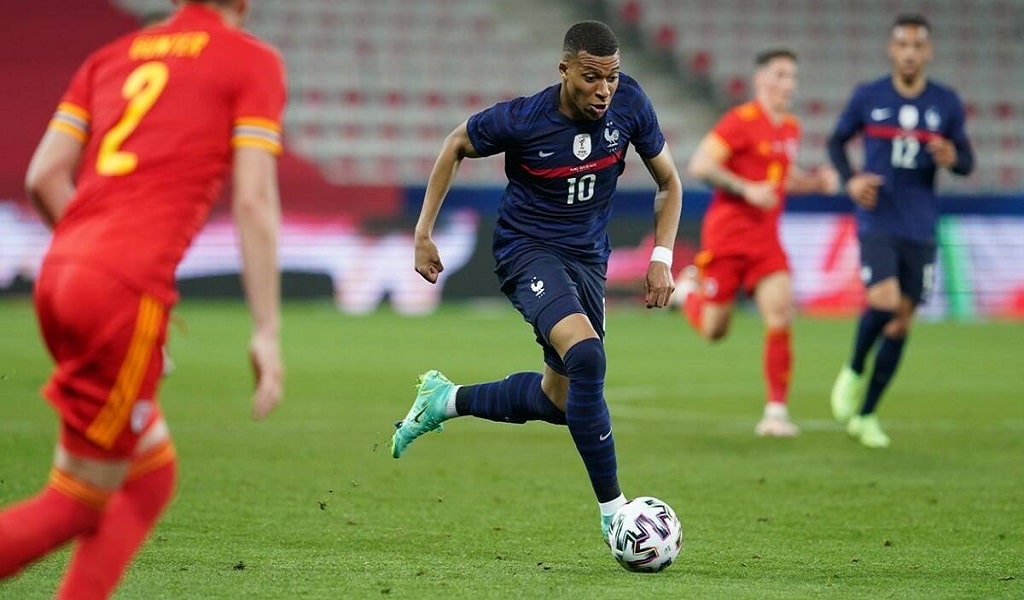 Despite his remarkable eight-goal performance in Qatar 2022, which earned him the Golden Boot, France couldn't clinch the title. In a nail-biting final against Messi's Argentina, Mbappe was at his best, almost carrying France singlehandedly. The thrilling match concluded 3-3 after extra time, only for France to fall 4-2 in the subsequent penalty shootout. Notably, Mbappe's hat-trick in that final stands out; it's only the second hat-trick in a World Cup final, the first being Geoff Hurst's iconic three goals for England back in 1966.
Men's Football's Best FIFA Scoring Charts
Two phenomenal players, Hungary's Sandor Kocsis and Germany's Jurgen Klinsmann, share a tally of 11 World Cup goals each. What's captivating is that Kocsis netted all his goals in just the 1954 World Cup, while Klinsmann spread his magic across three tournaments.
Then, there's a notable group of six players, including Argentina's sharpshooter Gabriel Batistuta, England's Gary Lineker, and Germany's Thomas Muller, each bagging 10 goals in World Cup tournaments.
And, of course, we can't forget the legendary Diego Maradona. He dazzled the pitch with eight goals in 21 World Cup appearances, spanning three editions (1982, 1986, and 1994). The 1986 World Cup in Mexico was particularly memorable, with Maradona almost single-handedly leading Argentina to victory, scoring five of his goals in that edition.